Motorola Edge review
Flagship look meets midrange price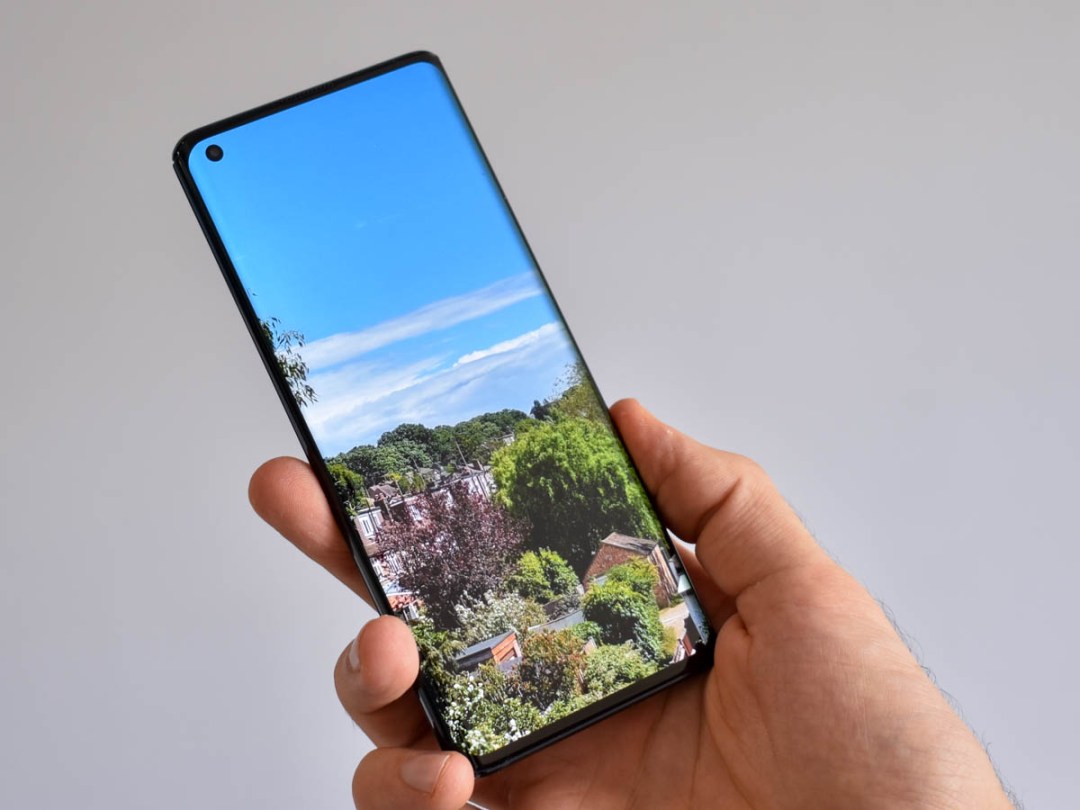 Motorola's on the edge of glory with this knockout, combining sleek glass and metal, a quad-camera, and one of the best screens you'll ever see. Meet the Motorola Edge.
The star of the show is the Edge's 90Hz, silky smooth OLED screen – Edge by name, edge by design, the display virtually waterfalls off the left and right side, contrasting boldly with the flat, flush back – no beefy camera bumps here.
What the Edge gets right, it gets very right – rich, flagship design, a big battery that lasts, and that 6.7-inch canvas for movies and games. At £549, it won't be breaking any banks, and better yet, it has the unicorn of ports at the base – a headphone jack!
So why does it cost half the price of an iPhone? Because dig a bit deeper and you'll find mid-range power inside, and a good camera, rather than a stellar one. The question is, do you really need all that power, or can the Edge scratch your flagship itch?
Design and Screen: Moto's 'edging its bets
The Motorola Edge is a looker. Starting with that curved screen, its a slice of glass that spills over at either side, resulting in a similar look to the Huawei Mate 30 Pro's waterfall display. Despite that 6.7-inch screen – the biggest on any Motorola flagship phone, the fact the Edge features a 95.9% screen-to-body ratio means it's still manageable in hand. How manageable? It's a smidgen taller than the Pixel 4XL, but a touch narrower.
The phone's flat glass back is a fingerprint magnet, but looks and feels premium, as does the metal frame. It's bookended by a flat top and bottom, which contrasts nicely with the screen's sharp curves, and at the base is a headphone jack and a USB-C port. In the box, you also get a case for added protection, and there's a water-repellent coating here, though no IP68 water resistance.
Complementing the rich design is an excellent screen – provided you like curves. Why wouldn't you? Because extremely curved displays vignette, darkening at the sides, so if you're a picture purist, it might not be your favourite. That said, if you're good with the curve, the screen quality is top-tier.
For starters, the Motorola Edge packs OLED screen tech, so blacks are inky and colours punchy. With Wide Full HD resolution, the Edge is better than iPhone 11-sharp, but not quite iPhone 11 Pro-sharp. Its 90Hz refresh rate makes the Motorola Edge a smooth operator for the price, matching the excellent OnePlus 8.
In turn, whether you're browsing the web, swiping through a Twitter feed, watching a YouTube video or gaming, it'll look great, and with HDR10 support, optimised content packs rich tones.
UI: Stock Android with some sparkle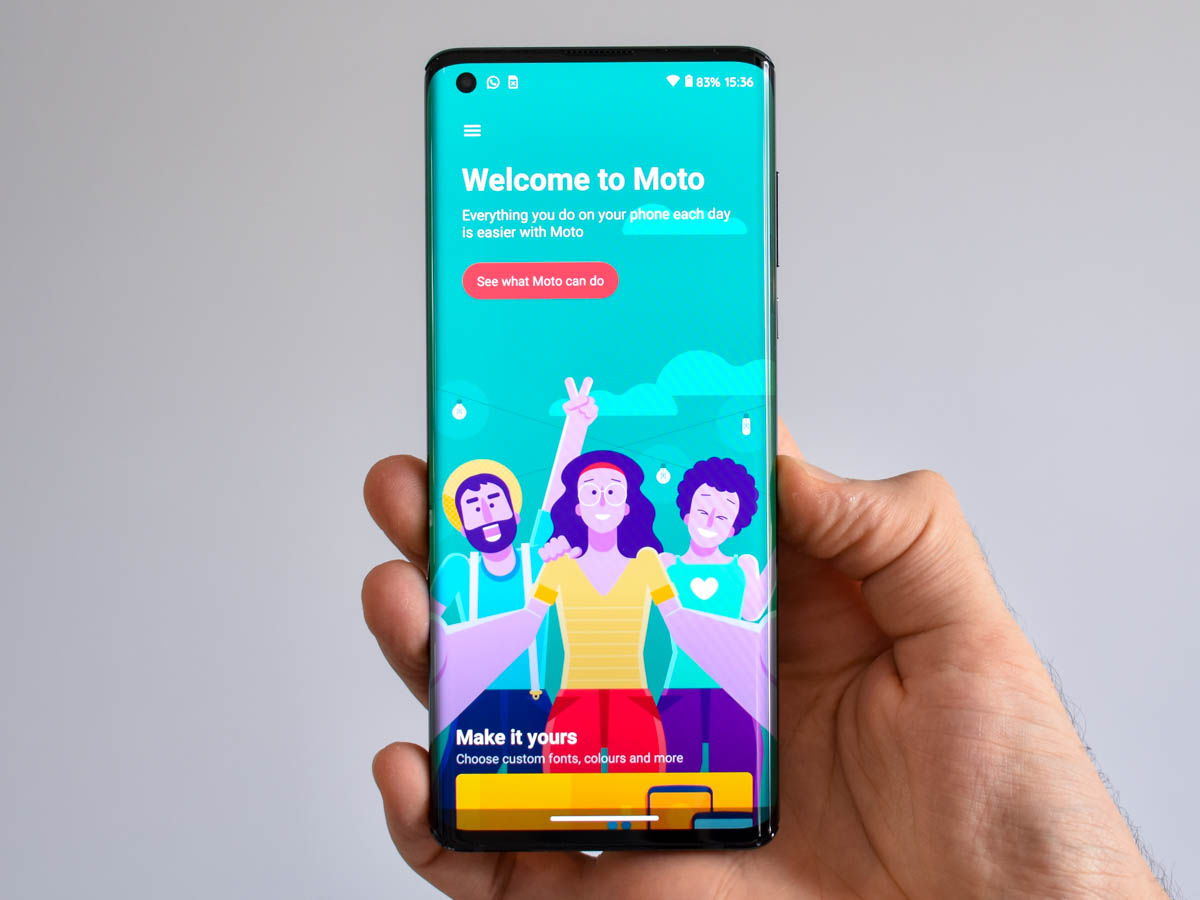 Fire up the Motorola Edge and anyone coming from an Android phone should feel right at home. There's an apps tray, home screens, and a notifications shade loaded up with quick toggles. You also get an optional Google screen for an eerily personalised stream of news to thumb through.
Light on bloatware, heavy on gestures, launch the Moto app and you can control Actions – from a wrist twist to fire up the camera, or a karate chop to launch the torch.
This time around, Motorola has made things a touch more customisable when it comes to the look and feel of its UI. Lifting a page out of OnePlus's book, the Motorola Edge has customisable colour accents, icon styles and typefaces. There's also a swipe-in shortcut tool to fast track access to your favourite apps.
Taking full advantage of the true-black OLED screen, even when the phone's off, you can still see handy information like the time. With an under-screen fingerprint scanner and face unlock, you won't have any issues getting into your phone – though the scanner isn't as quick as some of the flagship competition.
Everything UI-related feels snappy and looks smooth. Add to the mix Google Play Store access, and in turn, excellent app support, and the day-to-day experience of using the Motorola Edge is a premium one.
Camera: Covers all bases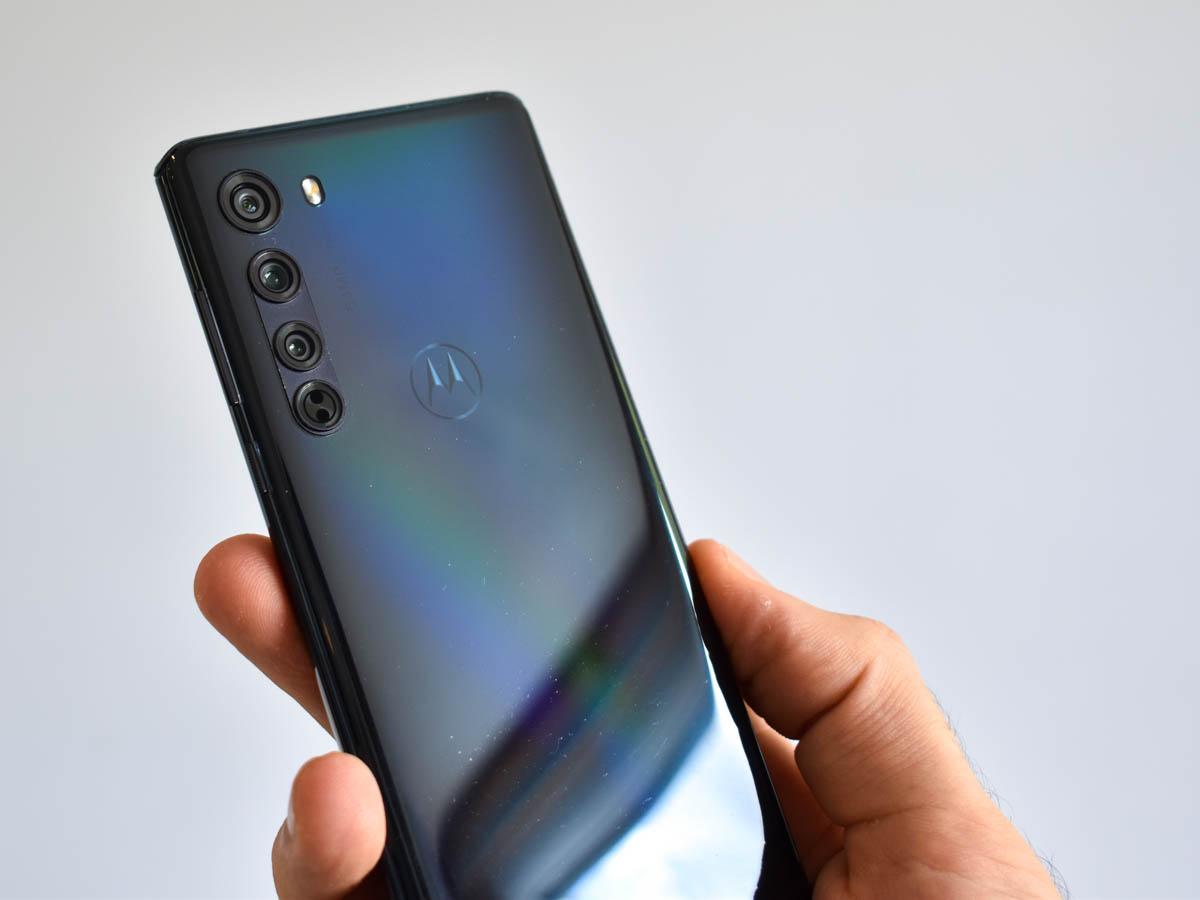 Unlike the iPhone 11 and OnePlus 8, two of the Motorola Edge's most direct rivals, the Edge packs a telephoto camera, putting it on a good footing from the off on paper.
The Edge's main camera is a 64MP sensor with an f/1.8 lens. It's the same Samsung sensor as found on the Realme X2 Pro, so we've already seen it do some pretty great stuff. Motorola's implementation is better, taking clear 16MP images in good lighting with loading them up with excellent dynamic range for the price.
The additional cameras impress in well-lit scenes too. The 16MP ultrawide camera has an f/2.2 aperture, while the 8MP 2x zoom (52mm equivalent) camera lens is f/2.4. None of the cameras feature OIS, and that's probably why in automatic mode, they don't perform well at night.
As with most great smartphones, the Motorola Edge does pack a night mode, which works with the primary and selfie camera, helping the phone grab decent shots when the lights drop.
The Edge also captures great looking 4K video at up to 30fps which is electronically stabilised. Additionally, there's a decent 25MP selfie camera with a wide open f/2.0 lens for decent selfies across lighting conditions.
Performance and battery: At least good enough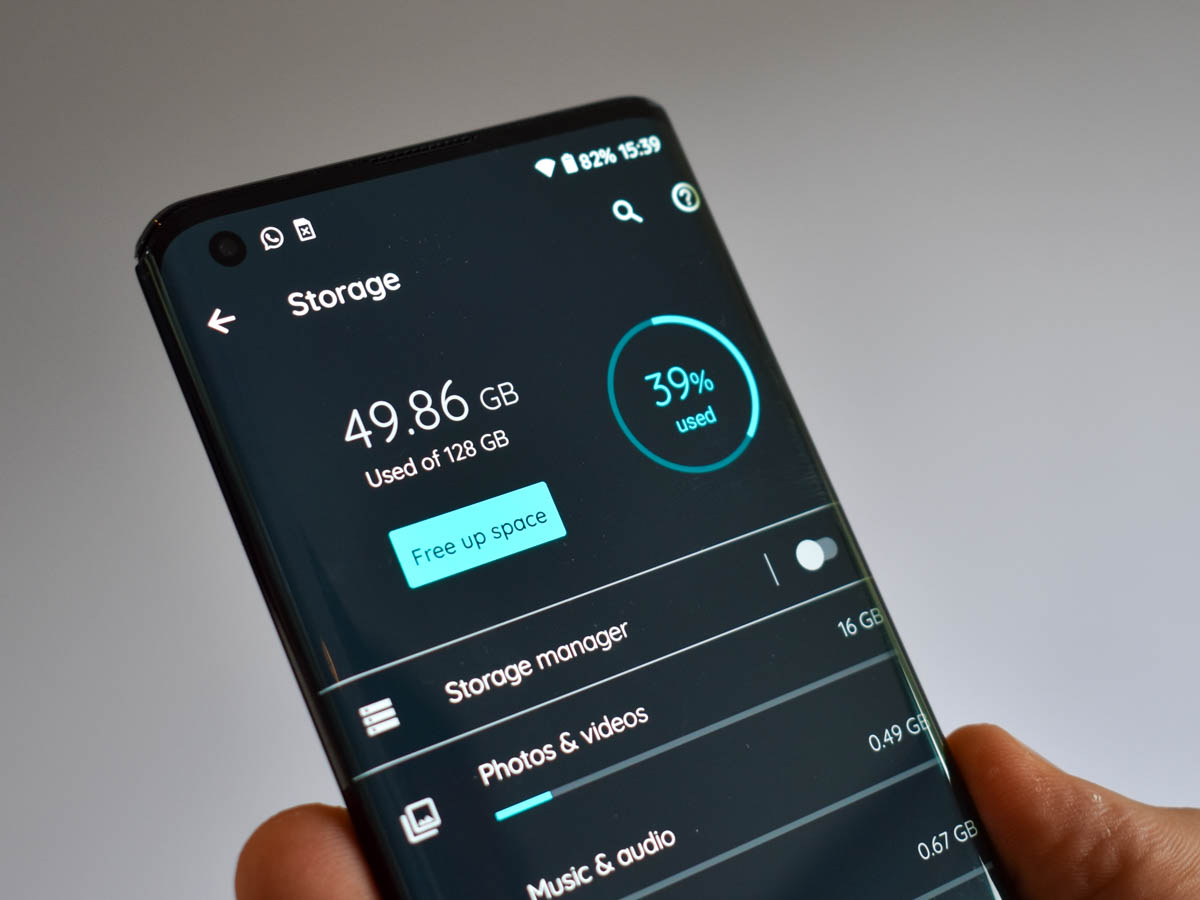 With a Snapdragon 765 chipset, the Motorola Edge might be a midrange smartphone at heart, but it still packs 5G and solid day-to-day performance.
If you're tossing up between a OnePlus 8 and a Motorola Edge, while the Edge edges ahead in the imaging department and screen, the cheaper OnePlus better nails performance.
The Edge benchmarks significantly worse than Snapdragon 8-series devices. Day-to-day, you won't notice any slowdown, but you will see some dropped frames when hardcore 3D gaming and more aliasing. Motorola does help things along with Gametime tools, enabling L/R trigger buttons and other handy features.
An ample 128GB storage combines with a microSD card slot, and either 4GB or 6GB RAM, depending on the version you pick up. Loaded up with stereo speakers, NFC, Bluetooth 5.1, and a decent under-display fingerprint scanner, there's very little missing here – with the only notable omission being wireless charging.
On the subject of charging, there's a fast 18W charger that ships in the box with the phone, as well as a 4500mAh battery, which does a great job of getting through a full day.
Motorola Edge verdict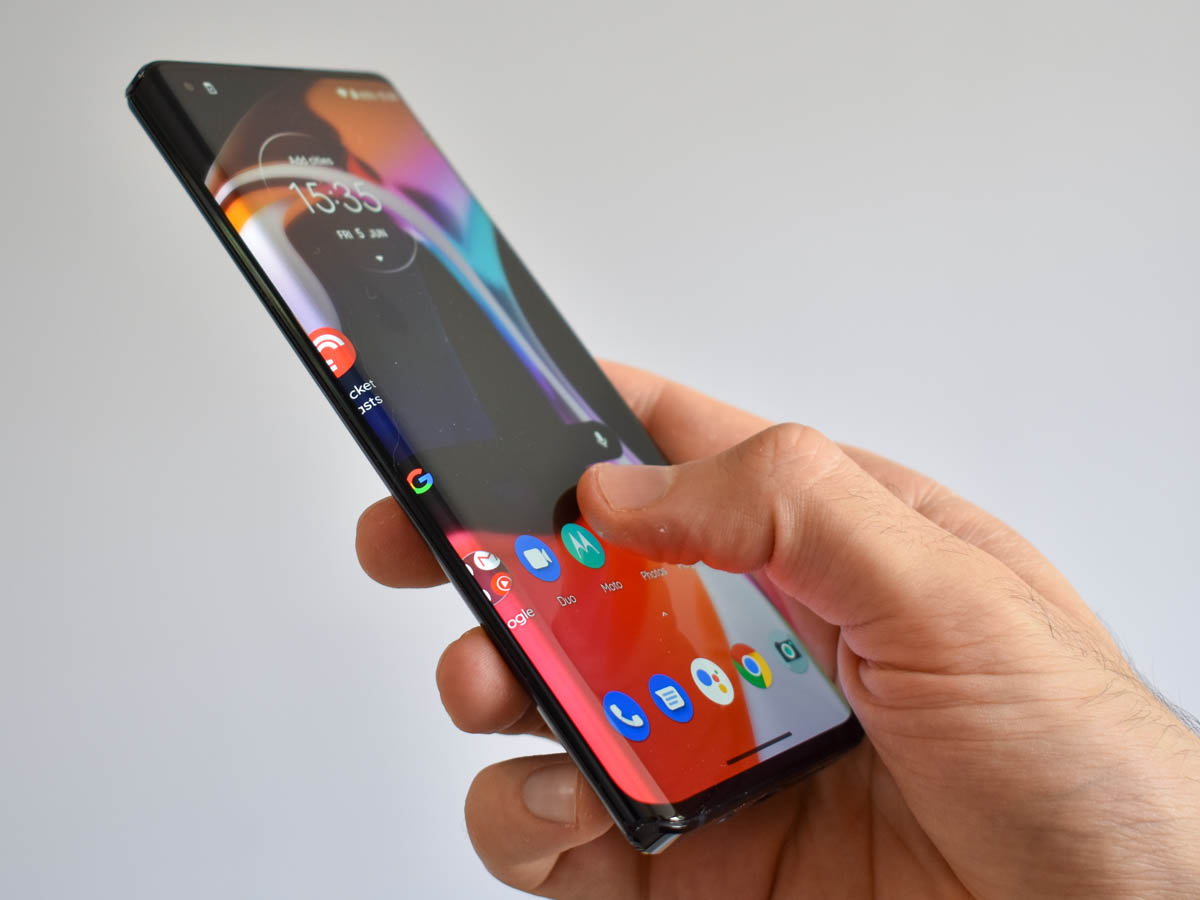 The Motorola Edge is a flagship-grade looking phone. Its screen and design are fantastic at its £549 asking price, as are the speakers that make it a dream video streamer. If that's what you value, then you won't get more design or screen for less.
While its power is midrange, which will hold it back if you're a gamer, its camera is respectable at the price, as is the Edge's battery life. The result is a phone that's a dream to use day-in-day-out, despite the fact its chipset won't win over gamers.
Stuff Says…
When it comes to design and screen, for £549, nothing else comes close
Good Stuff
Great looking design
Best-in-class screen
Great battery life
Bad Stuff
Fingerprint magnet
Mid-range power
Cameras lack OIS