Motorola Moto Z Play review
Tired of your phone dying at 7pm?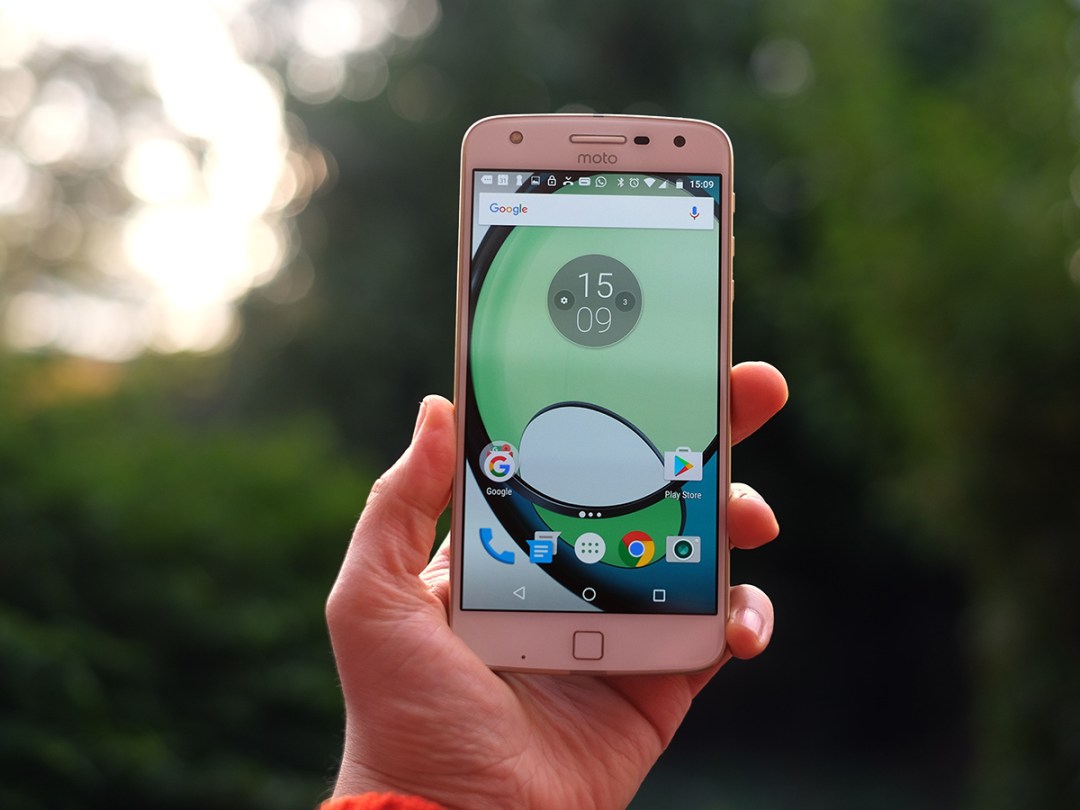 The "Play" part of Motorola's latest? It doesn't mean this is a phone for gamers. It doesn't mean it's one for kids, either.
It just means the Moto Z Play is a whole lot less expensive than the full-fat Moto Z.
It costs £369, around half the price of big-screen alternatives from Apple and Samsung. For someone who wants a high-end flavour at a sensible price, the Motorola Moto Z Play is a winner.
It has one big problem, though: the OnePlus 3. That phone has a more expensive-feeling design and is prettier, sure – but this phone lasts a whole lot longer between charges.
If you're up for the Motorola Moto Z Play's slightly freaky style, jump right in.
Got Mods?
That freaky style? Basically, the Moto Z Play is the dress-up doll playset of phones.
Without the fabric weave panel that sticks onto the back with the help of magnets, the Moto Z looks a bit odd: a big camera lens housing sticking out more than a milimetre makes the phone almost look obscenely naked.
A clip-on backplate is nothing too exciting, but this mechanic also allows for Moto Mods. It's a take on modular phones that isn't completely mad, letting you add extra hardware that connects through the 16 pins on the back. Without shutting down the phone first. Noice.
There's an offGrid power pack, a JBL speaker, a Hasselblad 10x optical zoom camera and even a pico projector. All of these turn the big-but-slim Moto Z Play into a big-and-chunky phone.
If all this Moto Mod nonsense sounds a bit silly, you can also get a simple leather or wood backplate.
Don't worry about accidentally flicking the back off either. While they're easy to remove once you get a fingernail under the edge, it's almost impossible to get the back to budge by just pushing it from up top. That epic camera lip has a reason to exist other than looking inappropriate.
FINGER ON THE PULSE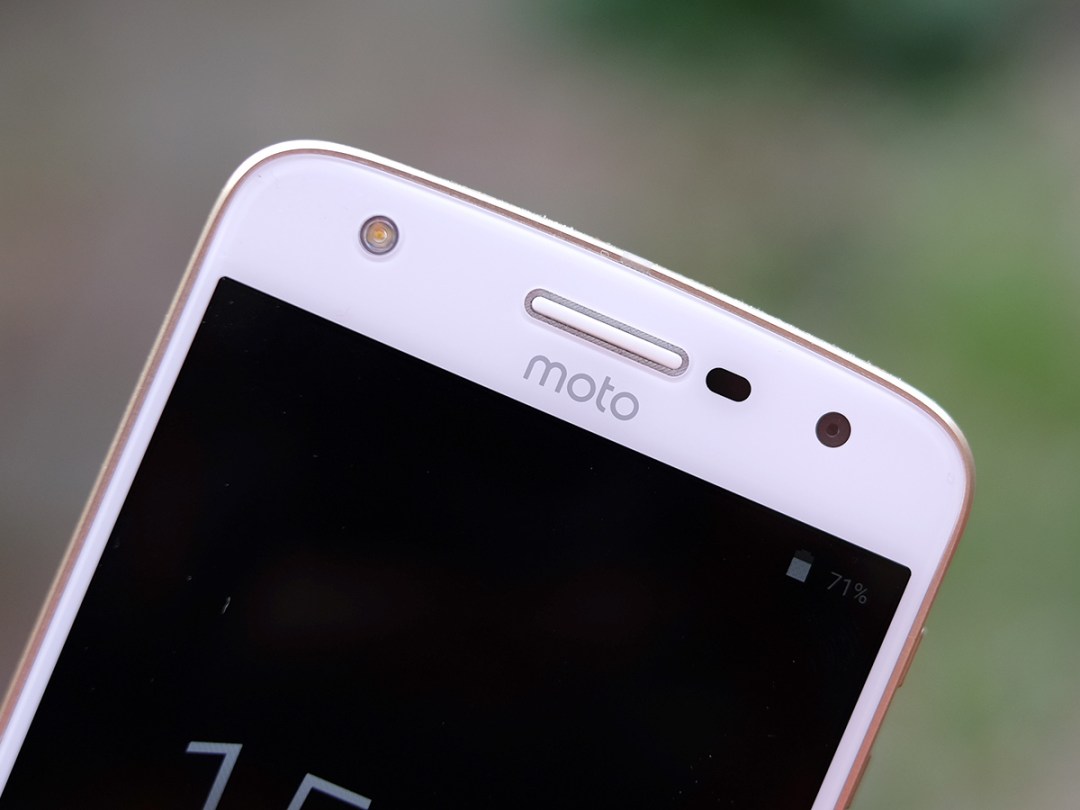 You can use the Moto Z Play naked, but it looks a bit weird and highlights one of the ways the Play is cheaper than the normal Moto Z. That plastic back really sticks out compared to the Z's glass finish.
There is a funky concentric circle design, but unless you want to get the phone as thin as possible, slap on that backplate pronto.
Aluminium sides are what give the Motorola Moto Z Play that essential touch of high-end class anyway. But, just like the Moto G4 Plus, the fingerprint scanner fouls-up the style a bit.
Just look at this phone: the camera is circular, the logo is circular, even the "moto" print on the front adds to circles, but the finger scanner is still an awkward-looking square.
It's out of place. WIthout hardware buttons flanking it on either side, the scanner just sits there like a vestigial nipple while you use the phone. At least it works well enough. There's roughly a half-second delay between pressing it and ending up on the homescreen, but it's still a lot faster than using a PIN.
A Two-faced OLED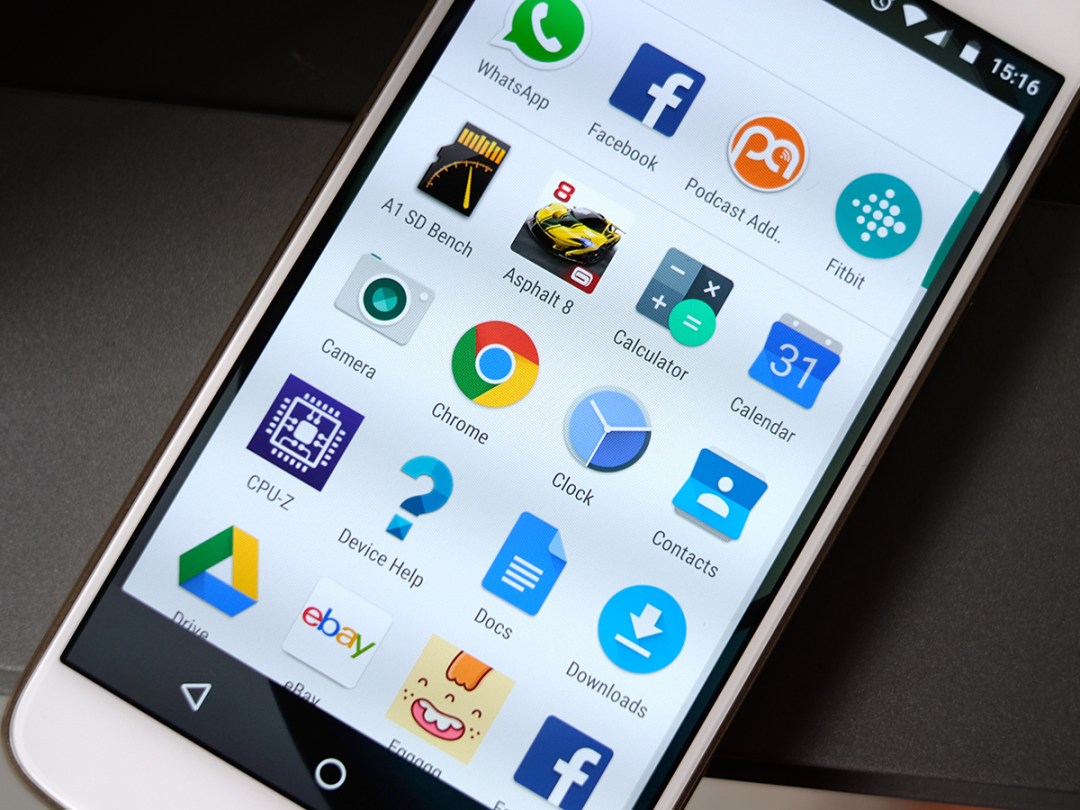 It's tough for a £300+ phone to be anything other than feature-packed – y'know, something we'd have called a Batman utility belt mobile just a couple of years ago. But the Moto Z Play has that vibe more than most.
You might not get that vibe from the screen at first: it's a 5.5in, 1080p OLED panel, so lower-res that the Moto Z's 2K display, but still sharp enough to look great.
The gadgety side comes from being able to switch between a couple of colour modes that radically change the personality of the screen.
For the purist there's Standard mode, which looks bang on the sRGB colour palette that until recently was the high watermark of accuracy. However, 99.8 per cent of higher-end phones are oversaturated these days, so there's also a vibrant mode that makes the Motorola Moto Z Play screen look like that of the cool crowd. Take your pick.
It uses a Samsung panel, so there's no surprise that quality is great. Brightness is good, contrast unbeatable and viewing angles great, aside from the display going blueish at an extreme angle. Just about all phone OLEDs suffer from this to some extent, though, so it's mostly good news all round.
TAKE STOCK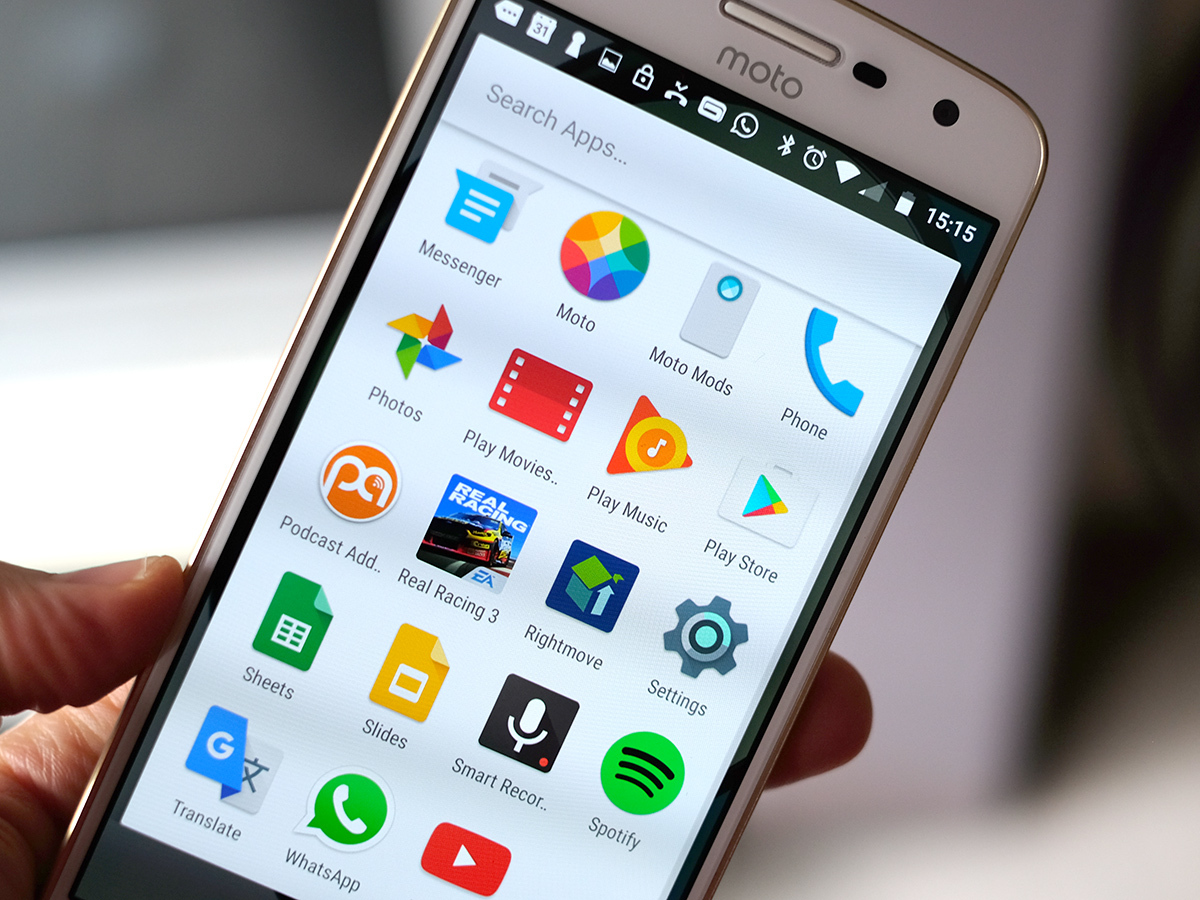 That's the only bit of Samsung flavour you'll find here, though. The software is classic Moto, which is another way of saying it's almost 100 per cent classic Android.
Right now the Motorola Moto Z Play runs Android 6.0.1, but a bump up to Android 7.1 is on the cards. This means you get old-school notifications, rather than the richer but more complicated ones Google just introduced with the Pixel.
There's virtually no bloat, apart from the pre-installed Moto Mods app – and that's just a link to the Mods website. We can't really blame Motorola on this one, though. You could easily buy a Moto Z Play without even realising Mods exist.
General performance is great too. Android Marshmallow is judder-free and perfectly responsive. You'd probably have to have the phone side-by-side with the more powerful Moto Z to notice the difference day-to-day.
That's all without huge power too. The Moto Z Play has 3GB RAM and Qualcomm's classic Snadragon 625 mid-range phone brain, with eight Cortex-A53 cores at up to 2GHz. That's still enough pep to sail through at 1080p.
As with other bits of this phone, the problem is the OnePlus 3, which has much more power at a slightly lower price. The Moto Z Play scores 2494 points in Geekbench 4 (798 per core) where a Snapdragon 820 phone will score around 3500 points. There really is a big difference.
If this phone had a 2k-res screen, the difference in games would be obvious. But as-is, all games run just fine on the Moto Z Play. In a couple of years it may feel the pinch, but not yet.
A different kind of camera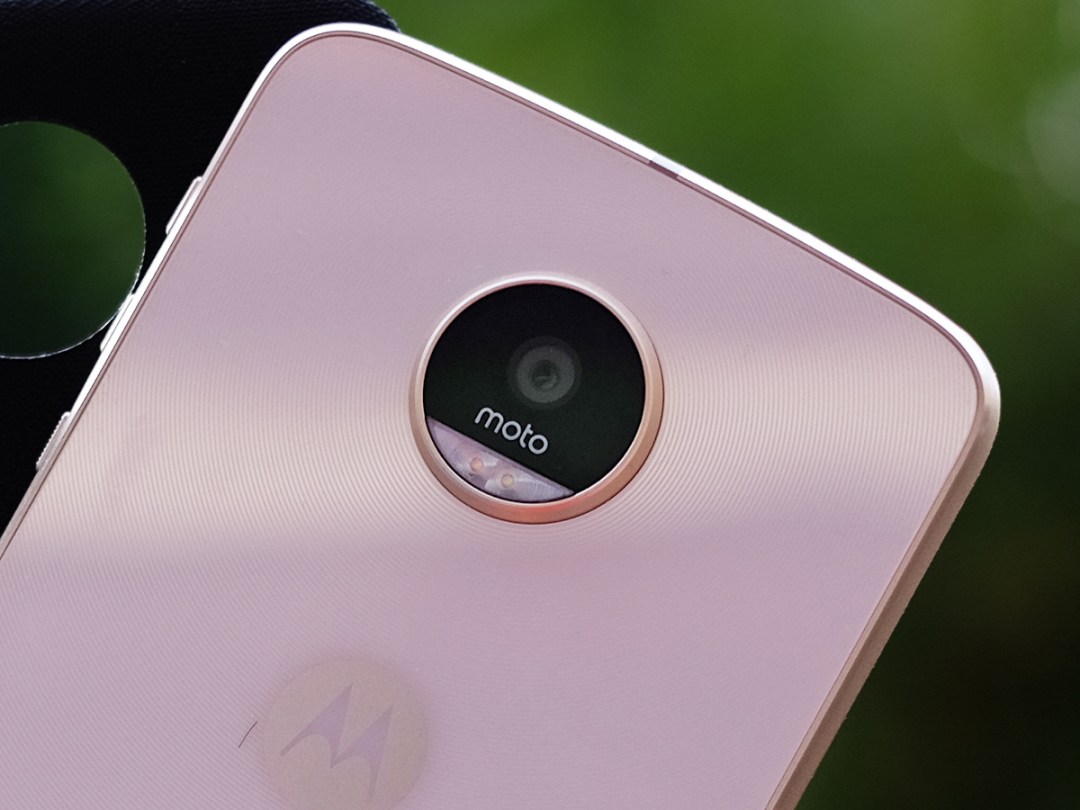 The Moto Z Play even has a good camera. Most recent Moto phones use Sony sensors, but judging by the specs this is most likely an Omnivision OV16860. This is even larger than the Sony alternative, with great big (for a phone) 1.3 micron sensor pixels.
To translate this into non-tech lingo, it means the Moto Z Play can take decent low-light pictures even without optical image stabilisation. Night shots are a bit noisier than those of the Samsung Galaxy S7 Edge and co, but they compare reasonably well with those of the OnePlus 3.
Colour reproduction is great and dynamic range is fab when you use the auto HDR mode, adding a bit of dynamic range boosting where necessary.
This isn't a perfect camera, though – focusing just isn't all that reliable. It's on the slow side at time, even though it has a phase detection assist, and the Moto Z Play is happy to take photos before it has achieved a full focus. A few times it even misreported focus too.
As there's no OIS, you need to be careful about keeping the phone still to avoid handshake blur in certain conditions, and the HDR mode is a bit too slow. You may see some ghosting in shots, where delay between exposures means there's a slight change of the scene that gets merged into the final shot.
You can tale great photos with the Moto Z Play, but the process doesn't feel as fine-tuned as the best. Some of this may be improved with a software update, but right now we'd take the OnePlus 3 camera over this one.
Other than these particular camera hits and misses, the Moto Z Play experience is a lot like any other Moto. It uses the latest version of Motorola's camera app, a pretty simple and effective app that provides very easy access to the HDR mode and flash switch, and an exposure slider right by the focus reticule, but otherwise keeps things plain.
There are no frivolous extra modes, but you do get 4K and slo-mo video recording.
Around the front, the Moto Z Play has a pedestrian 5-megapixel selfie camera given an extra tech injection by a single-LED flash. This phone loves its gadgets.
BASICS MATTER MOST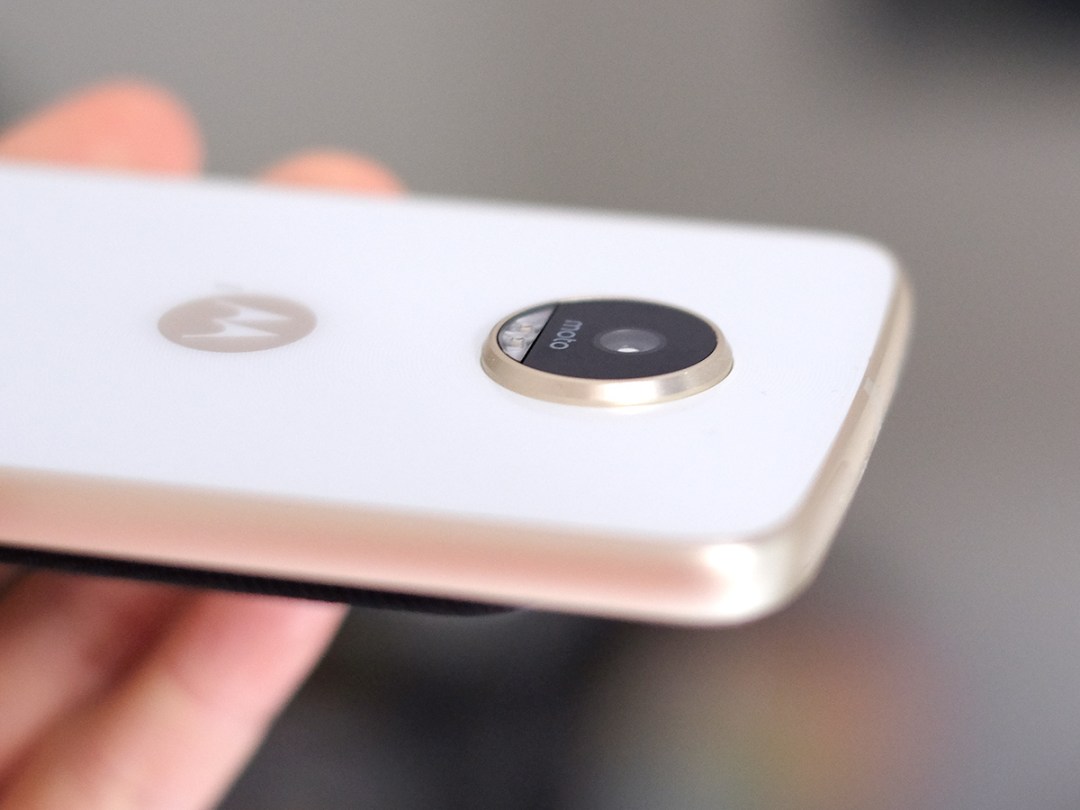 After using the Moto Z Play for a week or two, it's not the extra bits of fluff like phone modules and selfie flashes that stand out. The best bit is the battery stamina. Easily.
It significantly outlasts the OnePlus 3, even with that phone's newest software. It'll last well into the night, even if you stream a good amount of audio or indulge in a few quick bursts of gaming.
One day we pelted the Moto Z Play with about 4-5 hours of podcast streaming, took around 30 photos and a played couple of races in Asphalt Xtreme, and still ended up with 30 per cent battery at 11pm. Many other phones would be dead at this point.
Look at the battery capacity and this is no great surprise. The Moto Z Play has a 3510mAh battery, only slightly smaller that that of the much higher-res Samsung Galaxy S7 Edge. Two hours playing a locally-stored 720p video only takes eight per cent off the battery, suggesting it'll last up to 25 hours playing movies on the 32GB storage. That's just mad.
As you'd hope, the Moto Z Play supports fast charging, although the plug you get in the box has a cable built into it so you can't just carry around the cable with you.
One other quirk is the speaker. There's only one, and it sits right where you shove your ear when you take a phone call. These earpiece speakers are normally only used as a backup for a main one down on the bottom edge, but this one is surprisingly punchy.
Sound quality isn't as good as that of the iPhone 7 Plus, but it does manage the all-important test of standing up to the roar of a kettle. Because what's better than a cup of tea and podcast?
Moto Z Play verdict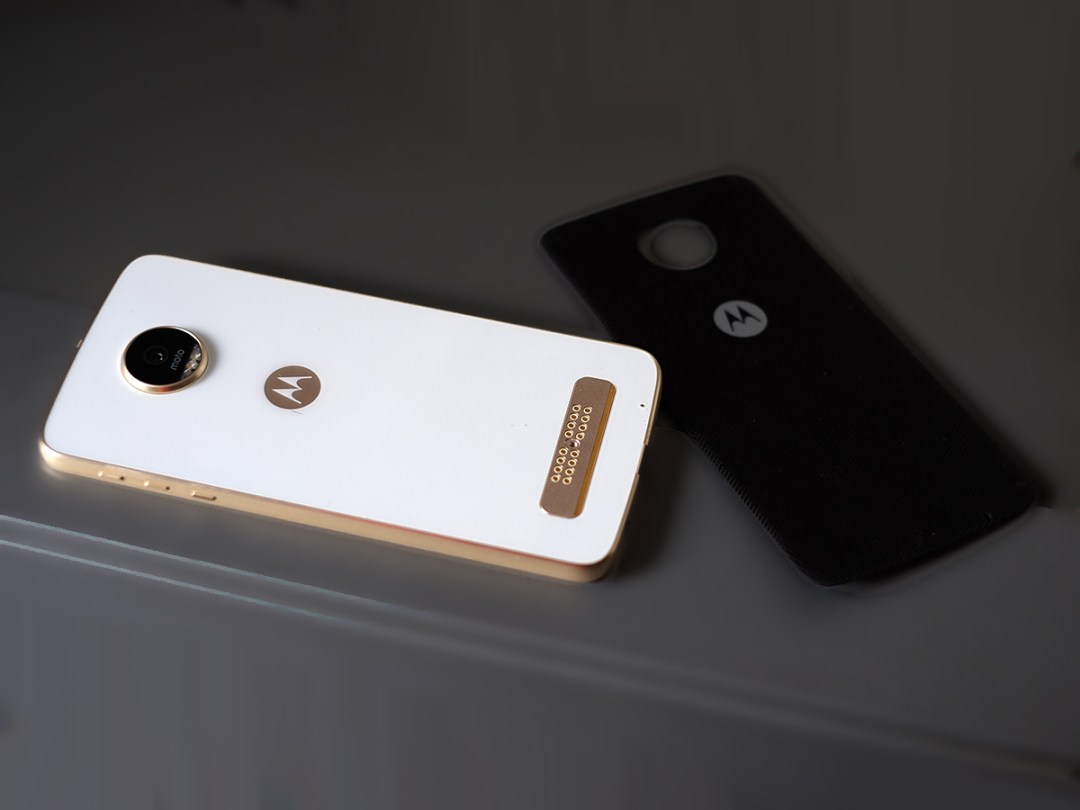 The Moto Z Play continues the Z-series's promotion of some of the mobile world's weird and wonderful ideas. This is a bonafide modular phone.
We're glad you can ignore the whole modular side, though – then you're left with a keenly-priced phone that lasts absolutely ages between charges. If your top priority is lasting all day regardless of what you get up, stop looking. You've found your next phone.
The only thing holding the Z Play back from a full 5-star rating is the OnePlus 3. For slightly less cash, it gets you a prettier design, a more reliable camera and a lot more power. It doesn't last as long off a charge though, so it only wins on a points decision rather than a straight knockout.
Buy the Moto Z Play here from Lenovo
Tech specs
| | |
| --- | --- |
| SCREEN | 5.5in, 1920×1080 OLED |
| CPU | Qualcomm Snapdragon 625 octa-core |
| MEMORY | 3GB RAM |
| CAMERA | 16MP rear w/ f/2.0 lens, PD/laser autofocus, dual-LED flash, 5MP rear w/ f/2.2 lens |
| STORAGE | 32GB onboard, microSD expansion |
| OPERATING SYSTEM | Android 6.0.1 Marshmallow |
| BATTERY | 3510mAh |
| DIMENSIONS | 156x76x7mm, 165g |
Stuff Says…
Class-leading battery life makes this quirky modular phone far more practical than your might expect.
Good Stuff
Fantastic battery life
Quirky Mods system
Solid screen
Bad Stuff
Outclassed and out specced by OnePlus 3
Camera focus is unreliable