mp man MP-Ki128 review
The MPMan MP-Ki128 is a flash player with simple menus, good controls and a legible LED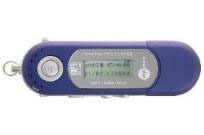 When the price of the Ministry player dropped from £40 to £30, it stole some of the MPMan's thunder – the problem being that the 128MB MPMan MP-Ki128 feels a bit plasticky when pitted against the competition.
Simplicity is key
It is, however, still a slick little device, and at £30 it's a steal.
The MPMan's secret weapon is its simplicity. Rather than trying to cram too many fancy-sounding but inadequate features into its compact price, it has – wisely – gone for simple menus, good controls and a legible LED. This is awesome value for money.