MSI Pulse GL66 review: a solid choice with top-end components
Packs some killer components and a vibrant screen, but some of the finer points could have been executed better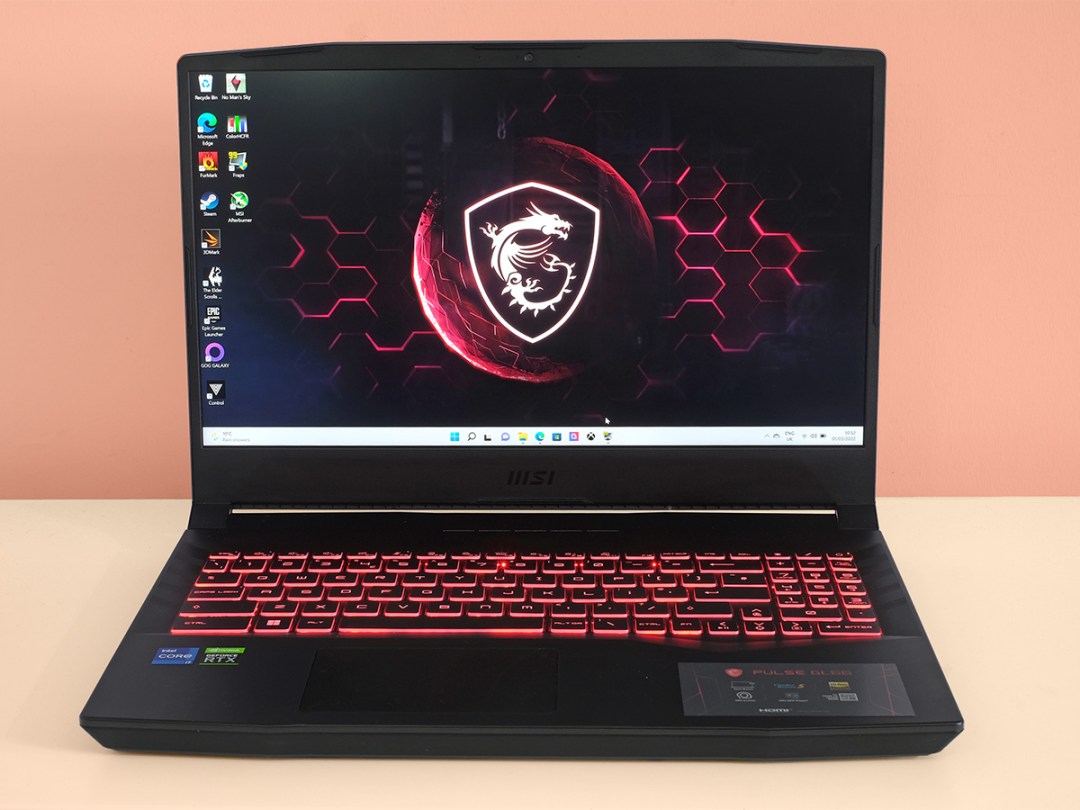 The MSI Pulse GL66 is a mid-tier gaming laptop, and this is the type most people should probably buy. Accept a few cuts to frilly bits around the edges and you can bump up to the next GPU class without spending much more: a smart move. But is this the one to get?
The GL66 is among the first laptops out of the gate with a 12th Generation Intel CPU, giving it five minutes of fame as one of the most powerful gaming laptops in the world. In one sense at least.
The Pulse GS66 also has an impressive screen, its 1440p panel able to make much better use of the power on tap here than the 1080p one you'd have seen in almost every laptop like this a couple of years ago.
However, the display is the only real stand-out, and the somewhat budget build starts to grate in our £1799 review spec GL66 with an RTX 3070 graphics card. Lenovo's new Legion 5i Pro is currently available with an Nvidia RTX 3070 Ti for £1749, and has a classier design, beefier graphics performance and better RGB keyboard lighting.
Design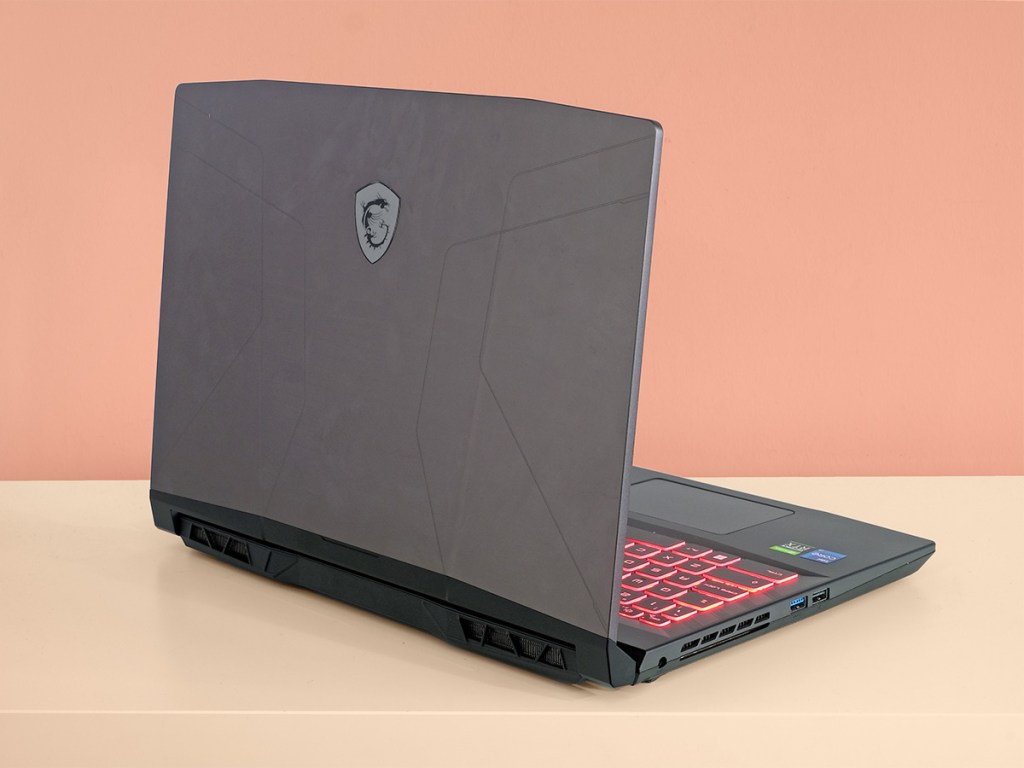 The MSI Pulse GS66 is a classic gaming laptop design, for better and worse. It's a bit too bulky to use as an ultraportable, and the materials used are not that high-end.
Most of the casing is plastic. However, the lid is aluminium, a little touch you start to see in mid-range gaming models. It's not an interesting design like the Asus Zephyrus G14, and Lenovo's Legions seem a touch more tasteful to our eyes. But it's sound enough if you're not going to spend too long worrying about how your PC looks and feels.
Its weight isn't too high either at a shade under 2.2kg in our review model.
The MSI Pulse GS66 also has unusually big airflow gaps on its bottom. You can see the copper pipelines that shift heat from the internals, and even read the label on the SSD – without removing the bottom cover.
Changing storage should be a relative cinch. There's a spare M2 slot for an additional SSD drive if you want to upgrade down the line and the screws on the case panels used are all standard. MSI knows some of you are going to want to open this thing up. However, our Pulse GL66 has a 1TB SSD so we're good to go.
Screen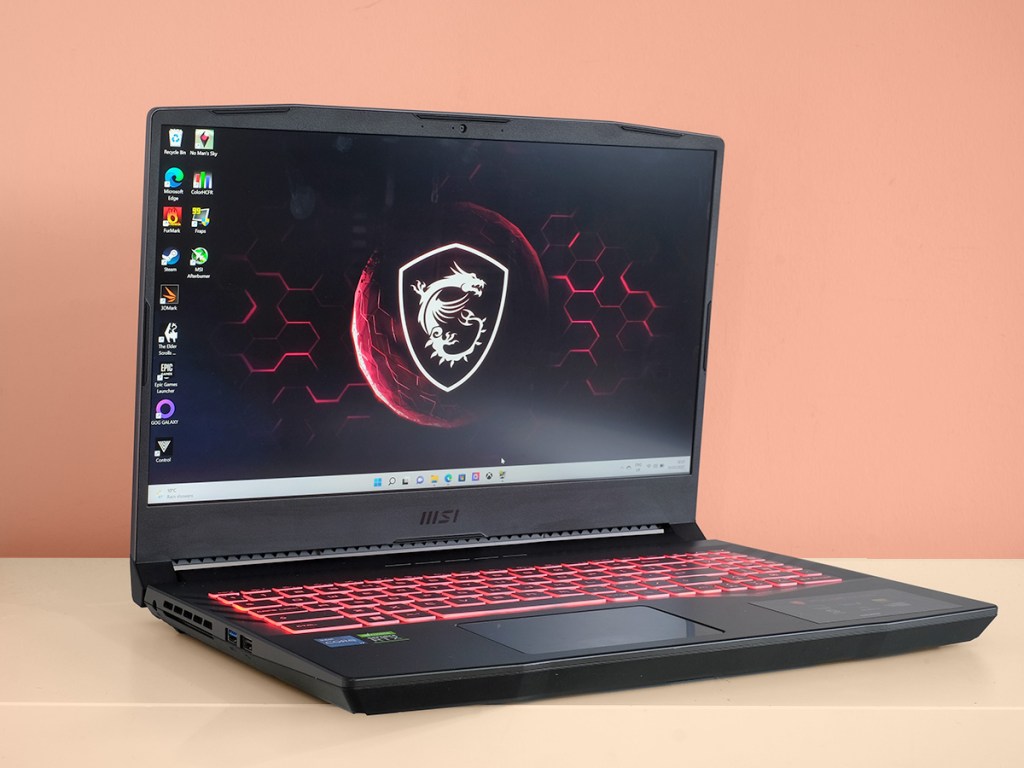 For a long time even top-end gaming PCs had 1080p displays. 4K screens aways seemed a bit pointless because they didn't remotely have enough power to play demanding titles at 60fps, at that resolution.
This stalemate has, finally, broken and we are starting to see a lot of laptops with other resolutions like 1600p and 1440p. The MSI Pulse GS66 has a 15.6-inch 1440p panel with a 165Hz maximum refresh rate. It can be set to 60Hz, 82.5Hz or 165Hz, and there's a Dynamic mode that switches between them automatically. High refresh rate, high enough resolution: it's all good.
However, colour is the big hitter here. The MSI Pulse GL66 delivers a hair away from full coverage of the DCI P3 standard, the same one Apple aims for in its top-tier MacBooks.
This is a matt screen, so the colour may not appear to instantly pop off the screen as it does in a MacBook Pro. But take a second to appreciate how red those reds actually look and you can't help but be impressed. The hinge also lets the display fold back by almost 180 degrees. That's handy for slouchy bean bag gaming, although you will want to make sure you're not blocking too much of the underside's cooling vents with your PJs.
The rest is standard stuff. 300 nits of brightness would not cut it these days in an ultraportable. It's not great in a chunky gaming laptop. But as the MSI Pulse GL66 is likely to spend most of its time indoors this is not necessarily a deal-breaker. 300 nits is fine for use at home.
Contrast, again, is just OK, meaning blacks will start to look slightly greyish if you play in a dark room or at high brightness.
Keyboard and touchpad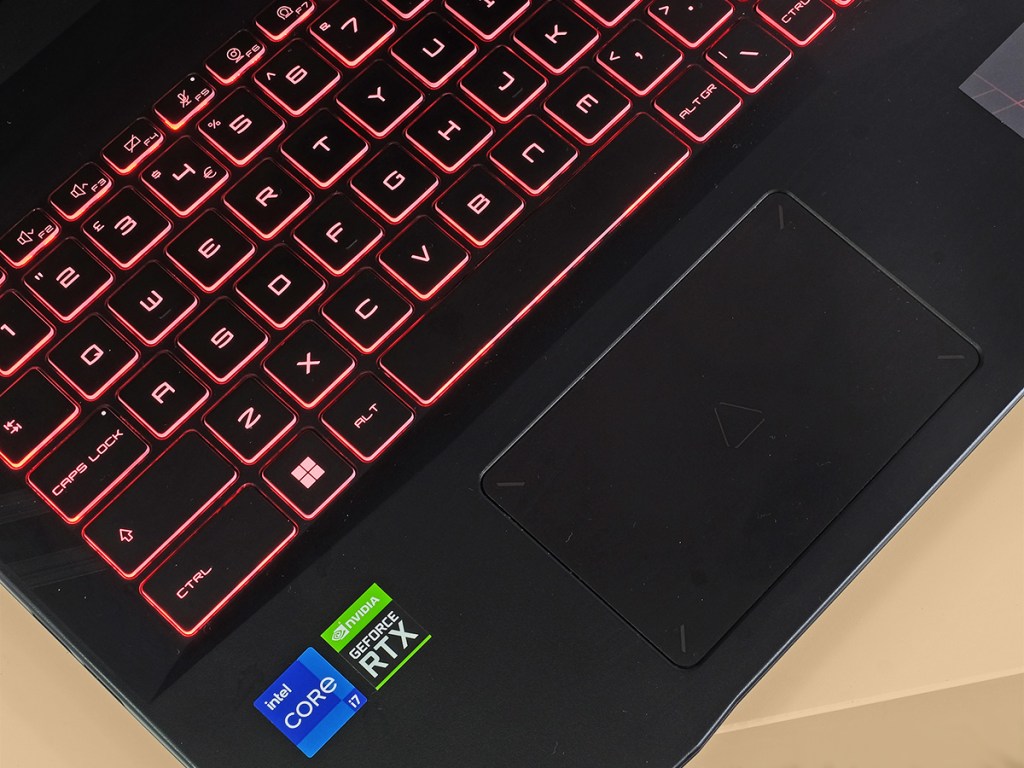 The MSI GL66 is a laptop that needs to balance additional features with cost, and you see this in the keyboard and trackpad fairly clearly.
Its keyboard uses decent membrane keys. These have much better travel than the average style laptop, with a nice soft actuation and a relatively fast feel. They seem made for gaming rather than typing, where higher key definition is more desirable.
MSI has also made the possibly contentious decision to squish the NUM pad down so it only takes up around two-thirds the space it otherwise might. We think this is a good move, particularly for those who want to use the MSI Pulse GS66 has a normal work PC. A laptop feels best when your hands are arranged around the centre of the screen. A shrunken NUM pad means you're shunted to the left just slightly.
The RGB system brings the most obvious cut. This is a single-zone backlit keyboard.
While you can pick any colour of the rainbow and flick through a few different animated presets using the Fn+F8 keys, you can't choose a different colour per key. Lenovo's Legion 5 Pro splits the difference (in some models) with a three zone backlight. There are also no other RGB elements across the laptop — one to bear in mind if you want something truly bold-looking.
The MSI Pulse GS66's touchpad is basic too. It's a reasonably small rectangle of plastic, not glass. And while the clicker would be fine in a general purpose laptop, we think a lighter feel would fit better for games. A stiff clicker is less comfortable to press at light speed.
MSI may have printed some redundant symbols under its surface, but it clearly hopes most buyers will use the Pulse GS66 with a mouse. And to be honest we don't want companies to spend too much on fancy touchpads in a laptop like this. That's what the top-end designs are there for.
Performance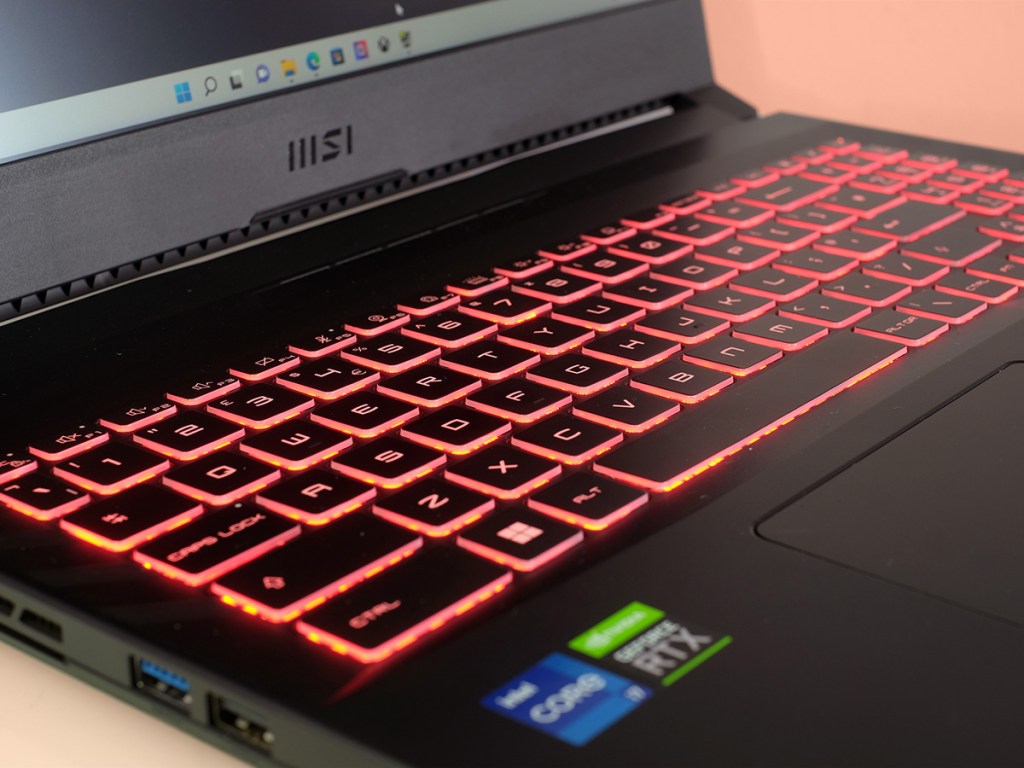 The MSI Pulse GS66 is a true gaming powerhouse, at least in the spec MSI sent us. It's available with Nvidia's RTX 3060 and RTX 3070 graphics cards. Ours has the latter.
An RTX 3060 always seems the best fit for a slightly stripped-back laptop like this. Last year's version of this design was also sold with the RTX 3050 Ti, which is a relatively low-end card and arguably wouldn't make great use of this 2022 series's next-gen CPU power.
The RTX 3070 is the card we'd want in the MSI Pulse GS66, but possibly couldn't afford. It's a bit of a monster, but MSI uses the mid-grade spec of this card.
There are half-hidden classes in laptop graphics cards, based on how much juice the laptop can pull out of them. At the low end you get 85W cards, the 95W is the middleweight, and 130W is the max power version.
MSI says the card will go up to 100W. But we noticed the frame rate in the game Control was a bit lower than we'd expect from that spec, so we loaded up a tool called MSI Afterburner to have a closer look.
It turns out the MSI Pulse GL66's RTX 3070 is only allowed to suck up around 80W when you play games. Run a benchmarking app like 3DMark and it is allowed to go much closer to 95-100W. And that, folks, is a bit cheeky.
We played around with the various performance settings, tried out the full blast fan mode, but 80W does seem to be the card's natural resting place, with occasional peaks above. This is a little disappointing as 80W is the power you'd expect from a slightly thinner and lighter model, and the rival Lenovo 5i Pro can head up to 125W — according to Lenovo at least.
There are no such issues with the Intel Core i7-12800H CPU, which is a monster processor. It has 14 cores, 20 threads, and according to Geekbench 5 gets close to the performance of Apple's M1 Pro. It's almost 1.5x as powerful as the last-generation Core i7.
Under stain the MSI Pulse GS66 isn't super-loud unless you turn the turbo fan mode on, which sets the cooling to max speed. However, we do find the fans too noticeable because there's a significant high-frequency component to the sound. This is likely down to the use of a relatively small diameter fan that needs to spin very fast to move any significant amount of air.
Battery life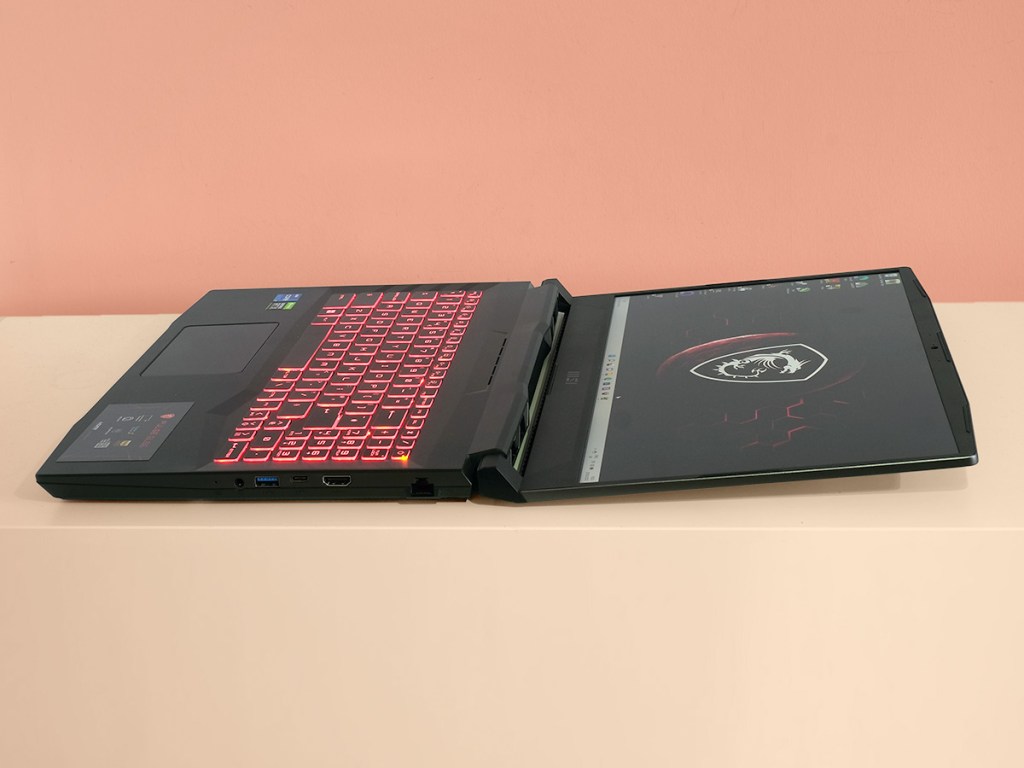 Most gaming laptops have poor battery life. The only hope you have of getting a full day's work from a charge is to buy one with an AMD CPU, which cut performance on battery dramatically.
The MSI Pulse GL66 has an Intel CPU, and therefore its battery life kinda sucks even thought it has a walrus-size 90Whr battery inside.
After giving it a run-down test streaming video off YouTube and using it for writing articles, the MSI Pulse GS66 lasted almost dead on four hours each time. Play demanding games and you won't get much more than an hour's use, even though gaming performance unplugged really isn't all that good.
We had hoped for slightly better low-strain longevity from the MSI Pulse GL66, but short battery life comes with the territory when buying a powerful Intel laptop — even a 12th Gen CPU one.
You should also be aware that if you buy the lower-end MSI Pulse GL66 with an RTX 3060 it has a much smaller 53.5Whr battery whose stamina will be significantly worse.
There are also a few compromises in the MSI Pulse GS66's connectivity. There's a full-size HDMI port but it's only rated for 4K output at 60Hz, telling us it's not an HDMI 2.1 connector. You only get one USB-C too, and it is not an ultra-fast Thunderbolt 4 socket, just a lowly USB 3.2 Gen 1 that only has an eighth the theoretical max speed.
Two classic larger USBs offer the same speed, while there's an additional slow USB 2.0 on the left. We typically prefer to see these on the right, as they are perfect for mice, but perhaps that's just our hand-handed privilege showing.
Other than that, the MSI Pulse GS66 just has a headphone/mic jack and an Ethernet port. For most the only potential big issue is the lack of a truly fast USB-C, but the separate video out and classic USBs make it much less of a problem for the average gamer.
And the speakers? The MSI Pulse GS66 puts out good volume and sounds pretty decent for podcasts and speech-based YouTube videos. However, there's no real bass here, making the dynamic range seem compressed when you watch a movie or play a game.
Verdict
The MSI Pulse GL66 is a solid gaming laptop with a mid-range design and, in our review spec, high-end components. You get an extremely colour-rich screen with a near-ideal 1440p resolution, Intel's new and swift 12th Gen Intel Core i7 processor and an Nvidia RTX 3070 GPU just a couple of steps away from the best you can get.
There are a few issues to consider, though. MSI seems to limit the graphics card's power more than some of the competition when playing games. While the fan system isn't actually loud when set to manage its own performance, its tone is quite noticeable.
The design also may seem a little basic if you pick one of the top specs, pushing the cost closer to £1700-1800. While we don't think a lack of an intense RGB light show or plastic keyboard plate should put everyone off, not having a Thunderbolt 4 port may sting.
Stuff Says…
A solid gaming laptop with high end components, but a poor design and battery life let it down.
Good Stuff
Super-rich screen colour
High resolution display
Great CPU performance
Bad Stuff
Short battery life despite high-capacity cell
GPU performance when playing games could be better
Higher-pitch fan noise can be distracting