Muse 2 review
Meditation made easier with this brain-sensing head wearable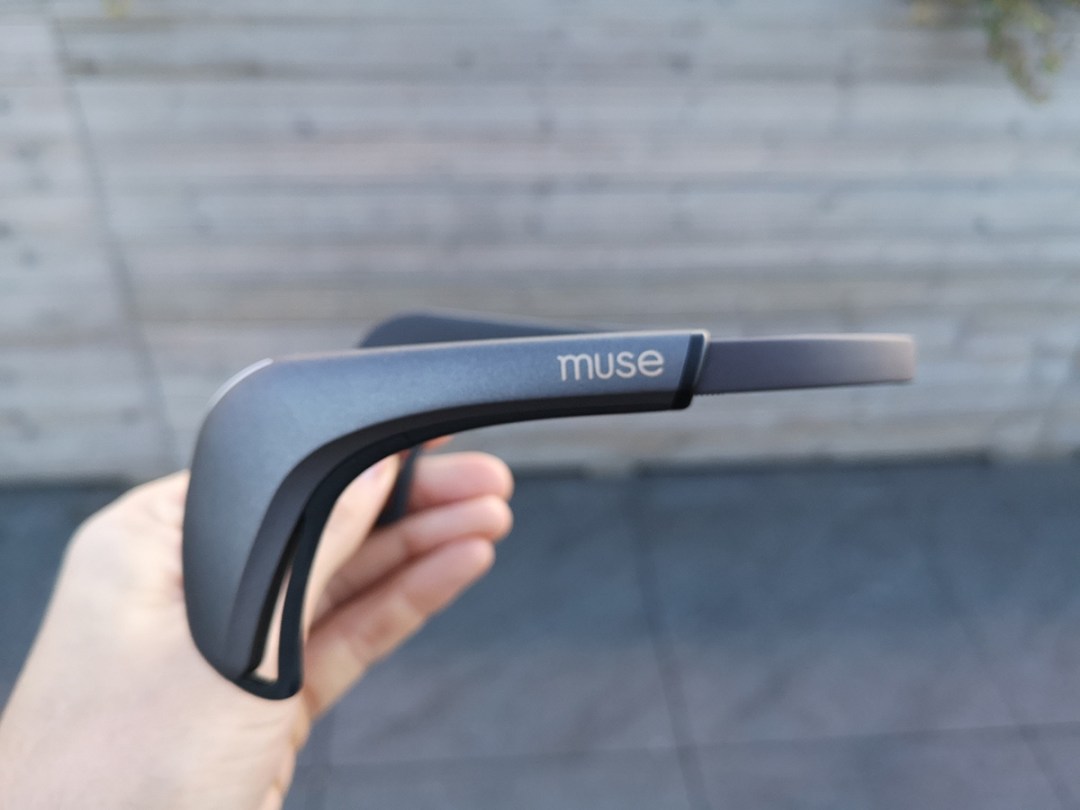 Years of scientific research has shown that regular meditation helps people sleep better, stress less and focus more.
Thanks to complimentary practises like Yoga, the draw towards meditation is becoming more widespread, but many still find it hard to know how to meditate effectively and maintain focus.
Recent apps like Headspace have also been doing a good job of spreading the word, and its success this year on apps stores shows there's a growing market for guided mediation software.
The Canadian startup InteraXon built a head-wearable device called Muse, that senses your brain waves and deciphers how well you're meditating.
InteraXon believes that if we're shown how to meditate properly, we're more likely to stay focused and really reap the rewards of the exercise.
The company's updated iteration, Muse 2, has been built to engage you in guided meditations, with real time feedback to help your brain meditate while tracking your progress and setting reminders to help build a consistent practice.
But does it really work? Well, you're about to find out.
DESIGN: WEIRD AND WEARABLE
Muse 2 is a slim-sized, consumer EEG, which stands for electroencephalogram. Widely used by neuroscience researchers around the world, EEGs use advanced signal processing to interpret your mental activity.
Until recently, EEGs were huge hat-sized devices that you would never dream of wearing in public. But Muse changes all this.
The original device was the first of its kind to shrink this technology into a consumer product. And now they've gone and made it even better with the release of the Muse 2.
It's much more refined, taking up less space on your bonce and looking slightly less weird than the previous version (although still kinda weird if you're not used to it).
It almost looks like a pair of headphones from the '90s worn the wrong way around. Nevertheless, it's comfortable and after a while you'll forget it's even there.
In case you're wondering how the device works, Muse's EEG system uses signal processing algorithms to detect the range of your brain activity, and transform it into easy-to-understand data via its dedicated app.
In terms of construction, the Muse 2 does worry us somewhat as the forehead band which holds the sensors does look quite delicate.
Given its delicate nature, it's worth noting that the Muse 2 doesn't come with a protective carry case – you have to buy this separately – and we think this would probably be wise considering its £240 price tag.
Finally, there's an adjustable arm design so it can fit even the biggest of heads, and then a micro-USB slot for charging.
SET-UP: SURPRISINGLY SIMPLE
Setting-up the Muse 2 is surprisingly straight forward. You start by downloading the Muse app and connecting the device to your phone or tablet via Bluetooth.
Before your first session, a circle is displayed on the app that shows you if you're wearing your headband correctly.
This headband status indicator basically gives you an easy way to understand if Muse is sensing your brain properly.
The signal will be better if the headband is fitted correctly, so you'll get a more accurate and responsive Muse if it's adjusted well – leading to a better meditation session. As the sections of the headband status indicator fill in, colour will start to flow. The more colour you see, the better your signal quality.
As you can see from the app screen grab, the black section corresponds to three sensors on the center of the headband, and if they lose contact with the skin on your forehead, your headband will need to be adjusted for a better fit.
Each of the four coloured sections corresponds to one of the brain signal sensors. When a section is filled in and colour is flowing, you know that the sensor it corresponds to has good contact with your skin and is getting good signal.
When you see all five sections filled in, you know Muse is sensing your brain correctly and you're ready to start meditating.
The only downside to this is it can take up to a minute for sensors to make sure contact is correct, and you have to calibrate this every time you want to meditate.
HOW IT WORKS: MIND READER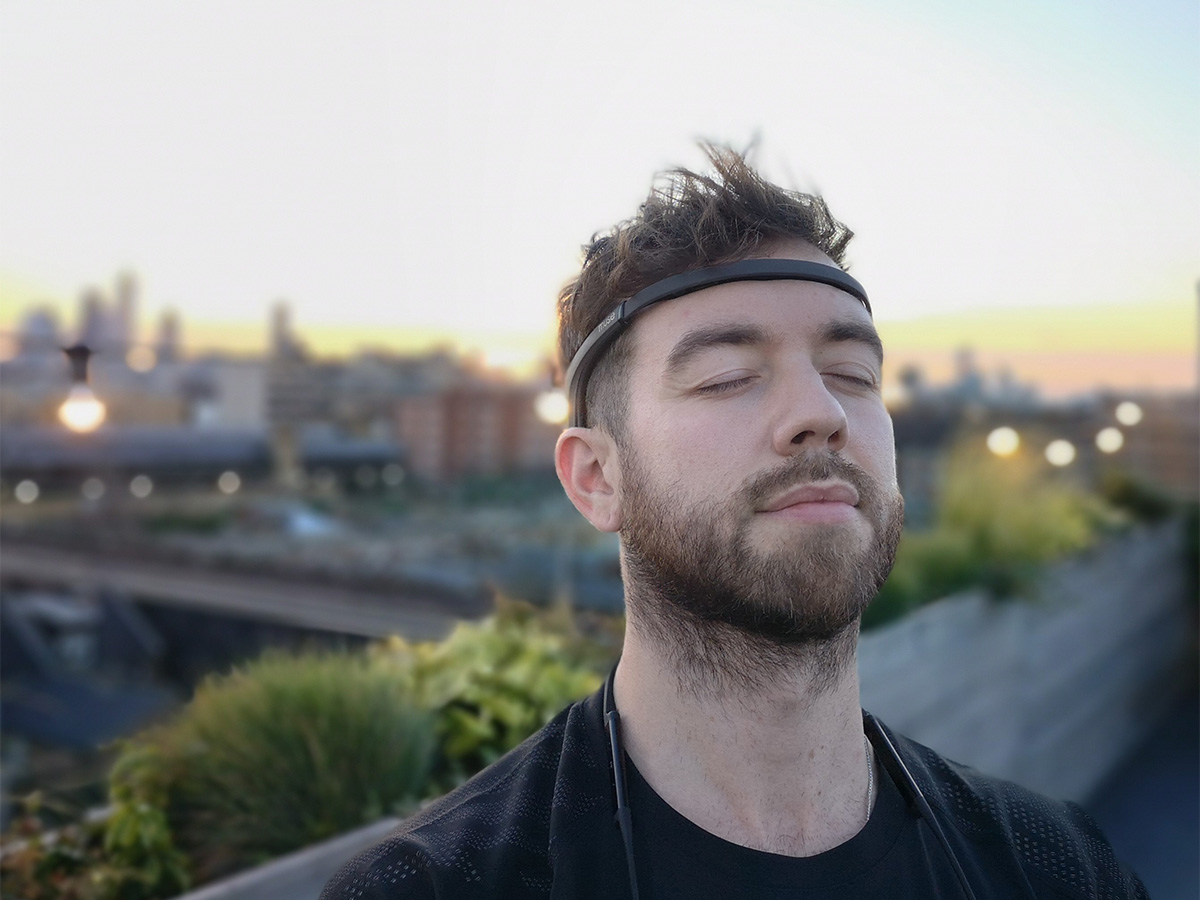 To start meditating, you have to choose for how long via the app and what type of meditation you'd like to track, be it mind, breath, heart or body – each of which uses the Muse 2's different sensors.
The Mind meditation option uses the Muse 2's seven calibrated sensors to detect and measure the activity of your brain.
The Body meditation option teaches you to remain as still as possible by using the accelerometer and gyroscope sensors, the Heart meditation option uses the optical heart sensor to help you lower your heart rate, and the Breathing option employs the three previously-mentioned sensors to guide you through breathing exercises.
This might sound weird, but the way it guides you through your meditation is with signals that replicate the weather.
Weather sounds are played back via connected headphones which reflect what's happening in your brain in real time. This will change as it studies the brain signals and translates them into rain, or calm weather with tweeting birds, if you're especially calm.
If the mind wanders and your focus shifts, Muse will detect this and the weather sounds played back to you will get more intense, with heavier rain and even storms if you're particularly stressed.
We loved how this helped us interpret how our focus changed, and how it showed us our goal was to remain calm in order to create a tranquil weather environment. The weather mechanic essentially teaches you to how to mediate more effectively with each session.
Muse will show you how your brain, heart, breath, and body did from moment to moment through simple, easy to understand data, giving you a score on how well you did and how you're improving over time.
You can also write a journal entry in the session summary to reflect how you thought the meditation went, allowing you to see how you've improved in terms of your feelings.
Muse 2 Verdict
So, it's time for the moment of truth. Does the Muse 2 really work? Well, in all honestly we think it really does.
If half way through a meditation and you purposely lose focus, you'll shortly hear this reflected in a burst of stormy weather. It's pretty crazy, really.
It's a very unconventional device indeed, especially for those who've never seen anything like this before.
Not everyone will be comfortable with wearing it in public. But the good news is, you don't have to – you could just reserve your meditation time for when you're alone.
Stuff Says…
If you can get over how weird it might look to wear in public, the Muse 2 really can help you to focus while meditating
Good Stuff
Works really well
Helps you focus and meditate
Slim and lightweight design
Bad Stuff
Build seems a little delicate
You might feel a little self-conscious wearing it