Naim NAC112X review
Naim's sober-looking entry-level pre/power amp combo squares up to the competition.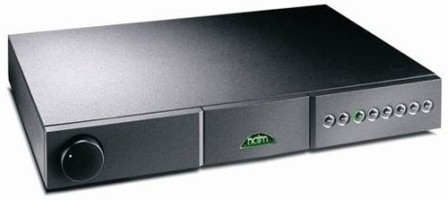 In common with other products in the company's range, Naim's entry-level preamplifier/power amplifier combination has been subject to a range of revisions. These include a new main circuitboard layout for the six-input NAC112X preamp, which also gains a low-noise display, two switchable DIN/phono inputs for connection flexibility, and an RC5 input allowing a remote sensor to be connected when the preamp isn't in line of sight.
Avoiding the numbers game
The NAP150x, meanwhile, has a revised, uprated power supply with separate transformer windings for each channel and an enhanced supply for the preamp, which in the usual Naim way gets its juice from the power amp. There's nothing on the fascia to distinguish old products from new – but then Naim doesn't do model numbers in that way.
The result of the tinkering within is a cleaner, clearer sound than the originals managed: listen to The Streets' Empty Cans and this Naim pairing charges along at full throttle, pounding out the rhythms of the music beats with breathtaking force. The NAP150x's maximum output is just 50w per channel, but you'd never guess from the way it grips just about any loudspeakers. This has long been a Naim hallmark, in that its amplification always claims very modest power outputs, and yet sounds a lot bigger, and capable of keeping even unruly loudspeakers under tight control.
Switch to something more subtle, such as Van Morrison's Moondance, and the Naim pairing obliges with touching renditions of Crazy Love and Caravan not to mention the title track. The Van's vocals are full-bodied and packed with character, and the backing band sounds like it's bang in the groove.
Match points
This is a capable pairing, but it's not perfect. With Tchaikovsky's Marché Slave, the Naim copes well with the ebb and flow of the piece, but it doesn't delve into the recording with the skill of class-leaders such as AVI's Laboratory Series Integrated amp.
Even so, don't write off these amps: they communicate the music very effectively. Add easy upgradeability, plus Naim's fabled reliability, and the result is a very tempting buy.