Nikon D500 review
This speedy APS-C classic loves to be where the action is...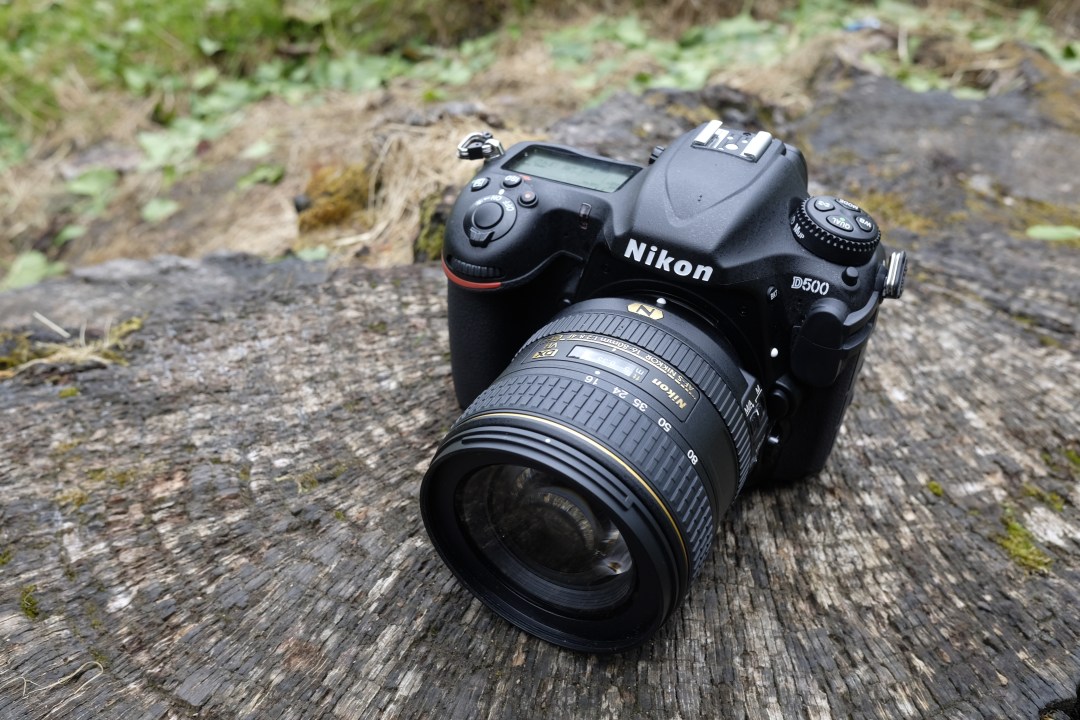 These days, cameras like the Nikon D500 can seem a bit old-school – and not in the timeless, rangefinder sense either. 
After all, between mirrorless wonders like the Fujifilm X-T20 and full-frame monsters like Sony's A7R II, is there any room in your life for a £1,700 DSLR with an APS-C sensor?
The answer, at least for anyone looking for a speedy, step-up DSLR, is a definite yes. The D500 has some of the best bits of the painfully expensive D5 – including the same processor and focusing system – along with incredible ISO speeds of, wait for it, 1,640,000.
Okay, you probably won't need that unless you're regularly snapping panthers in a cave, but all of this adds up to incredible tool for shooting fast-moving objects, and pretty much everything else besides.
Design: solid and chunky, built like a tank
The D500, especially when paired with the 16-80mm f/2.8-4 kit lens (of sorts), is a bit of a beast.
You really feel like you've got a solid bit of kit in your hands here, and there's dials and buttons all over the place. A textured coating around the chunky grip has a great texture, while the top plate looks like it could withstand some serious knocking about.
We've got a tilting screen design here with the D500 , and it's touch-sensitive too. That makes it great for composing from some awkward angles, but note that this doesn't include selfies, or indeed anything shot in portrait format.
The touch-sensitivity particularly comes into play when you're shooting in Live View and the D500 is mounted to a tripod – you can tap around the screen to change AF point, or even fire off the shutter if that takes your fancy.
Controls: the joy of joysticks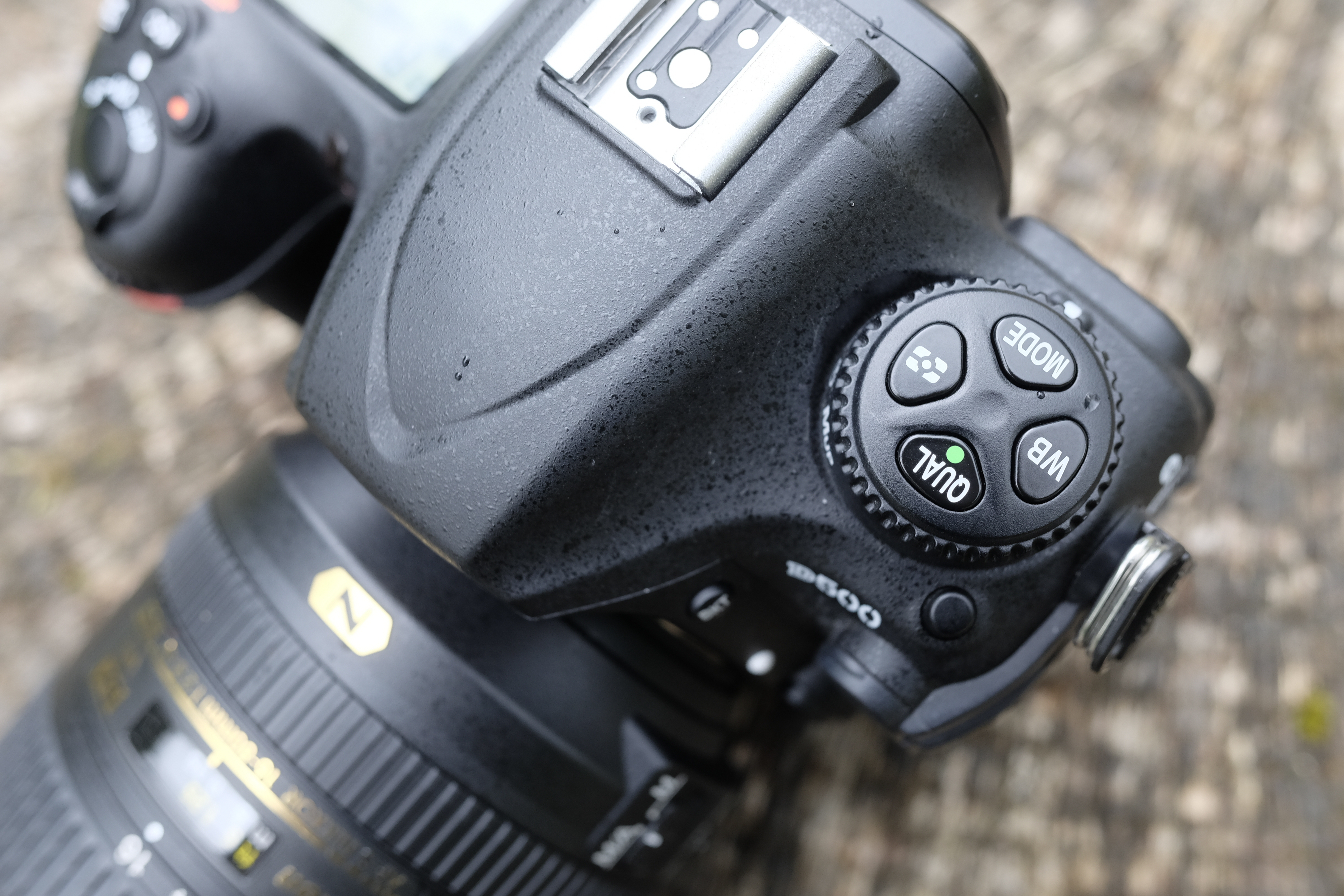 Experienced shooters will enjoy exactly how many buttons and dials are available on the D500. This means you'll rarely find yourself diving into pesky menus whenever you want to change something.
There's a chunky dial on the top left hand side of the camera which you can use to do all manner of things, including changing the shooting mode, adjusting image quality, choosing a metering mode or setting the white balance option. Give it a twist to change drive mode, too.
Over on the right hand side, there's a button for ISO, another for exposure compensation, while a dial at the rear has different functions depending on the shooting mode you're in.
A raised joystick allows you to move the AF point to your heart's content, and is particularly easy for your thumb to land on when looking through the excellent viewfinder.
For those who have a particular craving to set a button to access a favourite setting, there's a couple of customisable function buttons to choose from. Sadly, the Photo shooting menu bank, found when you press the "i" button contains a pretty unhelpful set of options, which can't be changed.
Features: something for everyone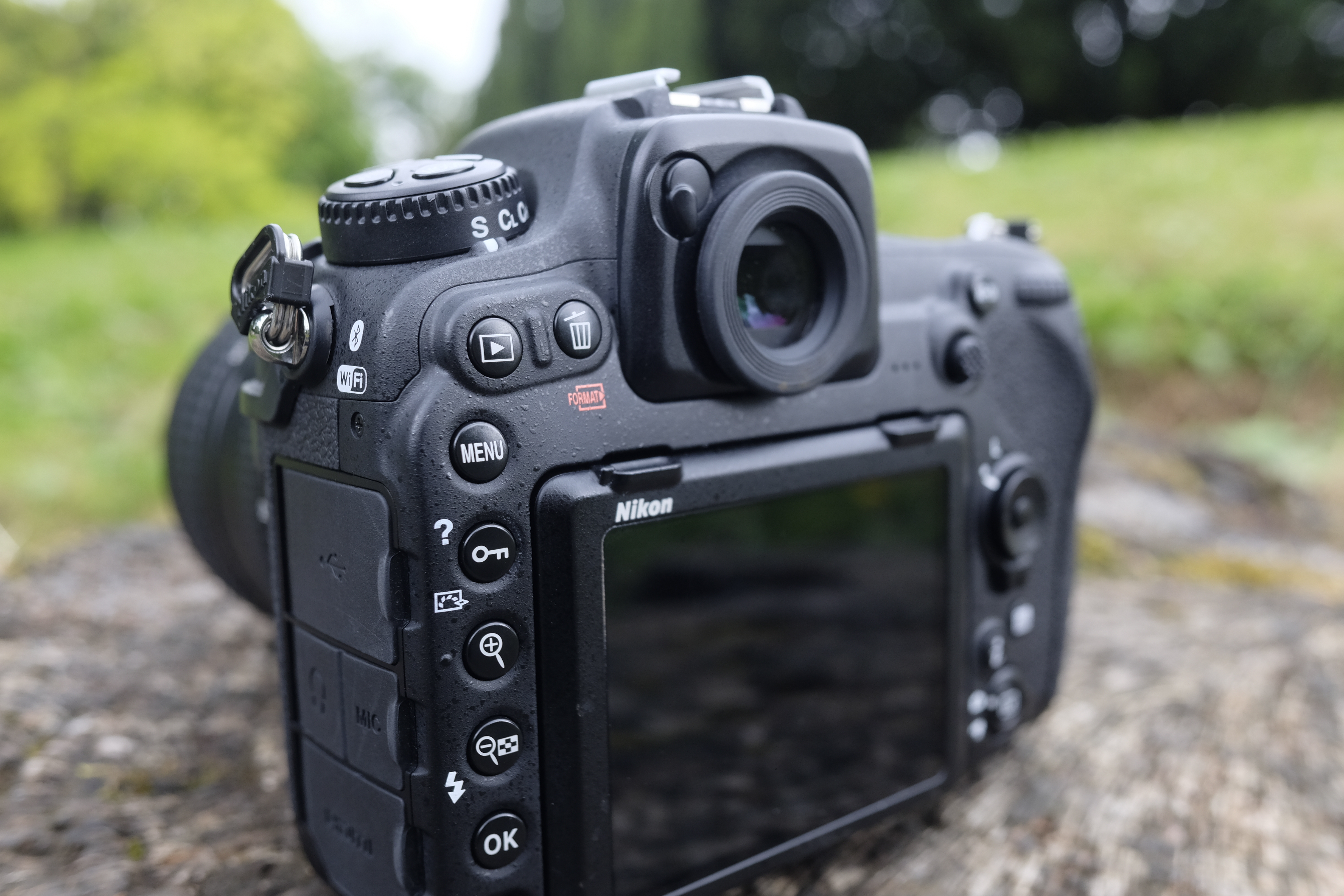 Here's where the D500 excels – it's got a hugely rich feature set. While this is by no means a cheap camera, you do get a heck of a lot of options which make the camera well suited to just about every genre of photography. If we're talking about value for money, it actually comes out pretty well.
The autofocus system, which has been inherited from its beefy older brother, the D5, has 153 AF points, 99 of which are cross-type, which means they are more sensitive to light. 15 of the points are sensitive down to f/8 – so if you're using long lenses with extenders for things like sport and wildlife, you'll still be able to get a lock on your target.
In short, the focusing system is extremely capable in a wide range of different shooting and lighting conditions – it's only really the darkest of situations where you might struggle slightly. Continuous focus is also very good, being able to follow rapidly moving objects, even those that don't have a particularly obvious pattern.
You can shoot at 10fps, which while not quite on a par with the D5, is very, very good for a DSLR and should see you right for the majority of subjects you're likely to shoot. The buffer performance is top-notch too, refreshing quickly after rapidly firing to allow you to get on with shooting another set of images in quick succession if you need to – even if you're shooting in the power hungry RAW format.
Along with the touch-sensitive screen, you've got an optical viewfinder. I can sit here all day and argue about the benefits and drawbacks of types of viewfinder, but, for those that are firmly in the optical camp, you're going to be happy with the D500's offering. It gives you a 100% field of view, and is lovely and bright too.
The D500 is also equipped with Nikon's super-handy Snapbridge technology. That means you can set up a Bluetooth connection with your smartphone that's always on (at low power). Images will be automatically transferred across to your phone ready for sharing with the world in a snap – no more faffing around setting up Wi-Fi connections, trying to get the damn thing to connect, then giving up half way through.
Bluetooth is a lot slower than Wi-Fi though, so RAW files and high resolution JPEGs are out of the question. But your Instagram needs will be more than met.
4K video recording is available too – in fact, videographers are very well served with HDMI output, headphone and microphone sockets. The D500 is equipped with two memory card slots – one accepts SD cards, while the other takes the faster XQD format. Invest in the latter if you want to shoot at super high speeds, or do a lot of 4K video work, but you can stick with SD if you're trying to save cash.
Image quality: vibrant and detailed
One of the best things about the D500 is how well it handles different kinds of subjects. That means if you're an enthusiast who likes to try their hand at a bit of everything, you won't be disappointed.
JPEGs directly from the camera are deliciously vibrant, without verging into unrealistic territory. Detail is fantastic at the lower end of the sensitivity range, with image smoothing only starting to become a bit of an issue once you reach very high ISO settings like ISO 12,800. You can get away with shooting right up to around 51,200 if you intend to keep your shots at A4 size or below.
As for the top setting of 1,640,000 – well, let's just say unless you're trying to catch a thief operating in the darkest conditions, you're probably not going to bother with it, but it's pretty amazing that it's there at all.
For those looking to take photos that you'll actually want to look at again, ISO 102,400 is the maximum you're going to want to use. Noise reduction is applied to the JPEGs automatically, but if you look at the corresponding raw files, you can see that there's quite a bit going on when you're shooting at mid-high ISOs.
While the overall effect is quite pleasing and natural, shooting in RAW format gives you the option to adjust noise reduction how you best see fit. Both automatic white balance and all-purpose metering do well to produce good colours and good exposures, respectively.
Nikon D500 verdict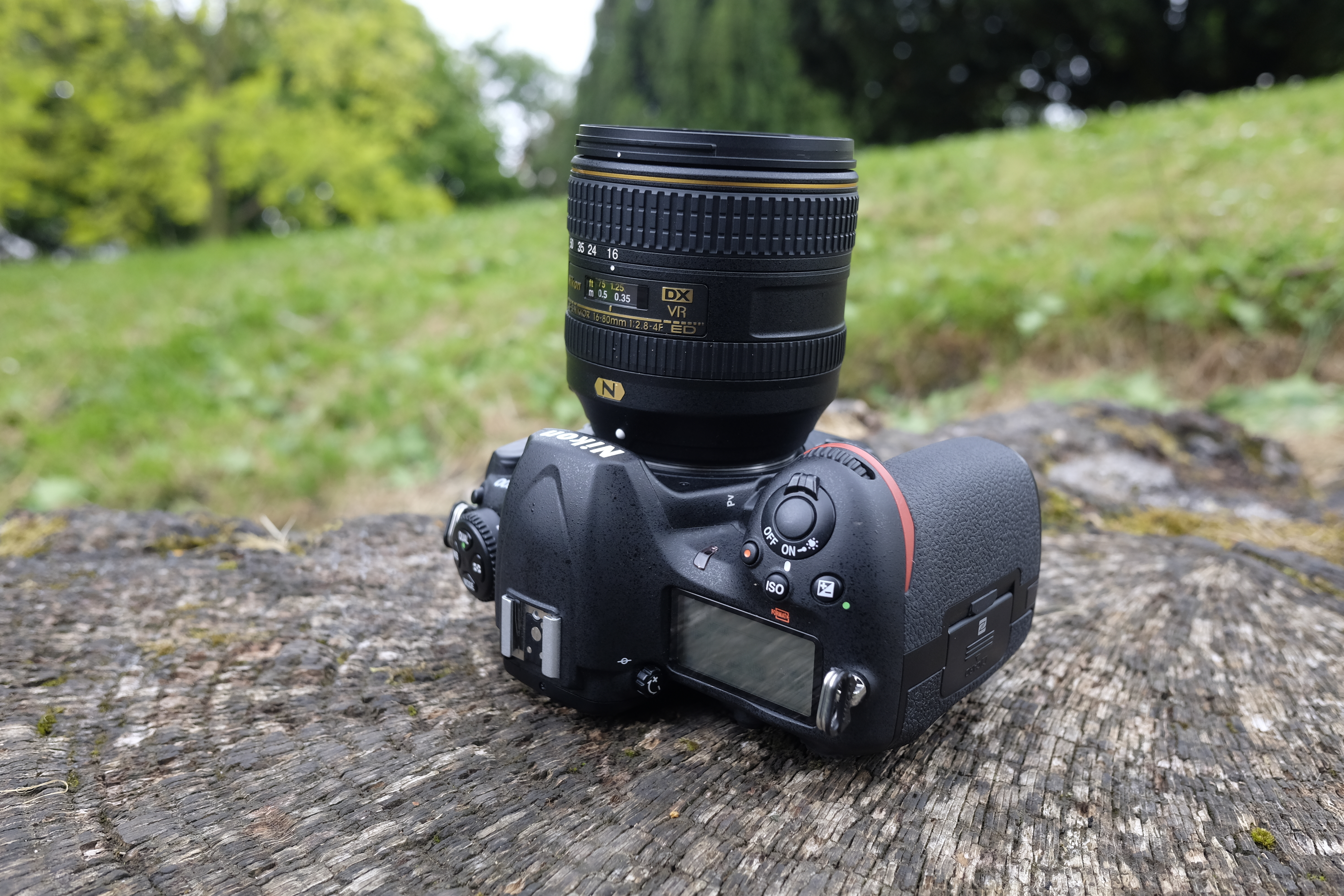 The Nikon D500's range of features and excellent performance make it the best APS-C DSLR you can buy.
It's a chunky camera, designed to produce good images in a range of different conditions. Those experienced enough to be au fait with all the different settings options will love the direct controls on offer, while features such as 4K video recording also appeal to videographers as well as photographers.
The only drawback here is cost. While it arguably represents good value for money because it performs so well, it's still a hefty initial outlay you'll have to get over. More so if get it with the excellent 16-80mm f/2.8-4 lens, which is also highly recommended.
There's a huge array of things going for the D500, high price or otherwise – if you're looking for a solid all-rounder that performs well in a range of different conditions, it's a worthy investment.
Tech specs
| | |
| --- | --- |
| Sensor | 20.9 megapixel APS-C CMOS Sensor |
| ISO range | 100 – 51200 (expandable up to 1,640,000) |
| Screen | 3.2in, TFT LCD, tilting, touch-sensitive |
| Autofocus | 153 focus points (including 99 cross sensors) |
| Burst rate | 10fps |
| Dimensions/weight | 147x115x81mm/860g |
Stuff Says…
The best APS-C camera you can buy and well worth its slightly painful price tag
Good Stuff
Fantastic image quality for a range of subjects
Loads of manual controls
Brilliant autofocus system
Excellent optical viewfinder
Bad Stuff
Expensive for an APS-C camera