Nikon D7500 review
Nikon's mid-range DSLR is anything but middling...
Like photographers, most DSLRs have a preferred subject matter – whether it's fast-moving wildlife or city nightlife.
While a great all-rounder, Nikon's D500 has a particular talent for the former, thanks to its speedy autofocus, blazing 10 fps burst mode and high ISO range.
As the D7500 is effectively a 'junior D500′, does that mean it inherits the same talents? Almost, but not quite. Sure, it has the same 20.9MP, APS-C sized sensor and processor combination, so image quality irs right up there with its sibling.
But at half the price of the D500, there are compromises that make it more of a step-up, all-rounder than a specialist, pro snapper.
If that's what you're after, it's a very good camera indeed…
Design: chunky and old-school
The D7500 replaces the two-year-old D7200, and although the size and weight has been slightly reduced, the overall look and feel of the camera is very similar.
That means you get a satisfyingly chunky piece of kit, with a textured coating on the front and rear grips giving it a good feel of quality.
If you like tweaking manual settings, or have an ambition to embrace such tweakery, you'll appreciate the range of dials and buttons too.
There's a familiar mode dial on the top of the camera, along with a dial for changing the drive mode. A dial on the front and rear of the hand grip can be used for different things, depending on your shooting mode. Shutter speed can be controlled by the rear dial while in manual mode, with the front controlling aperture.
Unlike the D500, there's no joystick available for changing the AF point. Instead, you're reliant on a navigational pad, although in Live View you can use the touchscreen to set the AF point. This makes is pretty friendly to beginners too.
Speaking of the screen, this nifty little number is a tilting device which is handy for composing from awkward angles, such as up high or down low. A fully articulating screen would have been better, but it's still pretty useful.
For some reason, Nikon has taken the decision to downgrade to the D7500 to one SD card slot (from the D500's two). That's slightly odd given who the D7500 is aimed at, and it's bad news if you're used to having a dual slot for backup or overflow.
What's more, the card slot is only compatible with slower UHS-I cards – while that shouldn't have too much of an impact for most subjects, it's a bit of a shame for faster frame rates.
Features: impressive for the price
Having the D500's processor and sensor combination means image quality is very similar – in other words, fantastic. But it's how you get to clicking the shutter that's different.
The D7500 has an autofocus system that is very good, if not as quite as great as the D500's. The main difference is that there are fewer autofocus points, and fewer which are quite as sensitive.
That means that the coverage across the frame is comparatively lacking, while in very low light the camera can sometimes struggle to lock onto the subject with ease. Still, generally speaking, autofocus is quick and accurate when shooting most subjects.
The frame rate of up to 8fps is a little less than the 10fps boasted by the D500, but if you're photographing relatively predictable movement you should still find that's more than enough for most situations. We've been able to capture sharp images of a fast-paced dog chasing a tennis ball – and really, what more could you want from life?
Another plus is that, unlike some cameras at this price point, the D7500 has an optical finder with 100% coverage. In short, that means 'what you see is what you get', and you're not going to have some random pesky tree branch poking into the edge of your shots.
Slightly less successful is Snapbridge, which is a feature which we sometimes love to hate. When it works, it's fantastic – transferring your images across to your phone in a flash, ready to share on Instagram et al. But when it doesn't work, you can be left wanting to throw the camera out the window. On occasion, Snapbridge can refuse to connect altogether, or get stuck.
There's a setting which means that every photo you take is automatically transferred to your phone – switch that off if phone space is at a premium, but bear in mind that images will be resized to a smaller resolution before transfer.
Image quality: crisp and vibrant
Straight out of the camera, Jpeg images have a good degree of warmth and saturation, while detail is resolved impressively well.
Image smoothing starts to come into play when looking at images shot at around ISO 6400 or above, or lower down at ISO 3200 if you happen to be looking at your image at 100% on screen.
Underexposure can be a little bit of a problem in certain situations. We found that we were having to rely on dialling in some positive exposure compensation more frequently than we'd like.
Still, switching on Nikon's D-Lighting system from the main menu can help to overcome this problem, helping to bring out some detail in shadows that might otherwise be lost.
The top native speeds of ISO 25600 and ISO 51200 can be useful on the odd occasion when the light is very low, but, thanks to image noise, are best avoided. The less said about the expanded ISO settings, the better, but if you do happen to want to spy on your neighbour's cat, then maybe you'll find a use for them.
Overall, the D7500 copes really well with lots of different lighting conditions, producing accurate enough colours in almost all situations. Under artificial lighting, the tendency is to err towards warmer tones, but it's a pleasing look overall – and switching to a specific white balance setting can boost your 'accuracy', if that's your thing.
Nikon D7500 verdict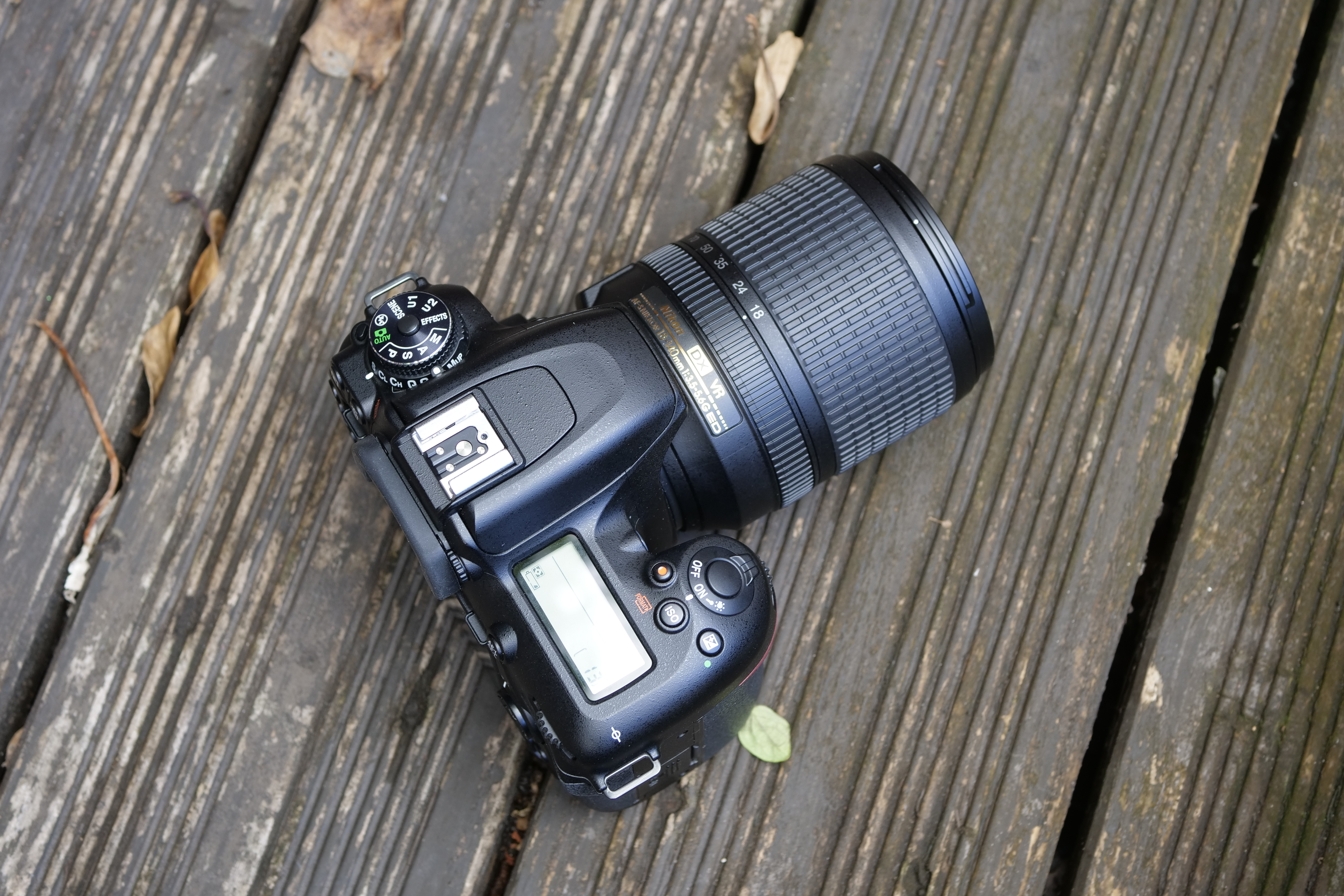 The D7500 sits in that classic 'step-up' zone for those looking for a smattering of pro features in a smaller, cheaper form factor than pro cams.
In this sense, it's among the best out there, particularly if you're craving a D500 but don't have the cash to buy it. You're essentially getting a D500 in a cheaper body – and depending on what you shoot, that's no bad thing.
If you're an all-round type of shooter, with no particular favourite genre, or you tend to mainly shoot still subjects, the D7500 arguably makes more sense than its pricier sibling.
But if you like to shoot action and fast moving subjects, the D500, while more expensive, is better suited to the task at hand. The same goes for low light shooting.
Still, beyond mirrorless compact system cams like the Fujifilm X-T2, the only real alternative to the D7500 is Canon's EOS 80D. That's still a fantastic camera and now available for under £1000, but the D7500's burst shooting, viewfinder and autofocus see it edge just ahead as our favourite DSLR at this price.
Stuff Says…
If you don't mind its DSLR bulk, this is one of the best all-rounders you can buy at this price
Good Stuff
Superb image quality
Speedy autofocus
Handy tilting touchscreen
Fast burst mode (at this price)
Bad Stuff
Only one SD card slot
Wireless sharing a bit patchy