Nikon P1000 review
A curious beast for capturing curious beasts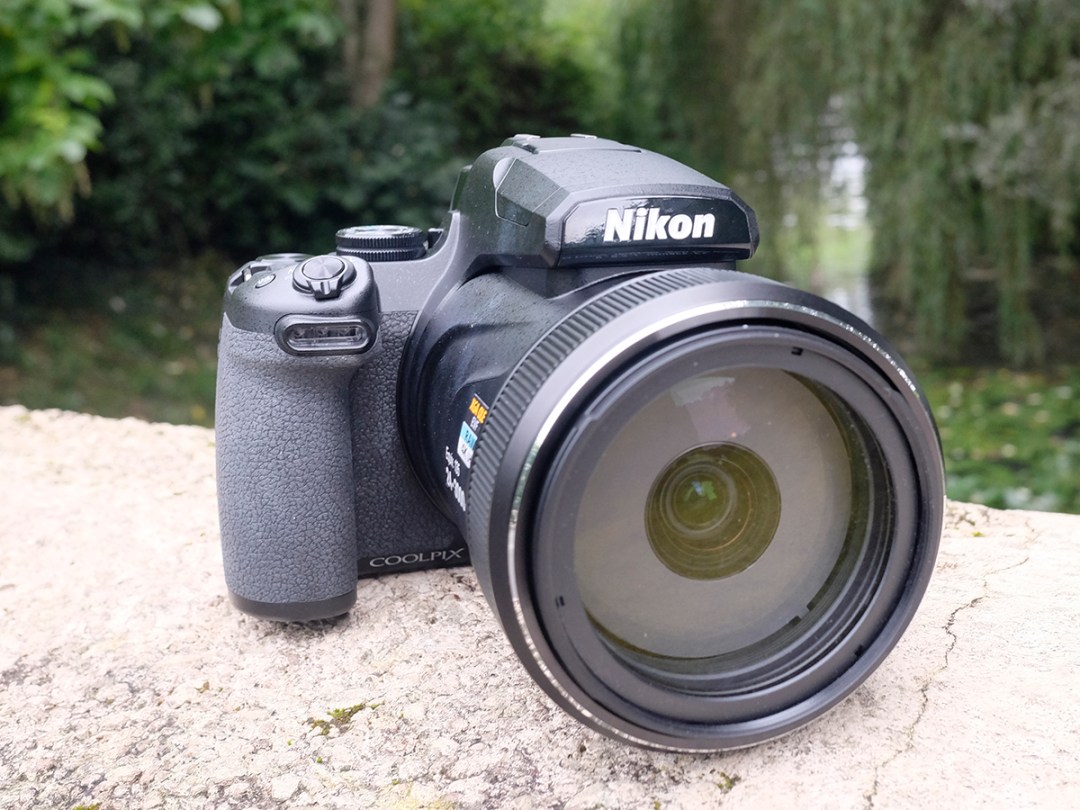 The Nikon P100 is really quite a niche camera. But if you're a photographer shooting wildlife on a clear day, then do read on…
The attention-grabbing feature of the P1000 is its enormously oversized 125x optical zoom lens – or 3000mm if you like to think in 35mm terms.
Sadly, because life is full of compromises, this large zoom is matched with a very small sensor – comparatively tiny to the size of the camera holding it. So it's still, in essence, a compact camera – it's just got a massive great lens whacked on the front of it.
The (almost) £1000 price tag gets you a handfull of cool features, such as RAW format shooting and manual controls. Add 4K video recording and a fully-articulating screen and you've got yourself a rather interesting, yet unusual bridge cam. 
Design: we're gonna need a bigger bag
It's almost impossible to describe just how huge the P1000 is, but to put it in context, at almost 1.5kg it's beefier than almost all DSLR bodies currently on the market. Yes OK, it's also got a whopper of a lens attached to it, but either way, you're not going to be jamming this in your pocket for a merry trip around the Med.
The main girth of the camera is taken up by the lens, which starts off at merely very big and ventures into ridiculously big by the time you've zoomed it to its full capacity. To do that you can either use a switch on the side of the lens barrel, or a standard zoom rocker around the shutter release.
An array of buttons and dials are spread across the body of the P1000 giving you quick access to most of the settings you're likely to want to change on a day-to-day basis. We'd like to have seen a "Q" or "I" button, such as you'll find on Nikon's DSLR and mirrorless bodies, to give you often used settings in one-handy place.
Despite the huge weight of the lens, the chunky grip does the best job it can do to make things seem as well balanced as possible,but you're still probably going to want to employ your other hand to keep this camera steady. If you find yourself wanting to shoot distant subjects – which let's face it is probably the main reason you're even thinking about this camera – a tripod is a good investment.
Trying to compose at 3000mm is no easy feat, as even the slightest movement of your subject can see your careful constructed composition destroyed in an instant. Luckily, there's a button on the side of the lens barrel, which zooms out the lens if you lose your subject, rezooming in again when you find it. You'll be lost without it when capture moving subjects, such as birds and other creeping wildlife.
Features: mostly great on paper
With its 125x zoom, high-resolution viewfinder, fully articulating screen and 4K video, the P1000 appears to be the perfect travel camera. Problem is, you might as well book another plane ticket, so it can have its own seat too.
If you can get over the fact that this is a seriously weighty beast, all of those features are really quite enticing.
Moving on from the body-shaming of the P1000, the viewfinder is one of the best you'll find on a bridge camera. There's even a sensor to detect when you've lifted it to your eye. Smart.
It's probably fair to say that many of the photographers that the P1000 is aimed at will prefer to use a viewfinder, so it's good to see a decent one included here. It's therefore perhaps even more of a disappointment that the screen is, by comparison at least, nothing to write home about. It's fully-articulating, yes, but it's a fairly standard resolution and isn't touch-sensitive.
That's not always a problem when buttons and dials are so frequently populated around the body, but for a camera that calls for the use of a tripod, not being able to lightly tap the screen to trigger off the shutter is a big disappointment.
It would also be nice to be able to quickly change the focus point when using longer focal lengths – as already mentioned, the subject can move from one side of the frame to the other in a fraction of a second at long distances.
The P1000 has an EXPEED 4 processor. While that is fast enough for most of the operations you might want or expect, the shot-to-shot time is not impressively quick. While the image is writing to the card, you'll be locked out from performing other functions, such as zooming the lens or accessing the menus, leading to frustration if you're trying to capture shots in relatively quick succession.
Perhaps the biggest disappointment on the spec sheet comes from the fact that the P1000 has a small 1/2.3-inch sensor. For those that don't spend their lives geeking out over sensor size, that's actually smaller than some of those found on current smartphones, such as the iPhone XS or the Huawei P20 Pro. More on how that translates below…
Image Quality: small sensor woes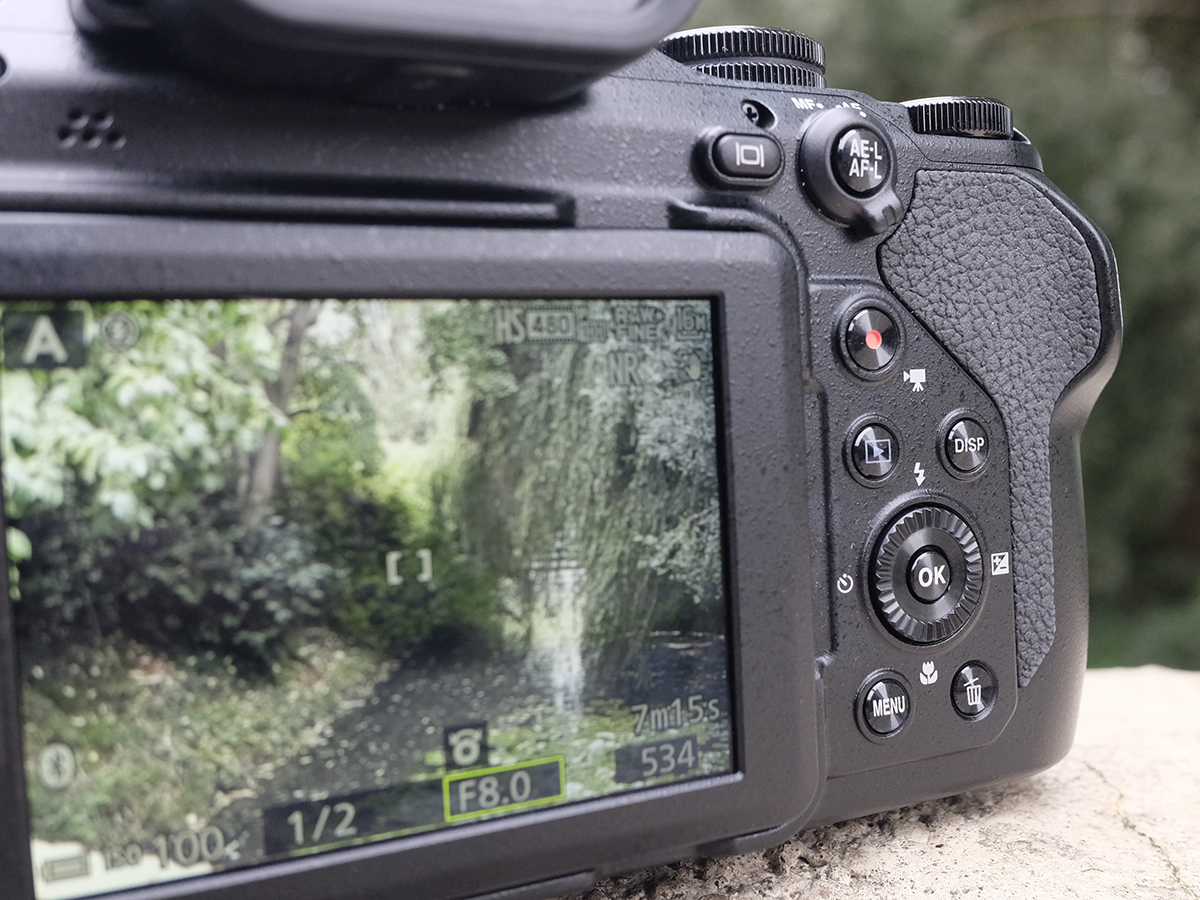 As is the case with the majority of compact cameras using small sensors, the best results can be seen when you're shooting in good light.
In the case of the P1000, the best results can also be found when shooting at the wider focal lengths supplied by the lens. That's not to say that images taken at 3000mm are bad – but they're equally not amazing either.
Nikon's vibration reduction system – called Dual Detect Optical VR – does a decent job of keeping things fairly sharp, but it's helpful to make use of something to steady yourself on, such as a wall or railing, that is if you don't have a tripod to hand.
The problem with a small sensor is that it's not exactly primed for high-quality shooting in poor or low light. While Nikon has sensibly kept the resolution down to 16 megapixels here, it's still certainly not something you're going to want to use after sunset if you can help it.
Nikon P1000 verdict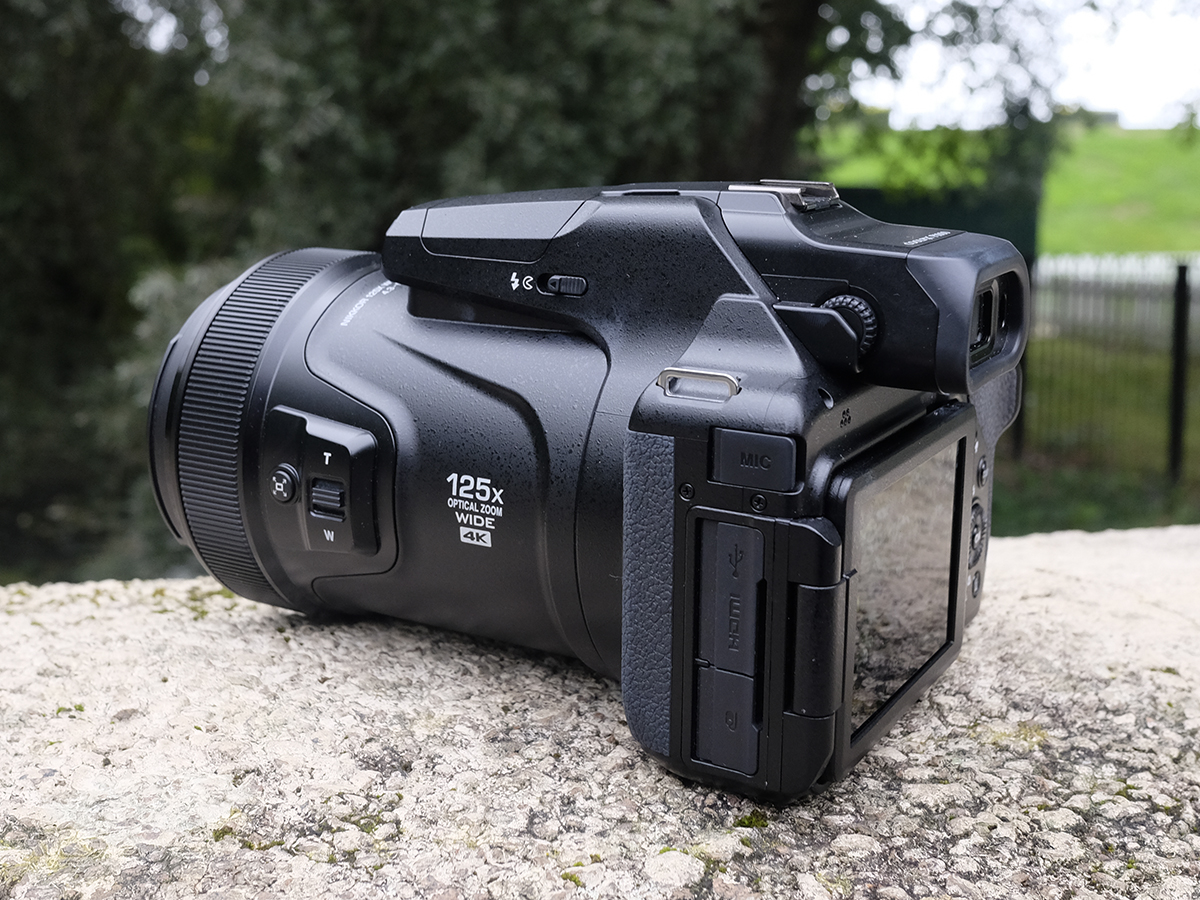 Bridge cameras are loved by many and hated by others They offer a way to give you a little bit of everything all in one package – but perhaps the P1000 is trying to do just a bit too much.
Now, if we were to judge the P1000 on its ability to deliver a market-leading zoom just "because" then it'd be very highly rated. However, as it is, it's probably not a very practical camera for 99% of the photographer population – and therefore it's kind of hard to recommend it to many people.
Image quality is decent, in bright light and at wider focal lengths, but what you can capture at 3000mm is hardly likely to win any awards for sharpness, clarity – and with how difficult it is to frame at this length.
If you want a travel camera that's not quite so ridiculous, and offers better image quality, take a look at the Panasonic FZ2000, or the Sony RX10 IV – both sporting a one-inch sensor, you're sacrificing a heck of a lot of zoom, but more than making up for it in image quality.
Still, it's a remarkable achievement and shows exactly the sort of clever tech Nikon are capable of producing. The next thing they need to do is shrink it all down into a much more manageable size. Right now though? It's a work in progress…
Tech specs
| | |
| --- | --- |
| Sensor | 16 megapixel 1/2.3-inch CMOS |
| Processor | EXPEED 4 |
| ISO Range | 100-6400 |
| Video | 4K |
| Screen | 3.2-inch fully-articulating 921k-dot TFT LCD |
| Viewfinder | 0.39-inch, 2359k-dot OLED |
| Autofocus | Contrast-detect AF |
| Shutter speeds | 1/4000 – 30 seconds |
| Burst rate | 7fps |
| Weight | 1415g (including battery and memory card) |
| Dimensions | 146.3 x 118.8 x 181.3mm |
Stuff Says…
If you absolutely need the novelty of a 3000mm, then there's nothing else quite like it – but otherwise, there's more practical solutions on the market
Good Stuff
Huge zoom
RAW format shooting
4K video
Bad Stuff
Massively bulky and weighty
Very small sensor
Screen not touch-sensitive
Very expensive