Nikon Z7 review
The much-anticipated debut of the Z7 hits all the right spots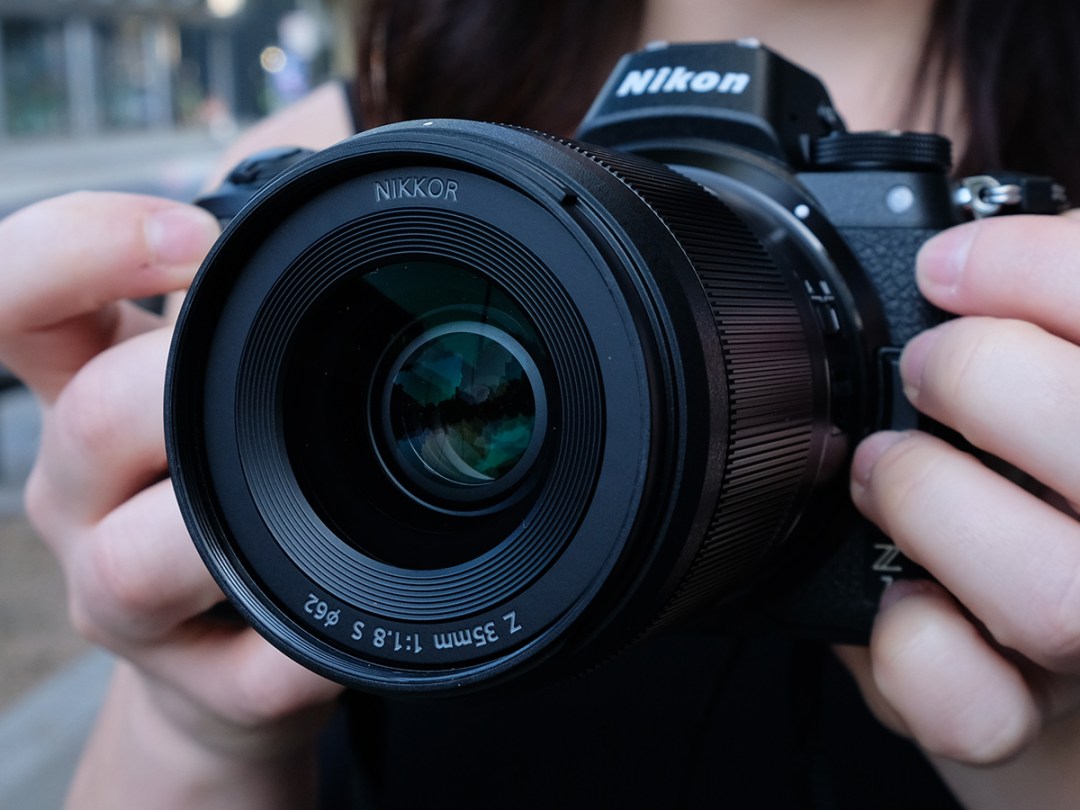 With a if-you-can't-beat-em-join-em mentality, Nikon are taking a leap to boldly enter the full-frame mirrorless game by launching two new cameras: The Z6 and the Z7.
Just like the Queen's hairstyle, Nikon hasn't changed its mount for 100 years.
Finally roused from DSLR stubbornness, it's the company's largest and most exciting mount yet, the Z-mount, with a diameter of 55mm – which is hay-uge.
Sony's E-mount is 46.7mm and the Nikon F-mount is 47mm for comparison. This new mount opens up new possibilties for exciting new lenses and wide apertures such as the 55mm F/0.95 lens which has been causing excited squarks across the photographic community. 
We've spent a week with this high speed beast rocking a 45.7MP full-frame CMOS sensor, built-in 5 axis stabilisation, with an ISO range of 64-25600. It's weather and dust resistance, with a tilt LCD touch-screen.
The likes of Sony haven't had any real competition, until now. Oh and shortly after the launch, Canon only went and dealt a strong hand with its own very capable EOS R.
Inside, it rocks the same trusty battery as the Nikon D850, and also supports USB charging.
There are three Nikkor S lenses for the Z-mount right now: a 50mm F/1.8, 35mm F/1.8 and a 24-70mm F/4. I was given the latter two. Here's how I got on…
Design and build: Grip-ity doo dah
It's not the most photogenic of cameras, but then Nikon was never known for making products that you see perched on an Eames storage unit in a fancy interior design magazine.
Nikon is pre-occupied on a more noble pursuit: How to substantially increase the size of its mount, whilst keeping the body as small and light as possible and yet retaining that super ergonomic Nikon legacy. And it really hits the spot with the Nikon Z7.
It weighs a couple of grams more than the Sony Alpha rIII, and is slightly bulkier too. It promises the same waterproofing and sealing as the much-loved Nikon D850. Walking through the incredible teamLab exhibition in Tokyo with it dangling around my neck, it definitely took a few splashes and knocks from the interactive art, yet didn't show any signs of weakness. So I can only imagine it'll be safe against the elements on top of Scafell pike in mid December.
In the hand it feels sturdy and I'm really pleased it's double down on size but retains a deep grip.
Design-wise, Nikon sticks to a very similar setup as its DSLR lineup with the standard mode dial – as to not totally alienate its existing loyal shutterbugs and so the transition for a Nikon DSLR user should be quite natural.
It's a releif to see that this is a fantastic EVF with a 3.69million-dot OLED panel and a more than decent 0.8x zoom. The screen is no slouch either, with 2.1 million dot tilt angle touchscreen.
There's a fair amount of rubber grip so it's very easy to open the card slot due to the curved lump on the side of the body. Opening and shutting this felt sturdy and secure.
The top right has the shutter release button (as expected) along with the on and off switch and around it are three controls: ISO, exposure control and movie recording.
It's the same story with the menu screen and interface. There are well-sealed ports for headphone, microphone, USB-C, HDMI and remote ports, both the Z6 and Z7 take an XQD memory card. Nikon told us that the unreliability and flimsiness of an SD card, meant there was an executive decision to transition to a tougher XQD card.
There is only one card slot, though. I don't see that as much of an issue, but some might.
Features: Focus Pocus
The 3.2inch 2100K dot tilting touch-screen is great, but it would've be brilliant to see the fully articulated screen like the D850 and other pro-level DSLRs. Eye-detection, face tracking, 0.80x magnification and dioptre correction are all covered here too.
The tap screen and capture option is really sensitive and sometimes you can accidentally take a shot via this method if you're not paying attention. There's the option to turn that off, and we'd advise you do that.
As well as the 3.2in LCD screen, the Z7 features a small display on the top plate. This shows aperture, shutter speed, ISO and battery at a glance. This isn't something that Sony offer, so it's a nice addition and I found it to be quite handy, especially at night or when I didn't want to attract too much attention to myself. When you alter the settings, those changes are displayed on a small screen and it'll automatically light up when it senses you're shooting in darker conditions.
The thing I found most handy was the 'i' button. It allows you to access all the setting options and you can even use the touch-screen too. Maybe for those who are used to using Nikon cameras full time wouldn't need to rely on this, but for those who are less familiar with the layout – it's a huge plus.
There are two function buttons next to the lens base where you can set custom settings and then shortcut to your favourite set ups for whatever kind of scenes you keep on coming back to.
There's built-in WiFi and Bluetooth and it works a treat too. When I connected to Nikon's SnapBridge app, it paired seamlessly, and I was able to see the shots I'd just taken in an instant and share them, save them, or simply savour over the incredible amount of detail evident.
The F to Z adapter works well with older Nikkor lenses, so it's good news that it's compatible with over 350 Nikkor lenses.
The Z7 uses a new hybrid autofocus system with 493 phase detection AF points, meaning it has 90% of the frame covered. There's a choice of: auto-area, wide-area and single-point modes, and even a pin-point one which I found to be my favourite when I want to focus on a on tiny something or other. The focusing was always swift and accurate
The AF joystick on the Z7 is practically identical to the D850 and it's easy to reach when holding up the camera to you face. It moves effortlessly in all directions and will become your best friend while shooting.
Image Quality: It's a kinda magic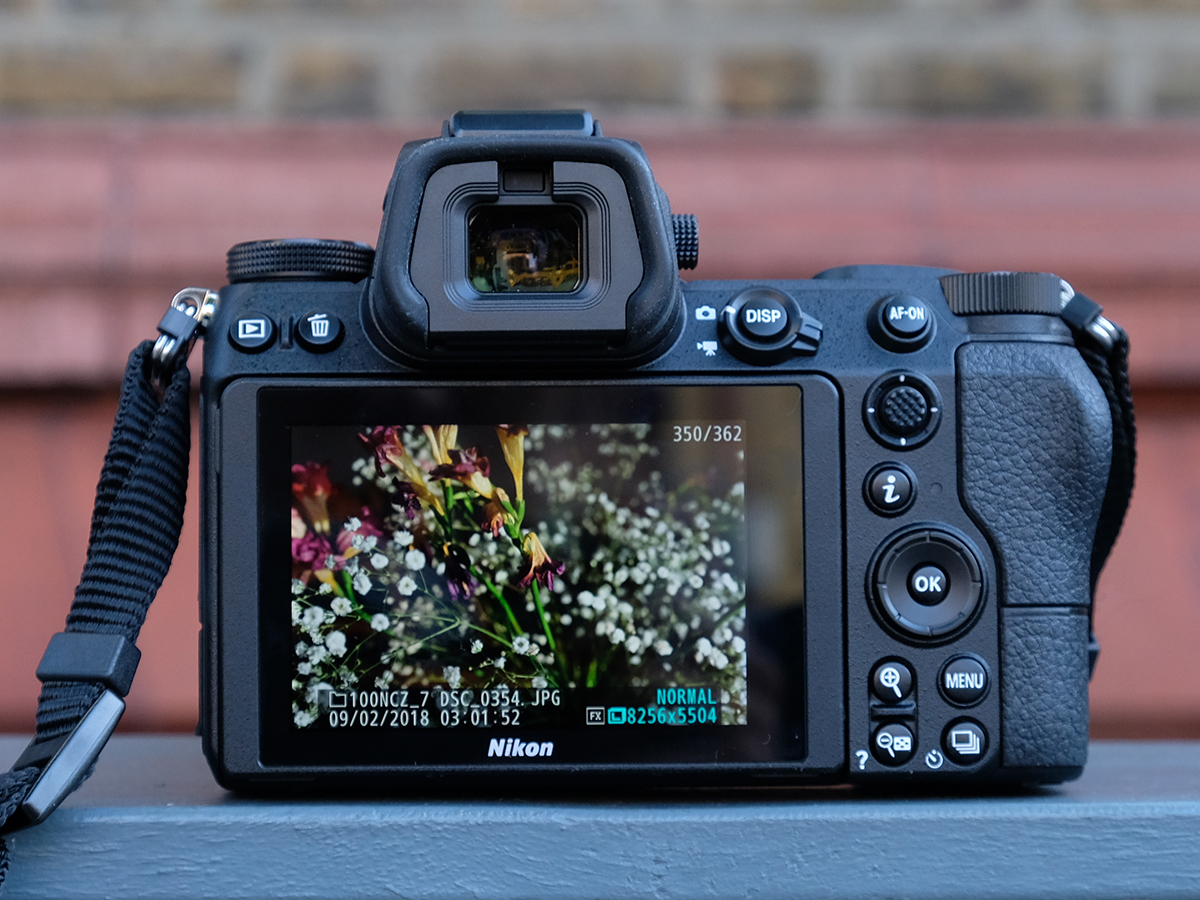 With a new 45.7MP sensor and the fact that Nikon consider itself professionals in optic design physics, it comes as no surprise that the image quality is superb. There also a new processing engine involved – Expeed 6. This allows the Z7 to shoot up to 9fps.
Despite having a slightly different sensor, the quality is believed to match the Nikon D850, which is pretty much the gold standard when it comes to top-notch photography.
Images from the Z7 output at a maximum res of 8256 x 5504 but can also shoot 14-bit raws with the options for compressed or uncompressed. TIFFs are also an option, making it really versatile for all manner of photographers.
Stills have incredible detail, even at night shooting hand-held. I was able to read the text on brightly-lit shop fronts a whole 50 metres away set against a jet-black sky
Striaght out of camera, and the jpegs have a pleasing and true to nature colour. All the standard settings can be seen here such as: vivid, monochome, landscape, plus there's a load of new creative picture controls – such as 'denim' should you want a Levi finish to your photos?!
I prefer a natural look to photos and found the dynamic range to be really quite excellent. Review samples images below…
Video: Great visions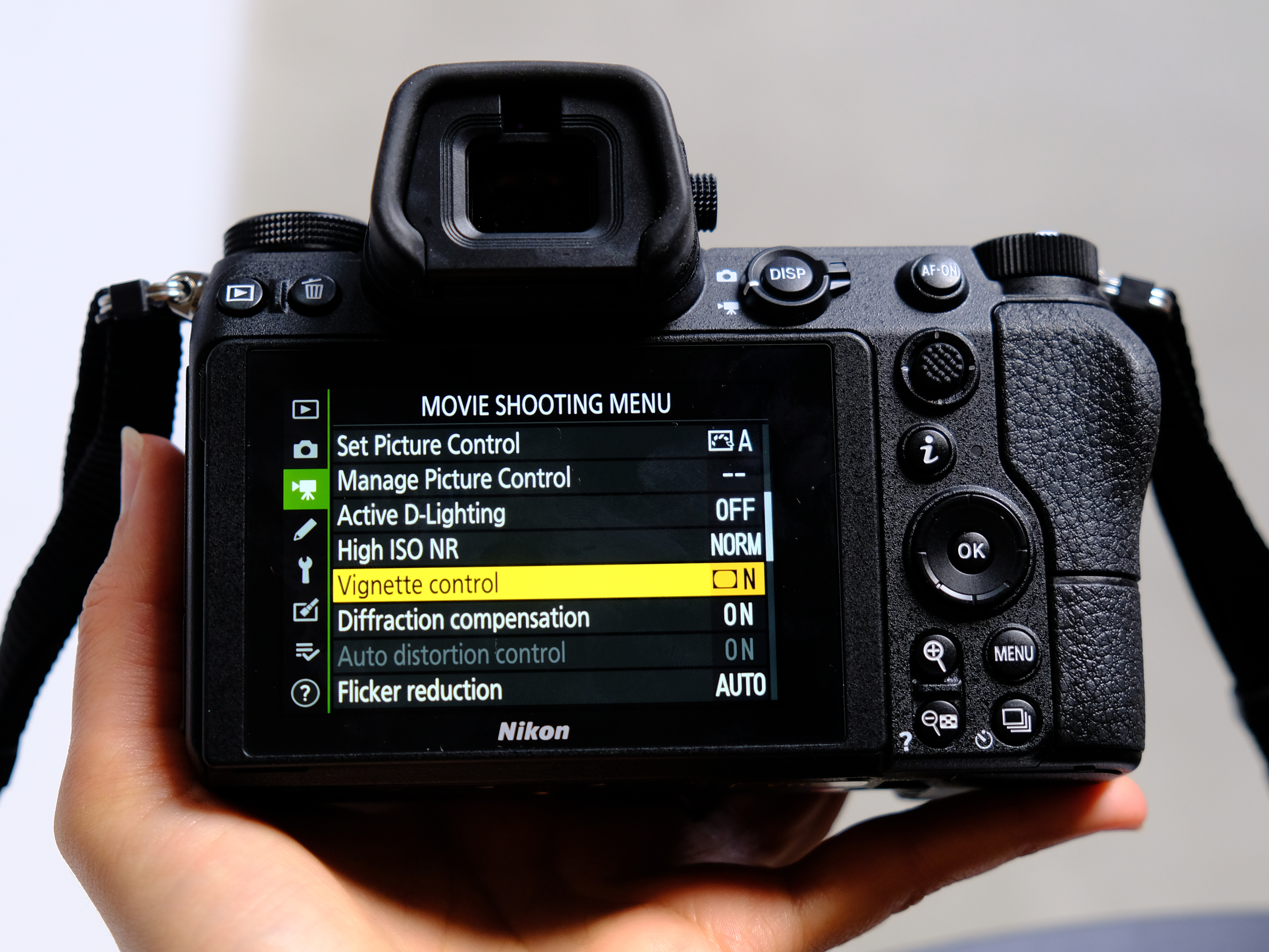 You get the same features for video as you get for stills, including 5-axis IS and the hybrid AF system. The Z7 goes even further and supports focus peaking, zebra patterns, time code and 10-bit Log output over HDMI. The camera can record 8-bit video internally and externally at the same time.
There's a whole host of options in the menu to adjust video settings and the connection options for mics and headphones mean that, should you wish, you can shoot an entire film on this. Make sure you back a couple of extra batteries though…
Oh about the battery… Nikon claim that you get 330 shots a charge, which we found to be accurate. That's about average for a camera like this, but certainly nothing too impressive there.
Nikon Z7 verdict
There's no denying that the Nikon high-end Z7 is capable of incredible image quality.
The new mount is an exciting prospect for a slew of new lenses we cannot wait to get our hands on the 58mm f/0.95.
At £3399, it's an investment for sure, but the image quality from the 45.7MP sensor, 493-point and super speedy AF system, we reckon the Z7 won't disappoint. On top of that, you get 9fps burst shooting, an awesomely high-resolution 3.6-million dot display EVF and fast 60p refresh rates.
And the only negative I can see at this stage is perhaps only having one card slot and the average battery.
The chunkier-handed might struggle a tad with the tightly compact nature of the camera, specifically when reaching the function buttons at the front.
But what's really important? The fact that the Z7 is an all-round fantastic camera to use. That reassuring and comfortable grip means the Nikon Z7 fits in the hand like it belongs there and for those who already know and love their Nikon, it's probably the best choice.
Coming so late to game means that the Sony arIII might have the edge in terms of price-point and battery life, but for photographers after a high resolution shooter, we're almost certain that the Z7 would be a solid decision.
Tech specs
| | |
| --- | --- |
| Sensor | 45.7MP full-frame CMOS |
| Lens mount | Nikon Z mount |
| Screen | 3.2-inch tilt-angle touchscreen, 2,100,000 dots |
| Viewfinder | EVF |
| Burst shooting | 9fps |
| Autofocus | Hybrid AF, including 493-point phase-detect AF |
| Video | 4K |
| Connectivity | Bluetooth and Wi-Fi |
| Battery life | 330 shots |
| Weight | 675g |
Stuff Says…
The Nikon Z7 isn't especially exciting in this growing sector of great full-frame mirrorless cameras, but it's ease of use, stunning results and new Z series rangefinder make it a formidable contender.
Good Stuff
Stunning image quality
Great EVF
Compatible with many other lenses
Ergonomic and sturdy design
Bad Stuff
Expensive
Battery life isn't the best
XQD cards will be impractical for some