Nintendo Game & Watch: Super Mario Bros. review
Actually: three games, one clock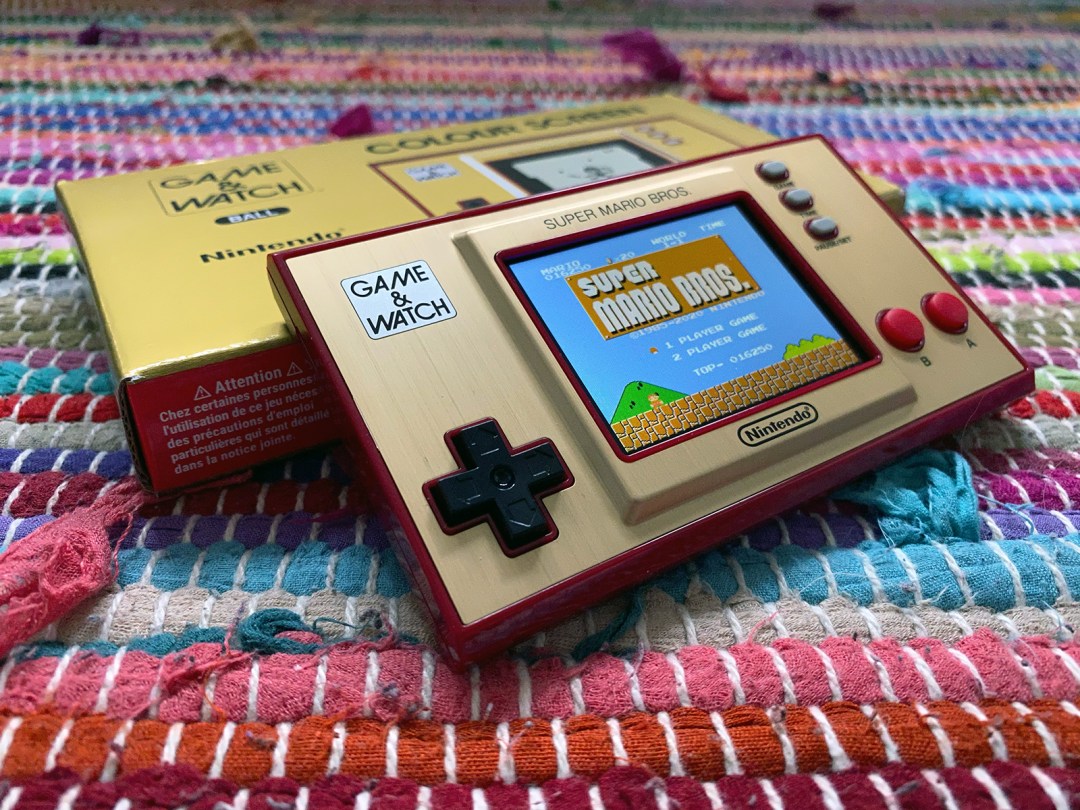 Nintendo's Game & Watch brand is 40. Super Mario Bros. is 35. To celebrate these events, Nintendo has combined the two into an endearing bespoke handheld that's a love letter to its past.
If you weren't there at the time, this device might baffle you. Fortunately, certain 'veteran' Stuff staff members experienced G&W and Mario first time around. We've used the shiny delight to distract one such ageing writer from his bus pass long enough to write this review.
Packaging: Box clever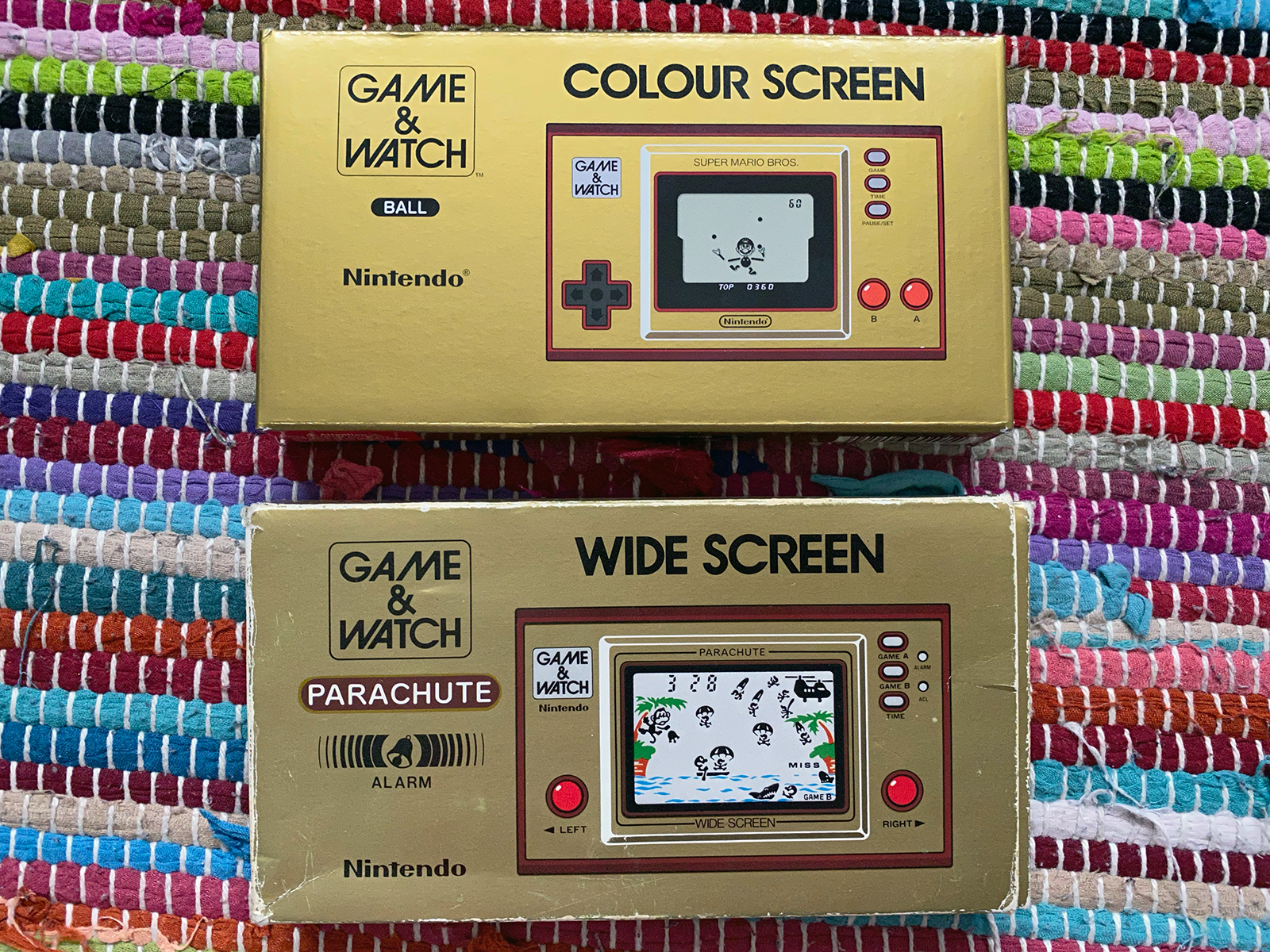 Yes, we're going to start with the box. No, we haven't lost it – and that's because the box exemplifies the entire experience of this device. Slide off a plastic sleeve and the overly busy modern packaging design is gone, leaving you staring at something that would pass for a 1980s Game & Watch box.
Open the box's flap and Ball versions of Mario and Luigi say: "Special thanks to you". It's clear at this point Nintendo is sweating the details and turning up the charm – and if you're of a certain vintage, what comes next will plaster a massive grin all across your (very old) face.
Design: Old school cool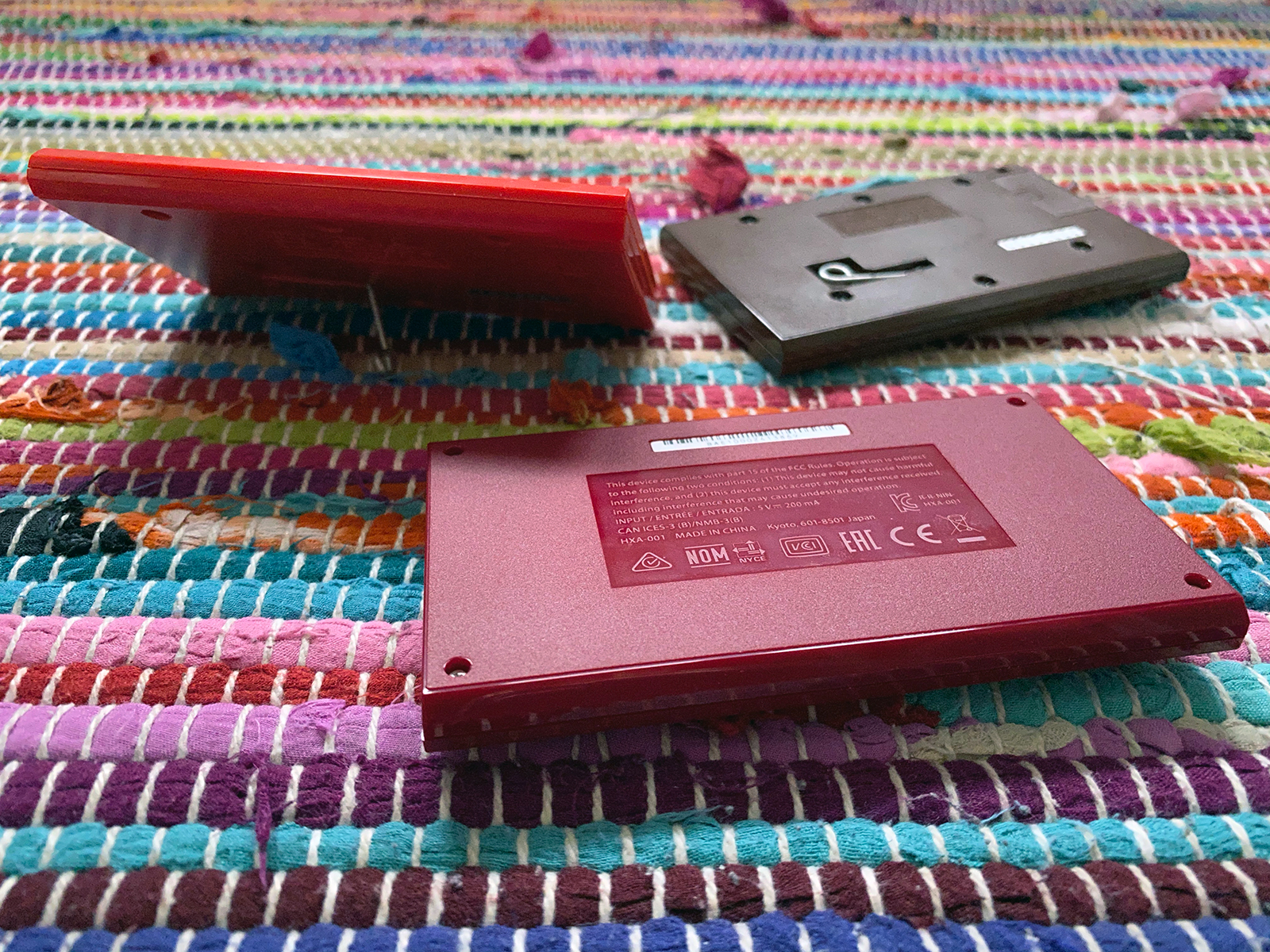 It's a Game & Watch. "Of course, stupid," you might say – after all, that's what it says on the box. But in 2020, this is bonkers. And it feels almost identical to a unit you might have owned four decades ago, from the rubbery action buttons to the sturdy frame.
There are concessions to the modern world – and one disappointing omission. First, the good bits: the unit charges via USB-C rather than using batteries, and there's a bright, vibrant 2.36in colour display instead of a limited LCD. The unit also has a clock mode, featuring animated characters bounding about.
But this leads on to the first disappointment: old-school Game & Watch hardware included a wire kickstand to prop the thing up. That this model doesn't have one, given its wonderful clock, is a pity.
Games: Leap into the known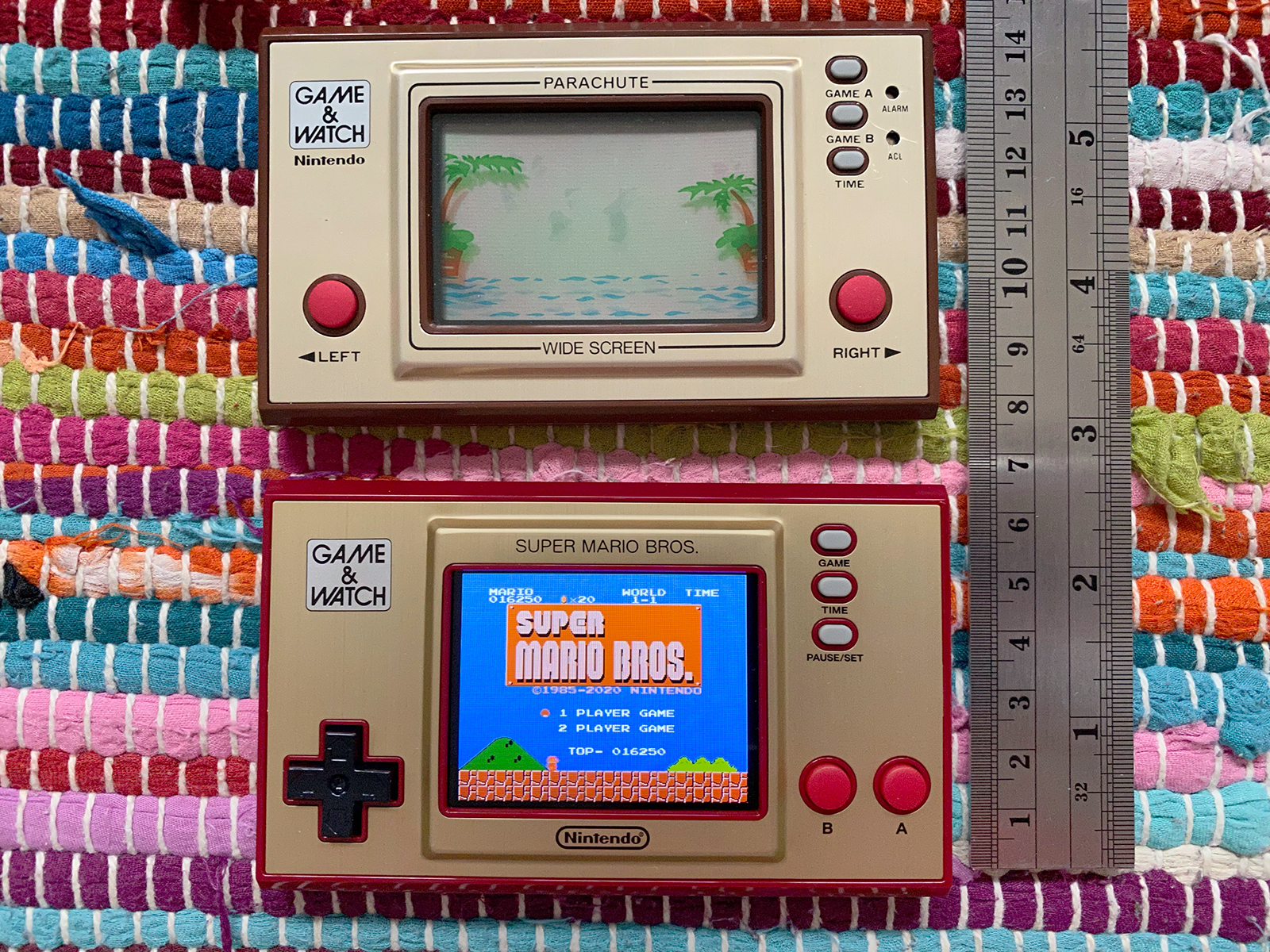 But what of the games? There's no disputing the sheer quality of Super Mario Bros, obviously. All these years later, it remains a superb platformer and is hugely replayable – even when you know it inside-out.
Despite the tiny screen bordering on squint-o-vision, it's sharp. You'll get on fine with it. The D-pad is responsive and the buttons, while a bit odd, are OK. The tiny dimensions are a bit cramp-inducing after a while, but you can pause a game and pick it up later. Sequel Super Mario Bros. 2 is less of a draw, though – it's more of the same, but harder.
We're much less impressed with the Game & Watch bit. You get Ball, with Mr. Game & Watch's head unceremoniously switched for Mario's. And Ball is… fine? Its endless twitch action has a brainless charm but gets old quickly. And it makes you wonder why Nintendo wasn't more generous. The NES Mini had 30 games shoved inside; here we get just one Game & Watch title and two Super Mario Bros. efforts.
Verdict: Nintendo Game & Watch Super Mario Bros.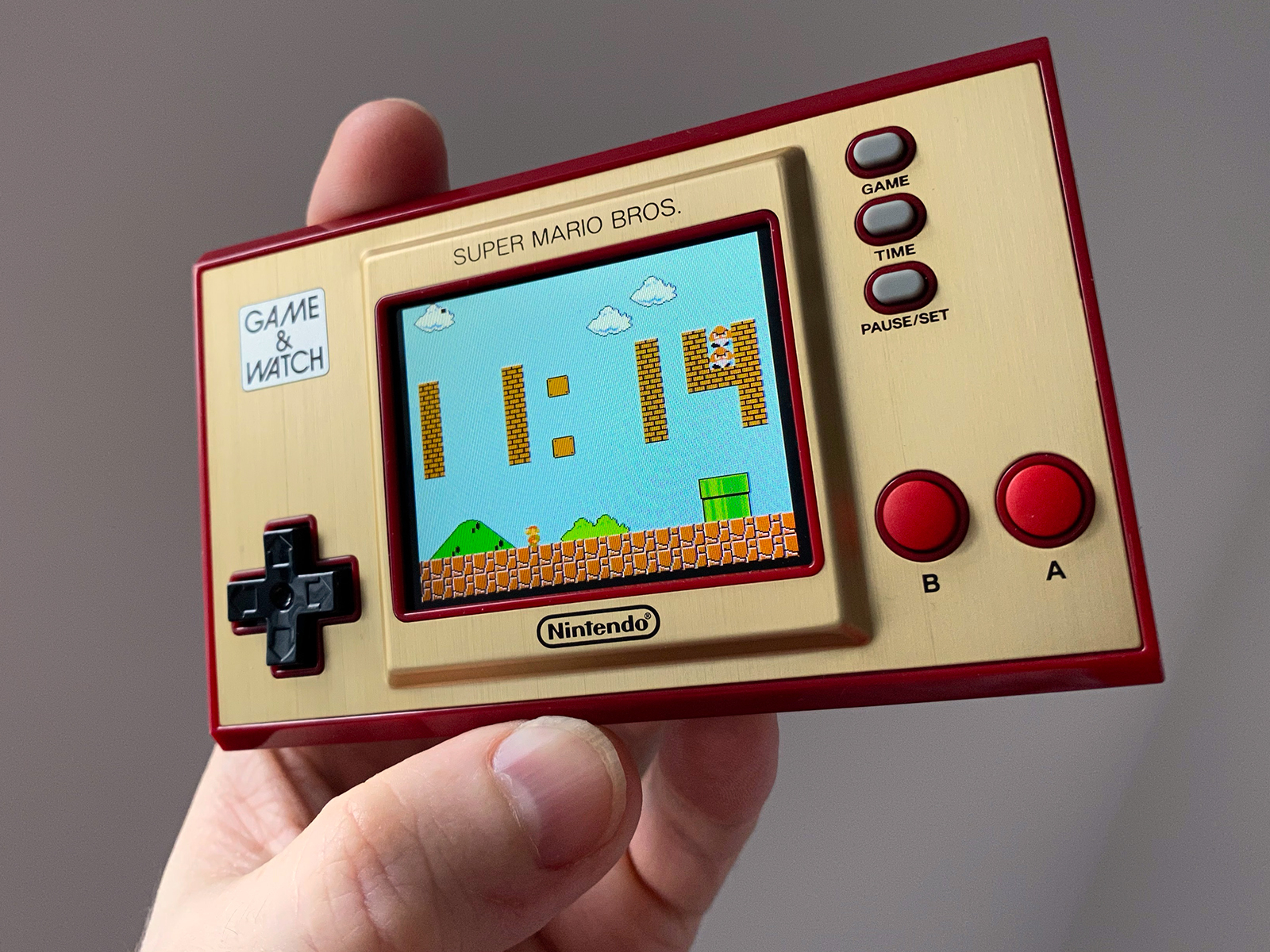 It's hard to know who this new Game & Watch is for. There's no doubt it's a beautiful piece of hardware, albeit a curiosity in mashing together bits of NES and bits of Game & Watch. As a collector's piece, it's a nice item to own or gift to someone, despite the lack of a stand for when the thing's propped on a shelf.
As a handheld, it's lacking. Had Nintendo bundled more games – especially more Game & Watch titles – we'd feel more generous. As it stands, the limited line-up feels artificial, like Nintendo's testing the water to unleash more of these gadgets when other properties like Metroid turn 35, each with their own single back-up G&W game. At 50 quid, the value proposition is thin; and as gorgeous as the hardware is, the lack of games inside means it won't be long before it's gathering dust.
Tech specs
| | |
| --- | --- |
| Screen | 2.36in colour LCD |
| Dimensions | 112×76×12.5mm |
| Weight | 68g |
| Battery | lithium ion (up to 8 hours play time) |
| Charging | USB-C (about 3.5 hours) |
Stuff Says…
Beautiful and packed with tiny details, but beyond collector bling this Game & Watch comeback feels like a missed opportunity
Good Stuff
Great attention to detail
Lovely design and screen
Super Mario Bros. is a classic
USB-C charging
Bad Stuff
Including only one G&W title is miserly
No built-in stand
Merely adequate mono speaker