Olympus OM-D E-M1X review
Olympus's pricey new flagship gets a hell of a lot right
Everyone and their dog seems to be releasing a full-frame mirrorless camera right now, but not Olympus. Instead, it's sticking with the Micro Four Thirds system that it's been developing over the past ten years – and, at least on paper, its new OM-D EM1X is its most impressive camera yet.
Grabbing the flagship title for the whole series, it arrives to battle against the finest DSLRs and mirrorless cameras from many other corners. And fittingly, Olympus has managed to shoehorn masses of tech into its body, some of which seen for the first time here.
The fact that it uses a much smaller Micro Four Thirds sensor than many of its rivals may immediately make some photographers look elsewhere, but that's not always a disadvantage for many photographers that might be drawn to this model. At least if you can put aside your reservations here, you'll see just how impressively it stacks up against the competition.
Design: Beefy build with wonderful weather-sealing
The big sell of mirrorless camera is that they can offer everything a DSLR can but in a much smaller body, but compactness isn't a priority here. In fact, Olympus has gone the other way by making it more like a pro-level DSLR than the current breed of mirrorless models.
The camera apes the form of sports-focused DSLRs, with a vertical grip built into the bottom to make it just as comfortable to shoot with in a portrait orientation as it is when held the conventional way. This is also where the camera houses two big batteries to keep it juiced up for longer, and these can be conveniently juiced up through the USB port.
Whichever way you hold it, the deep grips allow you to really get your hands round without any discomfort, and the fact that Olympus has doubled up on most key controls means you don't need to start playing Twister with your fingers.
Whether it's the joystick used to shift the focusing point or the shutter-release button used to take pictures, everything is pretty much where you want it to be. The controls themselves have excellent response too, although the mode dial is a bit awkwardly crammed into a small gap on the top plate.
Such a camera will no doubt find its way into the hands of the nature, wildlife and landscape pro, so it's great to see Olympus has provided IPX1 weather sealing too. It certainly feels as robust as it ought to, with everything that opens or closes, or pulls out or pushes in, doing so without any concern, and attention to detail high throughout.
The locking mechanisms for the battery and memory card compartments also make it nigh-on impossible for them to be opened accidentally, while the mechanical shutter inside the camera is claimed to allow for 400,000 actuations, which is very respectable for such a camera. Take a bow, Olympus.
Features: All inclusive
Olympus has worked overtime to squeeze as much tech into this camera as it could, and we end up with a very well-rounded spec sheet that should satisfy those shooting all manner of things.
Sports photographers will love the 15fps burst rate, which can be boosted to 18fps with a silent shutter and with autofocus and autoexposure still working (or even 60fps without). There's also the 121-point hybrid AF system that combines phase- and contrast-detect AF.
This best-of-both-worlds setup gives you speed and accuracy, and it's very snappy in use, whether you're shooting far off into the distance with a telephoto lens or using a wide-angle a little closer. It also keeps a good lock on moving subjects, although it can occasionally get distracted during a longer burst of images, as it attempts to keep focus throughout the whole run.
Those shooting motorsports can also call upon a new Intelligent Subject Detection AF that spots vehicles and knows exactly where to focus to keep key areas sharp. Options for aircraft and trains are also on board, and while it identifies and tracks these subjects well, options for more common subjects that are tricker to track aren't available yet.
It adheres impressively to its pre-determined subjects, but it feels like something very much still in its infancy right now. Still, if you're shooting anything other than those subjects, you can simply switch to a general tracking mode.
Capturing a long exposure? You'll probably want to call upon the Live ND filter that replicates the effects of a physical ND filter. If you're using long lenses in not-so-great light, or you fancy your chances capturing a long(ish) exposure without a tripod, you can also rely on the five-axis, sensor-based image stabilisation feature that promises a class-leading maximum 7.5EV stops of compensation.
At its heart the camera combines a 20.4MP Four Thirds sensor with two of its TruePic VIII processors, and that captures 4K video in both DCI 4K and UHD 4K resolutions in addition to still images.
Should you have intentions to blow up your masterpieces, you can switch to the High Res shot mode, which will capture a series of images before blending them into a 50MP or 80MP composite. And if you start capturing images and realise you're a little too late, as long as you have the PRO Capture mode on the camera will have already taken 35 frames before you start shooting. Clever, right?
All of this is before we get to many other key areas of interest, like the dual SDHC/SDXC card slots or the 3in, 1.04million-dot LCD that flips out to face the front among other angles. Its touch-sensitivity is excellent, and means you can use your finger to focus without delay, although rival cameras now offer slightly larger, higher-resolution screens.
That's also the case with the 2.36million-dot electronic viewfinder; 3.69million and 5.7million panels can now be found on cheaper cameras, and while the viewfinder here isn't quite as punchy by comparison, it still manages to present a nice and relatively life-like view of the scene in good lighting conditions.
Image quality: strong and stable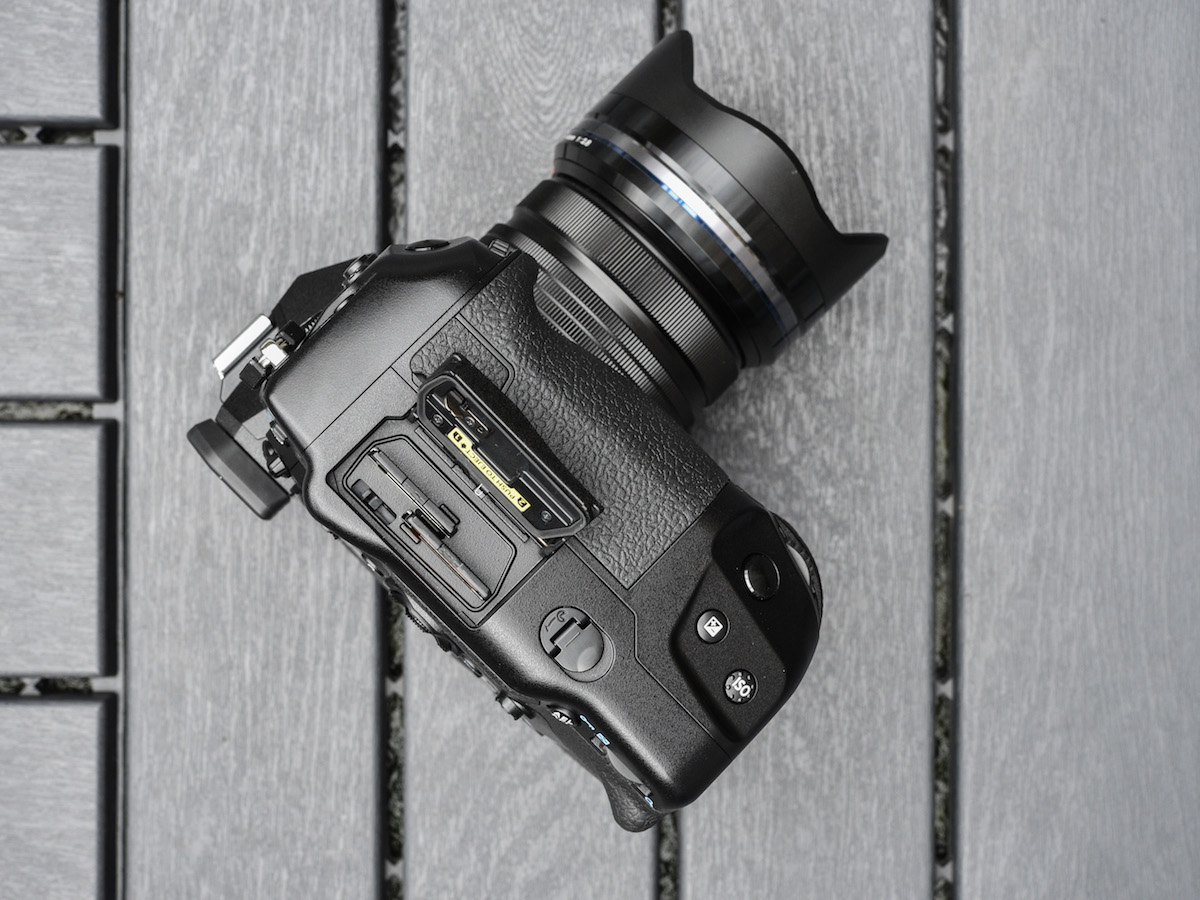 Where the imaging side of things is concerned, the EM1X is very closely related to the older OM-D E-M1 Mark II, so it comes as no surprise that it delivers a similar performance.
Colours are faithful on the default Natural mode, so you may want to give them a little tweak in camera if you want to use your images straight away. Alternatively, you can use the Vivid option, which does a wonderful job to inject nature's hues with a little more life without going overboard, be they blue skies, pink flower petals or the various greens in foliage.
Colour accuracy is helped by a generally sound auto white balance performance, although the camera can occasionally slip up in mixed artificial lighting (tricky for any camera), meaning that you occasionally get something a little warmer than you might be expecting.
You only get the maximum 7.5-stop effect from the image stabilisation when using the M.Zuiko Digital ED 12-100mm f/4.0 PRO lens, but even when using another optic, its effect are clear. We managed a strong hit rate at around five stops slower on average when using the M.Zuiko Digital ED 40-150mm 1:2.8 PRO, with achievable but less consistent results at six stops.
That's still very respectable for such a system, and this also works while you're shooting video, giving it an edge over the many mirrorless cameras that don't pack their own sensor based IS systems (I'm looking at you Canon and Fujifilm).
The face detection system works well and often manages to pick out the subject's eyes successfully, while 4K videos show crisp details and steadiness boosted by that effective image stabilisation. Things are kept nice and natural as you move around the scene too, without too much of the rolling shutter effect that plagues many other cameras.
If you're shooting JPEGs on default settings you'll probably see the effects of noise reduction when you venture into the latter half of the ISO range, but if you take advantage of the image stabilisation or a wide-wide-aperture lens, you may be able to largely avoid these.
Olympus OM-D E-M1X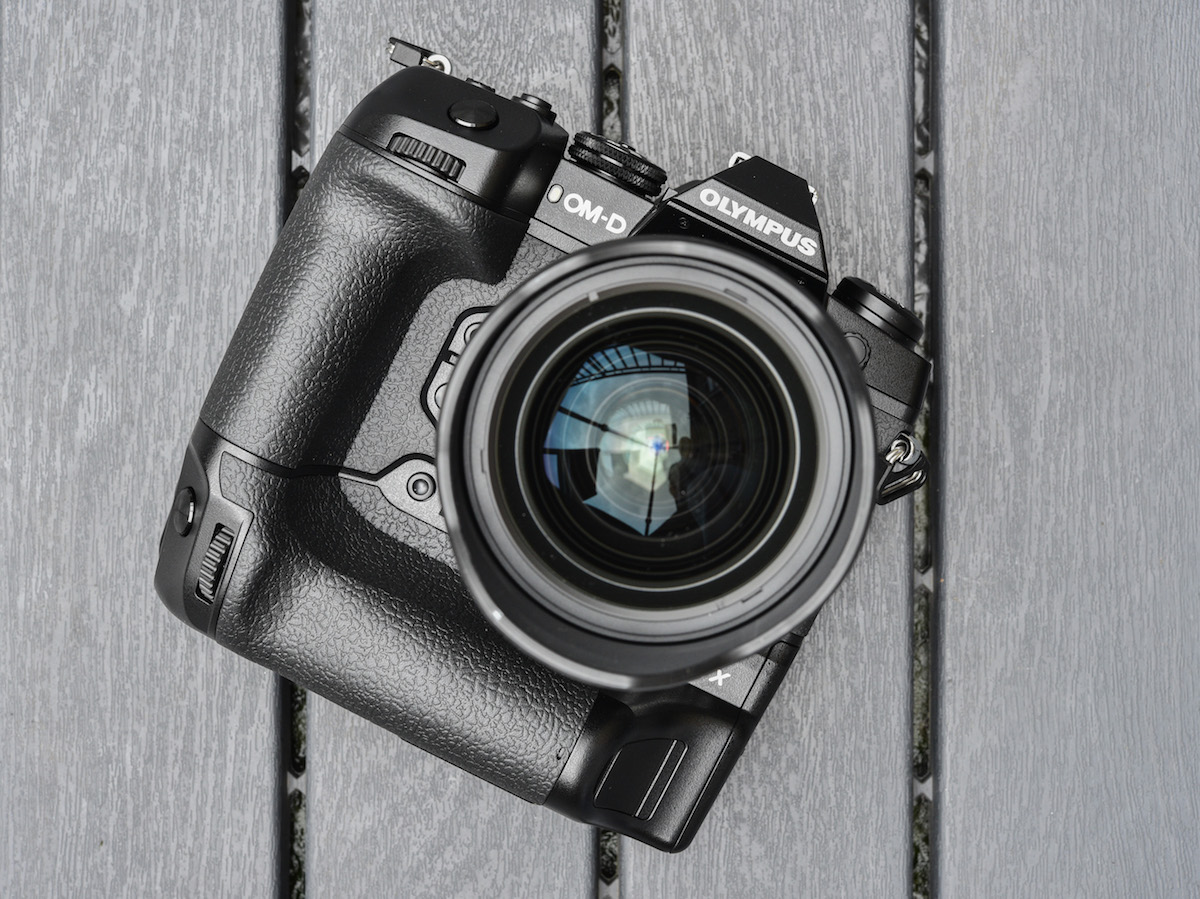 The E-M1X packs a raft of impressive features inside its rugged body, and it's capable of great images and lovely 4K videos. It focuses rapidly and does pretty much whatever else you need it to do without delay – but, at least right now, it's very expensive when you consider how much of this was also available on the OM-D E-M1 Mark II.
Unless you need those extras, we suggest saving yourself some cash and grabbing the older model.
Stuff Says…
The EM1X is an exemplary camera is many ways, and some of its tricks are mighty impressive. It is, however, priced unrealistically against both the previous OM-D E-M1 Mark II and increasingly strong competitors.
Good Stuff
Robust build and great handling
Very effective image stabilisation
Super responsive and very fast autofocus
Great 4K video quality
Bad Stuff
Small sensor not always ideal
Better viewfinders on some cheaper cameras
No status LCD on the top plate
Very expensive