OneOdio OpenRock Pro review: a balancing act
Sporty buds for a bit less cash - but do they have the sound quality you need?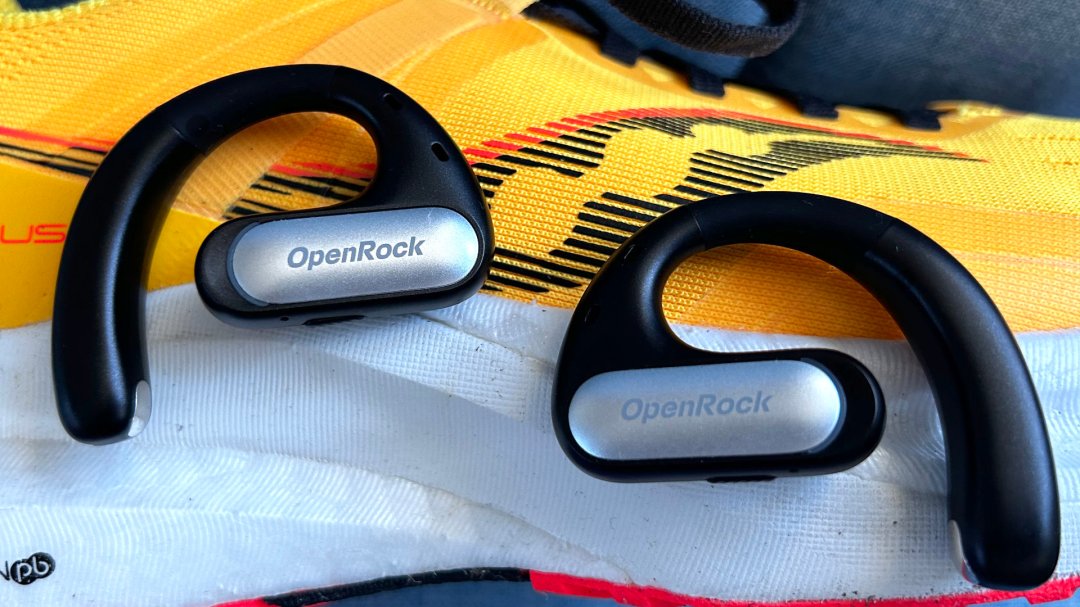 The OpenRock Pro wants to be the truly wireless earbuds you grab when you're heading out for a run or you're building strength in the weights section of the gym.
Unlike most sporty buds, it wants to channel that sound to your ears while making sure you're not entirely blocking out beeping car horns or someone asking you how many sets you've got left on the leg press.
It does that in an open-ear style design, and it's doing it for less than open-ear headphones like the Shokz OpenRun and OpenRun Pro. So does this cheaper pair deliver the goods where it matters?
Design and build: hooks and buttons
Straying from the truly wireless earbud norm, the OpenRock Pro uses an ear hook design sitting around and top of the ear planting the speaker part delivering the sound just slightly over the front of your ear. They stay put fine and while they carry an IPX5 rating to fend off sweat, that doesn't stop them from slipping around during tougher workouts.
There's nothing sleek or sexy about them and at 13g per bud, they're not super light either, but it's good to see that there are physical buttons as opposed to capacitive ones, which are a no-no for sweaty fingers in our book.
It's a similar story for the charging case, which is more the kind you'd throw into your gym bag as opposed to one that can disappear inside of a running belt. You do get a useful battery status indicator on there, which can be surprisingly very precise about exactly how much battery you have to play with.
The headphones are available in black, silver and white. Whichever one you go for, your fellow gym goers are definitely not going to miss them stepping up next to you on the next treadmill.
Performance: uncharacteristic power
Something to keep into perspective with open ear headphones in general is that they typically struggle to match the kind of audio you get from truly wireless earbuds that sit directly inside of your ears. That's simply the nature of the beast. You let some sound in, but don't entirely block it out from around you either.
What the OpenRock Pro tries to achieve is a strong balance between both. It wants to give you a big, powerful sound, but it also wants you to be aware of what might be coming up beside you or behind you. It's relying on 16.2mm dynamic drivers to deliver deep, bassy sound and bright, clear vocals. There's no EQ or companion app, so it's all about a single sound profile.
Now while we definitely had some issues with the fit in some scenarios to make the most of that promised sound, we can be mostly positive about what you get on that front. If we had to put them on an open ear headphone scale of best to worst, it would sit closer to the better end of the scale. It's good, not exceptional, but very good overall.
You do get some uncharacteristic power here that you don't generally associate with open ear headphones, and in moderately loud environments, that power and deep bass does shine through. We'd say there's a satisfying level of detail, there's good midrange performance and it delivers an overall balanced sound that retains that balance even at top volume.
It didn't struggle when we threw some drum and bass at it and it held strong on the clarity front when we swapped high tempo for something more mellow and chilled. It offers good versatility and whatever your workout listening preference is, the OpenRock Pro should do a good job.
That is unless you're stepping out with them in significantly louder environments where it's a struggle for the Pro to compete with big wind, traffic and train noise. That was the story both for listening to music and handling calls, which is possible through the onboard dual noise-cancelling headphones.
What isn't a struggle here is battery life. Without the case, these can dish out an impressive 19 hours and also supports a quick charge mode that will give you an hour's listening by dropping them into the charging case for just five minutes. A fully charged case tops things up to give an impressive 46 hours in total. You'll struggle to want or need to charge them on a weekly basis.
OpenRock Pro verdict
The OpenRock Pro bucks the trend of open-ear headphones that struggle to find a good balance between big sound and strong awareness of your surroundings, just be mindful that when that sound outside gets big, the Pro do not feel so pro at doing their job.
Stuff Says…
A good balance between big sound and strong awareness but they struggle with loud environments.
Good Stuff
Mostly enjoyable sound
Easy to access physical controls
Useful quick charge mode
Bad Stuff
Not the prettiest or most discreet design
Gets drowned out in loud environments
Sweat can impact on fit