OnePlus 10 Pro review: worth the wait
OnePlus' latest flagship is finally available after its initial new year reveal. Was it worth the wait?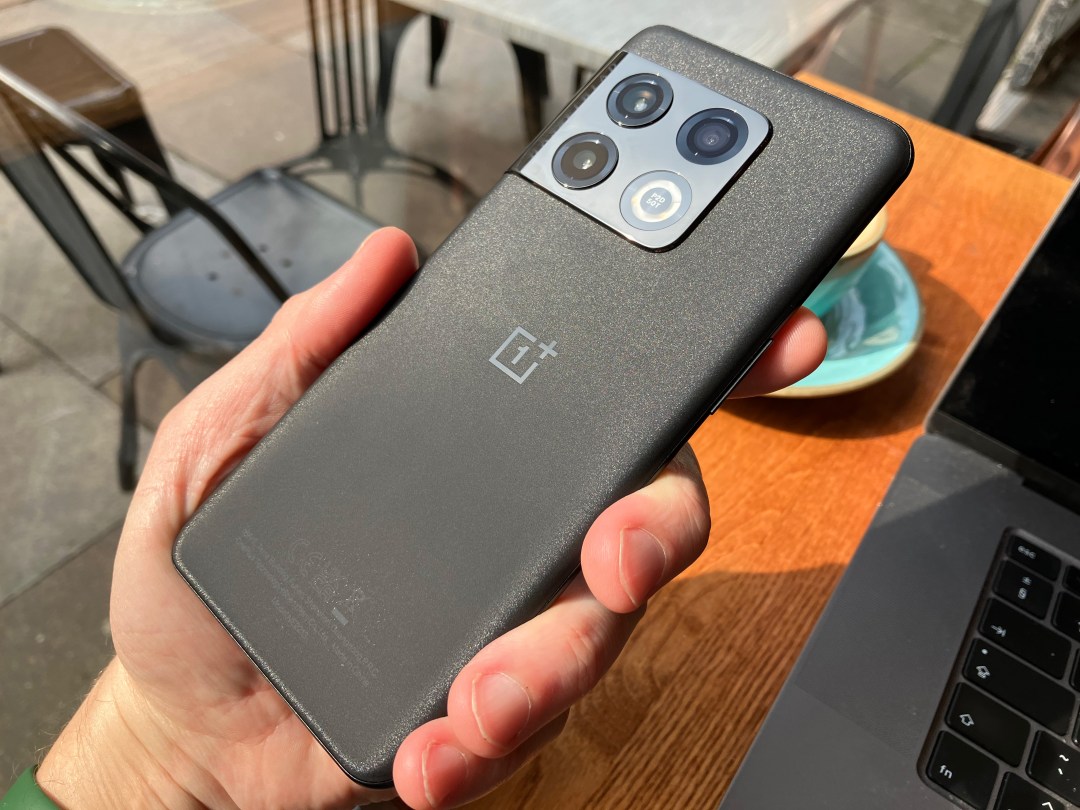 The OnePlus 10 Pro got an initial reveal in early January and was available in China soon after. But it's taken a further two months to come to the UK, US and Europe. Was it worth the wait? Well, you know the answer to that if you read the headline! Here's our OnePlus 10 Pro review.
Instead of launching a OnePlus 9T half-year version as has been its modus operandi for several years, OnePlus hopped straight to 10 to follow up the OnePlus 9 and OnePlus 9 Pro. Coincidentally, there is no non-Pro version of the OnePlus 10, it's Pro all the way.
OnePlus itself is in an interesting place – it's not lost its slightly cavalier identity, but it does seem like it's shrinking back into parent Oppo with less to distinguish it from the company's other devices.
There are two models of the OnePlus 10 Pro available. Our volcanic black review model is a 128GB storage, 8GB RAM model at £799, while a more premium version boasts 256GB storage, 12GB RAM emerald forest (green) version at £899.
The OnePlus 10 Pro launches a couple of months after the £1,049 Oppo Find X5 Pro flagship (with 256GB of storage) and boasts a lot of the same tech that made Oppo's more premium device quite compelling (thankfully with a lower price point).
The OnePlus 10 Pro also goes up against the £769/£949 Galaxy S22/S22 Plus and £849 Pixel 6 Pro with the latter being a more straightforward comparison.
Design and display
The design of the phone is quite striking because of the ceramic camera bump that wraps around the sides and it's more subtle on the black model because the colour difference isn't so stark. Elsewhere the design doesn't stray too far from the norm, with rounded sides and edge display with the tried and tested cut-out front camera design.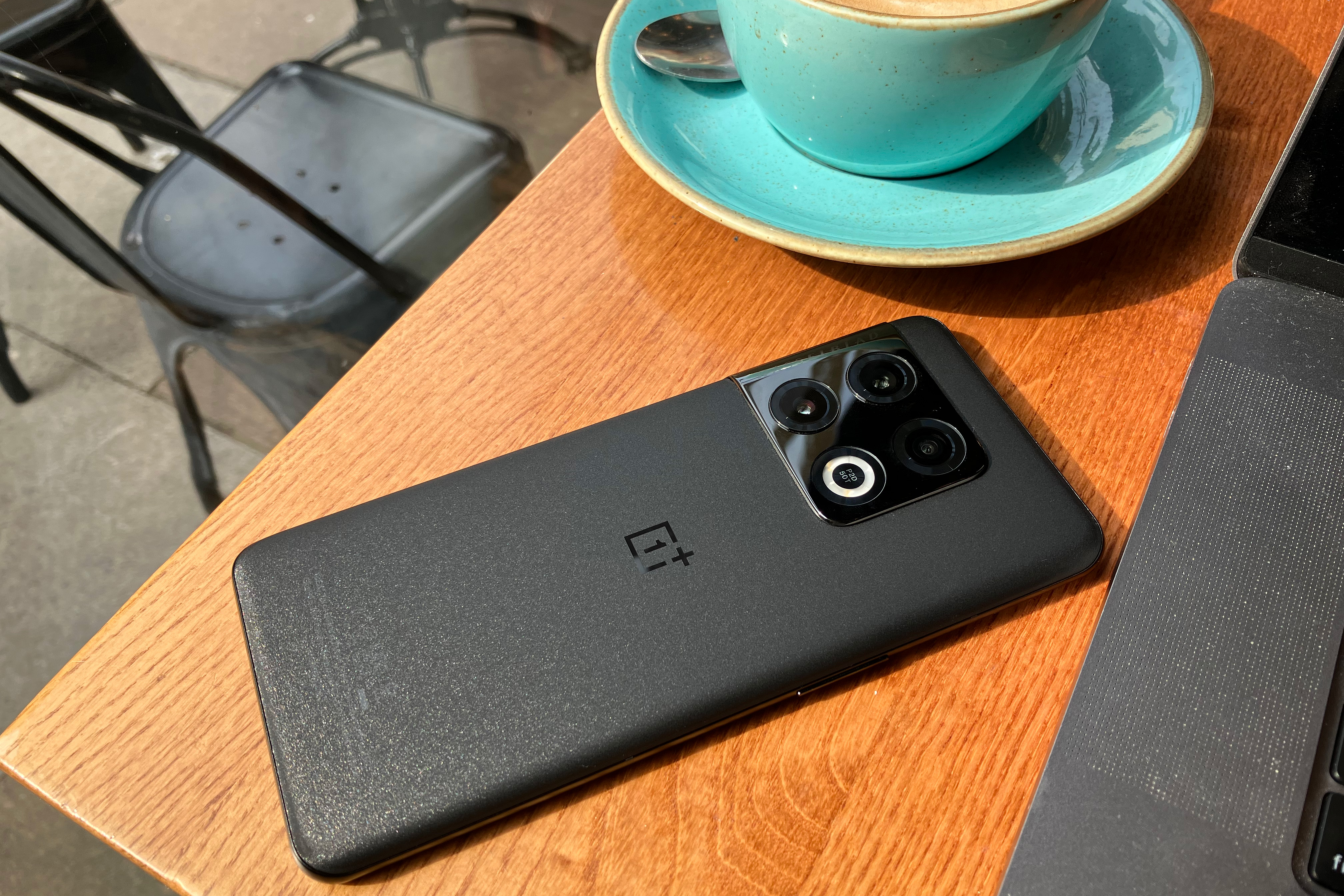 The back of the phone is nicely tactile with a matte finish, but it's actually Gorilla Glass 5, while the front of the phone is covered with Gorilla Glass Victus for extra strength.
The emerald forest is WAY nicer a finish than the volcanic black in our opinion – it just looked really nice when we saw it in the flesh at Mobile World Congress (as you can see, our review version is black). There's a white version, too, though this is China-only for now.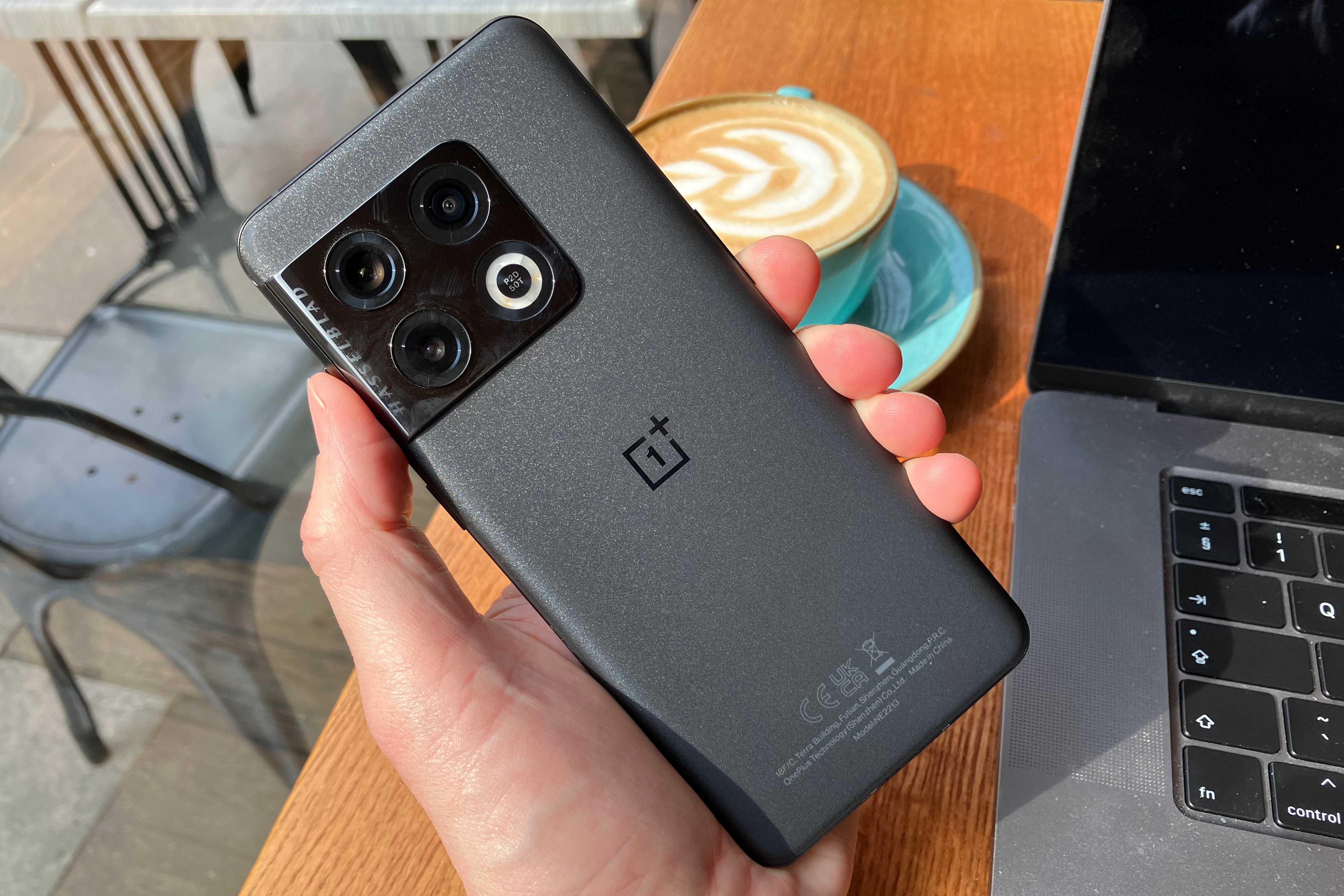 The famous OnePlus alert slider remains on the side of the phone, a nice touch for OnePlus fans and pretty useful generally. We wish more phones would have a physical control for silence/vibrate/ring – only Apple includes this on all its phones otherwise.
The 6.7-inch LTPO2 display (also in the Oppo Find X5 Pro) looks simply brilliant, with consistent brightness and colour. It's able to adjust its refresh rate anywhere between 1 and 120hz even faster than the OnePlus 9 Pro. OnePlus reckons this means it consumes less power than a 90hz display.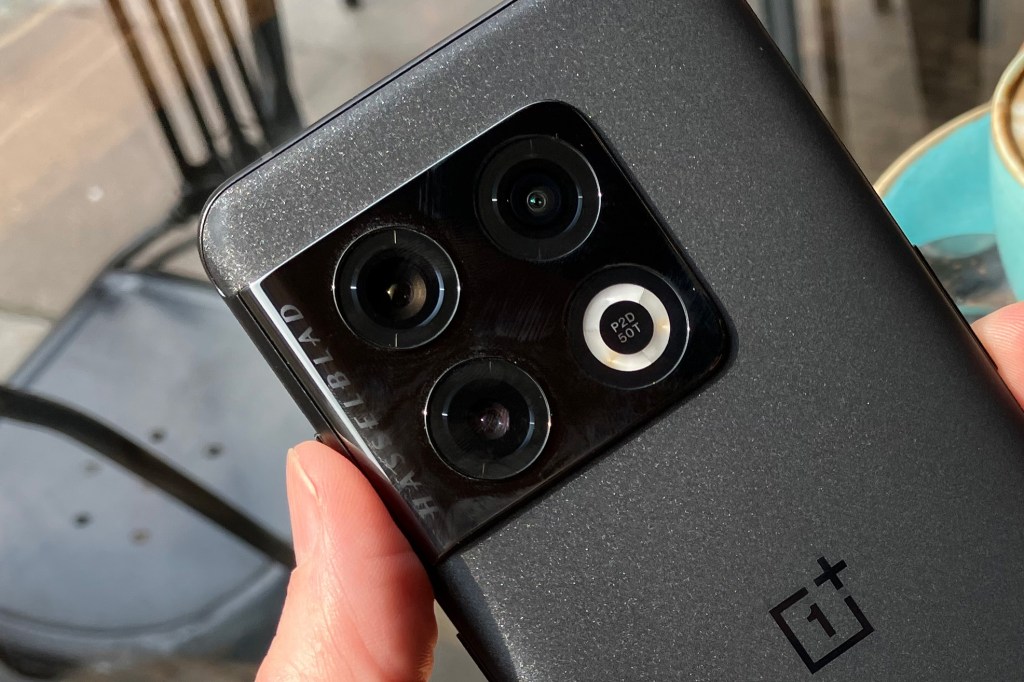 Performance
Performance is ace, but that's not surprising – Qualcomm's latest Snapdragon 8 Gen 1 is one of the fastest mobile chips you can get. Battery life is very frugal and we found we were able to get well into the next day. With an overnight 100% charge, we were at around 75 percent at, say, 12pm and 50 percent at the end of the working day.
There's been a lot of work on making the OnePlus 10 Pro a better gaming phone; there's a revamped version of the HyperBoost Gaming Engine designed to reduce frame rate drops (and reduce any jarring effect if you do drop frames). Touch response has also been improved. Now, we tried a bunch of games and everything worked as you'd expect – it's not a noticeably better experience compared to what you'd get elsewhere.
OnePlus does say it has worked hard to improve the cooling on this device, with a five-layer system. The phone does stay reasonably cool even when being taxed – compared to early 5G phones the difference is quite stark. And when downloading huge chunks of data over 5G it didn't flinch, either.
The phone is compatible with wireless charging up to 50W if you have a compatible charger.
The wired SuperVooc charging is unbelievably fast at 80W and can fill up the 5000mAh battery in a little over half an hour if you use the power brick in the box. Yes – it's true, there's still a plug included in a smartphone box in 2022. Strangely USB-A is used rather than USB-C, though, but you won't mind as your phone juices up in moments.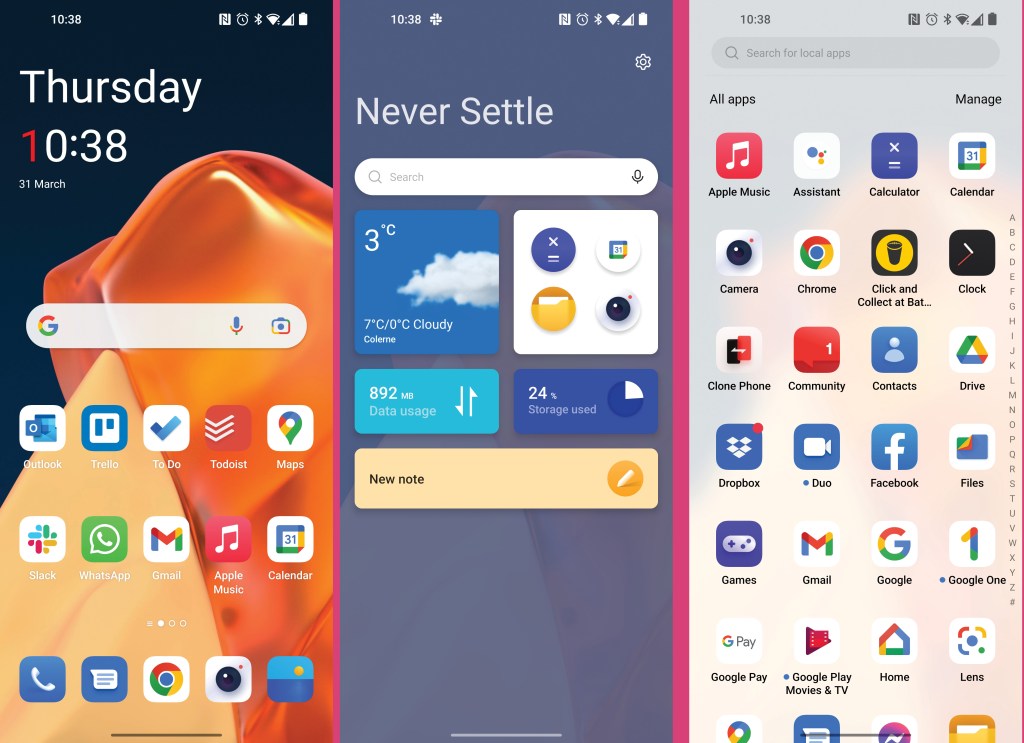 The OnePlus 10 Pro comes preinstalled with OxygenOS 12.1 based on Android 12, which is a gentle overlay rather than being in-yer-face. OnePlus says the phone will receive three major Android updates and four years of security updates over its lifetime – Samsung's Galaxy S22 boasts four years of feature updates which is a little better.
Cameras
Like other flagships, there's a telephoto zoom lens (8MP, f/2.4) in addition to the now-fairly standard 48MP f/1.8 wide lens and a 50MP f/2.2 ultrawide that gives you 150 degree vision. You can also get a fish-eye effect now, too, which is fun.
As always, you end up using the ultrawide rarely, but thankfully there's no macro lens that some brands use to make up the numbers. Rejoice.
The camera quality is great in good light – shutter speed is so quick and the ring flash works well. But in low light, it falls behind many top-end rivals such as the iPhone 13 series. As you can see from our samples, some night shots look like a bit blurry even when we made ourselves hold the camera still. Otherwise, we like this camera a lot, especially the combination of lenses and the general optimisation.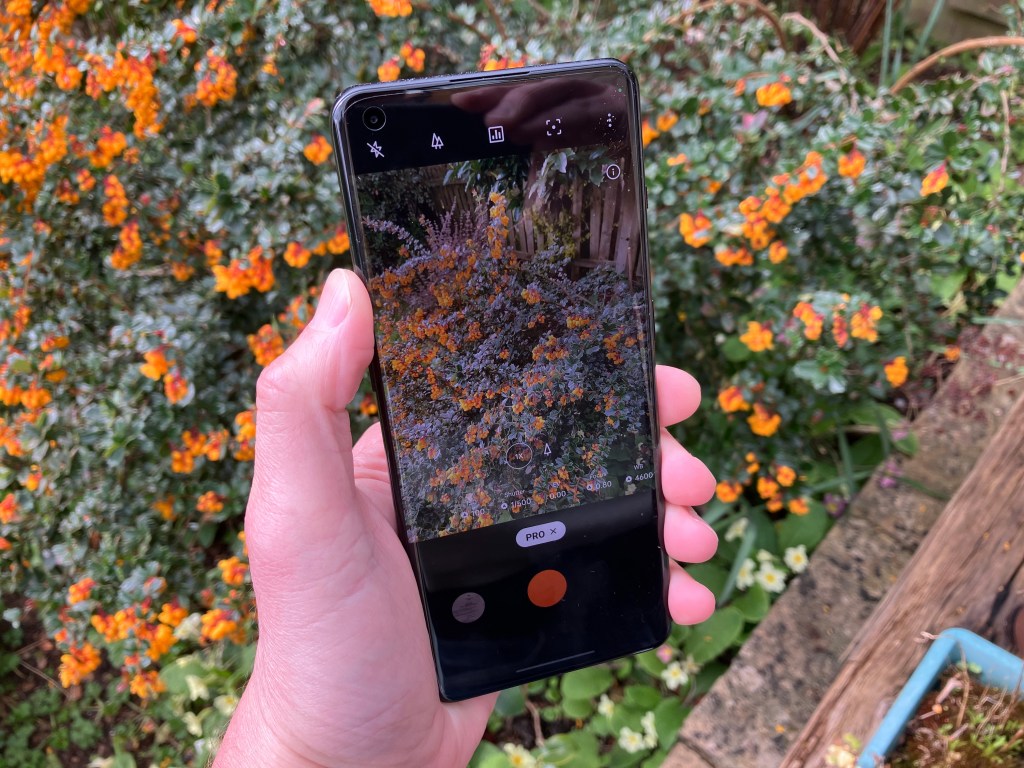 The Hasselblad-enhanced camera software now supports 10 bit colour (not switched on by default) plus the DCI-P3 color gamut. There's also a new version of the RAW format called RAW+ that enables you to capture 12-bit photos – be warned though, the file sizes are huge at around 26MB, so it's not something you're going to be using for your holiday snaps (probably). As before, there's a Pro mode for total control if you really want it.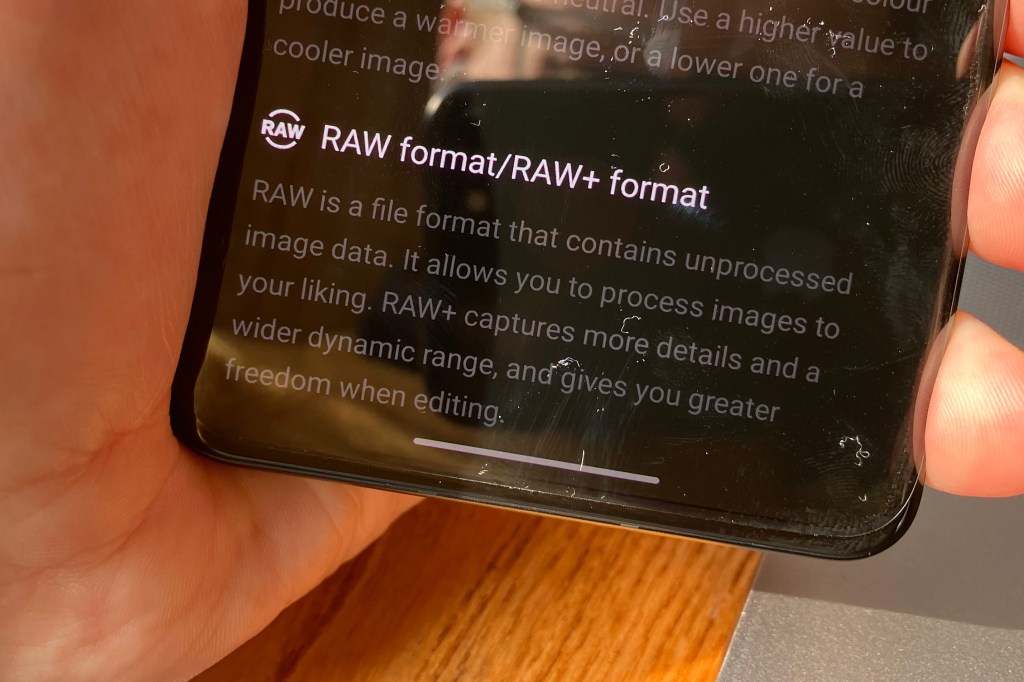 Verdict
So does it do enough? In a word, yes.OnePlus' killer combo of specs and price point hit a home run here – this is a brilliant phone that runs the Pixel 6 Pro really close if you want to spend somewhere in the £800-900 bracket. It's just absolutely top drawer at pretty much everything aside from low light photography, while OnePlus has recently wisely chosen not to overwhelm on the software front. And we don't mind that massive camera housing either.
Stuff Says…
OnePlus has done it again, with a powerful and good-looking top-ender that undercuts the Pixel 6 Pro – but low light photos disappoint
Good Stuff
Excellent performance
Well-priced
Distinctive camera surround
The green is a looker
Super fast charging and battery life
Bad Stuff
Low light photos not good enough
Will be too heavy for some
Tech specs
| | |
| --- | --- |
| Display | 6.7in LTPO2 AMOLED 1440 x 3216 pixels |
| Platform | Qualcomm Snapdragon 8 Gen 1 |
| Storage and memory | 128GB / 8GB |
| Software | OxygenOS 12.1 based on Android 12 |
| Cameras | 48 MP, f/1.8 wide, 8 M f/2.4 telephoto, 50 MP, f/2.2 ultrawide |
| Dimensions | 163 x 73.9 x 8.6 mm |
| Weight | 200g |