Long term test: Oppo Find N review
The Oppo Find N is the latest foldable to hit the streets and it's a little more compact than rivals. Dan Grabham gets up close with a flexible friend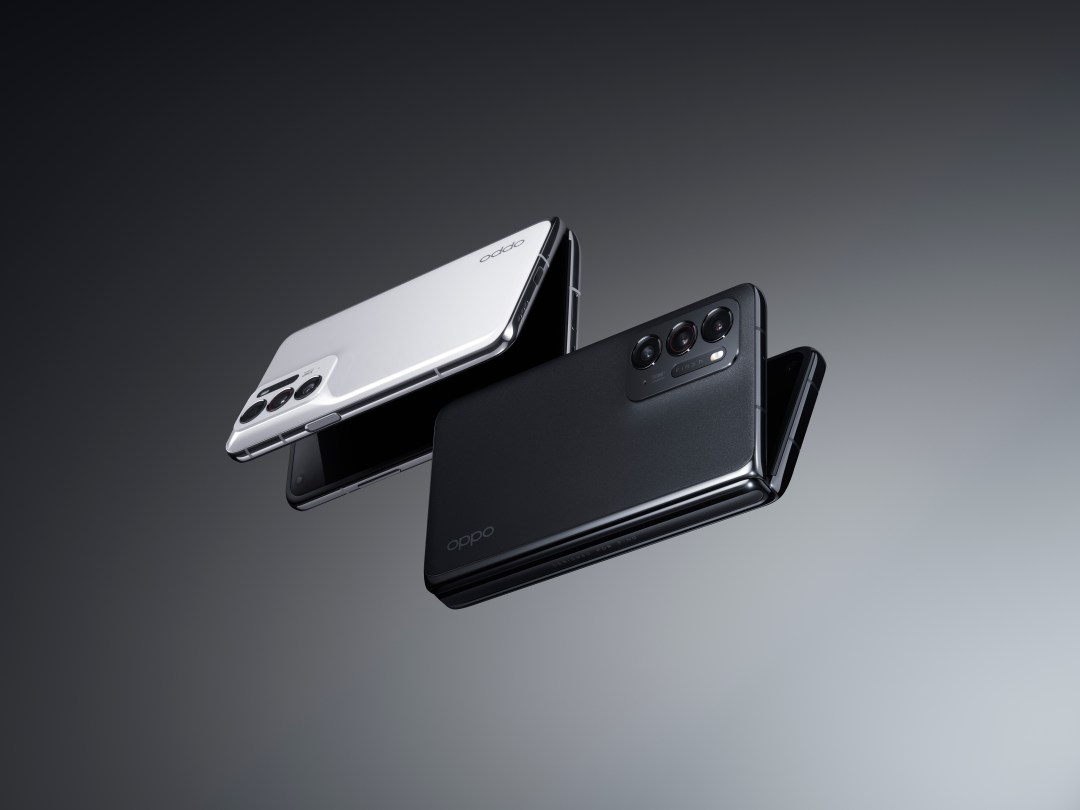 Foldable phones remain a niche pursuit, but they're the kind of niche pursuit everybody wants to get involved with. So we unpack Oppo's Find N with glee; like other foldables we've seen (especially Samsung's Z Fold 3), it feels fresh and different to multitude of staid glass rectangles out there. But there is a key difference with the Oppo to other foldables because it's more compact and is designed to be more pocketable as a result. Certainly it sits in our jean pocket quite comfortably.
Compared to the Z Fold 3, which has 6.2in external and 7.6in internal fold-out displays, the Find N has a 5.49in external and 7.1in displays, both AMOLED and super bright as a result (they boast up to 1000 nits brightness which is – just wow). The external display boasts the spec d'jour of the smartphone world; a variable refresh rate 120hz display, though the internal is more modest.
Day one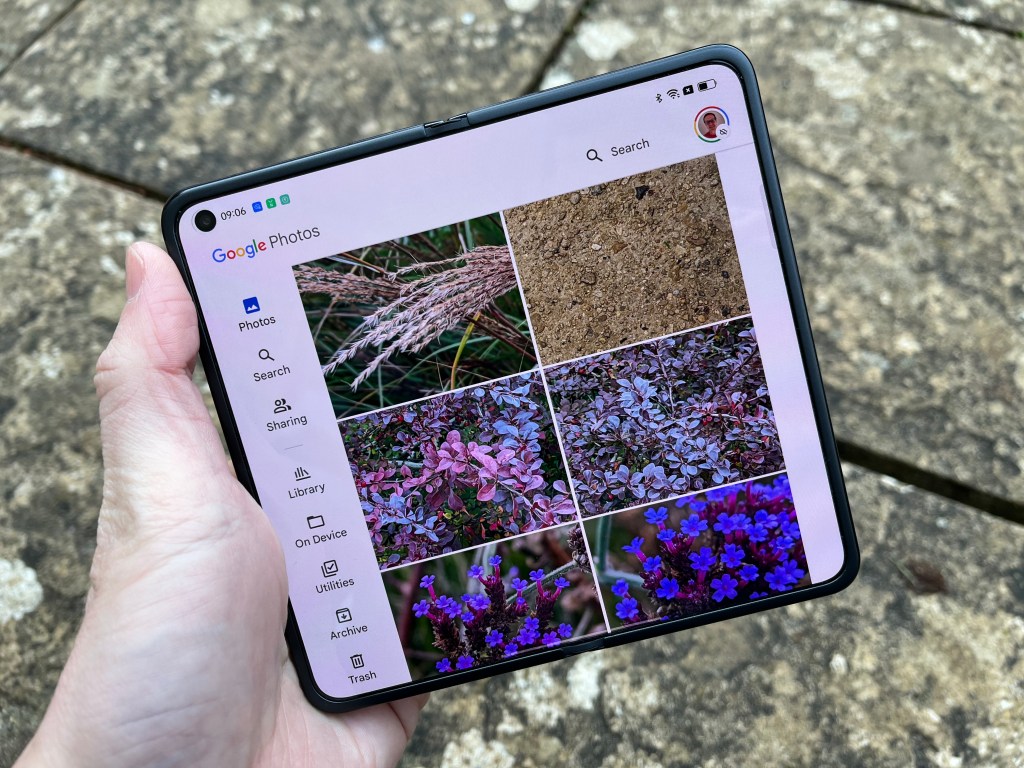 It's no surprise that our entire first day with the phone is spent with that big ol'display folded out. You don't notice the crease once it's unfolded; certainly foldable phone tech has moved on here and the way this display is housed inside the hinge is designed to prevent the crease from showing. You've got to really prod the screen to tell that it's anything other than pancake-flat; certainly we didn't see any evidence of any issues arising from the folding display, it's just not an issue. It is heavy though, at 275g and that weight can feel a drag if, like us, you use a relatively light handset usually. Well if you want to live life at the cutting edge…
A side-mounted fingerprint reader on the on/off button takes care of the biometrics, while as you'd expect the only other physical control on the side of the device is the volume rocker. Because the two sides with the buttons are together when folded, we found it was easy to hit the wrong button when trying to turn the display off. The button is recessed because it's the fingerprint reader, but still, it made things more difficult as a result. The idea is that you just need to rest your finger there to unlock. But it can be hard to re-lock.
Day two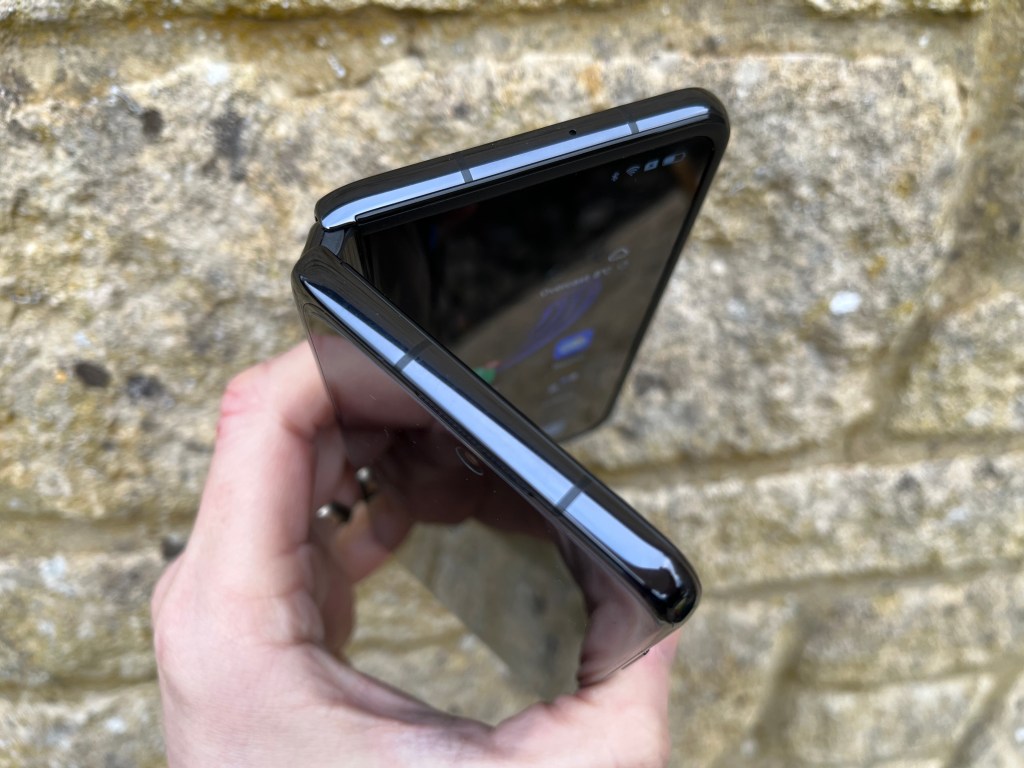 We're appreciating the physical size of the Find N, which is 133 x 73mm in the pocket. The Z Fold 3, on the other hand is 158 x 67, so while the Find N is a little wider, it's significantly shorter than the Samsung.
The external display is very usable because of that width and as we get out and about more with the Find N we're finding we're increasingly using it as opposed to flipping out the middle.
The Find N is going to be available in purple and white as well should you not like the black finish (which, as with all black finishes, seems to get rather fingerprinty). The finish is excellent quality, though, with sturdy metal sides and a really solid hinge which snaps shut with a satisfying slap.
We don't really find the 16mm thickness of the phone when folded a problem, though there's no getting away from the fact it did feel like we had two phones in our pocket at times. The exciting thing about this is that we feel like foldable phones have got to the stage where if the thickness of the phone is the only issue.
Day four
Power is not a problem for the Find N. It uses last year's flagship Qualcomm Snapdragon 888 5G platform and everything is incredibly sleek. It's got Android 11 on board, topped with Oppo's simple-but-attractive ColorOS user interface. ColorOS is one of the better Android overlays in our book. And there's 12GB of memory and 512GB of speedy UFS 3.1 storage inside our test model which is more than enough for our needs (although some will have 8GB/256GB).
Day seven
Watching videos on the Oppo's fold-out display isn't the best because of its aspect ratio which is nearly square at 8.4:9. That means that you get massive black bars when watching videos. You can use the display for some pretty clever stuff including having two apps side-by-side, which can be quite useful. Apps also transfer between the front and inside displays when you open or close the handset, so you can continue where you left off.
Day nine
We've now got the measure of the triple camera setup one the back. The main sensor may be 50 megapixels, but it's a fairly standard f1.8 Sony part we've seen in other flagship phones, it boasts optical image stabilisation (OIS) for shake-free pics and takes some impressive images effortlessly. There's also a 16 megapixel ultrawide and 13 megapixel telephoto lenses, too, meaning zoomed-in shots are no problem. There are high quality 32 megapixel selfie cameras on each display, too.
Day twelve
One other thing we've noticed is that charging is super speedy. There's 15W wireless charging if you use a compatible charger (plus you can reverse charge should you wish) but the wired charging is 33W, meaning you can juice up the 4500mAh battery in half an hour to around 70 percent. Such rapid charging is a joy.
Stuff Says…
Oppo shows foldables can be pocketable, too – a valiant effort.
Good Stuff
Feels great when you snap it back together
So quick and responsive
Inner display is just wonderful
Bad Stuff
Not available in the UK – yet
There's no getting away from the weight…
It's a fingerprint magnet for sure
Tech specs
| | |
| --- | --- |
| Screens | 7.1in 1792 x 1920 OLED, 5.49in 988 x 1972 OLED |
| Processor | Qualcomm Snapdragon 888 5G |
| RAM | 12GB |
| Storage | 512GB |
| OS | Android 11 with ColorOS 12 |
| Cameras | 50+13+16MP rear, 32MP selfie cameras |
| Battery | 4500mAH |
| Dimensions | 133 x 73 x 16 mm (folded), 133 x 140 x 8 mm (unfolded), 275g |