Panasonic Lumix CM1 review
Is it a phone? A camera? It's both – but is it greater than the sum of its parts?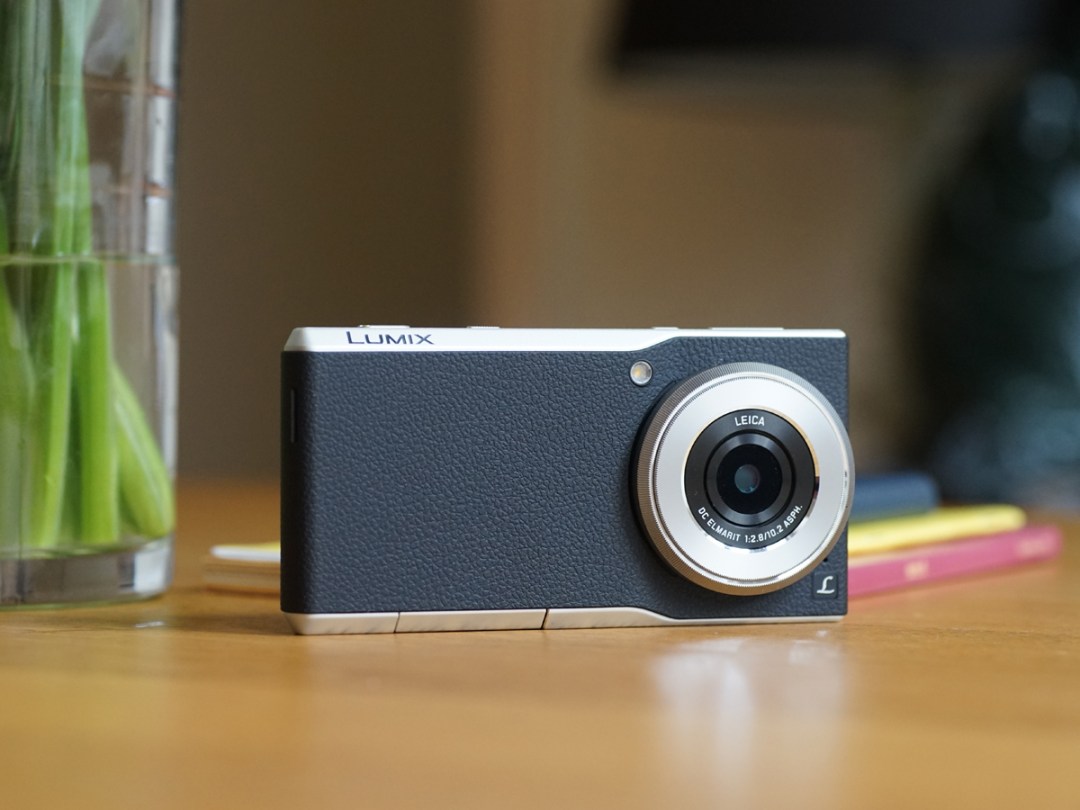 While there have been compact cameras carrying Android innards before – most notably the Samsung Galaxy Camera and Galaxy Camera 2 – Panasonic's new Lumix CM1 is a little bit different.
With a Leica-branded lens and the same 1-inch 20MP sensor found in two of our favourite recently released cameras, the Panasonic LX100 and Panasonic FZ1000, the CM1 promises the sort of image quality usually found in a high-end compact camera. It can even record 4K video. And it's a proper, flagship-specced 4G Android phone too. But that price tag? Eek. And we complained that the Samsung Galaxy Camera 2 was expensive at £400.
Build quality and design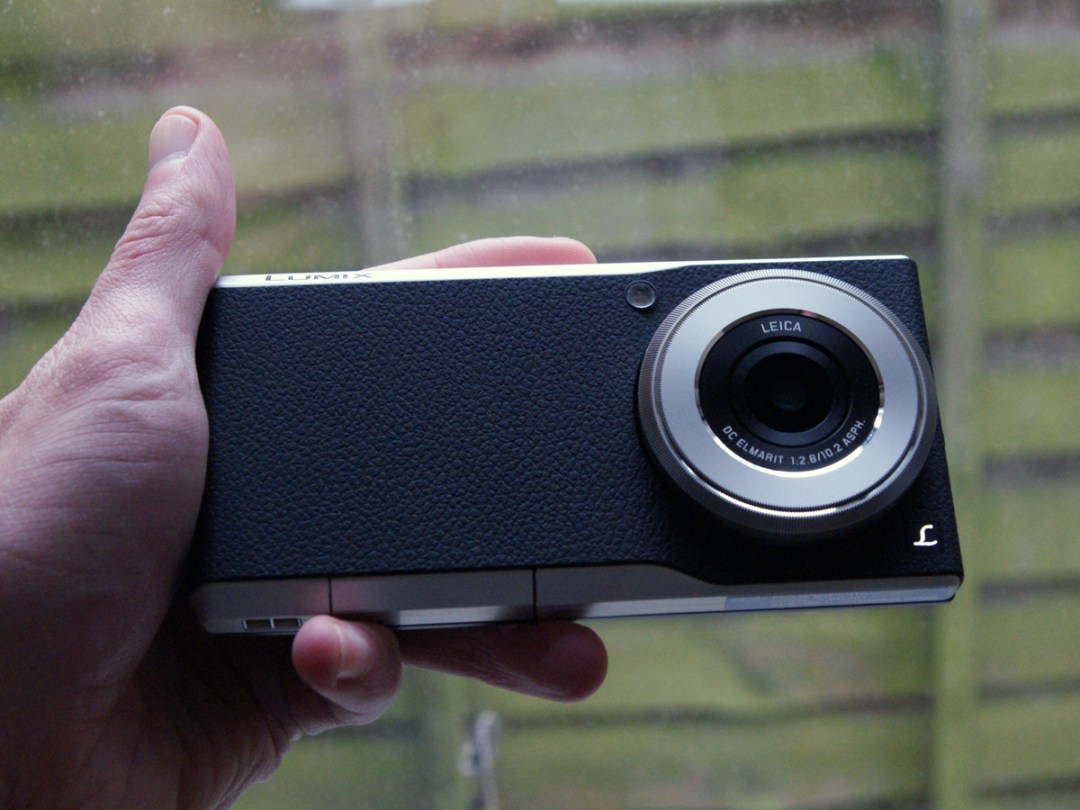 The CM1 has an odd look, hovering somewhere between a compact camera (the lens ring and the textured back) and a smartphone (the large screen on the back, the general thinness).
But disappointingly, it lacks the best design features of either: while it's slim enough to carry in a trouser or inner jacket pocket – much slimmer than most compact cameras, in fact – it's positively brick-like compared to most smartphones (21.1mm thick, including the protruding lens, and 204g in weight – about 40 percent more than an iPhone 6); and unlike most regular cameras there's no grip to wrap your fingers around, no xenon flash (merely an LED) and no optical zoom (the lens has a fixed focal length equivalent to 28mm). There's not even a thread for a tripod mount.
The build quality is solid, albeit noticeably less "luxe" than most flagship smartphones. With its textured hard plastic back (there's no rubbery grippiness here) echoing some of Samsung's poorer design choices and metal-looking elements being mostly actually plastic, the CM1 lacks the flair and feel of the likes of the iPhone 6, HTC One M9 and Sony Xperia Z3.
On a more positive note, we appreciate Panasonic's inclusion of a two-step shutter button (half-press to focus), a camera slider button (this takes you straight from sleep mode to the camera mode, without going to the home screen first) and a solid metal lens ring that can be turned to swiftly switch between various shooting modes and settings.
Features and power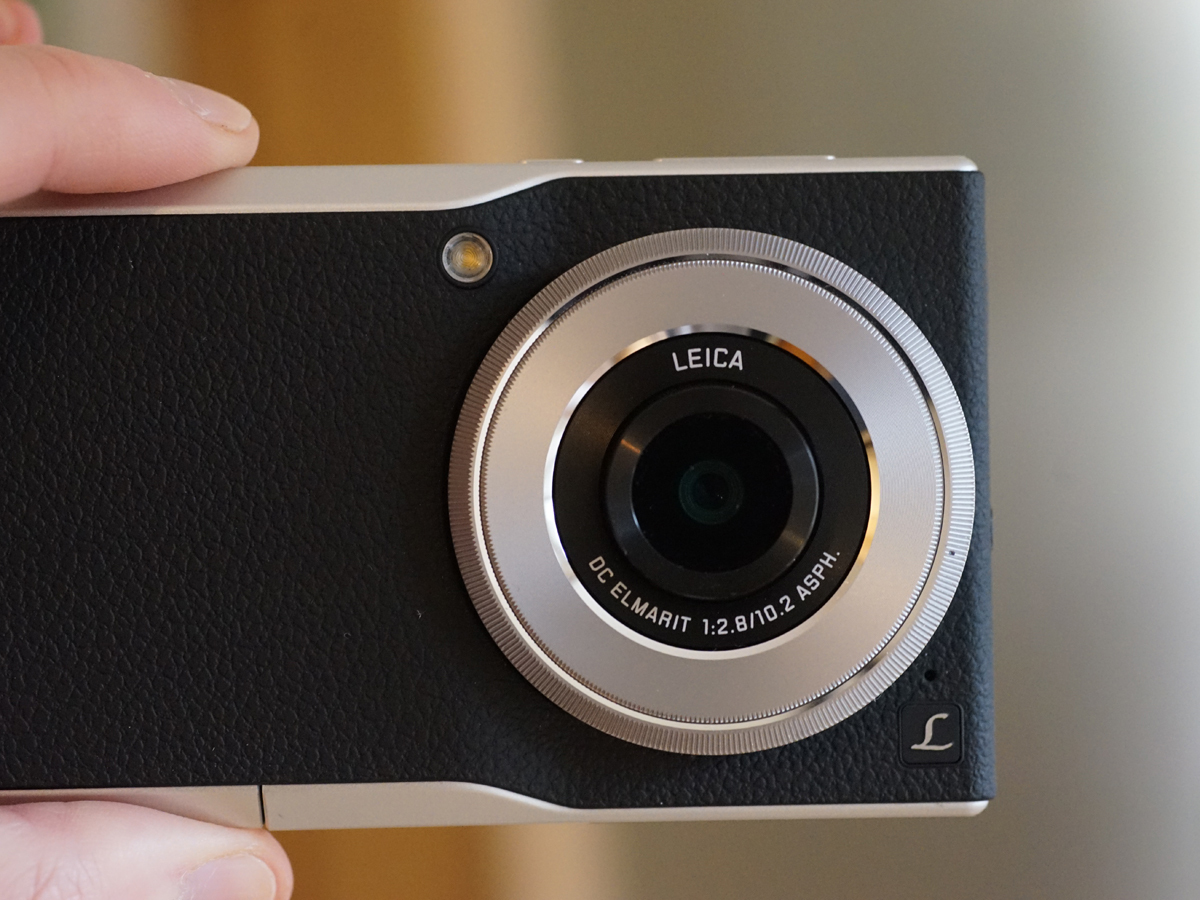 The CM1 comes with GPS, NFC, Wi-Fi and a nano SIM slot, just like a lot of other Android phones, and features a reasonable 2GB of RAM and Qualcomm Snapdragon 801 quad-core CPU clocked at 2.3GHz. There's not much storage – only 16GB built-in – but you can expand that by up to 128GB with a micro SD card.
It feels fast and responsive to use, and benchmarking with the AnTuTu app results in an overall score of 42,442 – roughly on a par with the Samsung Galaxy S5, HTC One M8 and Huawei Mate 7. So to give you some idea of its power, the CM1 is about as beefy as last year's best flagship Android smartphones. The new generation of phones from those companies will outstrip the CM1 in terms of processing grunt, however.
While I wasn't exactly hammering the phone side of things during my time with the CM1 I found the battery life to be more than acceptable. You can easily venture out for a day and not have to worry about it dying on you.
The CM1 has a 4.7in LCD touchscreen with a 1920 x 1080 resolution and a more-than-respectable pixel density of 469ppi. There are higher pixel densities around, on the likes of the Samsung Galaxy S6, Google Nexus 6, LG G3 etc. – but not too many phones offer a 4.7in 1080p screen. If you compare the screen to most compact camera displays, however, the CM1 moves straight to the top of that particularly list. Camera screens are generally small, relatively low resolution displays, so the ability to review your stills and videos on a large, sharp and bright screen is one big advantage the CM1 has over many of its pure camera rivals.
One thing it doesn't have is optical image stabilisation. The large sensor means you probably won't miss it too much, but given that LG, Apple and Samsung have all managed to fit this anti-shake tech, which improves image sharpness in low light situations, into much skinnier smartphones than the CM1, we're disappointed.
Android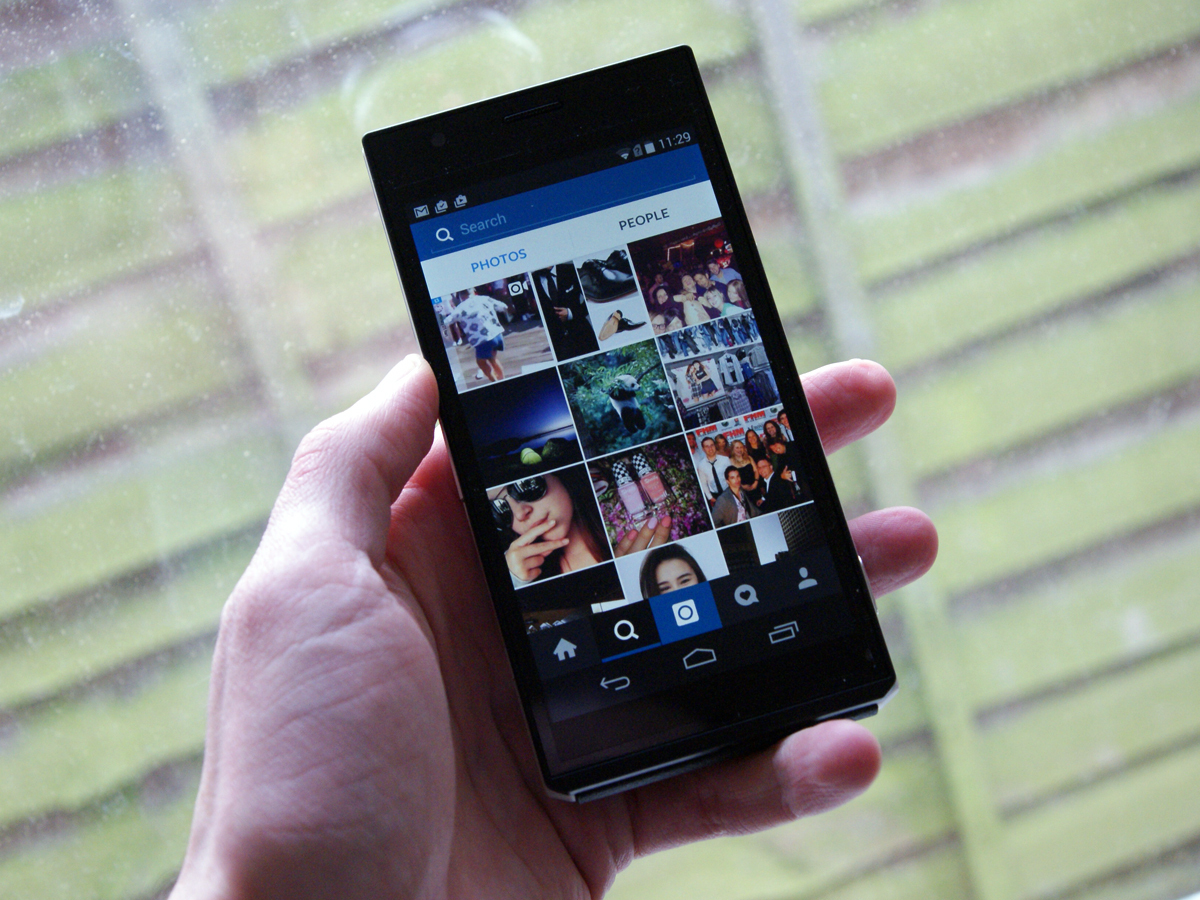 If you're hoping for the latest version of Android here, prepare for disappointment: the CM1 comes with the 4.4.4 KitKat version of Google's operating system rather than the latest 5.0 Lollipop version. And we wouldn't hold our breath with regards to Panasonic delivering an update to the new platform anytime soon. Again, it's another area where the phone side of things feels a year or so out of date.
That said, the camera's connectivity and access to apps means the whole process of sharing images and videos to social networks or via email is almost totally friction-free. With most cameras, even those equipped with Wi-Fi and NFC, there's a bit of faffing required to get your photos online – connecting to a smartphone or tablet can feel trickier than it needs to be. That's a step you totally remove when using the CM1; images and clips can be uploaded to Instagram, Facebook, VSCO or emailed to contacts moments after they've been captured.
You can, of course, run any other Android apps you've downloaded from the Play Store. Panasonic hasn't monkeyed with Google's own Android UI, so the CM1 has the same skin and interface as any Nexus device running KitKat. There's almost nothing in the way of bloatware on board – merely the usual default Android stuff and a couple of Panasonic's own, inoffensive imaging apps.
Image and video quality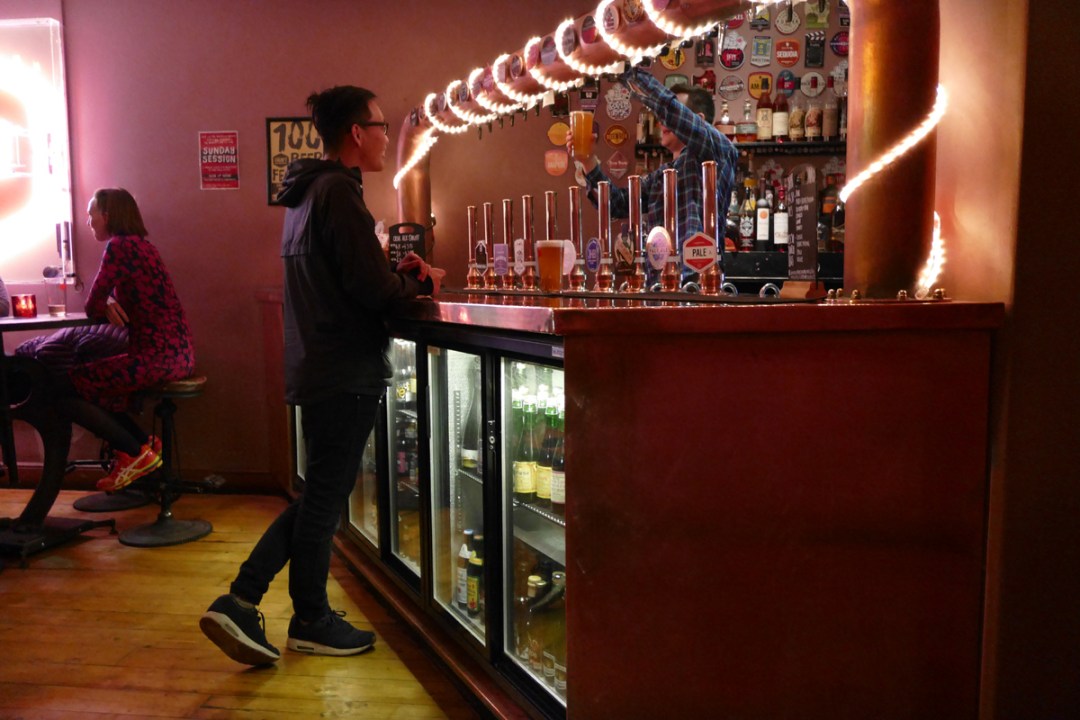 As mentioned above, Panasonic's 1in CMOS sensor has recently impressed in other cameras – and it continues that tradition here. When using most smartphone cameras, you accept that you're compromising on performance: the sensors are small; the lenses are fixed aperture; the autofocus is slow; the flash is weak; true optical zooming isn't an option. But, with the exception of the flash, none of these things applies to the CM1.
I used the camera regularly for a period of about two weeks and rarely found myself in a situation where it struggled to deliver a usable photo or video. The physical size of the sensor means it can suck up more light than smartphone cameras with tiny sensors, which both improves the sharpness of pictures in low light conditions and allows you to achieve pleasingly blurry background bokeh in shots where most phones would render the entire scene in focus.
The variable aperture, however, means that if you do want everything in focus, you can do so. Most phones would not have that capability.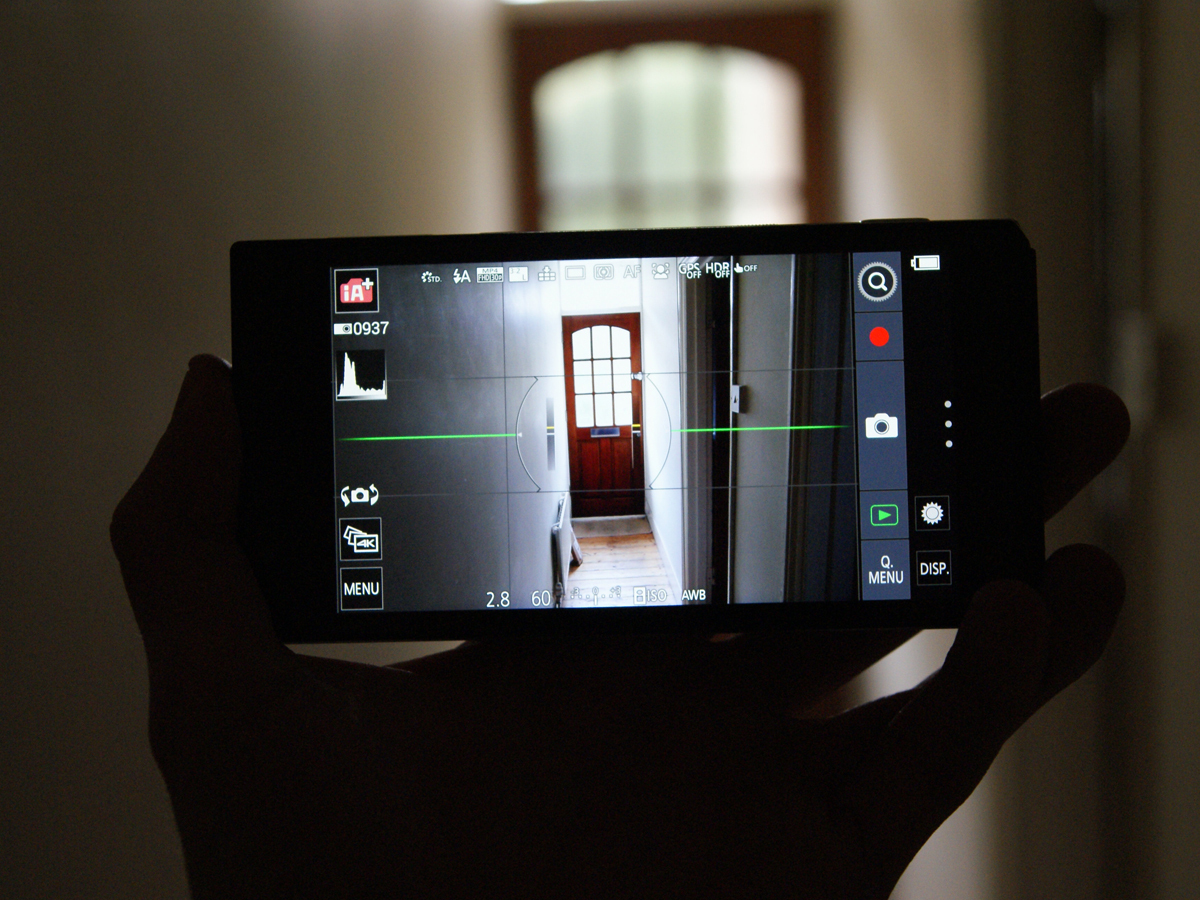 Neither do most phones have the PASM priority shooting modes offered by the CM1, allowing you to adjust various settings to ensure photos are taken just as you want them. Shutter speed, ISO, aperture and exposure can all be easily manually tweaked, allowing you to achieve results straight out of the camera that either (a) wouldn't be possible at all on most phones or (b) would require some serious post-shot editing to obtain.
Autofocus, including face detection and tracking focus, works quickly and accurately. Images are crisp and clear with rich, realistic colour reproduction. There's some pretty bad chromatic aberration (or purple fringing) in high contrast areas towards the edges of the images (it's particularly evident at the top left of our sample image of the old building); you'd find that with a lot of compact cameras – but possibly not ones in this price range.
There's also full HD video at 30fps and 4K video at a frankly baffling 15fps. 15fps is not really an acceptable frame rate for watching video and, nice and sharp as 4K is, watching all that detail chugging like a slideshow feels immensely, sadly pointless. The 1080p stuff looks glorious too – far better than video from a smartphones – and as long as you keep your hands reasonably steady the lack of image stabilisation doesn't hurt it too much.
Panasonic Lumix CM1 verdict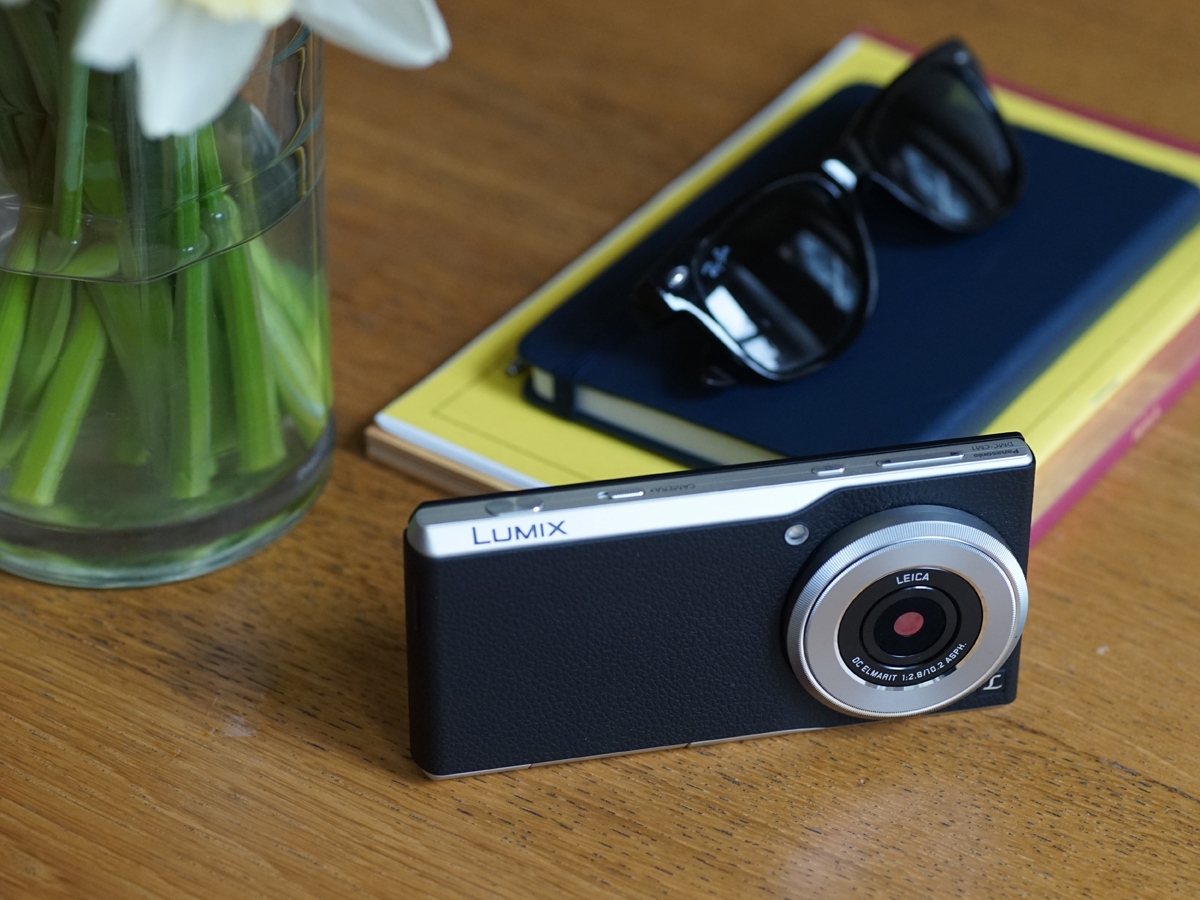 Panasonic has made a strange product here. By smartphone standards, it's an excellent camera squeezed into a chunky, acceptably powerful body. By camera standards, it's a device that offers better sharing and a better screen than most compacts but an average LED flash, no image stabilisation and a sky high price tag.
£800 is simply too much money for the CM1. It's fine in both its roles, and its flexible nature makes it capable of space-saving in your bag or pocket – but you could buy both a better phone and a better camera for the same amount of money. I have a feeling that, should Panasonic make a second-generation model, it will be a lot better. And to compete with the superb current crop of premium compacts and premium smartphones, it'll need to be.
Tech specs
| | |
| --- | --- |
| Operating System | Android 4.4.4 |
| Screen | 4.7in LCD with 1920 x 1080 resolution (469ppi) |
| Processor | Quad-core Snapdragon 801 |
| RAM | 2GB |
| Storage | 16GB (microSD expandable) |
| Camera | 20.1MP rear with 1in CMOS sensor |
| Connectivity | NFC, Wi-Fi, 3G/4G, Bluetooth 4.0 |
| Battery | 2600mAh |
| Dimensions | 135.4 x 68 x 21.1mm |
| Weight | 204g |
Stuff Says…
A jack of all trades and a master of none, this intriguing hybrid is a valiant attempt – but not quite the do-it-all device we want
Good Stuff
Has a better camera than most smartphones
Has a better screen than most cameras
Bad Stuff
Very expensive
No optical image stabilisation
Chunky and heavy for a phone