Panasonic Lumix FT7 hands-on review
Panasonic's tough cam is back, this time with a handy new EVF...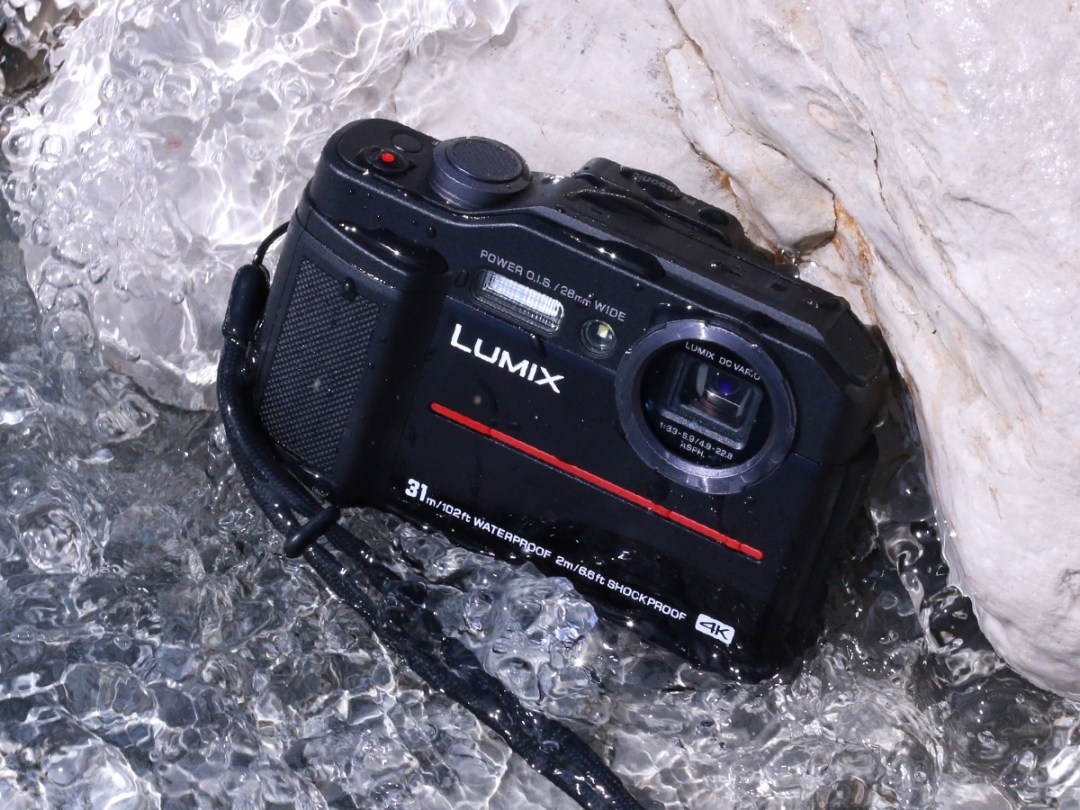 Tough cams aren't renowned for being relentless innovators – Panasonic, for example, hasn't released a new rugged compact in the UK since 2013's Lumix FT5.
On the plus side, that's a long time for its new model to have been honing its craft out in the wilderness. So does the FT7 match its brawn with exciting new brains?
It sure looks the part, and is the first cam of its kind to have an electronic viewfinder. It's also a 4K beast in photo and video mode and can accompany you to the very bottom of the ocean, or at least one that's 31m deep.
On the downside, it still can't shoot in RAW and battery life is actually slightly down from its predecessor.
To find out whether this disqualifies the FT7 from camera duty on your next adventure holiday, I tested out a pre-production model on an aquatic assault course in Lulworth Cove, Dorset during a day of coasteering and kayaking.
It's not often I size myself up against an inanimate object, but several gulps of salt water later and with reddened eyes and exhausted limbs, I can say the FT7 is certainly tougher than me.
Whether it's your dream tough cam, though, depends on your photographic needs… 
Design and build: Solid as a rock
The FT7 feels just a bit bigger and boxier than its tough cam rivals. It looks like a bulked up FT5 and, indeed, is also a touch heavier. Still, it's neat enough to squeeze into a pocket and during kayaking; I had no issues tucking it into my wet suit.
As you'd expect, it's built like a very tiny tank. I was hurling myself off cliffs, because this is apparently what coasteering involves, and the cam came out completely unscathed. Me? Shaking like a leaf on the last day of autumn.
I was handed the black version of the FT7 and liked that it doesn't look like your typical, garish adventure cam – in fact, I'd even call it quite stylish. But it also comes in blue and orange if you're that way inclined.
There are benefits to the FT7's larger size too, with the physical buttons spaced out enough to be intuitive when your attention is elsewhere (like, on not drowning). Even in neoprene gloves, I was able to more-or-less navigate the buttons easily enough.
Features: In too deep
Leaving out RAW support on the FT7 feels like an odd decision, given that many smartphones now offer the ability to shoot in this unprocessed, editing-friendly format.
Still, the pixel count has been increased to a whopping 20.4MP, which is huge for a camera like this. And that's not the only impressive feature in the FT7's survival pack.
It can operate at frankly ridiculous depths of up to 31 metres. I couldn't find a willing fish in Dorset to test it out, but it certainly feels capable of surviving such a deep snorkeling dive. It's also shockproof when dropped from heights of two meters and can also cope in temperatures of -10C, making it an all-rounder in the adventure travel terrene.
The 4.6x zoom range remains much the same as its predecessor and Panasonic's ditched the Leica-branded lens to keep it affordable, as it's already veering towards a premium price tag.
At the back is a 3in display with a 1,040,000-dot resolution, with tempered glass to withstand the high water pressures. And, the most exciting feature – the addition of an electronic viewfinder, which I found to be especially handy in narrow spaces and in bright conditions.
As expected, Wi-Fi connectivity is on board and there's a built-in LED light to aid with low light. I used this with varying levels of success when passing through caves. Rather annoyingly, it's only accessible with video and not stills – but that could be different when the final models are shipped.
You can shoot 4K video up to 30fps and, impressively, the FT7 can shoot a burst of 20.4MP images up to 10fps. Attenborough wannabes, take note.
Image Quality: Hunky Dorey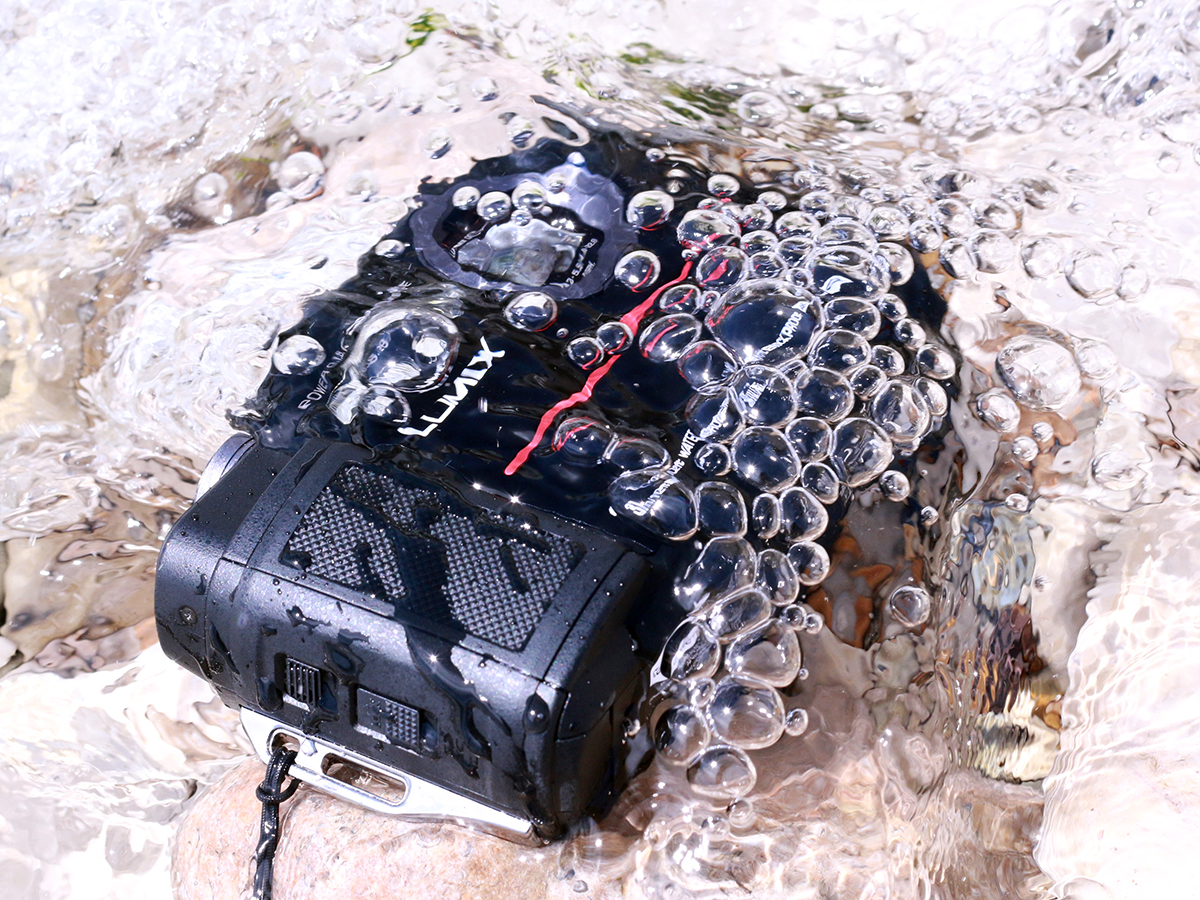 It's a bit of a shame that the FT7 doesn't have a RAW option, like on Olympus' rival Tough TG-5. It means that major post-adventure tweakery isn't really possible, which is often a welcome feature when you're deep in the action. Still, the 4K burst mode almost compensates, allowing you to select the best shot later on.
I was mainly shooting with autofocus in iA (Intelligent Auto) mode. It occassionally struggled to lock onto subjects, but there were certainly more hits than misses. There is also a manual focus option and a handy Macro mode, for seaweed close-ups (see gallery below).
When zooming in on some of my images, they appear a little softer than I'd hoped, as if detail as been sacrificed to reduce noise, and this was in really great daylight conditions.
But overall it produces great colour JPEGs and the exposure was really well handled in AI mode, as you can see in some of the sample shots below.
Panasonic FT7 early verdict