Panasonic Lumix LX100 review
We get to grips with the high-end compact that shoots 4K video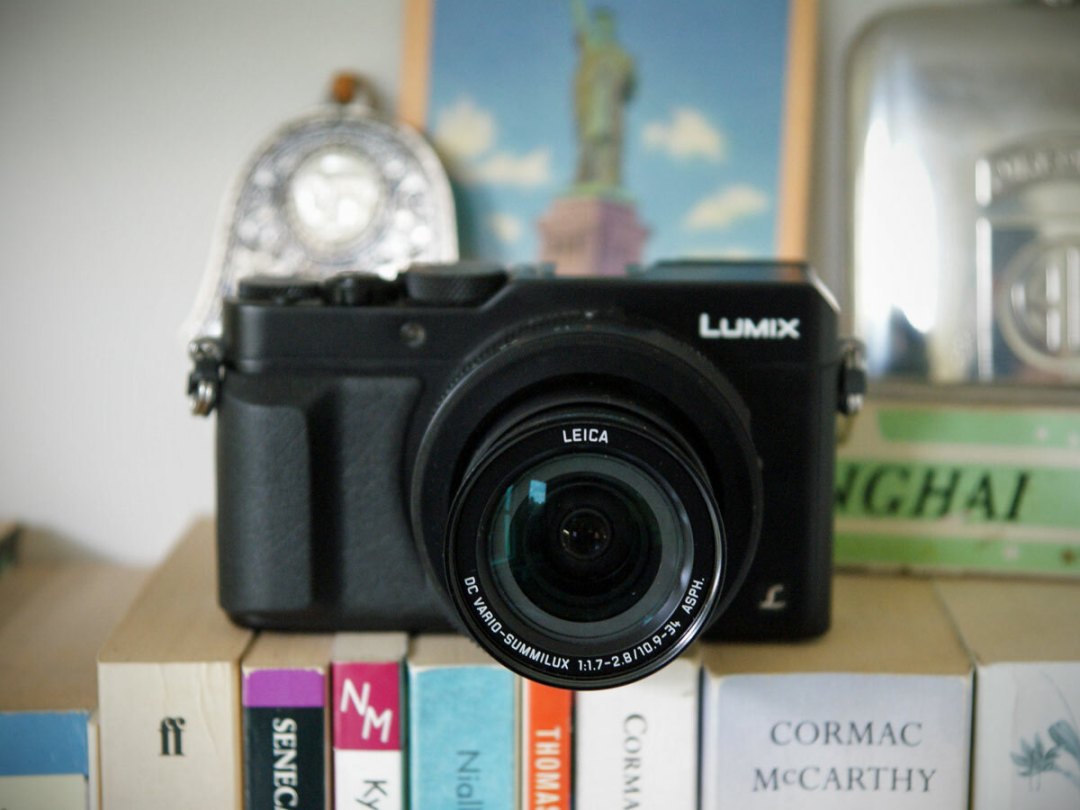 The world isn't exactly short on premium point-and-shoot cameras. Take a gander at our Digital Compacts Top 10 and you'll see such wonderful snappers as the Sony Cyber-shot RX100 III, the Fujifilm Finepix X100S and the Canon PowerShot G1 X (there are a lot of Xs in camera names, aren't there?).
So how does Panasonic's Lumix LX100 (there's another one) hope to stand out from the crowd? How about the fact that it can capture 4K video? Well, that sounds like a pretty good start.
We've spent the last few days snapping and shooting with the LX100, and we reckon it more than deserves to be mentioned in the same breath as the hallowed names above.
Design and build quality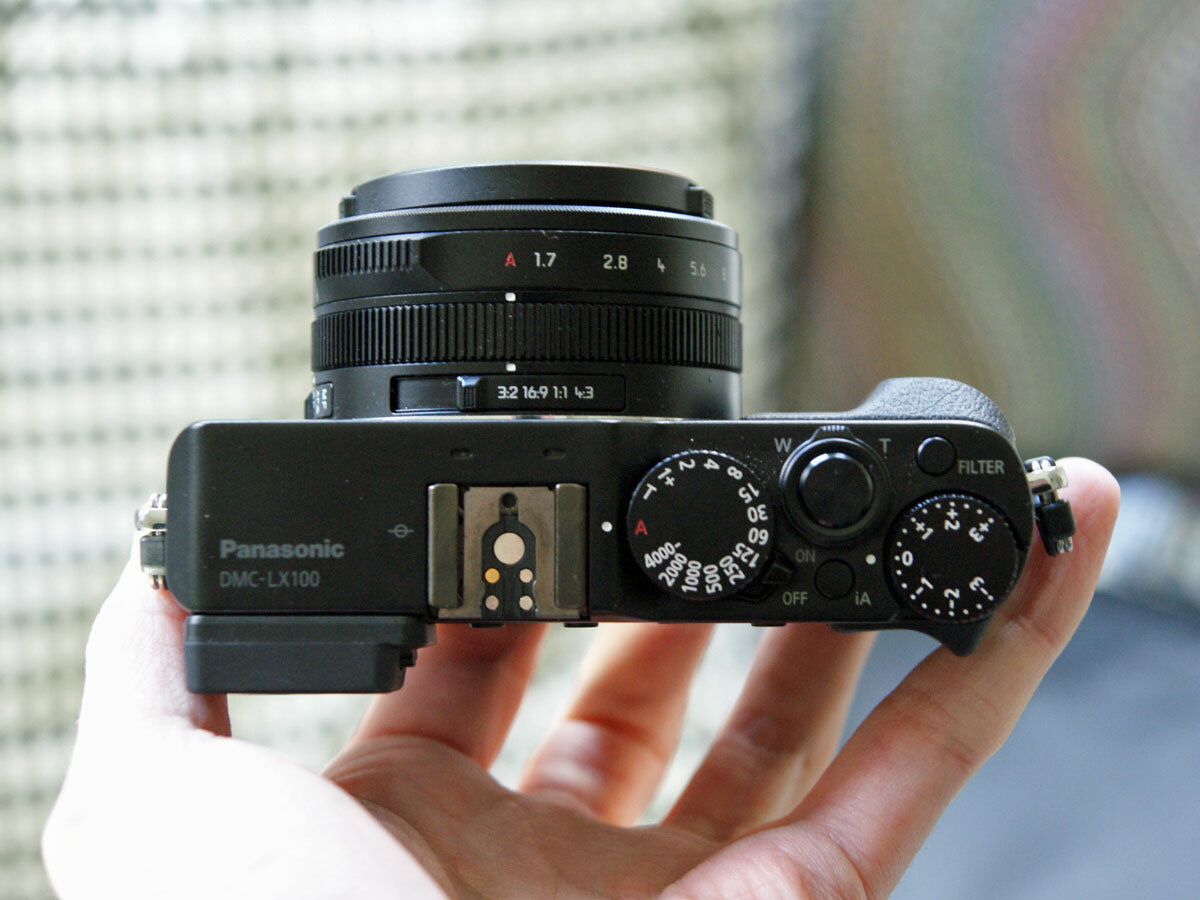 The LX100 looks every inch the premium point-and-shoot camera. It feels it too: it's heavy and solid, with a metal body and metal control dials. Textured grips on the front and back help you to keep a firm hold on it with your right hand while your left grasps the zoom lens, which protrudes out a fair way even when the camera is switched off (the LX100 could not be called pocket-friendly).
The lens cylinder features three physical controls: a dial for manual focus; a dial for adjusting the aperture; and a slider for changing the aspect ratio between 3:2, 16:9, 1:1 and 4:3. The manual focus dial also works with other functions: it can be used to zoom, for instance (although a rocker by the shutter button also serves this purpose). We're big fans of putting more controls within easy reach (thereby lessening the need for the user to push tiny circular buttons) so props to Panasonic for this.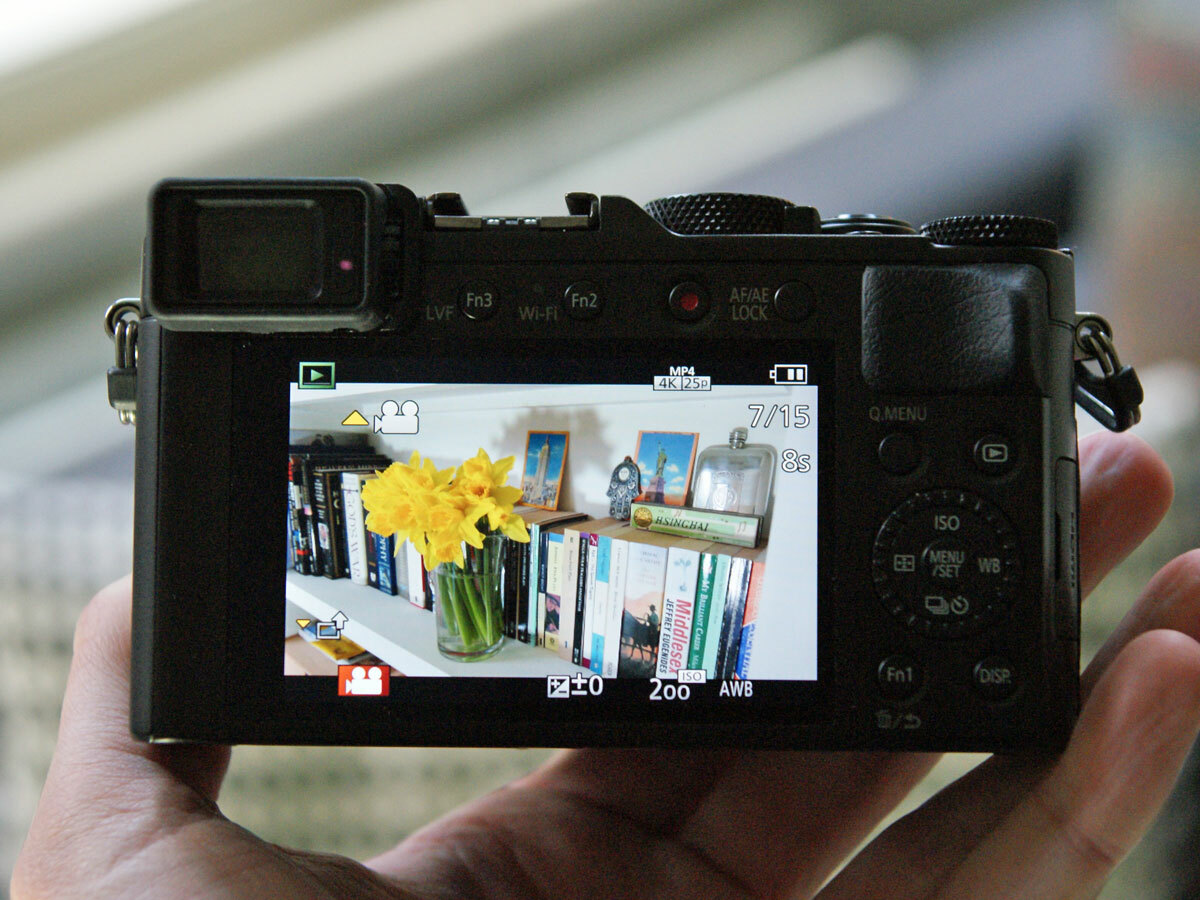 There's no built-in flash, but Panasonic includes a small external flash in the box, and the hot shoe means you can fit more powerful flash guns should you wish – a useful option to have. Of course, despite its tiny size the flash is another thing to carry around with you (and potentially lose), so a built-in alternative might have been a better way to go from a practicality point of view.
There's also an electronic viewfinder on board, which you can use as an alternative to the 3in LCD screen. The EVF isn't the sharpest or brightest (compared to Sony's OLED EVFs, it's distinctly disappointing) but it does the job in a pinch. The screen is detailed and bright enough to serve its purpose, but doesn't tilt or swing to make framing shots at awkward angles a bit less… well, awkward.
One thing we should note: our review sample of the LX100 appeared to have dust particles inside its lens, leading to spots showing up in many images (you might see them in our test shots below). We have no reason to believe that this is a common problem with this model of camera, but if you buy one and it's the case, don't hesitate to have it swapped for another, dust-free example.
Features
There's no GPS on board, but in common with many current cameras the LX100 has Wi-Fi and NFC. Install the Panasonic Image App on your NFC-equipped smartphone, tap it against the side of the camera and the two devices pair in moments, allowing you to transfer images from camera to phone (all the easier to share on social media or via email). If you have an NFC-less mobile like the iPhone, you'll have to struggle with manually entering Wi-Fi settings, and ain't nobody got time for that.
Photo quality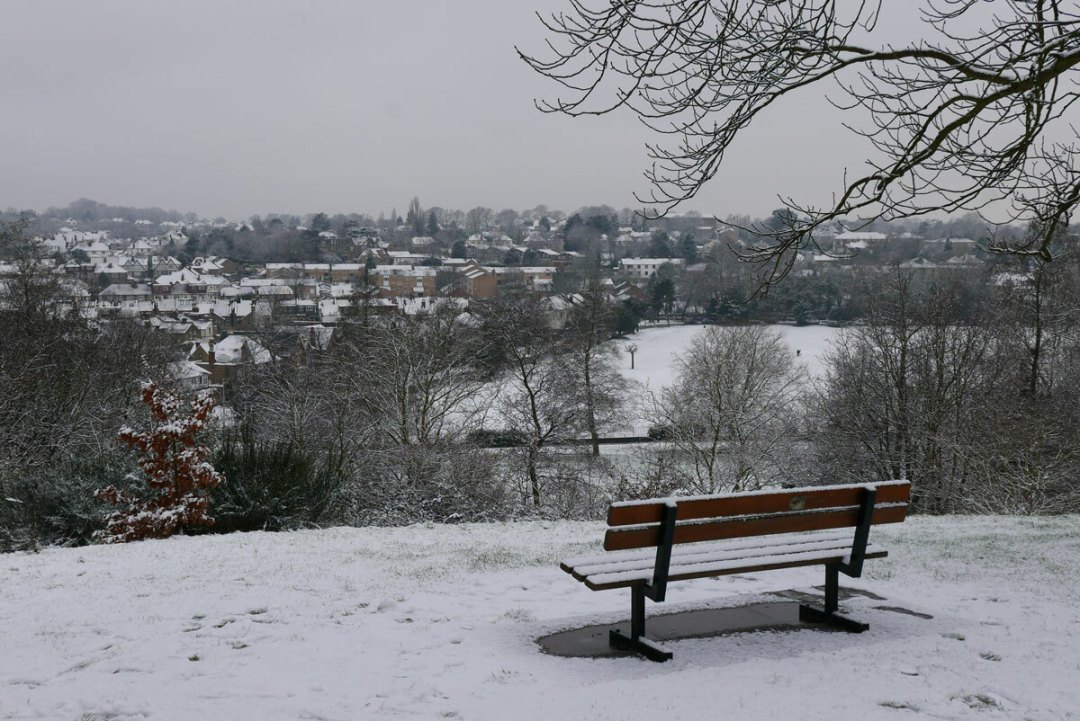 The LX100 has a wide ISO range (200 to 25600, with 100 available as "extended ISO"), large aperture (f/1.7 at the widest end of its Leica lens' zoom range, f/2.8 at the tightest) and, for a compact camera, a large image sensor: its 12MP MOS is Micro 4/3 size, making it the same size (physically) as the sensors in high-end lens-swappers such as the Panasonic Lumix GH4 or Olympus PEN E-P5.
This triple whammy allows the LX100 to take photos you wouldn't expect from such a compact camera. You can achieve beautiful bokeh effects and take clear, crisp images in low-light conditions. At ISO 200, noise is non-existent, as you can see in our 100 percent crop image above, but even at much higher sensitivity settings such as ISO 12800 the camera's noise reduction tech does a good job of keeping grain in check and images remain usable.
Colour reproduction veers toward the natural rather than the outlandishly vibrant, and overall we're very impressed with the LX100's capabilities. Along with the Sony RX100 III and Fujifilm X100S, it's one of the best premium compacts out there for stills.
Video performance
4K video capture is the marquee feature here, but in order to use it you'll need a fast UHS-II type SD card (currently, these retail from around £30 from the likes of Amazon). Plus, of course, you'll want something on which to watch your 3840 x 2160 resolution footage – a 4K TV or a computer with a 4K monitor.
If you've jumped through those hoops, the LX100 will furnish you with truly lovely and incredibly sharp 4K video. Colours, contrast and detail are all astonishing. The only issue is that it can be a touch wobbly – a preternaturally steady hand or tripod is required if you want truly smooth, stable footage, as the camera's optical image stabilisation doesn't really seem designed with video in mind.
"Normal" HD video quality, while not as stunning as 4K, is impressive. The ability to shoot video with sharp subjects and smooth, out-of-focus backgrounds on such a compact camera will make you want to never have to rely on your smartphone for HD video recording duties again.
Panasonic Lumix LX100 tech specs
Panasonic Lumix LX100 verdict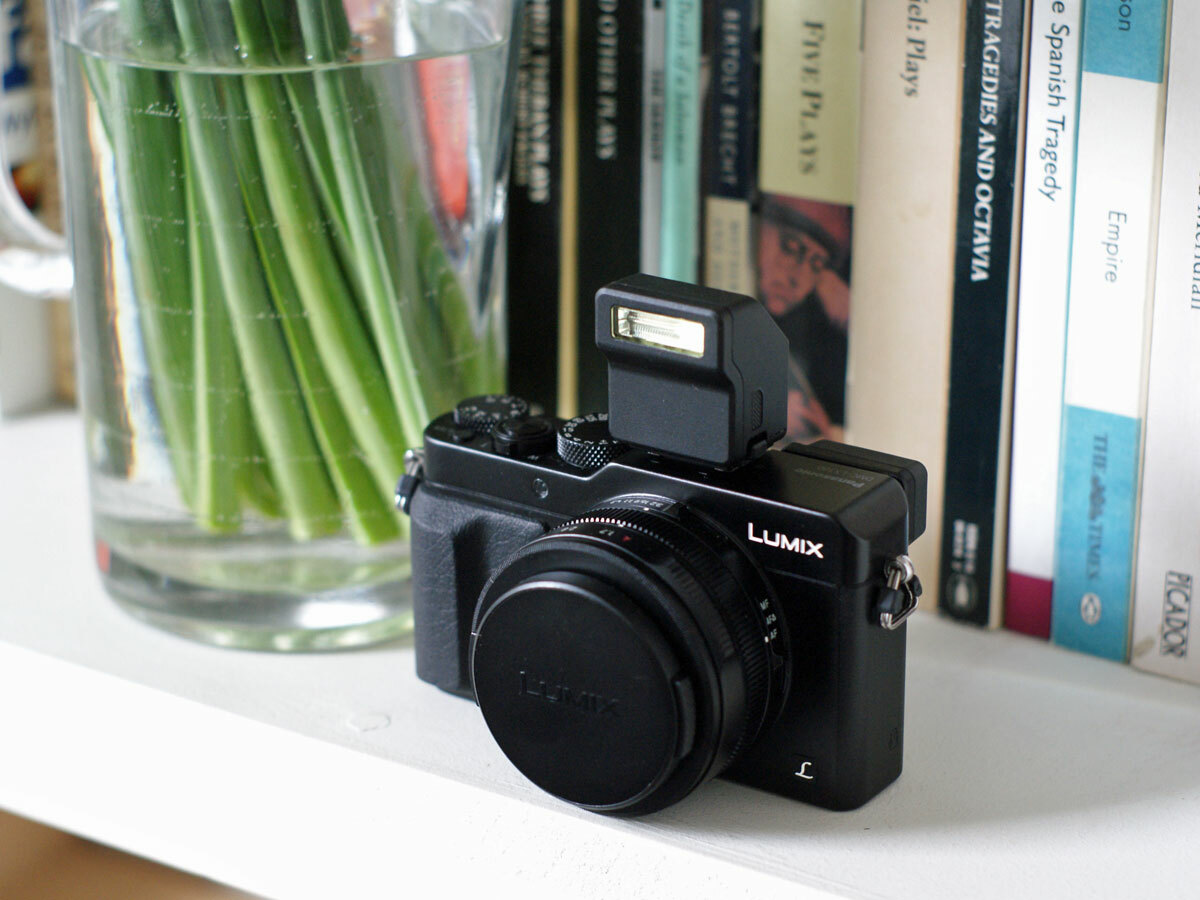 Yet another great Panasonic camera, the LX100 deserves a spot amongst the most capable compacts on the market. While we still feel the Sony RX100 III is a better all-round performer, the LX100's 4K capabilities give it a crucial edge over its rivals – nothing else in this category can do that, yet.
Even if you think 4K recording is a gimmick, the LX100's HD video capture and superb stills performance make it a star performer when it comes to the basics.
READ MORE: The 10 best compact digital cameras in the world
Stuff Says…
4K recording isn't the only trick up this superb snapper's sleeve
Good Stuff
Excellent image quality
Strong low light performance
Sturdy build
Bad Stuff
4K requires a fast SD card
No tilting LCD