Panasonic SC-HTB01 Soundslayer review
Big gaming audio without the big speaker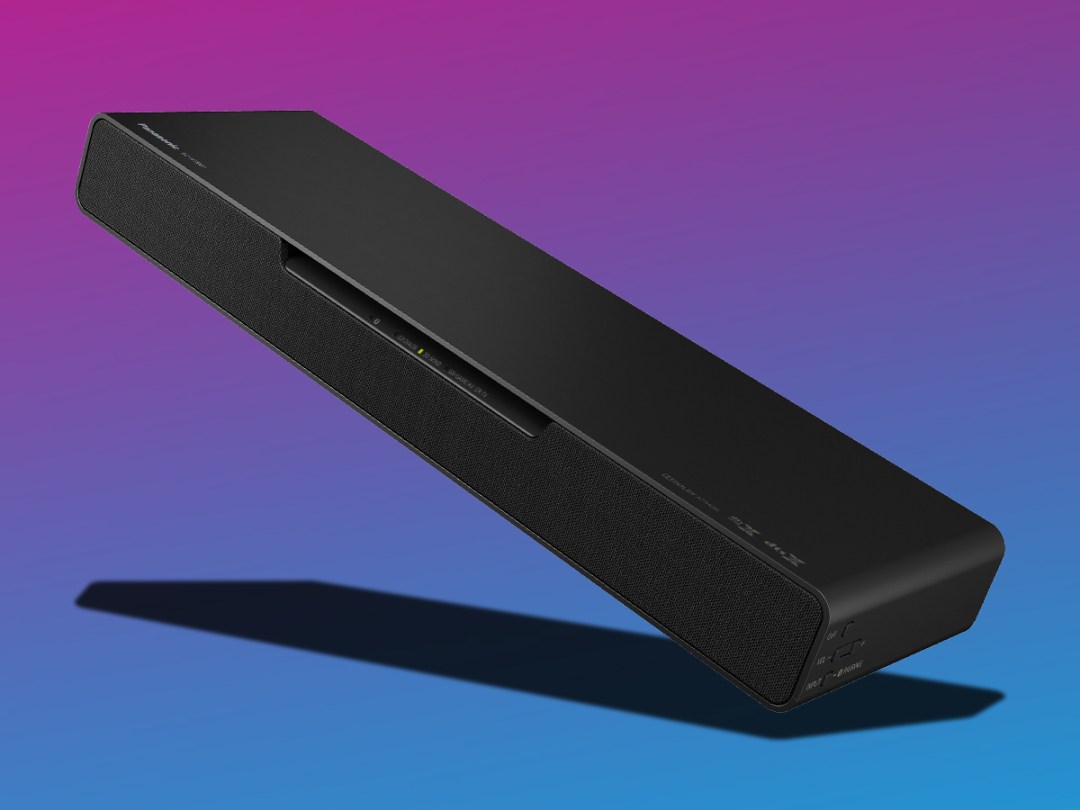 Broadly speaking, it goes like this. If you're a movie enthusiast, there are literally hundreds of soundbars, at a wide variety of price, all ready to bring your audio experience into line with the superb images you're enjoying from your TV.
If you're a gaming enthusiast, though, there are a few inexpensive soundbars, with way too many LEDs, ready to add some high-volume, coarse sound to the superb images you're enjoying from your monitor. There are exceptions, of course – that's how you know it's a rule.
Companies like Creative or Razer have some very capable, quite expensive and hardly-illuminated-at-all gaming soundbars ready to do some justice to the soundtracks of your favourite games. It's taken until now, though, for an authentically mainstream brand to try and get in on the action/do it properly.
Hands up who thought Panasonic would prove intrepid enough to give it a go? No, us neither.
Design and build: Honey I shrunk the soundbar
At just 52 x 431 x 132mm (HxWxD), the Panasonic looks like a scale model of a soundbar. It's the right size for sitting tidily beneath a gaming monitor small TV, but is big enough to accept decently sized speaker drivers.
Compared to most gaming soundbars, the SC-HTB01 goes to the opposite extreme where design is concerned. It's discreet to the point of anonymity – the front is basically all acoustic cloth, while the nicely curved chassis is helpfully unreflective. Apart from when it's making a sound, it doesn't want to draw any attention to itself.
As far as build quality goes, you're on characteristically safe ground here. The SC-HTB01 may not be the most luxurious-looking or -feeling product Panasonic has ever turned out, but it's properly put together and built to last.
Features: Got game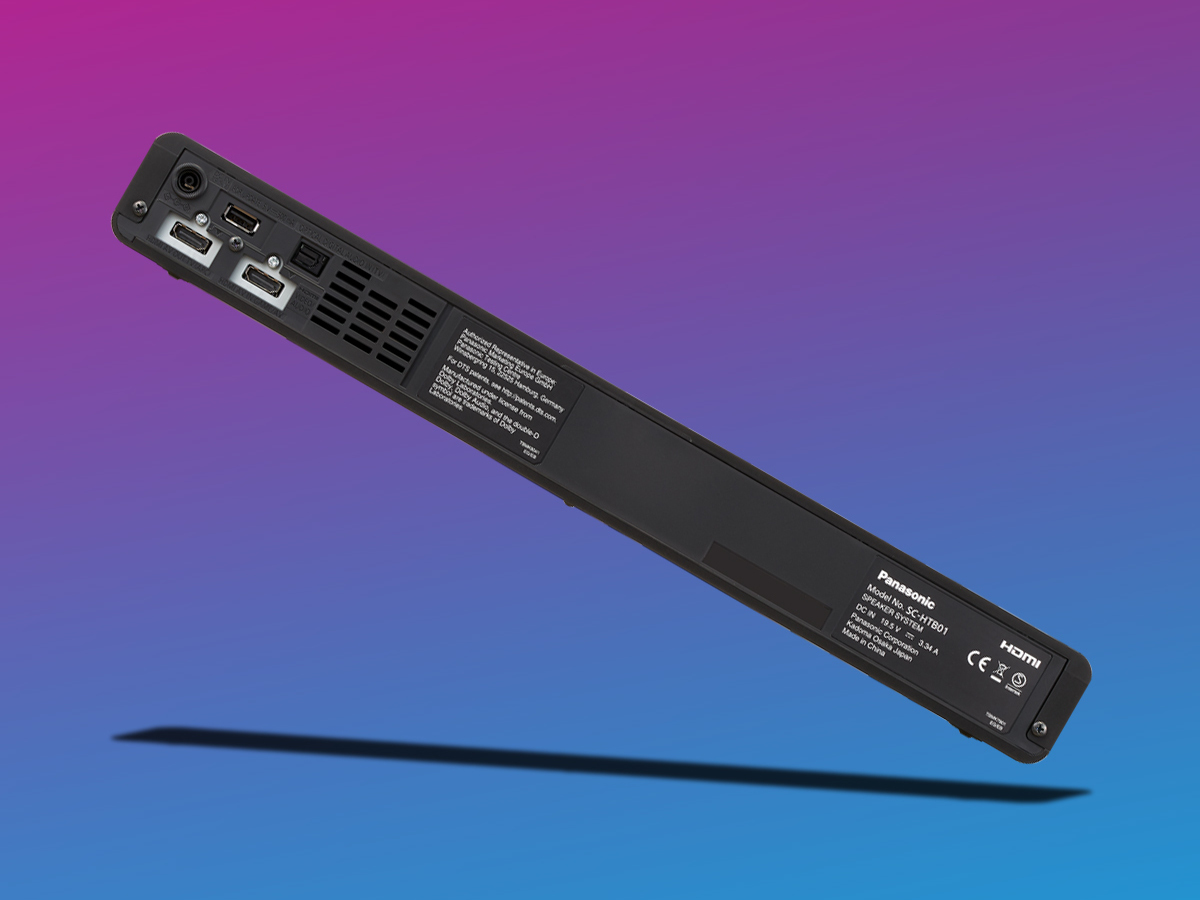 On the inside, the SC-HTB01 is specified to deliver a 2.1-channel signal. To this end, there are two 40mm full-range drivers and two 14mm tweeters firing forwards from behind that acoustic cloth. Facing upwards there's an 80mm 'subwoofer' and a passive low-frequency radiator of the same dimensions. There's a modest reflex vent on the front of the cabinet, just above the little line of LED indicators – but we'd still suggest you shouldn't put the Panasonic anywhere with a surface directly above it.
The five powered drivers are fed by 80 watts of Class D amplification. The rear panel is where the physical inputs live. There are a couple of HDMI sockets, one input and one output – the output socket is ARC-enabled. These are capable of dealing with 4K HDR content, and LPCM multi-channel audio up to a chunky 24bit/192kHz – so the Panasonic is able to deal with Dolby Atmos or DTS:X object-based soundtracks without any problem.
There's a USB socket here as well (just for updates), and a digital optical input. Wireless connection is via Bluetooth 2.1 – it's hardly the last word in modernity but more than enough to make the Soundslayer a music speaker too. The emphasis, though, is squarely on gaming. Oh sure, there are EQ presets of the usual type: 'standard', 'cinema' and 'music' – but the 'game' preset has subdivisions for 'FPS', 'RPG' and 'enhanced voices'.
Interface: Untouchable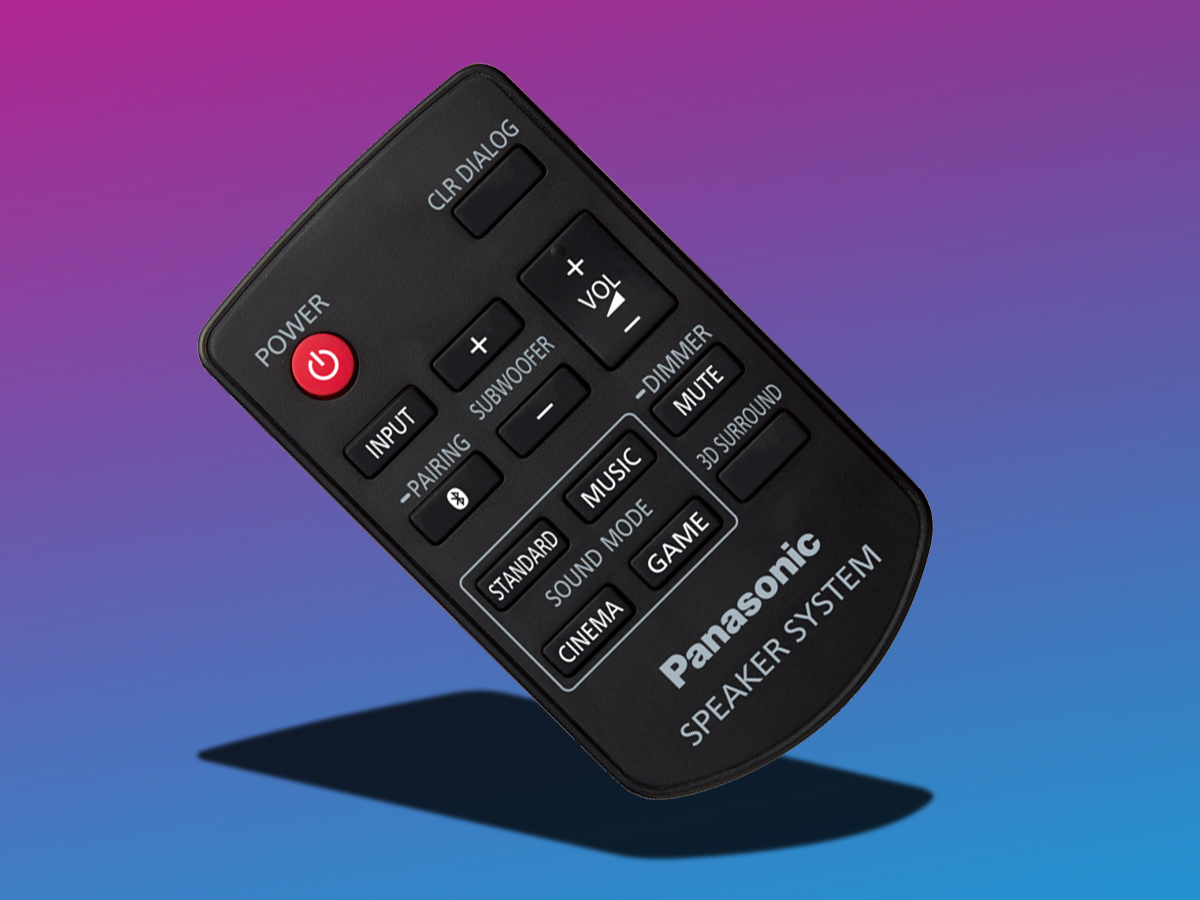 All these EQ presets are accessed via the Soundslayer's full-function remote control. There's no control app or voice assistance, but everything you need – from Bluetooth pairing to subwoofer volume level, from input selection to dimmer control, is here on the handset.
Given that it's your only interface with the soundbar, though, it's a pity Panasonic seems to have gone out of its way to specify the smallest, thinnest, cheap-looking and cheaper-feeling remote control it could find. One first acquaintance it feels unpleasant in the palm of your hand, and gets no more pleasant the more you use it.
Performance: Little 'bar, big sound
If you're used to gaming using the speakers in your monitor or TV, you can't go wrong here. In terms of presence, scale and straightforward punch, the SC-HTB01 is as different from your monitor's sound as an aircraft carrier is from a rowing boat.
Despite the modest dimensions, the way the Panasonic's drivers are laid out means it sounds bigger (wider and taller, particularly) than really seems feasible. There's a definite emphasis on the lower frequencies – after all, many a game relies on bass wallop, and what's more impressive than a stack of bass. But it's not just bassy for the sake of it – the SC-HTB01 controls its low frequencies pretty well, not letting them drone on any longer than they ought to and preventing them from smearing over into the midrange too badly.
All the emphasis on low-end attack can rob the midrange of some detail, though – which is a pity, because when it's not concentrating on the shock and awe of its bass reproduction, the Panasonic can be quite a subtle listen. The subwoofer level can be adjusted independently of the overall volume level, but backing it off too much can undermine the Soundslayer's USP a little. As long as you don't really go to town in terms of volume, the Panasonic handles the top of the frequency range pretty well too. There's quite a bit of detail and body to treble sounds, which means they're able to hold their own when the going gets complicated, but they tend to get a bit hard and quite strident if you really force the volume upwards.
The SC-HTB01 has plenty of broad-strokes dynamism on tap, too, which is ideal for many a game soundtrack. The distance this soundbar can put between 'quiet and stealthy' and 'enormous automatic gunfire overload' is considerable – and it adds to the tension and drama of the gaming experience no end. The fact that the soundstage it generates is so expansive doesn't do any harm, either – it's not like you get any suggestion of overhead sound from an Atmos soundtrack, but there's impressive height and width available nevertheless. Most of the good stuff translates over to movie soundtrack too.
Panasonic SC-HTB01 Soundslayer Verdict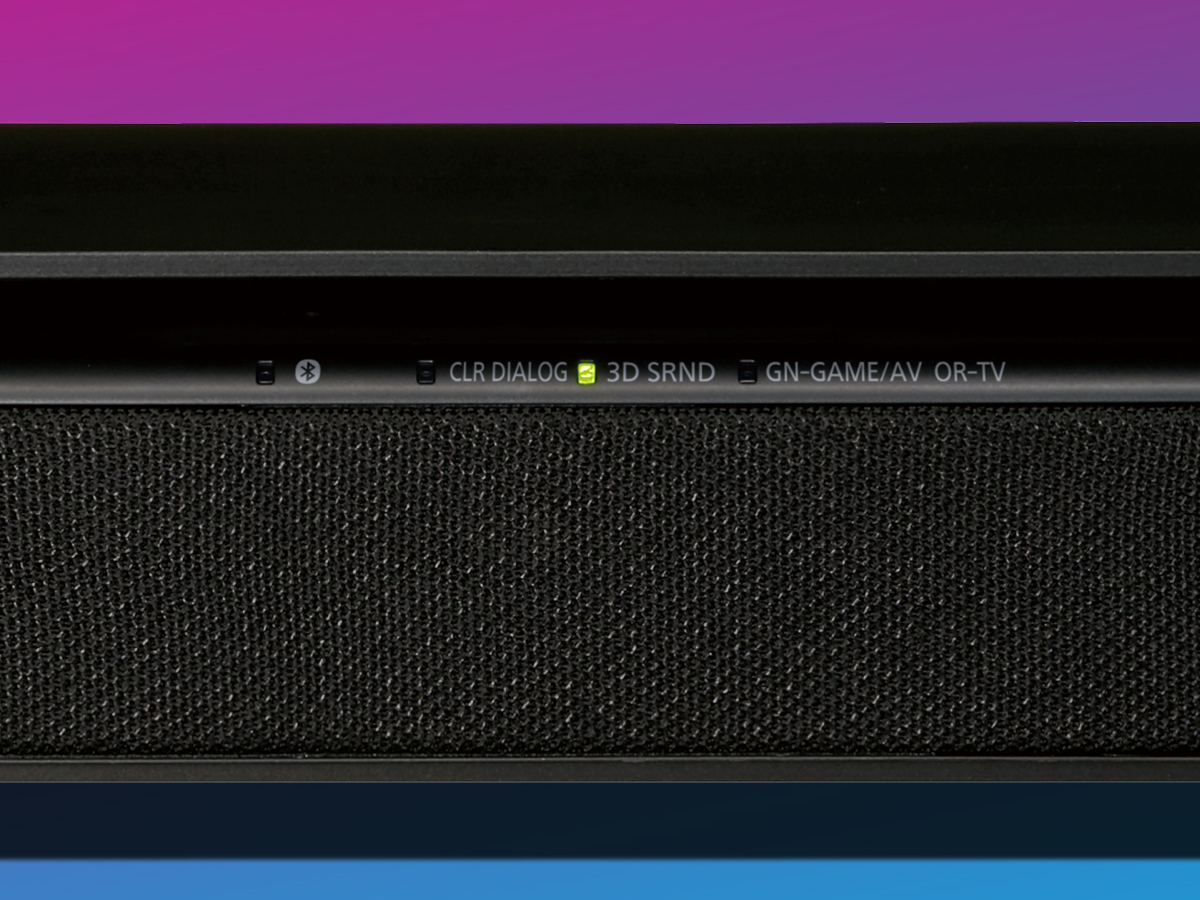 Sure, the Panasonic's always ready to get a bit hard and shouty at volume and yes, the low-frequency stuff can overstay its welcome… but, again, it's a much better sonic experience than your TV is capable of delivering.
Mind you, if what you want is a £250-ish soundbar to improve Film Night then your choice is extensive (unless your soundbar has to be tiny). As a music speaker, the SC-HTB01 is too blunt an instrument to maximise your experience – but, again, if you've this much money for a wireless music speaker then you're spoiled for choice.
For big gaming audio without the big speaker, the SC-HTB01 is well worth a listen. It's better made, better specified and less showy than most gaming speakers – and it sounds better too.
Stuff Says…
For big gaming audio without the big speaker, the SC-HBT01 is a mighty fine choice
Good Stuff
Big, assertive sound
Usefully tidy dimensions
Dedicated gaming EQs
Bad Stuff
Relatively pricey
Nasty remote control
Can get shouty at volume