Panasonic TX-42LZ980 review: small and beautiful
Look past the simple styling - this is a stunning OLED screen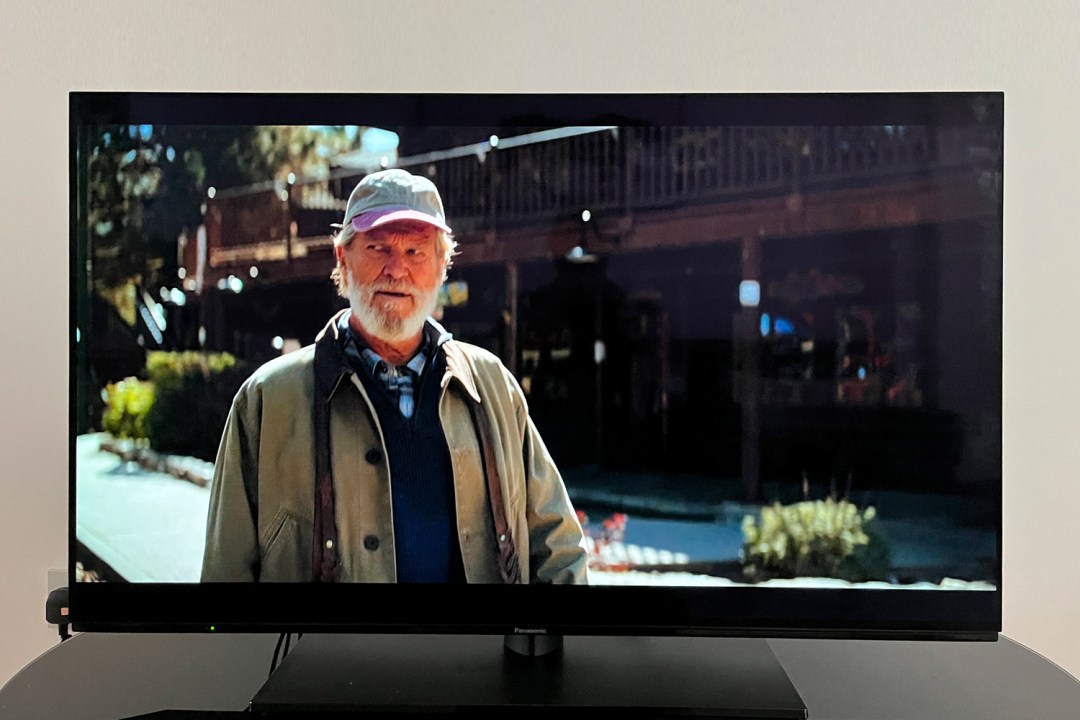 Despite the fact that most TV manufacturers seem to lavish the most care and attention on their 'flagship' ranges, where all the most exciting and expensive technologies live, it's not always the 'flagship' models that impress the most.
Sometimes the most impressive performance and the best value for money is hidden further down the model range, far from the spotlight. Which brings us, not especially coincidentally, to Panasonic's entry-level-but-one OLED range – the LZ980 – and its smallest model, the Panasonic TX-42LZ980…
Design and build: unhidden depths
Stare straight at the Panasonic TX-42LZ980 and it's everything you want from your new TV: almost entirely screen.  Its top, left and right bezels are very narrow indeed, and even the broader strip along the bottom (where mics, IR sensors and a little branding live) isn't what you'd call 'chunky'. It sits on a sturdy central pedestal stand, so it doesn't need all that broad a surface to support it.
See it in profile, though, and it'll take a stoic customer not to be a little disappointed. There's virtually none of the OLED skinniness that's usually a part of the technology's appeal – instead, it's a considerable 67mm deep. That's been an unfashionable figure in the world of TVs for quite a few years now, and it makes the TX-42LZ980 a far less appealing candidate for wall-hanging than any number of similarly priced alternatives.
Still, when talking about build quality we're back on surer ground. Panasonic knows exactly how to put a television together, and even where a relatively lowly model range like the LZ980 is concerned, it's made to a high standard. The plastics used in its construction feel good, and there are no groans or creaks from the chassis. 
Features: each and every HDR
Panasonic and Philips seem to be the only two significant TV brands that are prepared to put the consumer first when it comes to HDR standards. Where everyone else offers 'either/or' compatibility, these two make sure that anything you watch with an HDR aspect to it will look its best. The LZ980 is compatible with HLG, HDR10, HDR10+ Adaptive and Dolby Vision IQ HDR standards – so good luck finding some content that it can't make the most of.
The Panasonic has four HDMI inputs, and two of them can do the next-gen console HDMI 2.1 business: they're comfortable with 4K@120Hz, ALLM, VRR, AMD FreeSync Premium and (up to 60Hz) Dolby Vision gaming. Yes, one of them also takes care of eARC responsibilities, so if you've two next-gen consoles and a cutting-edge soundbar you'll find this inadequate, – but for those of us who live in the real world this will be perfectly acceptable.
There's wireless connectivity available, of course, via Wi-Fi and Bluetooth. The remaining physical inputs consist of a trio of USB sockets, an Ethernet port, aerial posts for the twin integrated TV tuners, and a 3.5mm socket that's either for headphones or as an output to an active subwoofer. There's a digital optical output too, in case your soundbar or audio system pre-dates HDMI.
For sound, the Panasonic TX-42LZ980 is compatible with Dolby Atmos soundtracks – but naturally enough you're not getting even a hint of spatial audio here. The system is a 30-watt, two-channel set-up – it has five preset EQ levels, but stereo sound is what you're given here.
Interface: a big hand(set)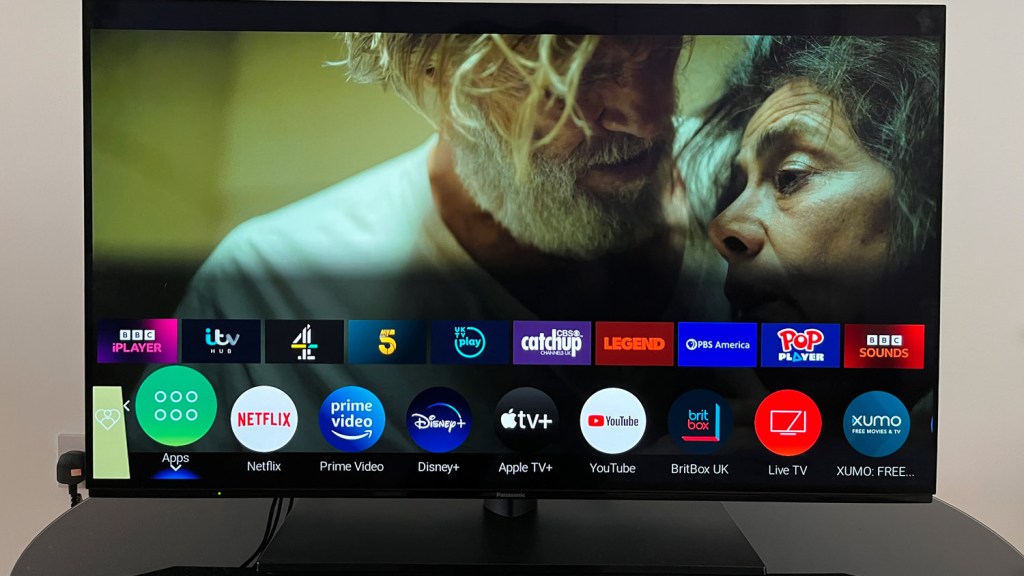 Lately, some TV manufacturers have started shipping their more expensive screens with a couple of little remote control handsets. Panasonic, by way of contrast, accompanies the LZ980 with one big one. It covers every eventuality, with 'direct' buttons taking you straight to your favourite streaming service. None of the buttons are especially small, and you're unlikely in the extreme to lose it down the back of the sofa or something. It also has a big 'mic' button bang in the middle, because this TV is compatible with both Amazon Alexa and Google Assistant voice control.
The handset (or your voice) puts you in control of some very nicely judged set-up menus and the by far the best version of its 'My Home Screen' smart TV interface Panasonic has delivered so far.
The menus have more than enough depth to them to allow tweakers of all kinds to fiddle around the edges of picture performance to their heart's content, but there are also quite a few very decent picture presets to take all the pain out of finding an enjoyable picture balance. My Home Screen has all the catch-up and streaming service apps you could want, is clear and simple to navigate, and doesn't hog the entire screen when it's activated. 
There's also a nice touch in the shape of Panasonic's new 'Game Control Board', which displays detailed game-related minutiae from one button-press.
Panasonic TX-42LZ980 performance: the policy of truth
We may as well start with the LZ980's deficiencies, such as they are. It's a short list, after all, and then we can discuss the much longer list of its talents.
Because this isn't one of the latest, super-bright OLED panels, and because it's a small screen with its pixels packed very close together, the Panasonic TX-42LZ980 isn't all that bright a television. It's not like you'll ever struggle to know what's happening on the screen (unless you're watching in a very bright room), but if you're after a bit of the retina-searing that bigger OLEDs with newer panels are suddenly capable of then you'll need to look elsewhere.
And with that out of the way, we can turn to what the LZ980 excels out. Although for the 'TL;DR' among us, we could just say 'picture quality' and leave it at that…
With a 4K Dolby Vision-enhanced Blu-ray of Top Gun: Maverick playing, the Panasonic's across-the-board ability is made plain. Some TVs are quite showy in the way they want to present colours and contrast, but the LZ980 is more subtle, and ultimately more realistic. 'Understated' is not the same as 'bland', after all, and this TV is understated in the best way.
Despite its relative lack of brightness, the white tones it delivers are detailed, clean and reveal variation deftly. Its black tones are, of course, those deep and satisfying OLED blacks – and, again, they're detailed and serve up proper variance even in scenes that are almost entirely and uniformly dark. The combination of the two means contrasts are wide and completely convincing.
And as far as all the other colours are concerned, the Panasonic is naturalistic. It manages to be reasonably vibrant without looking artificial or over-processed, and can make the subtleties of tone and shade in even very uniform scenes of unbroken colour apparent. The edges it draws are crisp and confident, and depth of field is prodigious too. Attention to detail throughout the spectrum is fanatical, and the LZ980 is particularly adept at describing skin-tones and -textures in a completely believable way.
It deals with even the most testing on-screen motion with similar control, even if you're enjoying some televised sport – on-screen motion in opposition to camera-movement is notoriously difficult for televisions to deal with, but the Panasonic makes it look effortless.
Some of the picture presets are more use than others, of course – 'Filmmaker Mode' continues to be bafflingly dim and indistinct, for example. But getting a refined, naturalistic and utterly absorbing picture out of the TX-42LZ980 shouldn't be too tricky at all.
It's a competent upscaler, too, able to keep control of edges, motion and colour even when given some properly rough, lo-res content to deal with. And its qualities extend to the way it deals with games – 'Game' mode may coarsen the overall picture a touch, but it's still a thoroughly absorbing watch. And latency of less than 14ms may not be class-leading but it's plenty quick enough.
The sound the Panasonic TX-42LZ980 makes is a bit more difficult to get excited about. It's no worse than any number of stereo set-up fitted to any number of TVs, but in its hollowness and breathlessness it relates to the images in the same way a pedalo relates to a battleship. You won't have to spend much on a soundbar to make a big improvement on this audio system.  
Panasonic TX-42LZ980 verdict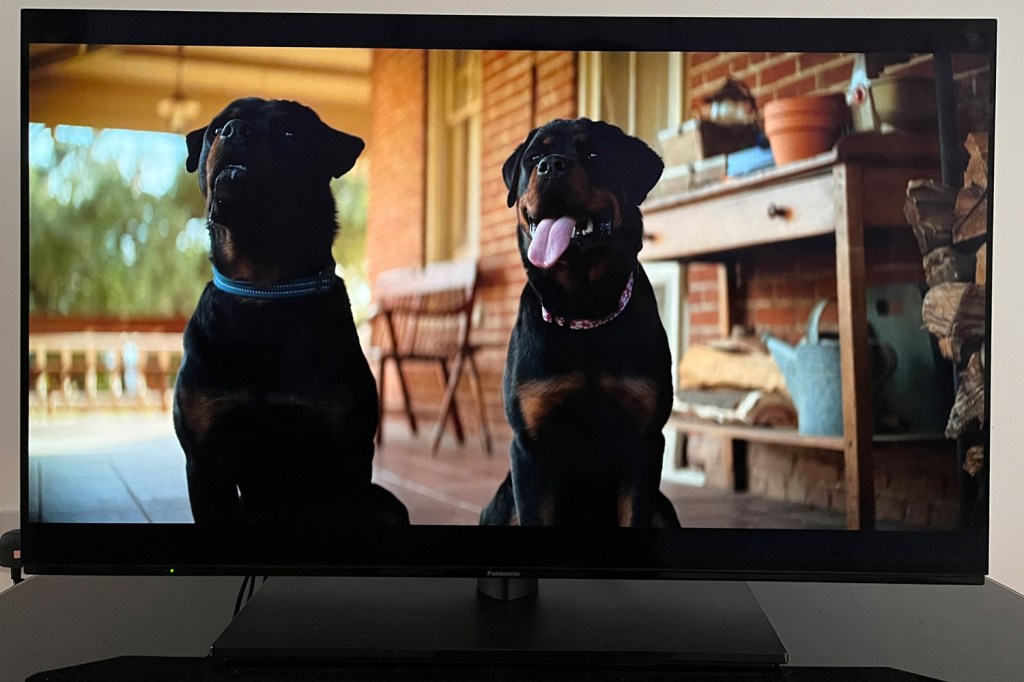 No, the Panasonic TX-42LZ980 isn't especially bright and no, it doesn't look great hung on a wall and no, it doesn't sound anything special.
So it's a measure of just how impressive the TX-42LX980's images are that it's easy to say it's one of the best, most watchable and most convincing little TVs you can currently buy.
Stuff Says…
The LZ980 could be the sweet-spot of Panasonic's entire OLED range, and the 42in version just might be sweeter still
Good Stuff
Poised, realistic and refined image quality
All the HDRs
Nicely implemented smart TV interface
Bad Stuff
Not all that bright
Not all that slim
Sound is bloodless
Panasonic TX-42LZ980 technical specifications
| | |
| --- | --- |
| Screen size | 42/48/55/65in |
| Resolution | 3840 x 2160 |
| HDR | HDR10+ Adaptive/HLG/DolbyVision IQ |
| Inputs | 4x HDMI, 3x USB, digital optical, headphone output, Bluetooth, Wi-Fi |
| Smart TV OS | My Home Screen |
| Weight | 17.5kg (with stand) |
| Dimensions | 933x599x250mm (with stand) |