Parrot Anafi review
Parrot's best drone yet – but is it a DJI beater?
French company Parrot's recent drones have disappointed, but the Anafi feels like a breath of fresh air.
Brilliantly compact with impressive on-paper specs, it seems like the first Parrot model with a serious chance of challenging market leader DJI's fleet of five-star quadcopters.
After spending a few days flying it around, we're impressed with Parrot's progression. The Anafi makes great strides from the limp efforts of the Mambo FPV and Bebop 2, delivering excellent image quality, unique abilities and a slick flying experience, all for a reasonable £629.99. But does it out-perform Stuff's current affordable drone champion, the DJI Mavic Air? Read on to find out. 
Design: Little wings
Parrot's Paris-based design crew has clearly put a lot of work into making the Anafi as portable as possible. Weighing only 320g, it folds down to a narrow rectangular stick in seconds to be slipped into a well-padded protective case that'll fit easily in any backpack, handbag or tote.
We'd say it's even easier to carry around than the Mavic Air, and the fact that both drone and controller can be swiftly recharged via USB Type-C (without the need for a bulky AC wall adapter) means it's easier to top up the battery on the go, too. Basically, hooking this up to anything with a USB port will do the trick.
Despite its lightweight build, the Anafi is designed to resist winds of up to 31mph and, while we didn't have a weather station on hand to check the actual strength of the summer breeze, we flew it on a blustery seaside day without any major issues.
The aerodynamics of the drone mean it's also fairly quiet in flight, even for a model its size. We still wouldn't advocate taking it for a spin around the inside your local library, but it sounds less like an enraged swarm of killer bees than most 4K-equipped drones.
One thing to note: the controller, despite folding up, doesn't fit into the case, so you'll need to leave a bit of extra room in your bag for it. It's a tough cookie made out of hard plastic, though, so we wouldn't be too worried about it getting dinged by your Thermos. Its phone-holder won't accommodate any device with a screen bigger than 6in though – worth keeping in mind if you're a phablet-fondler.
Features: More and less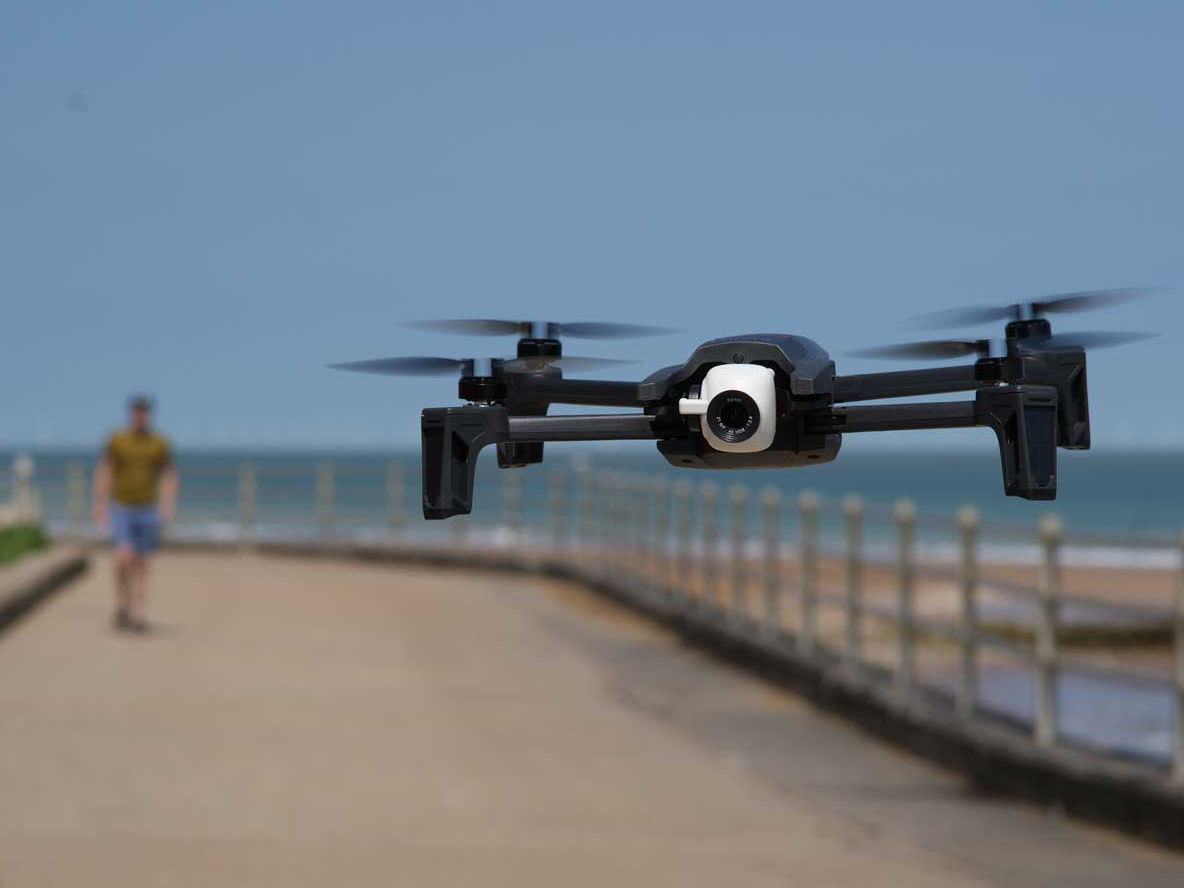 The Anafi offers a couple of things you won't find on rival drones, but lacks others you might expect.
First, the bad news: there's no camera-assisted collision detection or indoor stabilisation, so if you're planning on filming your cousin's wedding reception from inside the marquee, you'd best lay off the bubbly beforehand; you'll need to control the drone's movements fully manually, and it won't prevent itself ploughing into Aunt Tabitha's hat.
Outdoors, things are much better: it uses GPS to hover steadily. We haven't reviewed another drone with a camera able to point directly upwards, but the Anafi's 3-axis stabilised gimbal can rotate a full 180º vertically, which may prove useful when you're flying under bridges or interesting clouds.
The camera also totes a digital zoom which Parrot describes as "lossless" up to 2.8x magnification while filming Full HD video and 1.4x while filming 4K video. In practice, the claims hold water, with some algorithmic magic maintaining image quality while you zoom with one of the controller's triggers. It's not a huge amount of zoom, to be clear – but it's better than having no zoom at all.
Performance: Fun flying, fancy photography
This is a fun, agile drone to fly, particularly in its nippier 33mph Sport mode, and it responds well to the simple controls. It's not particularly fast when moving vertically up and down, so you'll need to be patient when positioning it for a shot, but with an impressive 25 minutes of flight time per battery there's no need to rush.
Both the FreeFlight 6 companion app (in beta when we reviewed the Anafi, and therefore possibly not the same as the final consumer version) and the controller allow for automatic take-off and landing and a return-to-home mode, which we'd consider standard for any drone worth its salt. You'll also get warnings when the Wi-Fi signal between the controller and drone gets weak, or when the battery is nearly spent; eventually the Anafi will force itself to return to its landing spot and touch down, even if you do nothing.
The app features a range of "Cineshots" and "SmartDronies" that take over control of the camera and drone in order to capture the kinds of videos that'll get you tonnes of Instagram likes. Particularly fun is the Dolly Zoom, which performs the move made famous by Hitchcock in Vertigo: zooming into your face while simultaneously moving backwards.
Parrot claims there's a transmission range of up to 4000m in perfect conditions, but we found it to be a lot less than that, with warnings flashing up at 250m or so. Given the current drone laws in the UK, it's not a huge deal (legally, you can't fly a drone out of eyesight range), but we'd hope other people experience better range than we did.
The Anafi is comfortably the best flying camera Parrot has ever made, with its beautifully crisp 21MP stills and crystal clear 4K footage (you can choose between 4096 x 2160 at 24fps and 3840 x 2160 at up to 30fps) immediately banishing memories of the Bebop 2's dreadful photographic showing.
The gimbal keeps your shots rock-steady, while the controls make pointing, panning and tilting the camera where you want it a cinch. Note that, as we were using a pre-release version of the app, we weren't able to test HDR – hopefully we'll get the chance to do that soon and update this review.
Videos and photos are stored on a microSD card which fits underneath the battery. A 16GB card comes in the box, but that will fill up quite quickly if you're shooting in 4K. As well as regular video clips, you can shoot time-lapse and slo-mo videos too (although the latter requires dropping to 1080p resolution), while pixel-tweakers can shoot stills in RAW DNG for more control over how images turn out (although we found the JPEGs produced by the camera impressive enough).
According to Parrot, the final version of the Freeflight 6 app (which will be available by the Anafi's 1st July launch day) will support the advertised transmission range. We will check this and update our review as soon as the app is released.
Parrot Anafi verdict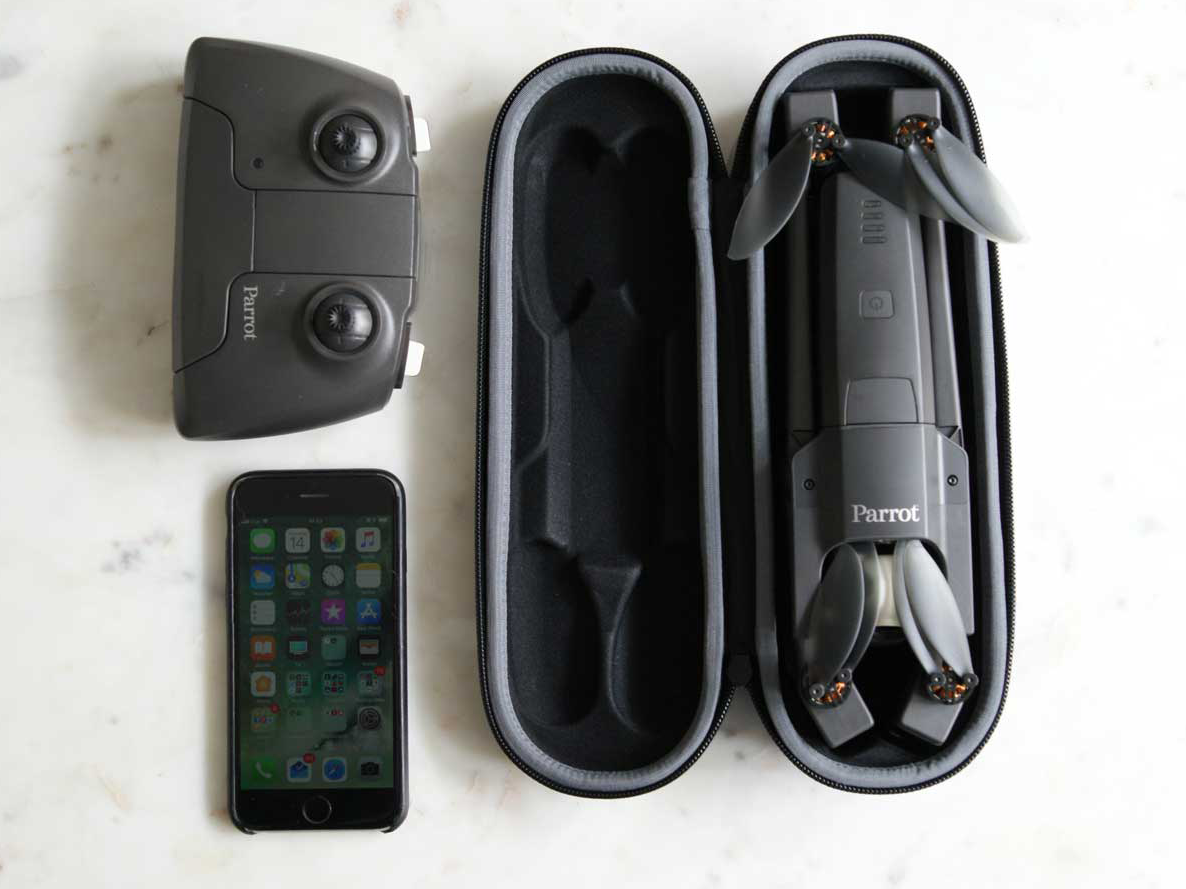 The Anafi is far and away the best drone Parrot has made, with impressive all-round performance. The camera works brilliantly, the battery has decent stamina and the whole thing is helpfully portable and approachable.
We still believe the DJI Mavic Air is a better all-round purchase, however, due to its collision detection, transmission range and indoor flying skills – but at over £100 cheaper, Parrot's drone deserves to turn a few heads.
Stuff Says…
DJI's flyers still lead the way, but if you're looking for a compact, (relatively) affordable drone that produces great 4K video, the Anafi makes a convincing case.
Good Stuff
Compact, lightweight build
Excellent image quality
Solid battery life
Easy to fly
Bad Stuff
Still no collision detection
Shorter range than DJI's Mavic Air