Parrot Bebop 2 review
Compact, great camera, great price - the perfect starter drone? Well, sort of...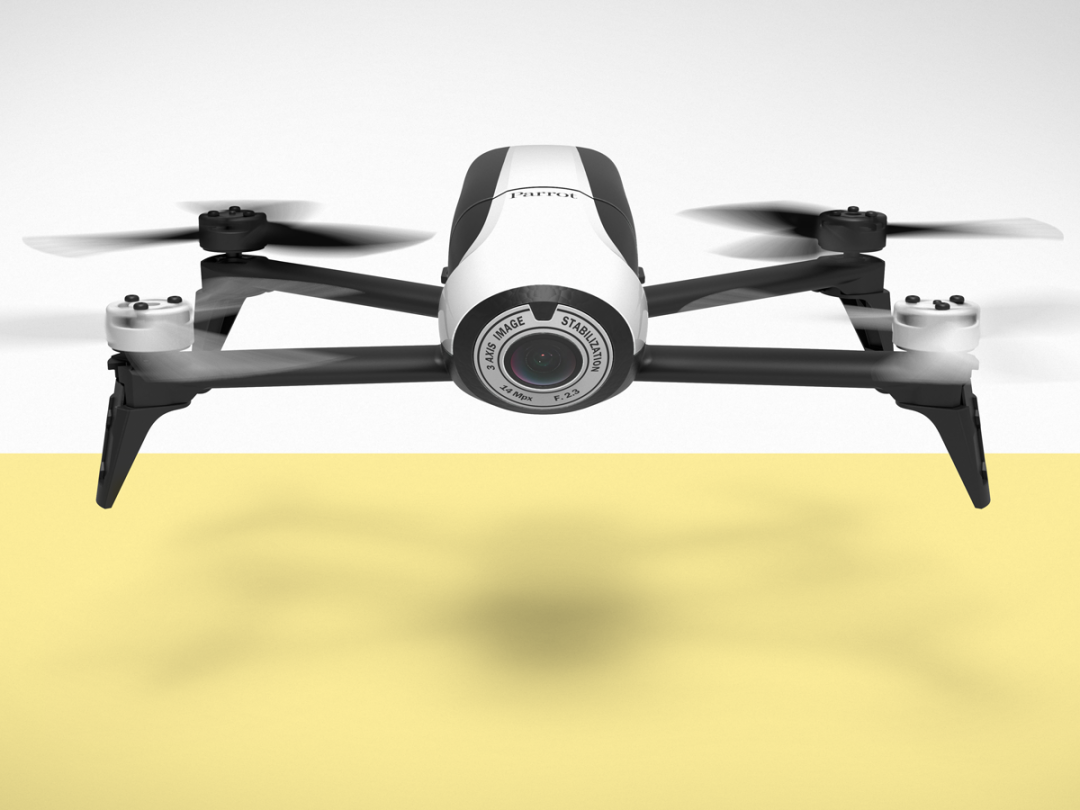 The newbie drone pilot's dilemma: spend all your cash on a top-spec quadcopter and risk smashing it on your first flight, or start out with something cheaper that you'll eventually grow out of as your aerobatic skills improve?
Parrot's Bebop 2 sits somewhere in the middle. This isn't a pocket change drone, but it's well over half the price of DJI and Yuneec's top-flight quads. It's packing the kind of features that should be high on your priorities list, too.
OK, preflight check time. Over 20 minutes of flight time? Yup. Built-in camera? Roger, it's good for 14MP stills and 1080p video. Max distance? 300m, more than enough for some spectacular aerial footage. Oh, and it's seriously compact too, so you can take it just about anywhere.
DRONING ON
The original Bebop had a pretty slick design, so we're not surprised Parrot is repeating the formula for the sequel. There are a few tweaks, though: the four rotors are colour coded now, so working out where each one goes isn't a guessing game any more.
The battery back locks into place now too – a much better alternative to the flimsy velcro strap on the original. Flight time has pretty much doubled since the Bebop 1, so you can stay up in the air for up to 25 minutes at a time.
It's amazing how steady you can hover once the wind picks up, seeing how tiny the Bebop is. I was expecting it to get battered mercilessly by our unrelenting British weather, but it did a great job of staying level.
We're still talking about a fixed wing quadcopter, though – meaning it's not small enough to throw in a backpack with your other gear. Bring the optional SkyController along for the flight and you'll need to plan how you'll carry it all. By that point you've got something that's almost as bulky as a DJI or Yuneec drone – pretty much defeating the object of buying something as compact as the Bebop 2 in the first place.
Popping off the props slims things down a bit, and it only takes a minute to clip them back on when it's time to fly.
PHONE IT IN
Luckily, you can leave the SkyController at home and just pilot the Bebop with your phone. Parrot's FreeFlight app guides you through setup, like joining the drone's Wi-Fi network, then puts twin stick controls onscreen and shows a life feed of the camera.
It's great to see one button take-off and landing, and you can take photos and videos with a tap, too. Handy info like elevation, speed, distance from pilot and remaining flight time are shown along the bottom of the screen, but can be tricky to read on a small phone screen – a larger tablet makes things a lot easier.
The Drone academy is a great place to start if you've not flown before, but it's not as in-depth as DJI's training simulator – you'll do more reading and watching than actual practice.
REACH FOR THE SKY
The Sky Controller will give you a lot more fine control in the air, so it's the natural progression for anyone that gets started with phone flying. The twin sticks will feel familiar to anyone that's flown a drone before, and even adds a wireless extender so you can really crank up the distance.
That wireless extender is kind of crucial, too. Without it, you'll get about 30-50m away from your phone before the wireless signal starts to dip, turning the camera live view into a pixellated mess. Fly further away and the signal drops altogether. It'll then hover in place for a minute, before heading home to where you launched it from.
With the SkyController boosting the signal, I easily doubled my range and got some serious distance away when flying in a more open area. Nowhere near the kind of range you'll get from a more expensive drone, but plenty for a first time pilot or someone looking to get some practice before moving on to bigger (and more expensive) things.
That would be fine, but I didn't get anywhere near the distance Parrot reckons should be possible – either with the controller or just with a phone. Even in wide open spaces, it would regularly drop out before I'd reached the distances mentioned on the box. Cue a mad dash to get close enough to restore the connection, before it gave up and came on home.
LENS GLARE
Parrot does things a little differently to other drones, sticking a fisheye lens on the nose of the Bebop instead of hanging a gimbal-mounted camera underneath. That means there's no manual panning and tilting to worry about, but you can still shift focus to any point in the fisheye field of view through software.
The only problem with that is quality starts to suffer once you add software processing into the mix.
Sure, there aren't many other £500 drones with built-in cameras, but take a look at the Bebop 2's footage and it's easy to see why. Compared to top-end quadcopters like the Yuneec or DJI, Parrot comes off poorly with its grainy clips.
Colours look washed out, there's a real lack of detail and you'll get nothing but lens flare if you even think about pointing it near the sun.
You're limited to 1080p recording, but with only 8GB of on-board storage, you'll still fill it up pretty quickly. Would an SD card slot have really bumped up the price? As it is, you've got to transfer all your clips to your phone over Wi-Fi. It's slow, and you're draining the battery on both drone and phone while you're at it.
Parrot Bebop 2 verdict
It's small, it's lightweight, it's (relatively) cheap – but the Bebop 2 isn't quite perfect.
Am I asking too much from a drone that costs half the price of its biggest rivals? Not really – £450 is still a big chunk of change, and you shouldn't have to worry about connection troubles at 150m when Parrot reckons you're good for up to 300. The £550 SkyController bundle might help you fly further, but it bumps the price dangerously close to DJI's Phantom 3 standard, which is a bigger but better drone overall.
If Parrot ironed out the connection troubles, it would be easier to recommend. Sure, the camera quality won't blow you away, but try getting better for less.
Stuff Says…
The price is right, but camera quality and connection troubles mean it doesn't quite hit the sweet spot.
Good Stuff
Great price
Small, light and easy to transport
Battery life is decent
Bad Stuff
Choppy connection
Only average camera quality