Peugeot 3008 GT Line BlueHDi 120 review
Pug goes upmarket and futuristic with its latest SUV
Mention that you drive a Peugeot and, chances are, your mates might imagine an ailing 306 with a rusty rear bumper.
Imagine their eyes, then, when they ogle your sleek, sweeping SUV as you swing into the Tesco car park for a quick kebab. Outside the car, natch.
Meet the Peugeot 3008: an urban SUV with more than a hint of premium about its shiny styling and plush interior – and one that'll set you back just shy of £30,000 in its sporty GT Line guise.
Equipped with a fully digital i-Cockpit, a raft of high-end features and 1.6L engine that doesn't mess around, then, can this grown-up Pug justify its price tag?
Peugeot 3008 review: dressed to impressed
Lock eyes with the 3008 and you'll find yourself backing away. In black, with its 18in 'Detroit' alloys, this thing looks more street corner than school run – and that's no bad thing.
Where Range Rovers, in certain parts of the country, are ten a penny, you're less likely to see a new 3008 rolling up to the school gates – and that's an advantage. With its angular headlights, tall grill and broad shoulders, this machine doesn't shy away from attention.
It helps that the new 3008 is huge – rather than just trying to look huge. It's a smidge longer than the previous iteration, a tiny bit shorter, but just as hefty. It doesn't look hulking, mind; rather, there's an imposing-yet-sleek impression about its hunkered down roof and high bonnet.
All of which translates into a machine that can cause problems in multi-storey car parks – but makes you feel like a royalty as you roll around in cushioned comfort.
Peugeot 3008 review: business class
That very much continues once you step up and inside. Forget any thoughts of sub-standard French fitting: everything about the 3008's cabin screams premium.
Besides the general quality of stitching across the seats and wheel, everything you can touch exudes a sense of solidity – from the double-flap bin beneath your elbow to the palm-filling gear leaver.
Angular lines channel the exterior impression of aggression, while the row of metal switches which sits below the navigation panel bring more than a hint of fighter plane to proceedings.
Sure, it doesn't match Mercedes GLS levels of quality – but that's a machine that'll potentially cost you £30-£40,000 more. For a £30k SUV, the 3008 wraps you in plenty more comfort than it has to.
Peugeot 3008 review: drive with dynamism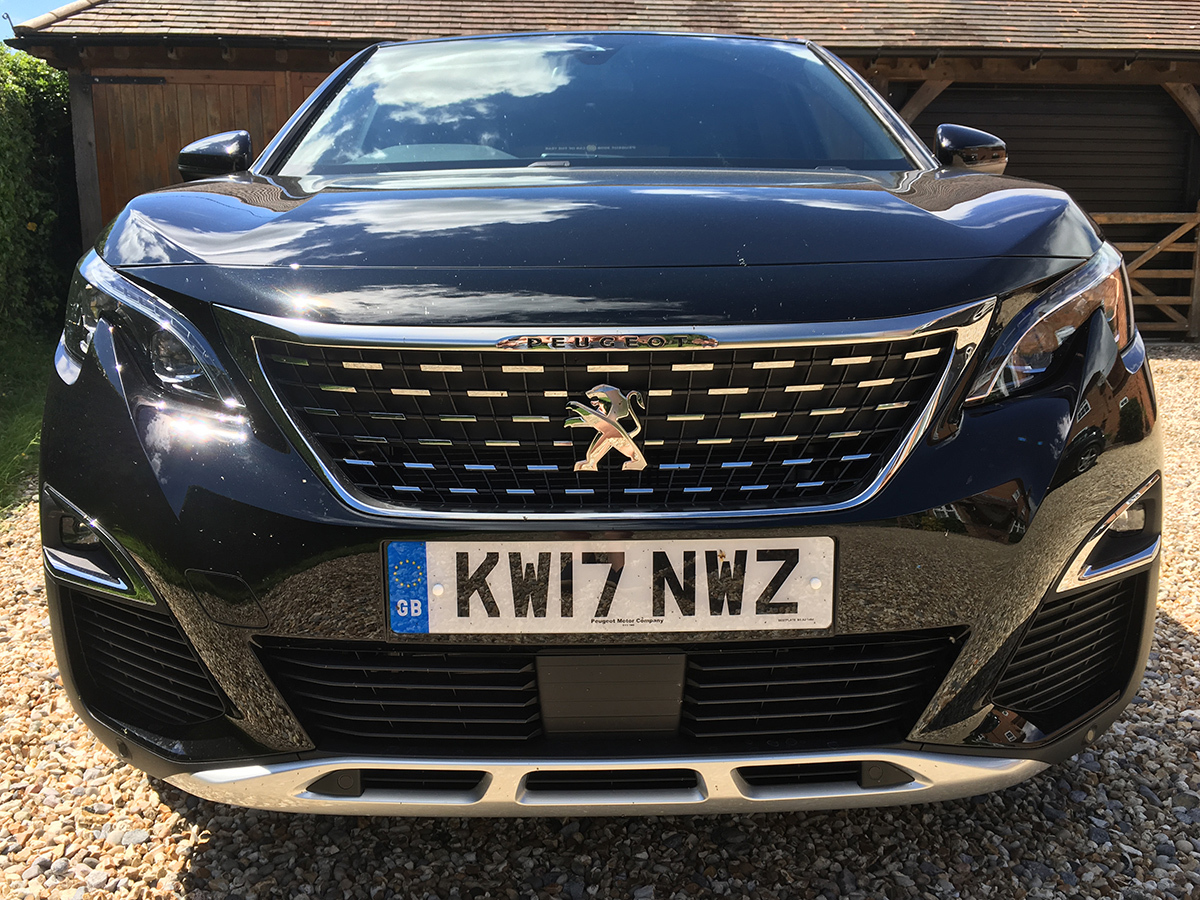 Once you've finished caressing the dials and surfaces of the 3008, you'll want to get it on the road. Slip your hands on to the wheel and it won't take you a second to notice the size: for an SUV that comes across as so sizeable, the steering wheel is decidedly small.
Personally, I liked it. After a bit of height adjustment, it felt precise in my hands and, again, nodded towards an aeroplane rather than a road-going vehicle.
That said, in such a big machine, many might find the wheel to be just too small – especially given that there can be quite a handling disconnect at speed, with the gradient of steering weight not a constant through corners.
All the same, it's not enough to distract from the fact that this thing is a joy to drive, whether schlepping along country roads or hauling down the motorway. Ride is comfortable as standard, absorbing bumps with aplomb, while 'dynamic' mode delivers instant throttle response and slightly stiffer suspension to keep you tight through bends.
It all feels nailed together and pleasing, and the premium experience is only let down by a diesel engine that's at times a little lairy, and an automatic gearbox that can be slow to respond to sudden acceleration.
Sure, you can override with the flappy paddles, but if you're not paying attention and want to floor it, you'll readily find the revs heading much higher than is surely good for the motor.
Peugeot 3008 review: plenty of tech specs
It's hard to get mad at the 3008, though, given the sheer volume of tech treats it sends your way.
First to hit your face is the i-Cockpit panel: you'll find no physical dials in the 3008, but a full digital display behind the wheel that changes depending on mode. It can be customised to suit, with a variety of options that put various dials front and centre.
It's truly useful and feels like a proper evolution of the car as a vehicle. Navigation pops up right in front of you at junctions, for example, before disappearing back behind the rev counter, while the speed limit displays right below your current speed. Back in my normal car, I hankered for the fluid simplicity of this system.
Paired with the main dial area is an 8in capacitive touchscreen which handles everything from media and cabin temperatures to navigation and Apple CarPlay.
It's big, bold and works perfectly alongside the central display. In fact, I found it to be the most enjoyable physical execution of an infotainment system I've tried, being both responsive and intuitive – without being distracting.
Peugeot 3008: daily grinder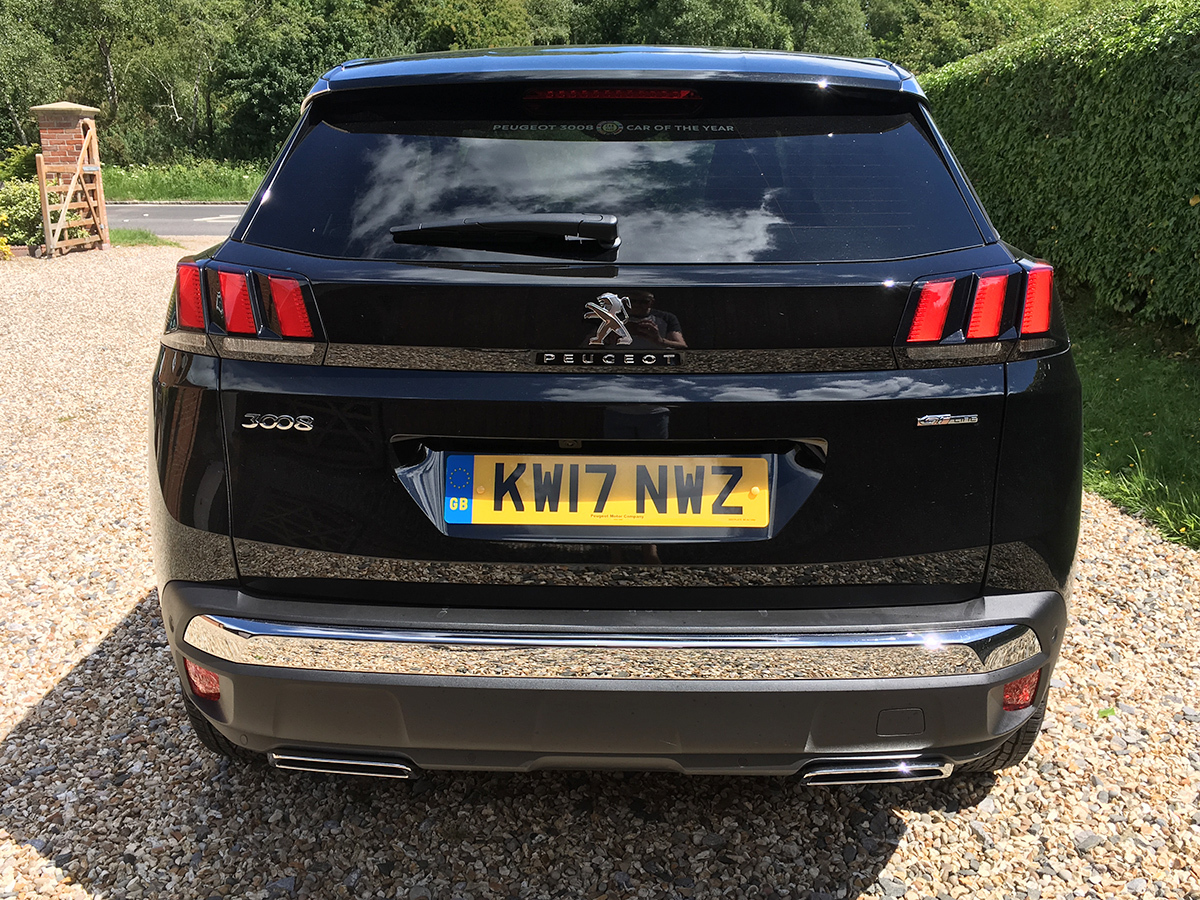 Beyond the initial fascination with the interior tech, the 3008 quickly becomes a consummate daily drive. All of those smarts combine to deliver a vehicle that feels like an extension of your digital life.
Connecting my iPhone via Bluetooth or USB was a cinch, while the SatNav was actually usable, with useful route information and traffic updates coming through consistently.
Likewise, the driving aids made a big difference – especially in such a big car. The parking camera was a breeze to use on that touchscreen, with the sensors painting a top-down picture of the parking bay I was wrestling the 3008 into, making the mirrors all but obsolete.
I didn't get a real chance to put the various traction modes through their paces, but suffice it to say that the 3008 feels equipped to tackle year-round situations. Mine had all the handy stuff, too, including automatic wipers and headlights, and blind-spot monitoring (though the mirrors are so massive that there's barely a blind-spot at all).
The boot was plenty spacious enough, too (and the motorised tailgate option never got old), while I generally topped 50mpg on an average drive.
Peugeot 3008 verdict
In all, then, this car feels like a surprise. No, it won't ever usurp the luxury offered by the likes of Mercedes and BMW, nor will the badge ever carry quite the same street cred.
All the same, the new 3008 is a machine that feels built to last – and built with care. Cabin quality and ride generally are excellent, exuding a sense of premium that belies the price tag, while that bevvy of in-car tech is hard to grumble at – even on the lowest-spec editions.
To drive, the 3008 is smooth, responsive and rarely lacking in grunt – even if the handling leaves a little to be desired and the engine could be quieter.
It's huge, of course, and that steering wheel will be Marmite for many, but if you're in the market for an SUV that serves up something different, the 3008 is well worth the money.
Stuff Says…
A growly giant with heaps of finesse and tech to spare, this SUV is a superior surprise that belies the Pug badge
Good Stuff
Feels like a properly premium vehicle
A real pleasure to drive
That i-Cockpit is fab
Bad Stuff
This thing is absolutely massive
Engine can be quite growly
Wheel will be too small for some