Philips 55OLED+907 review: impressive but expensive
A 'Royal' panel, and royal means bright - we're hoping the Philips 55OLED+907 doesn't surprise us in a bad way...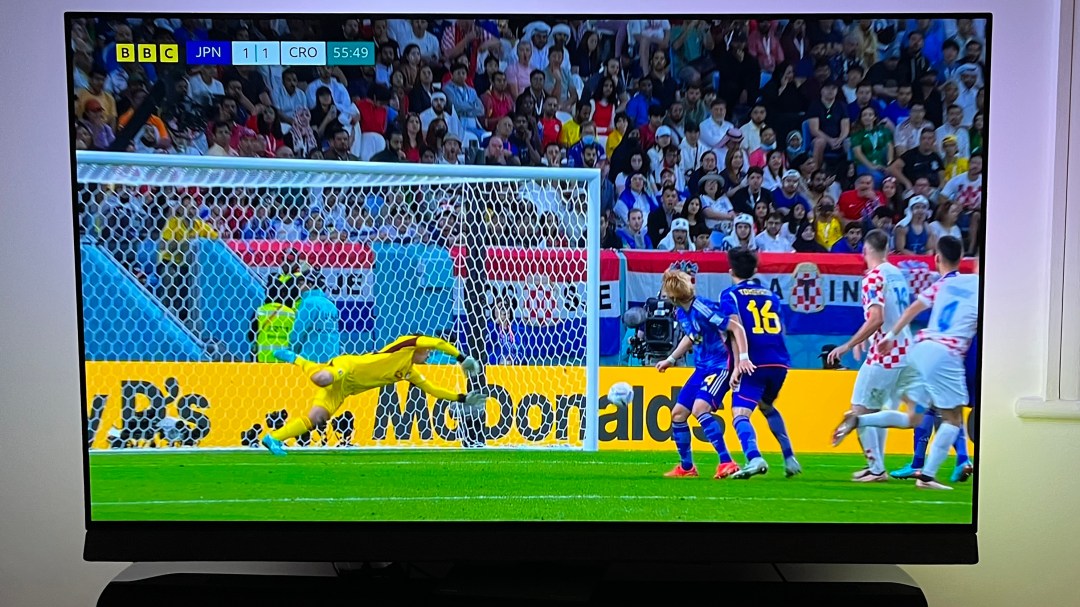 The days of being pleasantly surprised by the way a Philips TV performs are long gone and so the Philips 55OLED+907 has a lot to live up to. Lately, the company's been so successful in delivering high-performance, great-value televisions (with a specific and unique selling point, let's not forget) that we're this close to taking its excellence for granted. The only surprise available to us these days, it seems, is of the unpleasant kind – on the off-chance that a Philips TV doesn't compete and compete hard.
Design and build: swivel on this
For all that it looks unexceptional in almost every way, there's a little about the way the Philips 55OLED+907 presents itself that lets you know it couldn't be by any other brand.
Admittedly, the fact it says 'Philips' on its compact, metal pedestal stand gives the game away somewhat. But then again, it also says 'Bowers & Wilkins' – and no other TV brand has an audio partner of such impeccable credibility (Panasonic's association with Technics doesn't count – they're both part of the same company). So already, curiosity regarding the potency of whatever's hiding behind that soundbar-style enclosure at the bottom of the screen is piqued.
The stand itself allows the screen to swivel. This may not look like a big deal when it's written down – because it isn't – but it nevertheless represents a first for recent Philips televisions. Being able to swivel the screen through 30 degrees, rather than having to manually pick it up and put it down again, is definitely progress.
What's not at all unusual in Philips TVs but is simply absent in everyone else's is Ambilight. For the OLED+907 it's present on three sides of the rear of the chassis, and in its next-gen guise, Philips reckons its more detailed and better defined than ever before. Even if it were identical to the company's previous efforts, though, it would still be an exceptionally convincing way of making the screen appear a little larger than it is, the images a little more immersive, the overall experience a little more restful.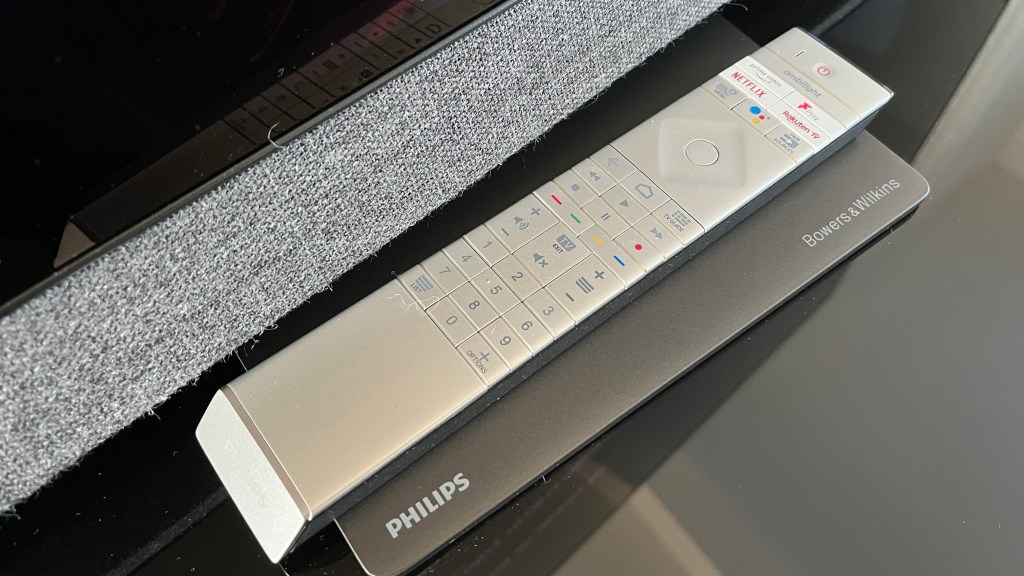 Some of the thinness that's always been a big part of the appeal of OLED TV technology is apparent here, but in general, the 55OLED+907 is 69mm deep – so it's not the wallhangingest television around. Build quality is very decent, though, from the metal stand and flawlessly finished bezel joints to the (relative) tactility of the plastics that make up most of the rear of the chassis. The acoustic cloth covering the Bowers & Wilkins speaker-driver enclosure looks good and feels robust, too. The plastic cover that hides the TV's physical inputs and is intended to offer some cable management is, as usual, fighting a losing battle here though – use more than a couple of cables of respectable heft and then see how long the cover stays in place.
Features: the HDR-est around
Because this 4K OLED TV is a Philips product, it's compatible with every worthwhile HDR standard – which means both HDR10+ Adaptive and Dolby Vision, when everyone else bar Panasonic only covers one or the other. So already, the 55OLED+907 is ahead of any number of nominal competitors.
Of course, if its picture processing isn't up to standard then it doesn't matter how many HDR types your TV can cope with. Happily, Philips has deployed its proven P5 processing engine here – and it's got a degree of AI smarts, too, so (in theory, at least) it should learn and improve as you go along. The drive for optimum picture quality is further evidenced by the number of picture presets available, including IMAX Enhanced and the inexplicably popular Filmmaker Mode. The OLED panel itself is one of LG's new super-bright 'Royal' panels (the first time 'bright' and 'royal' have been used in the same sentence for quite some time), which promises to address perhaps the most significant shortcoming of the technology: brightness, or the lack of it.
Wireless connectivity is taken care of by Bluetooth 5.0 and dual-band Wi-Fi, and there's Chromecast built-in too. As far as physical inputs are concerned, two of the four HDMI sockets here are at 2.1 standard, ready to exploit every one of your current-gen games console's clever features, and one is eARC-compatible. There are three USB slots, an Ethernet socket and one aerial post for each of the OLED+907's pair of TV tuners. Outputs consist of a digital optical socket and a pre-out for a subwoofer.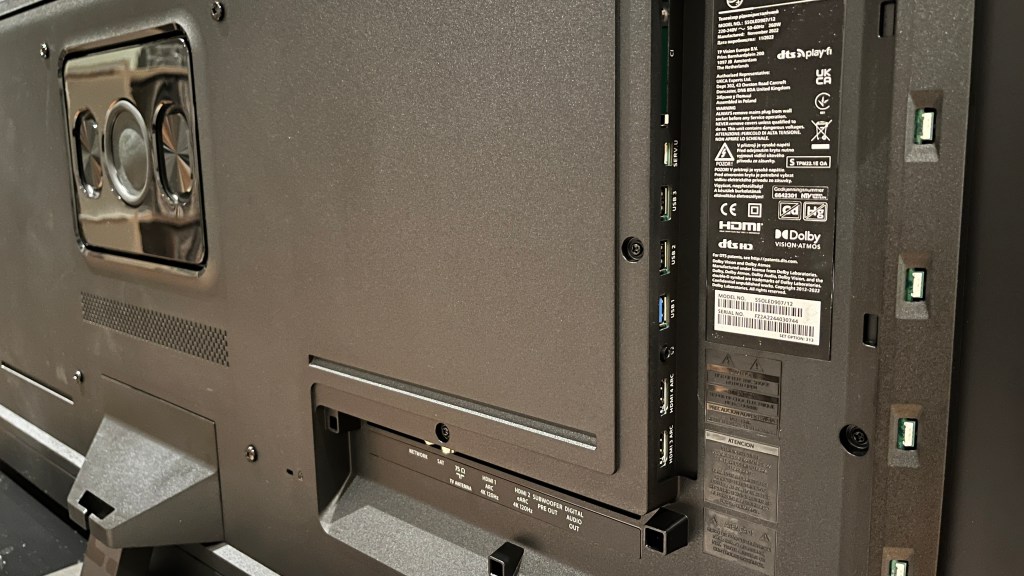 The TV's Bowers & Wilkins-developed audio system is compatible with Dolby Atmos – but only the 'I understand Dolby Atmos' way, not the 'I can give an impression of spatial audio' fashion. Nevertheless, it's a thoroughly specified and extensive 3.1 system that features an exposed, rear-firing subwoofer (with support from a couple of passive radiators) and a further six drivers facing forward from behind that acoustic cloth. An all-in power output of 80 watts is significant by the standards of integrated TV audio systems, and Philips suggests that the system is sufficient to negate the need for an external soundbar.
It also hopes this screen's audio system will stand it in good stead if you decide to take advantage of the TV's DTS Play-Fi compatibility. Any number of appropriately specified devices like this one can be grouped together to form a multi-room audio system, and there are multi-channel home cinema possibilities too.
Interface: setting up and up and up
Unlike a lot of slightly expensive TVs (and plenty of more affordable ones too) these days, the Philips OLED+907 ships with a single remote control handset. It's a good one, though, with realistically sized buttons on one side and a nice slice of sustainable Muirhead leather on the other. It features some nicely judged backlighting, too.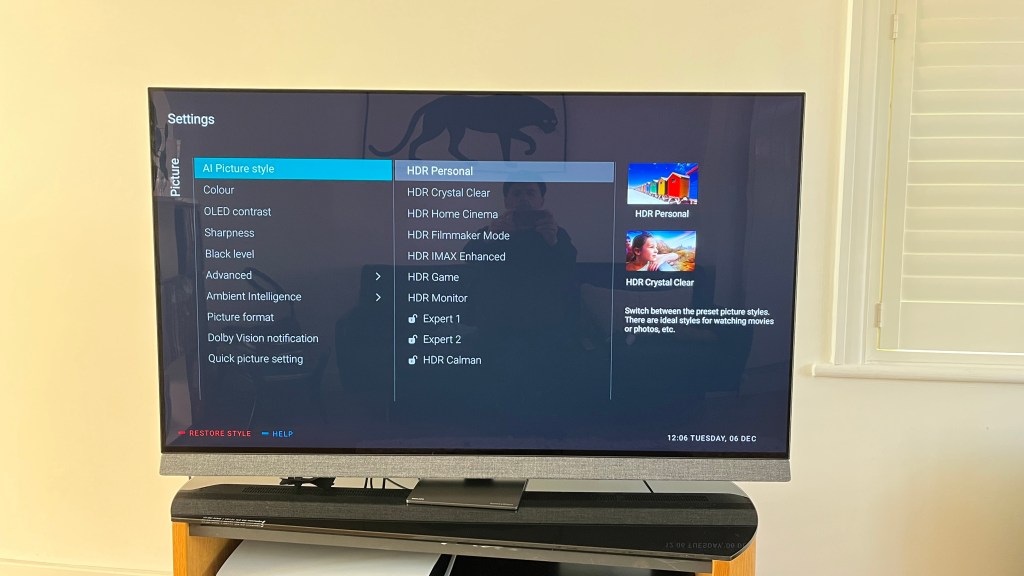 One of these properly sized buttons activates the handset's integrated mic – the OLED+907 is compatible with Google Assistant, and instructions issued this way tend to be understood and acted on reliably. Amazon Alexa users, meanwhile, will need to have an Alexa smart speaker on a common network to operate the Philips using their voice.
The smart TV interface here is Android 11 – and as is usual with Android TV, the cons are almost as numerous as the pros. The case for the defence centres around the extensive nature of its catch-up and streaming service apps, while the prosecution will concentrate on how tangential its recommendations are and how much of the screen it occupies when activated. Anyone who's used a Philips TV in the last dozen years or so will be only too aware that setting up the screen can be a time-consuming and periodically vexing process. Philips has always enjoyed giving the end-user a lot of input into the way its TVs ultimately perform – so if you're after something that looks great straight from the box, the OLED+907 may not be the television for you. If you're prepared to do the leg-work, though, there are rewards to be reaped – as the next section will make obvious…
Performance: punchy pictures, superior sound
You've done the leg-work in the set-up menus; you've spent who knows how long getting motion-control, noise-reduction and all the rest of it just so. Time to settle down in front of the 55OLED+907 and put it through its paces.
As far as broadcast TV goes, there's no sterner test than the World Cup in Qatar, which is ongoing at the time of writing. Ignore (if you can, just for a moment) the numerous issues related to the whole event, and instead enjoy just how securely and convincingly the Philips handles the many challenges the broadcast sets it. The BBC iPlayer stream of games is in 4K with HLG, and between the unpredictable and multi-faceted nature of the on-screen motion, the big areas of uniform colour, the many and various skin-tones and -textures on display, the opportunities for a TV to struggle are many and frequent.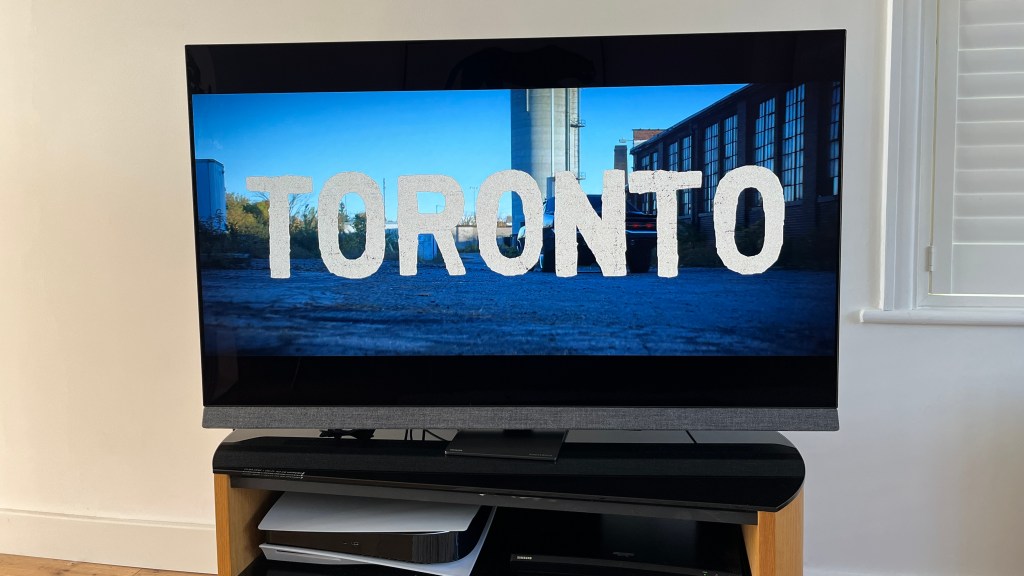 The 55OLED+907, though, doesn't really put a foot wrong. It's able to control rapid motion with just as much confidence as slower pans, and it doesn't get flustered when the on-screen action is moving in a different direction to the movement of the camera. It defines edges with real certainty, discerns a huge amount of detail in complexions, and is even able to take what is, in effect, a whole screen's-worth of the colour green and find variations and differentials within it. Picture-noise is extremely low, the colour-palette is wide-ranging and naturalistic, and there's appreciable depth of field available too.
It almost goes without saying the OLED+907 creates lovely, deep black tones – but its ability to offer variation within them, and insight in even the murkiest scenes, is not to be sniffed at. In conjunction with white tones that are just as bright as the 'Royal' panel promised, and are equally detailed and nuanced, contrasts are wide and convincing.
This happy ability is even more strongly evidenced during a watch of the bog-standard-but-mildly-entertaining-nevertheless The Man from Toronto. The starkness of the distance between bright deserts skies and the lustrous black paintwork of a Dodge Charger is made obvious, and the Philips allows the deepest black tones to coexist with the brightest whites without losing any of its composure. The overall colour palette requires attention during the set-up process, most certainly, but it seems impossible to achieve contrasts that are anything less than properly impressive.
And while the sound that's on offer here isn't of the 'blow your socks off' type you might be expecting/hoping for, it's impressive enough to mean a soundbar isn't remotely necessary. The Bowers & Wilkins arrangement generates notably deep and well-controlled low frequencies, projects dialogue in the midrange well ahead of the rest of the action, and has enough bite at the top end to allow an action movie full, explosive expression. Detail levels are high, soundstaging is solid if not especially expansive, and tonality from the bottom to the top of the frequency range is smooth and consistent. There's sufficient dynamic heft available to make the set-pieces of that action movie properly startling, but sufficient finesse to let the subtlety of Jonathan Demme's Stop Making Sense apparent.
With a PlayStation 5 hooked into one of the pair of HDMI 2.1 inputs, all the good stuff discussed above is carried over intact. 'HDR Game' mode may eat into the smoothness of edge-definition during the most hectic moments in the name of low latency, but where colours, contrasts, motion-handling, lighting effects and all the rest are concerned, the OLED+907 is a good-going-on-great gaming monitor.
Philips 55OLED+907 verdict
It's no one's idea of a bargain, but nevertheless the Philips 55OLED+907 is money well spent. For once, here's a TV with audio quality to match its image quality – and be in no doubt, the image quality available here is very impressive indeed. Resign yourself to a long stint during the initial set-up and you'll never look back.
Stuff Says…
A pricey yet visually stunning OLED TV with impressive brightness, plus an unrivalled audio performance to match.
Good Stuff
Bright, high-contrast and all-around convincing picture quality
Punchy, controlled and confident sound
Ambilight never disappoints
Bad Stuff
Pricey, impressive picture and sound notwithstanding
Takes forever and a day to set up properly
Android TV takes an awfully long time to get to know your preferences