Philips 55PUS6753 review
4K HDR and Ambilight for under £600? What's the catch?
It's possible to go in one of a few distinct directions when building a TV down to an aggressive price.
You can simply refresh an older model with a new bezel and redesigned stand; you can strip out features from a more expensive model; or do what Philips has done with the 55PUS6753: squeeze in as much headline-grabbing technology as possible and hope the subsequent economies necessary elsewhere aren't too obvious.
With two screens in our current Top 10 (including our Number 1 pick, the high-performing 55POS9002) Philips has every right to be confident, but can a 55in 4K TV, with HDR, smart functionality, direct backlighting and Ambilight technology, truly deliver when it's priced at just £700?
Design and build: Stand and deliver
This is probably the area where the Philips betrays its price-consciousness most of all. Oh, it's by no means badly built – it sits squarely on its stand and feels sturdy enough – but the plastics of its bezel and back panel feel a little thin and hard.
The stand, too, feels about as insubstantial as it's possible to be while still functioning as a stand. Still, it's easy to fit (it's held in place by just four screws) and its minimal looks may appeal to your inner interior decorator.
'Minimal', though, isn't a word that applies to the 6753's grey-painted plastic bezel. Though hardly humongous, there's more of it than pricier 55in sets are currently sporting – so it's possible to buy a 55in TV that's ultimately a little smaller than this one.
It's a similar story where the Philips' remote control is concerned. It's made of hard, slippy plastic that's not especially pleasant to the touch. It's comprehensive, mind you – even if quite a few of the buttons are smaller than is ideal for the fatter-fingered operator. At least the 'Netflix' button is big and bold.
Features: Going all in
The headlines, of course, are the 6753's native 4K ultra HD resolution (3840 x 2160) and its cinematic (HDR10) and broadcast (HLG) HDR compatibility. The Philips omits the dynamic metadata standards HDR10+ and Dolby Vision but – not for the first time in this review and certainly not for the last – you must consider the 6753's pricing and then accept you can't demand every whistle and bell.
The panel itself is an LCD job with LED direct backlighting. There's no local dimming, but the Philips does at least feature the company's Micro Dimming technology, which divides the picture into more than 6000 zones when analysing backlighting requirements.
Connectivity is adequate rather than exhaustive. There are three HDMI inputs (two of which support 4K up to 60Hz, while the other offers 4K 30Hz and an Audio Return Channel) and a pair of USB sockets. Satellite and Freeview Play tuners are accessed via the usual aerial connections.
Of course, it's with Ambilight that Philips puts some meaningful distance between itself and its nominal competitors. Three sides of the rear of the TV are studded with little LEDs, which beam light onto the surface behind the TV (the colours can be trimmed to mimic the on-screen action, the audio information or the colour of your wall).
On paper, Ambilight always sounds a little pointless and try-hard, but in practice it always offers greater immersion into the on-screen action and is always worth enabling. It means the 6753 isn't as slim as some alternative TVs, but Philips is to be applauded for giving a TV as affordable as this one a unique selling point.
Interface: A little laggy
The 'subsequent economies' mentioned at the start of this review extend as far as the 6753's operating system. Unlike Philips' higher-performance (and more expensive) TVs, this one doesn't feature Android TV. Instead, its operating system is a Linux-based alternative called SAPHI.
In practice it works well enough – it only covers half the screen when enabled, for starters, which any sensible person will find preferable. Its emphasis is on video-streaming apps, and it's simple to add or rearrange apps as you see fit. It can be a little dimwitted and slow in operation, though, and the graphics themselves are slightly soft and jaggy if you sit even a little too close to the screen.
SAPHI also gives you access to the TV's set-up menus – and when you first take your new 6753 out of the box, be sure to set some time aside to sort out the set-up fully. It's not a quick job: not only does Philips offer you an absolute stack of picture and audio set-up options, but the menus themselves are convoluted and unintuitive – the rather nasty remote control and sluggish on-screen action become proper hindrances here.
Still, such is the Philips' depth of available tweakery, you've no excuse for not getting the 6753 to look its best in all circumstances.
Picture quality: Back in black
In general, the 6753's best is more than acceptable. Starting with the best source available – 4K HDR Blu-ray – the Philips serves up lavishly detailed images with pleasingly low levels of noise or motion difficulty. Colours are strong and convincing, textures are believable and black levels – so often the downfall of price-led LCD TVs – are about as impressive at it gets for this money. The 6753 goes admirably dark without crushing black tones, and it maintains decent levels of detail within them.
There's really only one area of performance that's worthy of criticism here, in fact – but it's not insignificant. The HDR element of the Philips' picture performance is underwhelming. The 6753 just doesn't have the peak brightness to deliver the extremes of contrast you know are available on a well-mastered 4K HDR Blu-ray disc. While the dark end of the contrast spectrum is delivered confidently, images that include bright lights as well as deep darks end up somewhat dimmer and less, well, contrasty than they do on TVs with greater HDR ability.
On the subject of HDR, it's worth noting the 6753's Amazon app only supports 4K rather than 4K HDR, while the rather more niche Ratuken app does without either. Netflix, though, which can be accessed by the single biggest button the remote control, is available with both 4K and HDR (as long as you have the appropriate subscription, of course).
In theory 4K HDR streams are a slight step down in quality when compared to the disc-borne alternative, and that's how it proves here – there's no let-up in the Philips' fanatical attention to detail, but those depthless black levels lose a little of their sheen and there's just the suggestion of the screen working hard to keep motion under control. If this is your first 4K TV, though, you'll be staggered by how much better spent your Netflix money looks.
Step down in quality to a Full HD Blu-ray and the 6753 proves to be an adequate, if unspectacular, upscaler. There's an awful lot of work to be done to fill a 4K screen with Full HD information, but the Philips keeps noise levels low and draws edges with a steady hand.
Motion becomes slightly problematic for the first time – watch some sport at this resolution, and a ball moving rapidly across a swathe of green can get somewhat edgy and unnatural. It's no worse than many a rival big screen at a small price, but it's the first hard evidence of the effort the Philips is putting in.
As the poverty of the input signal increases, so does the legwork the Philips is doing – and it almost goes without saying using a DVD or standard-definition broadcast results in flat, low-contrast and noisy images that really aren't all that pleasant to watch. But then again, if you're using standard definition off-air broadcasts or DVD discs as your main sources, you're probably better off spending this £700 to upgrade those things first.
Audio quality: Thin on the ground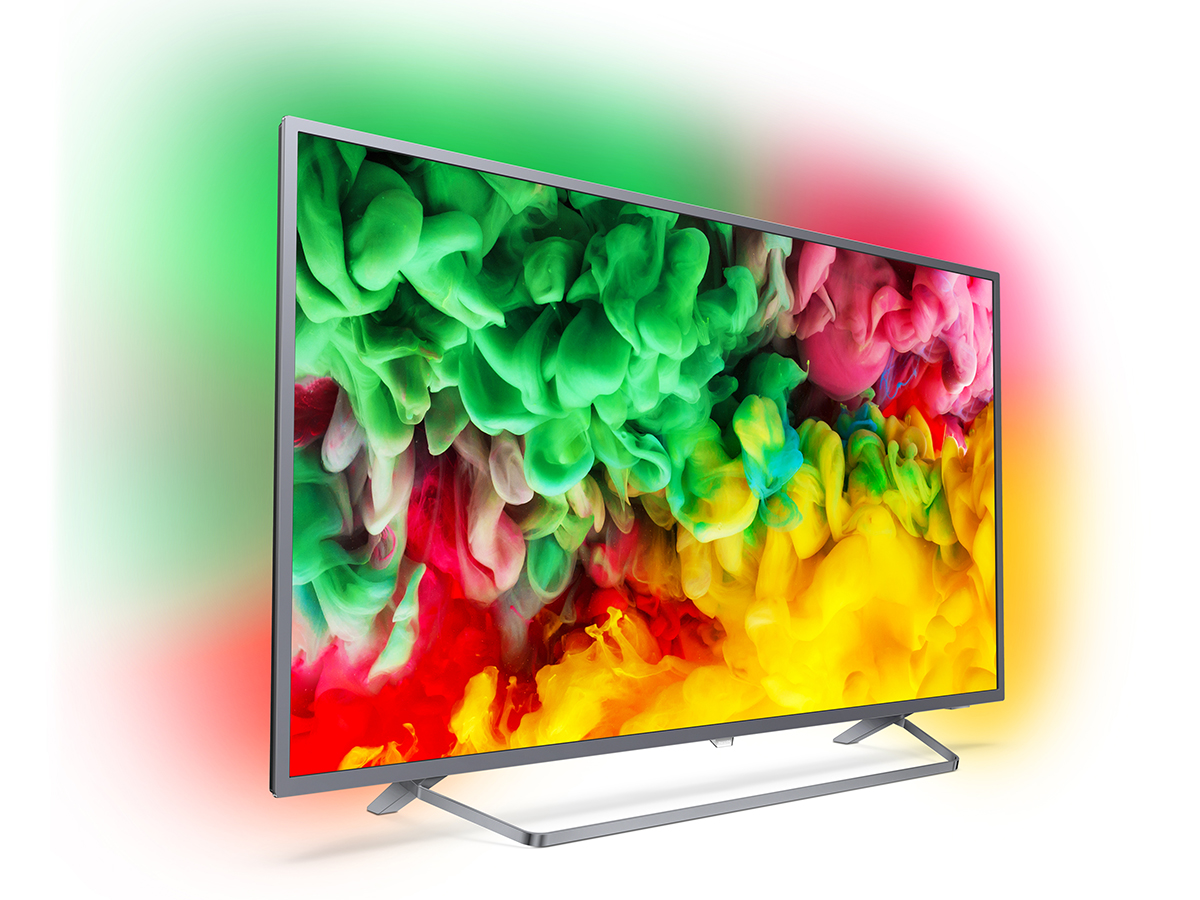 The 6753 isn't the first flatscreen TV to feature borderline-inadequate sound, and it certainly won't be the last. But nevertheless, this Philips isn't all that enjoyable to listen to.
The sound it delivers is lightweight, with virtually zero weight to put behind low-frequency on-screen action – a blockbuster action movie must do without any substance to its explosions, a superstar DJ must do without meaningful bass.
The 6753 controls the other end of the frequency range pretty well, at least – there's more-or-less none of the usual zizz and hardness TVs serve up when dealing with treble sounds.
In between, the Philips seems to thrust the midrange – where all the dialogue sits – forward in an effort to disguise its lack of low-end heft. Voices are distinct as a result, but there's no camouflaging how lightweight the 6753 sounds. If you've a few quid left over when your new TV is paid for, spend it on an affordable soundbar – it'll improve your audio enjoyment no end.
Philips 55PUS6753 verdict
In the simplest terms, the Philips 6753 offers an awful lot of screen for the money. The fact that it's properly specified, totes Ambilight and is capable of engrossing, immersive images makes it tremendous value for money. Just don't expect to understand what all the HDR fuss is about if this is your first encounter with it.
Stuff Says…
Lots of functionality and a great big screen for the money, but not the last word in HDR performance
Good Stuff
Engrossing, immersive picture
Ambilight really sets it apart
Excellent black levels
Bad Stuff
HDR performance could be better
Sound borders on inadequate
Cheap-feeling remote