Philips Hue review
Updated 31//17: A Philips Hue software upgrade will bring 'surround sound for your eyes' later this year. Say what?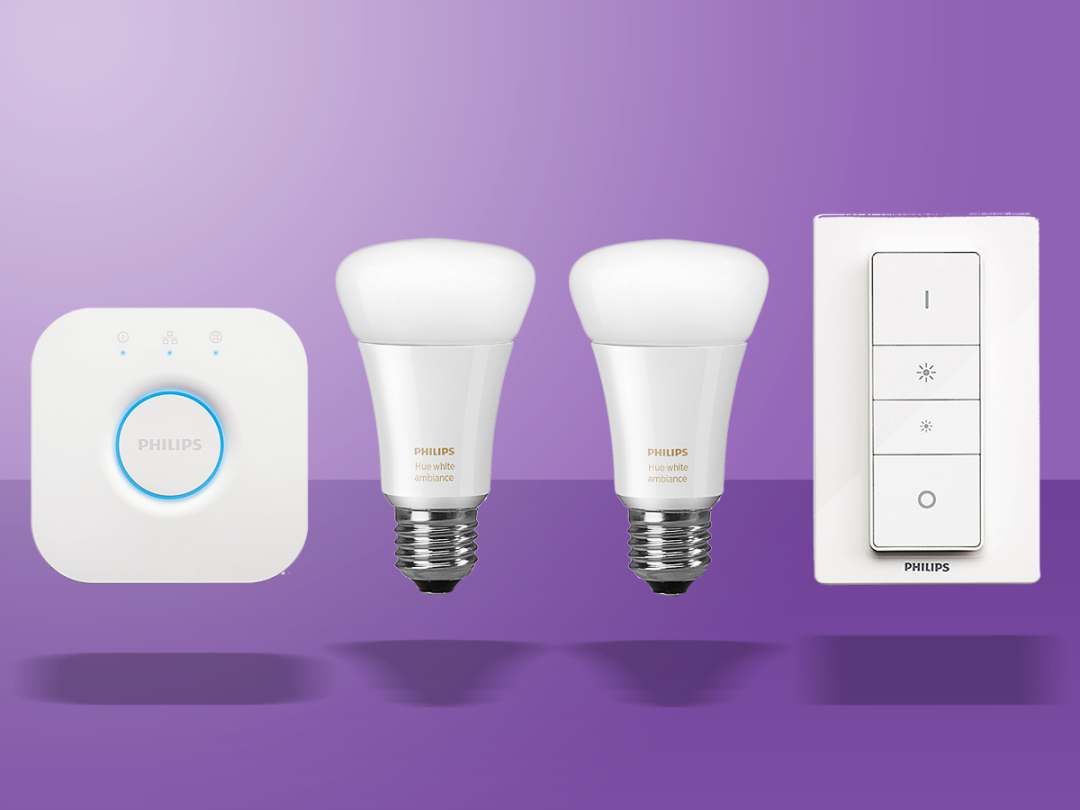 Updated 31/8/17: Philips has just announced some new software and hardware treats for the Hue range, to arrive later in 2017.
The most interesting is a free December 2017 software upgrade, which promises to help your lights sync with specific games, movies or music. 'Surround sound for the eyes' Philips claims, but we'd like to think of it more like a super-charged version of the Ambilight tech found on its TVs.
Before then, the range will also be getting broader HomeKit support from autumn 2017, with its Motion Sensor and Dimmer Switch invited to Apple's smart home party. And beginners might also be tempted by Philips rejigged starter packs (White, Colour and White Ambiance), which will now come with three bulbs and a dimmer switch.
From Autumn 2017, there'll also be a new, simpler route into Hue courtesy of a its Light Recipe Kit, which includes a bulb and switch that don't need a Hub. So, curiously similar to the Ikea's Tradfri range. 
We'll bring you reviews of all of this when we get them in our testing lounge, but read on to find out how Hue became our favourite smart lighting team… 
— 
Philips Hue has had a pretty comfortable life since it launched in 2012, but now a big rival has finally arrived in the form of Ikea's Trådfri.
With support for Amazon Alexa, Google Assistant and Apple HomeKit all coming to Ikea's smart lights, it's a genuine rivals to Philips' long-reigning system.
Not that Philips has spent the last five years lazily bathing in the glow of its own smart lighting dominance. It launched version 2.0 of its app last year, and since then has added a raft of features, including new bulbs, a motion sensor, support for the Apple Watch and better HomeKit integration.
Ikea's white spectrum bulbs might be a simpler and slightly cheaper intro to clever home lighting, but Philips Hue is still the only way to go for full colour, smart light nerdery… 
Philips Hue: shedding some light on the range
The Hue range began as a simple starter kit containing three colour-changing bulbs and a hub that you connect to your router, and while many extra lights and accessories have appeared since then, that's still the most sensible way to begin your collection.
These days, though, you can choose between getting a starter kit that contains three colour bulbs (£150) or two white bulbs (£60), and the hub that comes in the box with both has full support for Apple HomeKit (more on that below). And in case you're wondering, the answer is yes, you do want to get the colour bulbs.
Sure, there are rooms in your house that will be better off with the white bulbs (a bathroom bathed in red light is just weird) and you can alter the brightness and colour temperature of those, which is very handy, but the key brilliance of Hue is that you can change the colour of your bulbs (individually or as a set) and I think to go for white from the off would be to miss the point.
So you've got your three coloured bulbs (they're available with Edison, Bayonet or GU10 connectors): what are the other options?
There are now E14 candle bulbs for your bedside lamps a motion sensor – this is particularly handy for getting your bathroom light to turn on and off without any night-time fumbling in the dark, though it's not quite water-resistant enough for an outdoor porch light.
Beyond those new additions, the £70 Lightstrips (the latest version is the Plus) are probably the most interesting, fun and useful extras to consider. These are 2m long strips riddled with LEDs that can also be changed to pretty much any colour imaginable, and because they're bendy, backed with adhesive and can be trimmed or extended (by 1m at a time up to a maximum 10m) they can be placed almost anywhere.
Use them as underlights to make your sofa look like a boy racer's Vauxhall Nova, run them along the top of a bookshelf to beam coloured light onto the ceiling, or wrap them around the edges of your TV for that Ambilight-like glow. Honestly, the options are near endless, and I was being silly with the Vauxhall Nova comparison – it's dead easy to achieve a really classy effect by using Lightsrips around your room.
Beyond that there are a number of lamps available, including the Iris (£90) and Bloom (£50), which are designed to project light onto your walls, and the Go (£80), which is battery powered so can be moved around the house or even into the garden.
There's a variety of very fancily styled lamps and ceiling lights now, too, and while you're expected to use the Hue app on your phone to operate your lights, there are also easily installed wireless dimmer switches, which can be very useful, especially when you have guests staying at your house. Imagine telling your in-laws that they can only turn the lights on and off if they first download an app.
Philips Hue app: become the lord of light
The old Hue app was very good, but the Hue 2 app is much nicer to use and introduces a bunch of new features.
The general approach is to group your lights depending on the room they're in, at which point you can turn on, off, dim and change the colour of all of them at once by prodding the UI's various switches and sliders, or by simply ushering a voice command.
"Hey Siri, turn my lounge lights on", you'll say, and through the magic of Apple HomeKit your lights will come on. "Turn my lights blue", "set the lights to 20%", and various other commands also work. Perhaps this is the sort of power that Game of Thrones' Lord of Light wields. And if so, who could blame Melisandre for being such a big fan?
The new Hue app also continues the old one's love of light 'scenes'. There are a number of basic scenes included, such as Concentrate (which turns your lights bright white to keep you awake and focused) and Relax (which is a dimmer, warmer hue). Others turn individual lights different colours to create a light 'recipe'. 'Arctic aurora', for example, combines greens, blues and whites inspired by the Northern lights.
You can even use your phone's photos to create your own scenes. You could pull up one of a wedding and pick out the colours you want your lights to switch to, or perhaps use a particular bunch of flowers, the best of your many sunset photos, or even an image of your favourite artwork that you've downloaded to your phone. It's quite a lot of fun playing around with these options to create a lighting arrangement that suits your room and feels personal.
Philips Hue geolocation: remote control
It's long been possible to add extra software features to your Hue setup through third-party apps and IFTTT (If This Then That), but many of the most popular bits are now baked into the app.
So, for example, it's now dead easy to set your bedroom lights to gently wake you up in the morning with a simulated sunrise, as is creating a routine for your lights so that they turn on, dim or change colour at specific times of day. Wondering why the latter might be useful? If you're someone who works from home you could set your lights to run the Concentrate scene while you're working and automatically switch to Relax when 5:30pm rolls around.
The app now allows you to access your lights remotely, too, which can be useful for checking you haven't left them on, convincing a would-be burglar that you're home when you're not, or simply winding up your other half who's in the house. Thanks to the 'Hue Labs' section of the app, you can even schedule some randomness into the lights turning on and off to create some convincing 'presence mimicking' when you're away on holiday.
Best of all, you can set the lights to automatically switch off when you leave the house and back on when you return. That was previously made possible only by adding sensors or locks that support HomeKit, but it's now simpler (and cheaper) thanks to in-app location tracking. In the last few days of experimenting with the new app I've been impressed by how flawlessly this seems to work.
Philips Hue connectivity: taking advantage of the open platform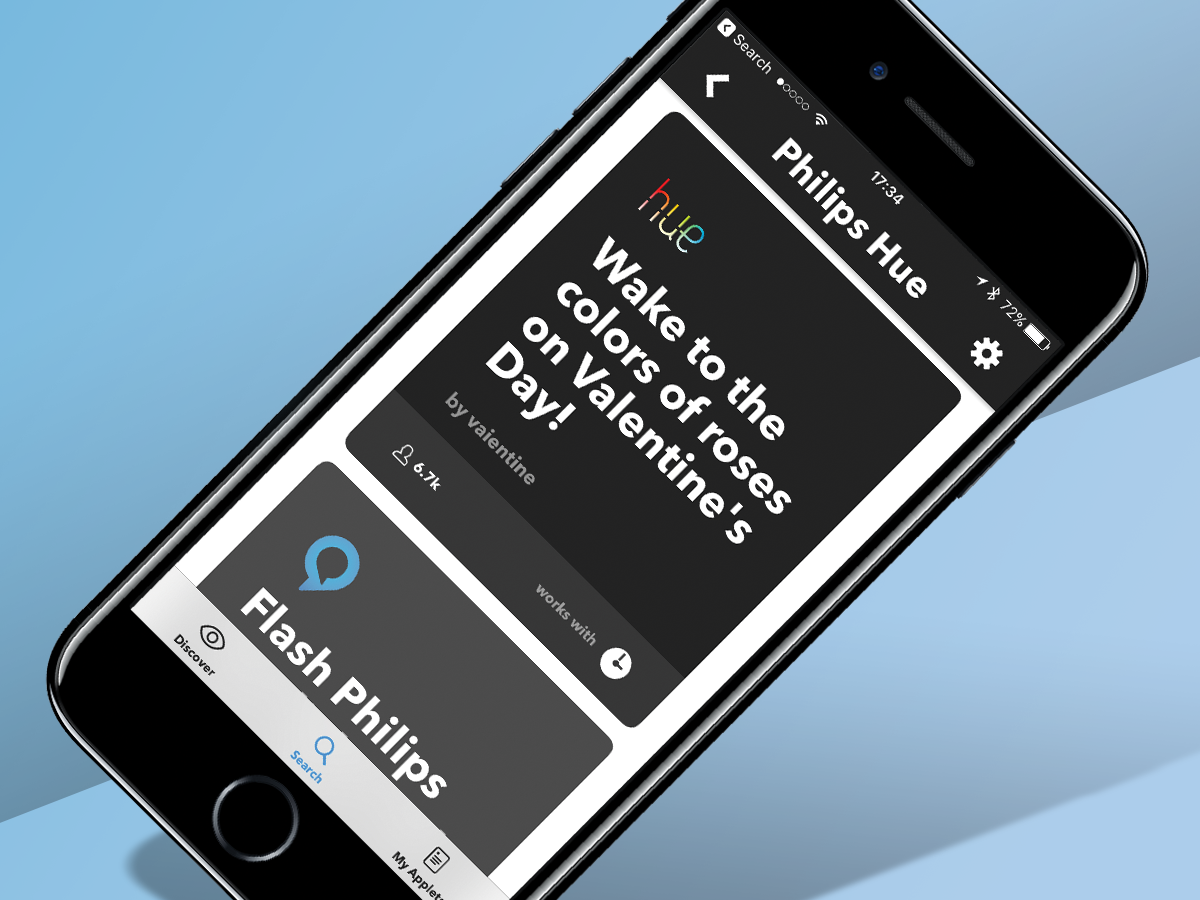 You can still, of course, use HomeKit to add even more advanced features to Hue. You could combine it with a HomeKit enabled thermostat such as the Ecobee3 so that when you say "Hey Siri, time for bed", your lights and heating both automatically turn off together. Or if you're really fancy you could have some of Lutron's smart blinds installed, which would allow you to combine the blinds closing with your lights coming on.
Hue's HomeKit game has improved a lot recently too, thanks to the ability to add multiple Hue scenes to a HomeKit scene like 'Good Morning'. This means you could, say, turn on the kitchen, lounge and bathroom lights with a single Siri command.
And IFTTT still offers up some nerdy extra tweaks. How about setting your lights to automatically turn on at sunset? Or to flash when your football team scores? This sort of thing is really easy to setup.
Owners of Philips Ambilight TVs can even set their Hue lights to synchronise with the light coming from the edges of their TV.
Philips Hue verdict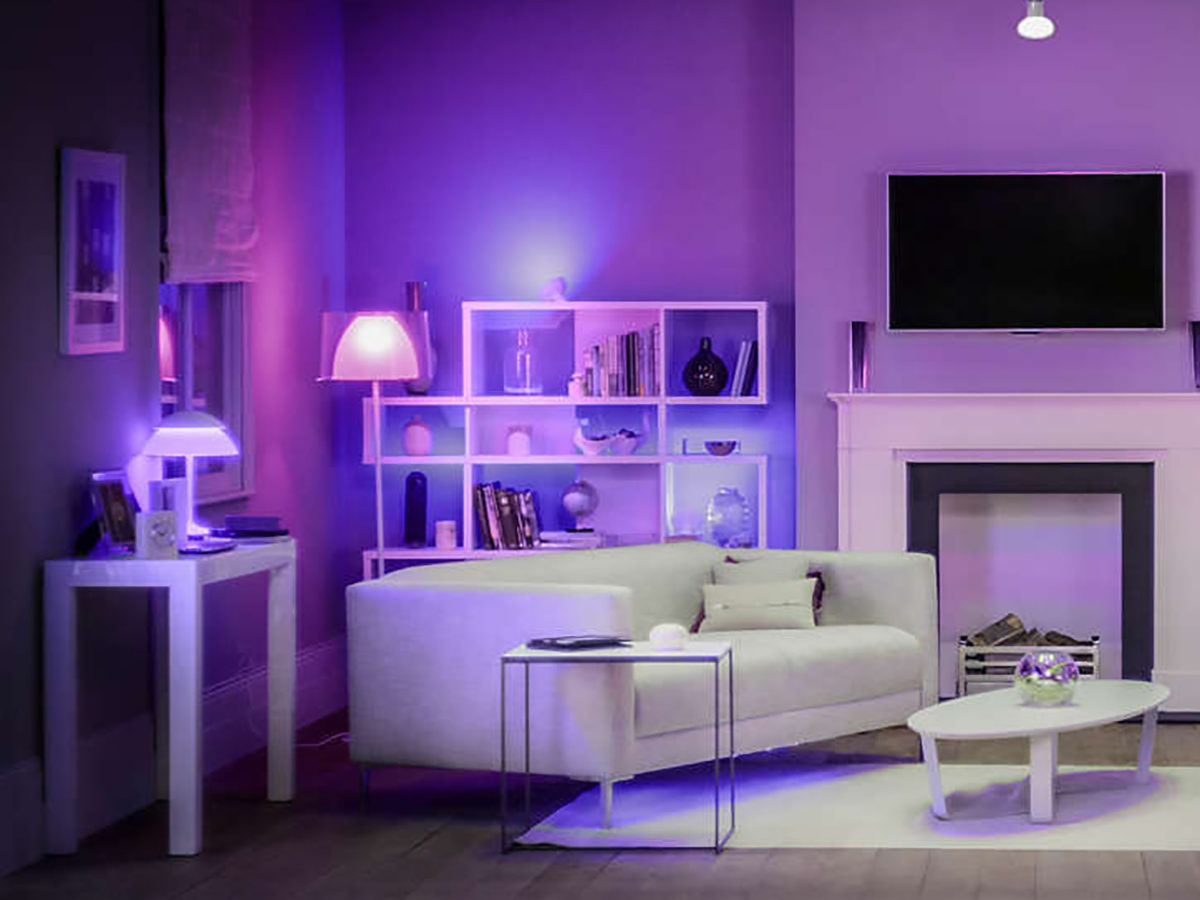 Philips has been doing a very Sonos-like job with Hue over the years since it launched, in that it's continued to develop and evolve the range with extra devices and features despite a lack of genuinely serious competitors. This means that, despite serious competition now arriving in the form of Ikea's Trådfri, it's still a step ahead in terms of depth and versatility.
There are flaws, of course. The fact that Apple's HomeKit ecosystem doesn't appear to have taken off quite as meteorically as many expected can't be blamed on Philips, but it means that we're still lacking some devices that could make Hue even better.
Much more significant is how expensive all the gear is: the £150 starter pack is pricey enough, and with every extra bulb adding £50 plus any Lightstrips or lamps that you might want to add in order to achieve the full, brilliant effect, the cost of Hue-ing up a single room is high enough to make your bank manager sweat, let alone considering kitting out the whole house. And it's not as if anyone could possibly claim they need smart lighting.
Hue is a luxury, pure and simple, but I'll be damned if it's not a fabulous one, and when my lottery numbers finally come in you can bet I'll be kitting out my palatial new abode with Hue from basement to rafters.
Stuff Says…
In practically every way this is the Sonos of smart lighting, and that's a mighty compliment indeed.
Good Stuff
Vast range of bulbs, lightstrips, lamps and accessories
Great new app adds some really smart new features
HomeKit and IFTTT makes it friendly with other devices and apps
Bad Stuff
Far from cheap
We'd hoped HomeKit would have opened up even more possibilities by now