Philips OLED 805/855 hands-on review
Let there be Ambilight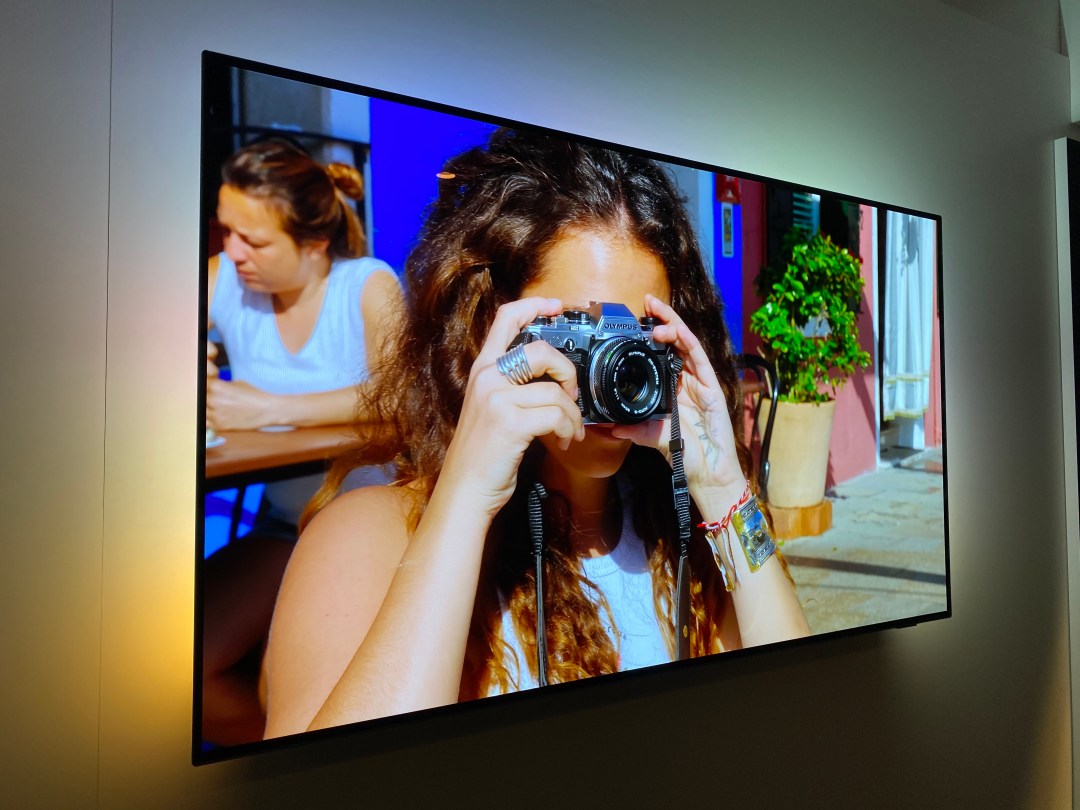 The Year of the Rat, the year Britain leaves the EU, the year West Ham go down, or if Philips is to be believed, 2020 is the year of Ambilight. Expect to see the now familiar three-sided glow emanating from every one of its new TV sets and that includes its two latest OLEDs – the 805 and 855.
Phillips is so intent on pushing this particular piece of proprietary TV tech it's going to offer potential consumers a 30-day trial, confident that once you try you will buy.
It's not the only reason to consider a Philips TV, however. On the 805 and 855 OLEDs you get an AI-assisted 4th Gen P5 processor, Dolby Vision and Dolby Atmos support, HRD10+ and an Android 9 OS with built-in Google Assistant and Alexa compatibility.
The models are only separated by their differing dark chrome stands, so just to confuse matters we've focused on a pair of wall mounted 805s – one 55in and one 65in for the sake of accuracy.
Design: Happy cows
As we've come to expect from, well, most OLEDs, the 805 joins the ultra-slim set, with a virtually edgeless bezel and a premium metal finish. There's no doubting it's a looker, and if you're using the chamfered stand it'll also give off the impression it's floating. Around the back you'll find the Ambilight LED strips going about their business.
Take a moment to appreciate the remote control too. Metallic with flush backlit keys, the rear and sides are wrapped in responsibly sourced leather from Scottish specialists Muirhead – as one Philips exec put it: "Happy cows".
Picture quality: Five alive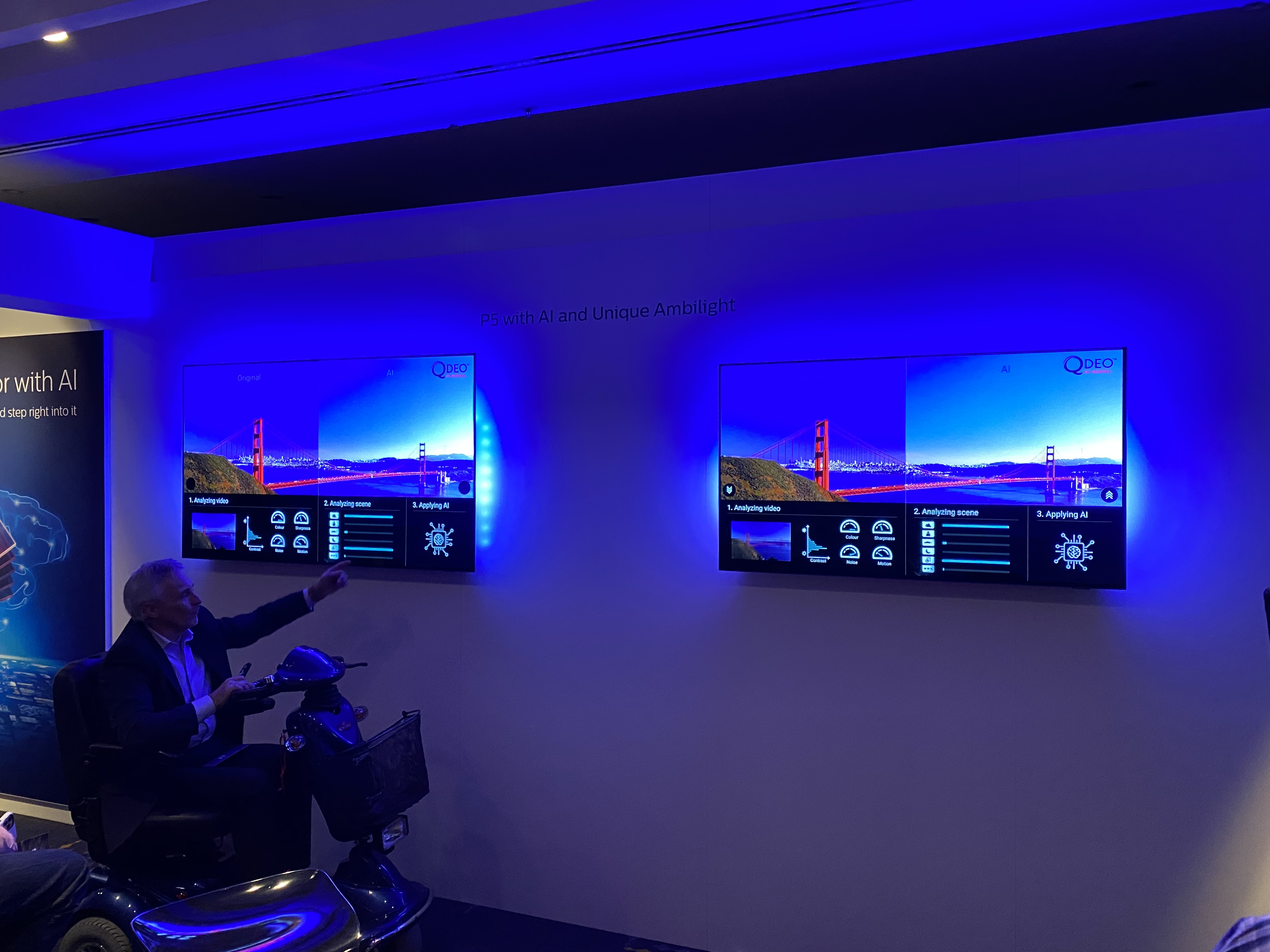 Both new models feature a 4th Gen P5 processor, but with the addition of new Artificial Intelligence functionality. Neural networks and machine learning analyse a database of millions of clips created in-house at Philips to tweak the TV picture on the fly.
The AI software doesn't just produce greater output from each of the five key pillars of PQ – source, colour, contrast, motion and sharpness – but is designed to create a better balance between them.
It does this by inspecting content frame-by-frame to decipher whether it comes under 'landscape/nature', 'skin tone', 'sports/motion', 'black/contrast', 'animation' or a combination of several.
Philips says this should result in a final picture that feels more realistic, more natural and an image that increasingly mirrors real life. In demos the difference felt rather dramatic, with a wider colour gamut, increased brightness, and immense levels of detail even in shadowy areas all apparent.
Philips is one of the few TV brands to support all major HDR standards. The P5 processor aims to improve performance here too, but also Dolby Vision encoded dynamic HDR content using a special "Dolby Bright mode".
Sound quality: All in the Dolby detail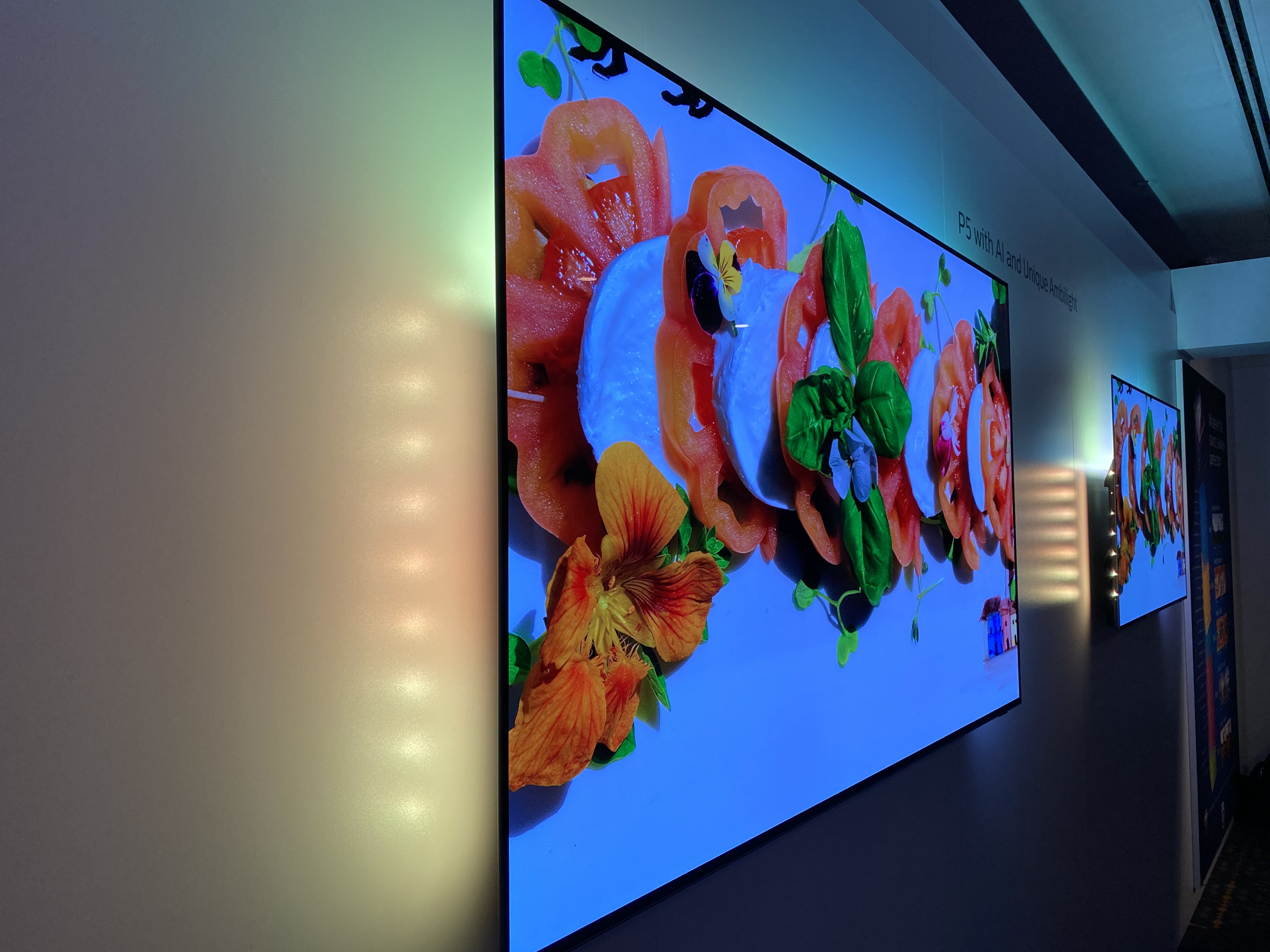 Sadly no 805 or 855 sound demo at Philips' annual European showcase in Amsterdam, but both models come with a multi-speaker 50-Watt sound system.
It includes a new woofer design with the inclusion of four passive radiators for extra, deeper bass while the two front speakers integrate new mid-range drivers and upgraded tweeters.
The 805 and 855 both feature Dolby Atmos decoding, the Dolby Atmos Virtualizer function and Dolby bass and dialogue enhancement.
Philips 805/855 initial verdict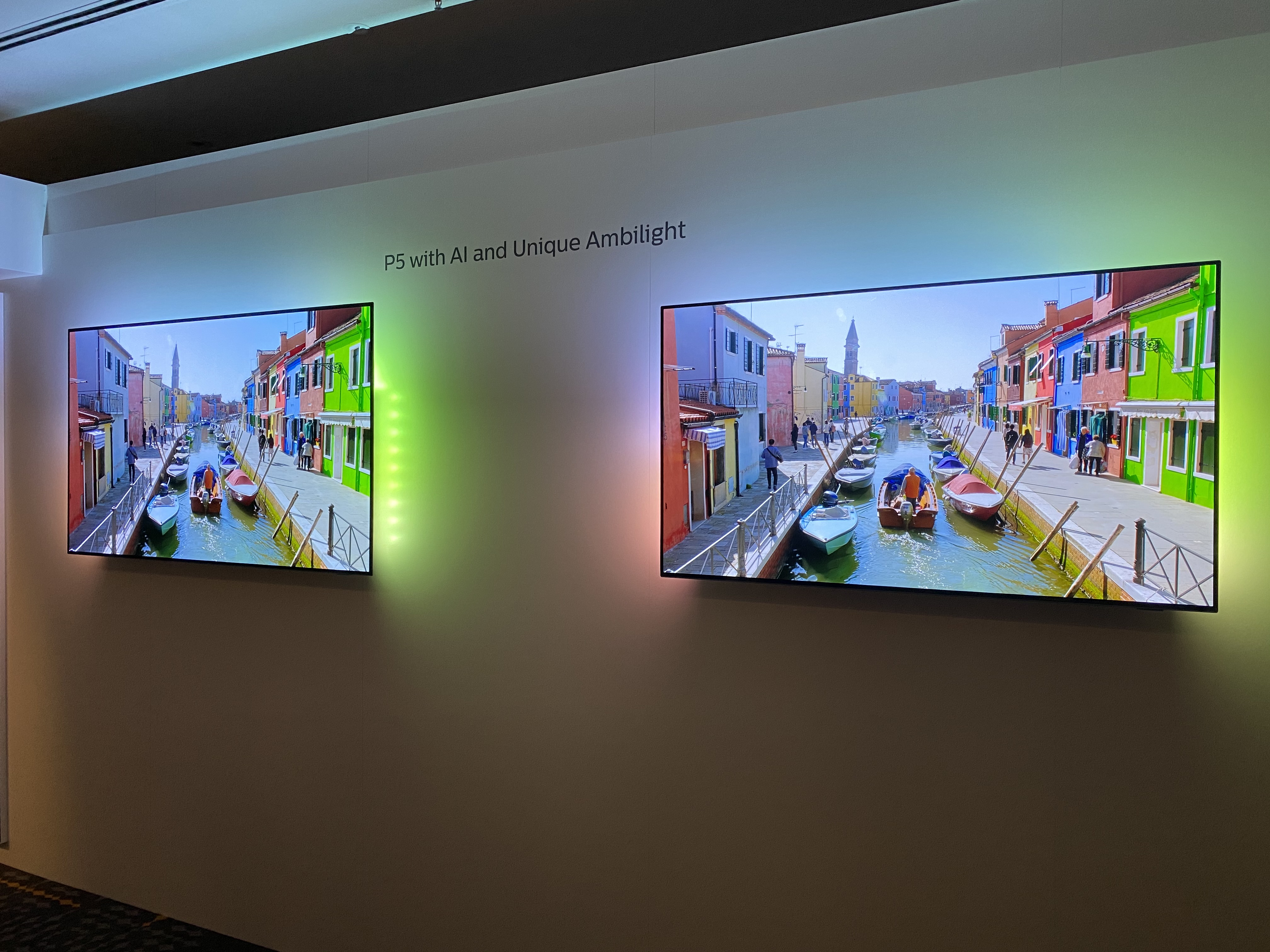 We're undoubtedly fans of Philips' OLED offerings to date and these two new models seemingly do nothing to deter us. If Ambilight felt gimmicky to begin with, now it's hard to think of life without it. But what tech journalists experience doesn't always transfer to would-be customers and you'll struggle to see that warm glow in all its glory when visiting a retailer. So the 30-day trial Phillips is set to offer isn't just clever, it's crucial for showcasing this key selling point. There's more at play here, though. The already excellent P5 processor gets added AI smarts with plenty of R&D brawn behind it, and there's a sleek, European design to admire. We've high hopes when both sets arrive in May.