Philips OLED+986 review: it's a big 'plus'
The best sound of any TV meets stunning picture quality (if you put the work in)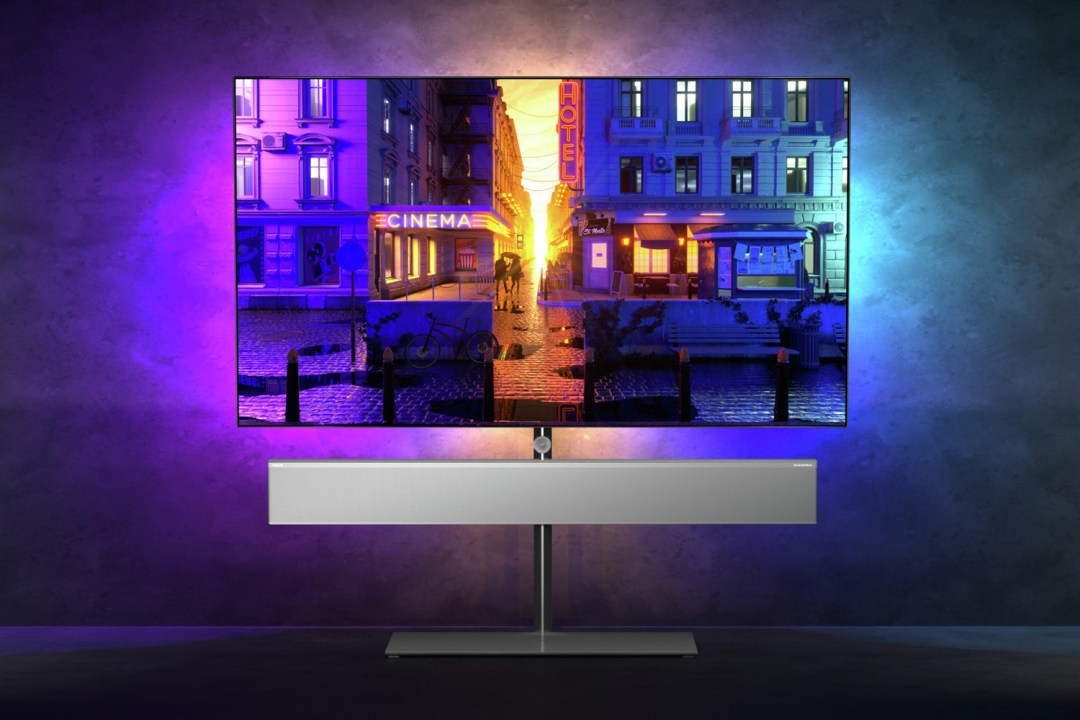 The firm may not appreciate it, but there doesn't seem to be much choice but to call the Philips OLED+986 'a comeback'.
For the last few years, Philips TVs have modulated from 'there or thereabouts' to 'among the best pound-for-pound televisions you can buy' – and the company's collaboration with hi-fi legends Bowers & Wilkins for the audio systems fitted to some of its more up-market models has paid dividends too.
This new OLED+986 is as up-market as Philips TVs currently get. It's only available in a 65in screen size, it's fitted with a large and purposeful-looking Bowers & Wilkins audio system – and it's a quid shy of £4K. Which is a lot for a 65in OLED in anyone's book – even if it does have a promising-looking sound system kind-of built in.
So does the OLED+986 continue the comeback? Or is it an expensive step too far?
Design and build: a TV of two halves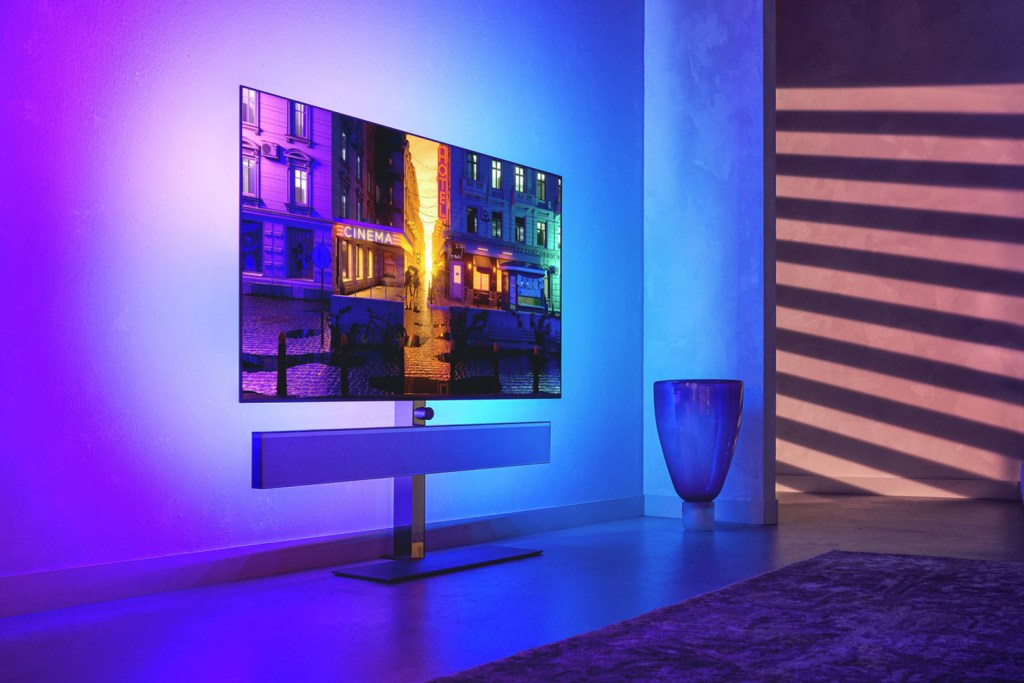 As far as the 'television' portion of the OLED+986 goes, there's not much here that's out of the ordinary. At 65in this is a big screen, obviously, but all four of its bezels are very slim and manage to minimise the impression of bulk just a little. As is usual with OLED TVs these days, when seen in profile the Philips is extremely thin except in the places where it isn't. At its deepest the OLED+986 is a fraction more than 47mm deep – although some of that relative bulk is explained away by the four-sided Ambilight that's fitted here (there's plenty more on just what a brilliant feature this is in the – hey! – 'features' section).
Below the bottom of the screen, though, it all takes a turn for the rather unusual and undoubtedly premium.
The OLED+986 is supplied with a two-piece stand. If the TV is going to stand on the floor, both pieces are required; if it's being wall-mounted, you only need the first piece. In either case, the big Bowers & Wilkins speaker enclosure needs attaching – it's a large and purposeful unit, but thanks to a lot of perforated steel and the ubiquitous Kvadrat acoustic fabric finish, it doesn't dominate the look of the TV as it otherwise might. And that signature 'tweeter on top' arrangement adds the sort of design flourish you just don't get with other televisions.
As far as build quality goes, well, a weight of almost 32kg (with stand attached) or 23.5kg (without) tells part of the story. This is a product constructed seemingly without compromise – even the plastics that make up the rear of the screen are heavy-guage and tactile.
Features: every feature and then a few features more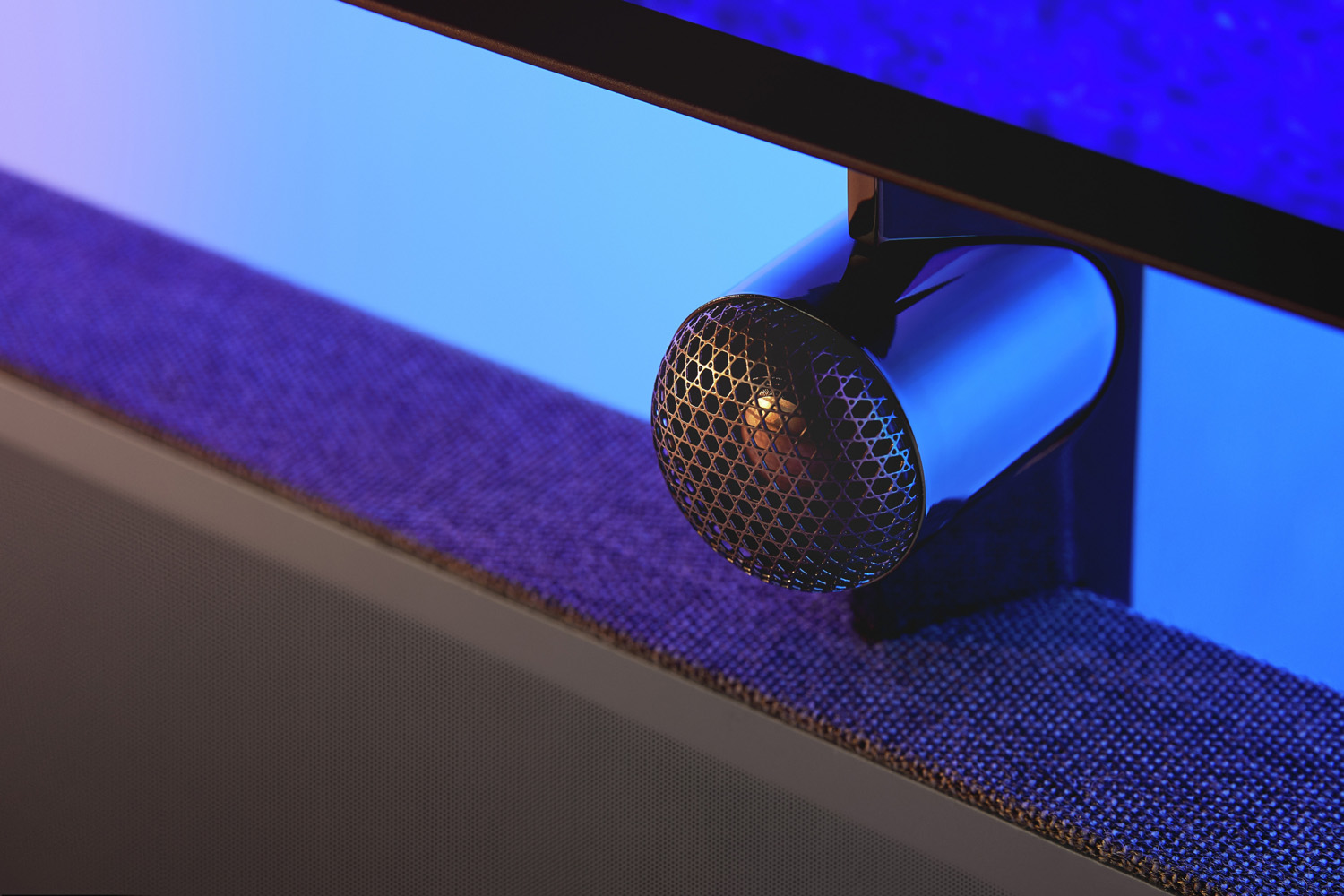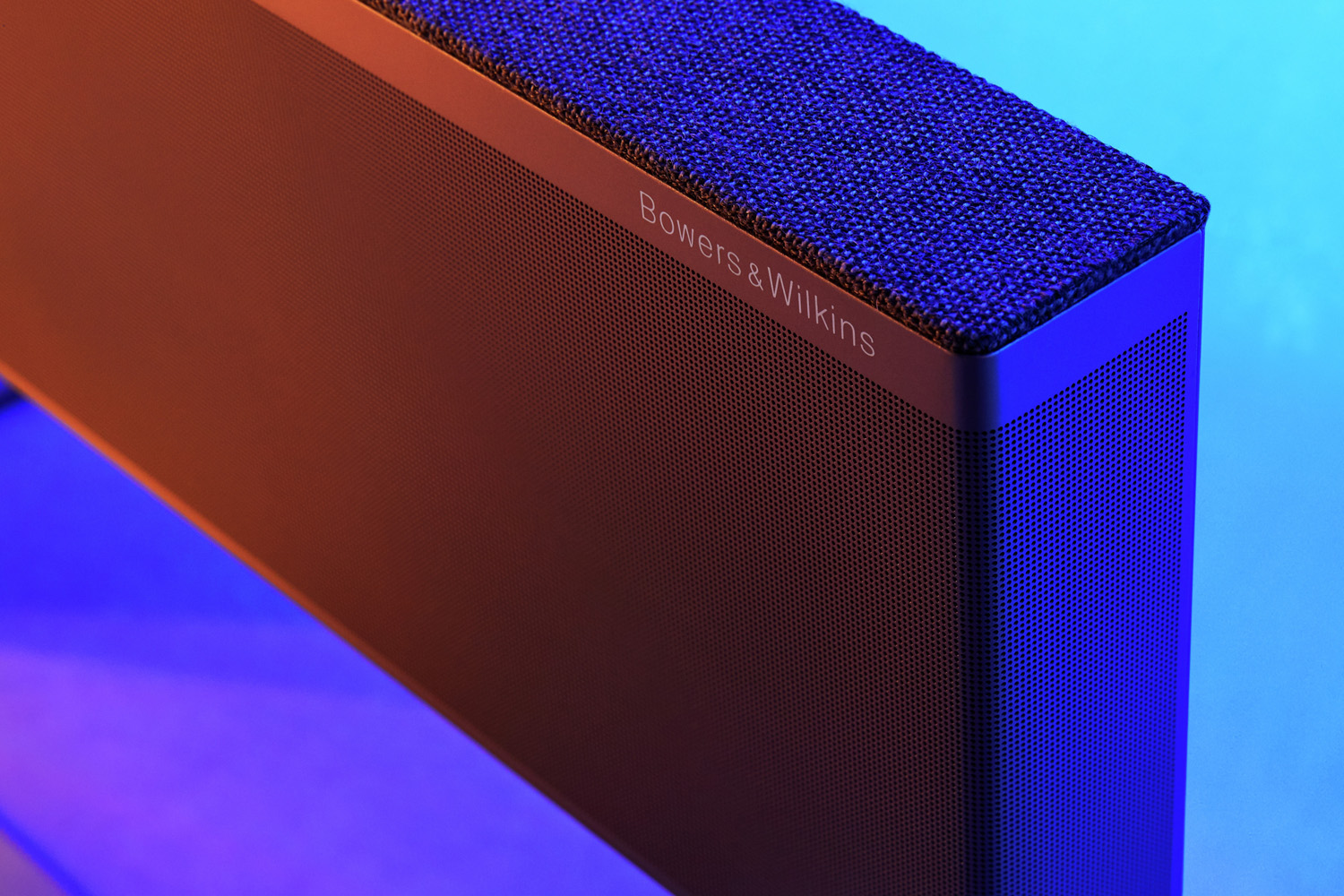 Even before it's plugged in and doing its thing, there are naturally a few expectations for a telly costing as much as this. But there's no need to worry – the OLED+986 has every feature you might reasonably expect – and then chucks in a few more for good measure.
First off, this is (of course) a 4K TV. But because it's a Philips 4K TV, it's compatible with every worthwhile HDR standard – Dolby Vision, HDR10+ and HDR10+ Adaptive are all included, and Dolby Vision Game Mode is on board too. Only Panasonic is as generous with its HDR compatibility – all the other brands are too busy point-scoring to put the consumer first.
Speaking of gaming, half of the OLED+986's four HDMI inputs are HDMI 2.1-standard, and so will support all your next-gen console's clever features like ALLM, VRR, HGiG and 4K@120Hz. Well, to be absolutely accurate the Philips only supports 4K@120Hz up to a point – the company has prioritised movie picture performance over gaming performance, which means the 986's twin-chip processor halves the resolution of a 4K 120Hz signal before displaying it. Which is a) less than ideal, but b) better than some alternative TVs can manage.
The twin-chip processor is the most up-to-the-minute version of Philips' P5 processing engine, which is now on its fifth generation. It's in charge of one of LG's super-bright OLED panels – the Korean manufacturer reckons it's 20% brighter than its previous efforts.
At the rear, Philips has deployed its 'Ambilight' feature across all four sides. If you're familiar with Ambilight, you'll know how worthwhile and effective it is – and if not, be assured it's a lot less gimmicky than it might seem when written down. Rows of LEDs shine light onto the wall behind the screen, either as static colours or (more impressively) matching the predominant colours of whatever's onscreen. The halo of light it casts makes the screen seem even larger than it is, makes the images it displays seem even more immersive, and reduces eye-strain. Which, in anyone's language, is a win/win/win – and it works beautifully.
Of course, there's more than Ambilight in the 'unique features' column here. The Bowers & Wilkins sound enclosure (because it's nothing as gauche as a 'soundbar', not on your life) is another unique selling point – and unlike Ambilight, it doesn't hide itself away until the screen is powered up.
Behind the sound system's perforated steel grille are three mid/bass drivers and a pair of tweeters, with a third tweeter positioned on top of the cabinet in the manner Bowers & Wilkins has been deploying for years now. The exposed tweeter features a Nautilus tube in a drive to reduce the impact of backward-travelling soundwaves, and the mid/bass drivers are made from the same woven 'Continuum' material the company uses for its flagship 800-series loudspeakers.
All of the drivers face forwards, rather than attempting to deliver an impression of spatial audio. But the upgraded crossovers, improved amplification and reworked motor assemblies all point to Bowers & Wilkins' usual disinclination to compromise.
Interface: many many menus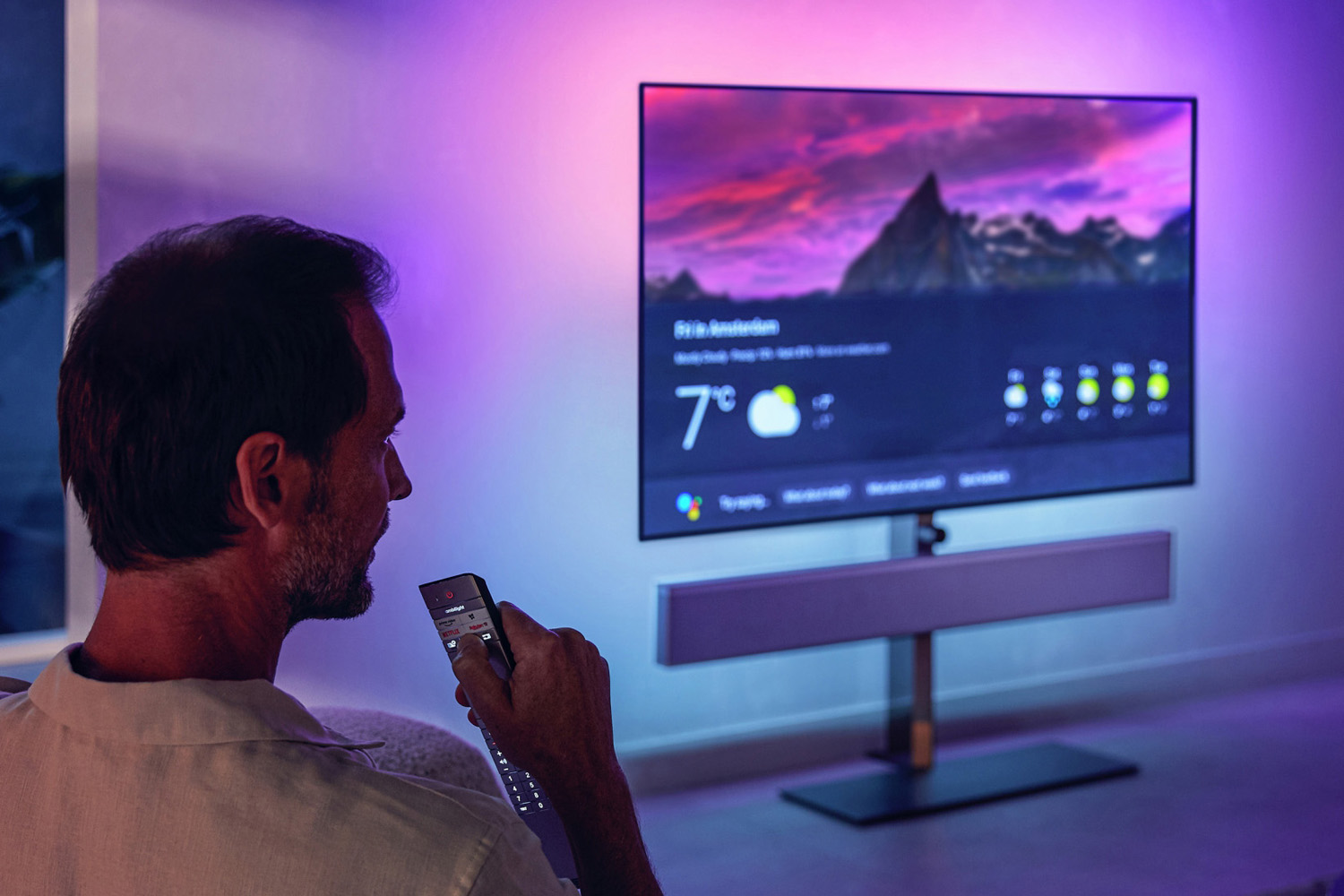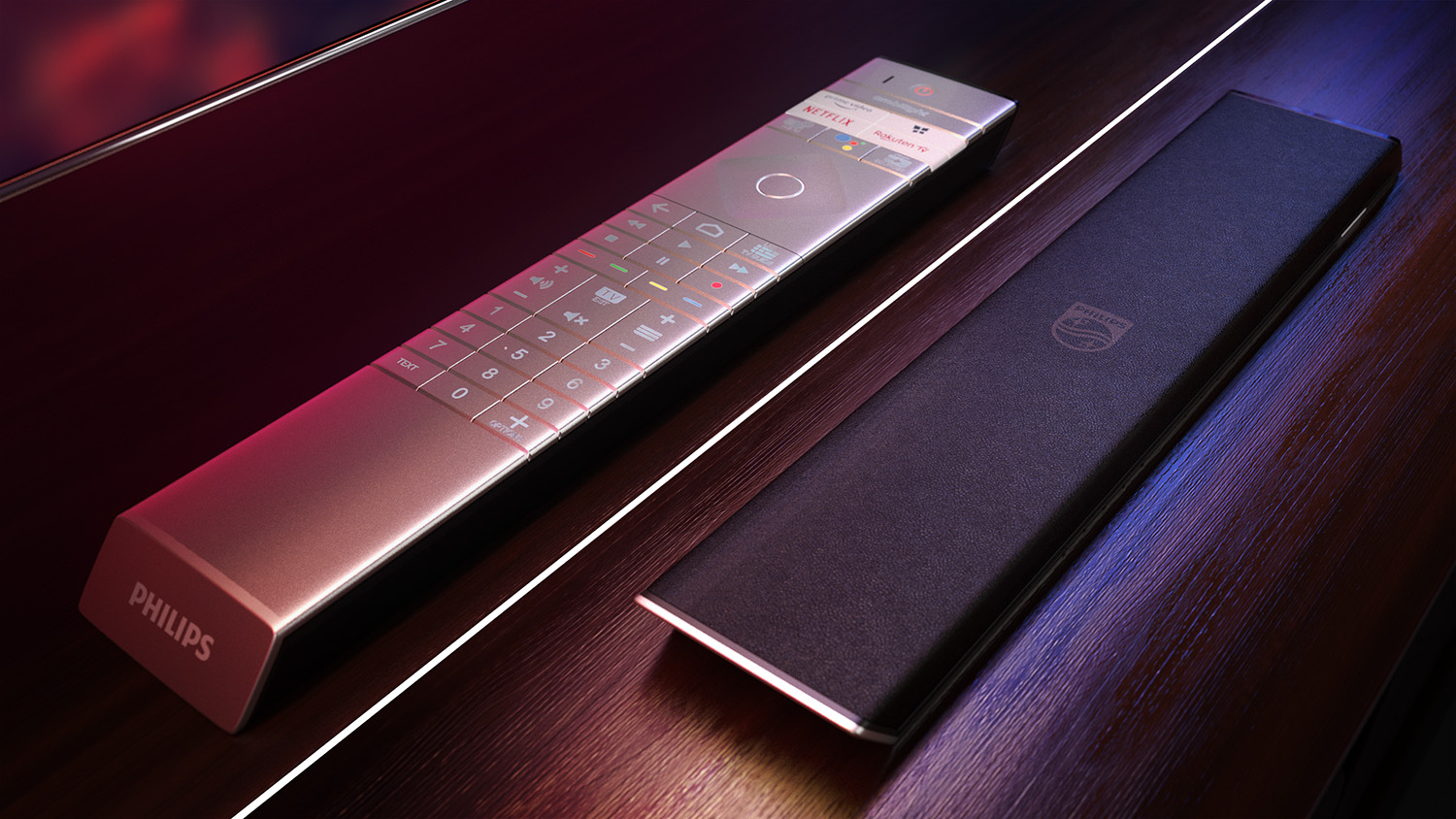 The clichés about how Philips TVs take an eternity to set up and about how Philips TVs have menus that go on longer than an episode of Stranger Things have only become clichés because they're true.
And so it comes to pass that the OLED+986 has set-up menus that are logical, obvious in their purpose and easy to navigate – but that also go on and on and on. And don't even get us started on the sub-menus. If there's even a suggestion of OCD in your personality, you could find yourself fiddling around the edges of this TV's performance for days on end.
Happily, the supplied remote control is reasonably sensible, both in its layout and the size of its buttons. The fact that it's backed with sustainable Muirhead leather helps it feel a cut or two above your everyday remote control, too.
As well as interminable set-up menus, the remote control allows you to navigate the OLED+986's Android TV smart interface. It's full of all the apps you want and quite a few you don't, features Freeview Play and is, as per usual where Android TV is concerned, laid out pretty much at random. Still, apart from Disney+ all the apps that can feature Dolby Atmos and/or Dolby Vision do so. Which is nice.
Philips OLED+986 Performance: hey there good looking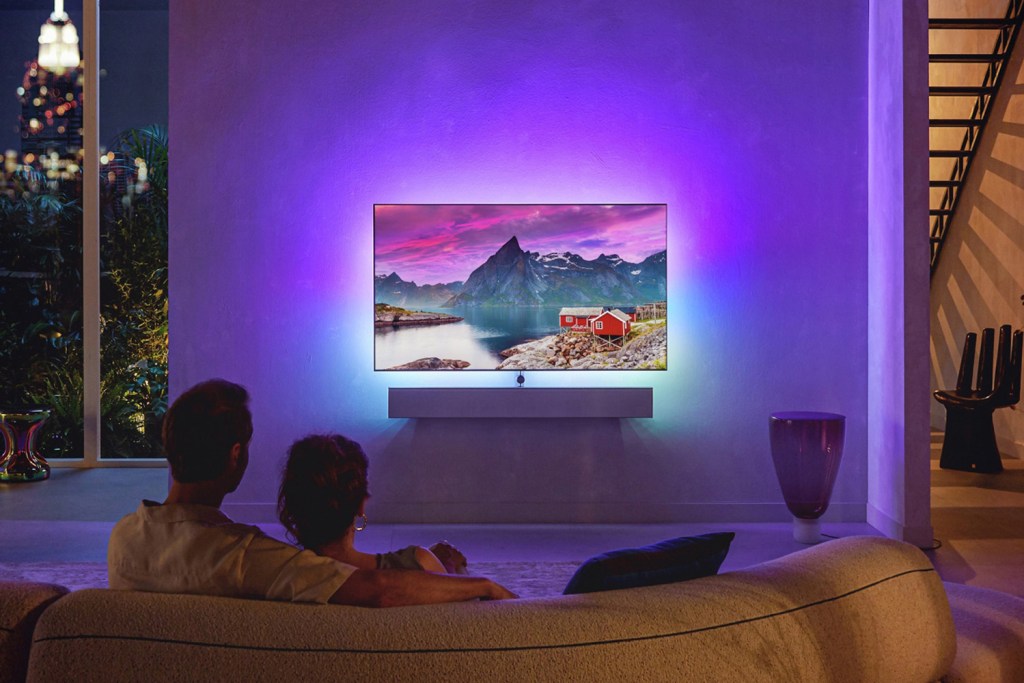 That the set-up menus ramble on and on is made even more annoying by the fact that this Philips TV is entirely dependent on the way you set it up. Not prepared to put the hard yards in? Then don't expect to see the remarkably lifelike, vibrant and engrossing images it's capable of.
Because make no mistake, once it's properly set up the OLED+986 rewards like very few alternative TVs. Once it's properly set up, there's really no aspect of picture-making at which it doesn't excel. Once it's properly set up, it's a thoroughly immersive and endlessly watchable TV.
With a 4K UHD Blu-ray of Christopher Nolan's Interstellar, the OLED+986 is masterful. The colour palette is extremely broad and naturalistic, detail levels are staggeringly high, motion-control is absolute, and edge definition is smooth and believable. Depth of field is impressive too, and skin-tones in particular are hugely varied and always convincing.
As LG assured everyone, the panel of this TV is significantly brighter than that of the Philips OLED984 it replaces. It's not just glare, though – bright tones carry plenty of detail and variation, and when they're combined with the deep, lustrous black tones that are the hallmark of a good OLED panel, the resulting contrasts are confident and wider than a very wide thing.
There's no equivocating here – given the best content to work with, the OLED+986 is an almost luxuriously accomplished watch. It's sharp but not edgy, detailed but not fussy, endlessly subtle but never vague.
Ask it to upscale some Full HD content and the Philips continues to impress. If you haven't put the hours in at the 'set-up menus' coalface then upscaled images can be a little hard and edgy, but detail levels remain high, edge-definition remains convincing, and the breadth of its contrasts (along with the extensive nature of its colour palette) make it somehow naturalistic and cinematic at the same time.
All of this good stuff carries over to the way the Philips handles gaming via a next-gen console. Motion-control is absolute, the screen handles the lighting and contrast of games like Gran Turismo 7 with complete confidence, and fine detail retention is remarkable. Even a relatively leisurely input response time of 22m/s will be basically imperceptible to all but the most dedicated gamers.
So image quality is accomplished and satisfying across the board – but the same can be said for some similarly sized OLED TVs that cost a good chunk of money less than this. This OLED+986, though, makes entirely good on its asking price when you take its sound quality into account.
The simple fact is: this Bowers & Wilkins audio system is the best a television was ever fitted with. You can spend well over a grand on a soundbar that will attempt to give an impression of spatial audio, but none of them will sound more direct, better balanced, or more instinctively correct than this set-up.
The soundstage it creates is wide and deep (though not in any way tall), it's rigorously organised and easy to understand, and there's just as much attention paid to detail as to the presentation as a whole. Tonality is naturalistic and convincing, drive and dynamism are available in quantity, while low-end punch and presence will have you glancing around to find out where the subwoofer is.
Philips OLED+986 verdict
The Philips OLED+986 is only expensive until you properly think about it. A 65in OLED with similar image potency will cost the thick end of three grand, while achieving the same sort of fulminating-yet-delicate sound quality means spending another thousand pounds on a soundbar.
You won't achieve an aesthetic anything like as harmonious that way, though, and you won't get any Ambilight brilliance either. This may well be the best all-round TV you can currently buy.
Stuff Says…
Stellar sound + eye-pleasing Vision = Philips OLED+986
Good Stuff
Lovely Ambilight-assisted picture quality
Robust, deft and potent sound
Great build and finish
Bad Stuff
Takes an eternity to set up
Android TV interface is predictably hit-and-miss
Only available in 65in screen-size
Philips OLED+986 technical specifications
| | |
| --- | --- |
| Screen size | 65in |
| Resolution | 3840×2160 w/ 120Hz refresh rate |
| HDR | HDR10+ Adaptive, Dolby Vision, |
| Inputs | 2x HDMI 2.1, 2x HDMI 2.0, 2x USB, Wi-Fi, Bluetooth, Ethernet, Optical |
| Smart TV OS | Android TV |
| Weight | 32kg |
| Dimensions | 1449x1338x382mm (with stand) |