Polar Vantage V2 review
Track and trace (and train)
There's a fine line between exercise enthusiasts and fitness freaks – and it's all to do with down time. For the former, rest day routines involve eating clean, going easy and perhaps a walk in the park. But for the latter, recovery days are meant for one thing: more exercise.
Polar's Vantage V2 is a multi-sport watch for the second sort of sweater. It might look like just another tracking ticker – albeit one with an attractive aluminium shell – but the V2 is actually a comprehensive training coach, designed to log your workouts then guide you through recovery. So you can sustain your sadistic exercise regime while reducing the risk of injury.
From strain and tolerance stats to workout recommendations based on your exertion, the Vantage V2 promises to serve up extensive insights into your body's condition. 
Add Komoot route guidance, connected music controls and smart fuelling recommendations into the mix and it shapes up as a properly useful tool for seriously active sorts – and one that costs a good chunk less than the Garmin Fenix 6.
Design and build: full metal jacket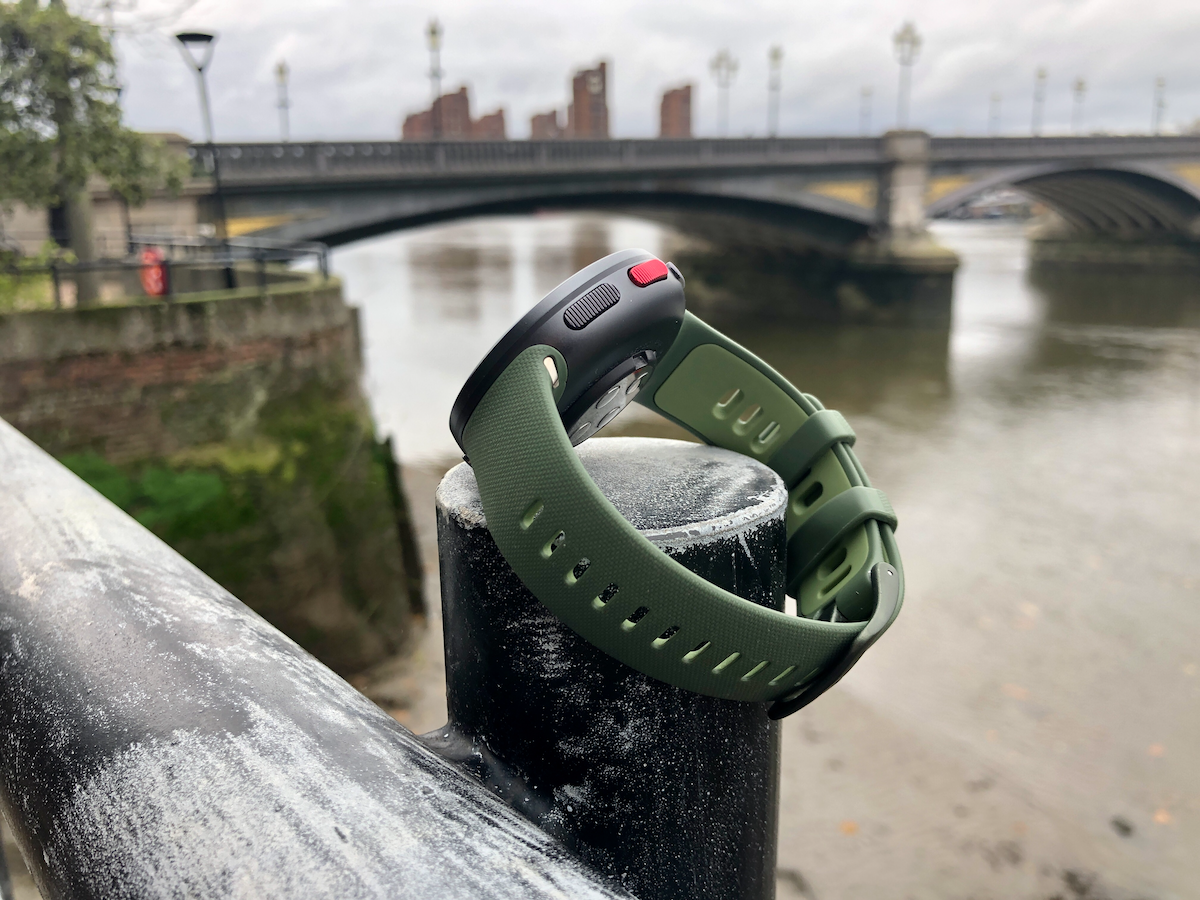 Like your sports watches big, bold and bulky? Polar's Vantage V2 might be too subtle to suit your overstated style: ditching the chunky lugs and cumbersome buttons so often seen on outdoor wearables, the V2 favours refinement over rugged looks.
Though its face is fairly sizeable at 47mm, the combination of a slim border and a thick but well-disguised black bezel helps the Vantage V2 fly under the radar. And that theme continues with the satisfyingly curved case, the back of which is crafted from a single piece of aerospace aluminium that simply screams premium.
There is a tiny amount of play in the textured metal buttons around the edge of the shell, but they're so neatly integrated that you're unlikely to notice during everyday wear.
And while it's lightweight at 52g, don't let the Polar's polished curves fool you: the Vantage V2 can still go the distance. Fronted by laminated Gorilla Glass with an anti-fingerprint coating, it's waterproof to 100m and can operate at any temperature between -10ºC and 50ºC – even if you can't.
Screen and interface: push the buttons
Those tactile buttons are appealing to poke, too, thanks to haptic feedback and responsive software. Which is lucky, because swiping around on the touchscreen is a significantly less satisfying experience. Whether switching between data readouts or navigating the simple menu, finger inputs tend to result in laggy reactions.
Stick to the buttons and you should find the V2's streamlined interface is appealingly accessible. Customisation is limited to six colour-changeable faces, but the benefit of this pared-back approach is that stats, sports and settings are easy to see and engage with. A new weekly training summary widget compliments the already extensive array of screens to scroll through, each featuring instant info and additional data available on tap.
The screen itself is a 1.2-inch affair, with a 240 x 240 pixel resolution. It's neither the sharpest nor the most vibrant colour display you'll see on a sports watch, but it's big and clear enough to be easily readable on the run. And an ambient light sensor boosts black levels so it can be seen in the sun.
Tracking and performance: chase the pace
Mountain biking on Monday, wakeboarding on Wednesday, field hockey on Friday: even if you pursue a different sporting discipline every day of the week, the Polar Vantage V2 has a mode to track it. You'll find 130 activity profiles in the Polar Flow app, up to 20 of which can be loaded onto the V2. Each features metrics specific to the task at hand, such as a stroke counter for swimmers and power zones for cyclists.
Heart rate is the one constant across all activities. The V2 uses eight LEDs to read your beats per minute and it's as good as any optical sensor currently available. Which it means it also suffers from the same shortcomings as most wrist-based monitors: averages are pretty much bang on, but the band needs to be tight for accuracy and you will experience spikes, especially during workouts of varying intensity.
Outdoor pursuits can of course be tracked with GPS. Able to play nice with several systems up in space, the Vantage V2 is generally quick to find a satellite and accurate at recording your route and distance. Pacing can be somewhat problematic during exercise, with a delay between switching gears and getting an adjusted readout. That's not ideal if intervals are your bread and butter, but overall the result will usually average out correctly when you end the session.
Support and fitness features: recovery mode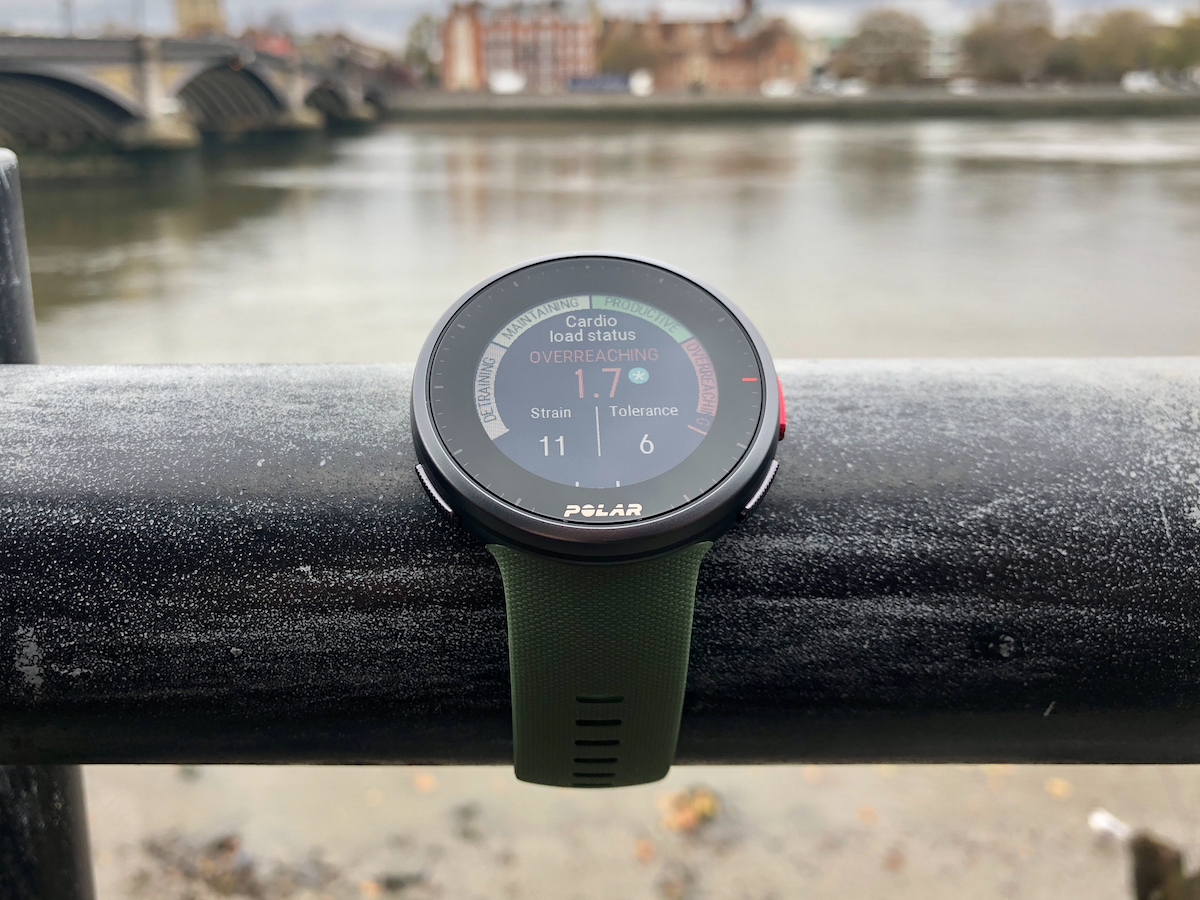 And when you do, you'll find the Polar has plenty to feed back about your status. Sync it with the Polar Flow app – one of the best partner apps around – and you'll find no shortage of stats, trends and graphs to digest. But it's on rest days that the watch itself comes into its own.
Most people know how exhausted their pins are without performing a leg recovery test. But that's just one of several assessments the V2 can assist with, no accessories necessary. You can also attempt cycling and running performance tests, as well as an orthostatic test based on heart rate variability.
The results of the latter feed into Recovery Pro, one of several useful tools which tell you whether you're overreaching or ready to go again. There's also Nightly Recharge, which measures how well your body is rebuilding overnight, and Training Load Pro, which details your current strain and tolerance thresholds.
As a package, these features provide meaningful insight into the impact that your exercise schedule is having on your body, helping you to adjust as necessary to reduce the risk of injury. And the V2 will even coach you through recovery, with customised FitSpark workout recommendations.
Training tools: eat, sleep, play, repeat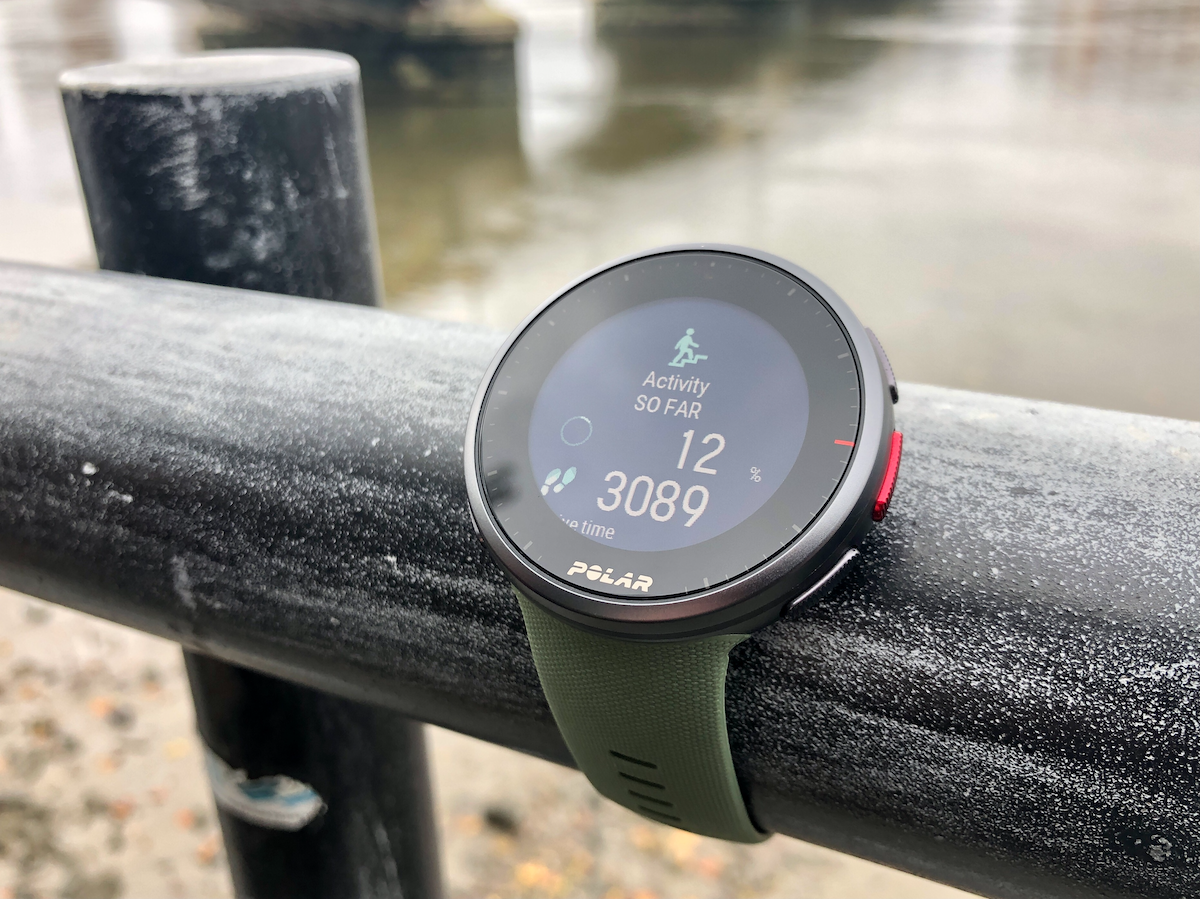 Ready to get back out there? The Vantage V2 isn't short on training aids. Like the Grit X before it, Polar's latest multi-sport watch also features the FuelWise assistant, which offers fuelling advice for optimal energy intake during an endurance session. Gobble a bar at the right time and it might just mean you steer clear of the dreaded wall.
Komoot route guidance will likewise be familiar to anyone who's tried the Grit X. Connected through your Polar account, it lets you add custom paths to the Vantage V2, which you can follow during an exercise. Map your favourite cycling loop, for example, and you'll get a handy line to follow from the saddle. There's no detailed terrain data or full offline maps, but it is a handy way to stay on course.
Also returning is the Hill Splitter function, which theoretically detects ascents and descents on the run. Only, it hasn't really been fixed since the Grit X. It still manages to miss significant chunks of elevation change. So if you're a sucker for uphill punishment, the V2 isn't guaranteed to notice.
More broadly, the Vantage V2 tracks your progress towards daily activity goals, logs your pulse 24/7 and supports Strava Live segments. And while it's not as smart as the Garmin Fenix 6 Pro – no apps or mobile payments here – the V2 does benefit from wireless music controls, which allow you to remotely skip, pause and change the volume on a connected smartphone.
Battery life and charging: turn down for more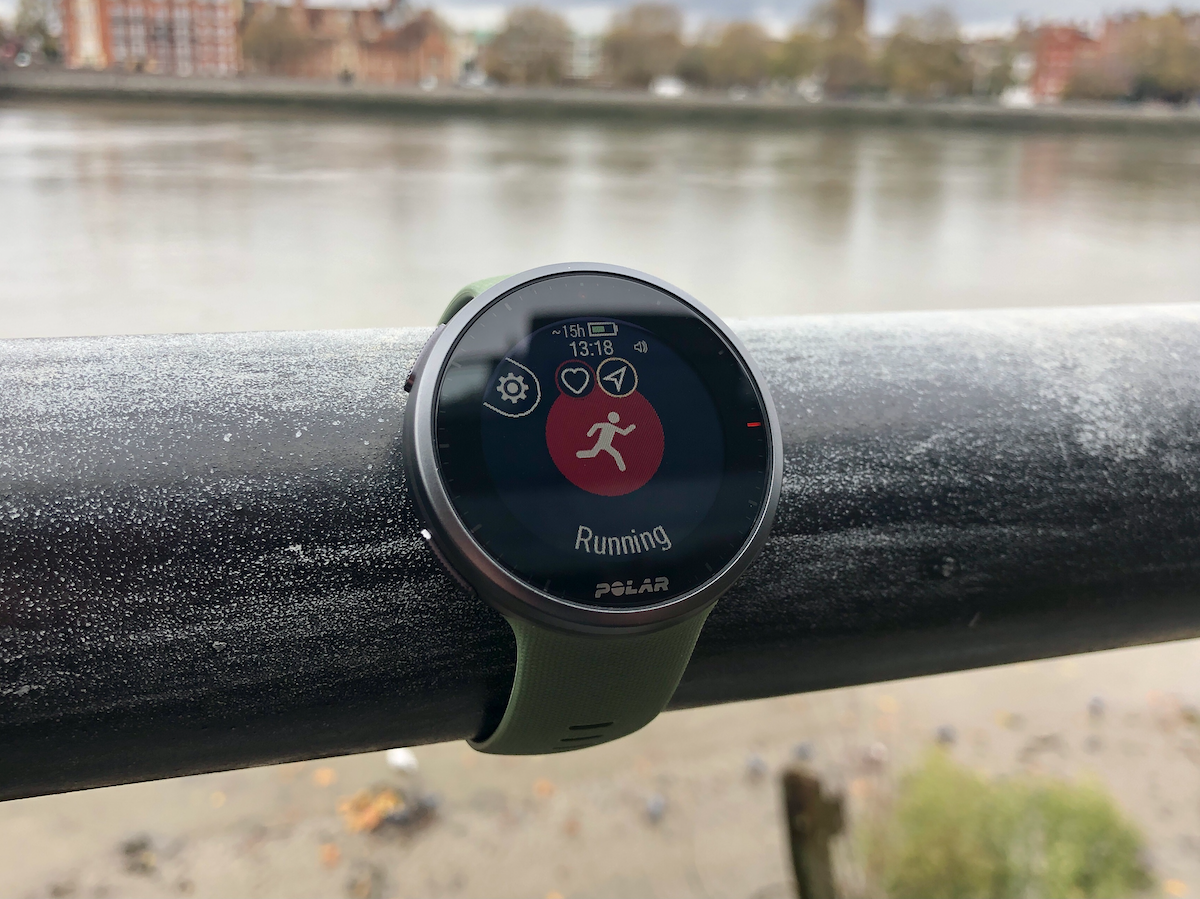 There's nothing worse than a hypocritical coach, which is why it's good that the Vantage V2 can also go the distance. Fully charged, its cell will easily see you through five days of mixed usage. That's a handful of runs, a few indoor workouts and constant heart-rate readings. Dial back the tracking and it's perfectly possible to achieve the claimed maximum of seven days.
And while the stated 40-hour battery life is a little optimistic when its comes to full GPS tracking, the V2 still fares well when logging a route. Average drain is 3-4% per hour with everything enabled. Play around with the power saving settings (reducing the frequency of GPS updates, for example) and you'll be able to increase efficiency, albeit at the expense of accuracy.
Pre-workout, the Polar will also provide a prediction of the battery time remaining, which bears out as pretty much spot on in practice. Need longer? Tinker with the settings to stretch out the estimate.
Juicing the V2 means attaching it to the same dinky magnetic disc used by the Grit X, the Ignite and previous Vantage devices. It's neat, fits on securely and continues the weird wearable trend of inexplicably short cables.
Polar Vantage V2 verdict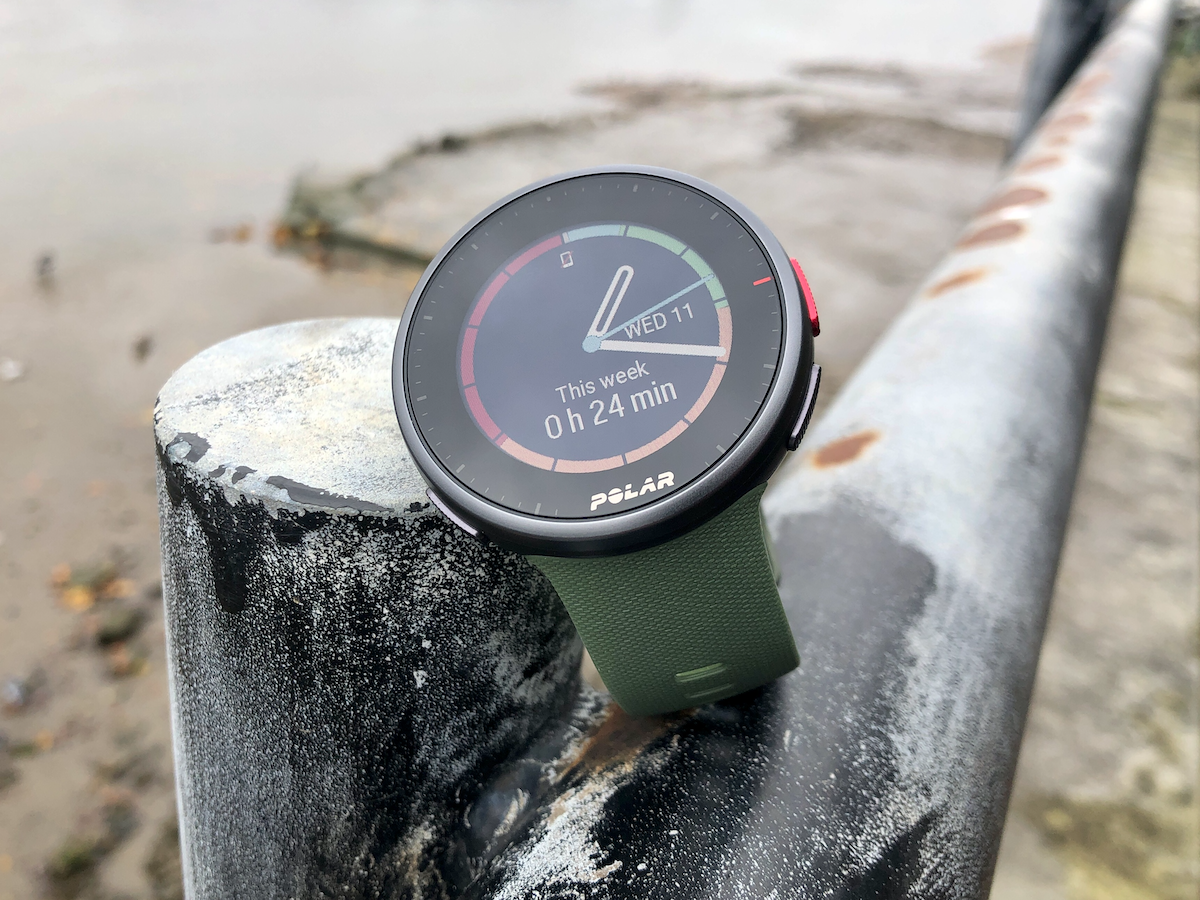 So you want a watch that'll track you through your workouts then back you through your recovery? With a full suite of fitness and feedback features, the Vantage V2 might be just the multi-sport wearable you need.
There's not much to customise and it won't worry your smartwatch – which is sort of the point. The Vantage V2 is a training tool through and through. If you can look past the laggy touchscreen and the absence of apps, it's one of the most feature-packed fitness aids around, with all manner of modes to support you before, during and after exercise.
It's also an alluring addition to any workout outfit, with a seamless aluminium shell that subtly stands out from the outdoor crowd. Add connected music controls and useful power saving settings – plus the fact that it's significantly cheaper than several close competitors – and the Polar Vantage V2 proves an appealing package.
Stuff Says…
A multi-sport watch that's got your back – and a good-looking body to boot
Good Stuff
Alluring aluminium shell
Extensive recovery feedback
Connected music controls
Bad Stuff
Stuttering touchscreen
Not much to customise
No apps or offline playlists