Porsche Design Huawei Mate 9 review
The best phone you probably shouldn't buy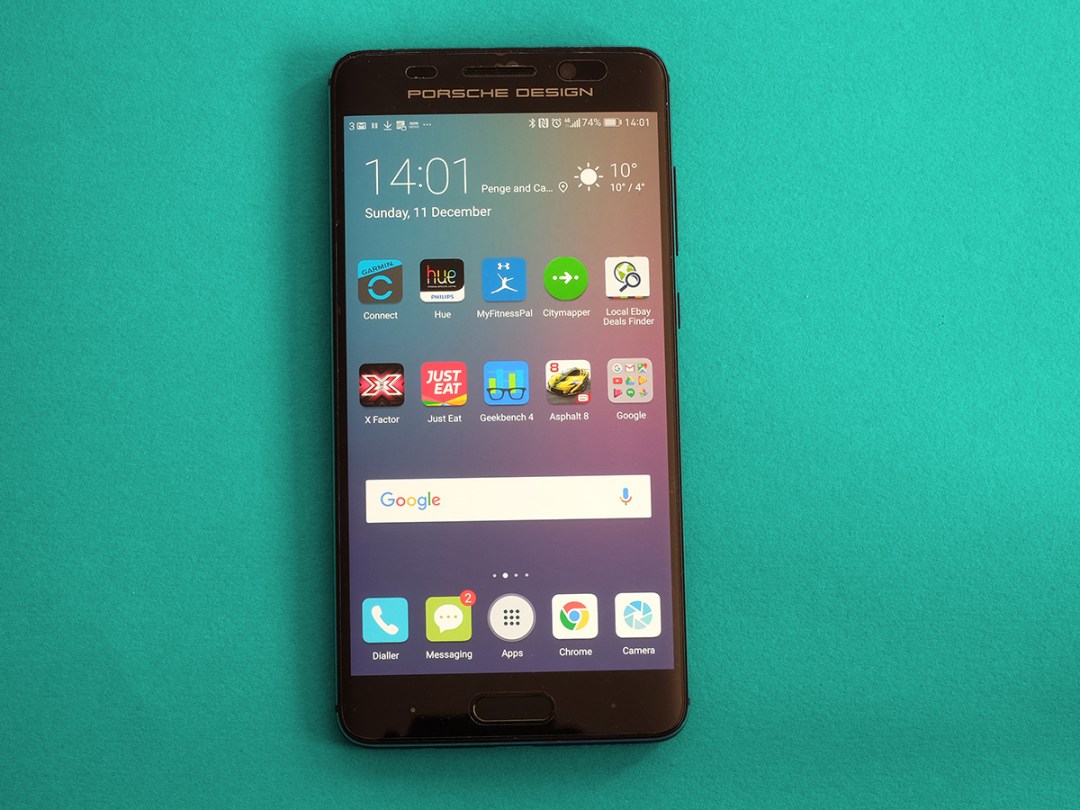 Slap a fancy name on something and you can charge a lot more for it. Unwrap a 49p bar of Dairy Milk, knock up a Fortnum & Mason wrapper in Photoshop and – bam – you're raking in the big bucks.
The Porsche Design Huawei Mate 9 is crazy expensive, especially when you can get it without the Porsche name for less than half the price in the shape of the Huawei Mate 9 Pro.
Sure, you'd have to head over to China to actually buy one, as it's not on sale in the UK, but you could actually afford the air fare with the difference between the two phones.
This posh Porsche costs €1395, or just under £1200 at December 2016 exchange rates. You'd have to be mad to buy this phone when the Samsung Galaxy S7 Edge costs almost £600 less.
But that doesn't mean this is a bad phone. Anything but.
Not just another Mate
Ignore the name – this isn't just a regular Mate 9 with the Porsche Design name engraved into it. The two are completely different.
The Porsche Design Mate 9 is a much smaller phone, with a 5.5in screen instead of a 5.9in one. It's got curves in all the right places, too – namely the edges of the screen. And moving the fingerprint sensor to the front leaves it with a lot more in common with the Galaxy S7 Edge than the Mate 9. Yep, we went there.
It really has a look of its own, though. The back is a dark, near-black hue of blue, carved from one sheet of brushed aluminium. You can't miss that great big Porsche Design logo on the front, either. You've paid for it, so it might as well be loud and clear.
The Porsche Design Mate 9 is very skinny at 7.5mm thick, even if the design award still goes to the Samsung Galaxy S7 Edge, as it's about 2.5mm narrower. This is still one of the most striking phones around, mind.
There are extras aplenty too. There's a factory-applied screen protector to keep the super-hard Gorilla Glass 4 looking perfect for even longer, there's a now super-rare IR blaster, which lets the phone work as a universal remote, and a great fingerprint scanner.
It sits around the front, a departure from Huawei's standard rear scanners, but works just like a classic Huawei model. There's no button, you just put a finger on the recessed pad and it does the rest. It's lightning-fast, too.
The one thing missing is water resistance. Neither Mate 9 is. Bummer, right?
OLED punch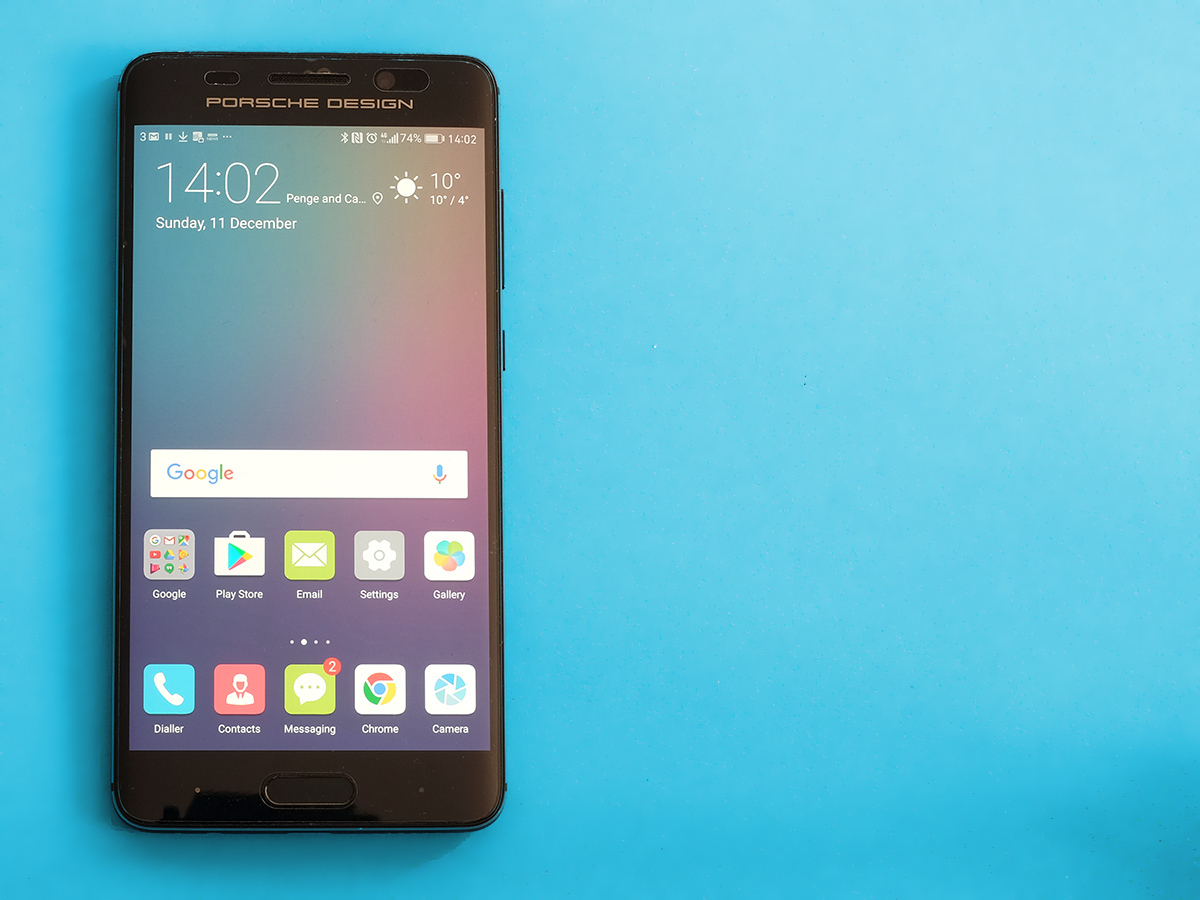 The Porsche might have a smaller screen than the regular Mate 9, but it still manages to pack in more pixels. The 5.5in, 2560×1440 OLED is as good a spec as you'll find in any of 2016's best phones.
Colours are punchy, contrast is perfect thanks to those pitch-black OLED pixels and, compared to the Sasmung Galaxy S7 Edge, the display barely curves at the edges at all. Whether that's a pro or con is up to you: a lot of people find the Samsung's shapely curves distracting.
You can fiddle with the colour temperature to get a perfect personal preference, just like most of Huawei's phones, and there's a night reading mode that turns white hues as yellowy as an old paperback's pages.
Samsung's best give you even more customisation, but the Porsche Design Mate 9 is a close match in quality terms – not least because it almost certainly uses a Samsung screen.
Huawei eats humble pie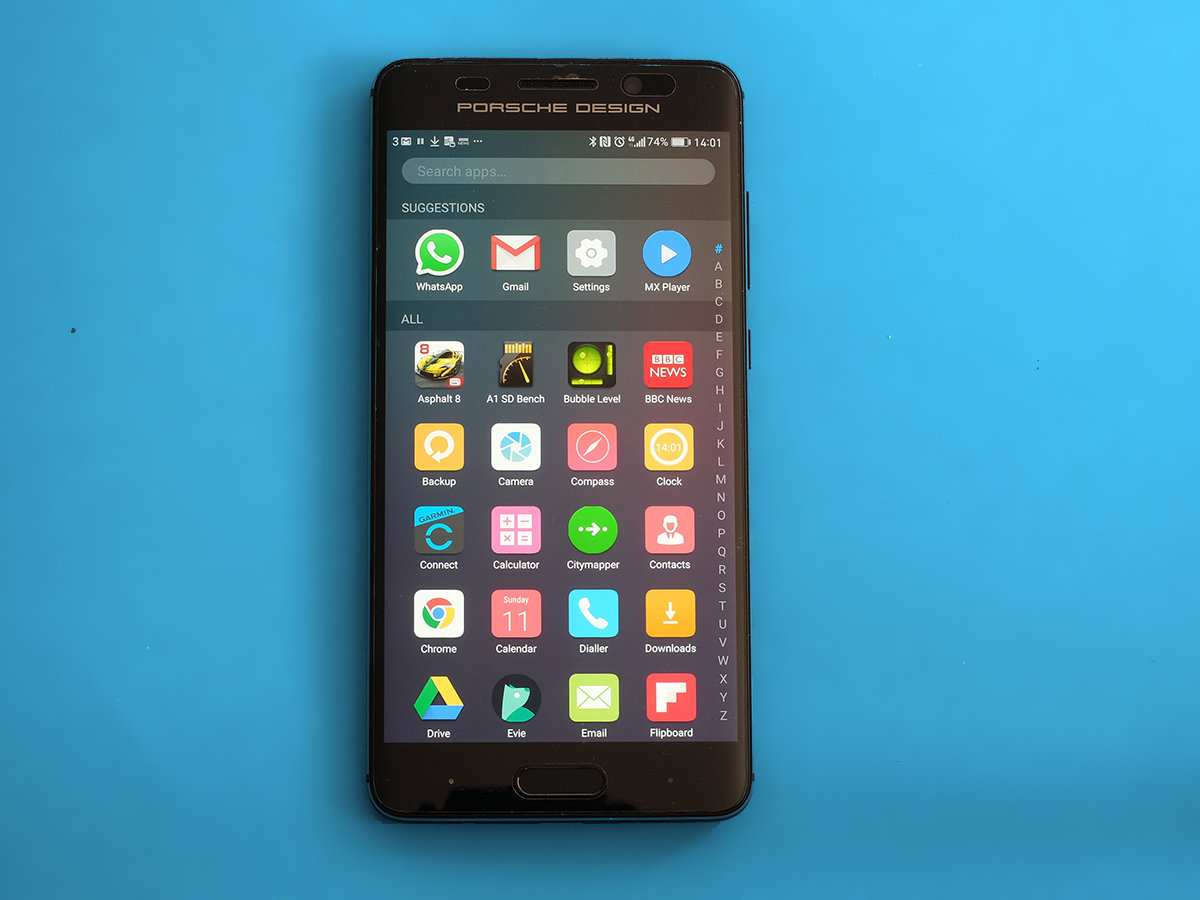 The software, though? That's all Huawei. The Porsche Design Mate 9 uses Huawei's EmotionUI interface, running on top of Android 7.0.
For years, critics have complained that Huawei fiddles with Android too much: zapping the apps menu, overly aggressive power management, endless popups. Now, there's finally the option to make EmotionUI feel more like normal Android.
A quick flick of a switch in the Settings menu now restores the apps drawer. It doesn't look exactly like the Android one – more like the apps menu of nerd's choice CyanogenMod. Still, it marks a big swallowing of Huawei pride.
There are other quirks, of course. Fresh out of the box, the Porsche Mate 9 has a pretty ugly set of icons. They're meant to look classy and luxurious, but it's the phone equivalent of covering a Porsche's leather dashboard with tin foil.
You can fix this easily, though. A Themes app lets you reskin the software, replacing wallpapers, icons and even the style of the lock screen. There are dozens to download. Plenty are ugly, but there are some more neutral gems in there too.
A few tweaks and the Porsche Mate 9 should suit most tastes, but anyone complaining that Huawei has ruined Android just hasn't looked deep enough into how much control you have here. It's far more flexible than a pure Android phone.
Performance is also flat-out fantastic. We haven't noticed any weird bugs, no annoying slow-down, and it's easily one of the fastest Android phones in the world right now. Sure, that'll all change in a couple of months, but why not let Huawei bask in glory for 10 minutes?
2017 power on tap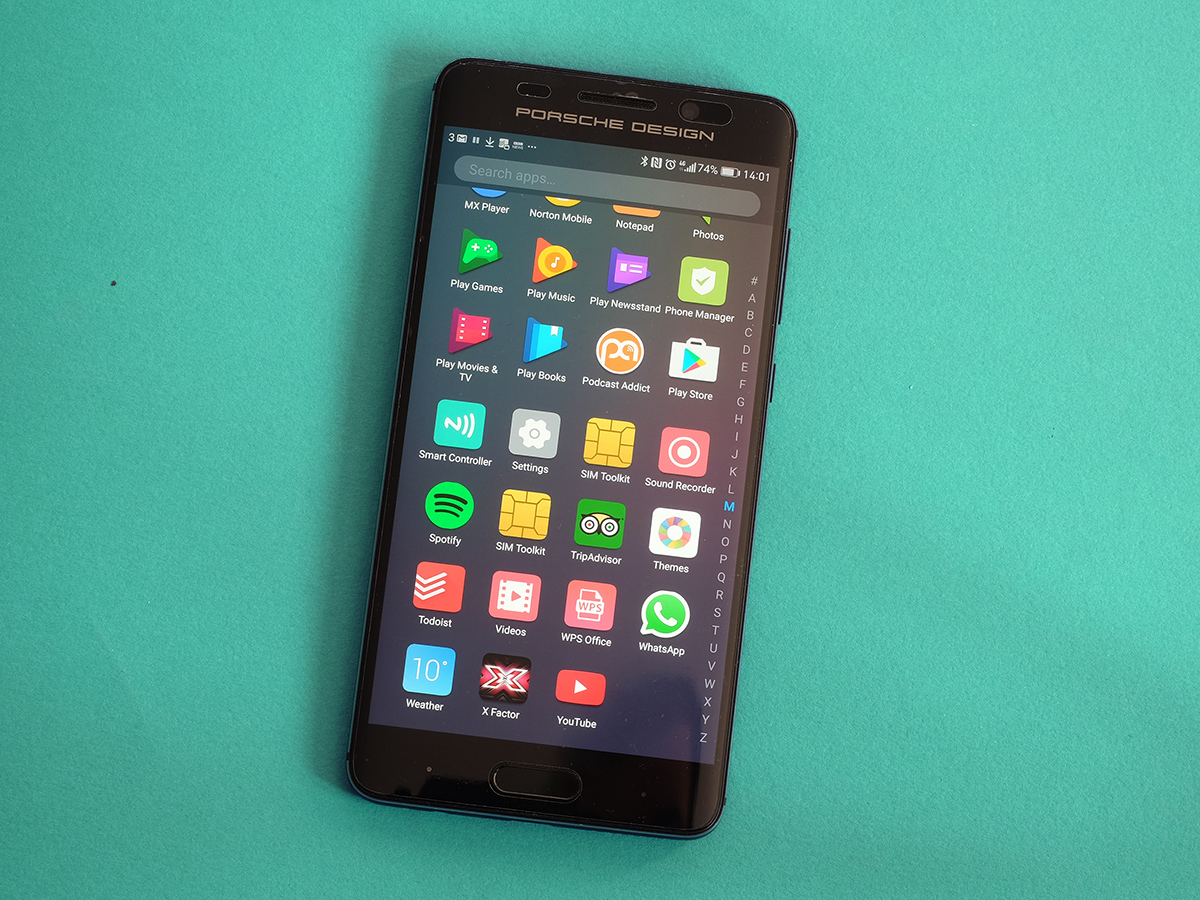 The Huawei-made Kirin 960 processor inside the Porsche Mate 9 is an eight-core beast, with four super-fast Cortex-A73 cores and four everyday Cortex A-53s. You see the latter type in most mid-range phones.
In Geekbench 4, it scores a rapid 5985 points, outpacing the 5200-ish points of the Samsung Galaxy S7 Edge.
Gaming performance is flat-out brilliant too, thanks to the Mali-G71 MP8 GPU. It's not quite as snappy as the iPhone 7's A10, but it does beat almost all other Androids, as of December 2016 anyway.
The hardcore mobile gamers out there will instantly notice the difference between this and a mid-range phone. It loads games faster, and there are fewer little frame drops in frenetic titles like Asphalt 8. Is it worth the extra £900? Of course not – but this is still a terrific gaming phone.
It also has surprise stereo speakers. There's a main driver at the bottom that flings out the most sound, but the earpiece speaker also provides trebly backup. This gets you the impression of a proper stereo setup, without taking over the front of the phone.
These speakers are loud, to the extent you'll probably only want to use about 40 per cent volume most of the time to avoid sawing your ears off. There's not as much bulk to the sound as you'd get on an iPhone or Samsung Galaxy S7 Edge, though, so it can't really shout down anything too noisy, like the sound of a kettle or an annoying housemate. So just like the Mate 9's speakers, really.
The colossal 256GB of built-in storage goes a long way to explain the astronomical price. It's also the fastest storage we've seen in a phone to date, with 661MB/s read speeds reading more like those of a PC SSD than phone storage.
The compact camera killer?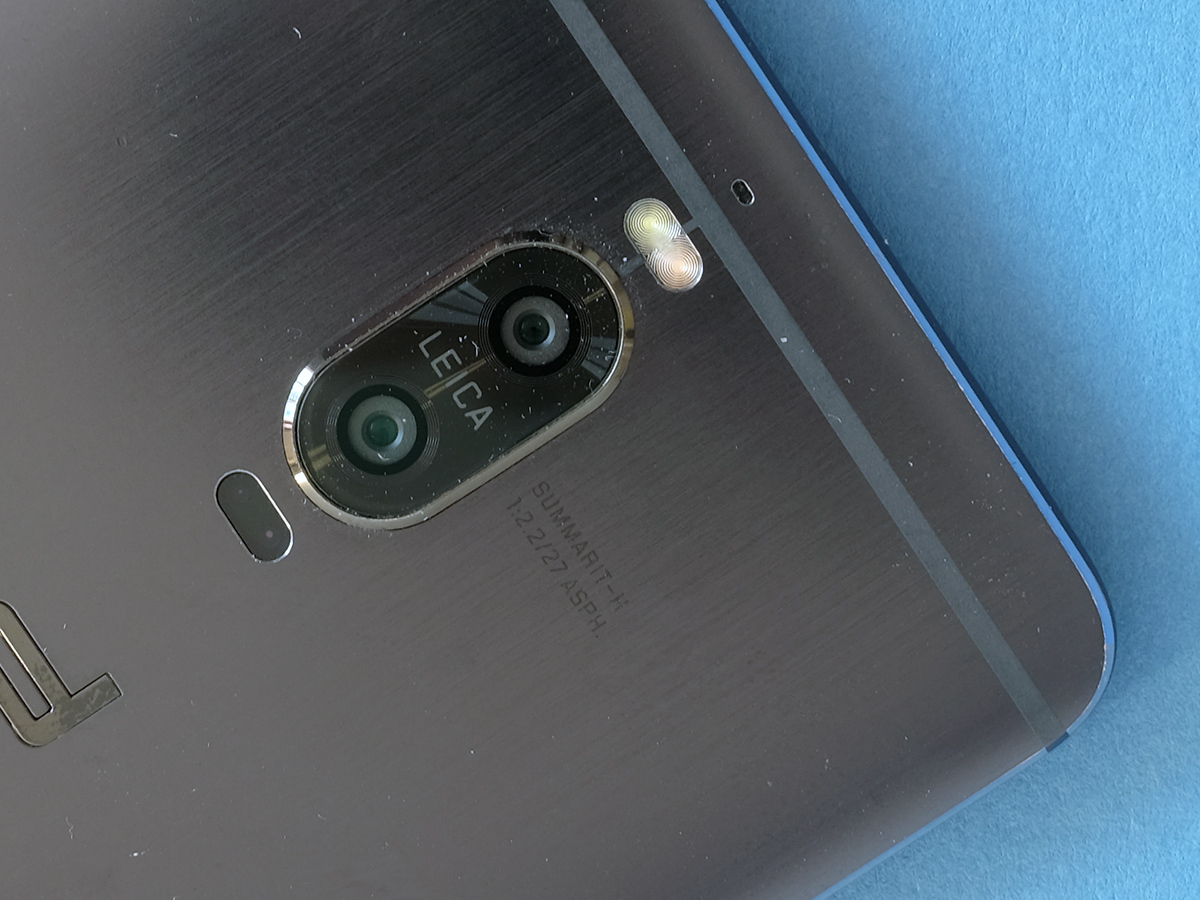 The Porsche's camera setup seems just like the Mate 9's, too. You get a 12-megapixel colour sensor, paired with a secondary 20MP black-and-white one.
Just like it was on the Mate 9, it's an incredibly versatile setup, but Huawei seems to have made some improvements to the processing since we reviewed that phone. There's less noise at times and the Porsche Mate 9 seems to try that bit harder to keep its sensitivity levels down. When high sensitivity is what increases image noise, that's high-five worthy.
The Porsche shares a special move with the iPhone 7 Plus, too. The 20MP sensor lets you take 2x zoom photos, without seeing the detail evaporate completely. Whatever kind of photo you take, the two sensors work as a team, meaning the optical stabilisation you get when shooting at 1x doesn't disappear at x2 like it does with an iPhone.
We've not been bowled over by Huawei's dual sensor setups in the past, but this one really works. Shoot at 2x and text that's an illegible mush when you put a finger over the second camera is pretty clear when you're not deliberately sabotaging the sensor to prove a point.
This is a phone you could use to replace a compact camera. Not a Sony RX100, but certainly a cheap one. You can dig deep into all the modes and controls to really suck that extra 100ml of photo juice out of the thing too. For example, there are three colour modes — normal, vivid and smooth — and the vivid one can be useful for making shots with indoor lighting that bit more contrasty.
For those who really know their way around a camera, there's a full manual mode that lets you fiddle with the shutter speed, ISO and so on independently too.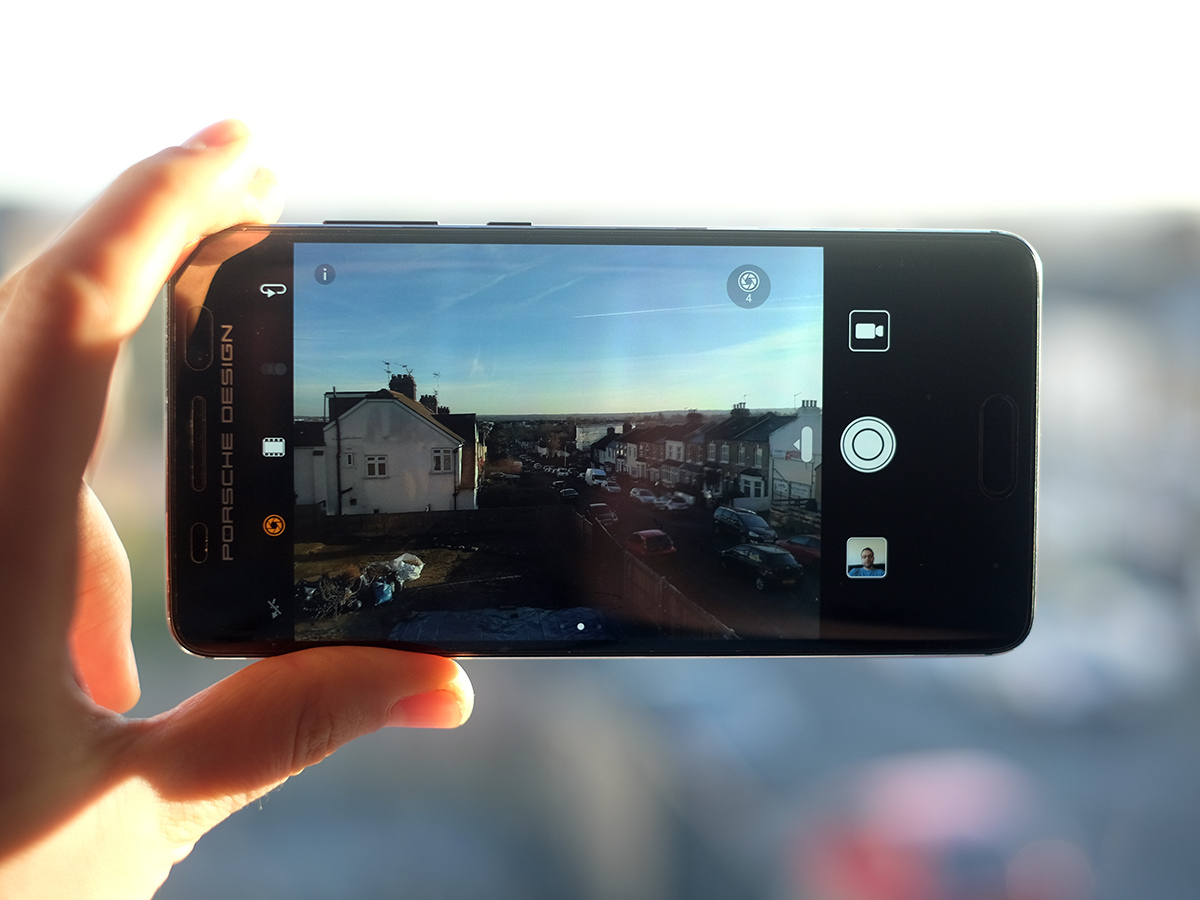 If anything, there's a bit too much going on. You could easily use the Porsche Mate 9 without even realising there's a massive mode selection just a right swipe away. It's not the most accessible app, but shooting without thinking too much works well anyway.
The other side of the dual camera smarts is the shallow depth of field mode. It blurs out the background or foreground for a dramatic look that mimics a wide aperture DSLR lens. As with any mode like this, complex scenes can look a bit wonky, but it certainly rivals the iPhone 7 Plus's Portrait mode.
There are even bloomy highlights just like you'd get with the real thing. It's not just a dumb blur filter. Unlike the iPhone version, you can also choose the virtual aperture as you shoot too — the wider the aperture, the blurrier the effect. It's great for Instagram-bait portraits.
The selfie camera is strong too – far better than a lot of 8MP models. Pics are packed with detail and the Porsche Mate 9 can render realistic-looking skin tones better than most.
The competition between phone cameras is unbelievable these days, especially when almost all the top phones use Sony sensors, but the Porsche Mate 9 is among the best. Now we just need to get 16-megapixel sensors with the same quality as phones like this and the Galaxy S7 Edge. Roll on 2017.
A battery that takes battering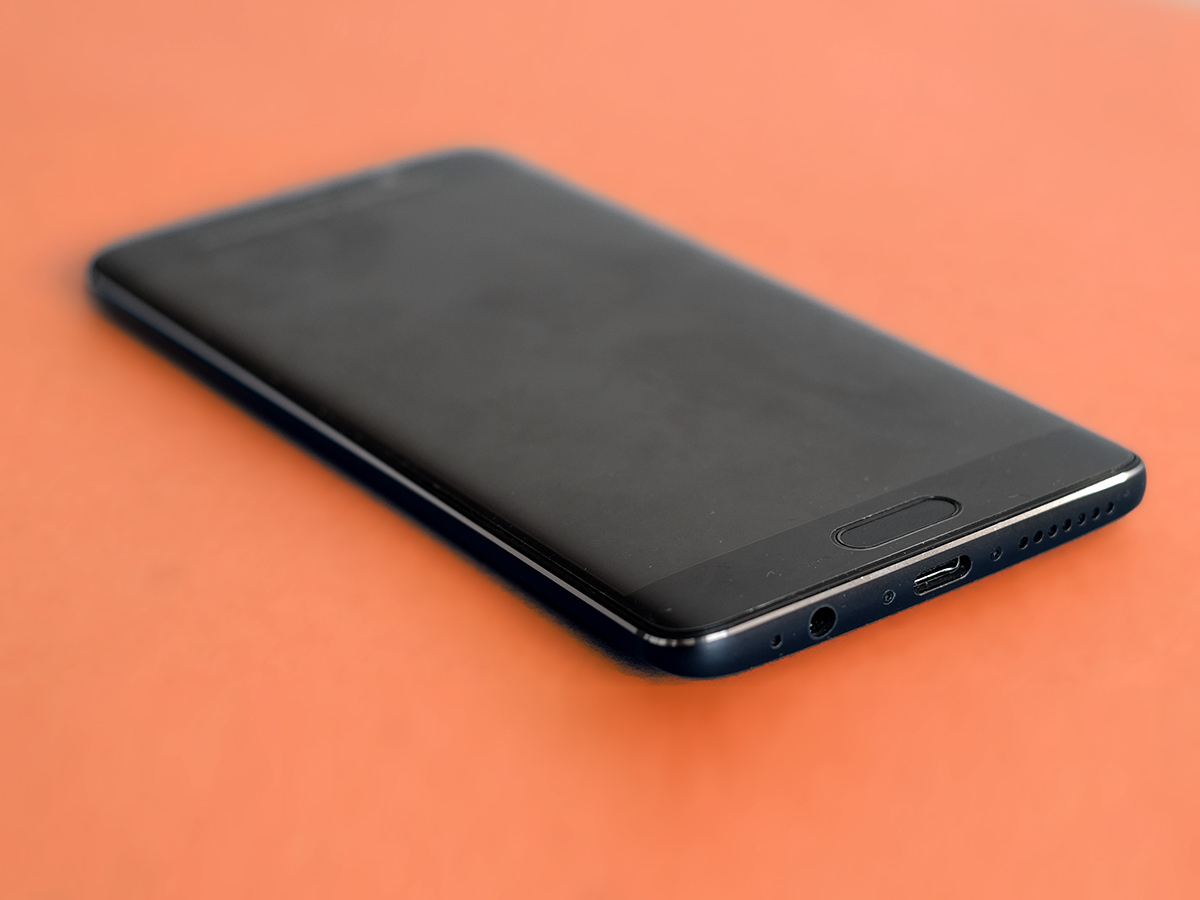 One area where Huawei has tried to outgun everyone else is the battery. The Porsche Mate 9 has a massive 4000mAh unit – pretty impressive for a phone this slim.
We weren't hugely impressed by the Mate 9's stamina, even though it has a similarly-specced battery. This time around, we've had slightly better results – even if the Porsche Mate 9 still won't outlast an iPhone 7 Plus or Galaxy S7 Edge.
You can quite easily get to bedtime with 40 per cent charge left, without also having to recharge mid-day just to keep the phone alive.
An hour of video playback takes just seven per cent off the battery, so it'll last for up to 14 hours of Netflix binging off a full charge.
Porsche Design Huawei Mate 9 Verdict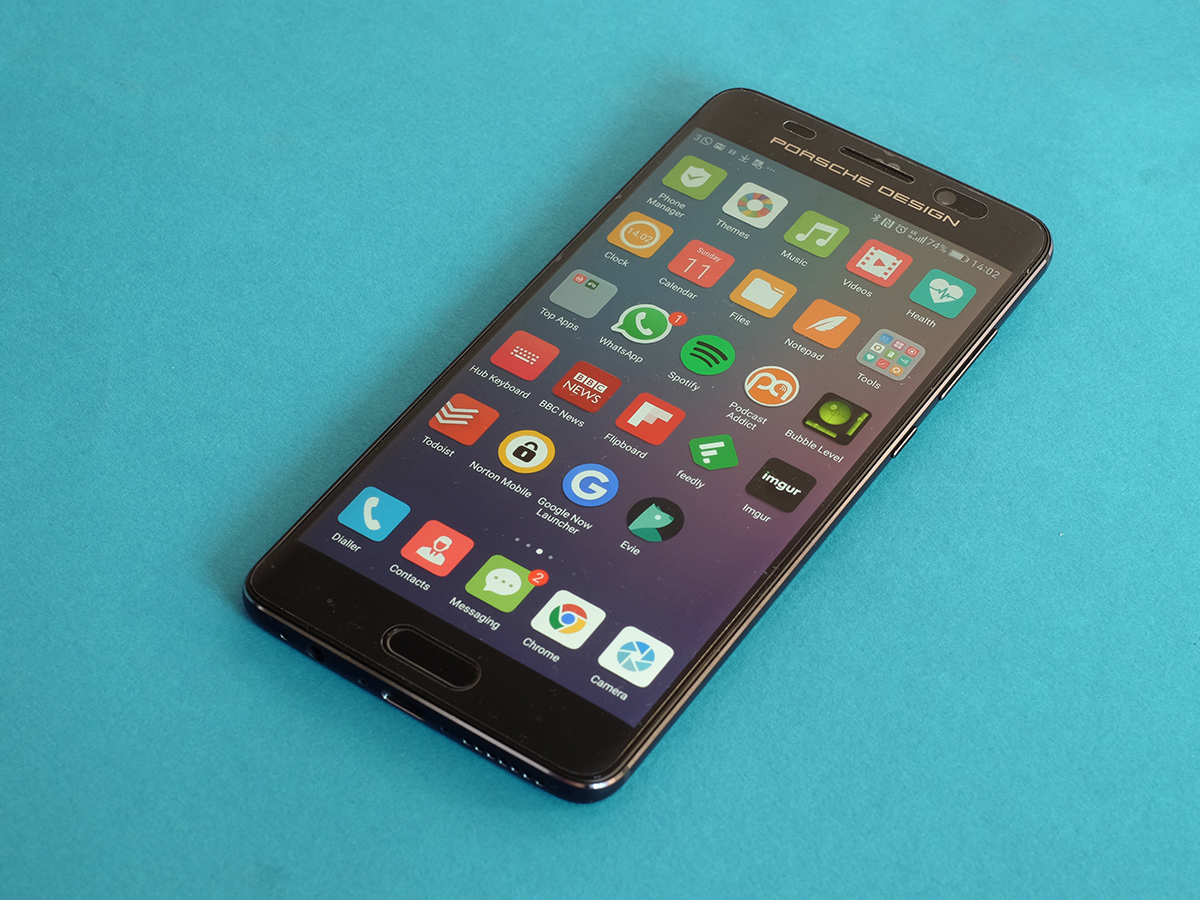 The Porsche Design Mate 9 is a great phone selling at an insane price. It's got a gorgeous design, sure, but is it really that much better than the alternatives at half the price or less? Not really.
Put it next to the Samsung Galaxy S7 and OnePlus 3T and it fits in, but doesn't make them look like cheap trash. If anything, the prominent Porsche Design logo actually downgrades the look of the phone.
You don't get the instantly-recognisable car marque either, as Porsche Design is a separate design house that draws up things like watches, headphones and trainers.
Its products usually look great, and this custom Mate 9 is no exception, but should you pay £600 extra for it? We're not so sure. Most normal people would be mad to buy one of these.
At the same time, though, it's one of the best 'luxury' phones ever made.
Tech specs
| | |
| --- | --- |
| SCREEN | |
| CPU | |
| MEMORY | |
| CAMERAS | |
| STORAGE | |
| OPERATING SYSTEM | |
| BATTERY | |
| DIMENSIONS | |
Stuff Says…
A true rival for the best phones around. As long as you don't look at the price.
Good Stuff
Fancy design
Great cameras
Mammoth 256GB storage
Loads of power
Bad Stuff
Insane price
Not water resistant