Razer Blade 15 Advanced (2019) review
The latest Razer Blade laptop is unsurprisingly stunning – but can it match style with substance?
Razer has spent the past few years carving itself a niche by carving gaming machines from slabs of aluminium – and the latest version of the Blade 15 is no different.
It's a stunning machine, as ever, with a minimal design that's more reminiscent of a MacBook than of many of its gaming rivals.
On the inside, new internals from Nvidia promise more power and features – but the price for this new silicon and sleek design is a little higher than other machines with comparable internals.
Design & Build: Razer's Edge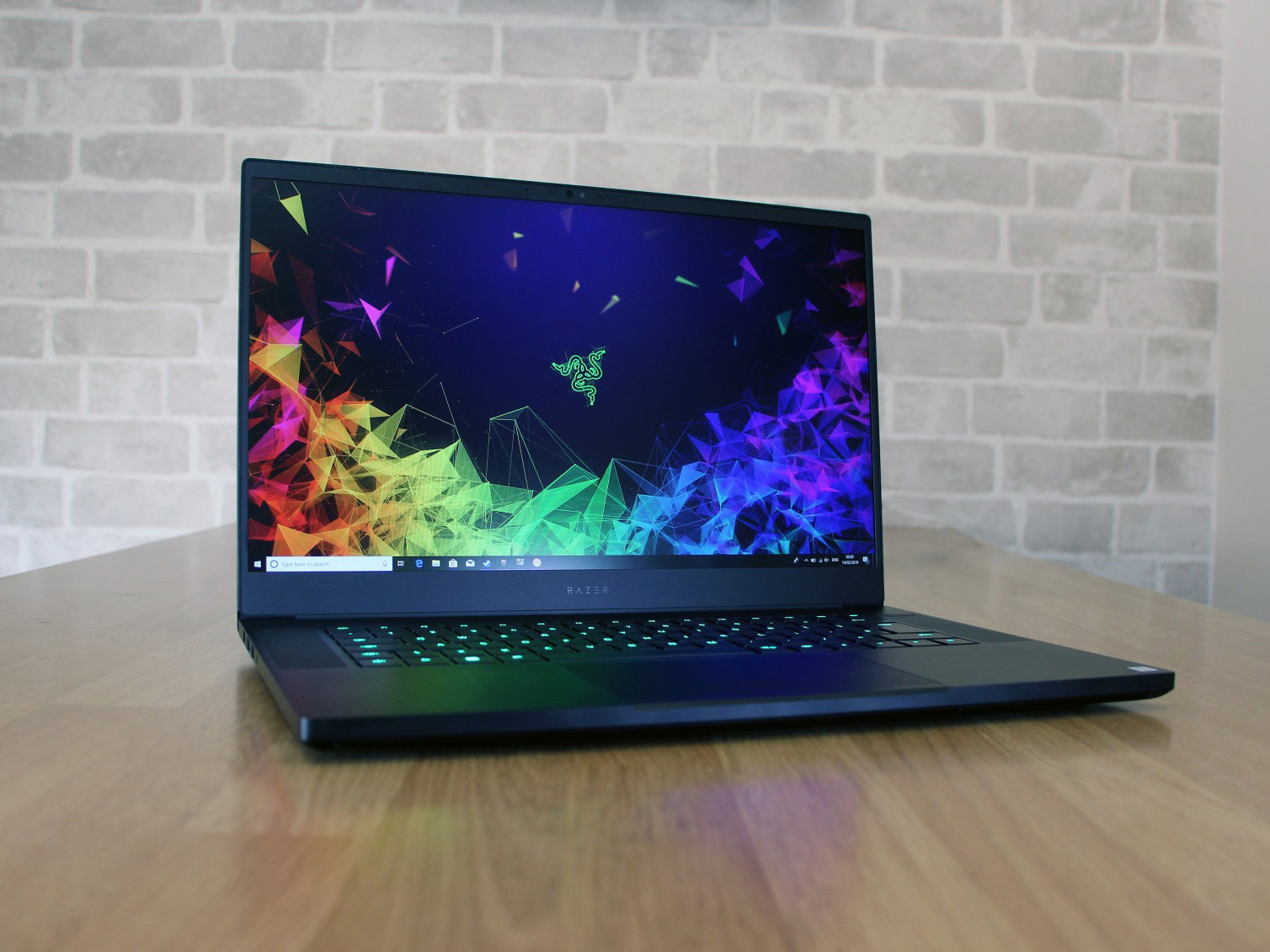 There's no denying the Blade's design. It's stunning, the black aluminium finished with a subtle sandblast effect. The Blade's borders display sleek lines and clean angles, while the dark finish is only disturbed by the keyboard's RGB LEDs and the lid's Razer logo. It's certainly subtler than the Alienware M15, which is its key rival in the gaming notebook market.
The Blade is 18mm thick and weighs 2.1kg. Those figures are both a tiny bit higher than last year's Blade, but you likely won't notice the difference. They still compare well to the Alienware, too, which is a little larger.
The 15.6in screen is crammed into a 14in chassis, which means you get tiny bezels around the panel. Build quality is also excellent, with no give in the body and hardly any flex in the screen.
In short, this is a good-looking laptop that's very easy to carry around, with the strength to survive life on the road.
It's hardly surprising that the Blade looks the part, but it is missing some practical features. There's no card reader, for instance, and no Gigabit Ethernet port on the machine or in the form of an adapter.
You do at least get three USB 3.1 ports and a Type-C connector, and both HDMI and mini-DisplayPort outputs.
The Alienware goes one better, with a Gigabit Ethernet port included alongside the same ports as the Razer.
Screen & Sound: Bright but Breezy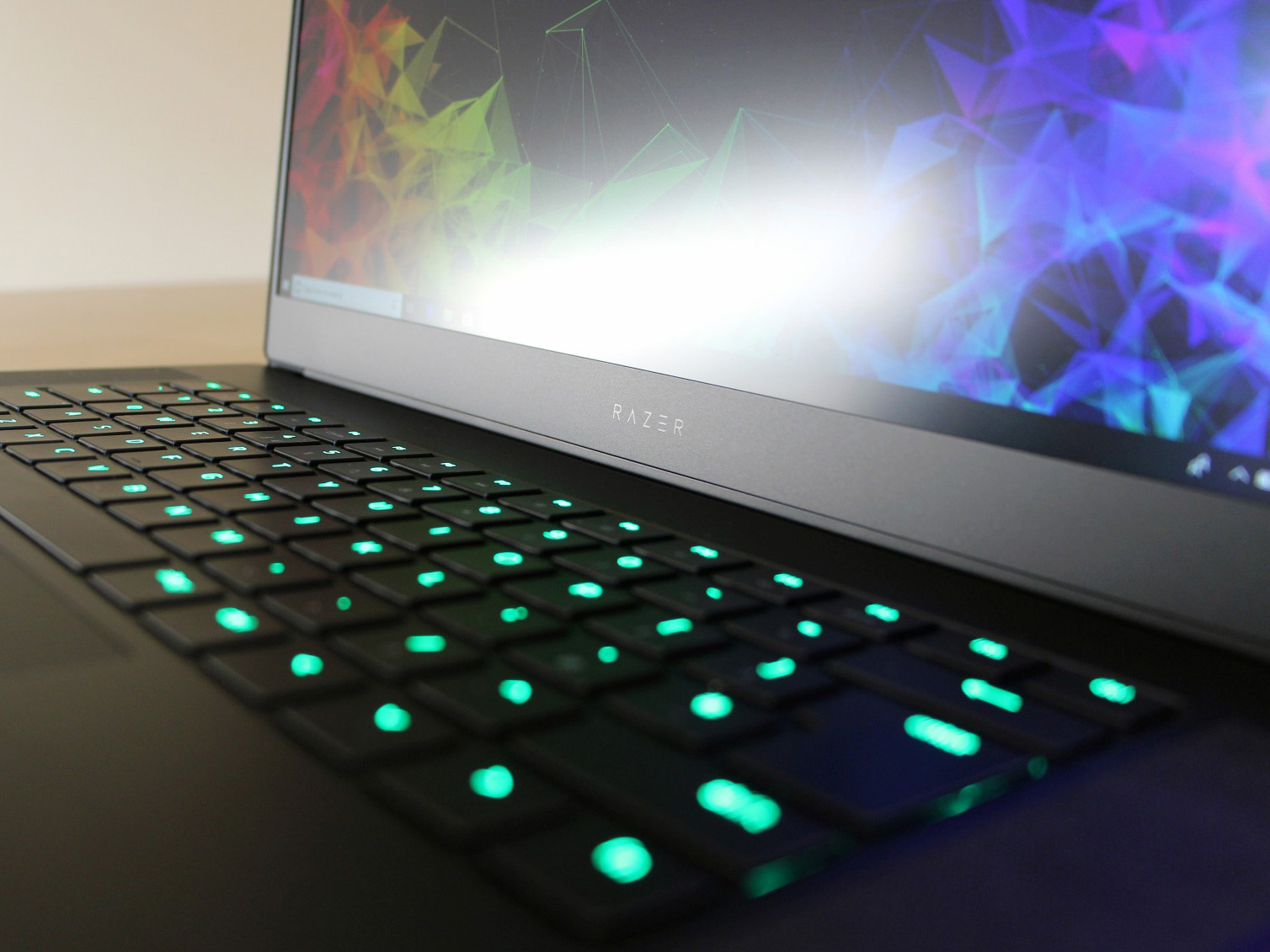 This version of the Razer has a 1080p screen with a 144Hz refresh rate – but without Nvidia G-Sync.
Its absence is disappointing. It's not included because Razer has opted to use Nvidia Optimus instead, which is a power-saving technology. No G-Sync's means you can't get the supreme smoothness that comes from matching the graphics chip's output to the screen's refresh rate.
The 144Hz refresh rate still ensures smooth gaming, provided you're running those games at framerates beyond 100fps. However, G-Sync would have made it even smoother. The Razer isn't the only machine like this, though – the Alienware also included a 144Hz panel without G-Sync.
Elsewhere, the Blade's panel offers reasonable quality. Its 1080p resolution is high enough gaming, and it has a matte finish – so you won't be troubled by reflections.
The screen's Delta E of 1.7 is excellent, and the colour temperature of 6,798K is solid. Those two figures are easily good enough to ensure that colours will be rendered accurately.
The contrast ratio of 900:1 is a tad low, though, and it's caused by a high black point of 0.36cd/m2. In real-world use, the high brightness level of 324cd/m2 and the solid colour results mean that games and movies look punchy and vivid – a great bill of health.
That said, the middling contrast means that darker areas won't have quite enough depth. That's a minor issue, and it's worth remembering that the Blade's screen will still make games look fantastic. It's also the equal of the Alienware's panel when it comes to quality.
Unsurprisingly, this slim laptop has underwhelming speakers, with decent high-end sounds undermined by weak treble and bass. Use a headset.
Performance: Turning the Screw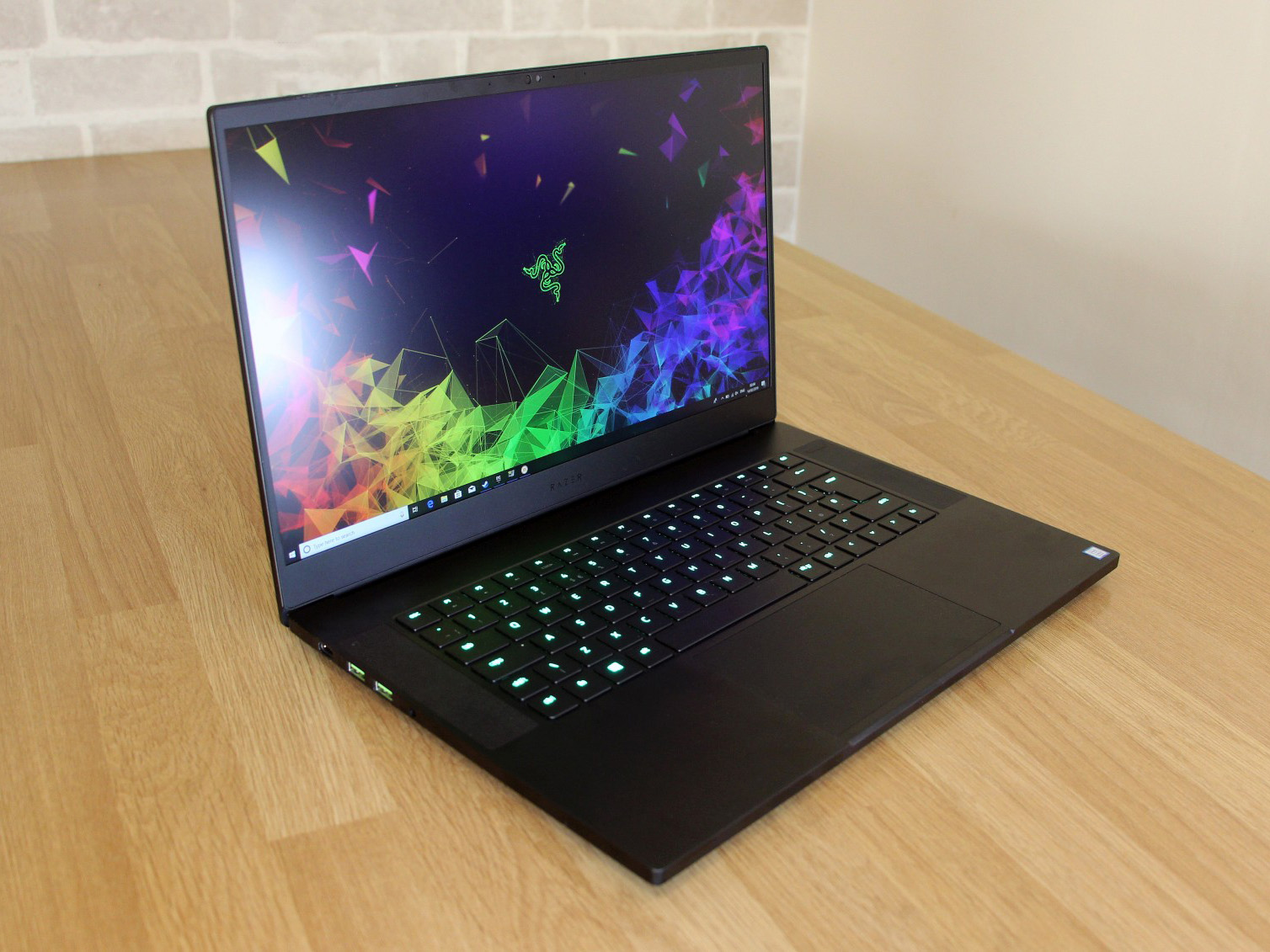 Razer has deployed a new Nvidia GeForce RTX 2070 inside this machine – and it's a Max-Q version with the clock speeds lowered in order to save power.
The Alienware also had Max-Q technology, but its GTX 1070 is a year out of date when compared to the Blade's hardware.
The power available is obvious when playing games. The Razer's RTX 2070 averaged 83fps in Shadow of the Tomb Raider, and it zipped through Ghost Recon Wildlands at 52fps. It even handled Witcher 3 at 87fps.
The gulf between the RTX 2070 and the GTX 1070 is illustrated by theoretical tests. The RTX 2070 Max-Q scored 15,365 in 3D Mark Fire Strike – while the GTX 1070 scored 14,413.
Those scores mean that you can play any top-tier game with its graphics dialled right up. The Razer will handle esports games and VR headsets without breaking a sweat, too.
However, the Blade can't quite do everything. You'll need to run games at beyond 100fps if you want to get the most out of the 144Hz panel, but the toughest games will need their graphics settings toned down in order to achieve those speeds.
The CPU wasn't without issue, either. It's a six-core i7-8750H, just like the Alienware, and it's paired with 16GB of memory and a 512GB SSD.
The processor has the grunt to handle day-to-day tasks – but it was a little slower than other machines with the same silicon. Take its Geekbench single- and multi-core scores of 4,783 points and 16,786 points. They're fine, but it's not unusual to see the Core i7-8750H score beyond 5,000 and 18,000 points.
So, what's gone wrong? It's simple: the chassis can't quite handle the CPU. The Core i7-8750H runs at 2.2GHz and is supposed to have a six-core Turbo peak of 3.9GHz, but during our benchmarks the chip never ran beyond 3.25GHz. It's not a terminal issue, and it's not going to bottleneck games or affect day-to-day use. But it's certainly a little disappointing.
The CPU's throttling issues also highlighted thermal problems. Playing low-level games saw the Blade produce a low rumble – and tougher situations saw the noise become louder.
During these tests the metal around the keyboard become hot, and the underside was almost too hot to touch during intensive gaming sessions.
The Blade and Alienware both produce similar noise levels, and the racket can easily be combated with a headset. Most conventional gaming laptops are far cooler, though, and we expected better from such a stylish and expensive machine.
Don't expect much longevity from this laptop, either. During an application test the Blade lasted for a reasonable five hours, but we barely got to two hours during gaming. That's better than the Alienware and most other gaming laptops, but you're still going to need the mains adapter if you want a solid gaming session away from home.
Keyboard & Touchpad: Far Too Shallow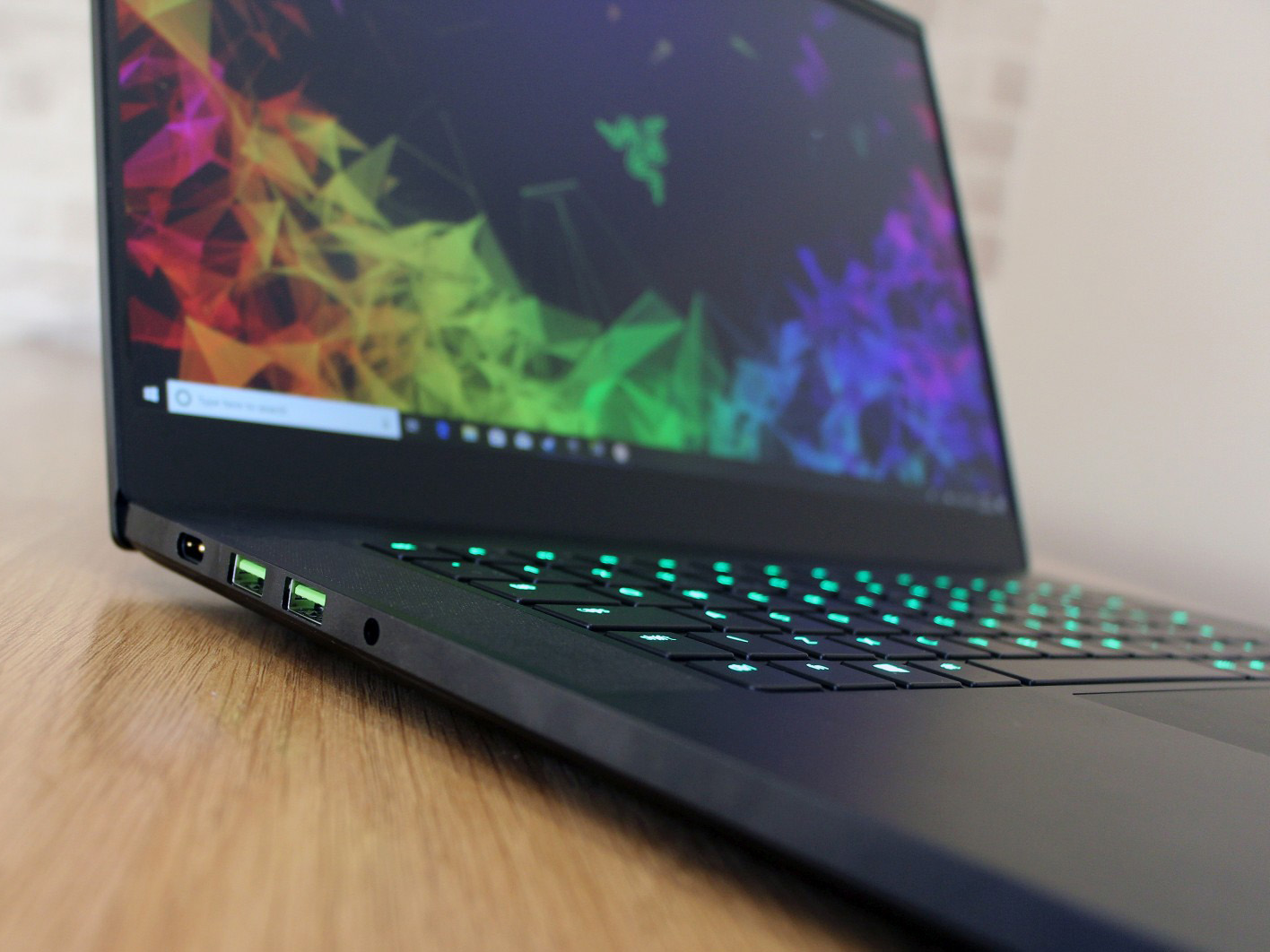 Razer's machine is slim, slick and stylish, so it's no surprise that it has a chiclet keyboard. What's notable, though, is the extreme lack of travel on these buttons.
The keys are a double-edged sword. They're light and fast, which makes them ideal for fast-paced typing and for casual games.
However, the extreme lack of feedback isn't great for more demanding games – or just for serious gamers who crave the heavier, more defined touch of a taller chiclet device or even a low-profile mechanical unit.
The trackpad, too, has its issues. It's very large, which helps when zooming the cursor around, but its proximity to the sharp front edge of the machine means that it sometimes cuts into the user's wrist – hardly comfortable.
The buttons could also be improved. They're a tad too soft and spongy – so a USB mouse will be far better.
Razer Blade 15 Verdict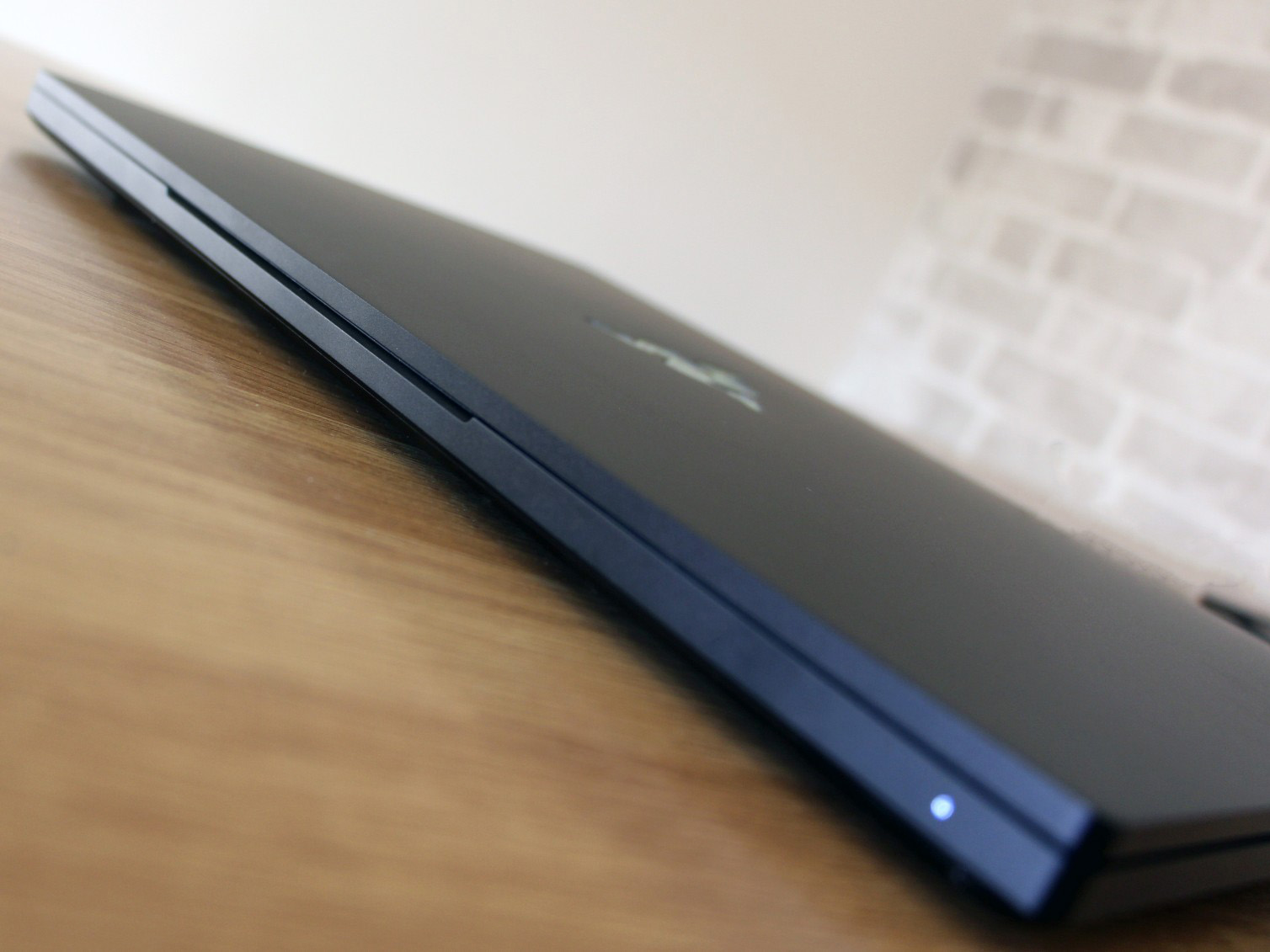 Razer machines always have a lot of style, but the latest iteration of the Blade 15 doesn't have quite enough substance to open our wallets to the tune of £2,450.
It looks fantastic, of course, and the RTX 2070 delivers decent gaming power. The screen is good, making games look bright and vibrant.
However, too much has been sacrificed to make this machine look so good. The CPU throttles, the keyboard is too shallow, and it's too hot and loud.
The Razer Blade 15 delivers good gaming speed and looks better than anything else out there – but more conventional laptops offer a better, more balanced experience for less cash. Unless you're particularly focused on style, we'd probably look elsewhere.
Stuff Says…
It looks fantastic and has good gaming pace, but it's not slick enough during day-to-day use
Good Stuff
RTX 2070 offers great gaming speed
Six-core CPU, plenty of memory and a large SSD

Exterior looks and feels fantastic

Screen has superb colour quality
Bad Stuff
CPU throttles, hampering performance

Too hot and too loud
Contrast could be better
More expensive than rivals