Razor Crazy Cart Shift review
The electric go-kart that's perfect for aspiring Ken Blocks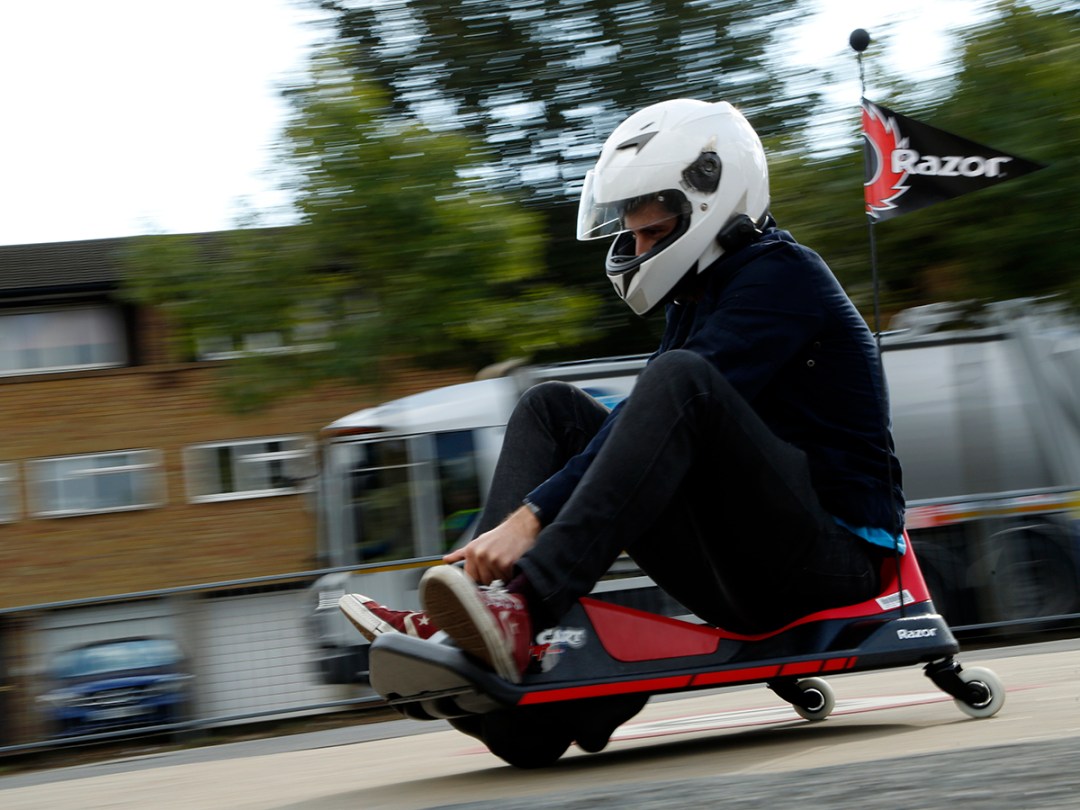 It says "Ages 8+" on the box – which technically means 28+ is good too, right?
Once those split-second semantics were out of the way, I ripped into Razor's Crazy Cart Shift box like a kid at Christmas. It's the electric go-cart designed to be driven in anything but a straight line, so you can live out those Tokyo Drift fantasies without actually hitting the open road. Or losing your driving license.
Razor's last Crazy Cart had a handbrake you could yank to throw the back out, but for kids that haven't even reached double digits yet, it was a little complicated. That's why the Shift takes a different approach.
With a single, freely-rotating wheel at the front, which you can spin in either direction for some serious sideways action, the Shift is literally child's play to drift.
I've been running laps of the Stuff office car park every lunchtime since it turned up. So yeah, it's a lot of fun.
SEEING RED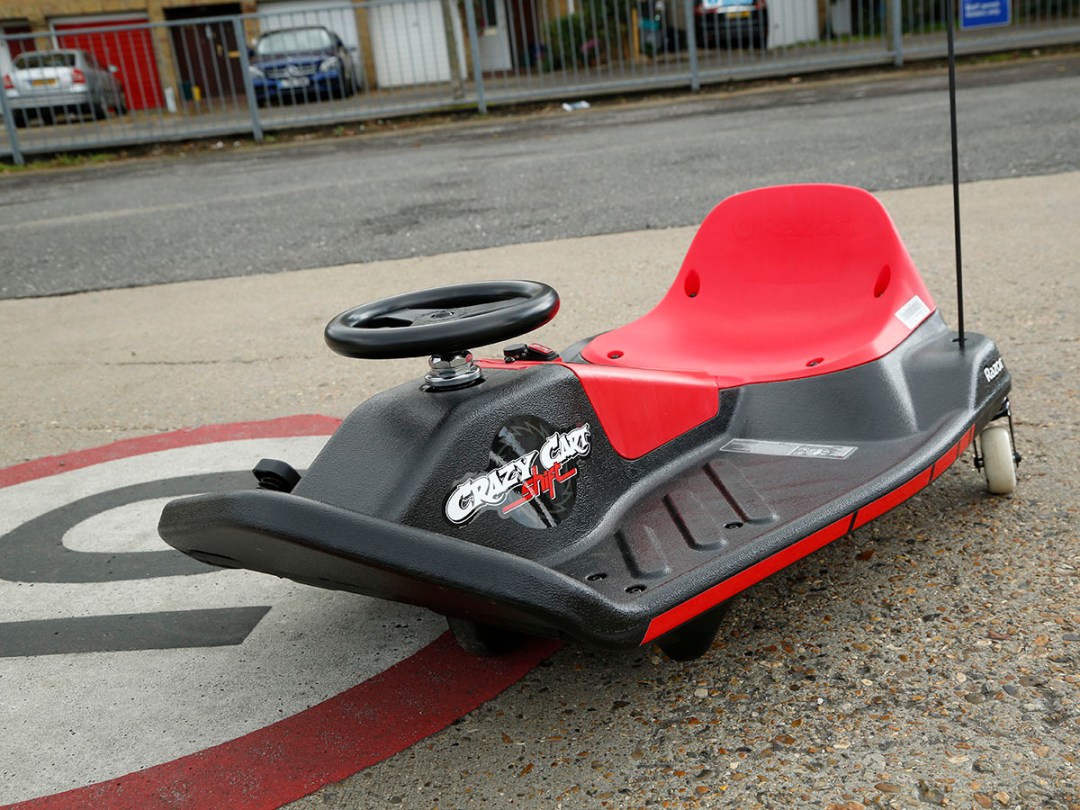 The Shift is a lot smarter than your typical go-cart, even if the castor wheels on the back have a bit of a shopping trolley vibe.
That mean black and red colour scheme helps smarten things up, though. It's all made of sturdy plastic, so should withstand a few bumps and bashes but not be too heavy to carry home once the batteries have run out.
It all sits very low to the floor, bringing the centre of gravity down to make it as easy as possible to pull off those exciting drifts. Kids will have no trouble dropping into the seat and finding the single pedal with their right foot, but if you're well over 6 feet tall (like me) you'll have to bring your knees up close to your chest to get in position.
The hard plastic seat was pretty unforgiving on my 28-year old back, too. That's partly because my test track was an uneven concrete car park, and it wasn't so bad that I had to reach for a cushion, but I definitely felt a bit battered a lunchtime drifting session.
PEDAL TO THE METAL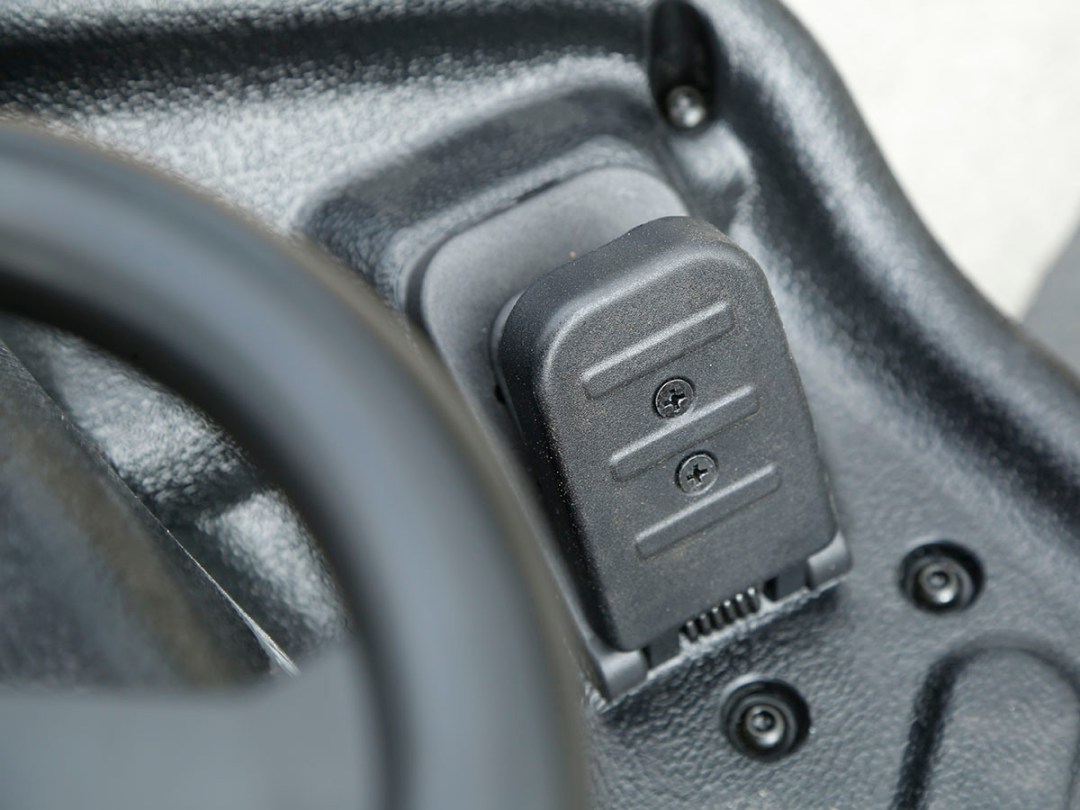 I'm no featherweight, tipping the scales some 15kg more than Razor's recommended 54kg maximum rider weight, but it didn't seem to slow the Shift down one bit.
It's got a top speed of 8MPH, which might not sound like a lot, but when your bum is mere inches off the floor and a mere flick of the steering wheel can send you sideways, it feels plenty fast.
Switching from a chain-driven motor to a Power Core hub motor means there's no maintenance to worry about, and all that power gets delivered near instantly. The foot pedal is seriously sensitive, too. A quick blip and you'll be approaching top speed. It's ace if you've got the space.
On a full charge, you'll get around 40 minutes of driving time, by which point you'll be a shaken, sweaty mess. A shaken, sweaty mess with a huge grin on your face, but still.
FAST AND FURIOUS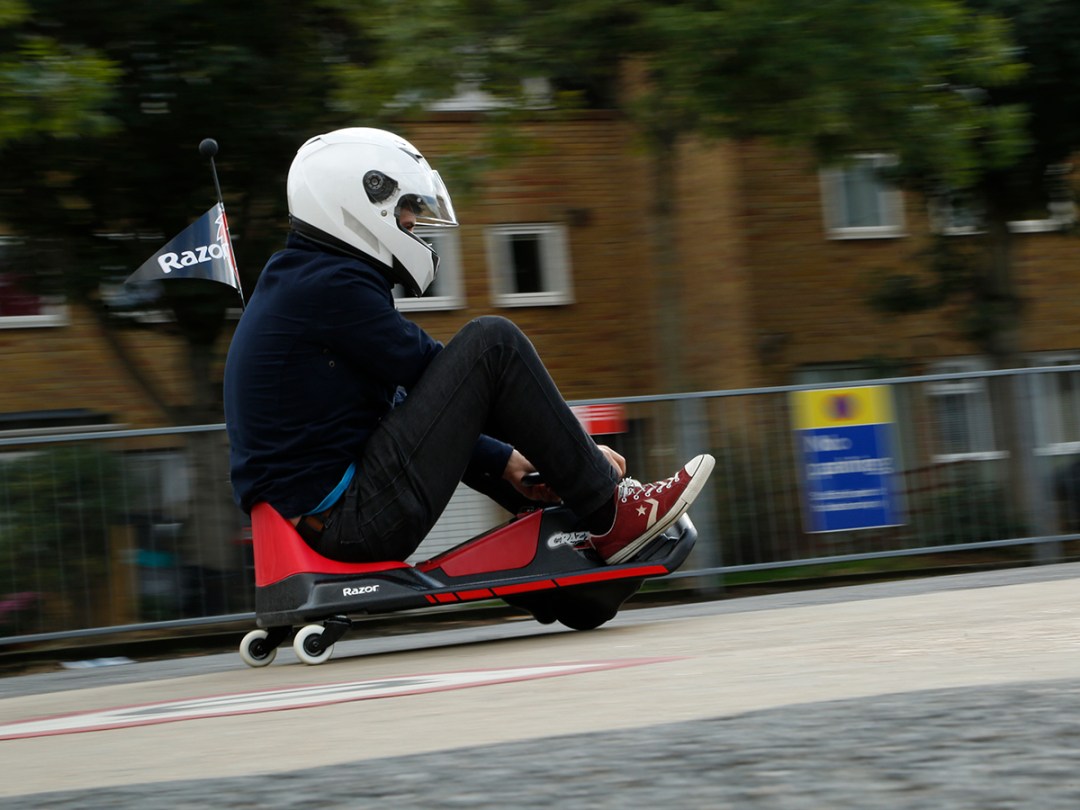 All the power from the electric motor gets driven through the free-wheeling front, but the castor wheels at the back aren't fighting to keep you in line.
That basically means that once you turn in, you'll start drifting with barely any effort. Keep the speed up and corner with a bit more force, and you'll be sideways in seconds.
It's a lot easier (and safer!) than trying the same in an actual car, but you can still create enough force to fling yourself out of the seat if you're not careful. You'll want to keep a close eye on your kids the first time they get behind the wheel.
Razor Crazy Cart Shift verdict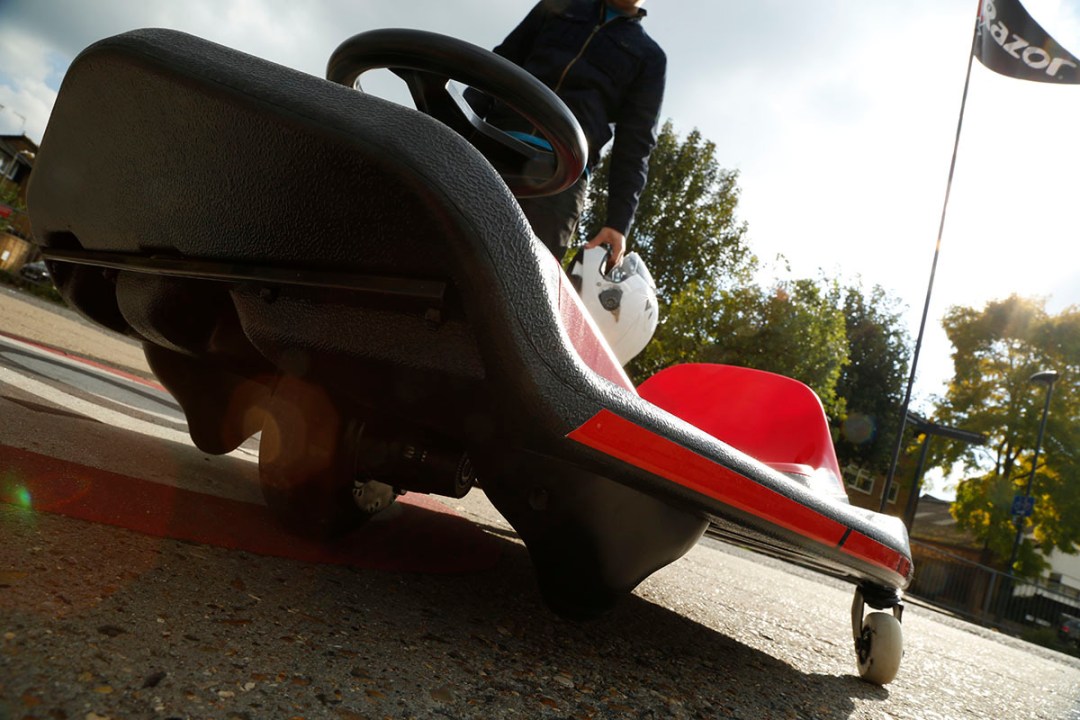 Ditching the handbrake might seem like a backwards step for older petrolheads, but it simplifies things for the kids Razor is actually keen to get driving its carts. That doesn't mean there's no fun to be had for us adults, though.
The free-spinning front wheel and rapid acceleration let you pull off some insane drifts, and you'll need to hold on tight to avoid throwing yourself out of the seat. A helmet would be a sensible extra, especially as there's no brake to slow you down in a hurry.
40 minutes between charges sounds like a lot but trust me, when you're blitzing the Shift around it feels like no time at all. I had to be dragged away from it to write this review, and now I'm scheming up ways to get it home so I can play on the weekends too.
If only Razor did a slightly bigger version for big kids like me – it's a tight fit for any 6ft-tall big kids that don't know when to grow up. If you've got children you can justify shelling out £250 on one for, though, you'll definitely have a hard time not taking a turn yourself.
Tech specs
| | |
| --- | --- |
| TOP SPEED | 8MPH |
| BATTERY LIFE | 40 minutes |
| DIMENSIONS | 890x340x625mm |
Stuff Says…
A toy meant for kids that can make grown adults grin like maniacs. Brilliant fun for petrolheads young and old.
Good Stuff
Zippy, even with a full-grown manchild on board
If I fits, I sits
Brilliant fun for drift junkies
Bad Stuff
No handbrake turns any more
Sharp turns can throw you out the seat