Renault Twizy review
This Noddy-sized, battery-powered car isn't a car at all: it's a light quadricycle actually. We took this concept made real for a spin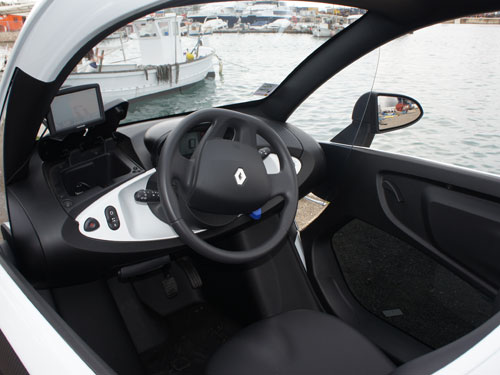 Renault is opening up EV ownership to a new urban generation with the Twizy but can this techie transport go the distance, by which we mean more than 10 miles?
Renault Twizy review – intro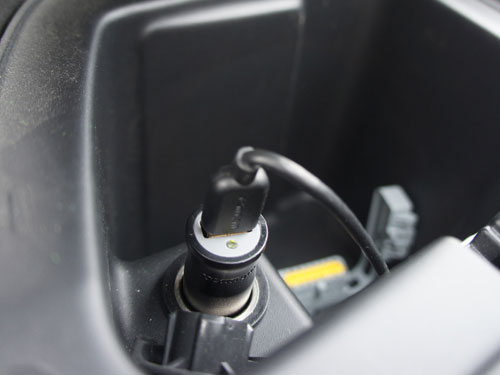 The Twizy's designers must be optimists: its cabin isn't fully enclosed, which means it gets blustery in there at more than bumbling pace. You can add the Lamborghini-aping scissor doors for £545, but they'll only keep the draught and grime off your lower limbs. Still, it does have a tiny widescreen wiper…
Renault Twizy review – design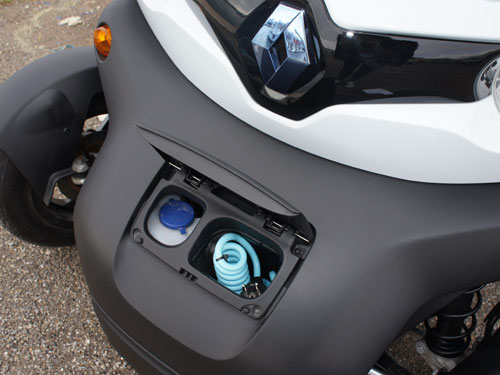 With a profile like that of a zygotic mutant double-decker bus from the future, the Twizy needs super-firm suspension to ward off weedle-like bodyroll. It steers instinctively and can be fun on a grippy surface, but on anything else it's wise to take it easy on corners. Hit a speed bump too quickly and you'll also be glad of your inertia reel seatbelt.
Renault Twizy review – how does it drive?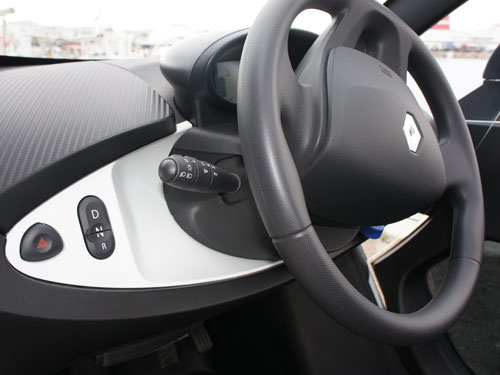 You'll be waiting a long time for a benchmark 0-60mph acceleration time – the Twizy's top speed is 50mph, although we did see a heady 52mph appear momentarily on the digital speedo at one stage. It accelerates keenly enough to 30mph to keep out of the way of city traffic, and stops quickly too – great for inner city stop-start traffic.
Renault Twizy review – top speed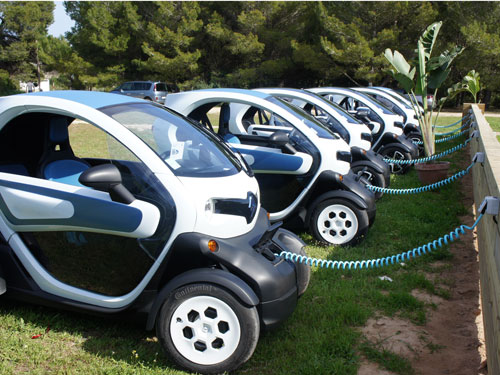 There are three game-changingly affordable trim levels available: Urban (£6690), Colour (£6950) and Technic (£7400). The basic car gets steel wheels, the pimped-up models have 13in alloys. A sunroof, Parrot Bluetooth handsfree kit and parking sensors are all available as options, but don't splurge all your cash: battery lease costs from £45 to £67 a month.
Renault Twizy review – trims and accessories 
The Twizy's powertrain is made up of a 17bhp, 13kWh electric traction motor, a direct-drive transmission and a 6.1kWh lithium ion battery. The latter is supposedly good for 60 miles of mixed urban use; our testing suggests it's more like 45. But you can charge it in less than three hours from a standard 10amp three-pin outlet.
Renault Twizy review – charging 
Two pedals, two column stalks, a push-button gear selector, a digital speedometer and a good old-fashioned steering wheel: easy and completely car-like. The handbrake is trickier to wrestle with: hidden under the left side of the fascia, it will only release when your foot is on the brake – and only then with a firm squeeze of the ratchet button.
Renault Twizy review – controls
One of the Twizy's biggest issues is its lack of useful storage space. The two covered cubbies in the dashboard are handy for bits and bobs, but not really big enough for shopping. There's a larger cavity compartment behind the rear seat, but it's tricky to access and offers little usable space.
Renault Twizy review – storage 
Both seats are surprisingly good. The front one slides fore and aft, and taller passengers in the back can wrap their knees around the seat in front, tandem-style. The bluster of the wind and exhaust fumes of passing traffic are worse for whoever's in the back, though, and seat comfort if pretty thin – so don't plan on making anyone spend more than a short trip as your pillion. Unless you don't like them.
Renault Twizy review – seats