Ricoh WG-50 review
Does the rugged Ricoh run rings round its rivals?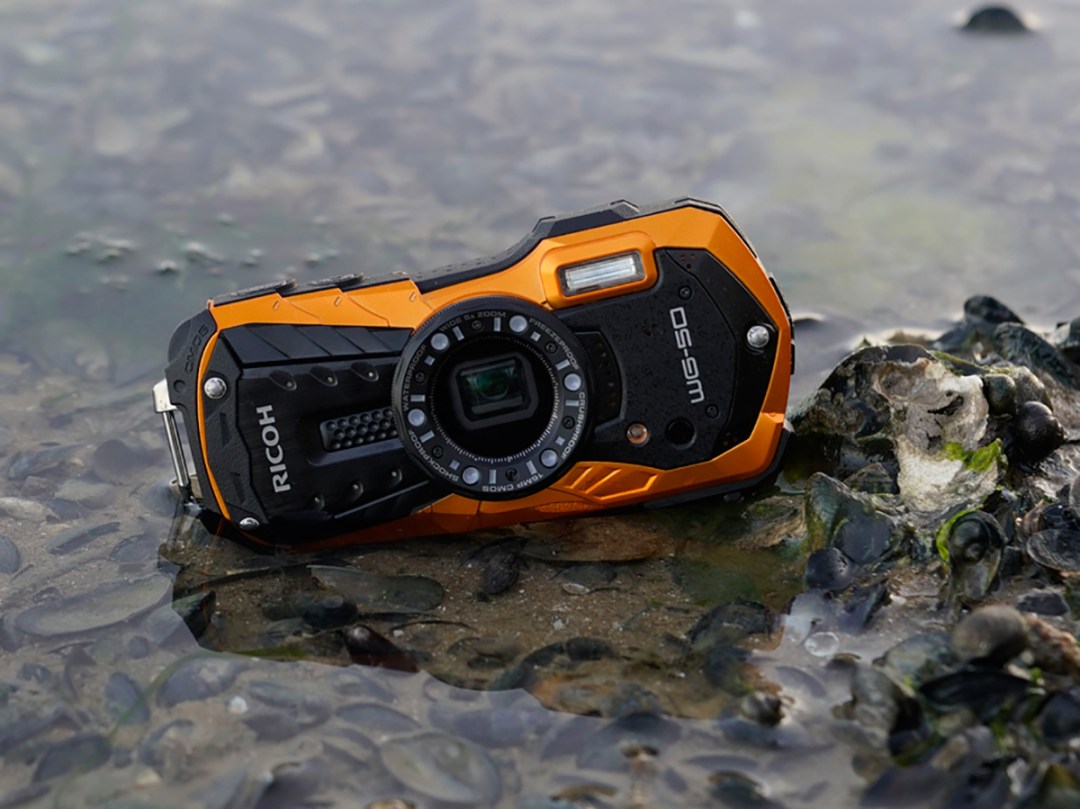 How much are you prepared to pay for a camera in shining armour?
The heavily-protected Ricoh WG-50 is fairly mid-priced by rugged compact standards: at £250, it's neither as affordable as the £150 Fujifilm XP120, nor as premium as the £400 Olympus TG-5.
With a similar level of toughness and a similar lens and sensor setup to the former, Ricoh is relying on the WG-50's range of accessories and a handful of unusual features to justify that £100 of extra outlay. Let's find out if it's worth it.
Design and build: Rust-coloured and rugged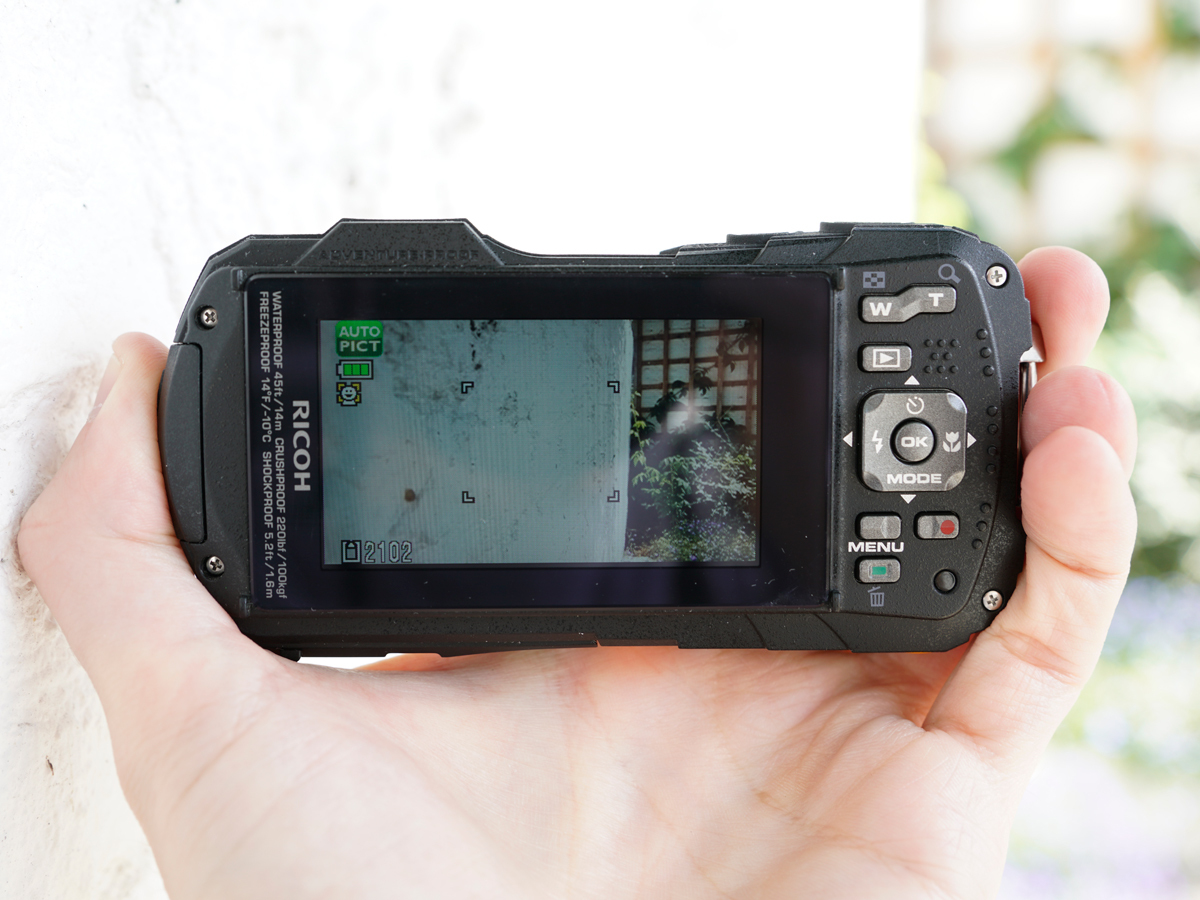 The WG-50's styling, in particular day-glo orange livery sported by our review sample, is likely to divide observers,
We found the spiky, Power Rangers-esque looks somewhat embarrassing to be seen with – but hey, at least it'll help you locate it should you drop it anywhere dark/muddy/snowy (delete as appropriate).
It's definitely tough though, surviving a dunking in a rock pool and a drop on concrete from over a metre during our time with it. Ricoh rates it waterproof to 14m, shockproof against 1.6m drops, crushproof to 100kg of force and able to keep on keepin' on in -10 degree C temperatures, and we have no reason to doubt any of that.
The 3in screen is fairly nondescript bar a daytime mode, which brightens it up to aid visibility on sunny days. Spin round to the front and there's an interesting feature, though: a ring of LEDs around the lens that act as a macro light, illuminating objects too close to the lens for the built-in flash to light properly.
A charitable way to describe the WG-50's autofocus would be "unhurried". It locks on accurately, and usually where you want it to, but does take it time in doing so.
If you're looking for a quick-draw rugged cam, the Olympus TG-5 will be more your speed. Using the 5x optical zoom also requires you to hit buttons rather than nudge a rocker, which makes it a slower process than on most cameras.
Image quality: nothing to Ricoh about
When so many new cameras (and some smartphones) are producing fantastic images, it's hard to get excited about a snapper that just ticks the boxes.
And that's what the WG-50 does, really: its 16MP images are on a par with the Fujifilm XP120's – fine at a glance but lacking in that punchy combination or detail, contrast and clean colour when you get in for a closer look.
Performance in low light in particular is less than impressive: use the flash when indoors or your photos will end up grainier than jar of Dijon mustard.
There's no 4K video recording on board, and the best quality you can capture is 1080p resolution at 30fps. Much like the stills, videos look fine when captured in good lighting conditions, but detail, contrast and colour accuracy quickly drops off when you head indoors or the sun goes down.
There are some clever touches here that you won't find on Fujifilm's camera – like the ability to film at a higher frame rate for smooth slo-mo playback, albeit with a 15-second limit – but the XP120 delivers much the same performance-wise for £100 less.
Ricoh WG-50 verdict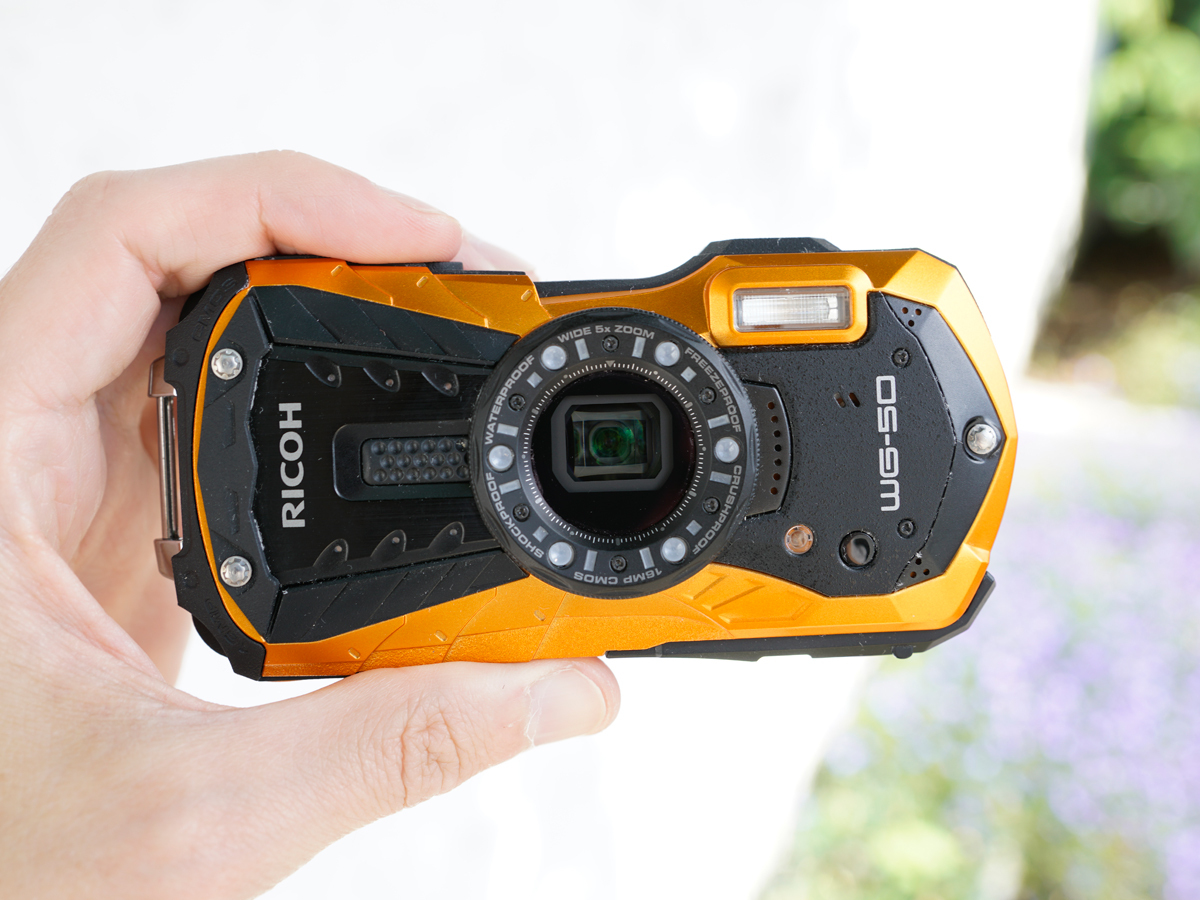 While the WG-50 doesn't hugely disappoint in any areas, there's no doubt that the Fujifilm XP120 is a better deal for bargain-seekers, offering similar performance, similar toughness and (I think) a more attractive design for £100 less.
If you're looking for better performance in a tough camera meanwhile, the Olympus TG-5 offers markedly superior stills and videos (albeit at a cost of £400).
The WG-50 sits in the middle of these two models, but doesn't really do enough to appeal to people with a mid-range budget – unless you count having a built-in macro light. So perhaps close-up fanatics should pick this camera over the Fujifilm; but pretty much everyone else should save their money.
Stuff Says…
A solid compact in more ways than one, but superior rugged options are available
Good Stuff
Lightweight and compact
Wide range of shooting modes
Impressive macro shooting
Bad Stuff
Divisive design
Ponderous autofocus
No zoom rocker