Roli Blocks (Lightpad, Loop, Live) review
The next music input sensation or a load of old blocks?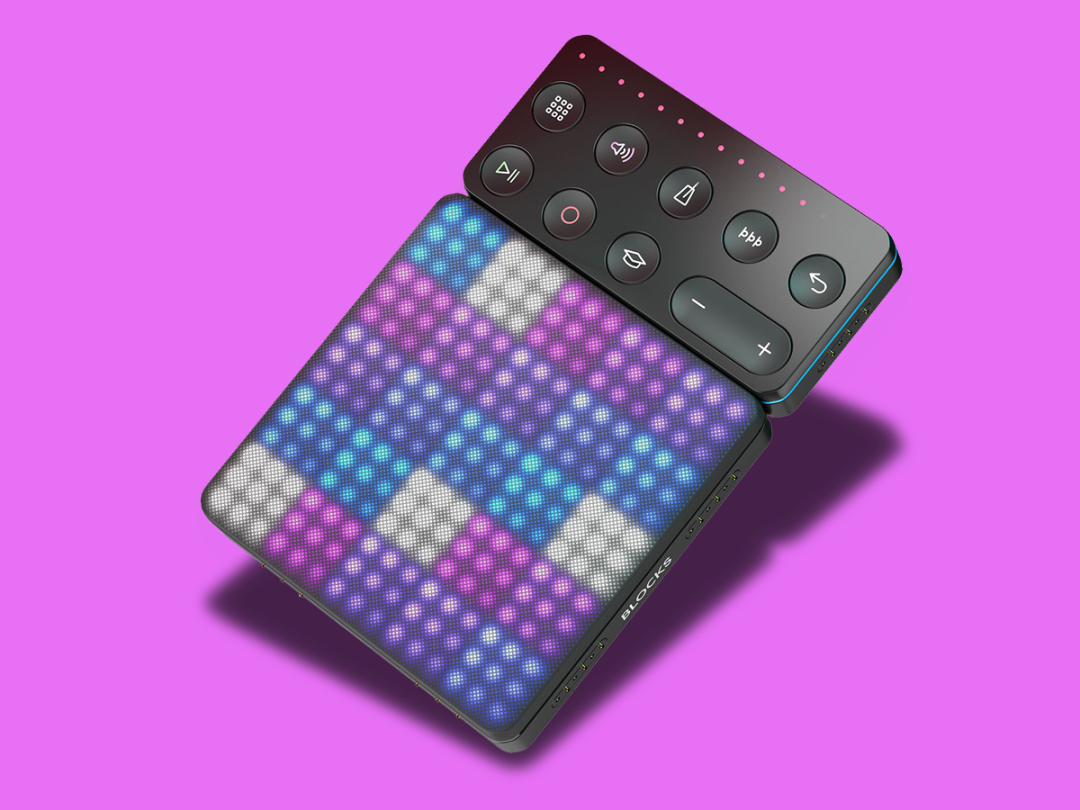 Blocks is a cracking concept: this Lego-like modular studio is small enough to slip in a pocket.
That means you can cart it about, quickly set up, and use it to play and arrange thumping choonz live on stage. It makes perfect sense in a world of iOS musicians.
There's only one snag: in its present form, Blocks iappears to have been created by someone who hates fingers. Specifically: yours.
It's also primarily designed to work with a single unremarkable app.
Get set
Getting started, at least, is simple. You charge up Blocks with the bundled USB-C lead (not Apple Lightning, for some reason – despite the app being iOS only right now).
Once you're juiced, fire up the free iOS Noise app, connect Blocks over Bluetooth, and you're good to go.
Your level of familiarity with the Noise app will then determine whether the Blocks are intuitive, or "bwuh"?
In short, though, the square Lightpad is a combination of oddball keyboard, drum-pad, and loops trigger. The smaller, rectangular Blocks 'Control' units – dubbed Loops and Live – mostly exist to surface/access commands buried in the Noise app.
At a minimum, you need one Lightpad. From there, you can optionally connect one or more of the Control Blocks if you have them. The optimum set-up is apparently both smaller units, each with a Lightpad attached.
Express yourself
The Lightpad is supposed to provide the power of expression, and there were hints of that during testing.
Its LEDs mirror what's displayed in the Noise app, so you can stab several virtual pads to play a load of loops or samples, or run your finger across a keyboard of LEDS to glide through notes.
Neatly, velocity can alter the sample that's played, and gestural flicks add further personality to instruments, such as a flute flourish. But instead of the lightness of touch you'd get from an iPad display, playing Lightpad is more like hammering the dead flesh keyboard of a ZX Spectrum.
The lack of responsiveness hampers reliability – you never feel confident what you'll get. And that's a problem, whether you're a beginner, or a pro about to tackle an amazing riff on stage.
The Loops and Live units demand heavy button presses, too, but this is less of an issue when triggering functions rather than playing notes. They do at least impress with clever use of LEDs, to show things like your current position in a loop, or a selected scale to display on the Lightpad.
Noise annoys
Another problem is the Noise app, which essentially lets you flip between a basic loop trigger/sequencer and a playback grid.
It's got a few nice ideas, like the aforementioned velocity and gestural stuff, and scales displays so you can avoid duff melodies – but it just feels too limited.
You only get four tracks – one rhythm, and three for bass and synths. Recording is rudimentary too. It appears you cannot overdub either – ridiculous when using Lightpad, which requires so much pressure to register input.
There's an amusingly comic Learn option, though, providing riffs to try tackling yourself. The deft finger work is just about possible to match on iPhone, but good luck on Lightpad.
Still, at least the app's free to download, so you can try before you buy. And if you don't like it, there's little point considering the hardware.
Roli Blocks Verdict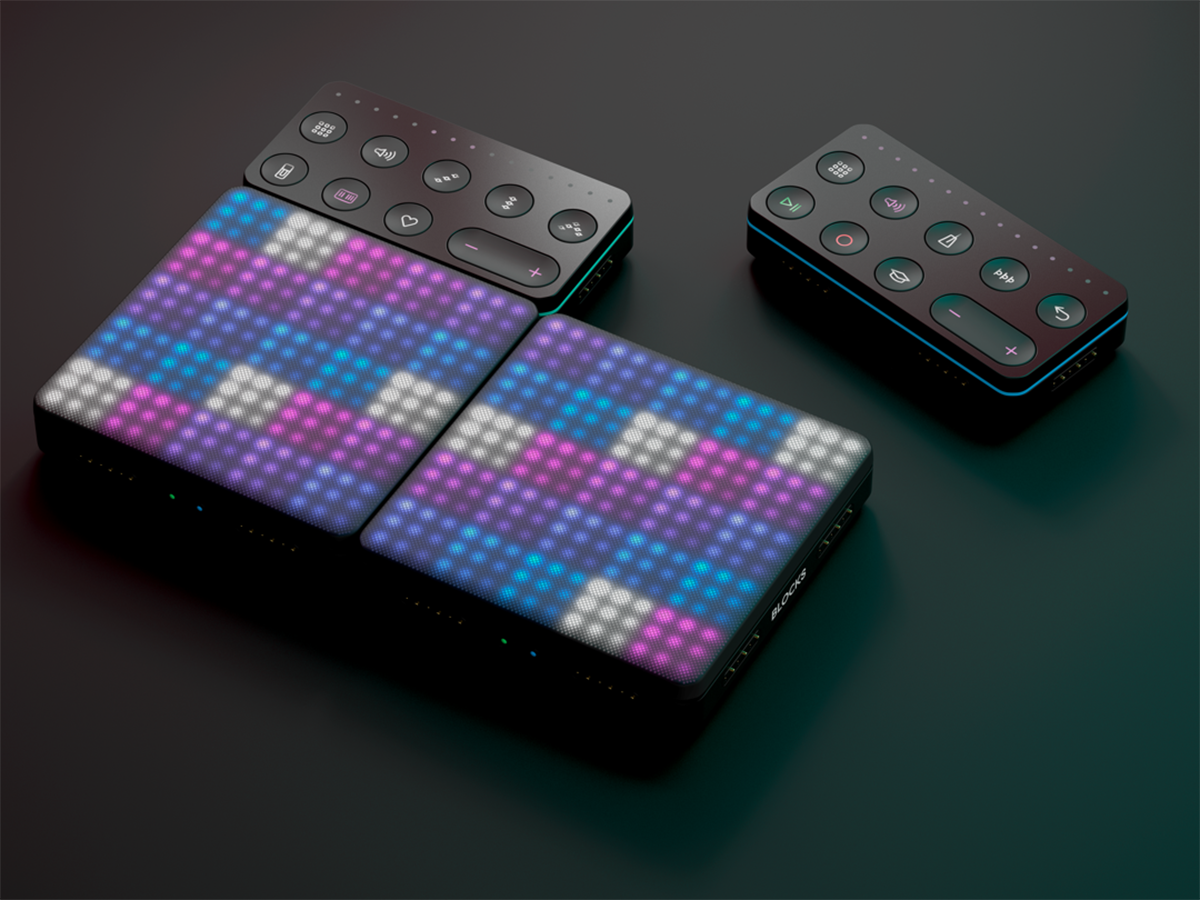 In fact, it's hard to work out who Blocks is for at all.
Some of the marketing spiel suggests newcomers, but neither app nor hardware has that infectious immediacy that would hook someone from the get-go.
Although a handful of pros have said nice things about the system, it's heavy on lock-in: you're limited to the sounds provided, and exports are restricted to being squirted through Roli's own network.
The SDK may eventually free Blocks from these restrictions – it is, after all, a MIDI controller underneath all the flash marketing, although it today proves unexciting when twinned with, say, Logic on a Mac.
But even with hours of practice, the feel of Lightpad is mostly likely to have your fingers scream to stop, joining cries of anguish from your wallet – because Blocks don't come cheap.
And that's the final nail: one Lightpad is £170, but a 'full' set-up is a whopping £480 – far beyond a beginner's budget, and a relatively serious punt for a pro.
When you consider that in some cases, the free app alone on an iPhone offers a superior playing experience, you can understand why Blocks won't be joining Roli's Seaboard Rise in Stuff's recommendations list.
Tech specs
| | |
| --- | --- |
| CONNECTIVITY | Bluetooth 4.0, USB-C, 8x proprietary 'DNA' connectors |
| BATTERY LIFE | 4 hours |
| DIMENSIONS | 20x95x95mm, 250g |
Stuff Says…
Some great industrial design with flashing lights aplenty cannot overhaul Blocks's problems with feel, cost and a limited app.
Good Stuff
Easy to set up
Lightweight and portable
Gestural smarts add character
Bad Stuff
Lightpad surface isn't responsive enough
Mostly designed to use with one OKish app
Unreasonably expensive