Royole FlexPai hands-on review
A revolution in smartphones or a botched experiment?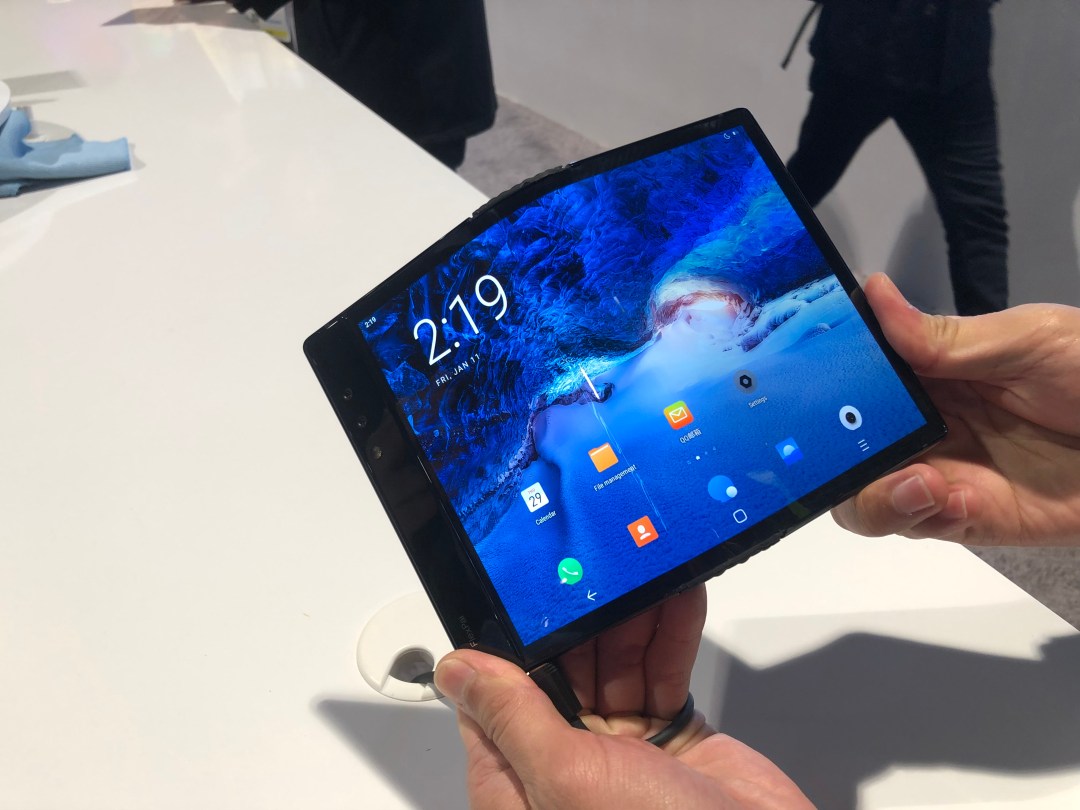 Like a Spice Girls reunion and the apocalypse, we've known foldable phones have been coming for a long time.
But rather than one of the traditional big boys setting the pace, the first bendy blower you can actually buy (in China at least) comes from California-based Royole.
Called FlexPai, it's essentially a 7.8in tablet with a flexible AMOLED display thinner than a singular hair. So when you fold the phone, it turns into a double-sided smartphone with a hinge formed by the excess screen.
If that sounds as mad as a box of frogs on a bouncy castle, that's because it is. At a time when the captious question around a new smartphone is usually – will it/won't it have a notch, the FlexPai feels like a breath of fresh air.
But this is very much a first attempt, both in form and function. Reader, we have folded the foldable phone, and came away as intrigued about the future as we are a bit confused about the present.
Design and display: bend to my will
Where the hell to begin?
In its most simple, easy-to-get-your-head-around form, Royole's FlexPai is a tablet just smaller than an iPad Mini. The 7.8in display has a 1920 x 1440 resolution with a 4:3 aspect ratio. A fairly inoffensive bezel surrounds the screen, while a thicker black bar on the top or side of the phone, depending on how you're holding it, houses the cameras.
The device never looks completely flat, which is a definite issue. I had to resist the temptation to press the small hump running down the middle of the display to straighten it out, which is a sentence I can't quite believe I'm writing about a smartphone.
And while the panel used is AMOLED, the colours looked blotchy and oversaturated. It's not something that would stand up well next to one of Samsung or Apple's latest and greatest, that's for sure.
Anyway, the real fun starts when you fold the thing. The FlexPai's display is 0.01mm thin, and its maker calls it unbreakable. No more cracked displays is the promise.
Here, it only folds in half (or 180 degrees), but Royole says the technology is even more bendable. I'm hoping for a second-gen model that doubles up as an accordion or can be fashioned into a fez.
It doesn't matter how many times a company rep tells you a phone can support more than 200,000 bends – the first time you bend a phone you're 100% certain it's going to shatter straight into your face.
The FlexPai really works as advertised, but while its foldiness is some feat, this is nowhere close to being a handset you'd want to known. Even if it, shockingly, does actually fit into your jeans pocket (we tried it), the phone is pretty chunky when folded, and the rubbery hinge that joins it together is comically ugly.
Meanwhile, the magnets that clamp each end together are strong enough to make prizing them apart more difficult than you'd like, and it's easy to imagine the FlexPai flying out of your hands while trying to do it.
When folded, you have a screen on each side (16:9 and 18:9), with the remaining AMOLED on the side reserved for notifications. Even if it feels like an unwieldy prototype rather than a retail-ready product, this design does allow for some pretty unique features.
Cameras: Looking at me, looking at you
Royole's FlexPai sports a relatively unspectacular dual 16MP + 20MP camera setup, both of which live in that thick bezel. There's also a flash.
I didn't take enough test shots during my brief demo to offer any definitive conclusions about image quality, but there was an opportunity to test the phone's Dual View Camera Mode.
With this on, the person you're snapping can see themselves on the second screen, so they can make sure they're happy with how they look. Depending on who you're with, this feature could prove to be more of a curse than a blessing, but it's definitely novel.
Performance: folds under pressure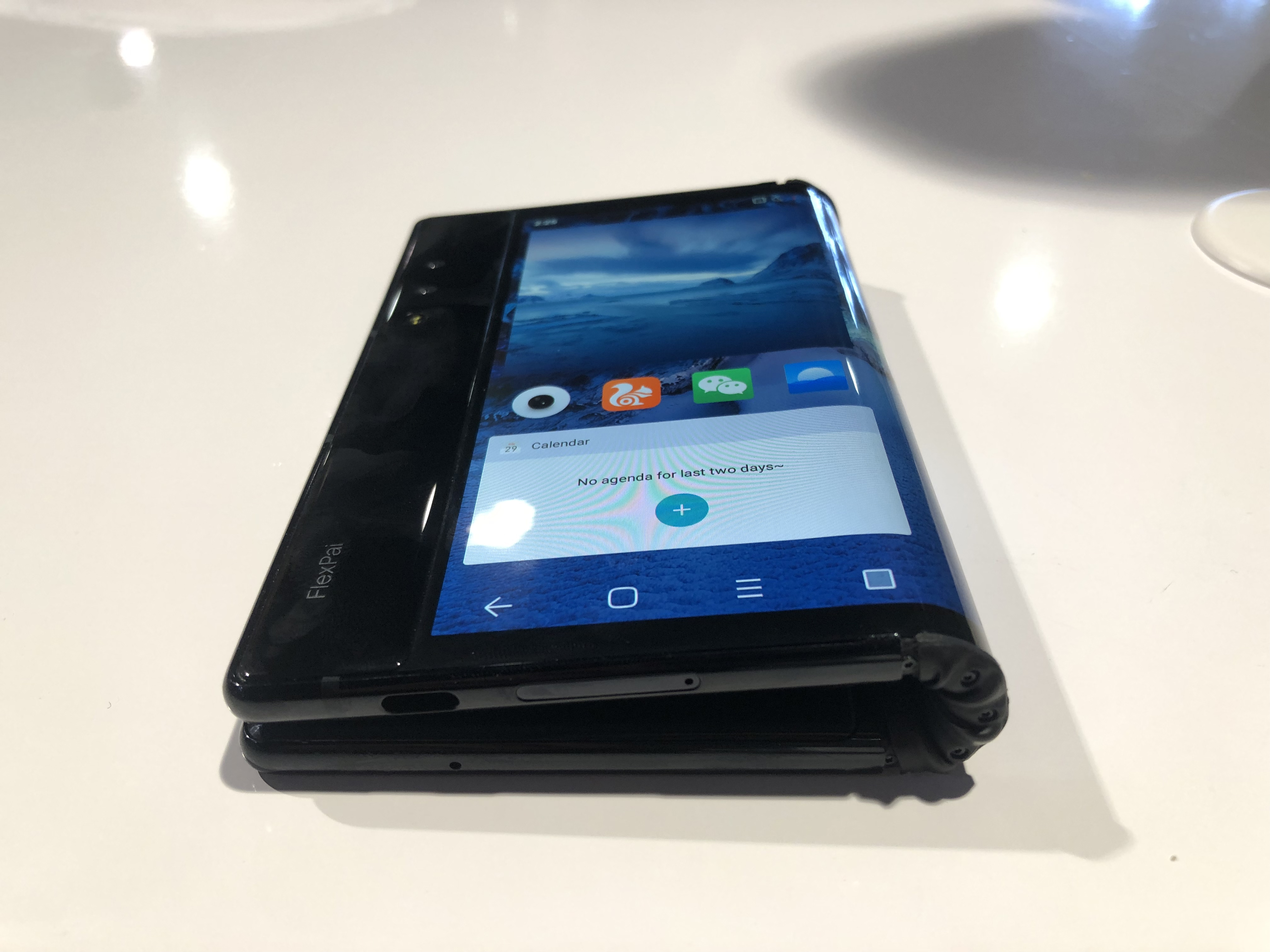 Here's where the FlexPai really falls down. Despite 6GB RAM and a usually speedy Snapdragon 855 under the flexible hood, the phone is inexcusably buggy and sluggish in operation.
Royole has a version of Android 9 Pie that it calls Water OS running on the device, which is supposed to keep up with the myriad ways in which you use it. It doesn't. The FlexPai appeared to have no idea what I wanted it to do, which is a bit of a problem when folding and unfolding it is the whole point.
It struggled to detect which orientation it was meant to be in, and app icons couldn't decide where to be positioned. When they did, they took too long to open. No doubt, this phone is being worked harder than most, but I'm not sure anyone paying 8999 yuan (nearly £1,050) for it is going to let it off the hook when it's about as smart as a slinky.
Still, at least it'll be able to support 5G further down the line.
Royole FlexPai initial verdict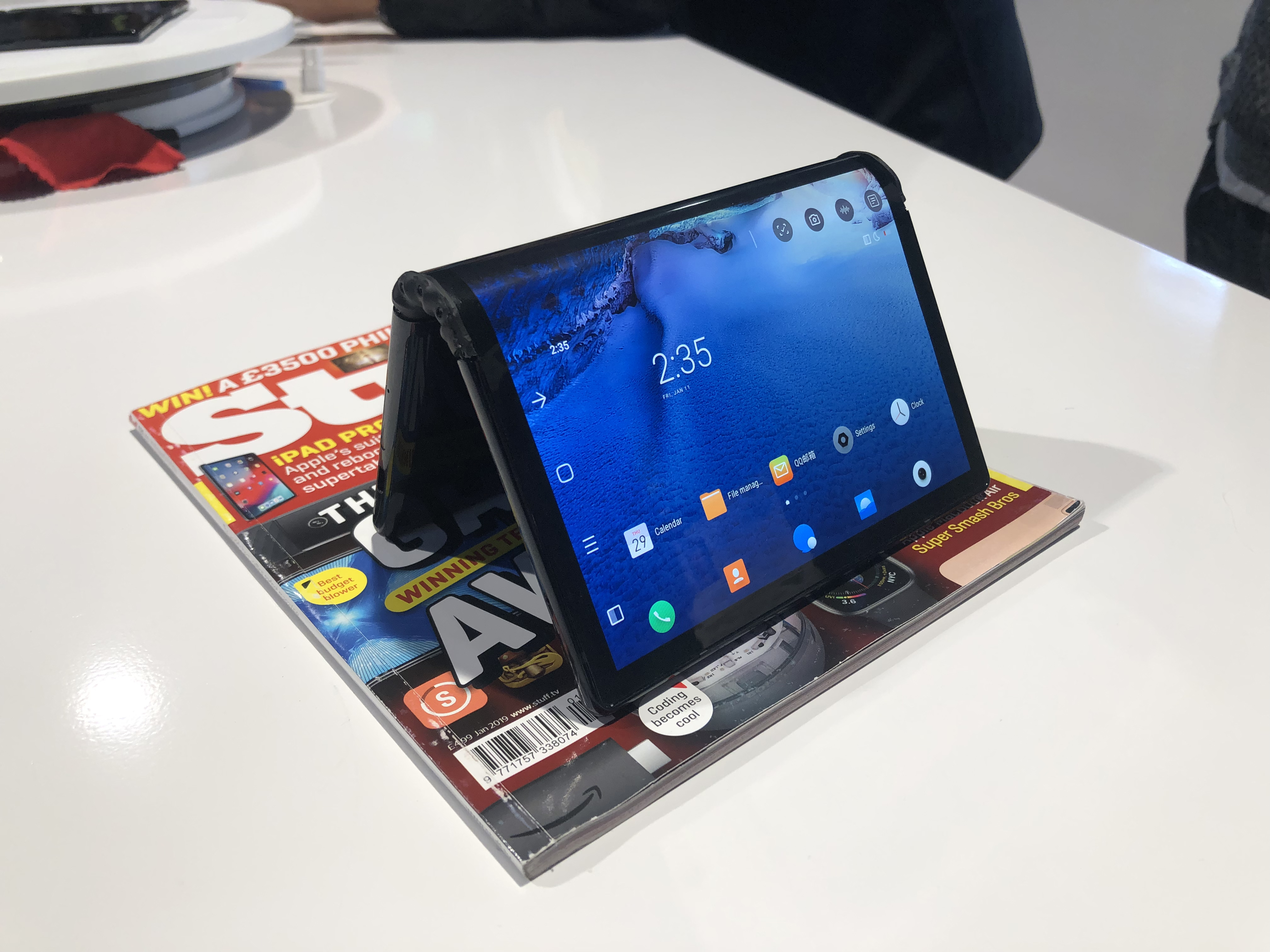 Royole will always be able to call its FlexPai the first foldable smartphone. Maybe it was worth releasing for that reason alone.
And the folding display really is quite amazing, even if the software beneath isn't up to the task. It's also just not particularly pleasant to hold or look at.
I'll stick with my rigid and extremely snappable iPhone X for now, but I have a feeling that the admirable FlexPai won't be the last phone I fold this year.