Samsung 65QN800B review: tomorrow's world
"Yes, but the demos look amazing..."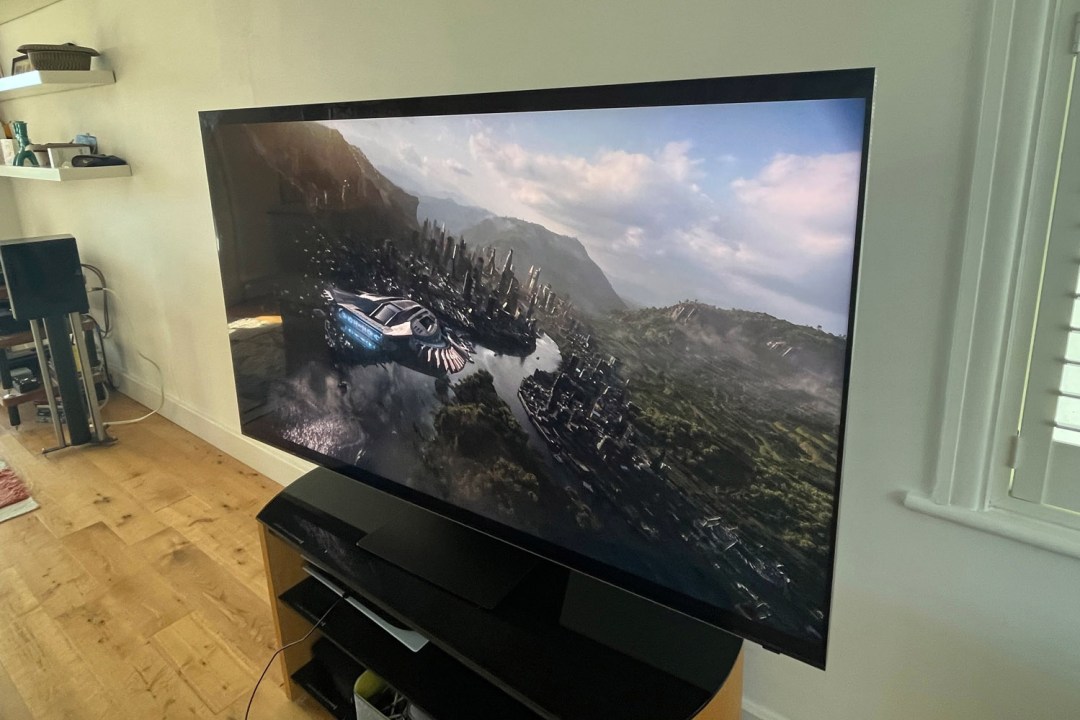 Where technology is concerned, there's 'good' future-proofing, and there's 'bad' future-proofing. The 'good' version means you're ready for the next big thing, have got in on the ground floor, and might even allow yourself a glow of self-satisfaction when everyone eventually realises what a forward-thinking individual you are.
The 'bad' version, meanwhile, means spending money on a hunch, a gut feeling, while perhaps at the same time ignoring what's important right now.
The Samsung 65QN800B is an 8K television in a 4K world. So if you decide to spend the thick end of three grand on one, what sort of future-proofing are you buying?
Design and build: through thin and thinner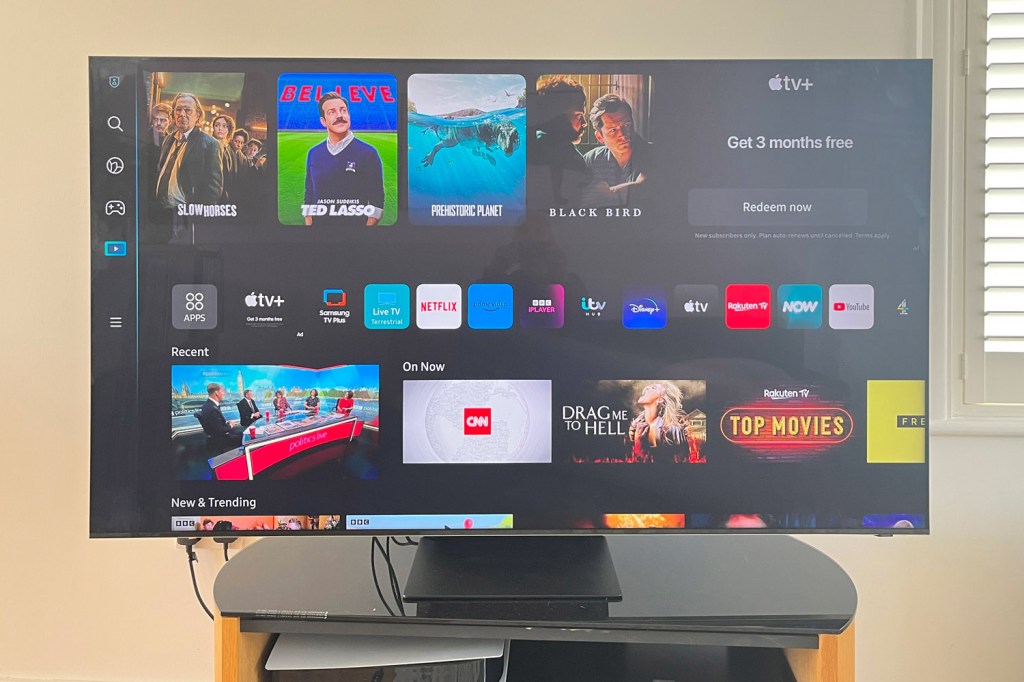 Samsung has done great work making the QN800B as slim and elegant as possible. Because although its MiniLED (or 'Neo QLED', as the company's marketing department insists) configuration means full-array backlighting, which normally adds some depth to a TV, Samsung has taken all physical connections off-board. Even mains power. Every socket is contained in the One Connect box – and as a consequence the QN800B is just 17mm deep. This means it's ideal for hanging on the wall, especially as it needs just one slim connection from the One Connect box to cover every eventuality. As long as your wall can cope with its 23kg weight, anyway.
It's supplied with a big central pedestal stand, too, in case you don't fancy putting it on the wall. This is a sturdy 8kg affair, with an integrated One Connect box resting place, and allows you to park your TV on a surface much narrower than the screen itself.
From the dead-ahead, the QN800B looks good. Its bezels, even across the bottom, are very brief, and the branding is even more discreet. It's pretty much all screen, which is all we really want from our new TV – isn't it?
Once it's up and running, you will have no qualms about the way it's built and finished. But if you're the one who unpacked it and fitted its stand, or hung it on the wall, then you'll know a) there's quite a lot of flex in the chassis, and b) some of the plastics used in its construction feel completely bog-standard.
Samsung 65QN800B Features: eight of the art
The most obvious feature here, of course, is that 8K resolution. With over 33 million pixels making up the screen, the potential for sharpness, fine detail and generally superior picture quality when compared to the 8 million-or-so pixels of a 4K display are obvious. If you can find any 8K content to watch, of course…
The Neo QLED aspect of the Samsung 65QN800B is noteworthy, too. Using many more, and far more compact LEDs than is usual to backlight the screen offers many more individual dimming zones. This, in turn, means backlighting should be better targeted and more accurate. And because this is a VA panel, the off-axis viewing woes that afflict so many LCD televisions should, in theory at least, be mitigated.
One feature the QN800B goes without is Dolby Vision HDR. It's been ages since Samsung started ignoring the world's most popular dynamic metadata HDR standard, but if anything the amount of time that's elapsed makes it more, not less, irritating. HLG, HDR10 and Adaptive HDR10+ compatibility is all well and good – but let's face it, Dolby Vision is where the action is.
Compatibility with Dolby Amos audio only makes it more, not less, irritating. The QN800B has a 70 watt, 4.2.2 speaker system, which is designed to create a bit of the sonic height and width that Atmos soundtracks thrive on. In conjunction with Object Tracking Sound+ (which attempts to steer sound in response to on-screen motion) and Q Symphony compatibility (meaning an appropriate Samsung soundbar will work in addition to, rather than instead of, the integrated audio system), Samsung has without doubt made the audio effort here.
The One Connect box, meanwhile, features four HDMI inputs. One of them is eARC-enabled, and all four run at 48Gbps 2.1 standard, so next-gen gamers can enjoy 4K@120Hz, VRR, ALLM and AMD FreeSync Pro from any HDMI input. There are also three USB slots, an Ethernet socket and a digital optical output. Wi-fi and Bluetooth 5.2 cover wireless connectivity.
Interface: choose your weapon
As is becoming fashionable, the QN800B ships with a couple of remote controls. One is a full-function handset, covering every eventually by using numerous small, tinily labelled buttons. The other is a much swisher, headline-functions-only alternative, and it's – ta-dah! – solar-powered. This handset also includes a 'mic' button for voice-assistant interaction – the Samsung is compatible with Amazon Alexa, Google Assistant and, natch, Bixby.
The Samsung 'SmartThings' control app is also available, and it's just as clean and usable here as it always is. If you've a whole houseful of Samsung products, it's simple enough to integrate the QN800B into your ecosystem.
No matter the control method you prefer, though, you'll be in charge of a full-on Tizen-powered smart TV interface. It's packed with catch-up and streaming services including YouTube, which is about the only place you'll find native 8K content at the moment, and Samsung's free 'TV Plus' service.
While it occupies too much of the screen and takes its time to start recommending the sort of thing you might actually watch, it's pretty logical and easy to navigate. The same is true of the set-up menus, which strike a nice balance between 'in-depth' and 'unintimidating'.
Performance: public image (limited)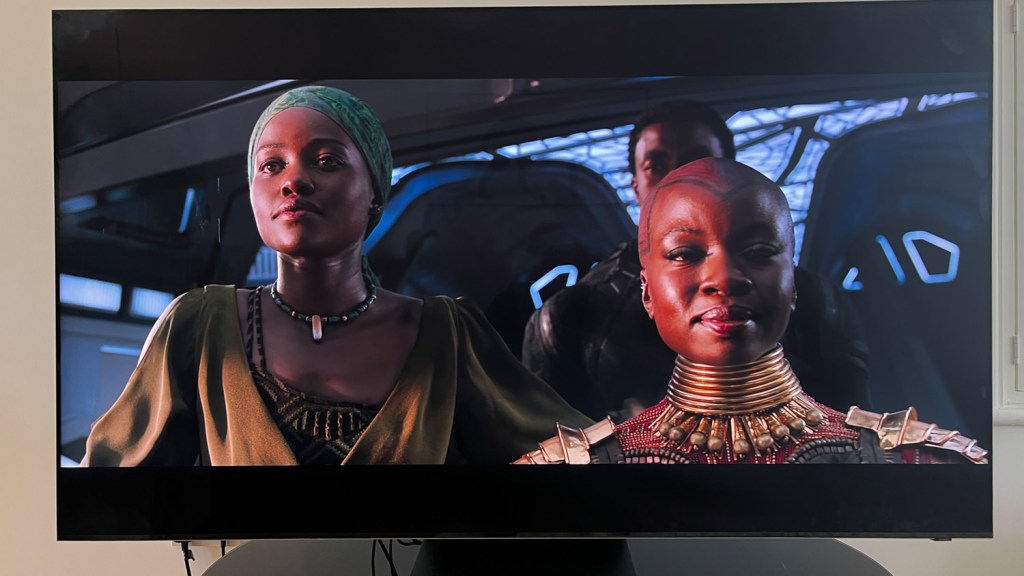 Fire up some native 8K content via the YouTube app and the Samsung 65QN800B looks nothing short of spectacular. Admittedly the content is almost entirely exotic birds, photogenic animals or aerial landscape, and gets samey almost immediately unless you're a fan of Lord of the Rings. Still, there's no denying the potency of the images the Samsung serves up. Detail levels are stratospheric, colour fidelity is impeccable, edge-definition is utterly convincing… the fundamental fidelity of these pictures is compelling.
The content itself is hardly compelling, though. A 4K stream of Black Panther on Disney+ is content about as high-end as you'll be watching on your 8K TV for the foreseeable future. It looks good, for sure – the Samsung's a very capable upscaler of 4K stuff thanks to its Neo Quantum Processor 8K. Motion-control is decent, edge-definition equally so, and the colour palette is wide-ranging and convincing. Skin-tones and -textures are lifelike, and depth of field is impressive too.
In most circumstances, the Samsung QN800B controls its backlighting well, too. It's not absolutely even, as this movie makes plain – the centre of the screen is unarguably darker than the corners. And when the action consists of small areas of brightness against a predominantly dark background, the Samsung takes it upon itself to rein in its (otherwise impressive) peak brightness in an effort to head off any haloing or blooming. Those black tones are accomplished, mind you – filled with variation and fine detail, with none of the crushing less accomplished screens indulge in, and generally much more impressive than LED-backlit LCD screens are imagined to be capable of.
Once you step down below 4K resolution, though, the Samsung can look exposed. After all, if you're feeding it a 1080p broadcast of Match of the Day on the BBC, it's taking just over 2m pixel's-worth of information and attempting to turn it into over 33m pixels of information. And it's basically too tall an order – images are soft, lack definition and detail, and motion-handling (which is a fundamental where broadcast sport is concerned) is no better than approximate.
Switch to 'Game' mode and while the overall quality of the image gets just a little coarser, there's absolutely no arguing with the contrasts, the colour fidelity or the motion-control the Samsung is capable of. And a latency of sub-10ms isn't to be sniffed at, either.
As far as sound goes, the Samsung's audio system does make mildly good on its promise of spatial audio-style width and height. It's a far bigger presentation in every direction than TVs without external and/or third-party audio systems are usually capable of. The midrange is distinct and detailed, and unless you get reckless with volume levels the top end is crisp and communicative too. Only the inevitable lack of low-end presence and extension is reminiscent of the sort of sound we all tend to associate with televisions.   
Samsung 65QN800B verdict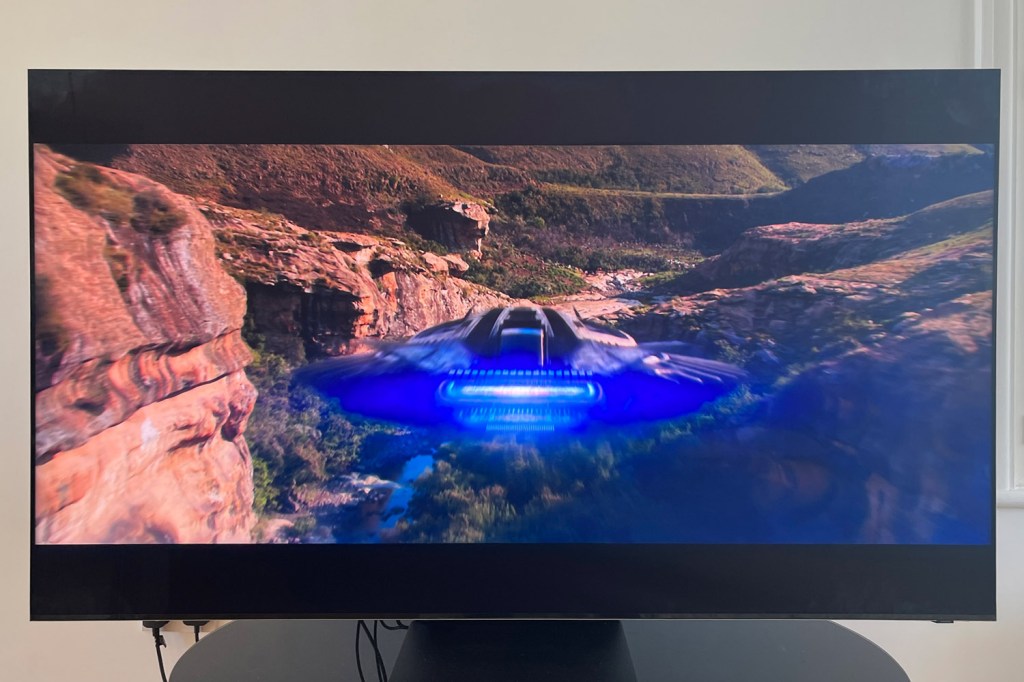 If you think 8K is coming, and If you don't really watch anything of less than 4K resolution, the Samsung 65QN800B is a deeply impressive television at an eye-catching price.
Then again, if you'd like to watch sub-4K content, and/or if you have your reservations about 8K, then you may well think one of the (very many) excellent 4K alternatives is the way to go.
Stuff Says…
An excellent TV that's ready for tomorrow, should tomorrow ever come
Good Stuff
Extraordinary 8K picture quality
Slim, sophisticated design with the One Connect box a highlight
Great gaming monitor
Bad Stuff
Has its limitations where upscaling is concerned
No Dolby Vision HDR
Some minor backlighting niggles
Samsung 65QN800B technical specifications
| | |
| --- | --- |
| Screen size | 65/75/85in |
| Resolution | 7,680 x 4,320 |
| HDR | HDR10+, HLG |
| Inputs | 4x HDMI 2.1 (1x eARC), 3x USB, digital optical, Ethernet, Wi-Fi, Bluetooth 5.2 |
| Smart TV OS | Tizen |
| Dimensions | 1444x828x17mm (screen only) / 1444x898x298mm (screen and stand) |
| Weight | 23.3kg (screen only) / 31.2kg (screen and stand) |