Samsung Galaxy Note 2 review
A brute of a smartphone or a puny tablet? We put the Note 2 through its paces as it squares up to the Galaxy S3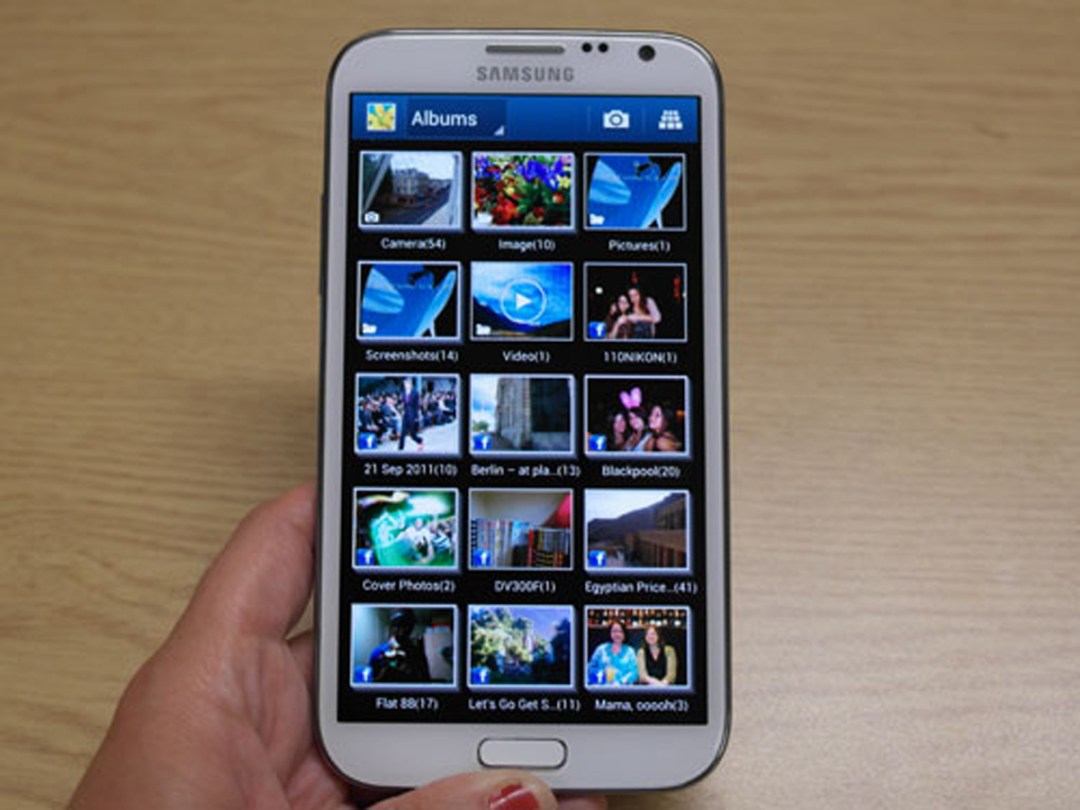 When we first saw the original Galaxy Note, our initial reaction was that this beast couldn't possibly be a phone: it was just too big. So big it had to be a mini tablet. Then came the S3, which could also be too big for the smaller handed gadget fan, but ultimately proved simply too powerful and too full of next-gen tricks to dislike. Both, unsurprisingly perhaps, have proven to be extremely popular indeed, which bodes very well for the 5.5in Galaxy Note 2, which essentially blends the two into one slick, beefed up, S-Pen toting device. So is it as good as it sounds? Can it become your one-stop-shop for internetting on the go? And just how silly do you look when making a call on one? 
design and build
Put the Galaxy Note 2 next to the 4.8in Galaxy S3 and suddenly – as Goldilocks once said – the smaller of the two starts to look just right. Suddenly the best phone in the world looks like a tiny handset that suddenly seems easier to hold in one hand.
Side by side, it's obvious that Samsung has made the Note 2 a scaled-up version of the Galaxy S3: same white plastic, same removable back cover and curved silver sides. It makes the new Note much easier to grip than the original 5.3in version and fools you into thinking it's slimmer than it really is. One of the few minor gripes we have with the S3 is that its power button is a little easier to knock than is ideal, and the Note 2 is the same – accidentally turning off the screen during a frantic brawl on GTA III is not awesome.
If not especially premium, the Note 2 feels just as solid as the S3 – no flexing or creaking here, as we grumbled about on the Note 10.1, although the S Pen can jiggle about a bit in its slot. Under the cover you get the replaceable battery, microSIM and microSD slots that users of the S3 will be familiar with, but the speaker is lower down on the Note 2 than on the S3. One small annoyance: as with the S3 the giant screen means there's so little bezel, you'll find yourself pressing the two Android keys either side of the home button more than you'd like.
At 182.5g, the Note 2 is tipping the smartphone scales, but consider the humongous-ness of the HD Super AMOLED screen, not to mention the massive 3,100 mAh battery needed to push all those pixels around, and it starts to seem like a reasonable trade-off. Holding the phone to your ear to make a call does stretch the hand somewhat – not to mention make you look a bit 'Dom Joly' – so at home we found ourselves using the speakerphone function more often than usual, and if we were to permanently adopt the Note 2 we'd be buying a Bluetooth headset forthwith. One with aptX, now we think about it.
5.5in HD screen 
The 720p Super AMOLED display is as glorious as Sammy makes it look in the adverts – there's no bump in resolution to fill the extra 0.2in of height from the previous Galaxy Note but it's still eye-poppingly good. It's now 16:9, too, the ratio du jour for late-2012 smartphones like the iPhone 5, and suffice to say whatever you're watching on the train will gain you an audience of sneaky (and not so sneaky) fellow commuters. Samsung has also maximised that extra space for the lockscreen by squeezing in an extra, fifth icon.
Colourful icons do seem to jump out at you a little more on the Galaxy S3 but text is noticeably improved on the Note 2 – when you peer up-close, letters don't look as though they've been hacked into this display as they can do on PENtile screens. The same warm hues that you find on a Galaxy S3 screen also permeate images and video here, and while that means you don't get the colour neutrality that you find on an iPhone 5, the larger-than-life vibrancy is certainly exciting.
power and performance 
With a 1.6GHz quad-core processor and 2GB of RAM, the mighty Note 2 wouldn't be too bold in claiming to be the most powerful smartphone on the planet right now. And it really does fly. With the help of Jelly Bean, opening up and transitioning between apps is a touch quicker here than with the already mighty Galaxy S3 – swiping through images, browsing and firing up the camera all save you fractions of a second, and we all know that those fractions count.
That's not to say that this is the perfect OS experience: we suffered through a few crashes when using the built-in Gallery app and streaming a vid from the web – it was nothing truly drastic, but a pain nonetheless. On the other hand, gaming is smooth and Popup Play is built in, so you can watch a video in a small window while playing a game in fullscreen underneath, if the mood takes you. Overall, the experience is so fast that you can end up playing catch-up with the handset: the touchscreen is so responsive to even the lightest tap it's very easy to accidentally open up apps. No, ChatOn, it's never on purpose.
Of course, we couldn't help but do some benchmarking to find out if the figures backed up our real-life experience of the Note 2. Sure enough we got a total score of 13657 on AnTuTu, with the Samsung Galaxy S3 managing 'only' 12533. Impressive stuff.
Android 4.1 Jelly Bean 
The fact that Samsung has resisted the urge to tinker too much with the stock Jelly Bean OS clearly helps keep things snappy, although power users will spot the little tweaks – even the notifications have been sprinkled with a little TouchWiz. Everything else is just as you'd find it on Ice Cream Sandwich – multi-tasking, apps and widgets on multiple homescreens, but we'd recommend you get rid of Samsung fluff like S Suggest as soon as possible.
One useful addition is Google Now, which you can access by hitting the search bar on the central homescreen. This opt-in feature learns your behaviour via your location, calendar entries and searches before displaying 'cards' with helpful info. Within a day or two, we had the local weather, ideas for restaurants and bars near us, and a bus timetable showing the nearest real-time departures. You can also ask Google Now to let you know the travel times to your next calendar appointment – looks like Siri has some work to do.
It's worth mentioning here that all of Samsung's extra features found on the Galaxy S3 are present on the Note 2 – that includes Smart Stay, which uses an eye-tracking forward-facing camera to keep the display on when you're looking at it. New to the Note 2 is Popup Browser, which is one of those awesome little features that you soon won't be able to live without. Essentially a smartphone version of flitting between tabs on a laptop or tablet, when you open a Facebook message containing a link to a YouTube video, for example, the Note 2 throws up the option to view it in a moveable window while you remain in the Facebook app. That's the Note 2's power and multi-tasking capabilities put to impressive and genuinely practical use.
S Pen 
We were quite taken with the S Pen when we reviewed the Galaxy Note 10.1, and Samsung has really gone to town with ways to incorporate the mini digitiser stylus into everyday smartphone use. Handwriting is much improved from both the original Note and the 10in tablet, with S Note picking up most of our scrawls quickly and without mistakes. This improved confidence means we've become far more likely to use the S Pen instead of the keyboard, although even that has been improved with a feature that lets you shift the keypad to the left or right to make one-handed messaging easier regardless of which one you're using.
On the other hand, Air View – which lets you hover over gallery folders, emails or video timelines to see previews – is a clever idea that's sadly not quite intuitive enough. It's tricky to remember when to press down on the S Pen button, and you don't get enough information to stop you just clicking through to what you want to see. More useful is unleashing the S Pen when you're on a call to bring up S Note for scribbling down directions or a phone number. We're also a fan of using the S Pen to crop around images from the web to paste into Scrapbook or an email – it's messy but the process feels closer to ripping out magazine pages.
camera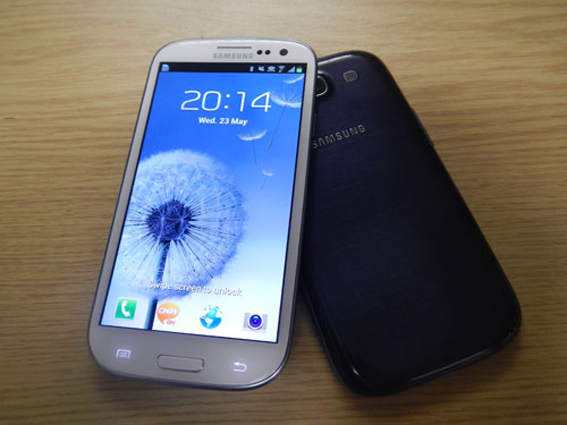 The Note 2's 8MP snapper gives very similar results to the Galaxy S3's capable camera, though due to its size and weight it's more difficult to keep steady when you're setting up a shot. It's a close call but we prefer the colour reproduction on the S3, which also provides a touch more detail. The Note 2 keeps the LED flash, 1080p video, 20-photo burst mode and the ability to take photos while filming, and adds the nostalgic feature of being able to write the time and place on the 'back' of each image with the S Pen.
battery life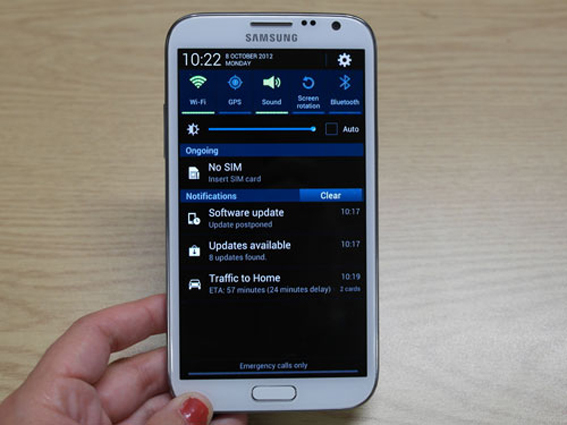 We looped a video on MX Player with the Note 2's Wi-Fi on and medium brightness and got very impressive results, considering that this Samsung has to power a 5.5in 720p screen. The battery drained at about 6% an hour which should mean you'll get at least eight hours out of the Note 2 with intensive use, which isn't too far behind the Galaxy S3's amazing stamina. While we were testing it with browsing, games, messaging and calls, it performed even better – so you won't be tied to a microUSB cable.
Samsung Galaxy Note 2 vs Samsung Galaxy S3 
If you're looking for one device to use as a phone and a mini tablet, the Note 2 is your best bet as it does everything the S3 can do, but on a larger scale. For most people, though, the S Pen won't be used on anything like a daily basis and a leaner, lighter handset that's better for calls makes more sense. Our advice? Head to a shop, hold each smartphones up to your ear and watch a video on both screens before you make your decision between these 4.8in and 5.5in Samsungs.
4G and price
Don't be scared by the sky-high £550 price for the 16GB version of the Note 2. Less than a week into its UK release and it's already going for £31 a month on a contract with Three and £528 on Clove. Scout around and you'll be able to pick up a Note 2 for much less than an iPhone 5.
If you're hankering after a LTE Note 2 though, you'll have to wait until October 15th when this handset will go on sale on EE 4G contracts. The EE network is only in its testing phase at the moment in cities around the UK but if you're agreeing to a 24 month contract and you want superfast browsing (up to 50Mbps) then you may want to pay a little extra for 4G.
verdict 
This is one seriously powerful device that treads the dangerous line between smartphone and tablet but ultimately comes out as a winner. That means it graces our Top Ten list of the best smartphones you can buy.
If you can find space for it in your pockets or bag, the Note 2 will reward you with a big, beautiful screen, impeccable multi-tasking, the latest version of Android and S-Pen shaped fun. And if nothing else, it will make people with spade-hands feel better about themselves, which can only be a good thing, right?
Click here for the latest Samsung Galaxy Note 2 deals
Review by Sophie Charara