Samsung Galaxy Note 20 and Note 20 Ultra hands-on review
Work hard, play harder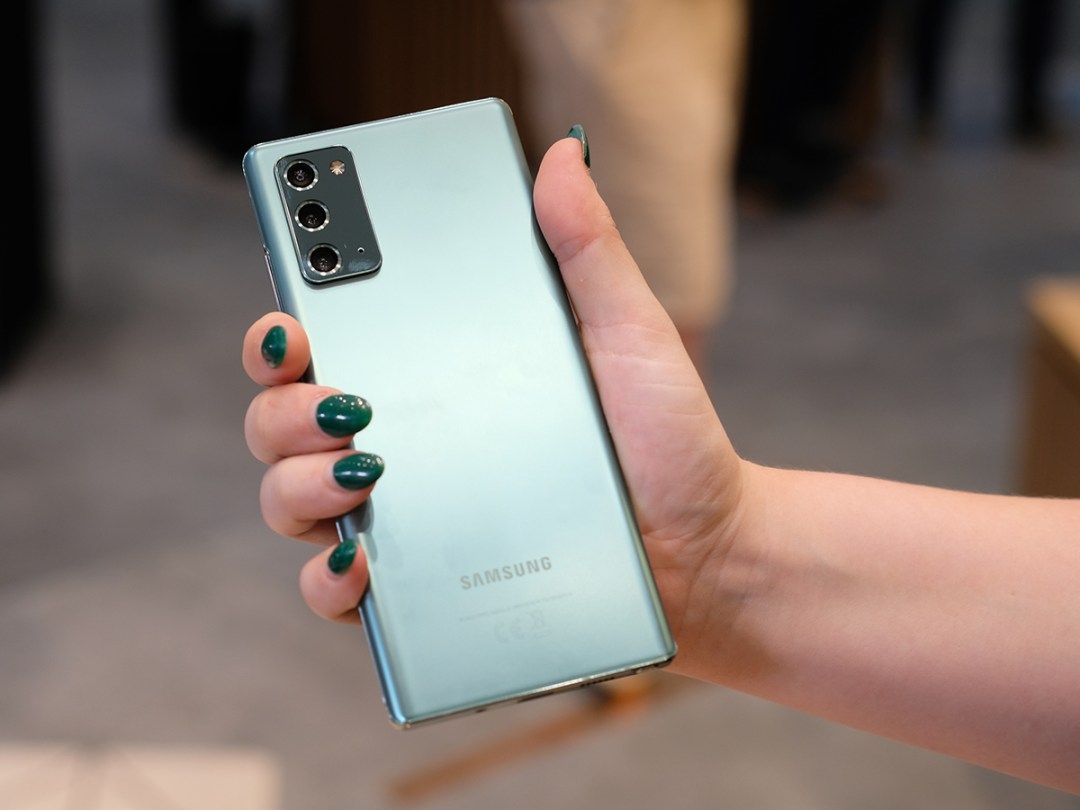 If there's one thing that we've realised this side of 2020, other than developing an ardent appreciation for hairdressers and their important work, it's that smartphone manufacturers show zero sign of slowing down.
That's handy then, as staying connected seems more important than ever.
The Note series has always been about work prioritising multi-tasking and of course, the unique S Pen, for jotting down Very Important notes and also getting creative. Samsung has just launched two versions – the Note 20 and the Note 20 Ultra, no prizes for guessing which is the meatier of the two.
The Note 20 feels like an upgrade from the Note 10, with a flat screen and more responsive pen and it's the one which comes in the new mystic green colour. The Note 20 Ultra is where Samsung flex some real muscle with Samsung's best display yet and fastest too, making it a mega powerful gaming machine, even more so now both phones offer XBox GamePass ultimate through Samsung's partnership with Microsoft.
With the Note 20 starting at £849 and the Note 20 Ultra at £1,179 expectation is high, so what else is worthy of note?
Design and build: Sugar Note
The N20 Ultra is a sight to behold with its striking 6.9in curved edges and Gorilla Glass 7, with the best display yet, an Dynamic AMOLED 2X display. Incredibly bright and easy to view at all angles – it's a looker. It comes in in black, bronze or white.
The Note 20 rocks a more manageable 6.7in flat screen with an FHD+ display and Gorilla Glass 5. It looks and feels a tad less premium than the Ultra, but that's no bad thing. It also comes in that delightful pinkish bronze but also in mystic grey and a stunning shade of 'mystic green' which is like the colour of sage.
The S Pen has jumped across the USB-C port from the bottom right to the left, to make way for the larger camera unit at the top.
The finish on the phones looks slightly frosted and this makes it way less of a fingerprint magnet than its predecessor. We approve.
Features: Pen for hire
A flagship feature of any Note is the S Pen, so it's no surprise Samsung has doubled down on making it the most capable yet.
It sees huge improvement on latency on both devices from respective predecessors – 40% better on the Note 20 and 80% on the Note 20 Ultra. Sadly, it won't quite write that work presentation for you, but it'll help you out with its reduced latency and the ability to save notes as a PDF and now even into PowerPoint. Smart.
Air Actions haven't gone anywhere either, so you can still wave your pen around like a wizard, except you're navigating through files on your phone, rather than summoning spirits.
'Screen Write' will allow you to instantly take a screen grab to then scribble all over and even better, the new notes sees huge improvements and will even straighten your sloppy scribbles.
Our favourite new feature within Samsung Notes is adding audio recordings into your notes, so you can later search for a certain word and find the exact bit of audio linked to it.
Later this year, Samsung promise to support up to 6 apps in use at the same time across devices and will allow you to drag and drop, so even if your brain can't handle those kinds of levels of multi-tasking, you're phone can.
Software and Performance: Note of confidence
At the heart of both Notes is a powerful Exynos 990 processor to help out with all the multi-tasking promised from these devices.
The Note 20 Ultra's screen has a blazing 120Hz refresh rate whereas the N20 has a refresh rate of half that. However, it's not that noticeable and something that's a nice to have, but unless you're gaming hard, it's superfluous.
The coolest part is the adaptive refresh rate so it'll scale it up or down depending on the task, going as low as 1Hz for things like reading and ramping all the way to 120 for gaming, so that should surely conserve the battery.
Samsung's partnership with Microsoft used to mean work, work, work and it still does with better integration with the Outlook suite where you can easily work across devices and it'll auto-save documents.
We hear you yawning, but how does access to over 100 Xbox games sound? Thanks to Microsoft Xbox GamesPass Ultimate comes to the Note series, and in some markets, you get a free 3-month pass when you pre-order Note 20.
One could even level up with a Bluetooth controller for a console like experience, but don't forget about that presentation due in on Monday.
With super-fast 5G on the Ultra and WiFi 6 on both models, Samsung claim it's the best gaming experience on any Samsung smartphone.
Dex is back, to seamlessly switch between screen and finally wireless connection is available, so that means you can continue watching that YouTube video on your smart TV. Or text a mate while gaming.
Storage wise, the Note 20 Ultra comes with either 256 or 215 GB with the option to expand up to over a terabyte with a MicroSD. The Note 20 ships with 256GB storage and 8GB RAM. So if you do choose on making this a serious gaming companion you might want to opt for the chunkier N20 Ultra.
Both phones seemed super speedy, but we'll have to wait to until we get a full review sample to see how it copes with cloud gaming.
Camera: 8K gains
The Note 20 has a 64MP telephoto main camera with a 12MP wide-angle camera and finally, a 12MP ultra-wide angle one for capturing more.
The Note 20 Ultra has a whopping 108MP wide-angle camera, a 12 MP telephoto and ultra-wide camera, plus extra laser-focus technology.
The headline feature on both models is the pro video mode allowing you to capture 8K at 24fps recording with a 21:9 aspect ratio. Easily control exposure, focus and there's even the option to control the speed of the zoom. You'll also be able to shoot 120fps at 1080p, which should do the trick for most users.
Pair that with multi-sourced mic control and you've got a mini-cinema kit on your at all times. Both the Note 20 and 20 Ultra can capture sounds from the rear, the front, both, or an external mic or headphones.
Image sharing via point to share will allow you to easily share images with friends who are nearby. Single take, which was introduced last year is still onboard, but you can choose up to 15 seconds of capture time to select the best shot.
Both phones have a 10MP front-facing camera to get a good shot of your mush and from our brief time experimenting with that, it's more than adequate and super handy for video calls.
Samsung Galaxy Note 20 and 20 Ultra early verdict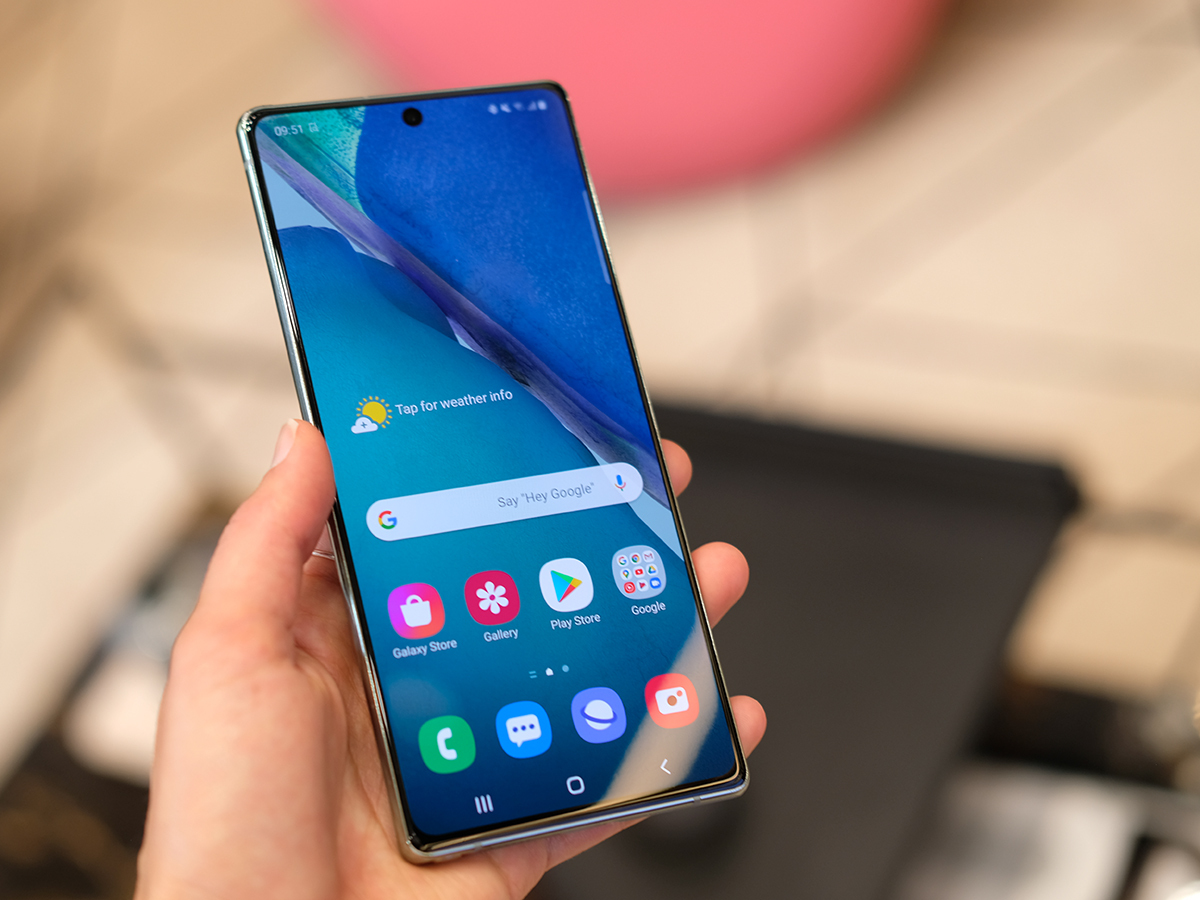 There's a lot to explore with both the Notes, but there's no doubt they'll live up to multi-tasking needs whether it's for work or play.
The real test is how all this work and play affects both batteries day-to-day, the Note 20 has a 4,300mAh battery and the Note 20 Ultra gets a 4,500mAh battery. 25-watts super-fast charging comes to both devices and 15watts power share will allow you to share power between devices. The Note 20 comes in either 4G or 5G variants and the Note 20 Ultra is 5G and starts shipping in August.
There's a lot to love about both Notes, and the improvements to the S Pen only strengthens the edge to what is quite a unique smartphone.