Samsung Galaxy S II review
Samsung's next flagship is here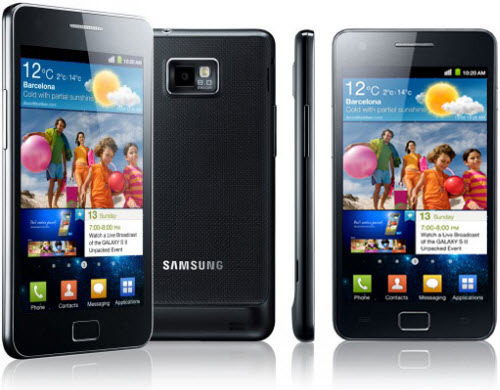 Samsung has pulled out all the stops with the Galaxy S II i9100. It's squeezed its best-quality 4.3-inch screen, an 8MP camera and a super-fast dual-core processor into a surprisingly slim case. In fact, at 8.49mm at its thinnest point, Samsung claims it's the world's thinnest smartphone.
And because it has a plastic back, it's preposterously light, too, though the build quality is solid and well-designed enough to make it feel like a precision instrument. Something this light with a screen this big is an achievement, too.
Dream screen
Samsung is renowned for its AMOLED technology, the vivid, colourful screens it puts into many of its phones. This one is Super AMOLED, and while it still doesn't equal the iPhone 4's Retina Display for resolution, it looks great: high-resolution, rich and detailed. And the screen is behind a barrier of Gorilla Glass, so you won't worry for its safety.
The dual-core processor is ridiculously fast, so the most mundane tasks are performed instantly with tougher jobs clearly not taxing the phone as much as they would on most handsets.
The freshest Gingerbread
The Galaxy S II uses Android 2.3.3 (Gingerbread), which is the latest available. Samsung, like most Android phone manufacturers, likes to add its own spin on the vanilla Google experience but its overlay – called TouchWiz – is gentle enough.
It includes some excellent details, like the pull-down menu that lets you toggle Wi-Fi, Bluetooth and sound on and off, not to mention locking or freeing the auto rotation – handy because sometimes the phone's accelerometer is so fast and sensitive it's hard to keep up.
There's also a Samsung Social Hub to gather your Facebook and Twitter updates together seamlessly, along with music, game and reading hubs. Don't fancy those? Then there's the 100,000-plus Android apps.
Wallpaper with weather
There are a couple of eye-catching new animated wallpapers to enjoy, including two which change according to the weather. So you can look at waves crashing on the shore, with sunlight complete with lens flare or splashing rain. At night, of course, the sun is replaced by a moon. Be warned, it'll eat the battery a little faster than a regular background, though battery life is surprisingly good – a full day's use won't leave it flagging.
There are some curiosities elsewhere too. When viewing a website you can touch the screen with two thumbs and rock the phone back and forth to zoom in and out. It's interesting, but no match for the (also-available) pinch-to-zoom.
Optimum stills and video
The camera is strong. Its 8MP sensor delivers detailed shots, the LED flash helps in low light and the range of effects adds to the fun. So you can set it to automatically fire when your subject smiles, for instance. And it shoots video at 1080p.
Flash video is rendered smoothly and without delay and you can even play back video from the phone's display on a flatscreen TV, though you'll need a special cable for that which isn't supplied.
This is one of the few disappointments with this splendid smartie that has pretty much everything going for it.
Stuff Says…
Fast, powerful, with dazzling design and great battery life, the Galaxy S II is an irresistible Android handset