Samsung Galaxy S5 Mini review
The Galaxy S5 gets blasted with the shrink ray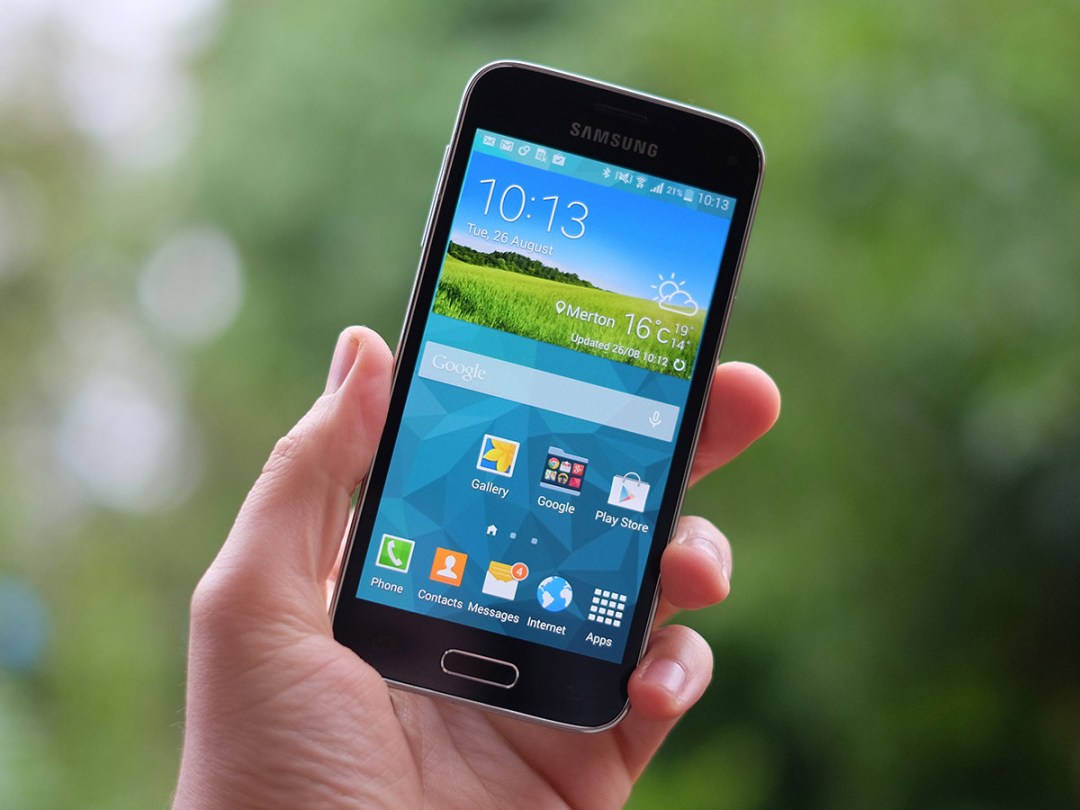 The Galaxy brand is pretty darn powerful these days. Even people who don't know what Android is know 'Galaxy', and the Samsung Galaxy S5 is one of the most desirable phones in the world, too, even though it's been out for a while and has a weird dotty back.
Every year the Android king is joined by a little sprog, a mini version out to offer a Happy Meal alternative to the Big Mac. The Samsung Galaxy S5 Mini is this year's entry.
It may be smaller, but at £350 SIM-free, it's not actually that much cheaper. Not now that the Galaxy S5 price has been eroded after six months of being petted, patted and prodded on phone shop shelves.
Is the Galaxy S5 Mini great value? Perhaps not, but unless you're a hardcore phone fan you do get most of the Galaxy S5 experience in a more pocket-friendly package.
READ MORE: Samsung Galaxy S5 review
Check out those dimples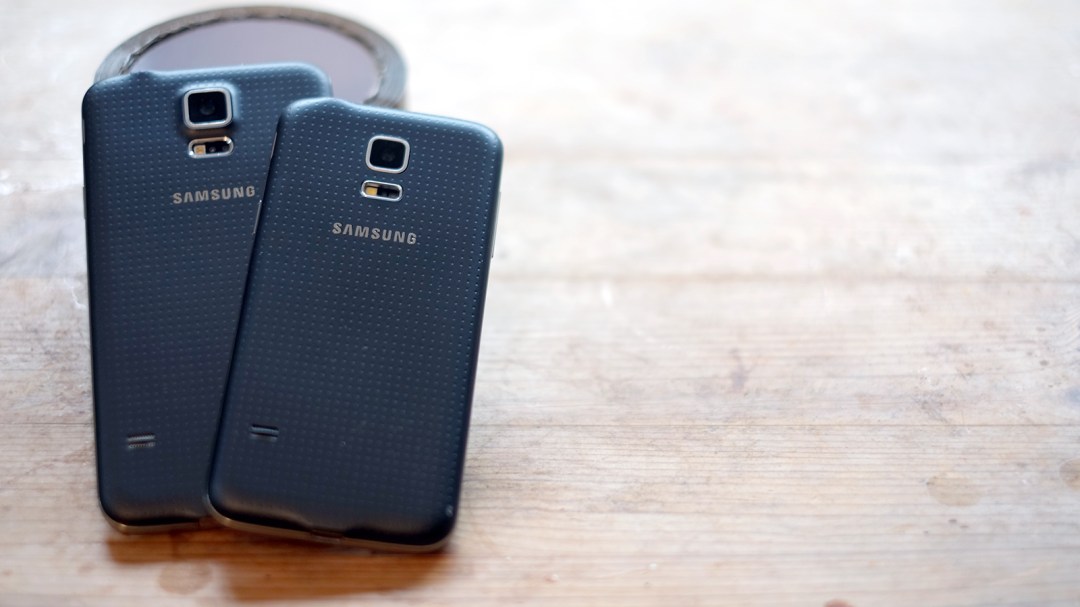 From a quick glance the Galaxy S5 Mini looks like a Galaxy S5 blasted with a shrink ray. All of those little S5 design extras are here.
The pitted back, the slightly questionable ridged chrome plastic sides and the light-up soft keys are all virtually identical. Samsung has used the same finish on the rear, too – a nice soft-touch plastic for the black one, tackier plastic for the white. You can also get it in blue and gold, just like the S5.
And like the Galaxy S5, it doesn't feel quite as expensive or as top-grade as some of its rivals. The most obvious phone to bring up here is the HTC One Mini 2. It's made of metal, the S5 Mini is plastic, aside from the Gorilla Glass 3 front, of course.
It really is business as usual. Aside from a few important changes, that is.
The Samsung Galaxy S5 Mini is obviously a bit smaller than its big brother. Shrinking from a 5.1-inch screen to a 4.5-inch one, those who like the S5 aside from its big body may instantly fall in love with this phone.
It is a big thicker, though, by a full millimetre, as it has to pack the same array of techy bits and bobs into a smaller plastic shell.
A millimetre? Hardly the sort of change that's going to make the sky crack open and fire-up the apocalypse, is it? The difference is quite obvious once you get your hands on the S5 Mini, but it's not what you'd call a tubby runt.
There's also a great positive change in the Galaxy S5 Mini. It's to do with water resistance: like the Galaxy S5, this is a phone with IP67 certification.
You can drop it in the toilet without it drowning, but it doesn't have a cover for the microUSB port on the bottom. It doesn't need one. As such, this is one of the only zero-baggage water resistant phones to date.
Without any bits to reseal after you charge the battery or plug in headphones, this is the sort of water resistant phone we've been waiting for. That's waterproofing you can instantly forget is there. Aside from having an extra specially-treated port, the waterproofing works much as it does in the Galaxy S5.
The inside part of the battery cover has a rubber seal that snakes around the Galaxy S5's battery and more vulnerable inner bits, keeping them dry. What waterproofing can't do is make the Galaxy S5 Mini usable in torrential rain, as water still affects the capacitive touchscreen. But Samsung still gets a bucketful of brownie points for making water resistance so pain-free.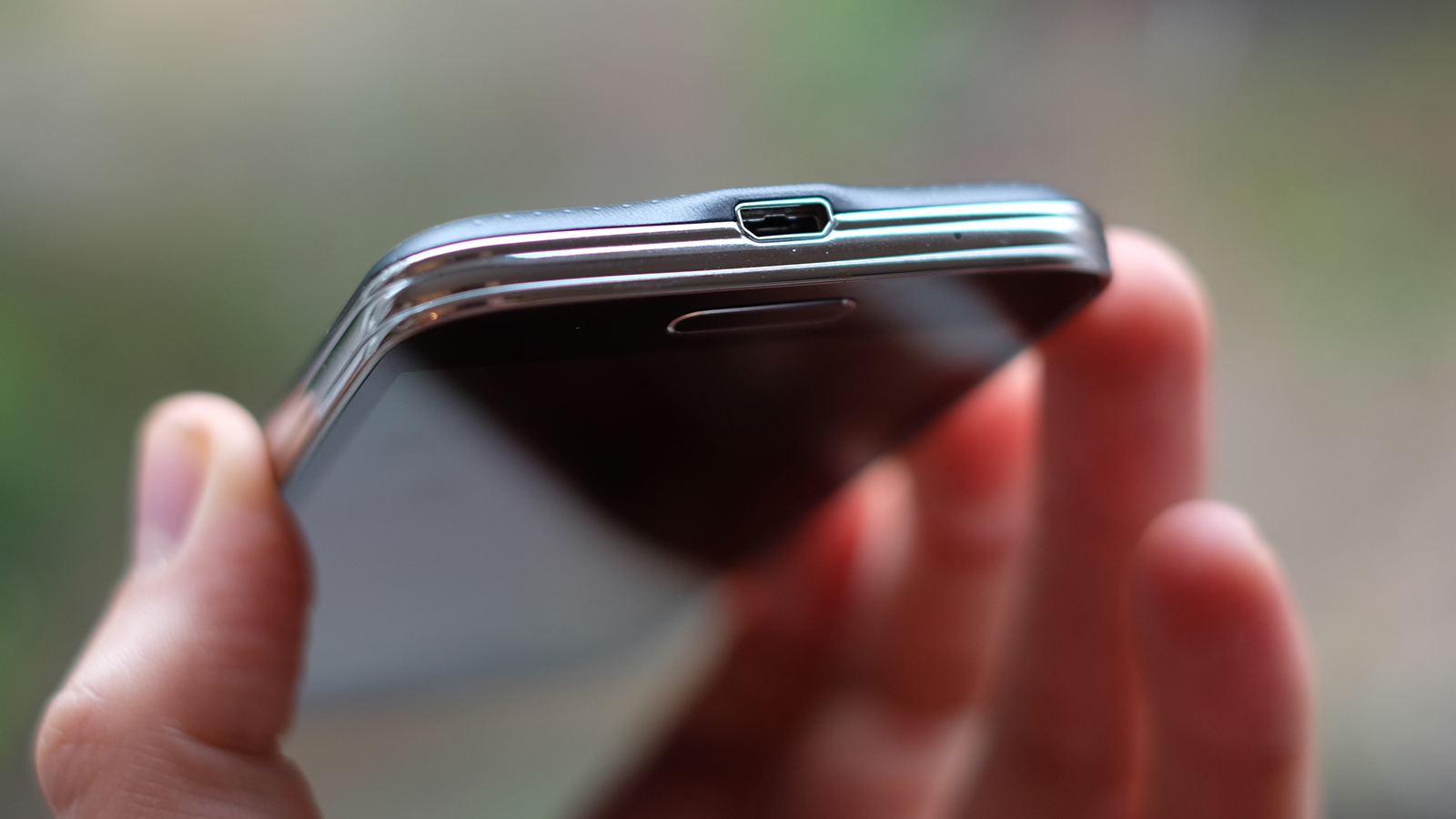 The eagle-eyed among you may have already noticed something else – the port on the bottom of the S5 Mini isn't the same as the Galaxy S5's. It has a standard microUSB 2.0 port while the Galaxy S5 uses a more advanced, but bigger, microUSB 3.0 port. What USB 3.0 gets you are faster file transfers and slightly faster charging, assuming your laptop or charger also has USB 3.0.
That the S5 Mini doesn't have it is no great loss for most people, who presumably now live in a largely streaming world. Still into old-fashioned local storage? There's a microSD card slot under the hood for you to add to the 16GB of on-board storage.
The Galaxy S5 Mini also packs in the two most obvious conspicuous 'bonus features' of the Galaxy S5: the heart rate sensor and the fingerprint scanner.
We've both heard mixed reports and had mixed experiences with the fingerprint scanner. It can be used to unlock the phone as a security measure, and to confirm Paypal transactions.
The issue is that it's not all that easy to use – much less so than the iPhone 5S's TouchID sensor. You need to pass a finger over it rather than just hold it there, and unless you are really quite accurate it won't work. It can feel like trying to pick a lock at times.
After trying it for a couple of days, I ended up switching it off – just as I did with the Galaxy S5. We know people who get on with the Samsung fingerprint scanner just fine, but the issue is that for it to really earn its crust it needs to be more convenient than a quick lock screen pattern swipe. We're not convinced it is.
What about the heart rate sensor? It's not hard to use, but it's also not really much better than using a flash/camera combo. Apps can use these two things to monitor your heart rate – there are several good free ones on Google Play.
Still, all these criticisms apply to the Galaxy S5 too.
Black is back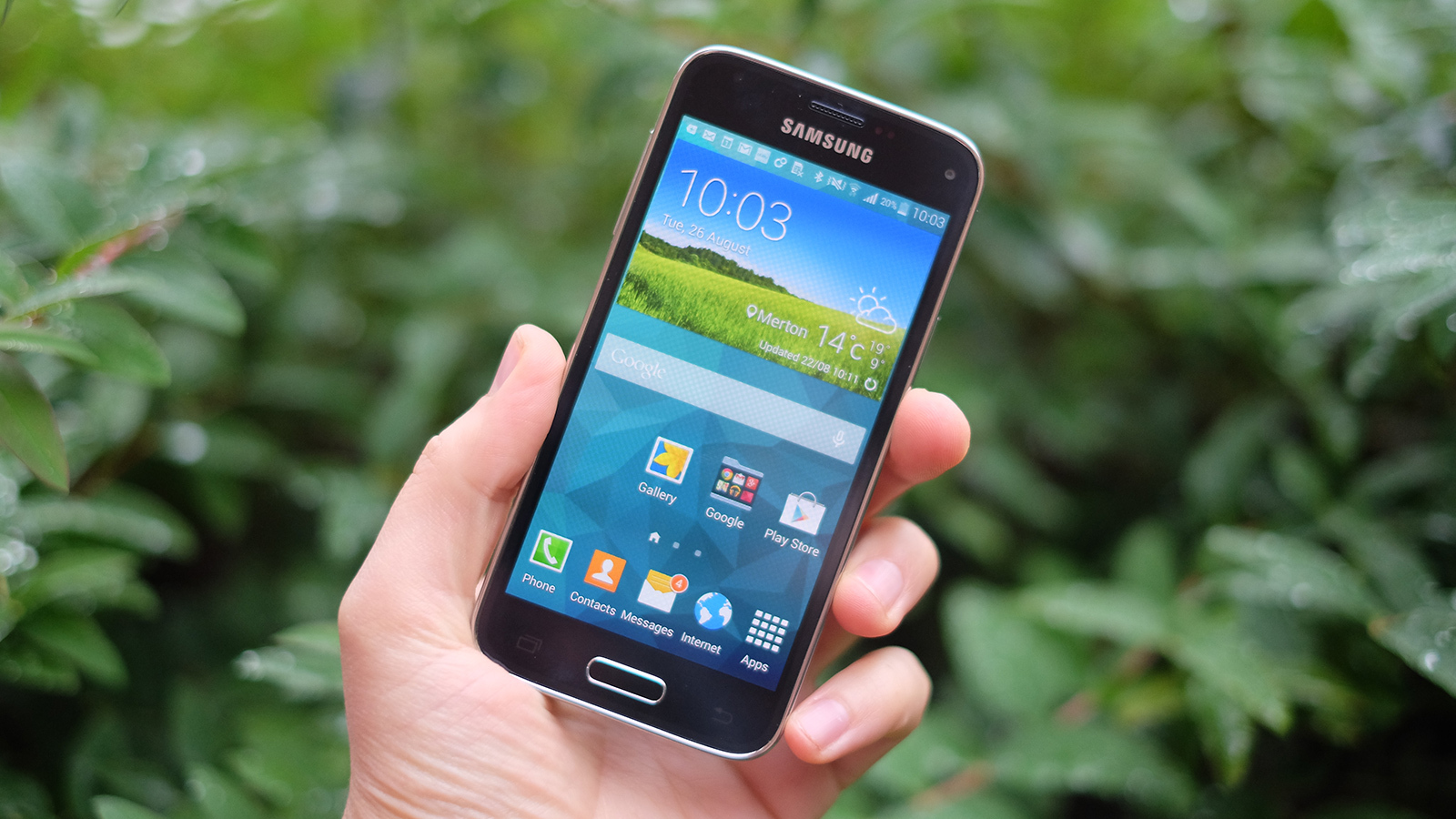 What is a bit more of a compromise compared to the Galaxy S5 is screen resolution. The S5 Mini has a 4.5-inch 720p screen.
That's the same size and resolution as the Motorola Moto G, which costs just a third the price of this mobile. Is it madness?
Not exactly. At 4.5 inches, a 720p screen still looks fairly sharp, and this is a pretty nice screen.
As with other top-billing Samsung phones, the Galaxy S5 Mini uses a Super AMOLED display rather than an LCD one. With this kind of screen, each pixel is its own light source, enabling sky-high contrast and blacks darker than the inside of a black box in a black hole in the blackest reaches of deep space.
You also get control over the screen's tone, side-stepping an issue some OLED phone screens suffer from – oversaturated colour. Like the Galaxy S5, the colours are a little hot when the phone's fresh out of the box.
They look vivid and lively, but if you want more accurate colours to, perhaps, check out your photos, there are cinema and photo screen modes that offer much more natural colours.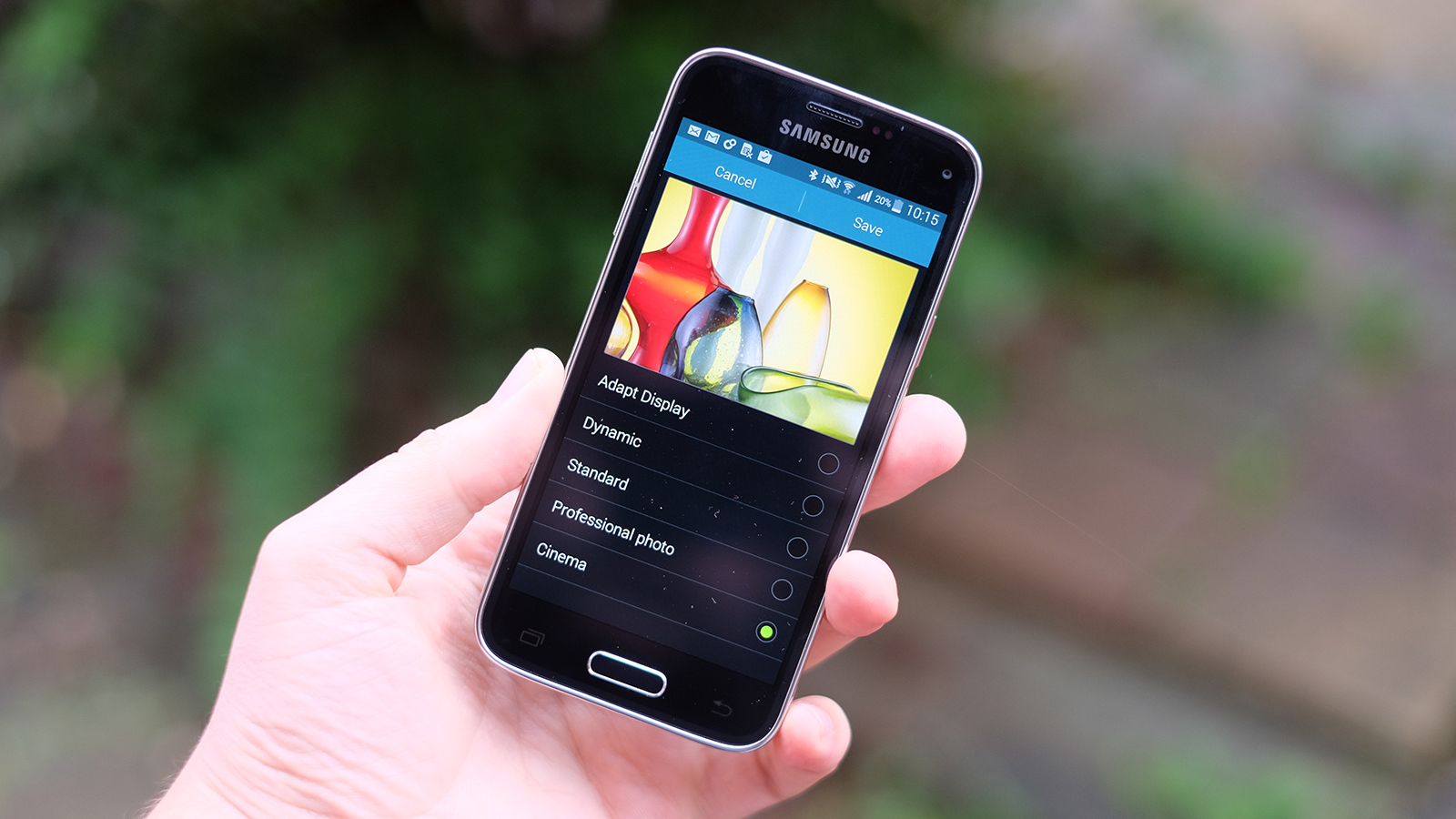 It's a good screen, but you can notice the difference in resolution if you get really close up, or zoom out a good deal when browsing – making text teeny. Part of this is down to the diamond PenTile subpixel arrangement.
This screen structure means the pixels share subpixels, reducing the perception of sharpness a tad. You do need to try to see this in action, though. Here's a pro tip: getting your eyeball that close to the screen really isn't comfortable.
Like other top Super AMOLED phones, the Samsung Galaxy S5 Mini offers fantastic outdoors readability. The display is way less reflective than just about any LCD phone, meaning it just isn't affected by bright sunlight in the same way. Viewing angles are fantastic, too, with just a tiny blue cast to the screen at an angle – one you'll only really notice if you're looking at a pure white screen.
We don't think the S5 Mini screen is dramatically better than some rivals that are a bit cheaper in all respects, though. The old-but-great Sony Xperia Z1 Compact and even the Moto G offer displays that can compete – if not beat – the S5 Mini.
READ MORE: Motorola Moto G review
Interface copy and paste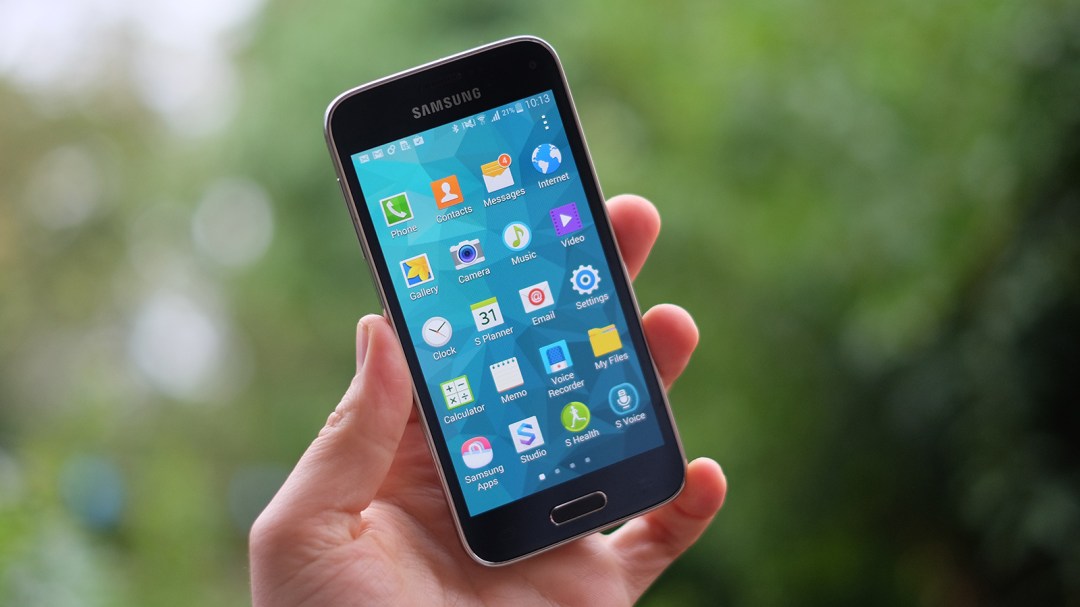 What is peculiar once again to Samsung Android phones is the Samsung Galaxy S5 Mini's interface. It's just-about exactly the same as the one used by the Galaxy S5 – the latest version of the TouchWiz interface.
In the last year, Samsung has done a lot to get rid of its old reputation for packing in features that no-one asked for without thinking about whether they might affect how fun the phones are to use. The Galaxy S5 Mini has quite a nice-looking, simple-ish interface that's pretty easy to use.
It's not perfect, being a bit less attractive than the Sony Xperia Z2's and having a bloated-looking settings menu, but it's a big step up from the Samsung UI of a year or two ago.
Pared back performance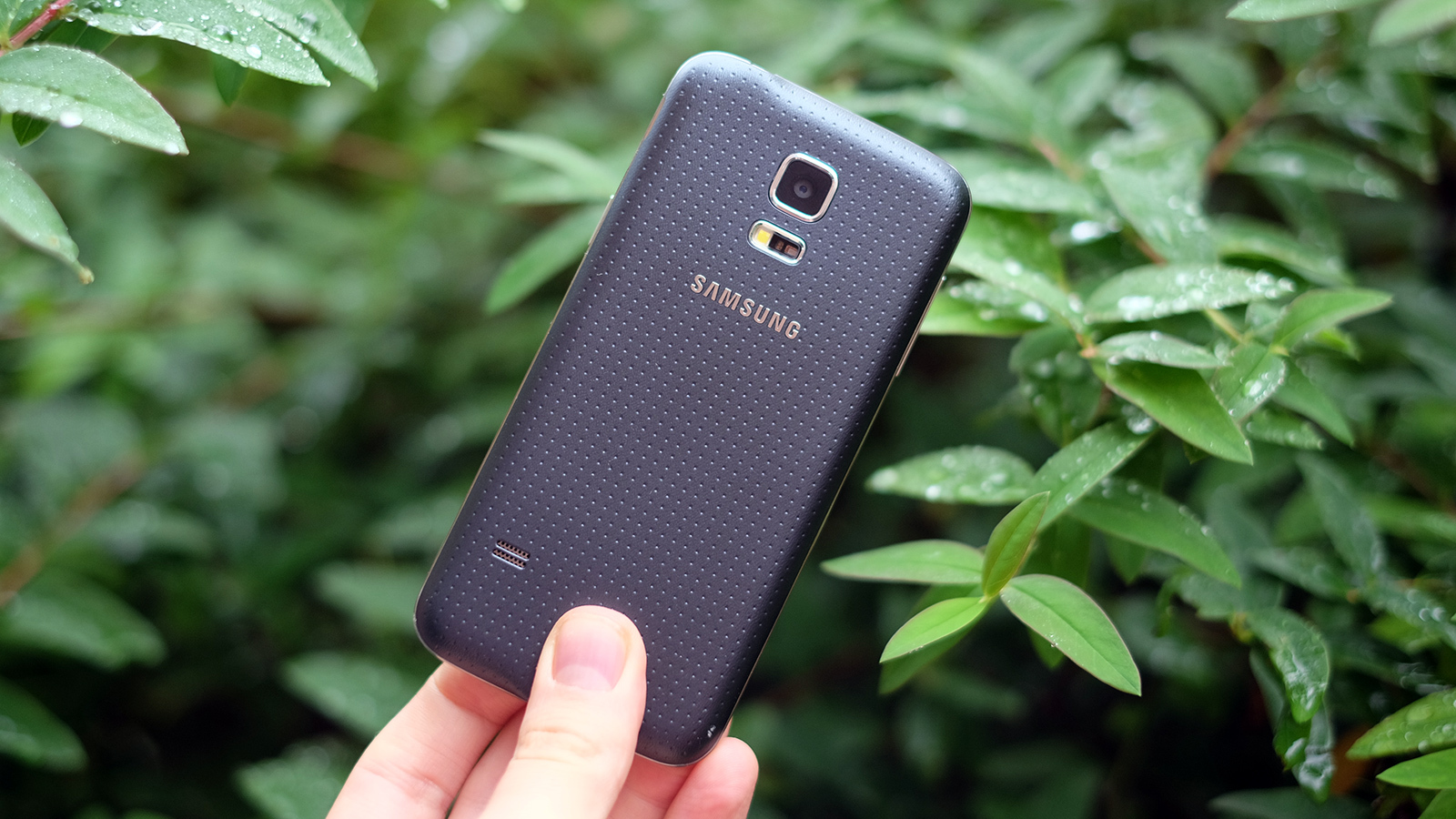 What's not quite so hot is general performance. It's just not as immediate as it could be, and there are some laggy moments, especially if the Galaxy S5 Mini is doing something in the background, such as updating an app.
The beating heart at the core of the S5 Mini is an Exynos 3 Quad 3470, a quad-core 1.4GHz processor with Cortex-A7 cores, and 1.5GB RAM. What's disappointing is that this isn't really any more powerful than last year's Samsung Galaxy S4 Mini, which has a Snapdragon 400. While it may be the dual-core version of the 400, its Krait cores are more powerful than the S5 Mini's ones.
Geekbench 3 tells the story without too much subjectiveness. Where the Galaxy S5 Mini scores around 1113 points, the S4 Mini gets around 1067 according to Geekbench's own results table. Not much of an upgrade for 12 months' progress, is it?
This is also only around the same performance as the Motorola Moto G, a phone that – we'll repeat – is a a third the price, or less than half in its 4G version. There's another elephant in the room too: the Sony Xperia Z1 Compact.
That phone has a Snapdragon 800 CPU, and now costs a little less than the S5 Mini SIM-free. The Snapdragon 800 is a much more capable processor.
But where do you see that extra power? It's not really in everyday performance, as we found that even the super-powered Galaxy S5 is a bit laggy now and then.
Gaming does show up the difference a bit. It's not just a question of performance, but also graphical quality.
Mid-range processors such as the S5 Mini's Exynos and the Snapdragon 400 tend to miss out on a few visual effects in the top games, compared to superphones such as the Galaxy S5 and, more interestingly, older but more powerful (and now cheaper) phones such as the LG G2, Nexus 5 and Xperia Z1 Compact.
It's this slight lack of power that makes us pull a face at the Galaxy S5 Mini's price a bit. And even with the slightly lesser graphics, we did see a few instances of low(ish) frame rates in 3D games. We didn't encounter anything that was remotely unplayable – but it shows Samsung is rather pushing it with the price of the Mini.
READ MORE: The 30 Best Free Android Games
Samsung Galaxy S5 Mini tech specs
Operating system: Android
Processor: Exynos 3 Quad 3470 @ 1.4GHz
RAM: 1.5GB