Samsung Galaxy S5 review
The most feature-packed smartphone on the planet, tested [up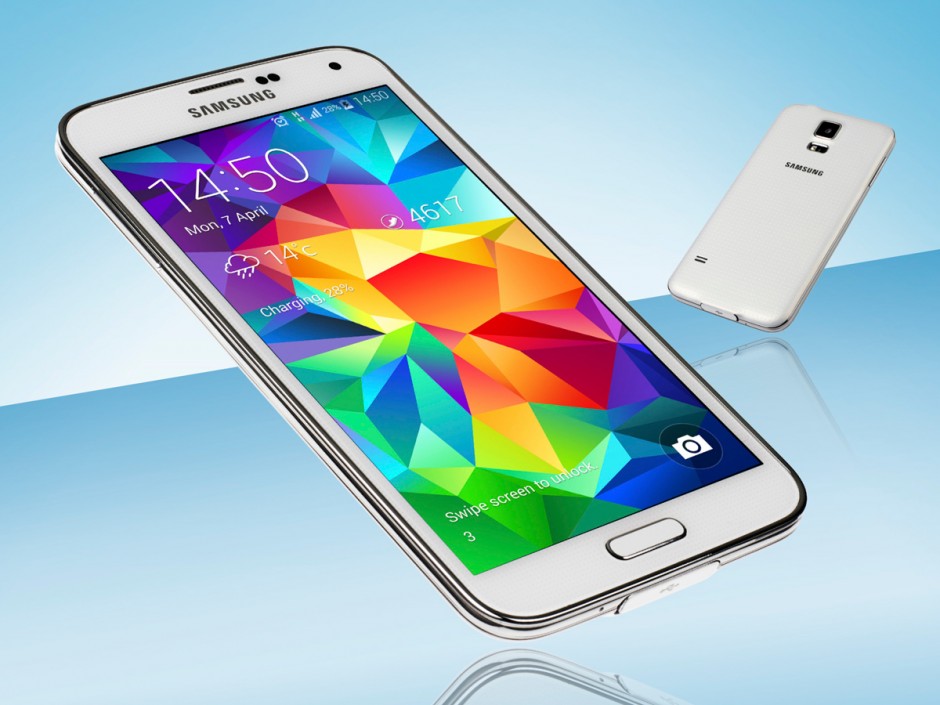 You know what you're getting with the Samsung Galaxy S5 before you even unbox it because this is a 2014 superphone. Big, bright screen. Oodles of power. Brilliant camera.
We'd expect every one of the big smartphone players to get those bits right on their flagships – after all, they've been refining these models for years. From now on it'll be the little details that separate the best-in-class from the also-rans; those seemingly trivial aspects of everyday usability that make the difference between a phone that's lovely to live with and one that's merely a tool.
Galaxy smartphones are known for going big: on screens, specs, software tricks and, of course, sales. The S5 is no exception, but the small stuff can be just as exciting as the headline features, and that's what the S5 will need to get right if it's to become the very best.
BIG ON DESIGN DNA
If there's one obvious way that Samsung still falls behind its rivals, it's industrial design.
The Galaxy S4's clammy, all-plastic build didn't feel particularly nice to hold – the kind of smartphone you really don't mind putting a case on. While the S5 is instantly recognisable as a Galaxy, Samsung has tweaked the design by adding a dimpled polycarbonate (still removable) back panel to give your fingers something to adhere to. In that regard it works. This is a big, wide phone but that new texture combines with Note 3-style metal-look ridges to make this the grippiest Galaxy yet. It's just as light as the S4 (OK, 15g heavier) and is also more solidly built that its predecessor, which was prone to the odd creak.
Improving on the S4 isn't enough, though. Next to the impressively engineered LG G2 the S5 looks a generation behind, with wider bezels on the front and a larger overall handprint. The G2 simply has a better screen-to-size ratio.
Second, how a phone feels when you grab it 100 times a day is half the battle. The "Modern Glam" back panel still doesn't look the part of a £600 smartphone. Perhaps it's exactly the sort of styling Samsung's hordes of fans are after, but to our eyes this is a long way from the sophisticated curves of the HTC One M8.
We're not saying "go metal or go home" (the Nexus 5 is a prime example of understated polycarbonate perfection) and ditching the fake stitching of the Note 3 is a good decision, but Samsung needs to think classier.
Third, while the S5 feels solid enough, crank up the volume when watching a movie in bed and you can hear the rear speaker vibrating the S5's back panel fairly vigorously. That's not something you'd expect from a flagship such as this.
In short, we're not enamoured by the S5's aesthetics, but perhaps there are those out there who will be. Besides, Samsung's form has a function – IP67 waterproofing. Just make sure the back panel and port covers are properly fitted. No one wants a soggy battery.
UPDATE: Samsung has sent us over a Charcoal Black model and we're much more taken with it than our original Shimmery White unit. Our design criticisms still stand but this is definitely the model we'd go for – we're yet to eye up Electric Blue and Copper Gold.
BIG SCREEN: 5.1IN, SUPER AMOLED
Fortunately, the screen will more than distract you from the S5's divisive aesthetics. At 5.1in, it's only just bigger than the S4's – but it's now a dazzling Super AMOLED display.
It's still full HD resolution, so there's a slight drop to 432ppi from the S4's 441ppi, but you really won't notice. What you will notice is how bright it is, how easy it is to read outdoors and how vibrant the colours are.
And to combat criticism over alien hues, Samsung's adapt display setting automatically switches screen mode depending on what you're doing – Dynamic mode to make home and lockscreens really pop, and Cinema mode for a natural palette for movies. It's the smartphone screen equivalent of having your cake and eating it.
We were obviously excited when the (ultimately unfounded) rumours of a 2K screen surfaced, but while that's not what we've ended up with this is plenty sharp and there are excellent viewing angles. It's not quite the very best – the LG G2 offers a larger screen, crisper picture and slightly better contrast in a smaller body. But the S5's display is still an absolute stunner.
BIG CAMERA: 16MP, 4K VIDEO
The S5's is a very impressive smartphone snapper.
For a start, the autofocus is seriously quick. Samsung reckons it's as fast as up to 0.3s; we can't count that quickly, but we do know it's one of the nippiest we've seen on a phone.
The 16MP sensor captures accurate colours, good contrast and masses of detail when used outdoors in good light, so it's a superb ad-hoc tourist cam. Its improved HDR mode is one of the best we've used, too – it's lightning quick and the results in tricky light are close to magic.
But indoors it's only so-so, and in low light, it's comfortably beaten by the night vision of the HTC One (M8) and the LG G2. Colours stay accurate but images look too grainy to be usable. Zooming in on landscape shots? Yes, go for it (after all, it's not something you can do very effectively on the 4MP One (M8)). Your mate's face in a dimly lit restaurant? Not so hot.
Selective focus – Samsung's version of the Lytro-like tech so in vogue right now – offers near focus, far focus and pan focus after you've taken the shot. The subject closest to you has to be 50cm or nearer and, unlike on the HTC, the mode has to be selected before you start snapping. But even though it's software-based, with no extra sensors, it works fairly well and is a cool feature that's a cut above the slightly gimmicky software tricks Samsung has been guilty of in the past.
The camera app itself has been simplified, too, with one big boo-boo: Samsung's ditched its night mode altogether. For low light shots Samsung suggests its new Picture Stabilisation mode, but this is hidden as a toggle in the phone's main settings. After Auto, this is probably the most used setting, so having to jump through hoops to get to it is a misstep.
As for video, the S5 joins the Note 3 in the 4K club – footage is smooth and looks as crisp as the screen you're viewing it on will allow. In most cases, excellent Full HD footage will do.
BIG ON FEATURES
With so much going on, the S5 needs order. And this is easily the most user-friendly version of Android yet to grace a Galaxy.
TouchWiz, as it's known, has never had many fans. Big features such as running two apps side by side with Multi Window are useful, but there's always been a little too much confusion and clutter to it.
On the S5 it's different. It's not quite as painstakingly crafted as iOS yet and we're sure an S5 Google Edition (with vanilla Android KitKat) will sell well. But it is now on the road to brilliance. Tweaked icons look simple and fresh and core apps such as the S Planner calendar have been overhauled to look clean and calming next to their hectic S4 counterparts.
Where once we'd unbox a smartphone already bloated with extra apps, Samsung downloads and free subscriptions are now tidied away in the Galaxy Essentials and Galaxy Gifts widgets – it's then up to you which you install and which you ignore.
The big addition is My Magazine, a stream of images and links to news that's powered by Flipboard and sits to the left of the main home screen. HTC's BlinkFeed is slightly more useful – it shows specific RSS feeds and calendar appointments – but Samsung's app is an equally lively way to jump into the morning's news. Again, Samsung is learning to be less pushy – My Magazine can be killed in the settings.
Using the S5 can still feel overwhelming at times, mind you. The settings menu is somewhat over-stocked with options, to the extent that we gave up scrolling the icons and used the search tool. All the familiar Samsung innovations are here if you want them, including last year's motion gestures (eye tracking, touchless scrolling, etc) neatly tucked away in their own section. It's worth noting that none of these are as useful and intuitive day-to-day as the One (M8)'s swipe- and tap-to-unlock gestures.
BIG ON BPM
Heart rate tracking has been added to Samsung's redesigned S Health app, which already boasts pedometer, exercise and food-tracking sections. Once accessed through the app it's quick to take readings, requiring only a finger press to the sensor that sits below the rear camera. It's very accurate, too – within a couple of BPM of the TomTom Multi-Sport Cardio.
But the beauty of heart-rate monitoring is that it enables more focused training, and for that to be really effective it needs to be constant, as it is with a sportswatch such as the aforementioned TomTom or Samsung's own Gear Fit.
Having said that, checking your heart rate can become weirdly addictive (there's even a graph) and yet another feature to add to your S5 bragging session as you show off what it can do. And S Health itself remains a great free tool for beginners, with workout goals, audio guides and step counting.
If you're frustrated with what S Health is capable of, Samsung's announced that Endomondo integration is on its way (complete with bespoke apps for the Gear 2 and Gear Fit) as well as plans to bring more fitness services such as Strava into the S Health fold in 2014.
Fitness is obviously part of Samsung's big picture and it's way out in front with the S5. But that's not all the phone fondling you'll be doing.
BIG ON FINGERPRINTS
Fingerprint scanning is an awesome, futuristic feature, especially in terms of mobile payments, so it's good to see Samsung joining Apple in including it.
The implementation isn't as slick as Apple's – you have to swipe from the screen down over the oval-shaped button and often find your fingers sliding off the edge of the plastic phone. However, it does allow you to register fingerprints to pay for Samsung apps, authorise PayPal transactions and access private files on the phone. There's no Google Play integration yet, so we hope to see it in a future update.
BIG ON POWER
Maybe it's the tweaks to TouchWiz, maybe it's the extra grunt from Snapdragon's blazing 2.5GHz 801 processor. But with the Galaxy S5, Samsung's finally produced a phone that makes full use of the power underneath its hood.
For all its gaming and multi-tasking prowess, it was the small things that could trip up the S4 – opening the gallery, widgets blinking and reloading on its homescreens. Not so with the Galaxy S5 – it's not quite as effortlessly fluid as the HTC One (M8), but moving through the UI is as lag-free as we've seen from a Samsung. It doesn't hurt that the S5 can play back a 4K video in one window while you scroll through Facebook in the other, either.
It doesn't top the benchmark charts, scoring lower than the LG G2, Sony Xperia Z Ultra and Samsung's own Galaxy Note 3 on AnTuTu with 29730, but such figures are far less important than the day-to-day user experience.
Connectivity is super fast, too, backed up by a decent SunSpider benchmark score of 779.0m/s. Downloads that are already lickety split thanks to MiMO Wi-Fi (ten seconds for a Spotify album, less than a minute for big Google Play games – depending on your internet connection, of course) get even quicker with Samsung's Download Booster. With a 4G sim in place, the S5 uses both Wi-Fi and 4G to, well, boost download speeds. We've never seen a blue bar hop so fast.
BIG ON BATTERY
Battery life on the S5 is strong, matching the usual roster of top Androids in lasting a full day. It's not quite up there with the juice-sipping G2, which easily lasts a day and a half no matter what you throw at it, but that device remains a freaky smartphone anomaly.
Unlike either the G2 or the HTC One (M8), though, the Samsung's battery is swappable. For some people this is a deal-maker – if you're organised enough to carry a spare with you, it's a feature to cherish.
On an hour's commute of listening to offline Spotify playlists, editing in Google Drive and checking emails over 4G, the 2800mAh battery will plummet by about 30%. There's a new Ultra Power Saving Mode, though, which limits the phone to apps such as phone, messages, internet and memo and changes the screen to grayscale. That's enough to see 30% of the battery last 3.3 days, while 4% will get you half an hour before lights out.
SAMSUNG GALAXY S5 VERDICT
There's plenty to brag about with the S5 – a glorious screen, superb camera, Multi Window apps, and fingerprint scanning. If the tweaked build and cleaned-up user interface are anything to go by, Samsung is taking design – inside and out – seriously.
And yet, while it does everything you expect from a 2014 flagship phone, it doesn't quite go above and beyond to the same extent as the HTC One (M8), which is that little bit slicker, more stylish and joyful to live with.
It's a mighty close call, though, and Samsung fans have no reason to be disappointed. The fact is, this is a smartphone that's just millimetres from greatness. Samsung's problem is that its competitors are still closer.
Stuff Says…
Big, bold and stuffed with tech, the Galaxy S5 is a bona fide superphone with some very stiff competition
Good Stuff
plenty of power
sharp, vivid screen
detailed snapper
tons of features
waterproof
Bad Stuff
a design that few will find beautiful
UI can still be confusing
not the best camera indoors and in low light