Samsung Galaxy S6 Edge review
Does a Galaxy S6 + curvy screen = phone perfection?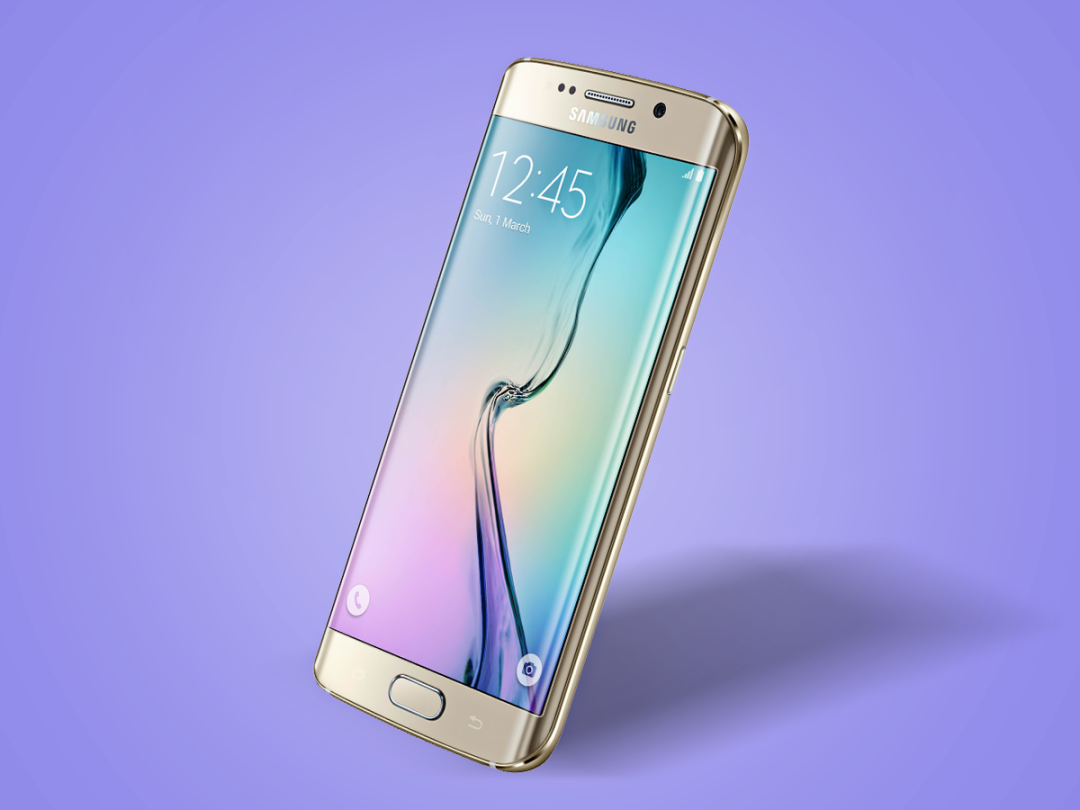 Samsung can't innovate, right? It just copies whatever Apple does, repackaging the Cupertino firm's genius designs for the less-discerning masses and wrapping them in plastic shells. Plastic! The horror!
A slightly unfair stereotype, maybe, but not one without a smidgen of truth. But a stereotype which Samsung has well and truly smashed with the Samsung Galaxy S6 Edge.
"First curved TVs, now curved phones? You're having a joke, right?" That's the sort of reaction we might expect your average punter to have to the Edge. It screams gimmick even more than location-aware keyrings and trainers for your dog. But here's a surprise for you: Samsung has really pulled it off.
The curvy screen isn't essential, but when it's matched up with top construction and quite simply some of the best phone essentials you can get, that 'gimmick' turns the Edge into a phone demigod. We only wish the Samsung Galaxy S6 Edge wasn't so painfully expensive. Costing £50 a month on contract at release, it's a real bank account-cleaner.
Behind the curve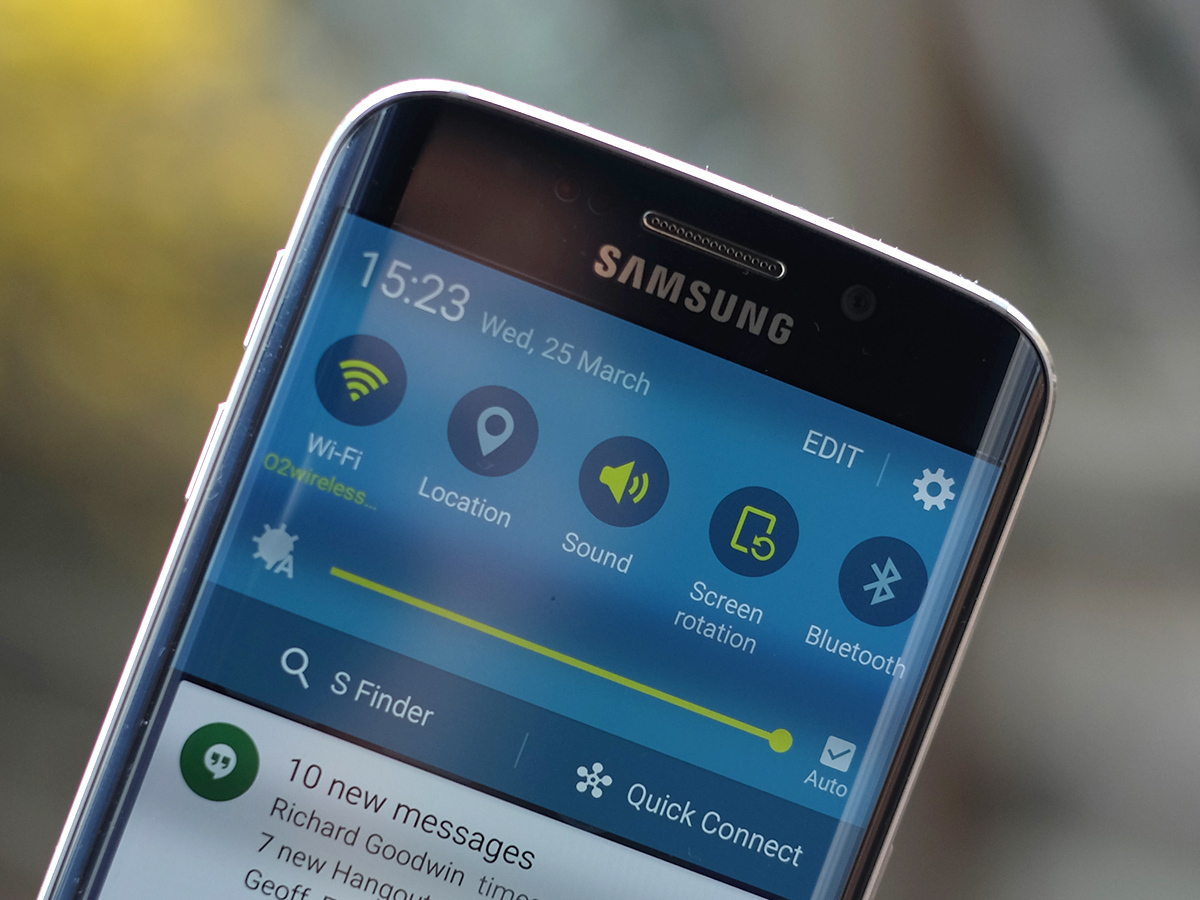 Let's start at the beginning, though. What is that curve all about?
Well, firstly, it's not a vertically curved screen in the way that the LG G Flex 2's is: rather, it's a wraparound affair which curves around at the ends, by about 45 or so degrees.
Samsung had a stab at this style with last year's Galaxy Note Edge, which has one curved side. But the S6 Edge has two: double-barrel curvy goodness. Nor does this year's phone desperately try to prove to you that those curvy bits are useful. Before, Samsung stuffed the curve with custom features and even games, but this time it's just thrown it out there with a cheeky little grin on its face.
There are features, but not loads. It knows those curves feel and look pretty good.
The Galaxy S6 Edge has the look of a phone from sci-fi films of about 10 years ago. That may sound like an insult, but it's not. Minority Report still has some pretty cool stuff in it, after all.
Curve-sploitation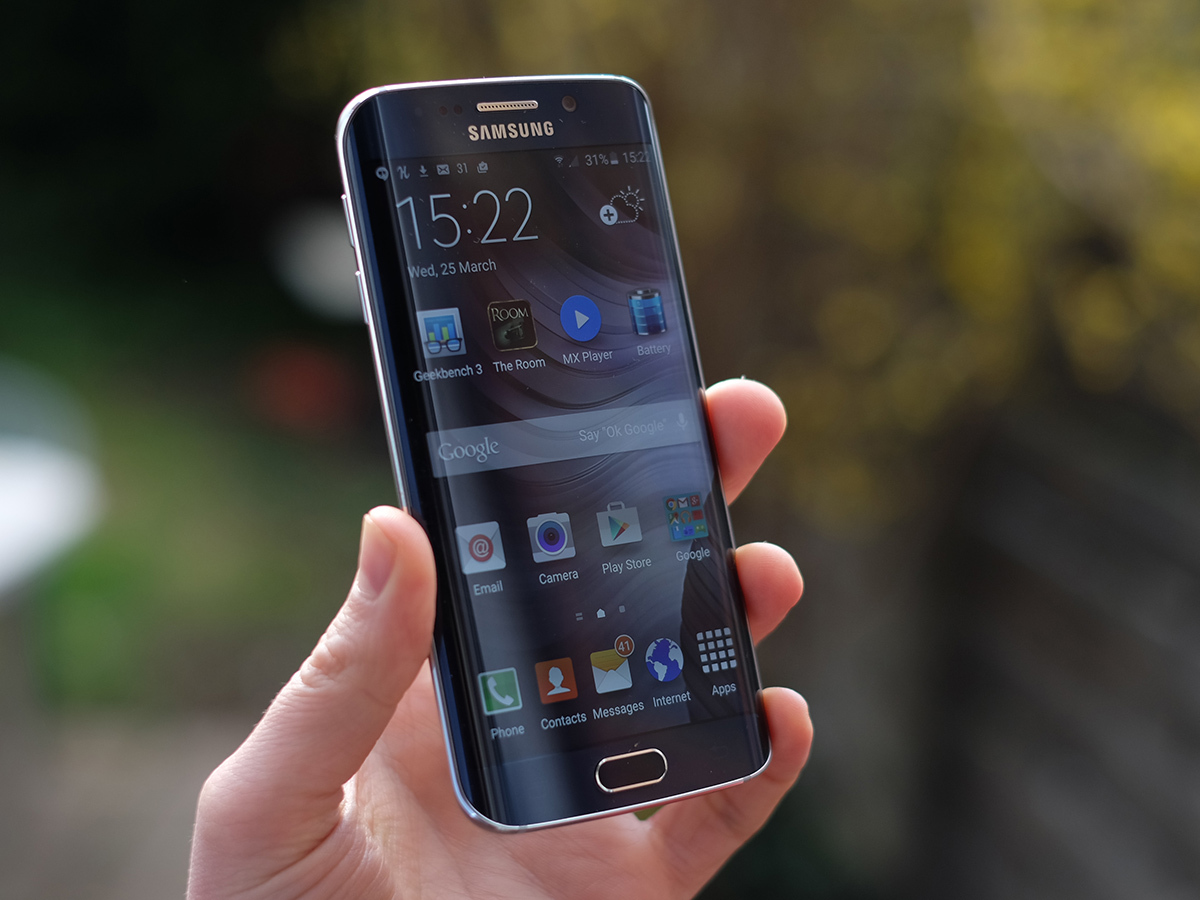 Those curves have some uses, although we still think the main aim is to look and feel dead snazzy. You can use them as a shortcut for your favourite contacts, and as a way to check out notifications when the phone is on its front. It's all pretty cool.
Your relationship with the curves is really more passive than active. They're a way to give you extra snippets of info when you're not using the phone, rather than to speed-up operation when you are. For example, they can be used as a turbo notification light when you receive calls and the phone is face-down, giving you a silent alternative to the often really-bloody-loud vibrate alert.
They can display notifications too, and with the customisable Information Stream feature you can treat them like a ticker tape update for Yahoo news, sports results and Twitter trends, or your own custom RSS.
Some of you might think, why would I want my phone to prod me even more than it already does? But all this is customisable. You can turn these extras on and off as you like.
OLED Retina Plus Turbo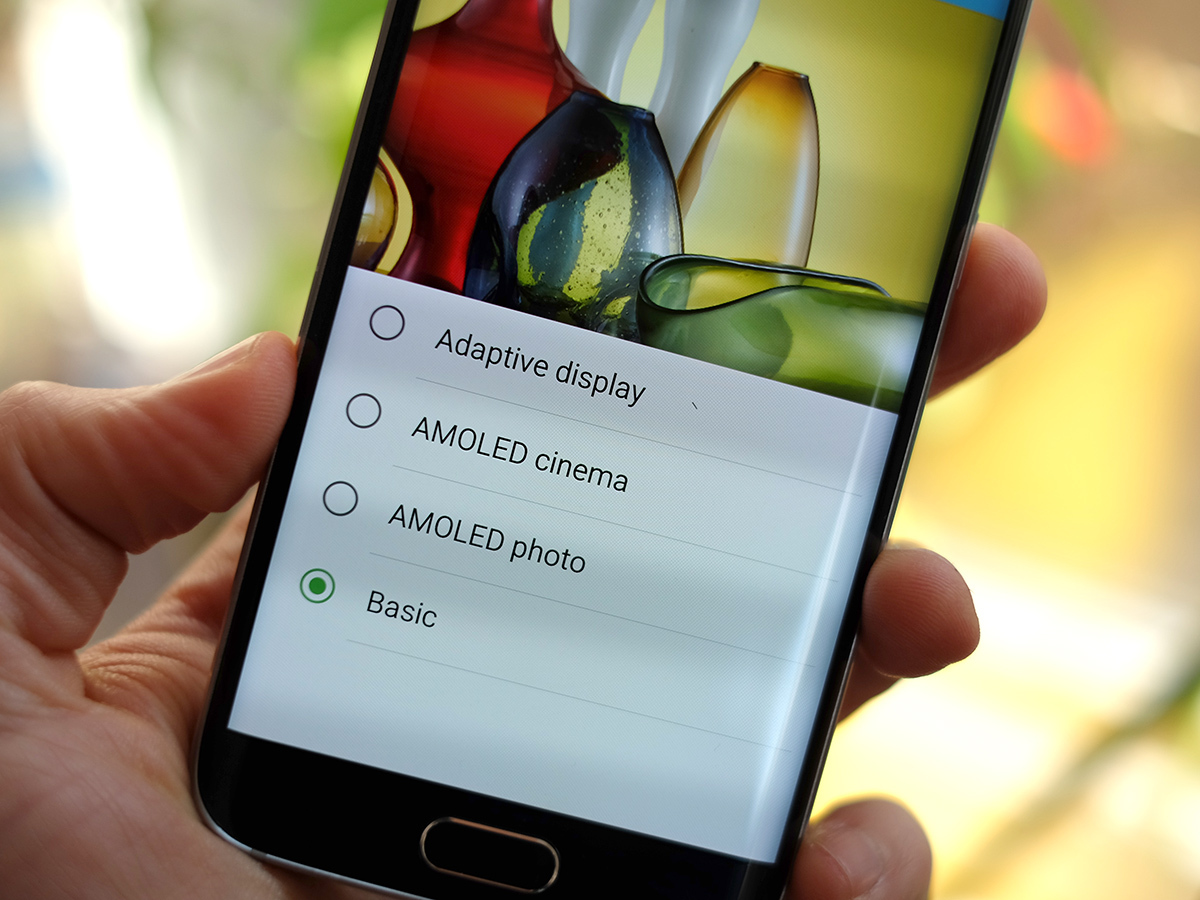 Aside from those curves, it's a bit more 'business' as usual in the actual display, but that's no bad thing. Samsung makes the best non-LCD phone screens in the world, and this is yet again another great example.
The Samsung Galaxy S6 Edge has a 5.1-inch screen of QHD resolution. That gets you incredible pixel density of 577ppi, which is almost 80% more than what Apple calls 'Retina' in its iPhones.
You don't just need to get up close to see the pixels, you need a pretty good macro camera lens to pick them out. Image quality is fantastic, too. The Samsung Galaxy S6 Edge uses a Super AMOLED panel, giving you unbeatable contrast and really great colour, if you want it.
As standard, the display has slightly over-baked colours, but as usual you can customise this in the Settings menu. Screen snobs should head for the 'Basic' setting: it sounds boring, but is the most accurate. For a bit more pep, the AMOLED Photo mode gets you a nice balance between accuracy and vivid colour.
Overall it's a truly magnificent display, with no obvious compromises being made for those curves. That's in contrast to the LG G Flex 2, which appears a bit, well, mottled at times.
Samsung Galaxy S6 Edge tech specs
Plastic begone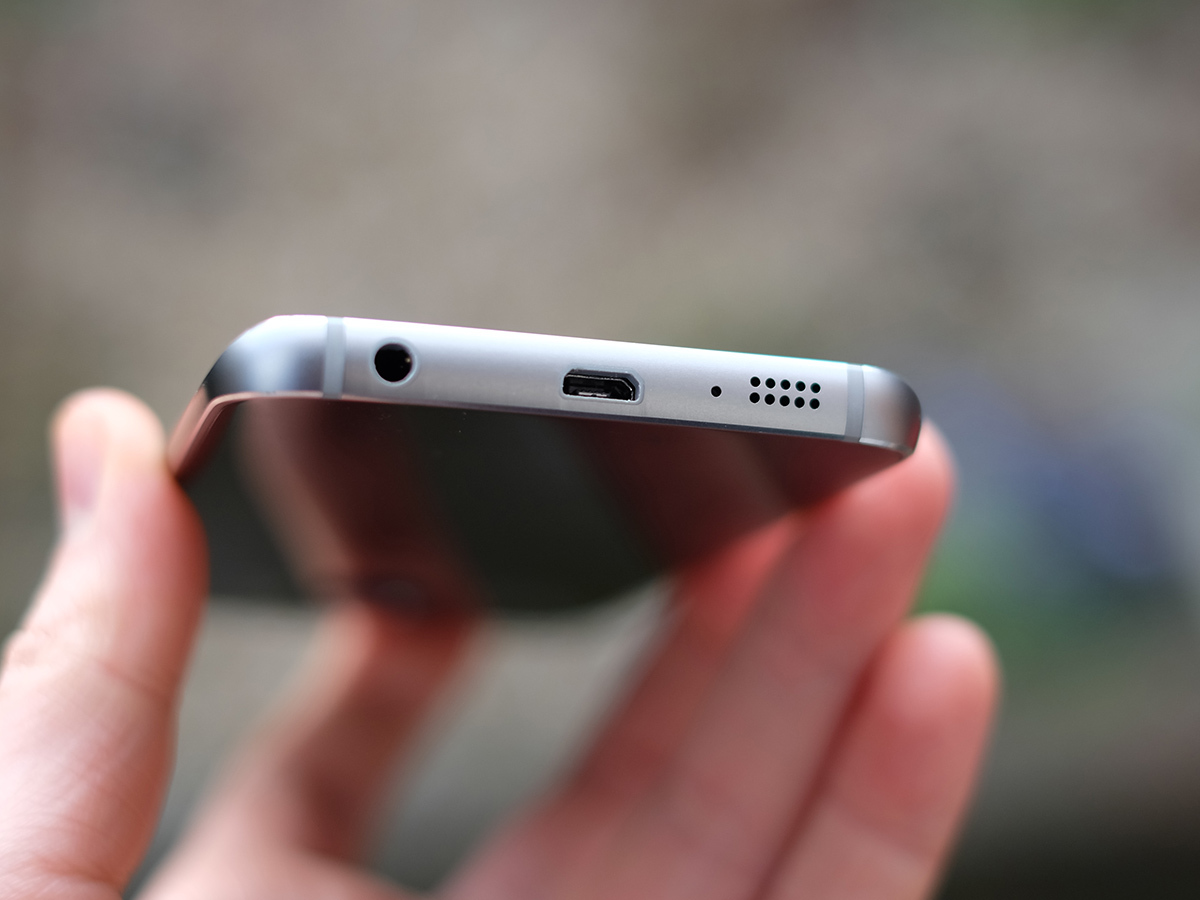 To really hit that aesthetic home run, Samsung has also changed how it makes it phones with the Galaxy S6 Edge and the standard Galaxy S6.
Both the front and back of the phones are covered with Gorilla Glass 4, while the sides are covered by a band of aluminium. Plastic has been banished, and boy is it a nice change.
We used the Galaxy S6 Edge alongside the Galaxy Note 4, and while the Note is still a barnstormer, it really does feel quite cheap up against the new Edge. OK, so you now have to worry about potentially smashing the back of your phone as well as the front, but you'd need pretty bad butterfingers to do it: Corning says Gorilla Glass 4 is twice as tough as the already hard-as-nails Gorilla Glass 3.
The fully-flat back doesn't quite have the smooth inviting contours of the HTC One M9, but our initial reaction was hugely positive. And it hasn't changed since.
You stole my heart, and my microSD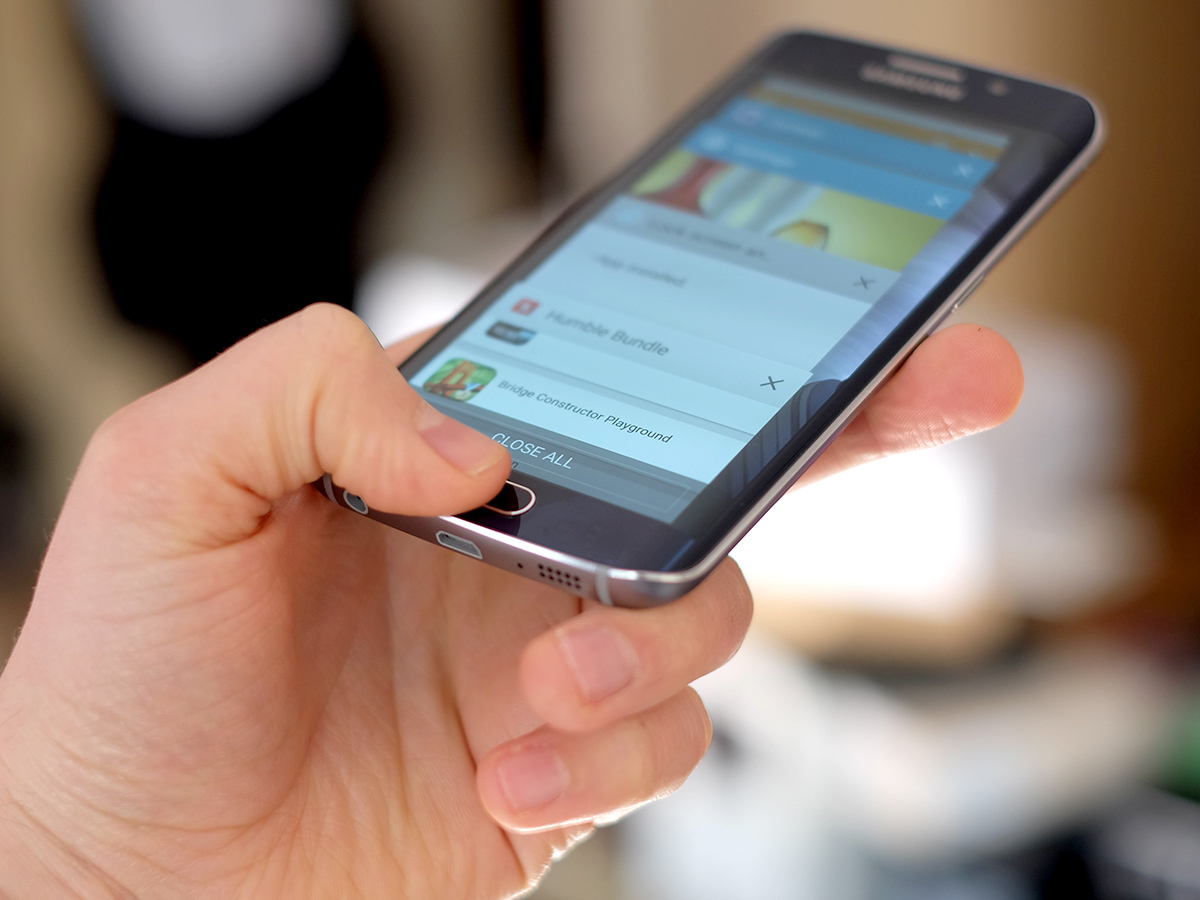 Apart from one little thing, that is: Samsung has ripped the microSD memory card slot out of the Galaxy S6 Edge and S6. It's what lets them charge extra for 64GB and 128GB phones without getting laughed out of Carphone Warehouse.
As even the entry-level Galaxy S6 Edge has 32GB of storage in its own cupboards, it's not a deal-breaker. Just a bit sad.
It's one of the few areas in which the Samsung Galaxy S6 Edge isn't a big improvement over the S5, though. One that does have us beaming is the fingerprint scanner. Why? Well bear with us while we give you a quick history lesson.
Samsung was one of the first big smartphone companies to really push fingerprint scanners in its phones. But early scanners in phones such as the Galaxy S5 were rubbish. So rubbish that many people ended up switching the things off after about two days. By comparison, the Galaxy S6 Edge fingerprint is flat-out awesome.
To set it up you just press different parts of a finger on the scanner again and again, letting it draw a digital picture of your digit. The scanner sits on the front, under the main Home button and once you're done you just place a finger on there to unlock the Edge. All of which means that the fiddly swipe gesture of previous Samsung phones is gone.
It's not the fastest we've used – it takes about two seconds – but it is incredibly reliable, working (just about) every time. We think you'll love it.
The Style Council
Samsung's TouchWiz skin doesn't quite have the style of Sony at its best, but it looks and works better than ever on the S6 Edge.
Running over the top of Android 5.0 Lollipop, it at first looks quite similar to the version on the Galaxy Note 4. However, get your fingers involved and you'll notice it's kinda different. Samsung has changed the way the software moves: it's fast still, but now there's a much more swooshy, organic feel to everything. There's even a parallax effect to the wallpaper when you tilt the phone and performance overall is top-notch, with barely a hint of laggy hiccup.
You can also change the look of the system using themes, but these don't work quite as well as those on the HTC One M9. We like subtle themes that have fairly neutral icons and fonts, but the ones currently available on the S6 Edge are pretty naff. In fact we'd say that 95% of them are so far over the top they live in the clouds, with the main categories including "Lovely Girls: pretty themes for girls", "Sentimental Illustration" and "Cute Characters".
Samsung rarely gets things totally right on its first attempt, and frankly it's way off the mark here. Still, you can pretend they don't exist easily enough and instead customise the default skin with fonts downloaded from Google Play.
Elsewhere, Samsung's briefing widget is noteworthy, giving you a rolling feed of news when you flick left-to-right on your main home screen. It's really just a frontend for Flipboard – and not a million miles away from HTC's BlinkFeed either – but it's dead easy to turn off if you don't like it.
There's the odd software miss in the Samsung Galaxy S6 Edge, but after years of being overblown and slow, the Samsung UI is actually pretty great these days.
Enter Exynos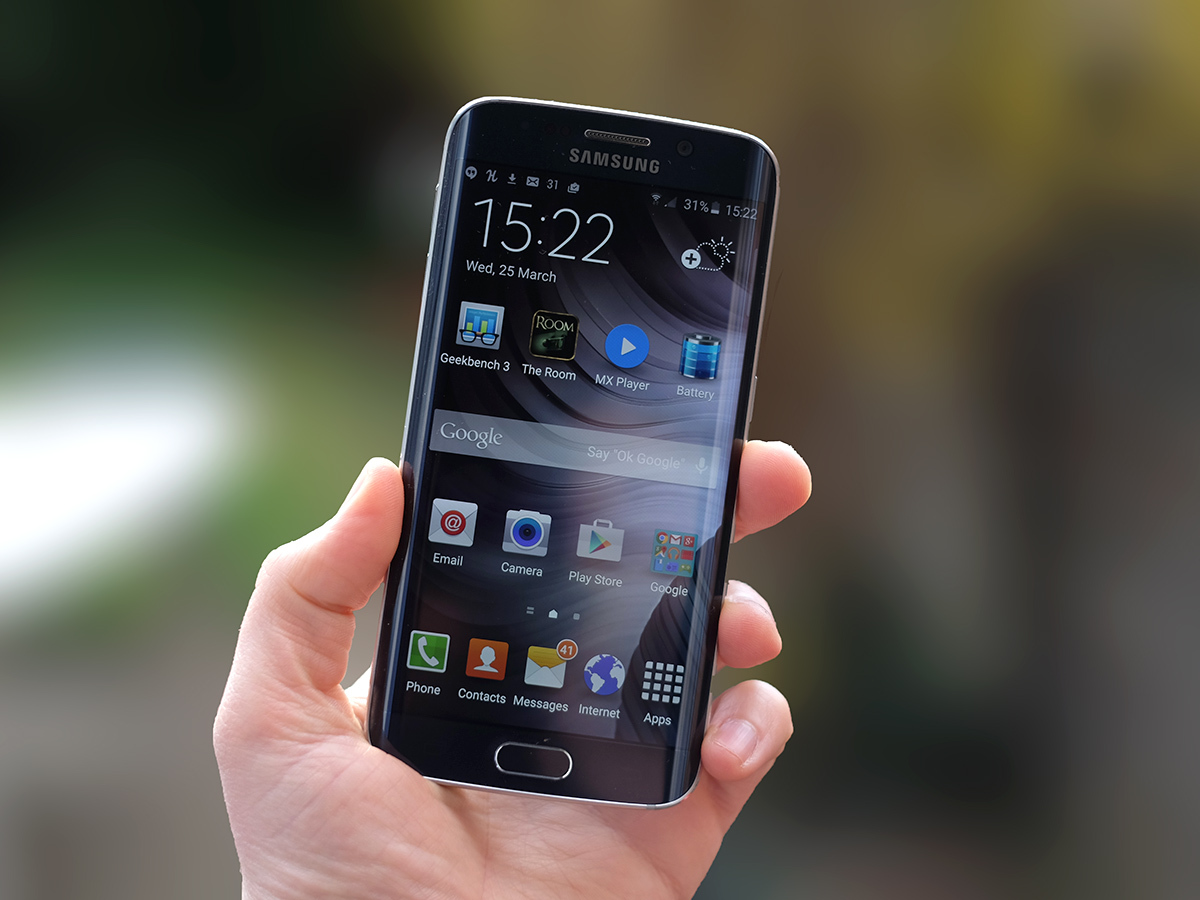 Decent software has a hand in this, but the hardware can't help either. The Samsung Galaxy S6 Edge has incredibly powerful innards. There was a lot of fuss pre-release about how the S6 twins would ditch Qualcomm processors in favour of Samsung's own Exynos chipsets, and we can now see why that decision was made.
The octa-core Exynos 7420 1.5GHz CPU tramples the Qualcomm 810 in benchmarks, to an extent that's almost embarrassing. While we've learned not to rely too much on benchmarks (some manufacturers cheat), peak scores of around 5400 are a full 25% higher than those of Snapdragon 810 phones such as the HTC One M9.
It also seems to cope with stress better: running benchmarks again and again repeatedly, the Samsung Galaxy S6 Edge barely gets hot at all. Even after doing it 20 times, it was warm rather than hot.
It's worth noting that it does seem to tailor its performance to ensure this, though. Like the Snapdragon 810, after working at full speed for a short while the Samsung Galaxy S6 Edge drops to around 90% of its full capability. But even at that pace it's a chunk more powerful than the HTC One M9 working at its very hardest. So while Exynos chips used to be poor relations, that's clearly no longer the case.
Samsung has also packed 3GB of super-speedy LPDDR4 RAM into the Galaxy S6 Edge, which might help explain some of the additional power on tap. All in all, while you can accuse the phone of being a bit too flashy for its own good, there's some killer tech inside too.
Extra extra, read all about it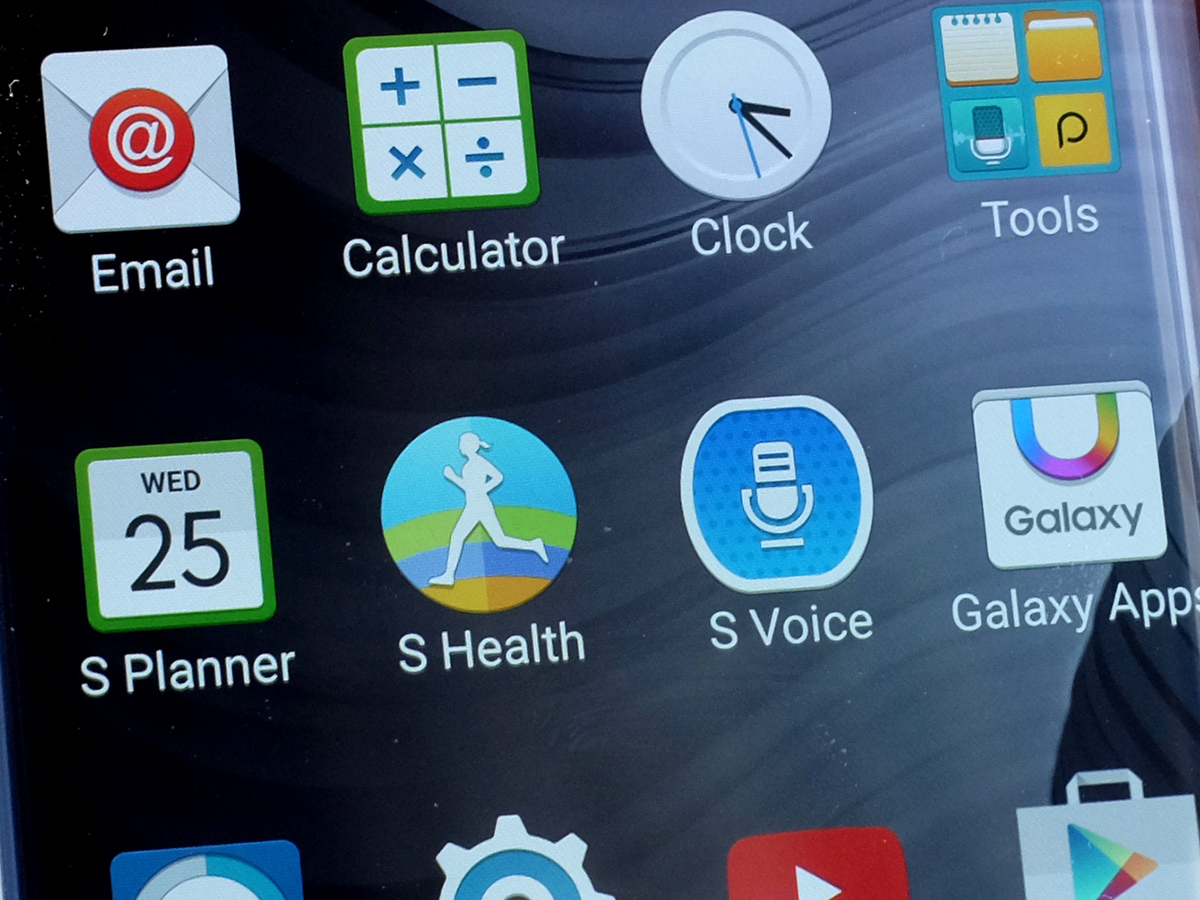 In usual Samsung style, it's totally packed with extras too. You get an IR transmitter (turns the phone into a universal remote), rear heart-rate sensor and all the connections you could ask for: Wi-Fi ac, NFC, MIMO and Bluetooth aptX, among others.
As ever, these are matched with plenty of bonus apps. The classic Samsung lot are here: S Health, S Planner, S Voice and Galaxy Apps. For the first time on a Galaxy phone you can now 'disable' these to chuck them off your apps menu, but also for the first time on a Galaxy phone you might not want to.
S Health in particular has improved a lot since last year: all the unneeded visuals have been dumped, making it much more about fast, simple activity tracking. It's not easy to convince Samsung that 'less is more' sometimes, but we're getting there.
Stamina boss
There are real signs it's paying more attention to the right bits too. For example, while the 2600mAh battery isn't huge, actual stamina is pretty great. We got 13 hours of 720p video playback off a charge, which is four hours more than we did on the HTC One M9. And that phone actually has a larger (2840mAh) unit. Mad, right?
Short of Samsung having done a deal with the devil (something they must have done years ago anyway), this is presumably down to the Exynos processor having a super-advanced 14nm architecture, making it more efficient that other phones.
Stamina in general use is great as well, a sign that Samsung has grafted pretty hard on squeezing every little efficiency benefit it can get out of the CPU and software. With some effort you should be able to get two days' use off a charge. It's impressive stuff.
It's all about the lens
Samsung has also done top work with the camera too: the Galaxy S6 Edge has a 16-megapixel rear camera with optical image stabilisation and a very fast f/1.9 lens.
Now, at first glance it seems pretty similar to the Galaxy Note 4, which has a 16MP camera, OIS, but a slower f/2.4 lens. That lens and whatever software cleverness is going on behind the scenes seems to make a whole lot of difference, though. While the Note 4 is a good camera, the Samsung Galaxy S6 Edge is much, much faster and seems to produce photos with less noise and clearer detail when the light level is less than perfect.
There's zero shutter lag too, and you can take photos about as speedily as your finger will allow. Even when shooting HDR pics, the Edge is incredibly quick.
We'd go so far as to say that this is one of the best phone cameras ever. OK, so the Nokia Lumia 1020 may sometimes get you better shots, but it also takes a small lifetime to _take_ those shots. The Samsung Galaxy S6 Edge has pretty much every element of the photo experience down to an art.
Thanks to that super-fast lens aperture it's possible to get some pretty nifty shallow-depth-of-field effects without needing to use one of those fake multi-exposure modes (although there's one of them available here too). The S6 Edge is also able to focus on very close objects, making macro-style shots a doddle.