Samsung Galaxy S7 Edge review
Samsung's latest curved wonder is super-stylish, super-powered and simply all-round super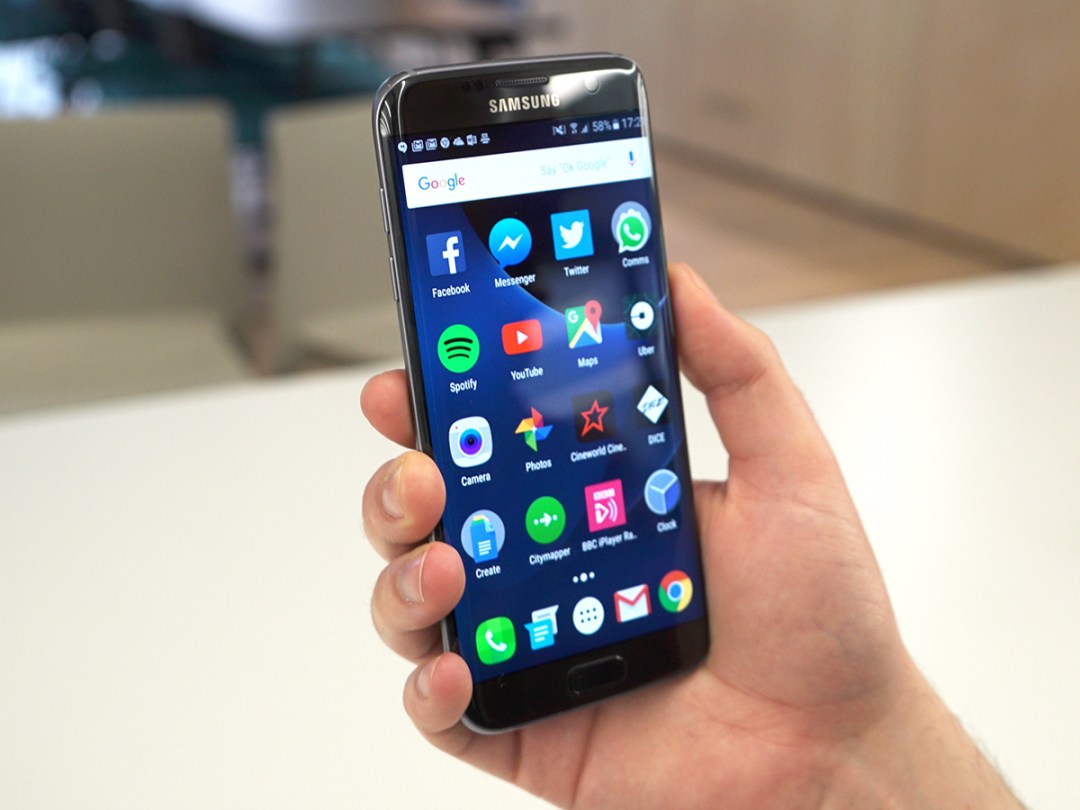 Samsung's Galaxy S6 Edge was a masterclass in desirability. What did its curved screen do? Not a lot. How much extra would you have to pay for it? Around £100 on contract. Did we want one? Absolutely.
The same goes for Samsung's Galaxy S7 Edge. As the successor to our Gadget Of The Year 2015, its core concept remains unchanged: it's basically the Galaxy S7 for really, really, ridiculously good looking people. Sure, there's more to life than aesthetics but not much more.
To that end, the S7 Edge is bigger and bolder than ever before. It takes the best smartphone you can buy and dolls it up that bit extra. This flagship Galaxy is rocking a larger screen and battery than its cheaper cousin, and you can do even more with its audacious curves.
If you've got the cash to burn, then this Samsung is a smartphone worth flaunting.
Less Bono, more Edge
Last year's S6 Edge suffered a little from sidekick syndrome. It was the Givenchy-clad Chewbacca to the S6's populist Han Solo.
That's why the S7 Edge is more of its own beast this time around. For starters, it's got a 5.5-inch display compared to the S6 Edge's 5.1in version, which lends the handset a greater feeling of luxury. Whether you're slumping into a late-night Netflix session or browsing the Forbes Billionaires List, this phablet-sized touchscreen lures in your eyes like a retina-attracting magnet.
It's got the same 1440×2560 pixels resolution as the standard Galaxy S7, which technically means fewer pixels per inch – you get a 'mere' 534 ppi compared to 577 ppi. Unless you're obsessed with screen fidelity, you're unlikely to notice the difference: La Liga YouTube highlights of Getafe vs Sevilla looked impressively bright and detailed, while text on this website is sharp and easy to read.
If you prefer your colours on the 'natural', then the S7's thirst for vivid shades may be off-putting – so it's worth switching between 'Basic' and 'Adaptive display' screen modes in the phone's settings.
Either way, there's no denying the Edge has a fabulous display.
Phwoar! Huh! What is it good for?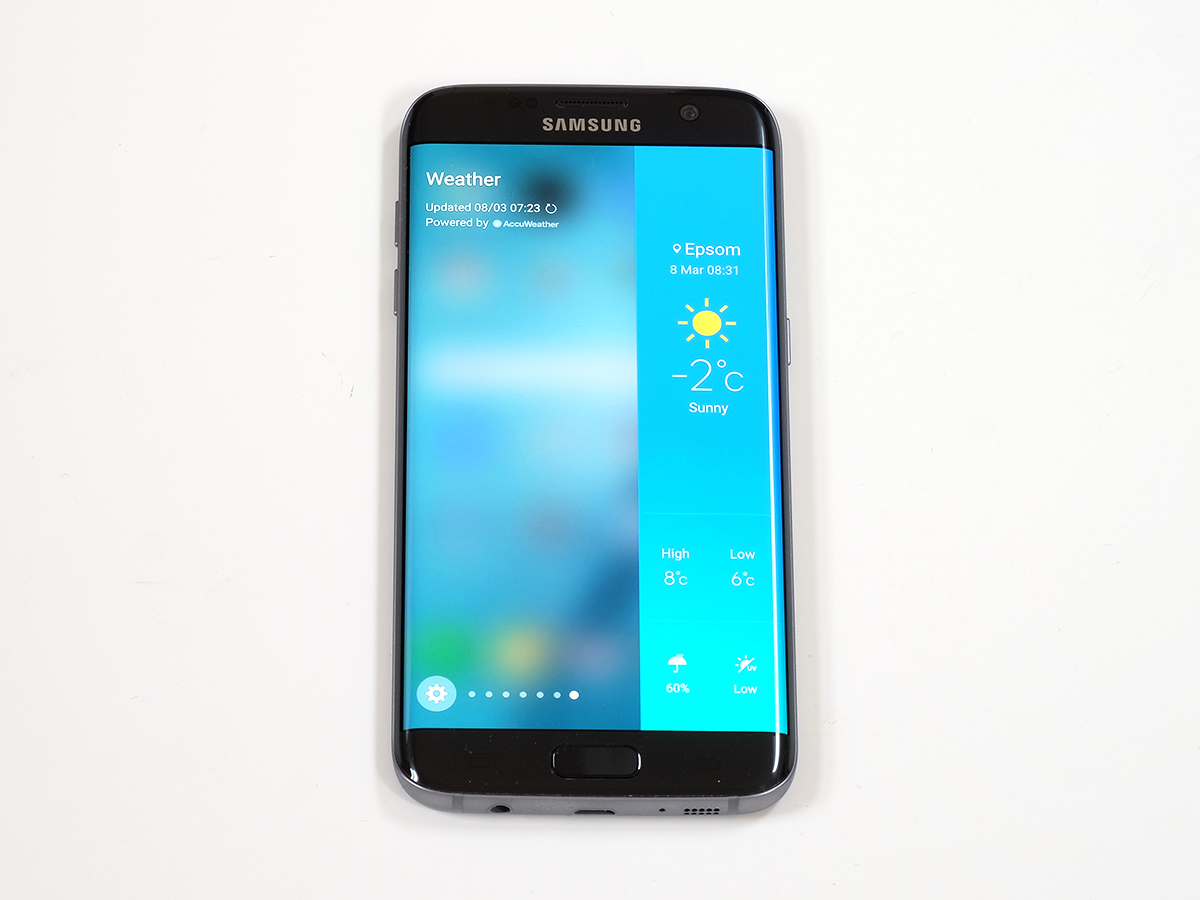 It's also slightly more useful than it was last year, too. However, that's a bit like saying your favourite chocolate fireguard now comes with a caramel centre, given that the Edge tech on the previous model was mostly pointless.
Treat yourself to this upgraded S7 and you'll now get an extra row of icons from which to text your mum, skip to your favourite app and find out what direction you're facing towards. Yep, one of the Edge's dedicated tools is a compass, which really sums up how innovative most of them are. There's a decent enough one for weather but, considering Samsung's TouchWiz interface for Android comes with a widget for this already, it's hardly essential.
In fact, the most handy aspect of the Edge's screen is its ability to be used as an always-on display. As with the Galaxy S7, this means it'll show you the time, date and your remaining battery life – as well as any notifications from Samsung's own apps. The downside? A claimed loss in battery life of less than 1% per hour, which is fair enough is if you like the idea of having an big clock sat next to you on your office desk.
At least the S7 Edge does get its own always-on side-project too: at night you can set the clock to appear only on the edge of the screen, rather than the front. In your face S7! You can't do that, can you?
So no, the Edge isn't worth buying for its edge-based features alone. However, don't underestimate the difference it makes to the phone's design – it's that you're really paying the extra for. If anything Samsung has overcompensated with software to justify its premium S7 pricing, when really the curve itself is more than enough on its own.
Phenomenal stamina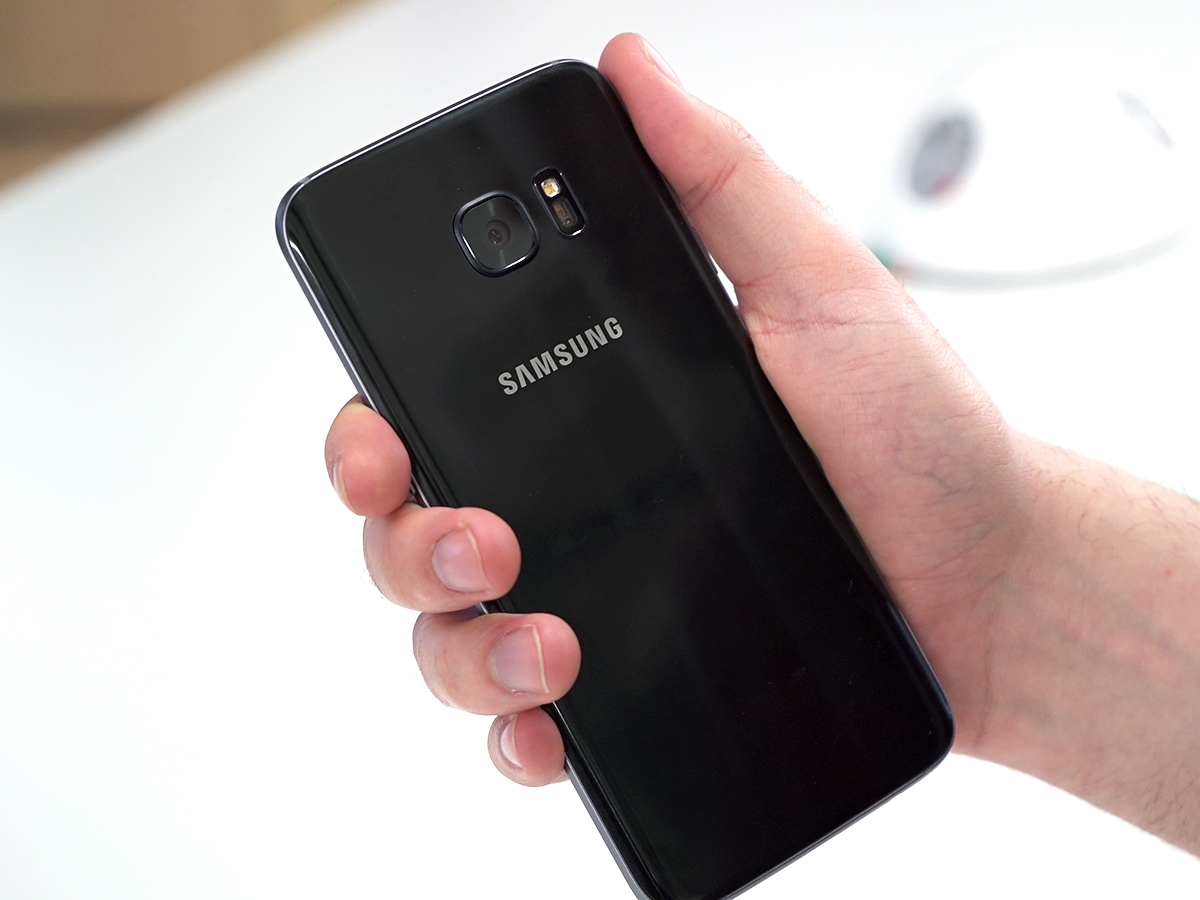 If you're looking for practicality from the S7 Edge, then there is one area where it truly excels. With a huge 3600mAh battery, this Galaxy gives you more power to draw on than both the Nexus 6P and OnePlus 2, while it absolutely trounces the 1715mAh Apple iPhone 6s for stamina. It also has a greater capacity than the 3000mAh S7, and that handset is hardly lacking for longevity.
Whereas the S7 gives you a day's worth of usage and some extra time, depending on how you much pummel it with video and games, the Edge goes the extra mile. Having grabbed this Galaxy from its charging lead at 8am on a Saturday it was still trundling on with over 10% at 3pm the next day. That's despite my using the Edge in a more intense way than most people regularly would – to test its camera and processor, see.
In practical terms, you'll happily squeeze a working day and a half from this Samsung before needing to plug it into its fast charger. At the minor expense of heating your phone up a tad, this will fully restore the S7 Edge in just an hour and 20 minutes – proving that while this handset is vain at heart, it's plenty glorious too.
What's in a curve?
So if you do submit to your inner Derek Zoolander and get the Edge, those are the major differences between it and the standard S7. And by 'major', I really mean the 'only' differences.
For a more detailed discussion of the S7 Edge's various strengths and weaknesses, check out our Samsung Galaxy S7 review – most of what you read there is directly applicable here. Just want the long and short of it? Read on.
Design-wise then, the S7 Edge looks pretty much identical to last year's S6 Edge and S6 Edge+, and they were both beautiful phones. Its 2.5D glass display feels particularly luxe between your fingers and at just 7.7mm thick, the Edge is also a smidgen thinner than the 7.7mm S7.
The upshot of this is that it's eminently comfortable to hold, and you barely notice the added weight of the 157g Edge compared to the slightly lighter 152g S7. So even though this Galaxy is a big phone, there are very few drawbacks to its size. And as with the S7, Samsung has also added in a microSD card slot and IP68-certified water-resistance to the Edge, meaning it's more versatile than Bear Grylls with a Swiss Army knife. Now that's how to accessorise.
For those who like to moan – this is the internet, after all – you could probably quibble with the Edge's lack of a USB-C port, especially given its high-end price. Settling for a standard microUSB v2.0 connector means slower file-transfer speeds, but also pretty much anyone will be able to connect it to their laptop straight out of the box. I've used USB-C phones in the past that have been a total faff to recharge.
As with the Galaxy S7, this new Edge prioritises ease of use over all else, but it does so with some added pizzazz. It's a handset that can woo both your head and heart.
Power to spare
So, like the Galaxy S7, the Edge is a most concerned with practicality. And like the Galaxy S7, it has a monstrous processor. Seriously, run any standard task through the Edge and this smartphone will chomp right through it.
In our Geekbench 3 testing it scored a huge 6497 for multicore performance, making it pretty much the most powerful handset you can buy. That's all down to the ferocity of the Exynos 8890 processor and 4GB RAM the Edge is rocking. US and Chinese owners of both S7s will enjoy a Snapdragon 820 chip instead, but we predict that few people will notice the difference between the two.
Even when running a graphically intensive game such as Asphalt 8, the Edge doesn't suffer from a jot of slowdown. Nor will it get hot under your thumbs. Samsung has introduced a new water-cooling system in both S7s, and the result is that the handset is never uncomfortable to hold.
It did start to get a little bit on the toasty side while I was rifling through websites on a train into London, but it dropped right back down in temperature afterwards. Nothing to worry about, then.
Storage issues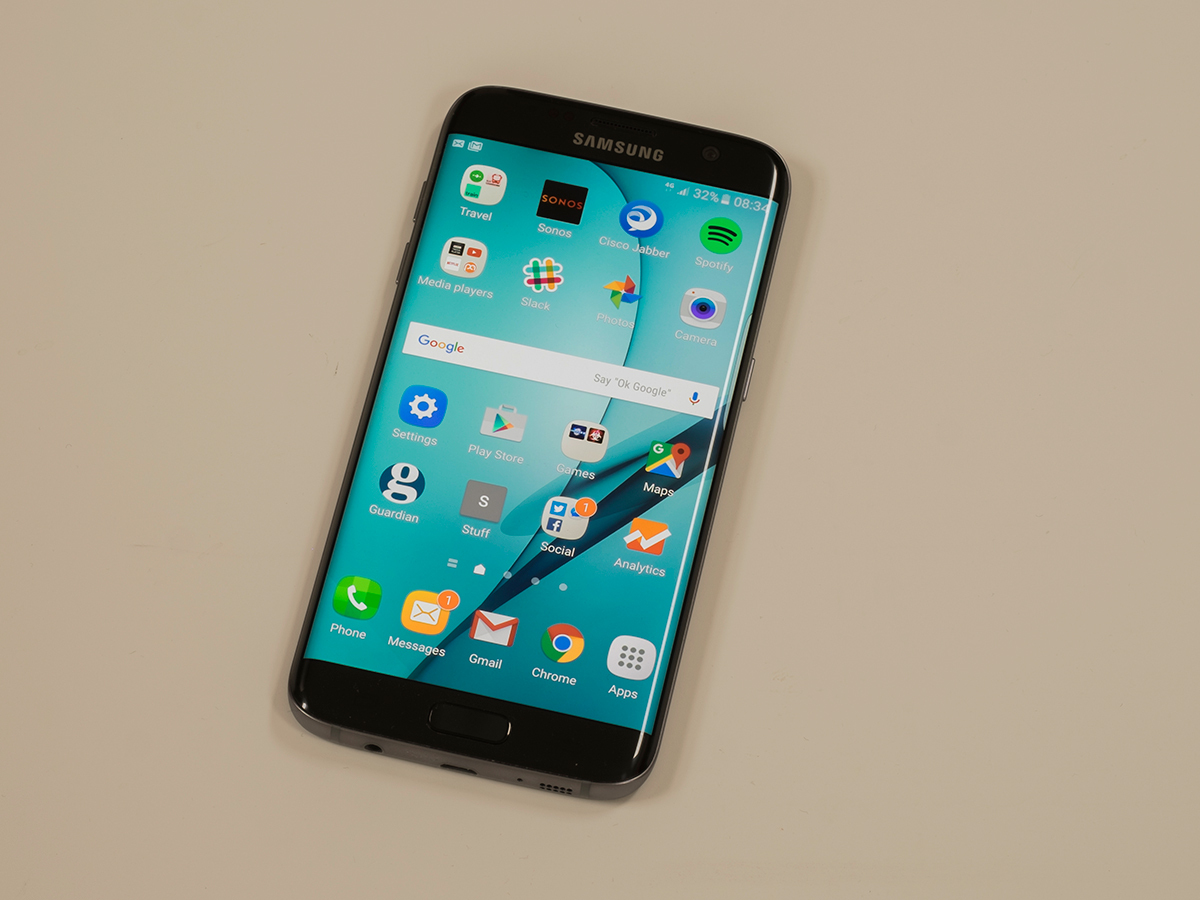 The Edge is similarly reliable when it comes to its operating system. Running on the slick Android 6.0 Marshmallow with Samsung's TouchWiz UI overlayed on top, the Edge gives you plenty of choice in how you want to customise it.
You can use Samsung's array of widgets, such as the new Game Tool software, or you can dispense with almost all of them for a purer Android experience using Google's Now Launcher. Even though TouchWiz is nowhere near as cluttered as it used to be, I'd recommend doing this to give you an OS experience that's as clean and streamlined as the Edge's curves.
Of course, the downside to being able to jump between both Samsung and Google's apps at will is that you'll find a fair bit of the S7 Edge's storage taken up as soon as you first turn it on. After loading up my usual gamut of Android apps on the Edge I was left with 16.7GB of its 32GB.
Now, on the one hand that's not a great look. On the other, it still leaves you with more space than you'll get with an entry-level 16GB iPhone 6s, and you can expand this even further via up to 200GB of microSD storage. All in all? Not a big deal.
Lights out, all out
Galaxy phones have long been famed for their cameras, and the S7 Edge is no exception. Its rear-facing snapper has been engineered to take particularly great photos in low-light, even more so than Galaxy S6 – which was no slouch for them in the first place.
We'd forgive you if you don't believe us – after all, the S7 Edge's snapper has in one sense been downgraded from that on the S6 Edge, with only 12 megapixels rather than its predecessor's 16. But don't be downhearted: the individual pixels are bigger to capture more light, while a f/1.7 lens aperture has been designed with the same end goal. Add to this optical image stabilisation (for longer exposures in low light) and Dual Pixel autofocus (for better focusing in the same conditions) and you get the picture, right?
Whether you're out at night or partying indoors, the Edge is built to deliver a photo that Rankin could be proud of. Well… almost.
Whether you prefer the Edge's sharp, vivid snaps to the more naturalistic look of the iPhone really comes down to personal preference. There's a lot of processing that goes on with Samsung's pictures, presumably with the aim of making them Instagram-ready as soon as you hit the shutter button. That means there's a lot colour in your snaps, to the extent that greens and reds can be oversaturated.
The flip-side to this, though, is that they do really pop off your screen when viewed on Facebook or Twitter. The same applies to selfies with the Edge's 5-megapixel front-facing camera.
And what about those all-important low-light photos? Well, according to our testing at least, the S7 Edge doesn't fare quite as well as the comparable iPhone 6s Plus, but it still stands head and shoulders above the majority of its competitors. The difference with Apple's handset? A bit less graininess and image blur at the bottom of our photos.
Samsung Galaxy S7 Edge verdict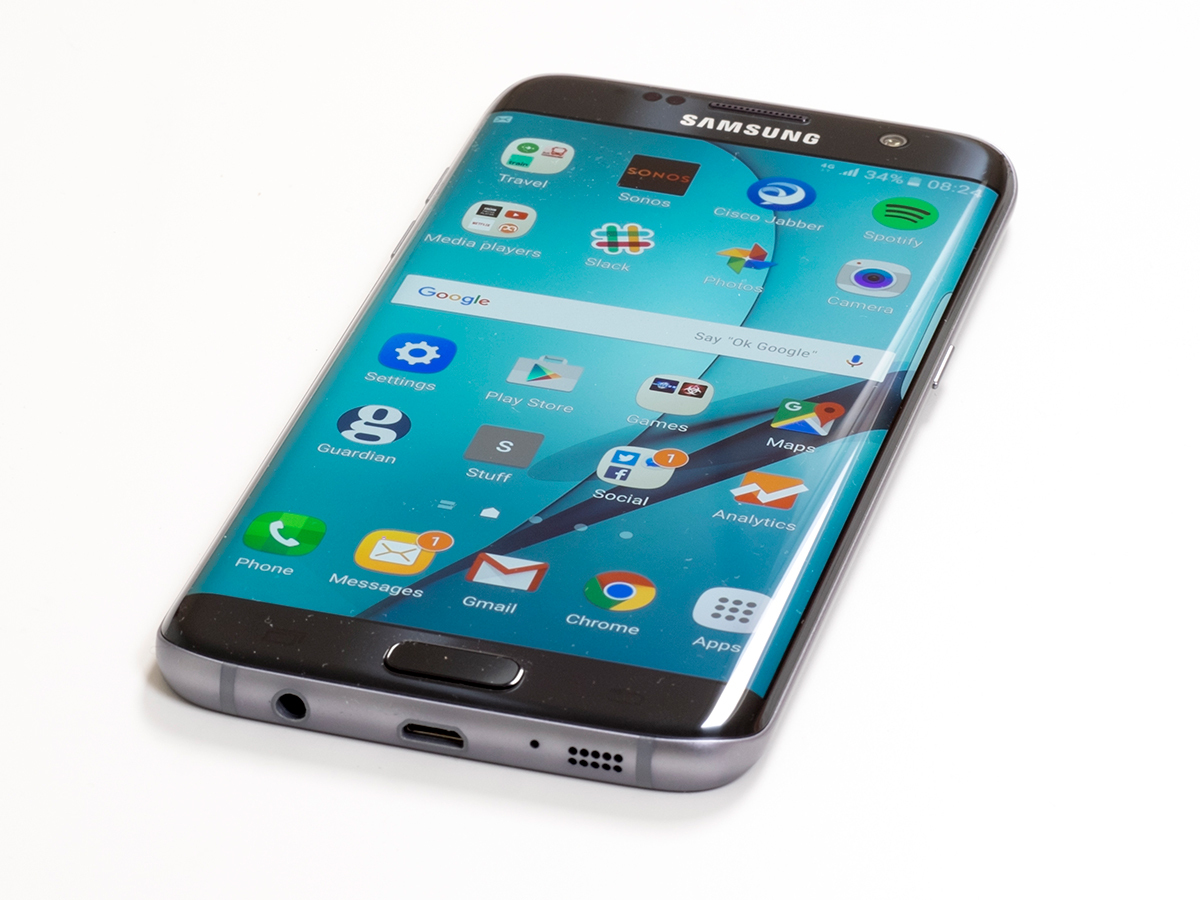 So that's the Samsung Galaxy S7 Edge. It's just as stunning as last year's S6 Edge and packs in some genuinely useful features to go with its Fancy Dan visage.
Chief among these is a whopping great battery life that can withstand even the most demanding of smartphone users. And its expansive, pin-sharp display ain't half bad either.
Is the Edge still a luxury? At around £150 more than the standard Samsung Galaxy S7 on contract, it's certainly not for frugal folk. However if you have the cash and want the best-looking version of our favourite phone, then don't hesitate to grab this Galaxy.
Signing up for a new handset should be an indulgence. You're going to have to spend two years staring at the thing, after all. When you think about it like that, why not plump for the smartphone that guarantees you love at first sight?
Tech specs
| | |
| --- | --- |
| Dimensions | 50.9 x 72.6 x 7.7mm |
| Weight | 157g |
| Screen size & resolution | 5.5 inches, 1440 x 2560 pixels |
| Processor | Exynos 8890 Octa |
| GPU | Adreno 530 |
| RAM | 4GB |
| Storage | 32GB/64GB (w/ microSD support) |
| Cameras | 12 MP, f/1.7 (rear); 5 MP, f/1.7 (front) |
Stuff Says…
Don't let the price put you off: the S7 Edge is truly a smartphone to lust after
Good Stuff
That gorgeous curved screen
Immense battery life
Incredibly powerful
Bad Stuff
Edge apps still mostly superfluous