Samsung Galaxy S7 review
How do you trump the best phone of 2015? You make it again, of course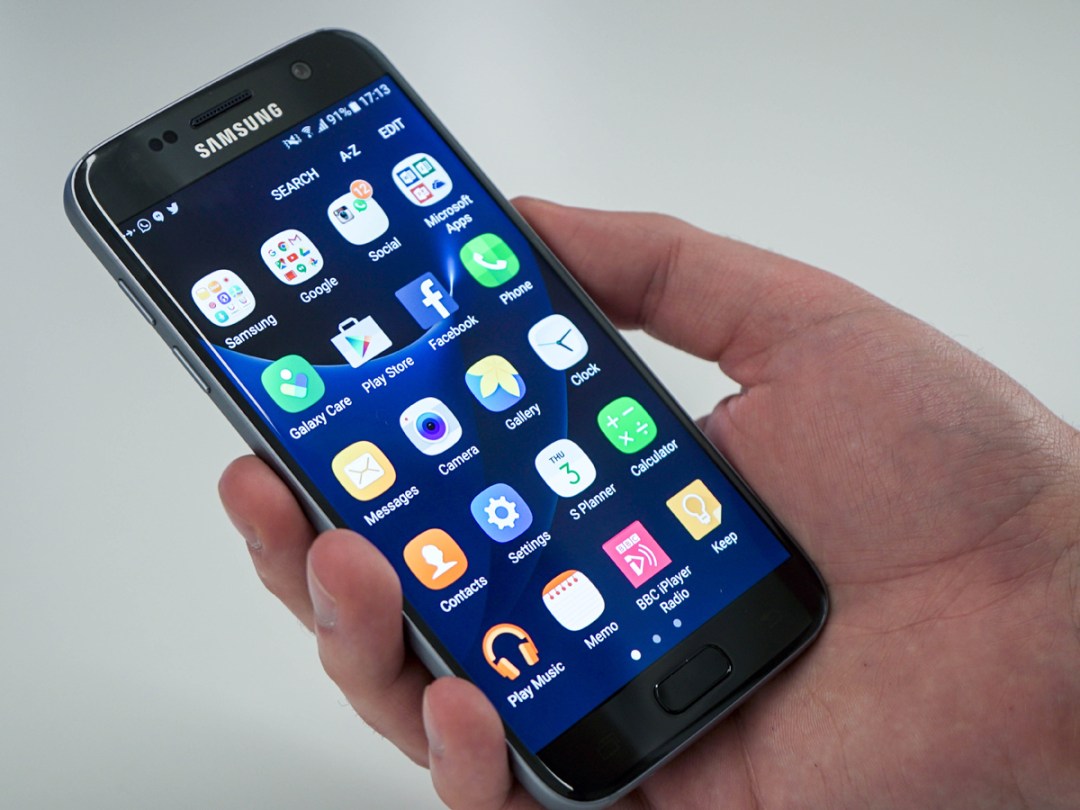 Remember 'crazy Samsung'?
The company that stuck a huge 10x zoom lens on the Galaxy S4, made seven Gear wearables in less than three years and paid Jay-Z US$5 million so that it could release his album for free? Well, those days are over.
The Galaxy S7 heralds the dawn of a new era. Welcome to the age of 'sensible Samsung', a smartphone maker of dependable excellence. Its latest flagship handset is the technological equivalent of a Steven Spielberg movie: the whole thing just oozes with quality.
Granted, this is not the most exciting gadget of 2016. Compared to LG's G5, the Galaxy S7 barely registers on the Richter scale of smartphone innovation. It looks almost identical to last year's Galaxy S6, but has a better camera and has brought back the Galaxy S5's water-resistance and microSD card slot.
If this all seems a bit boring to you, then fair enough. The Galaxy S7 doesn't offer an alternative take on Apple's pressure-sensitive 3D Touch tech or the ability to upgrade your phone with modular wizardry. This smartphone is single-minded in its pursuit of simplicity, and it's this lack of bloat or overreach that serves it so well.
I can't tell you to get the Galaxy S7 because it features a revolutionary new gimmick. Remember, this is a different kind of Samsung we're dealing with. You should get the Galaxy S7 because it's the best smartphone you can buy.
Samsung Galaxy S7 review: design and build
There's no denying that the S7 is a dead ringer for its predecessor. There's a good reason for this though, and it's not just because Samsung wants to riff off the iPhone 6 for a second year running. Well, maybe there's a little bit of that, but the main thing is that people know what the Galaxy S6 looks like and they approve.
In an impromptu 'best smartphone design' poll of the Stuff office the S7 and S7 Edge trumped the competition by a landslide. Compared to the current faceless swathe of all-metal phones, its Gorilla Glass and aluminium alloy aesthetic stands out for being something different. For what it's worth I reckon the iPhone 6s is a more handsome handset, but not by much. Either way, familiarity is a good thing for the S7.
Technically, this new Galaxy is 14g heavier and 1.1mm thicker than the old S6. You won't notice this added heft when holding the thing though, and that's what's important.
Aside from the lack of silver edging round its home button, the S7's most noticeable design tweak relates to its camera bump… or lack of one. Samsung's shaved it right down so the phone now lays flat – a change that anyone with minor OCD will adore. So if you already appreciated the S6, Samsung's conservatism means you're gonna adore the S7 even more. Smart move, right?
Samsung Galaxy S7 review: Screen
Just as the Galaxy S7 is Samsung's first ever flagship to retain the same design as the phone it's replacing, it also features what's basically the same screen tech as before. That means you get a 5.1-inch AMOLED display with a whopping great resolution of 1440 x 2560 pixels. The upshot? Even when holding this thing to your eye, Clockwork Orange-style, you're still not going to spot any of its 577 pixels per inch.
Despite effectively being a year old, the S7's display still offers more pictorial detail than both the iPhone 6s and LG G5. Given it's the only smartphone with a dedicated virtual reality platform to support, the Gear VR, you'd expect as much. Some more nerdy corners of the internet might wish the S7 had a 4K display to offer an even more immersive VR experience, but they're wrong. As Sony's Xperia Z5 Premium proved, there's simply not enough content to justify the resultant drain on battery life.
Besides, the Galaxy S7's display is fantastic already. Screens have always been Samsung's ace in the hole – that's largely thanks to its TV prowess – and the S7 delivers an incredible amount of clarity and detail. Text is pin-sharp whether you're browsing this wonderful website, or other lesser alternatives, and video ain't half bad either. Footage from The Division looked suitably apocalyptic, while Bojack Horseman's pastel colours were bright and inviting.
As with most smartphone displays, the S7's can appear a tad oversaturated at times. One photo of a woolen Yoshi amiibo (don't judge), made the lil' dinosaur appear as neon as an Amsterdam back alley. Although you don't get full colour temperature controls to mess about with, you can amend the S7's screen mode from the bombastic 'Adaptive display' to the more natural and muted 'Basic'.
Samsung Galaxy S7 review: Always-on display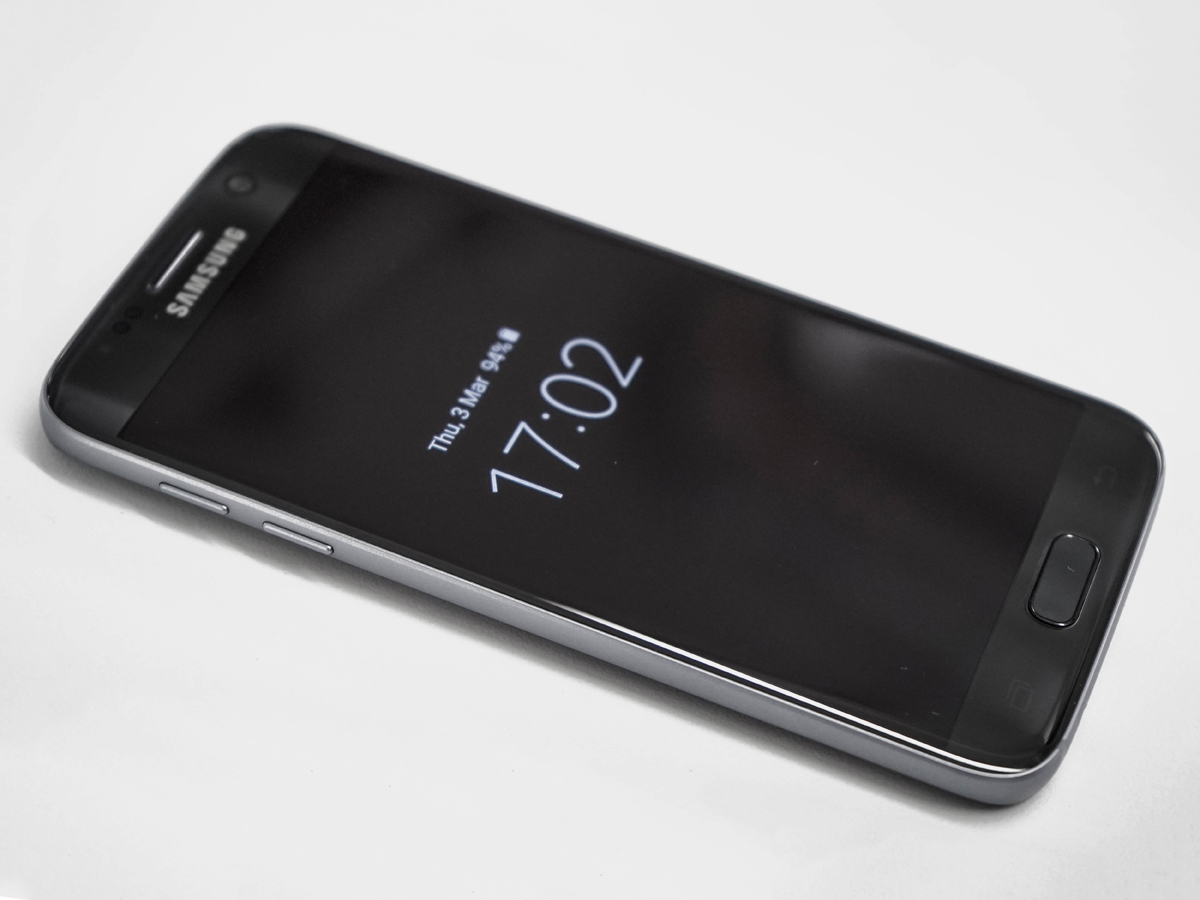 So what's actually new with the S7? Well, its screen does have one trick that's fairly useful for anyone who spends their days chained to an office desk – namely that it's always on.
Yes, the S7's display will show you the date, time, your S7's remaining battery life and some notifications, even when you press the power button to lock it. If you don't own a watch and like the idea of having a nice, big clock to stare at, it's a gentle boon. No, it won't change the way you use your phone overall, but you'd be amazed at how quickly it'll become essential.
Unless you own a watch; then it's almost pointless. You see this always-on tech only works with Samsung's apps. Even Google's native Android offerings such as Gmail aren't compatible with it, and you can forget about third-party stuff like Facebook and Twitter.
Why? Probably so you're forced to adopt Samsung's own software. Even if you refuse to be held hostage to a slightly rubbish messaging app, this feature is said to only use up a maximum of 1% battery life for every hour your S7 is turned on and that claim bore out during our testing.
Samsung Galaxy S7 review: Performance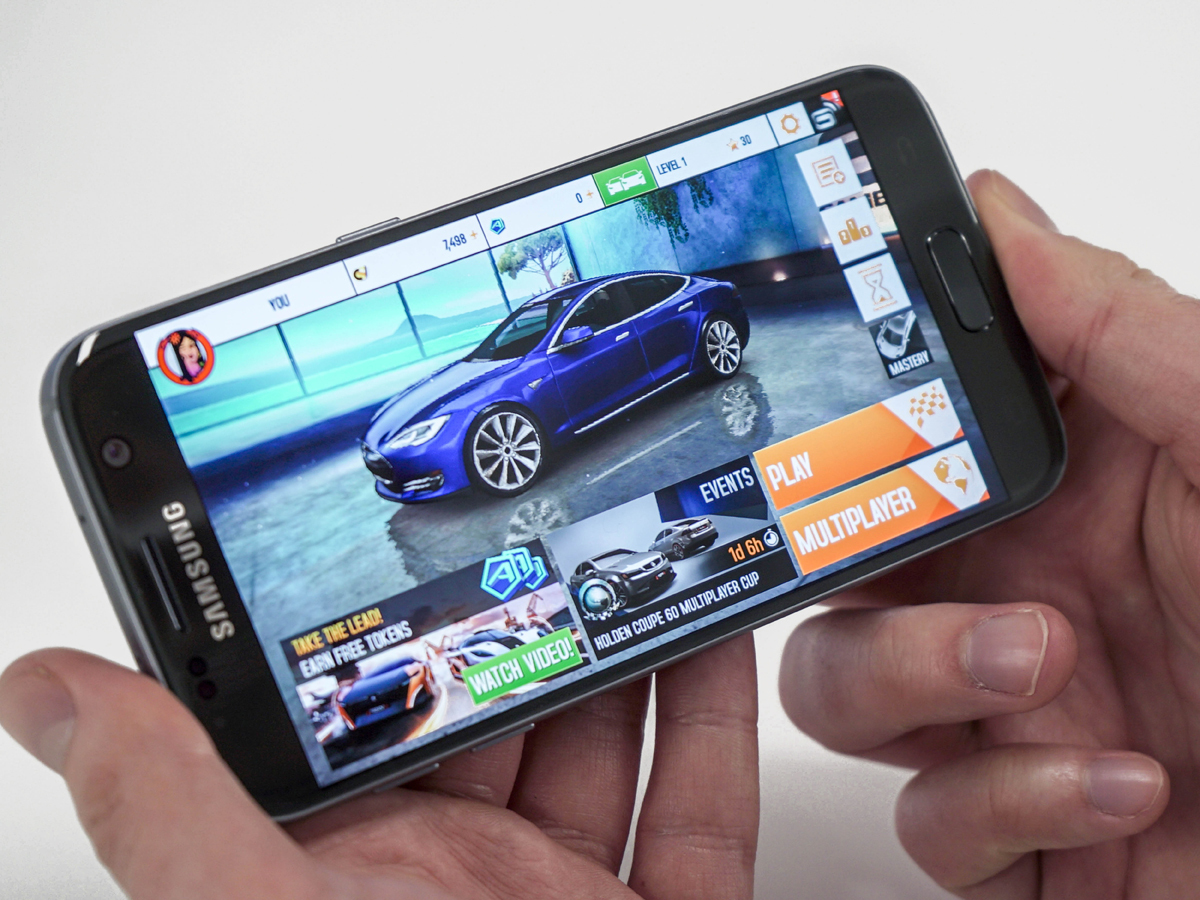 As you'd expect, the Galaxy S7 also comes rocking an updated processor. In the UK, we're getting the version with Samsung's own Exynos 8890 and 4GB RAM. That's an update on last year's Exynos 7420 and 3GB RAM combo, and a different arrangement from the Snapdragon 820 processor and 4GB RAM that's going to be available in the US and China.
Having not tested the different version of the S7, I can't tell you if there's a difference between the two chips. What I can say is that the Exynos 8890 is fast. I'm talking 'make the Kessel Run in less than 12 parsecs' fast.
Now I tend to spend my commutes firing off a string of messages across Gmail, Slack and WhatsApp, like some kind of Poundland Gordon Gecko. That means I'm usually juggling a lot of notifications at once – but that doesn't place a huge amount of strain on the S7.
Being fast is one thing, but more than one recent flagship phone has traded speed for coolness and ended up hotter than a habanero when doing anything remotely taxing. In order to see if the S7 would overheat in such circumstances, we spent half an hour with the graphically supreme Asphalt 8. No problem.
Samsung's introduced a 'thermal spreader' in its latest flagship that uses water cooling to make sure it's rarely hot to the touch, and even when I was drifting round the dust-ridden tracks of Nevada, the S7 held true to this promise. It never tinged my fingertips and there was no hint of slowdown.
If stats impress you more than real-world use than note this: the S7 has a multi-core performance of 6461 on Geekbench 3. In comparison, the iPhone 6s scores 4410. That's the processing equivalent of being bent over Samsung's legs and spanked red with a copy of 50 Shades. Nevertheless, the iPhone 6s is still more than powerful enough for pretty much anyone – so this isn't as big a deal as it sounds.
Samsung Galaxy S7 review: Battery life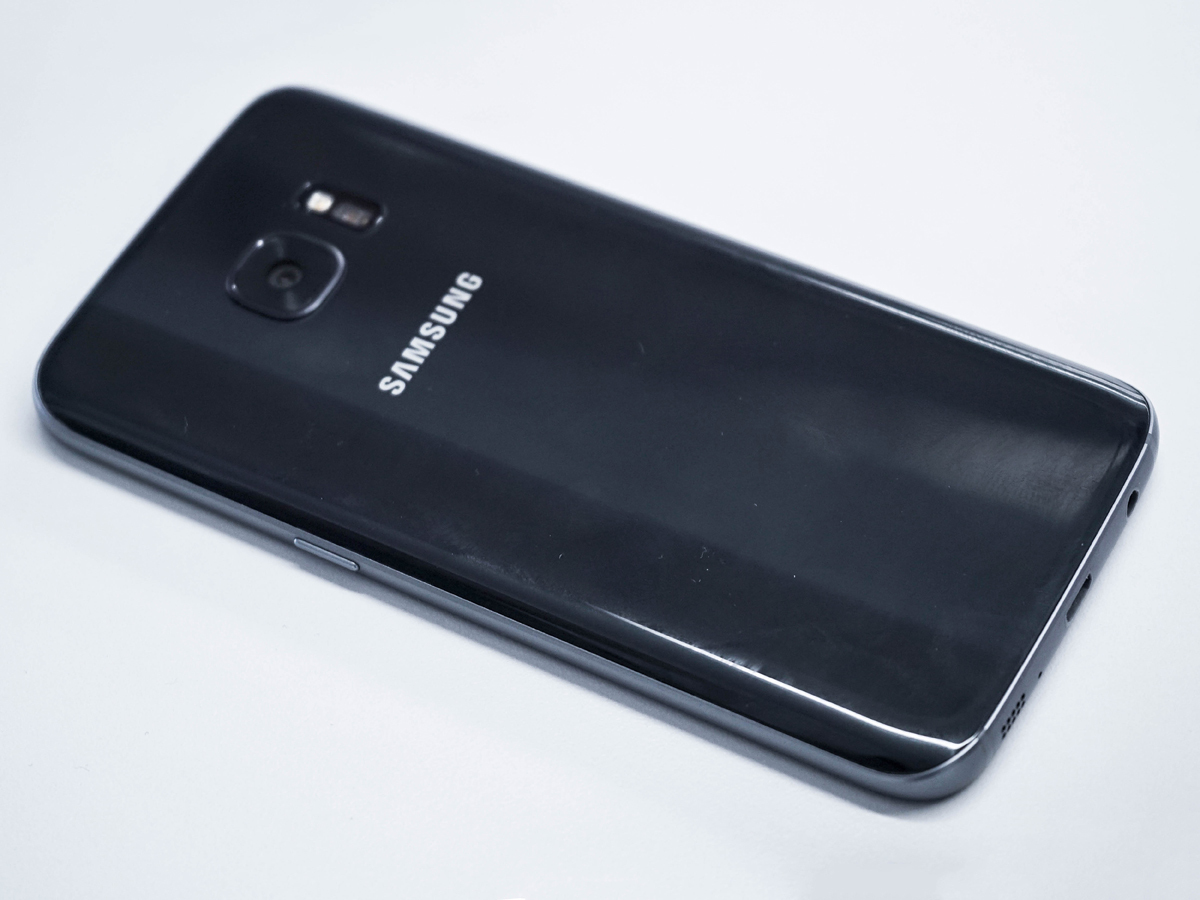 Even when you're really pushing this Galaxy to the furthest reaches of its capabilities, its battery life won't evaporate. A 30-minute Asphalt 8 session ate up a mere 10% of battery and I still managed to go the whole day without recharging.
Indeed, I regularly got over a day's worth of usage from the S7. I could wake up one morning, rip it out of the charger and not have to plug again in until lunchtime the next day. This equates to about 28 hours of performance.
Now as I've already explained I'm probably a 'power user' of most mobiles. That doesn't mean I love wearing jackets with shoulder pads and live my life in homage to Margaret Thatcher, rather that I'm a little too obsessed with my email inbox and tend to use a lot of YouTube and Spotify as well.
Someone who's less of a workaholic will squeeze even more juice from the S7. Given this new Samsung has a 3000mAh battery compared to the S6's 2550mAh effort, its improved performance is no surprise.
Even if you get carried away and spend way too much time trying to crack that last Monument Valley level, the S7 has a couple of tricks to make sure you're not caught short for battery life. As with the S6, it'll enable two battery saving modes when you've got 15% and 5% charge remaining that really make the most of your final drops of power – extending them for up to two hours.
Plus, the S7 comes packed with a fast charger that will boost you back up to 70% in about 30 minutes. It'll make your phone heat up a little, but the results are totally worth it. You're rarely going to be caught short with this smartphone in hand, and even if that's the case 'sensible Samsung' still has your back.
Samsung Galaxy S7 review: Software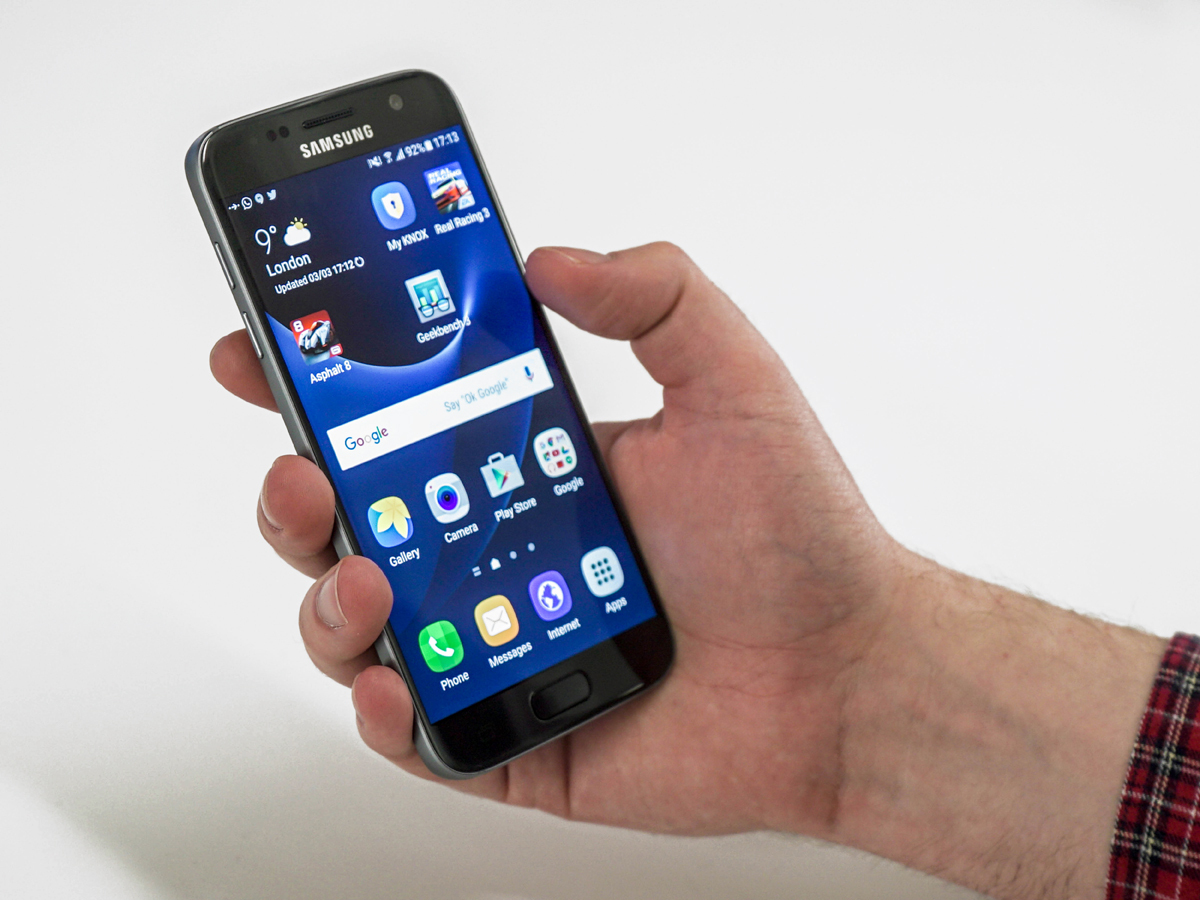 So the story of the S7 so far is one of genteel improvements. The kind of upgrades that raise the bar for Samsung's Galaxy range without wowing you on first impressions. Essentially, Samsung has ceded to Apple's tick-tock cycle of mobile upgrades where a manufacturer alternates its attention between design and internals on a yearly basis.
Rather than chasing a fad or creating its own, the S7's focus is on ease of use. Straight out of the box, it's a dream to handle, and a lot of that's down to its flexibility. If you don't like Samsung's software, want more control over the way you take photos or how your screen works, then that's OK.
Most significantly, you're given ability to shun the bulk of Samsung's own TouchWiz interface as soon as you boot the S7 up. So I did and plumped for the Google Now launcher instead. This meant I got to enjoy Android 6.0 Marshmallow's uncluttered aesthetic, alongside some of the more useful drop-down shortcuts and notifications that TouchWiz provides.
It's a thoroughly focused combination that offers plenty more customisation when you dig into the S7's settings. You can even turn off its always-on display, which is quite something when you consider it's one of the phone's headline features.
There's also the opportunity to get shot of Game Tools, a new TouchWiz function that overlays buttons on to the S7's display for locking its Recent and Back keys, and recording your game among other things. While this sounds like a good idea, it's a bit of an arse in practice. Specifically, it'll pop up in non-gaming apps such as Slack and WhatsApp.
Samsung Galaxy S7 review: Flawed genius?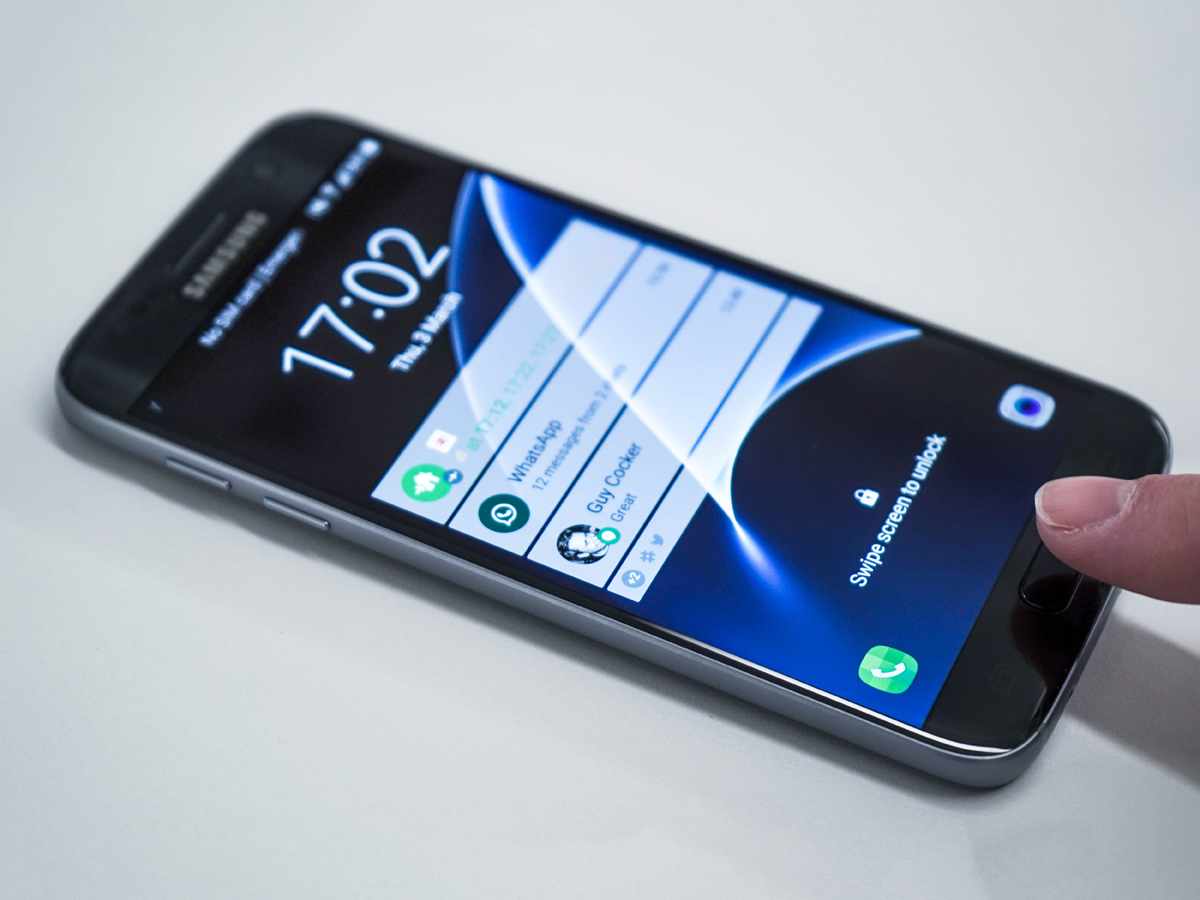 Compared to my usual iPhone 6s, there is one software area where the Galaxy S7 is sorely lacking. And no, it's not the fact that Android's apps are still not as good as their iOS cousins. It's the absence of Samsung Pay in the UK.
Samsung has guaranteed that the service will be coming to the UK at some point in 2016, but right now we have no idea when that might be.
It's a shame, because hand on heart, Apple Pay is the thing I most appreciate about the iPhone. It almost removes the need to carry cash around with you and scramble around for your wallet when it's wedged at the bottom of a backpack. That I can't use Samsung Pay with the S7 is my biggest annoyance with it, and feels like a real shortcoming for such a practically-minded smartphone. Then again, that probably underlines just how good this new Galaxy is in the first place.
Generally speaking, the S7's fingerprint scanner is good. It's not as fast as the one on the iPhone 6s and it won't unlock your phone in one touch like the Nexus 6P, but it does the job. Now you can authenticate Google Play purchases with your fingerprint there's also more you can do with it too.
Samsung Galaxy S7 review: Waterproofing
A microSD card slot, isn't the only feature Samsung has restored from the Galaxy S5. Thanks to IP68-certified water-resistance, the S7 can withstand a 30-minute dip in your local latrine.
This is especially good news for anyone who's dropped their ringer down the loo while intoxicated. As these poor souls will know, it's bad enough having to fish the thing out of the bog in the first place, without having your spirits further crushed at the realisation that it now won't work anymore. Like a wearisome parent, Samsung has done its best to protect against such foolishness.
Naturally, I put the S7's newfound survival skills to the test and found the smartphone was still working when removed from its watery confines. You can even use the thing as an underwater camera if you're so inclined.
Samsung Galaxy S7 review: Camera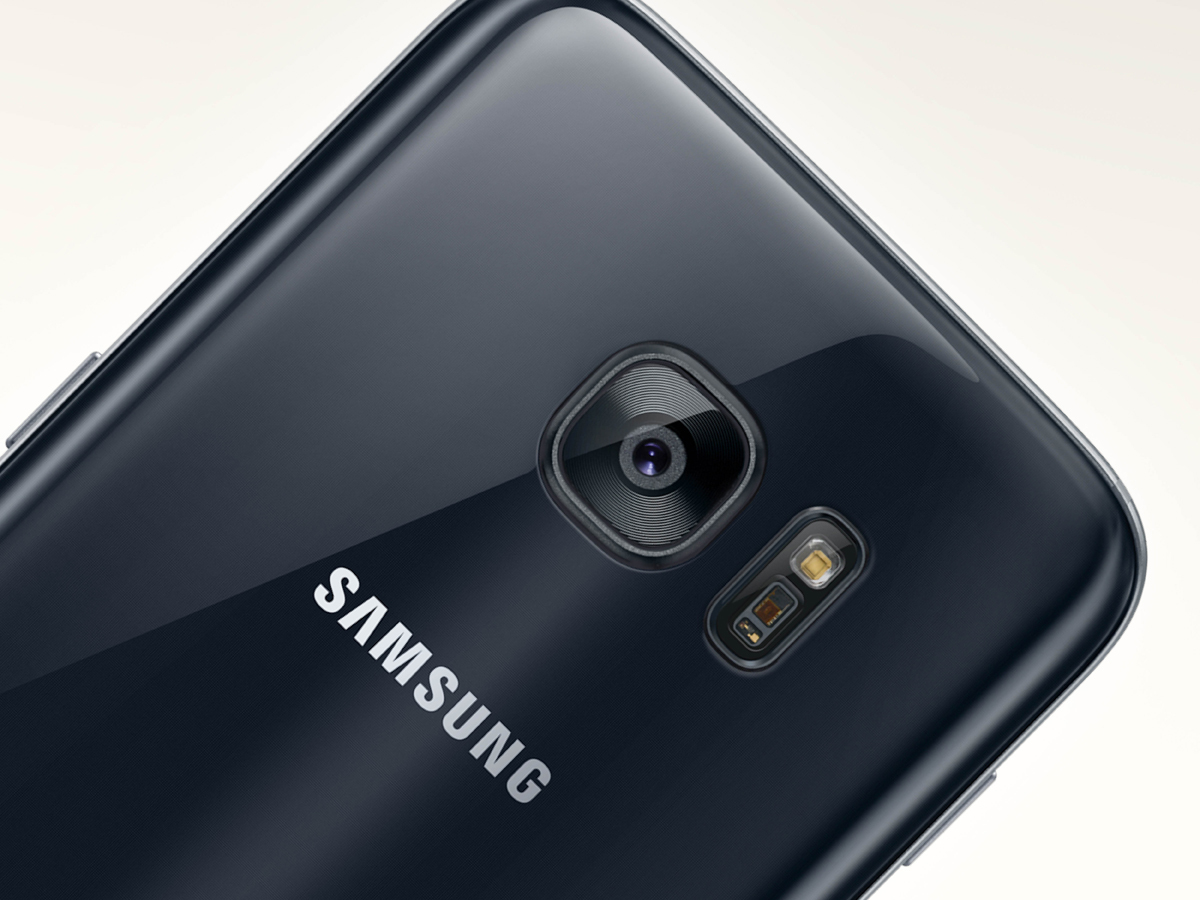 Or you could stick with using its camera on dry land, like a normal person. And you'll have a great time doing so. More than any other feature of the S7, Samsung has put a lot of work into its rear-facing snapper, with the aim of taking superior low-light photos. Some of it is a little technical, so bear with me and I'll do my best to explain.
Most confusingly, the S7's primary camera's sensor actually has fewer megapixels than last year's S6 – that's 12MP instead of 16MP. This is not actually a problem, though, as Samsung has simultaneously made those remaining megapixels bigger in size, and thus able to capture more light than before. More light captured means superior night-time snaps.
The same goes for this camera's aperture, which has widened from f/1.9 to f/1.7. A wider aperture means more light is available to the S7's sensor, and you know how that story goes.
Add to this the optical image stabilisation that's been retained from the Galaxy S6, allowing for longer exposures in low light, and Dual Pixel autofocusing for sharper images that don't take an age to focus, and you potentially have a powerhouse camera. So how did the S7 shape up?
Well, there's no doubting it can take a great photo. The S7 captures the kind of pictures you can post to Instagram with an obnoxious but proud #nofilter. In everyday conditions with a bit of sun about, colours are bold and vivid, while focusing is imperiously quick. I even managed to take a decent snap of my dog, Darcy, who is both equally camera shy and impossibly hyperactive.
When dealing with subjects that don't yap at your kneecaps, there's a tremendous amount of depth to the S7's pictures. Skin tones are smooth and pleasing, while Samsung's placed a clear emphasis on contrast – allowing you to spot details that would otherwise be lost in the background of other smartphone snaps. Looking back at a few photos taken in my local greasy spoon, I could happily read the options on the menu board.
Samsung's own camera app goes a long way to helping you achieve such clarity too. If you just want to use your phone for point-and-shoot pictures, then its HDR mode means you can get by with one tap of its shutter button. More discerning photographers will appreciate the ability to shoot in RAW, and 'Pro' mode with its tweaks for white balance, ISO and aperture, amongst other things.
That said, the S7 does have its own personality quirks. Compared to the iPhone 6s Plus, its photos look significantly more processed. Is this a bad thing? Not necessarily. It means that snaps pop off your screen but they don't look all that natural on close inspection.
This is especially the case with selfies, which are great for the most part but can fall foul of Samsung's photo software. In dim conditions, this occasionally overbearing approach to brightness transformed my facial hair into a grim brown film – and it isn't all that great in the first place.
Simply put, the S7 is best for Facebook while the iPhone's efforts look better when framed on a mantlepiece. And who actually prints their photos anymore?
Samsung Galaxy S7 review: Low-light
This Samsung delivers the goods in low light as well. While it's especially sensitive to bright objects once the sun's gone down, the S7 can still pull a respectable photo out of the bag. Shooting outside my house at dusk, resulted in some surprisingly good photos with a tolerable amount of noise and a pleasant wash of blue and amber in the sky. Given just how much Samsung's banged on the S7's superiority in darkness this probably shouldn't come as a surprise.
That's why we pitted the S7 against Apple's iPhone 6s Plus in a side-by-side comparison to see just how good it really is, and the results might surprise you. On our testing at least, the Galaxy S7's low-light photos were very good but couldn't quite match the iPhone's. When shooting a close-up shot of some flowers, the petals at the bottom of the frame were noticeably grainy and blurred.
The same applies to the S7's video, which is crisp in normal lighting conditions with a shallow depth of field and a wide frame. Again, press record in more tricky surroundings and a noticeable amount of noise begins to show up – especially when panning across a scene. Don't get too hung up on this, without smartphone camera sensors ballooning in size, few handsets are going to come close to the S7's camera prowess.
Samsung Galaxy S7 review: But what about the Edge?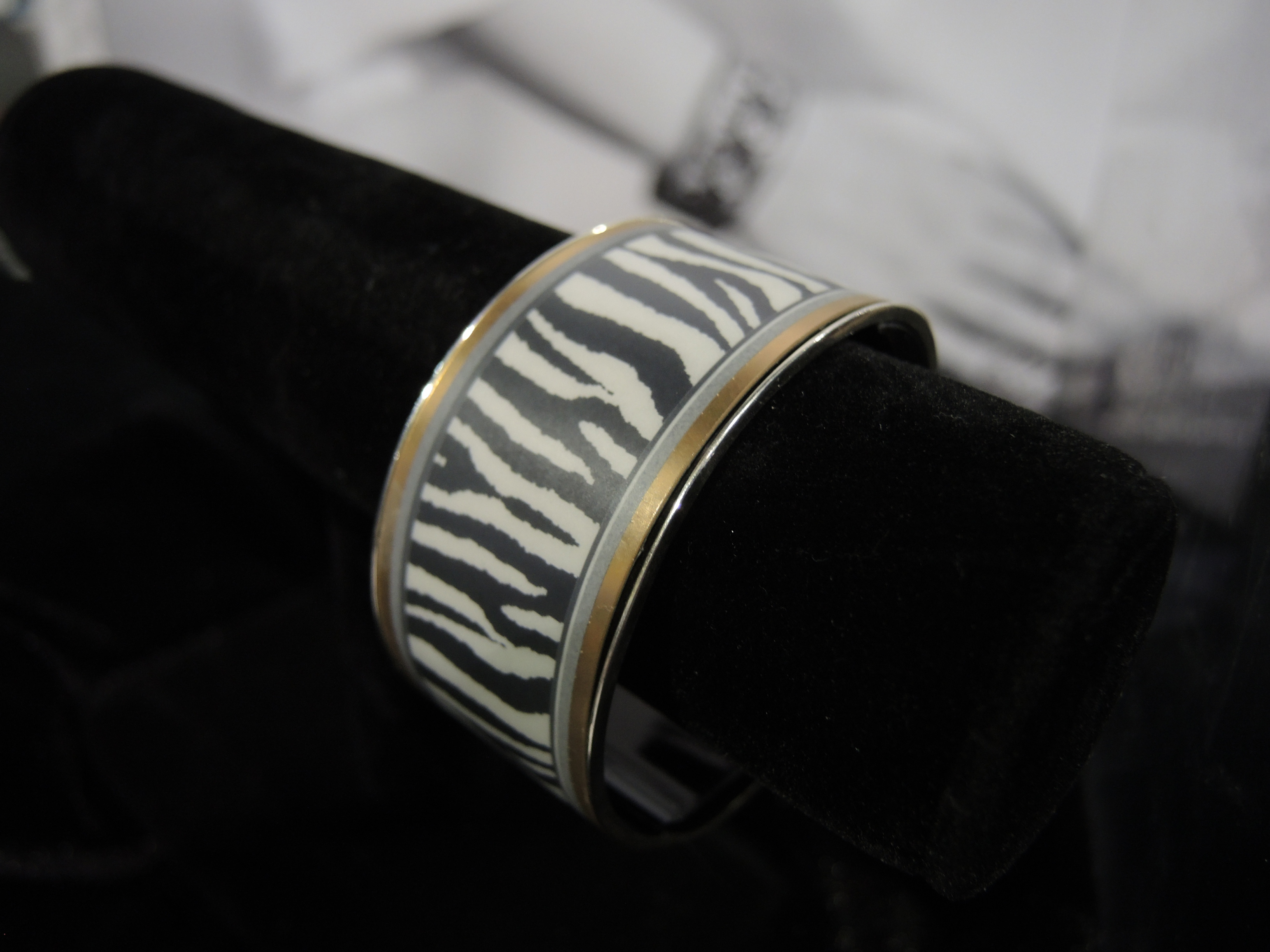 If the S7 retains one hangover from the halcyon days of crazy Samsung, it's that there's two of it: the standard Galaxy S7 and the Galaxy S7 Edge.
The S7 Edge has a bigger 5.5-inch display, a higher-capacity battery and that's about it. Bar a curved touchscreen, but we'll talk about that in a second.
Before we do though, let's mention pricing – because it's important here. If you have a spare wad of cash to hand, then the 32GB Galaxy S7 costs £570 SIM-free. That's only £70 less than the entry-level Galaxy S7 Edge, which makes paying the premium seem pretty reasonable. You'll get a bigger screen and a better-looking phone for your money, plus a swipe-able row of widgets to use once in front of your friends and then never touch again.
If you want to pick up the Edge on contract, you should probably think twice before doing so. You see, mobile providers are charging up to a £6 per month premium for the more expensive S7, and a quick-access torch and dedicated button to text your mum with doesn't offer enough added value to justify paying an extra £144 over two years.
So getting the Galaxy S7 Edge is the baller move but, if you can't afford such frivolities, you're not missing out on much.
Samsung Galaxy S7 review: Verdict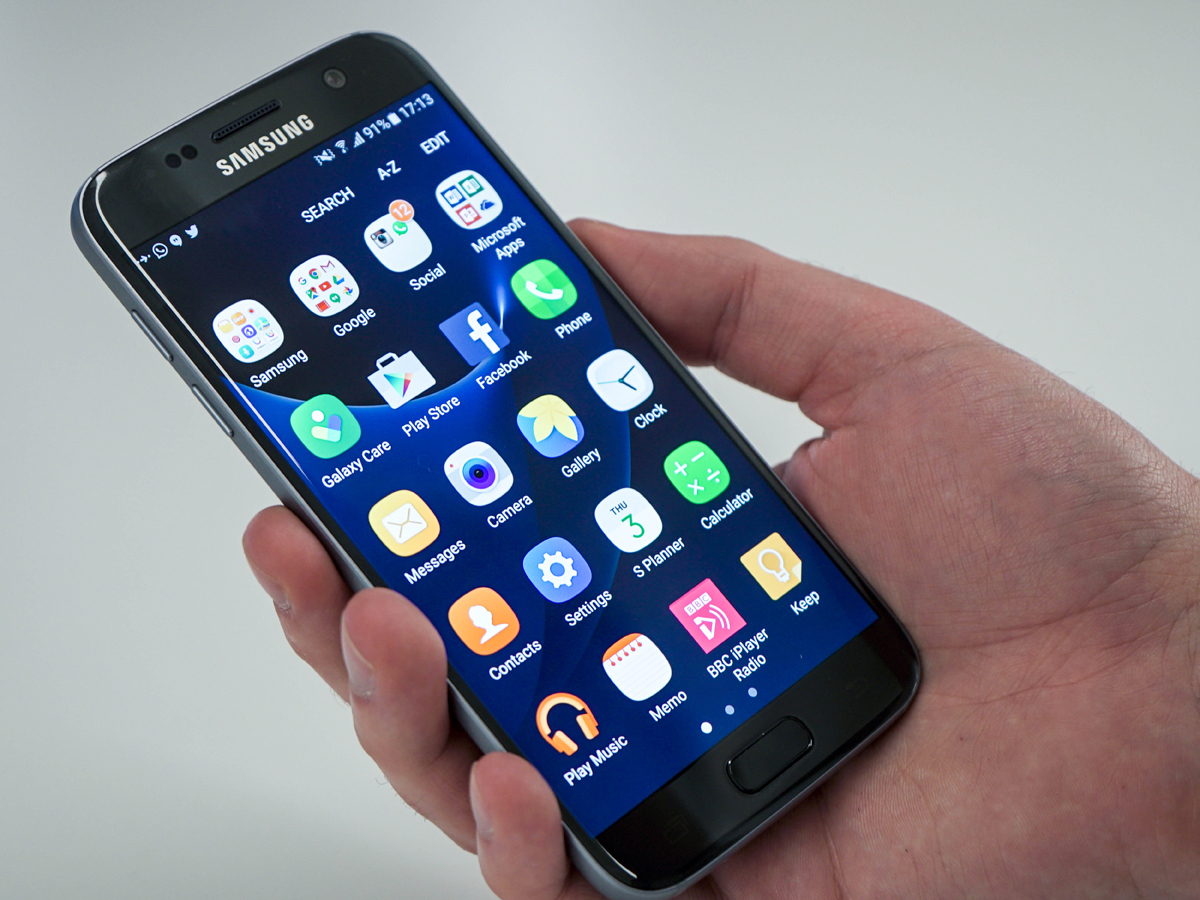 You see it's very hard to find fault with the Galaxy S7. If this is a phone that sees Samsung resting on its laurels, then they must feel pretty comfortable right now.
Where past Galaxy S handsets have felt like a checklist of enviable specs, this device is a complete all-rounder. More than offering you a tremendous processor or bumper battery, the Galaxy S7 focuses on how these components tally together and whether you're going to enjoy using them. Holding back on any grandstanding new features has allowed Samsung to make improvements on a smaller scale.
It's focused on the aspects of smartphones that are most familiar to you. The ones where even a subtle change makes a noticeable difference, such as a camera that won't let you down in low light or water-resistance that'll save you a trip back to the phone store.
Crazy Samsung is dead. Long live its new sensibilities.
Buy the Samsung Galaxy S7 here SIM Free – or on contract here
Tech specs
| | |
| --- | --- |
| Dimensions | 142.4 x 69.6 x 7.9mm |
| Weight | 152g |
| Screen size & resolution | 5.1 inches, 1440 x 2560 pixels |
| Processor | Exynos 8890 |
| GPU | Adreno 530 |
| RAM | 4GB |
| Storage | 32GB/64GB (with microSD support) |
| Primary camera | 12 MP, f/1.7 |
| Selfie camera | 5 MP, f/1.7 |
| Extras | Fingerprint scanner, IP68 dust-proof and water-resistant |
Stuff Says…
Our favourite phone from last year, but even better. The Samsung Galaxy S7 is straight up brilliant
Good Stuff
Fantastic screen
Top camera
Brilliant battery life
Waterproofing and microSD slot return
Bad Stuff
No Samsung Pay
Familiar design