Samsung Galaxy Tab S4 review
Samsung takes on the iPad Pro, again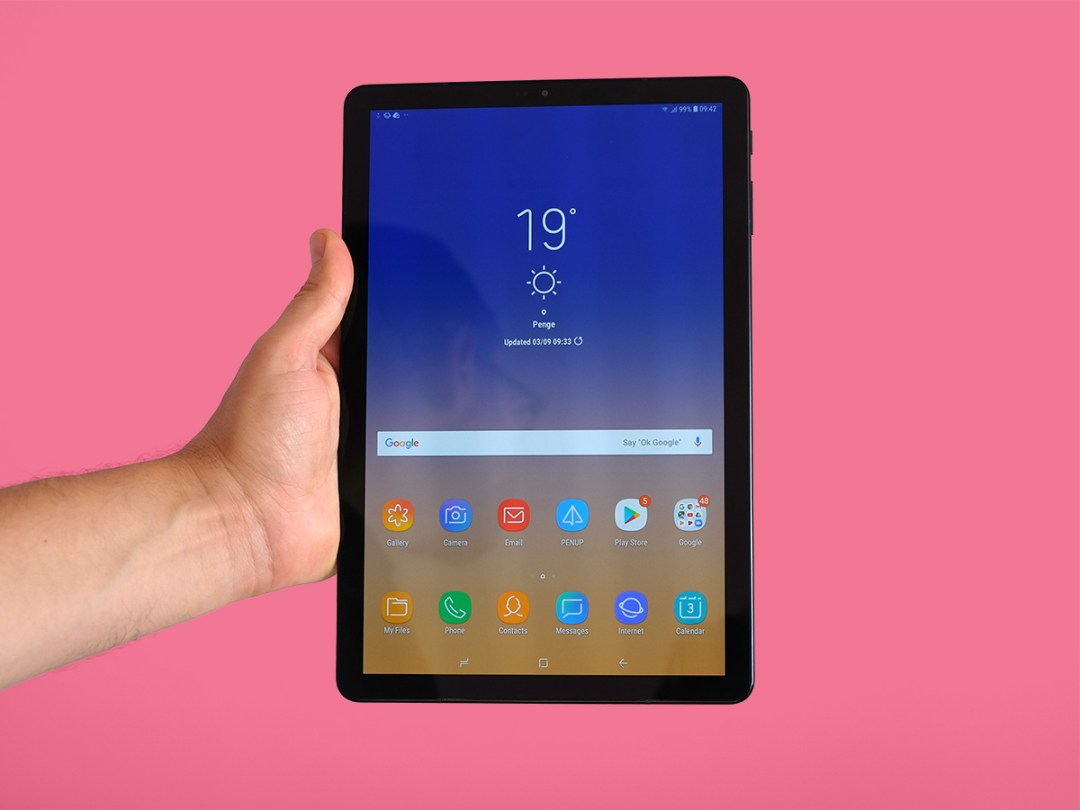 Time has not been kind to tablets. Many of us change phones at the first opportunity, but no-one's buying tablets at that pace, it seems.
New tablets are relatively rare these days. And new tablets that are any good are even rarer. This is why the Samsung Galaxy Tab S4 is pretty exciting. It's definitely new. And it's definitely good.
It's a real powerhouse tablet that, you've heard this one before, wants to be able to replace your laptop.
Samsung's real aim is to make you buy a Tab S4 instead of an iPad Pro, though. Spoiler alert: the Samsung Galaxy Tab S4 doesn't bury the iPad Pro series. But it is perhaps the most versatile tablet with Android inside.
Design: pure galaxy
How do you make a tablet look interesting?
The garish finishes found on phones like the Huawei P20 Pro are out. They'd look ridiculous. And the swooshes used on laptops lids? Naff as anything on a tablet. It seems there's no obvious way to make tablets look interesting, which explains why the Samsung Galaxy Tab S4 is a rectangular black hole of glass and metal.
It's black, it's a rectangle. It's a black rectangle. It's shiny too, sure, but this highlights the thousands of fingerprints the thing picks up the first time you touch it. Quite the magic trick.
Plain as the look may be, the Samsung Galaxy Tab S4's feel is great. The back is Gorilla Glass, the sides aluminium, and it really has that Star Trek notepad vibe going on.
It feels about as expensive as it is. Front-on the look is also helped out by the screen surround. While not even close to the skinniness of recent phone surrounds, that it is roughly even all the way around gets rid of the old awkwardness of widescreen tablets. And the Tab S4 isn't that much bigger than a standard 9.7-inch iPad.
For years iPad-shape tablets have been the preferred design. Even Samsung caved and went "4:3" with the Galaxy Tab S3, but we're back to widescreen here. In order to make the tablet look right both in portrait and landscape orientations, Samsung took the fingerprint scanner out of the Tab S4. We get iris and face scanning instead.
These use the camera and an IR sensor on the front. It works brilliantly, faster than some fingerprint scanners in the right conditions. As long as you hold the tablet correctly, anyway. Let it slouch and you face won't be in view, but this camera style absolutely ends up feeling a worthy swap for the finger scanner.
Screen: OLED ahead
The Tab S4 has a 10.5-inch Super AMOLED screen with 1600 x 2560 pixels and more-or-less all the same benefits as the displays of Samsung's top-end phones.
Contrast is superb and colour seriously punchy if you want it to be. You have a choice of colour profiles, ranging from the ultra-excitable Adaptive Display to the more-conservative-than-a-right-wing-MP "Basic", which is an sRGB colour mode. You can't really beat Samsung's OLED screens in this respect.
However, get up close with the Samsung Galaxy Tab S4 and it does look ever so slightly less sharp than an iPad. This is the one downside of these Samsung OLEDs. They look a little less sharp than LCDs of the same resolution. But as you'll only notice at a distance that's probably bad for your eyes, don't dwell on this point too long.
DeX and Keyboard: Laptop leaning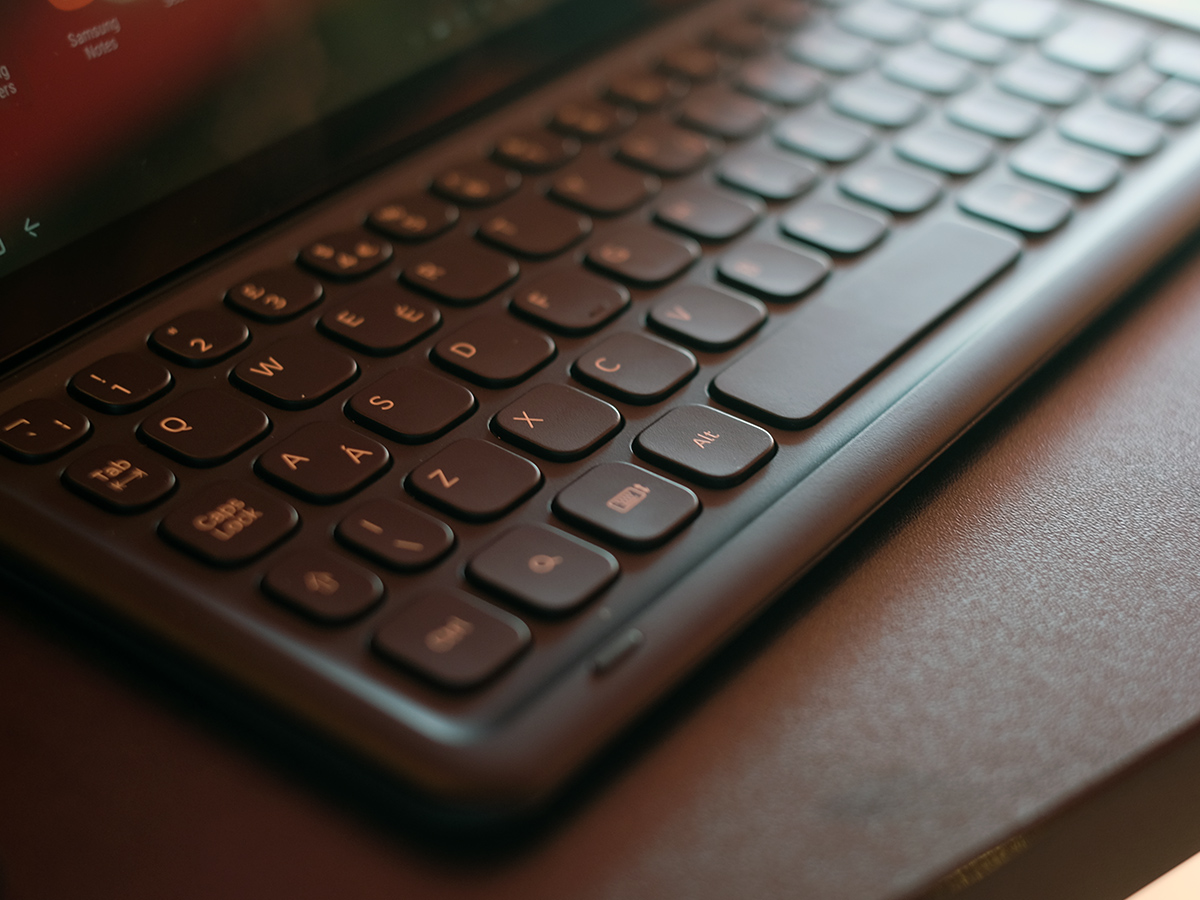 Like every Android tablet, at first it doesn't seem the Samsung Galaxy Tab S4 does too much with its extra screen inches. You can run two apps at once, and that feels far more useful here than in one of Samsung's phones.
But there are still the same five rows of app icons as you'll see in a Note 9, for example. This is Android 8.1.0 with the usual Samsung interface, just bigger.
That all changes when you plug in the keyboard case, which is a £110 optional extra. Samsung didn't send us one of these, but we have seen and used one. And a Samsung Galaxy Tab S4 doesn't quite feel complete without the keyboard nearby. Attach the keyboard to the little gold connection points on the S4's bottom and the software switches from standard Android to DeX.
It's another custom interface that looks close to Windows or Mac OS. The idea is you can then use the Samsung Galaxy Tab S4 more like a laptop. And it's the best excuse for Samsung's pre-installs of Microsoft's Android office suite, which never seemed all that useful to us in its phones.
The keyboard has proper keys, chunky enough for long-form typing. There's no trackpad, and it doesn't instantly make us want to get rid of our laptops. But it is useful, levelling up the laptop-replacer potential over the old Tab S3.
DeX will also kick in if you plug the Tab S4 into another display, using a cable. Expecting many people to do this seems a stretch, mind.
Stylus: game of scribble
We miss the keyboard, but at least there's the stylus to play with. An S-Pen comes in the box as standard.
The tech is similar to that used in Galaxy Note phones, but its design is much chunkier. It's not a sliver of plastic, with a much thicker barrel for the feel of a proper ballpoint.
This stylus does not slot into the tablet. There's a loop in the keyboard base, offering yet another reason to get hold of one. And you don't get the Bluetooth remote control functionality Samsung added in the Galaxy Note 9.
However, it's still great for doodling, and even note-taking. Samsung's OCR, which turns your scrawls into "typed" text, is great, and its 4,096 pressure levels come into play when you fire up a decent art app.
Penup comes pre-installed. It's a fairly light and fluffy drawing app. But other apps like Adobe Sketchbook support the stylus tech too. Up against the iPad Pro tablets, the big issue is latency. Apple put lots of work into making your pen strokes feel instant, with no lag between a pen stroke and the "ink" appearing on-screen. Here there's, drumroll, still some lag. Move the pen fast and you can see the stroke trailing.
However, the actual experience of scribbling is brilliant, and at least you don't have to pay £89 for the stylus, as you do with an iPad.
Performance and Battery Life: Just fine
Given the Samsung Galaxy Tab S4's price you might expect it to have the most advanced innards going. However, it uses the 2017 flagship Snapdragon CPU, not the 2018 one.
It's the Snapdragon 835, an octa-core Kryo-core processor with about three quarters the power of the Snapdragon 845. You can choose how much to get upset about this, because the difference really isn't that obvious in day-to-day use.
Games like PUBG and Asphalt 8 still run very well, although the tablet shows off that PUBG doesn't use anything even close to the screen's actual resolution. It's soft and jagged at the same time, although this isn't Samsung's fault.
The tablet nets 6652 points in Geekbench 4, compared to around 9300 from the iPad Pro 10.5. This tablet should feel fast for a few years, but the spec is only OK for the cash. And 4GB RAM is again the level below some current top phones.
And how long does it last? The Samsung Galaxy Tab S4 has a 7300mAh battery, smaller than the 8130mAh unit of the iPad Pro 10.5.
Samsung's claims are pretty bold, of 16 hours video playback. However, this will likely be when playing a video stored on the tablet itself. A half-hour streamed off YouTube takes five per cent off the battery, so you should get around 10 hours of YouTube or Netflix off a charge.
Two hours 10 minutes of Real Racing 3 snips 31 per cent off the battery, suggesting you'll get between 6.5 and 7 hours of mid-grade gaming off a charge.
Both of these results are pretty good, just don't expect 16 hours of real-world use. The speakers add to the entertainment cred a bit. There are four, two on each side, based on landscape orientation. However, they're not a patch on the iPad Pro speakers.
While loud, their bass can't even compete with that of the normal £350 iPad, let alone the quad-driver iPad Pro.
Camera: Nothing flashy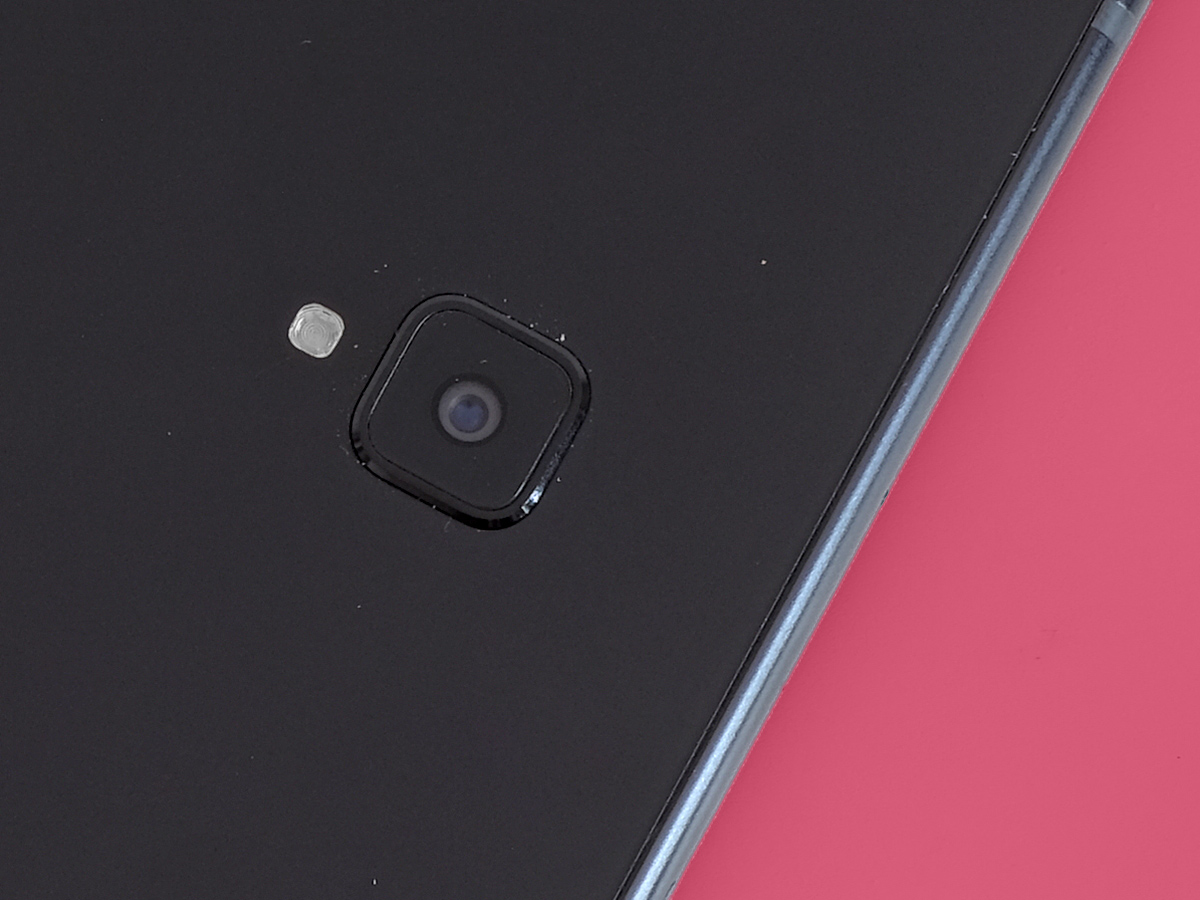 The Samsung Galaxy Tab S4 does not have anything like the cameras of the Galaxy S9 either. It's easy to understand why.
Take the tablet out to shoot some pics and you'll feel pretty ridiculous. It's not quite as bad as taking a family portrait with your laptop's webcam, but it' on a par.
There's a 13-megapixel sensor on the back with autofocus and an LED flash. Even day-lit photos don't look as clean as those of Samsung's phones, and low-light images end up looking splotchy.
However, it'll do the job for the family group shot at a get together if, for some reason, everyone loses their phones at the same time.
There's another, much better use for tablet cameras too, augmented reality. It seems the Samsung Galaxy Tab S4 may not support Android ARCore, though, as none of the popular AR titles seem to be available here.
It's a shame as Lego BrickHeadz would be great on this tablet. The Tab S4's front camera has an 8-megapixel sensor that's quick and fun to use. But there are much better 8MP selfie snappers out there. This one leaves fine detail looking pretty soft.
Samsung Galaxy Tab S4 verdict
If you're waiting for a tablet revolution, the Samsung Galaxy Tab S4 isn't it. This is just another solid high-powered tablet that makes doing some real work in Android a bit easier than its predecessors.
Tablets like this are getting rarer, though, and almost nothing else can stand up to the iPad Pro series as well.
Sure, the speakers could be bassier, the apparent lack of AR support is a shame and the S-Pen isn't quite as smart as Apple's Pencil.
However, with keyboard and pen considered, you do pay £150 less than you would for the iPad Pro 10.5 with the rival accessories.
Stuff Says…
The Tab S4 may not flatten the iPad Pro range, but it's the best Android alternative you can get at present
Good Stuff
Cheaper all-in than a rival iPad Pro
DeX makes laptop-like use less of a joke
Bold screen
Bad Stuff
The back is fingerprint central
Doesn't have the latest-greatest CPU
Speakers lack real bass