Samsung Galaxy Watch review
A bold new name and improved features makes this the best smartwatch for Android fans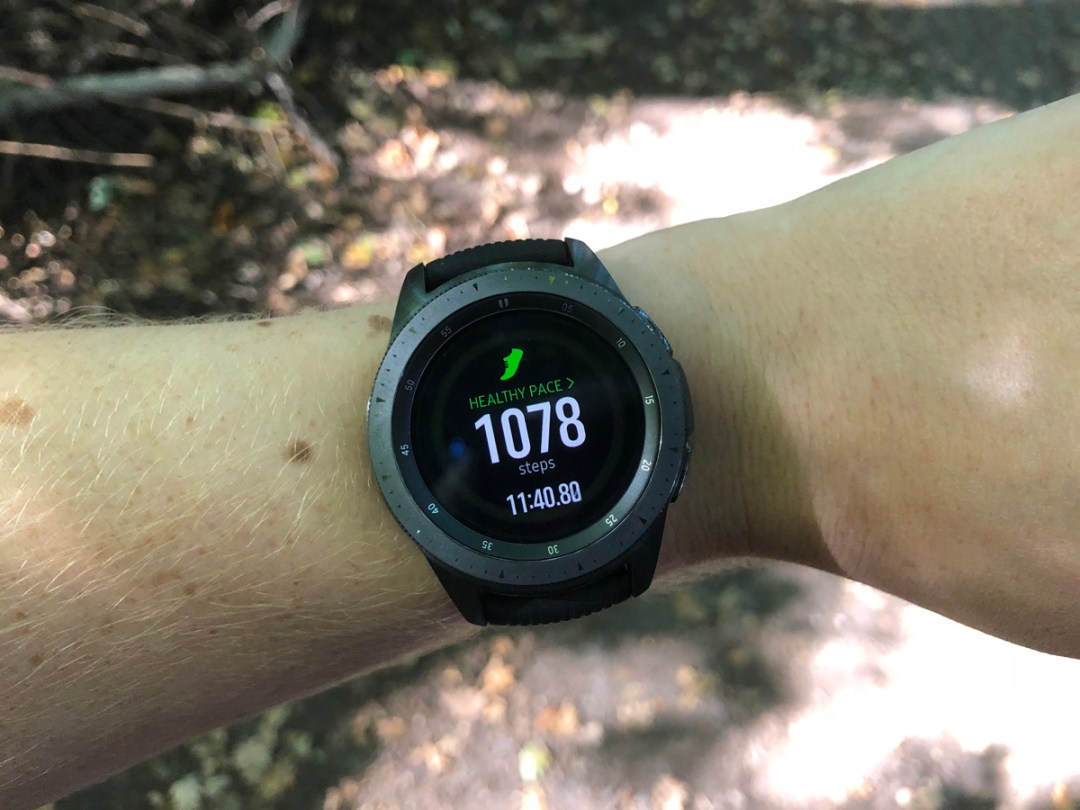 You'd be forgiven for mistaking the new Samsung Galaxy Watch for a stylish wrist watch thanks to its premium design, circular face and metallic bezel. But thankfully, the latest smartwatch from Samsung doesn't just win in the style stakes, it's packed with plenty of features to make it one of the best smartwatches on the market at the moment.
And that shouldn't come as a big surprise. Samsung isn't a stranger to making smartwatches, after all. Its first one came a whole two years before the Apple Watch and it's been launching good quality smartwatches under the Gear branding ever since.
Fast-forward to 2018 and Samsung has decided that not only is a new smartwatch in order, but so is a new brand name, and thanks to that, the Galaxy Watch now feels much more in keeping with Samsung's mobile offering.
But does its bold new name have a new design and raft of upgraded features to match? And how does the Galaxy stand up against the mounting competition from the likes of Apple, Fitbit and an army of Wear OS smartwatches?
We put it through its paces to find out.
Design and build: A good-looking smartwatch available in little or large
Unlike Samsung's previous smartwatches, the Galaxy Watch comes in two sizes. There's a 42mm model (£279) that weighs 49g and a 46mm model (£299) that weighs 63g.
The Samsung Gear S3 weighed 63g, so there's been a conscious decision to give users more choice this time round. The fact the smaller model comes in rose gold tends to suggest it might be aimed at women. But at the same time, it's a much more comfortable fit for wrists of all sizes than its bulkier counterpart and also comes in a midnight black shade.
In contrast, the bigger, 46mm model comes in just a black and silver combination finish. For this review, we tried the 42mm version of the Galaxy Watch with the midnight black finish. This size was perfect for my smaller wrist and the shiny black casing is nice-looking and really versatile, fitting right both at the gym and at a bar.
The only other difference in the sizes is that the 46mm model has a bigger battery (which we'll come to later), so it's mostly a decision based on looks here, and it's great to be able to have that choice. Samsung's aim with its latest smartwatch was to create a device that looks and feels as good as a high-end analogue wrist watch with the built-in smarts to compete with the likes of the Apple Watch, and we think it straddles that line well.
It has a stainless steel casing, which doesn't feel too chunky, that's finished off with a rotating bezel. This handy new wheel isn't about Samsung reinventing the, erm, wheel considering past Gear devices had one, but we love it just as much this time round. That's because it feels solid and premium, with a mechanical click as you twist it to toggle through menus and settings.
If you've used another smartwatch before with any other kind of navigation, the bezel may seem like it'd take some getting used to at first. However, we've found it's easily the best way to navigate through the watch's UI and becomes second nature after only a day.
Of course, a secondary advantage to the handy bezel is that it also makes the watch more durable, protecting the glass against any knocks and scrapes.
As well as the bezel, we also love the watch's display. With the 46mm model you get a 1.3-inch display and the 42mm model has a 1.2-inch display. They're both AMOLED touchscreen displays and, as you'd expect from Samsung, they're some of the best around. They're bright, colour rich and have an adaptive brightness setting, which worked really well for us in all kinds of lighting.
There's also an always-on setting, which does mean the battery life of the watch drains much quicker, but it's great to have the option to turn the watch into a regular timepiece with a beautiful, bright display. In fact, we found we switched this option on for whole days at a time and off for others.
The watch has a strap with a rubber finish, which makes it look a little sportier than previous models, as well as competing smartwatches, many of which favour a leather strap from the get-go – or at least have the option to get one. It's also a little at odds with the Galaxy Watch's more premium watch face.
But it's comfortable and can be easily switched out for something more formal if you do find it looks too much like a sports watch for your liking.
There are two textured buttons on the right-hand side of the watch, which work with the rotating bezel for navigation and selection. These looked a little more like standard watch crowns on the Gear S3, but sit flatter to the body on the Galaxy Watch. They're also off centre, which feels strange at first but is a smart design move as it stops them from accidentally being pressed.
On the back of the device there's a Heart Rate Monitor, which sits flush against the skin. Samsung has given the Galaxy Watch a boost in terms of waterproofing compared to the Gear S3. It's waterproof to 50m or 5 ATM. That's the same as the Gear Sport, but an improvement on the Gear S3's IP68 rating.
In fact, the new Galaxy Watch is swim-friendly, you can take it for a dip in both chlorinated water and salt water, but we'd advise you to give it a good rinse with clean water afterwards.
Software and features: A slick UI packed full of features
There's been rumblings that Samsung planned on launching its own OS for its latest smartwatch, but instead it's gone with the Tizen operating system again.
Some people might be disappointed by that, but Tizen 4.0 is one hell of a smooth operator, or, well, operating system. Its notification support is unbelievably slick, it handles fitness tracking well and has support for apps, like Spotify, again, which is awesome. Also, combined with the rotating bezel, the whole watch feels like a breeze to set-up and operate day-in and day-out.
But there are some disadvantages to Tizen. For starters, it lacks third-party apps that its competitors will likely offer. What that means is relying on Bixby and Samsung's SmartThings home control app rather than using some of the, arguably much better, options out there. Of course there are still lots of apps available, but some will lack the full functionality you'd get with an Apple Watch or a Wear OS watch.
More availability might come further down the line, but this does mean the watch is geared up more to those who have already bought into the Samsung ecosystem. When it comes to voice assistants, the Galaxy Watch uses Samsung's Bixby.
Now this is likely to not bother some people, it's better than S-Voice was, but for us it fell short, especially in comparison to the likes of Alexa, Google Assistant and Siri. Both watch models are quick and serve up a slick performance. They're both powered by Samsung's 1.15GHz Exynos 9110 processor and have 4GB of on-board storage, which should be more than enough for apps and music.
As well as different sized versions of the smartwatch, there's also a Bluetooth-only or LTE version to choose from. The standard Bluetooth version comes with 768MB RAM but the LTE will have more oomph to handle the extra workload, with 1.5GB on board.
We've already explained that the bezel and Tizen OS make navigation easier, but everything about the Galaxy Watch's user interface is a real treat to use – an intuitive one at that.
There's also a lot to customise, including widgets and settings. You can really make this watch your own in so many ways, from the faces to the settings to the straps, which is one of its key selling points for us. And when it comes to watch faces, boy is there a lot of choice. More than 60,000 choices, to be exact.
According to Samsung that's how many watch faces you can pick from. Although we only tried a fraction of those, it's clear there are plenty for all kinds of tastes, from those that are packed full of detail to minimal screens to arty, colourful ones.
Although it's also worth mentioning some are terrible too and commit all kinds of crimes against kerning. We tried the Samsung Galaxy Watch with both an iPhone X and a Samsung Galaxy Note 9.
Although you can access all of the basic smartwatch features with the iPhone X, you do get more if you're using a Samsung phone, especially the latest Samsung phone, which is hardly surprising, but definitely worth mentioning.
For example, you can use Samsung Pay, Bixby (if you want to, that is), Samsung Health and a range of other, smaller features with a Samsung phone only.
This may not seem too much of a big deal, but iOS users might be disappointed to find they've splashed cash on one of the best smartwatches yet it only gives them access to some of its features.
Fitness tracking and smarts: A great workout buddy and average sleep tracker
As well as being a very smart smartwatch, the Galaxy Watch doubles up well as a fitness tracker. For starters, it can track the steps you've taken, the calories you've burned, the floors you've climbed and your resting heart rate. We compared it alongside a Fitbit Versa and found it gathered pretty similar basic health stats throughout the day.
If you're using it alongside a Samsung phone, you can also bolster this data with more about water intake, caffeine consumption, your lifestyle and your daily routine. This should all combine to create a really thorough picture of your overall wellbeing right now.
When it comes to tracking, the Galaxy Watch is one of the best we've tried so far. It can auto-detect six workouts, including cycling, elliptical training, rowing, walking, running and dynamic workout. We put this to the test and found it quickly recognised running, which it tracked within a minute, and it was also spot on for rowing, too.
Elliptical training took a little longer to detect and the way wasn't sure what was going on with the stationary bike at first, but we might blame that on the fact it's geared up for outdoor cycling instead. However, the best part of auto-tracking had to be that it could auto-detect walking, which we usually don't consider exercise.
It was cool to know the Galaxy Watch would kick in and start tracking my power walks instead of only using them to build up our step count for the day. The Galaxy Watch can track 39 exercises in total, including more obscure ones and more technical ones, like weight reps including shoulder press and deadlift. In our testing these could be a little off by a rep or two, but they felt mostly accurate and we've not tried a smartwatch yet that's 100% accurate for those kinds of workouts anyway.
For keen runners, the Galaxy Watch has built-in GPS, but you'll need your Samsung phone nearby for that to work. It's another feature that iPhone users won't be able to take advantage of as it works through the Samsung Health app. But luckily you can get around that and track your runs with a third-party app instead.
Like a lot of activity trackers, the watch vibrates when you're too sedentary and prompts you to do Torso Twists, whatever they are.
It's smart and knows you might usually just stand up and sit back down again with a sedentary notification like this, so it's setting you a challenge instead. This might work for some people who are tied to a desk all day, but I'm pretty good at timing breaks so just found it a bit annoying – especially at night when I was trying to relax.
The Samsung Watch automatically tracks your sleep and the data it serves up is mostly accurate and thorough enough for the average person. It delivers up a sleep efficiency percentage and divides up sleep into motionless, light and restless. You can also rate your sleep each night and see how all of these sleep trends change over time. However, there isn't a distinction between light, deep and REM sleep like the Fitbit and Garmin services now provide.
There are also no pointers about how to improve your sleep or tips customised to you and your data, which isn't surprising given that's a big ask, but does mean that these are just quite arbitrary results rather than providing you with any tangible targets or actions. We found the sleep tracking worked well throughout the night, but it also flagged a particularly sedentary two hours of working in the afternoon as sleep too, despite a lot of keyboard tapping.
Samsung is making a move into stress-tracking with the help of its heart rate monitor and accelerometer. It's a nice-to-have feature, but on the whole it feels a little pointless. That's mainly because you have to go and find out if you're stressed. And once you're there if you're told you're stressed it often just brings on more stress – or maybe that's just me.
One nice thing it does do is offer up a breathing exercise if your stress levels are high. This may be an achingly simple breathing exercise, but it does tend to calm me down and leave me feeling a little more serene
Battery: The bigger watch boasts a better battery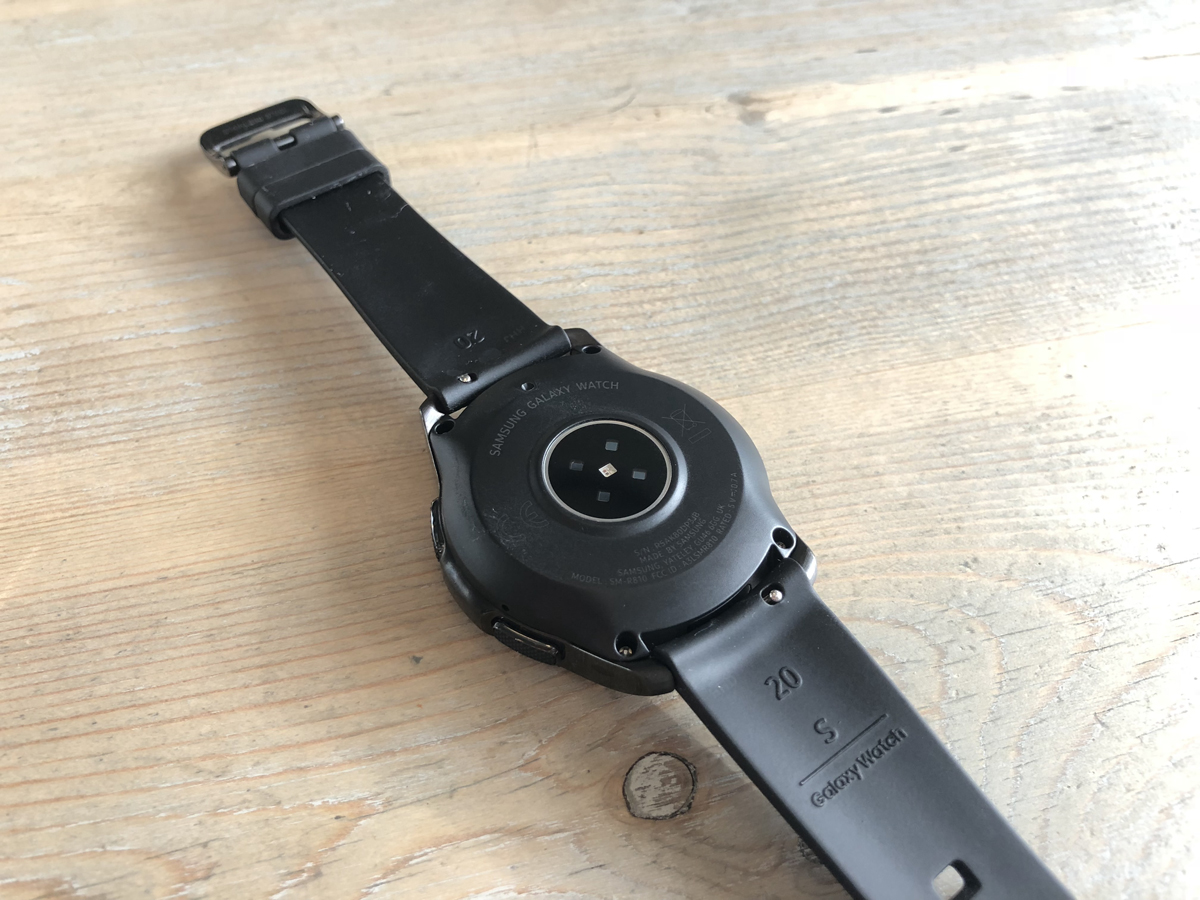 How long the battery lasts depends on which size watch you get. We reviewed the 42mm version and on paper that's meant to last up to 5 days.
We'd suspect that's with low usage, because we made it 3 with no GPS trials in that charge, but we used plenty of other features regularly.
In contrast, Samsung claims the 46mm model could last up to 7 days, but again we'd bet that's with low usage and most other reviews have pinned that model at 4 days with regular usage.
With this in mind, although we think the 42mm model is likely to suit more people, it's worth considering the bigger, weightier model for a considerable amount more battery life.
Of course there are bound to be lots of factors that could play into the battery life reducing quicker than usual, like using GPS or activating the watch's always on display.
It's also worth flagging the power saving mode, which offered most of the Galaxy Watch's smartwatch features, but in a reduced power state. This kept us going for another few hours at 5% battery.
Samsung Galaxy Watch verdict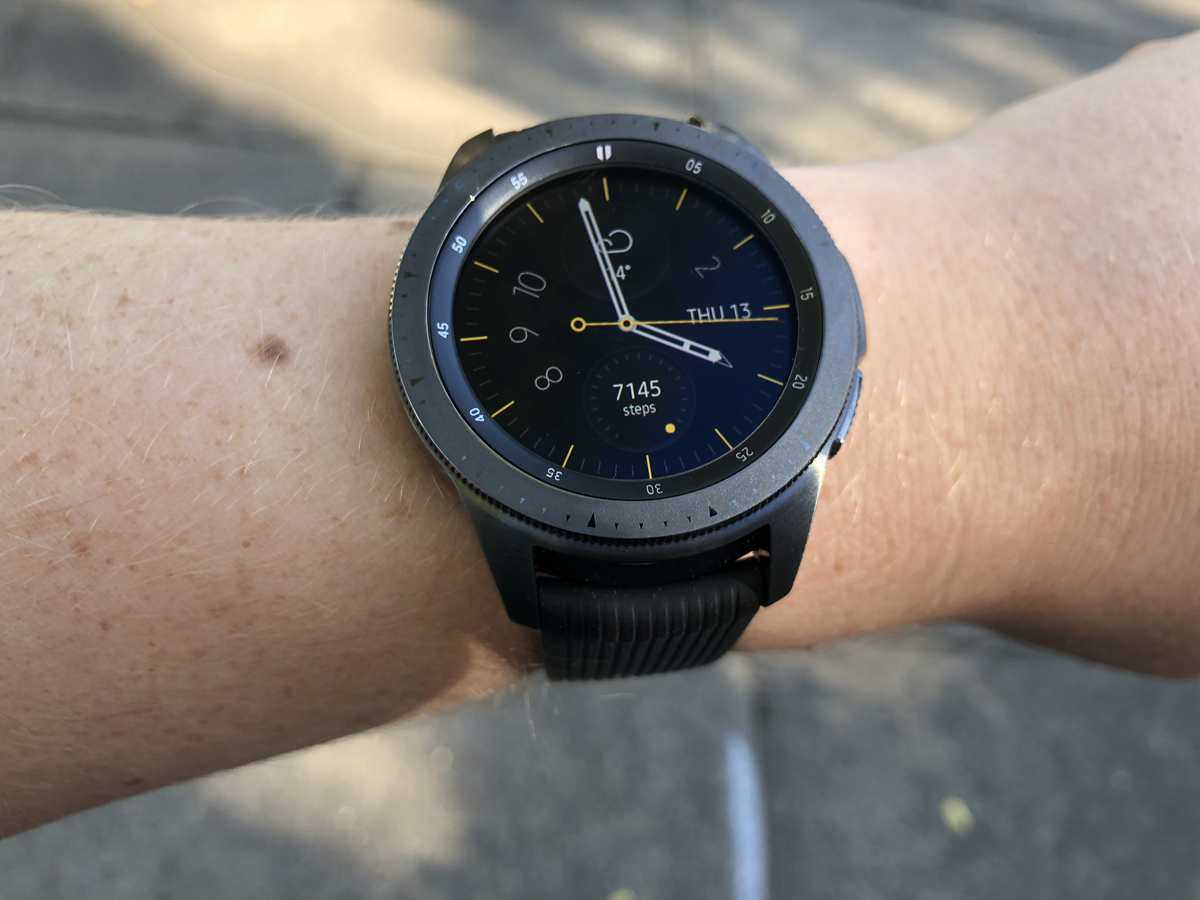 Whether you choose the bigger or smaller device, the Samsung Galaxy Watch is a sturdy and stylish smartwatch with plenty of power and a truly lovely user interface thanks to its rotating bezel and Tizen OS.
The biggest decision you'll have to make will likely be whether you go for the 42mm or 46mm models. Although it doesn't seem like there's much in it, wearing a device that's a little too bulky or heavy for you could mean the difference between whether it's worn 24/7 or shoved in a drawer and never looked at again.
Of course this will be all down to personal preference, but although we think the 42mm model is likely to suit most wrists, you will need to make a trade off for battery life, as well as a bigger screen.
Those with an iOS device might be swayed by the watch's circular design and great-looking screen, but if you're an Apple fan it might be worth opting for an Apple Watch instead given you're likely to have less functionality without a Galaxy phone for your new Galaxy Watch to play nice with.
Stuff Says…
The Samsung Galaxy Watch is one of the best smartwatches around with lots of battery life for such a smart device, a fantastic screen and UI, as well as heaps of style. It works fine with iOS but is the brightest star with Samsung smartphones.
Good Stuff
Great design and bright screen
Rotating bezel is lovely
Slick Tizen OS
Good for loads of different sports tracking
Bad Stuff
Works best with a Samsung phone
Bixby could be better
Needs more app support
46mm might be big for some people