Samsung Gear 360 (2017) review
Is this the best way to get a properly rounded view of the world?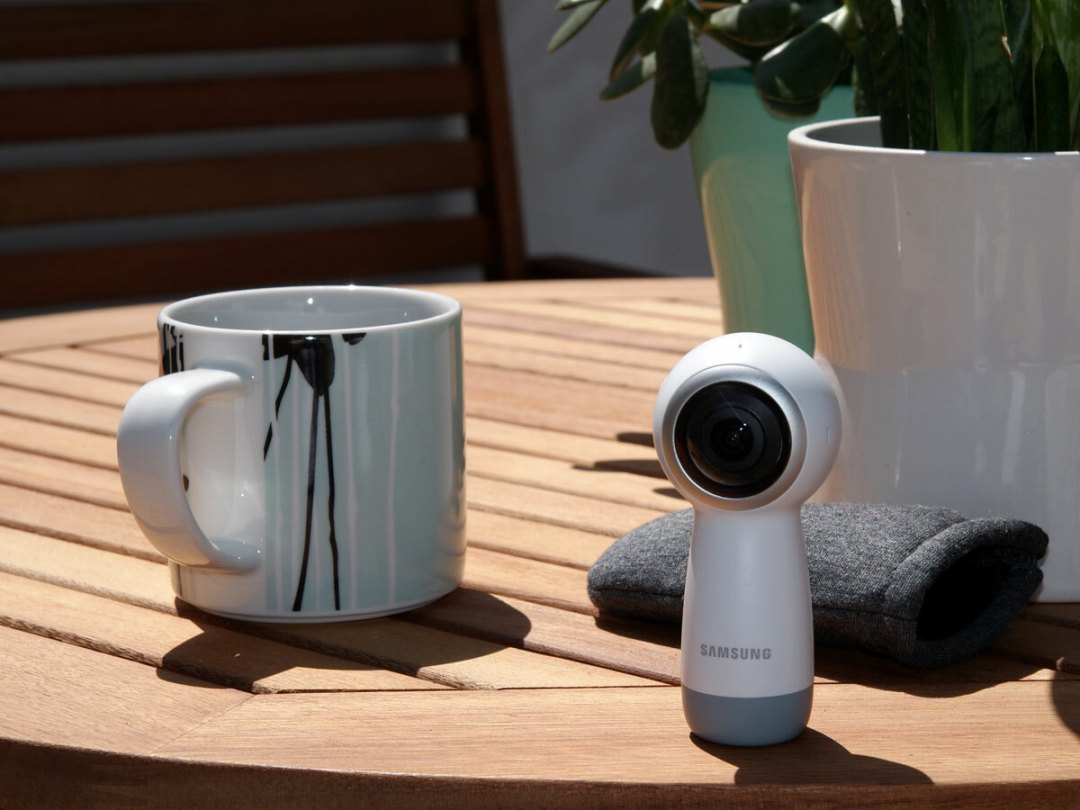 Playing VR games is no longer enough to mark you out as pioneering geek – these days, you need to be making your own VR films too.
That's where 360-degree cameras come in. Samsung's original Gear 360 was a little disappointing – while it performed well enough, it was too fussy about what it worked with, too expensive and a bit too bulky to fit in your pocket.
Samsung seems to have taken these criticisms on board with the new 2017 edition, reducing the asking price and size and widening the compatibility, while retaining a similar level of performance.
It's still not quite the perfect 360 camera, but it might just be the best one so far…
Design: cute and curvy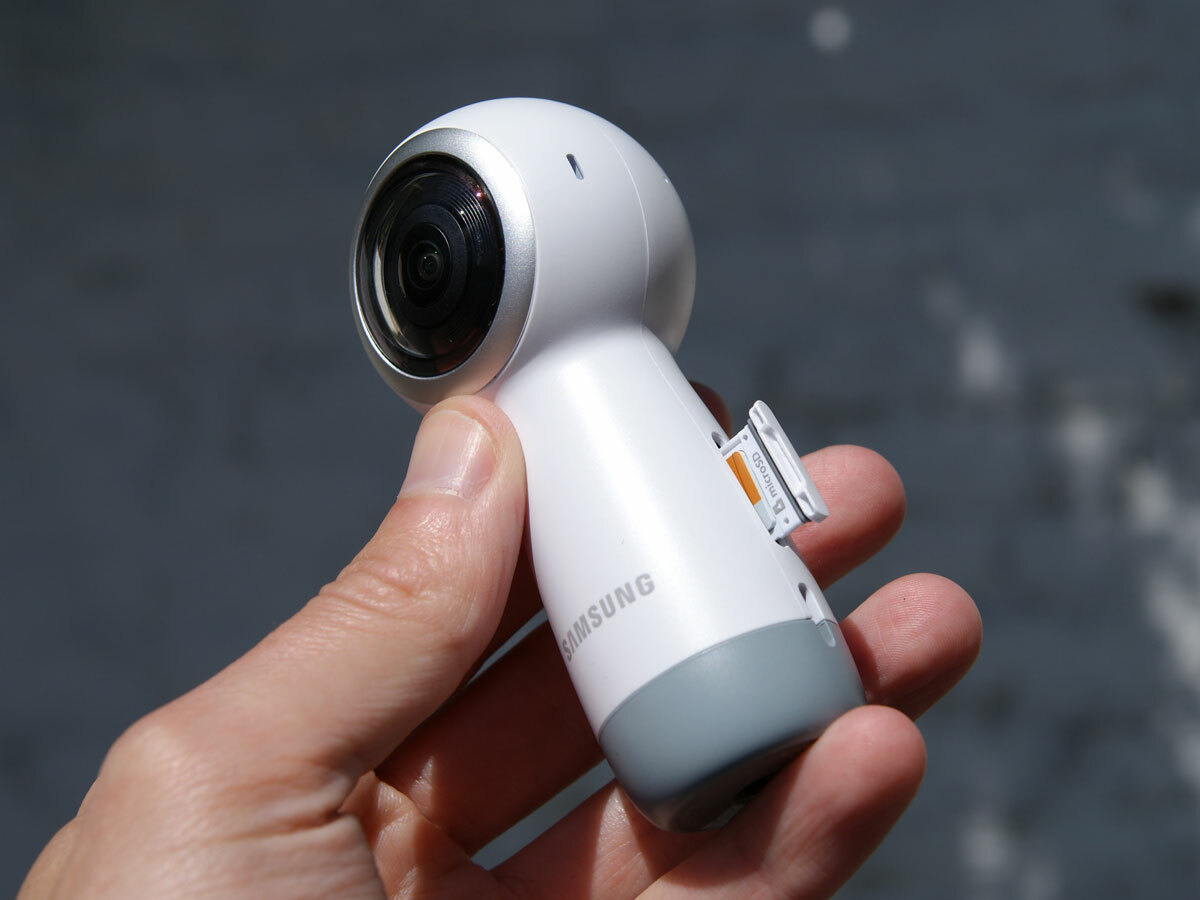 The new Samsung Gear 360 is arguably less striking than its predecessor – it lacks the built-in tripod and isn't quite as "sci-fi stylish". But that's more than outweighed by its smaller size and lighter weight.
It'll fit into a trouser pocket without causing any curious bulges, and it even comes with a nice soft carry case to prevent it getting scratched by your keys.
While the loss of the built-in tripod is disappointing, there is a standard tripod mount on the bottom, which'll come in handy when taking time-lapse videos and HDR landscape shots (more on those later). Said bottom is also flat, so you could conceivably stand the Gear 360 on a tabletop or other level surface for steadiness.
It's an attractive, simple design with no ugly protrusions and only a few controls (power/back, connect/menu and shutter buttons). There's a slot for a microSD card (the camera doesn't have built-in storage), a tiny LCD display and a metal loop for attaching a wrist strap.
The previous Gear 360's removable battery has been replaced by a built-in one, which is rechargeable via USB-C. Like the original Gear 360, it comes with IP53 protection, which means it's basically dust- and spray-proof. It isn't as fully splash- or waterproof to the same degree as, say, the IP68-rated Samsung Galaxy S8, so a dunking could prove fatal. You should be fine using it in a rain shower though.
Setup and use: simply does it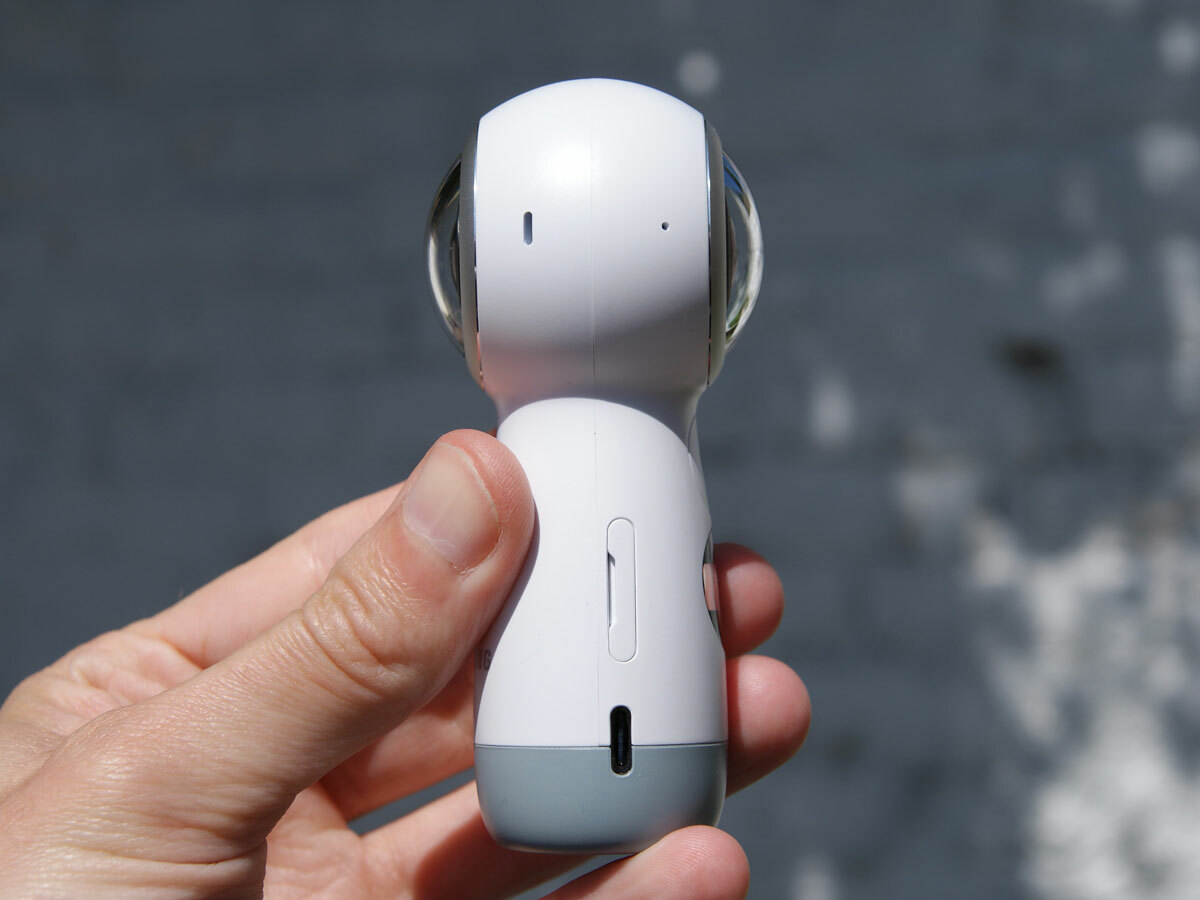 The 2017 version of the Gear 360 is only compatible with some Samsung Android phones (running Android 5.0 or above) and the most recent iPhones. There's a full list on Samsung's site, though I found it works fine on my iPhone 6, which isn't listed as supported. Unusually, it won't work on non-Samsung Android devices, which seems odd given the iPhone support.
After downloading the Gear 360 companion app, I had my iPhone 6 and the Gear 360 connected via Wi-Fi within a couple of minutes. You simply hold down the connect button until a menu appears, cycle through to the "connect to iOS" option and then use the Wi-Fi password to manually hook up your iPhone and the Gear 360.
It's even easier with a Samsung phone. With a Galaxy S8, I didn't even need to manually enter the password – the Gear 360 and phone detected each other via Bluetooth and I was prompted to pair by tapping on the screen.
The app itself is similar on both iOS and Android, although the latter version features live streaming in addition to the standard set of shooting modes: still, video, HDR landscape, looping video and time-lapse video.
With all of these modes, you can set the Gear 360 to use both lenses (for a full 360-degree image) or a single one (for an ultra-wide standard shot). The app lets you share your videos and images too, via the usual social and messaging options, but you can only do so if you save them to your phone's on-board storage.
There are also some basic shooting settings, like the ability to set the ISO sensitivity limit to either 400, 800 or 1600, reduce wind noise for videos or automatically correct tilt in the gallery.
It's basic stuff, in line with Samsung's apparent desire to keep things as simple as possible. I should also point out that you don't need a phone to use the Gear 360. With its microSD storage, LCD display and on-board physical controls, you're able to cycle through the shooting modes and trigger the shutter using the camera module itself, with footage and photos being stored on the microSD card – you just won't be able to preview or review your masterpieces.
Image quality: solid rather than sparkling
The previous Gear 360's performance was solid all-round, and Samsung hasn't shaken things up too much in this regard. It's a decent performer but, just like every other 360-degree camera we've reviewed, the appeal of its video and photos comes more from their novelty than their image quality.
The marketing for the Gear 360 2017 shouts loudly about its 4K capabilities, but don't be misled – this refers to the resolution (at 24fps) when shooting 360-degree footage. With a single lens in use, you can only record in 1080p at 60fps.
While Samsung's technically correct in calling it 4K, when you actually view the footage you'll only be seeing a small part of the image, and the quality is such that it looks less sharp than regular 1080p HD. So don't go expecting 4K Blu-ray levels of detail.
The fish-eye lenses also flare very easily with bright sources of light, which can further detract from the visual quality. Like its predecessor, software stitching can also be a weak link, showing the join or leaving a gap between the two lenses (like in the example above). That said, videos and photos, whether they're 360-degree, single-lens or time-lapse, look fine by the current standards of pocket-sized 360-degree cameras.
None of the current models available are going to blow you away, but with the Gear 360 you at least get bright colours, decent contrast and colour detail (particularly in the HDR still shot mode) to go with your nifty VR-friendly, all-around capture.
Check out the 360-degree sample shots for yourself for an idea of the quality – you'll be able to spot some evidence of the join, where one image is merged with the other. That's normal in 360-degree footage, and I feel Samsung's auto-stitching algorithm does a good job overall.
Samsung Gear 360 alternatives