Samsung HW-S60B review: big sound, tiny package
Pound for pound audio knockout?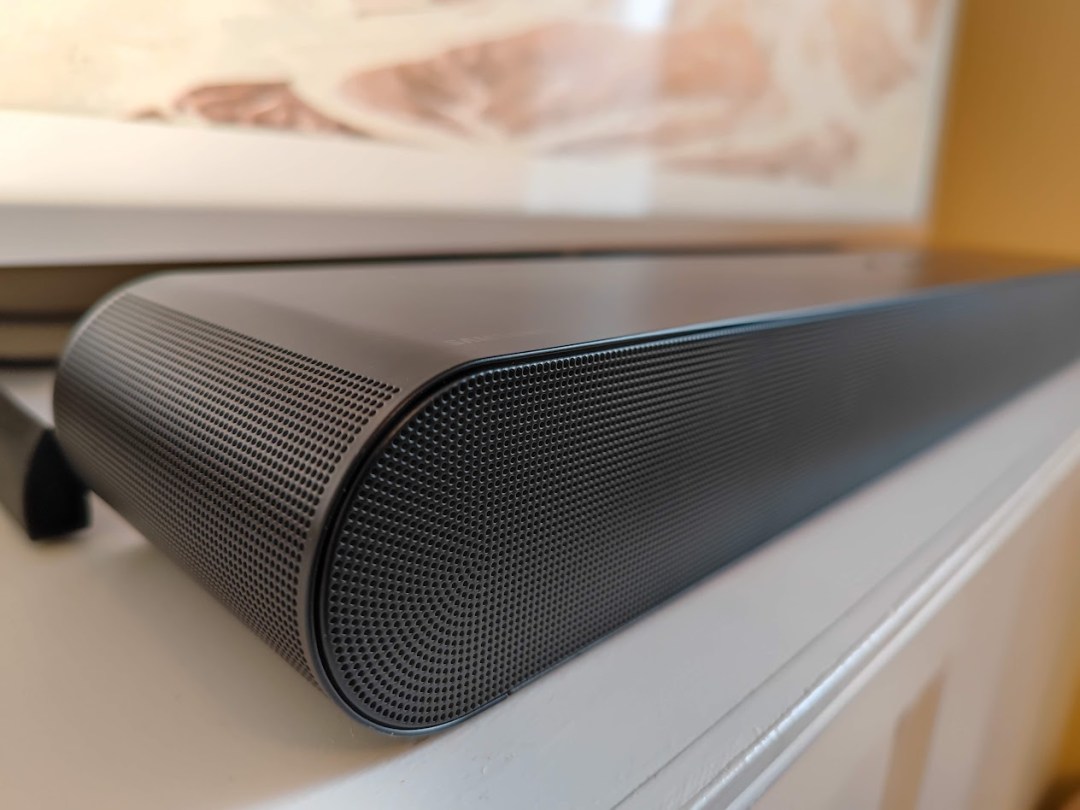 Upgrading your TV's sound used to mean a spaghetti of strewn cables, mild-to-serious levels of cursing, and looks of disapproval from significant others over the bulky equipment littering your living room. That scenario still happens today, of course – but for the rest of us, the alluring hassle-free solution of the humble soundbar like the Samsung HW-S60B is a godsend.
This delightfully compact, tech-packed bar promises to blow away your TV's built-in speakers, while adding fancy tricks like built-in Alexa smarts, AirPlay 2, Google Assistant and Dolby Atmos. Priced at a sliver under £450 at the time of writing, It faces stiff competition like the Sonos Beam Gen 2. With some Samsung-specific tricks in its arsenal, though, this could (in theory) be the better choice for Samsung TV owners.
Design: Small footprint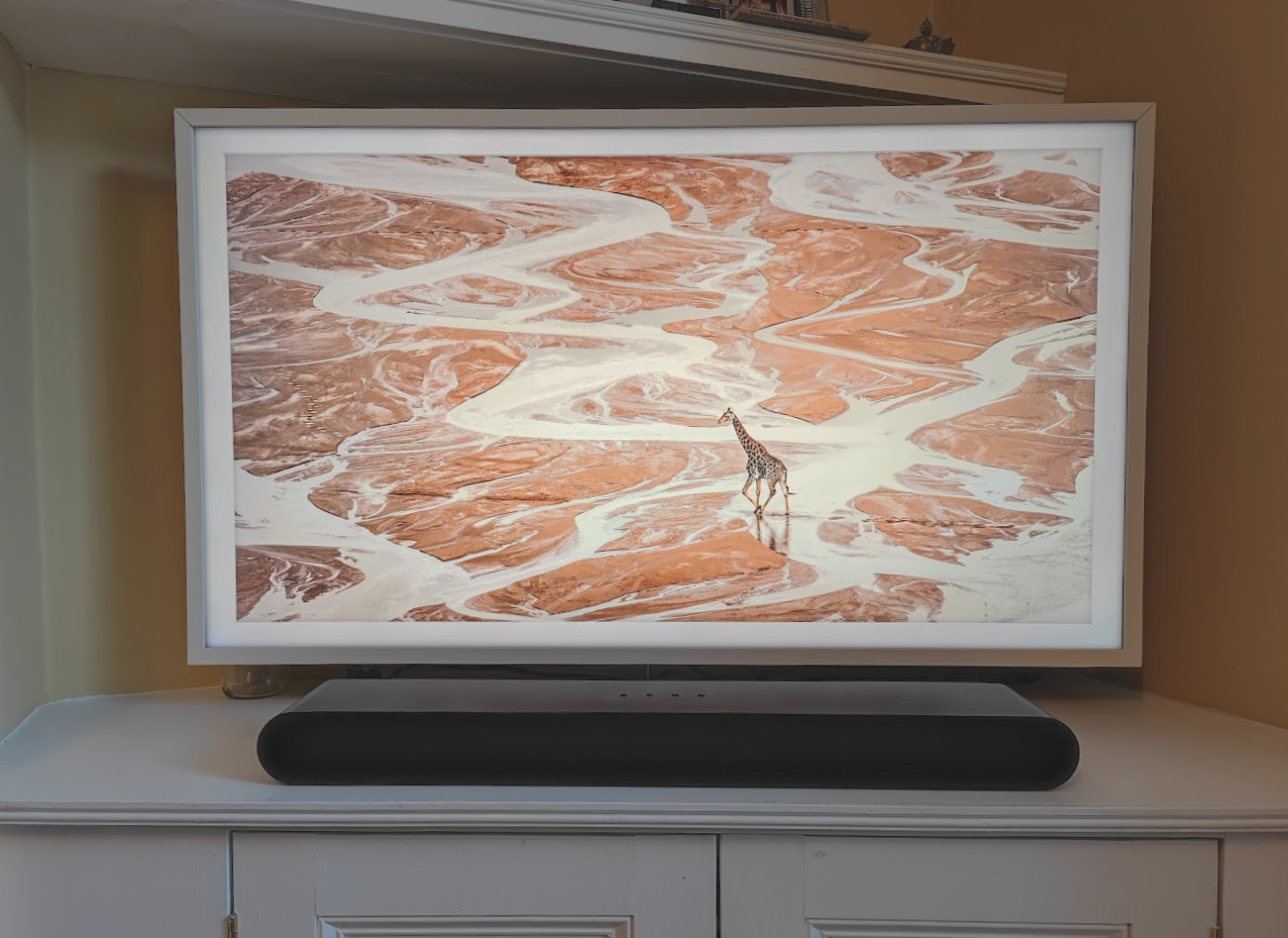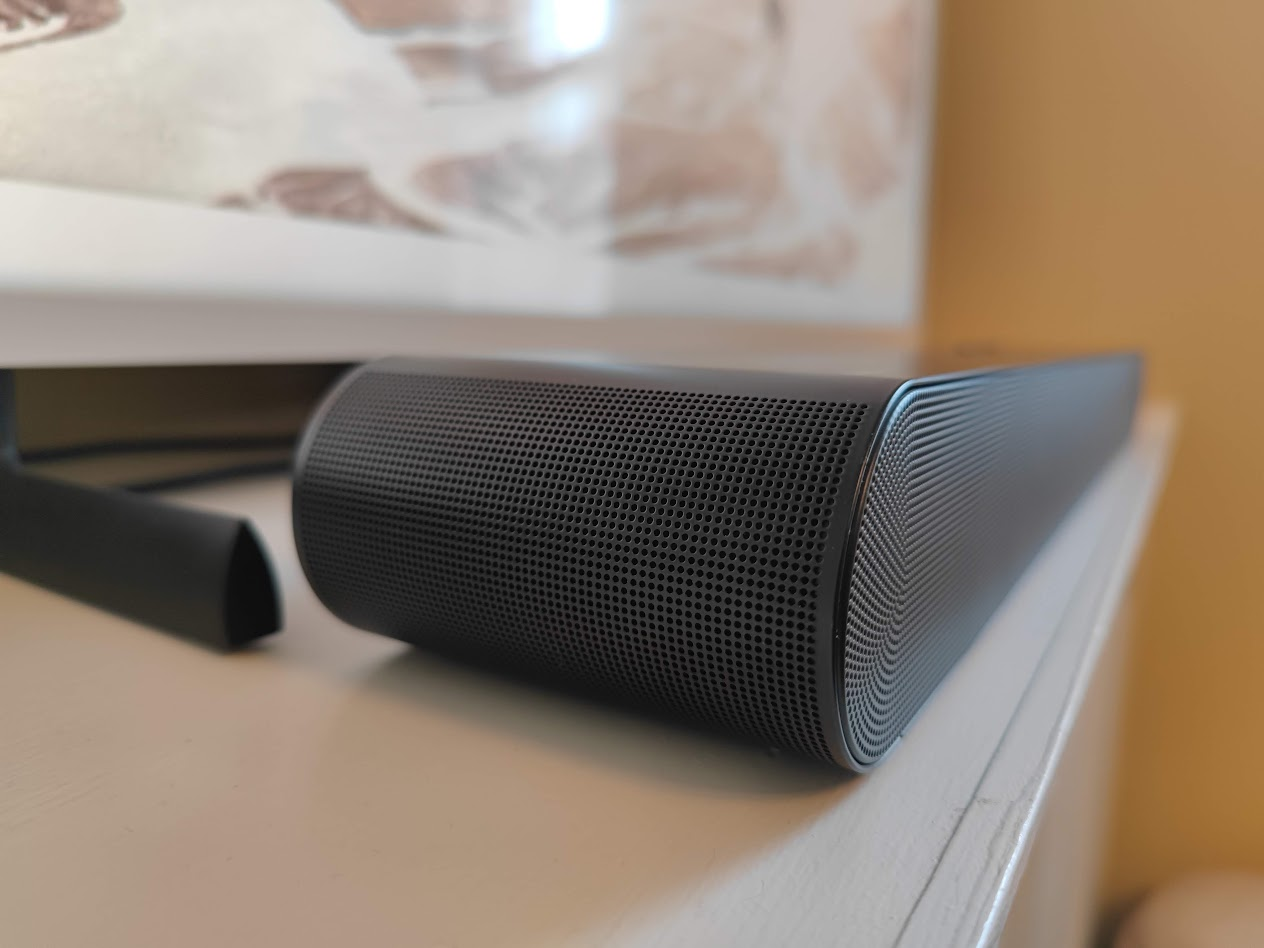 The HW-S60B should comfortably nestle under most TVs without demanding attention or dominating the room. If you choose to wall mount it, you can also rest assured that it'll offer an unintrusive experience, letting you focus on the TV itself rather than a gigantic black bar hugging your living room wall.
It's just a few centimetres longer and a shade narrower than the Beam Gen 2. To the naked eye, they're practically the same, and they both suit their roles of blending into the background.
With rounded edges and flat plastic sides dotted with thousands of micro-perforations, the HW-S60B is as simplistic and minimal as it is small. While some users might prefer a fabric cover, they're less durable and harder to clean —something that pet owners and parents will definitely appreciate.
Up top, you'll find equally minimal controls, with the power/function, volume and mic-off buttons neatly lined up in the centre. Underneath, you'll find a power port, USB port for updates, an optical connection, and a single HDMI ARC port. Overall, it's a well-made, solid-feeling soundbar that feels weighty and premium in the hands — not that you'll be holding it much.
Features and setup: Packed with tech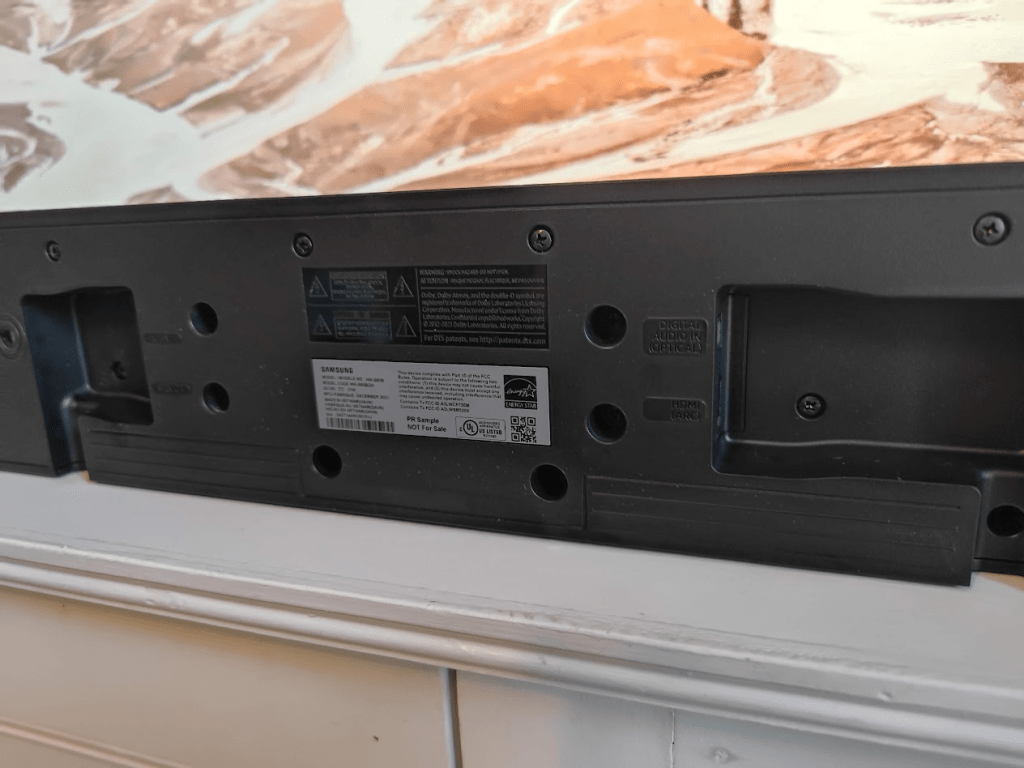 Laden with features that belie its compact size, the HW-S60B has plenty going for it on the spec sheet. Highlights include wireless Dolby Atmos and DTS: Virtual:X audio, both of which promise to broaden and elevate the soundscape by simulating virtual surround sound.
A dedicated centre channel is also very much appreciated, especially in an era where film and TV dialogue is often drowned out by "background" music and on-screen action. Wireless subwoofer compatibility will also be welcomed by bass fans, while built-in AirPlay 2, Bluetooth, Wi-Fi streaming for apps like Spotify, and Google Assistant/Alexa support round off the rest of the features list rather nicely. The latter lets you control your TV and give the usual smart assistant commands using nothing but the power of your lovely voice.
It's worth noting that rivals like the Sonos Beam Gen 2 also share most of the same features, although Samsung's offering edges out in some areas. Sonos products, for example, don't support DTS:X. Given that DTS audio is encoded at a higher bit rate, some audiophiles would argue it offers superior quality. It all depends on what content you're watching though, as not everything will be encoded in a 3D audio format.
Another feature which edges the HW-S60B ahead — at least, if you're a Samsung TV owner — is Q Symphony. This clever bit of software/hardware wizardry lets you use a compatible Samsung TV's speakers at the same time as the soundbar, merging them together for a more immersive, wider listening experience. We'll get to what that sounds like shortly.
Setting everything up via Samsung's SmartThings app went without a hitch. We found it particularly useful for toggling the various sound modes and settings given the lack of a built-in display. While you can change all the settings with the physical remote, the only indication of what mode you're in or the settings you're changing comes in the form of audio cues and a series of front-facing LEDs, neither of which are as intuitive as the SmartThings app.
The only niggle we found was with Wi-Fi mode — a feature that comes in handy for avoiding any unsightly cables if you're going the wall-mounted route. Despite numerous attempts, we couldn't get the soundbar to appear on our TV's wireless speaker list. We're not sure if this was due to the way our mesh network was configured, but it's worth noting. Wi-Fi music streaming using Spotify worked flawlessly with no issues.
Performance: Spaced out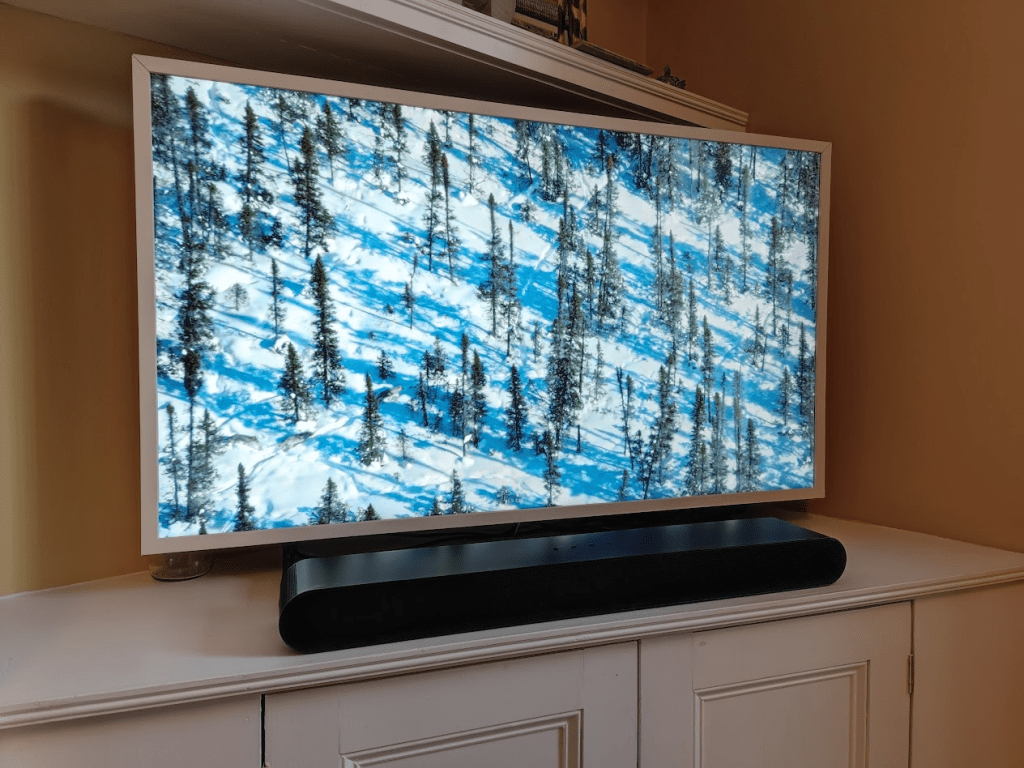 In short, the HW-S60B is very impressive in the audio department, with crisp, punchy sound that you almost wouldn't expect out of something so compact. Miles better than our TV's built-in speakers, it provides a more immersive experience no matter what content is thrown at it.
The centre channel in particular really shines, and all-important dialogue is clear and easily distinguishable from normally distracting background noises, music and effects. You'll want to make sure you try out the different modes, mind, as they can have a big impact on the final sound. Standard, Game Mode, Surround and Adaptive are all on offer, and we found Adaptive provides the best results for practically all content, bar gaming.
You can also turn on DTS:X if you like, but if the content itself isn't in the DTS:X format, you might get a few audio anomalies like drowned-out dialogue, which goes against the whole point of a soundbar. If you've got DTS:X-supported audio in the form of a Blu-ray disc, then you can enjoy a wider, more immersive experience.
For most of us though, Dolby Atmos is the more commonly experienced format, given its support on major streaming services like Disney+. Wireless Atmos support kicks in automatically when Atmos content is playing, and while it can't completely trick you into thinking you've physically got speakers behind and above you (the laws of physics, as with all wireless Atmos soundbars, won't allow it), you do get an increased sense of immersion, and moments where you could swear that sound was coming from the side or off behind you. We were impressed with our usual Our Planet Atmos audio test in particular, with the wondrous noises of the animal kingdom blending together with the score in an impressively wide-sounding experience.
Overall, it's an experience not dissimilar to that of the Sonos Beam Gen 2, but the Samsung HW-S60B has an extra trick up its sleeve — albeit, a very specific one. Q Symphony mode, which uses your TV's built-in speakers in conjunction with the soundbar itself, sounds counterintuitive at first, given that most people buy a soundbar specifically not to hear their less powerful TV speakers. In this case though, the effect is rather extraordinary, particularly if you've got a Samsung set with beefy speakers.
We first tried out the Q Symphony mode with a small 43in Samsung Frame (2021), and noticed a small improvement in the general width of sound — but not much. A little disappointed, we then plugged it into a newer, higher-end QN700B 8K TV. It was a completely different experience.
Thanks to the QN700B's multiple built-in speakers (that are conveniently arranged at different heights for more immersion), Q Symphony evolved into a different beast. Re-watching The Irishman, for example, treated our ears to all manner of wonderful heights. Jimmy Hoffa's speech scene was a particular standout moment, making us feel like we were a member of the crowd, with applause filling the room and wrapping around our ears far more than the soundbar alone managed.
Finally, on the bass front, true low-end fans will be hankering for a dedicated sub for proper rib-rattling immersion. The bass is surprisingly decent, especially for a soundbar of this stature, and with neighbours on either side, we're personally more than content with the HW-S60B's performance — but you can definitely get larger soundbars that pack more of a bassy punch if you're a fan of punchier explosions.
Samsung HW-S60B verdict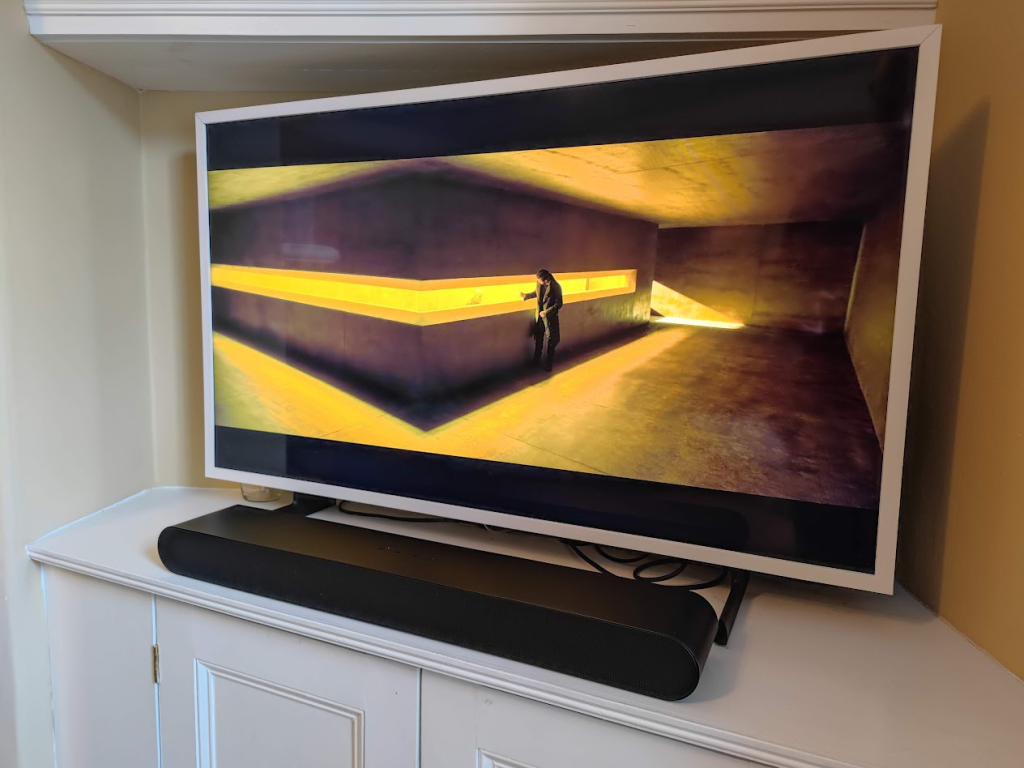 Against the likes of the usual go-to options at this price point (like the oft-mentioned Sonos Beam Gen 2), the Samsung HW-S60B is more of a niche choice, but one with a few key draws. Support for DTS:X, for example, will be welcomed by those with a penchant for physical media. Its wider support in gaming is also something to consider if your console or PC is hooked up to your TV.
If you're looking for a simple plug-and-play soundbar to boost your regular viewing, you might prefer the Sonos alternative – especially if you've already got existing Sonos kit. Alternatively, you could also pick up something like the Sony HT-G700 for the same price. It's an Atmos/DTS-supporting soundbar that also comes with a sub for beefier bass (though no voice assistant smarts).
Ultimately, you won't be disappointed with the wider soundscape and punchy audio that the HW-S60B offers. And if you've already got a Samsung TV with decent speakers and Q Symphony support, then our recommendation becomes a firm one. The results are something rather unique and impressive, and it makes sense to take advantage of a feature that not everyone will be able to experience.
Stuff Says…
Sturdy, and punchy, this compact soundbar is at its best when paired with a suitably fancy Samsung TV
Good Stuff
Wide soundscape
Atmos and DTS:X support
Built-in smart assistant
Compact size
Q Symphony adds an extra dimension
Bad Stuff
Only one HDMI port
No HDMI passthrough
You could get a soundbar and sub for the same price
Samsung HW-S60B technical specifications
| | |
| --- | --- |
| Speakers | 7 |
| Inputs | HDMI, digital optical |
| Connectivity | Wi-Fi, Bluetooth, Apple AirPlay 2, Spotify Connect, |
| Dimensions | 670x62x105mm, 2.7kg |