Samsung Odyssey Ark hands-on review
This colossal 55in curved screen can be three (or four) screens if you really want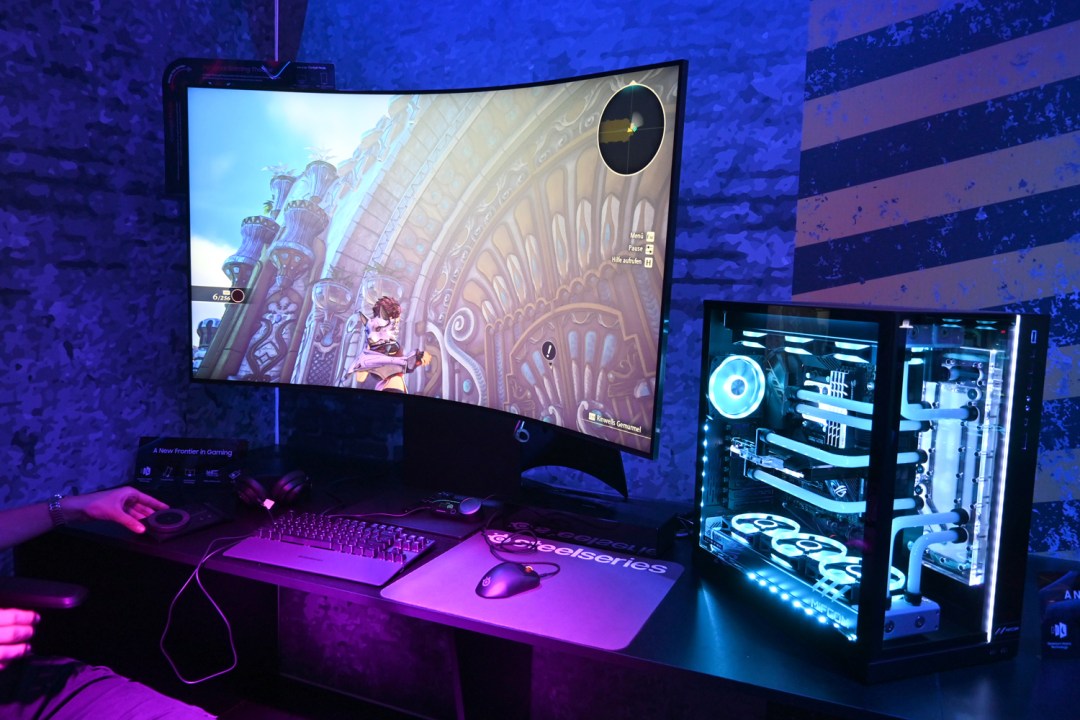 Until you see it in person, it's hard to comprehend just how massive, and how curved, the Samsung Odyssey Ark really is. The firm's latest luxury gaming monitor is unashamedly overkill, dominating any desk it sits on – but its sheer size isn't the only thing that's impressive.
Serious thought has gone in to how to put all that 55in, 4K screen space to good use. It has gamer-centric streaming support baked-in. And let's not forget its party piece: being able to rotate 90 degrees for what be the most impressive vertical monitor setup we've ever seen.
We got the chance to try out the final, ready-for-production Odyssey Ark at Gamescom, playing a handful of games and stretching its cloud muscles. Is there substance beneath the head-turning styling?
Design & build: made to measure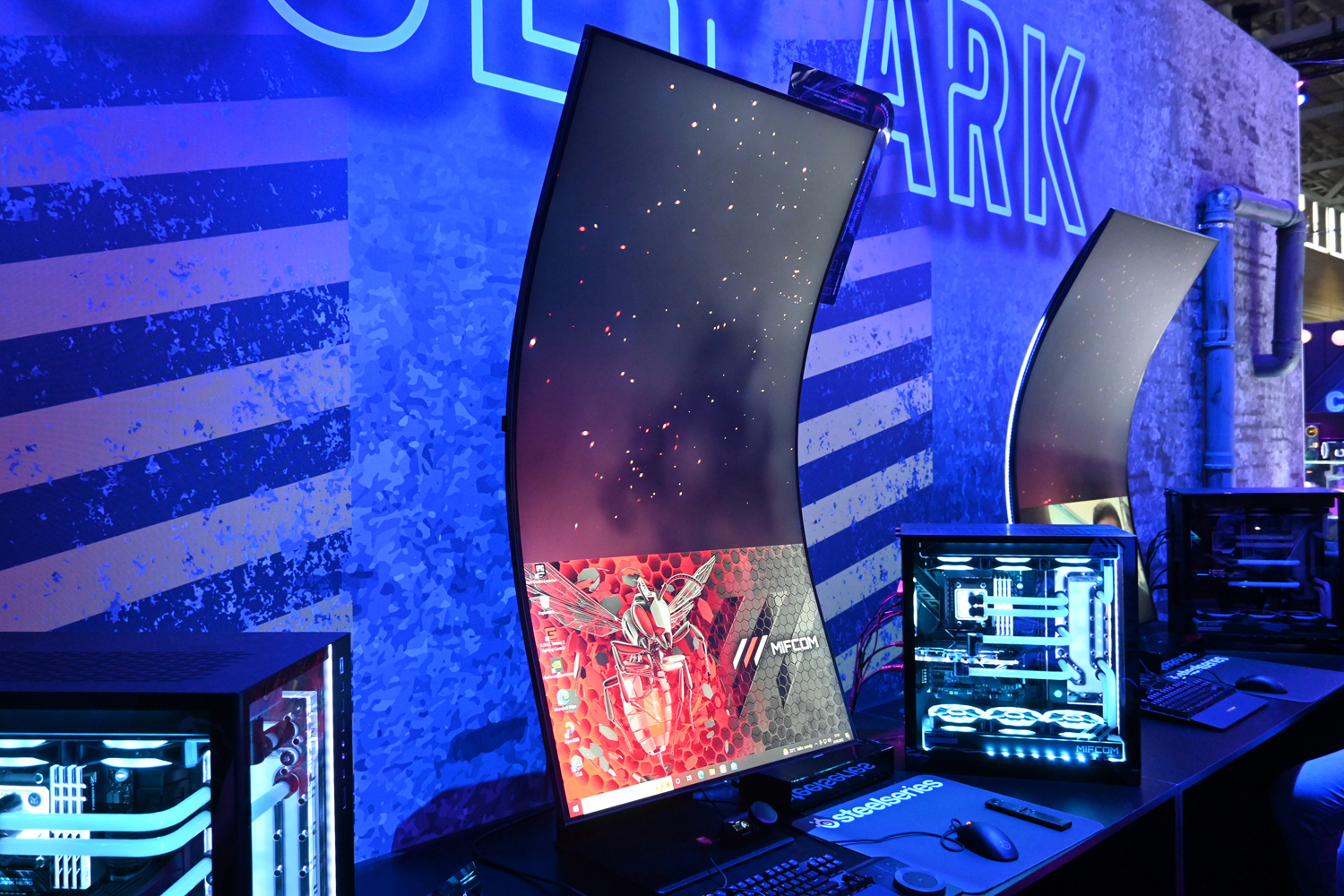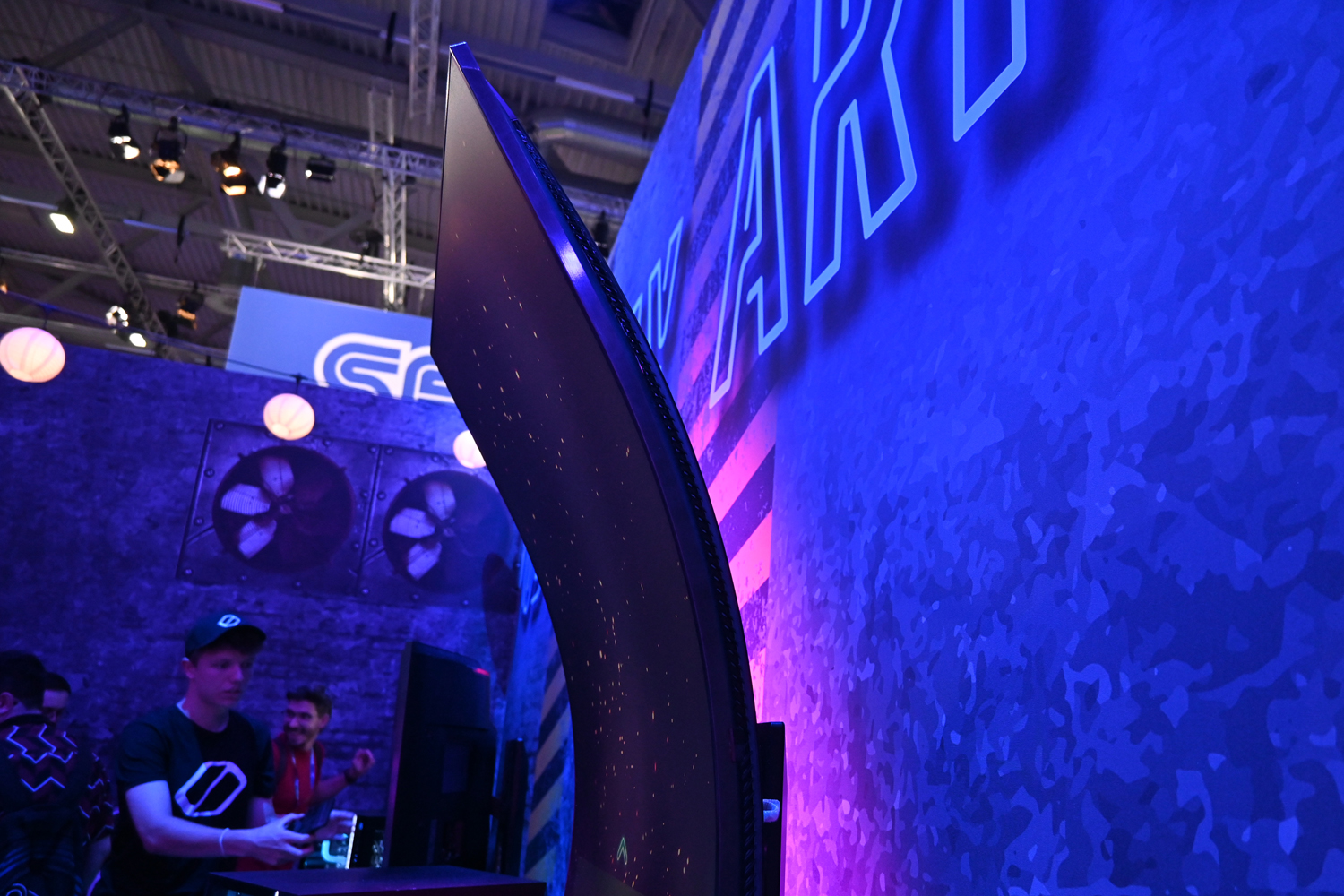 Could you physically fit your front room telly on your computer desk? Well you'll need even more than that to accommodate and Odyssey Ark. The 55in panel's dramatic 1000R curve really protrudes out at the sides, so even with the wonderfully minimal (and reassuringly sturdy) stand not taking up much space, some shuffling might be in order.
That curve is dramatic, to say the least. In horizontal mode, the screen completely fills your field of vision – without having to sit with your nose practically against the panel, like you do with some smaller curved screens. In vertical mode, it towers over you, and feels like something ripped from a Las Vegas casino.
It rotates smoothly with one hand, but because you can turn it both clockwise and anticlockwise, there's no hard stop for the horizontal orientation. OCD types will have to break out the spirit level every time to make sure it's perfectly straight. The built-in speakers are smart enough to reorient the stereo arrangement based on orientation, so sounds always match the picture.
The stand is height-adjustable, and seriously weighty. It's definitely a two-man job to mount the panel and heft it onto a desk. Even so, the panel itself isn't especially thick, and some thought has gone into the styling so it'll look just as sharp from the rear. You can also wall-mount it, as it's VESA compatible.
Features & connectivity: seriously smart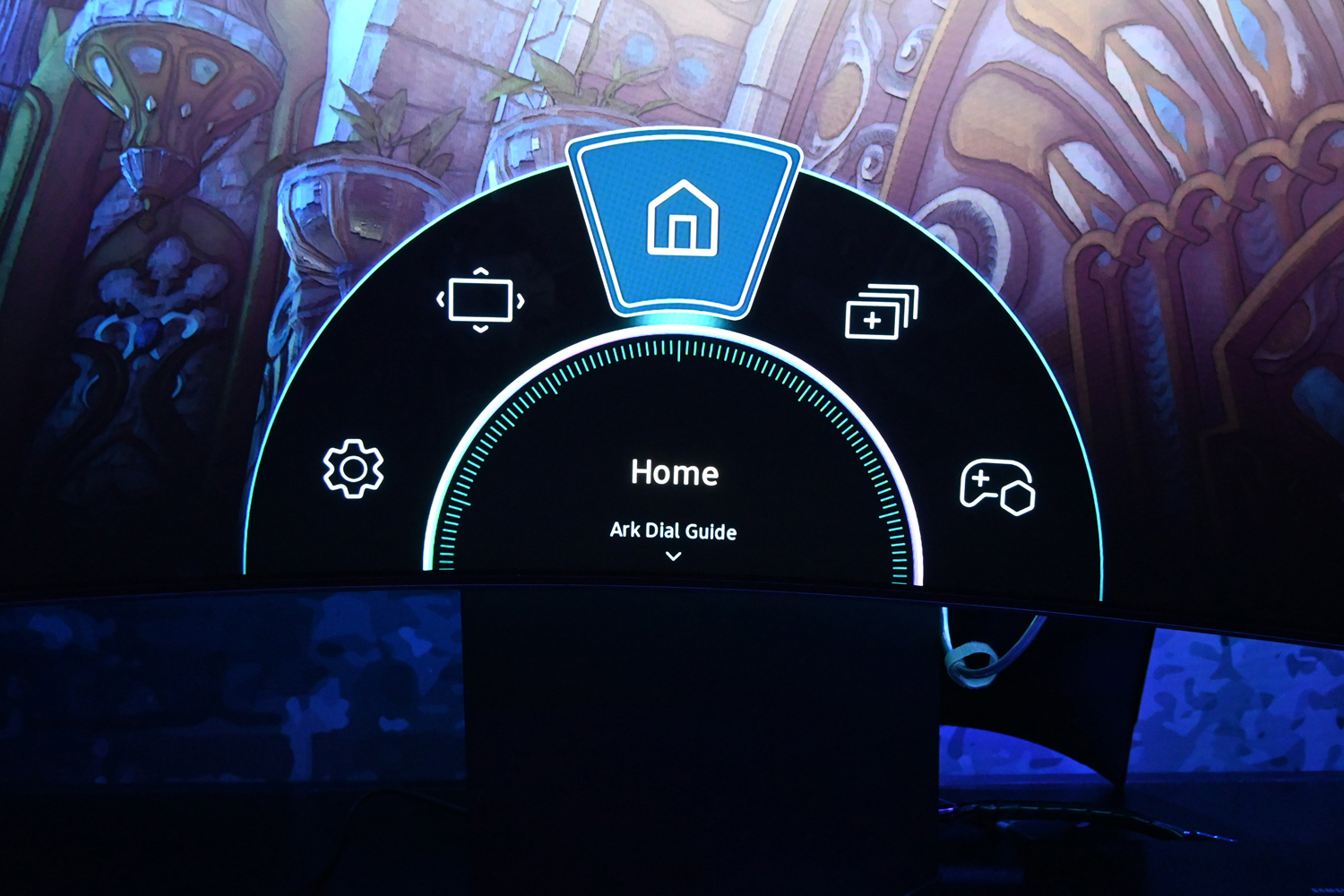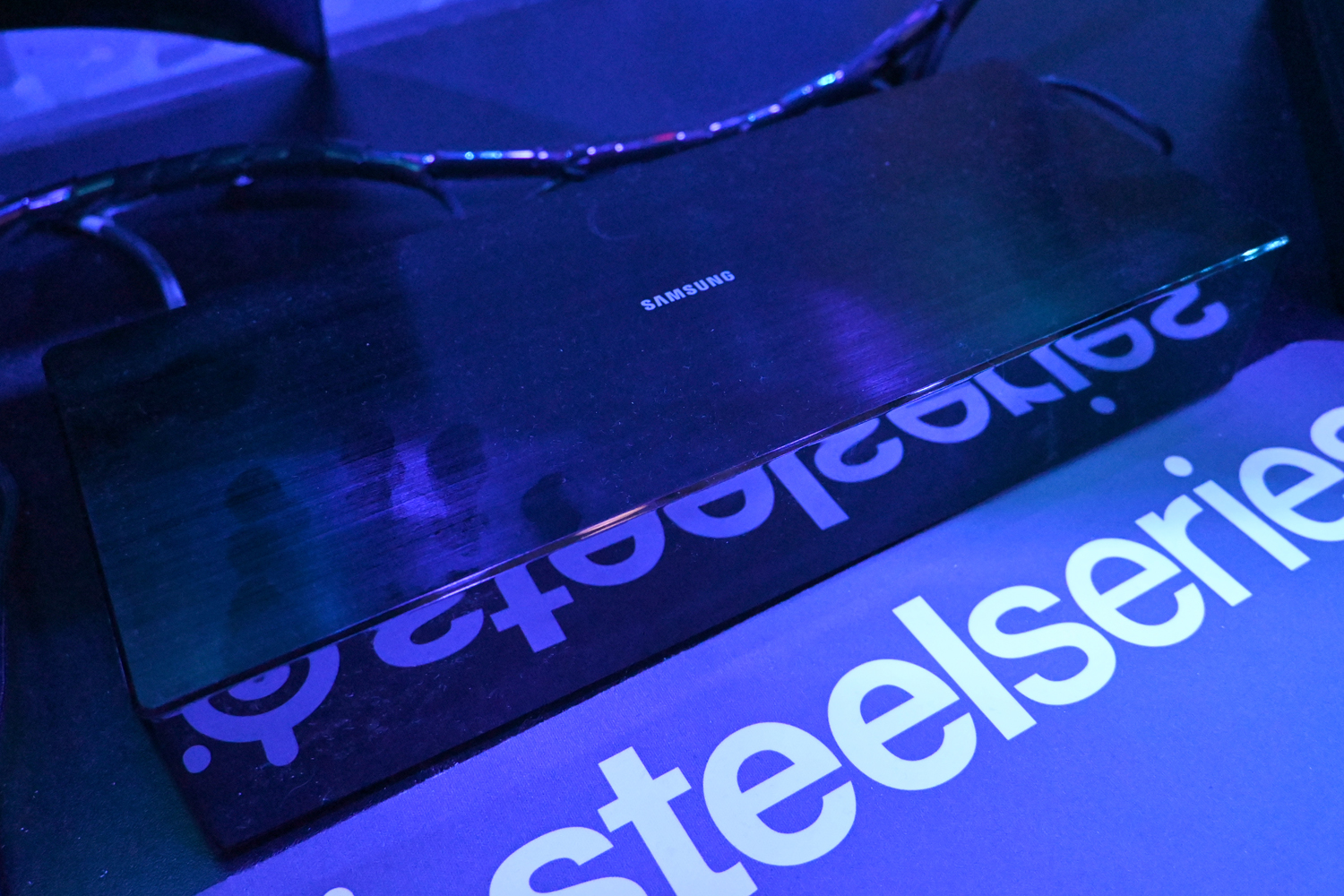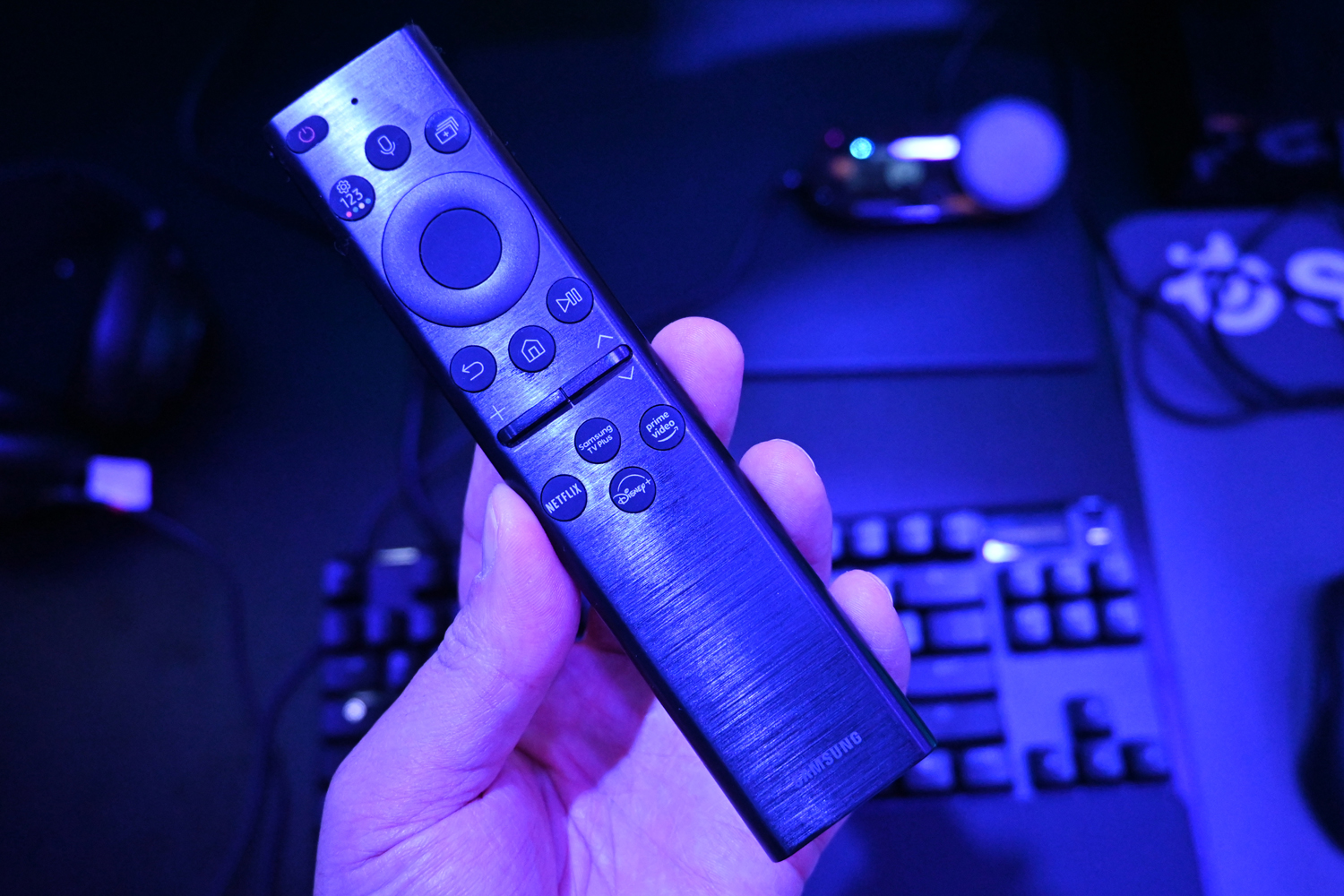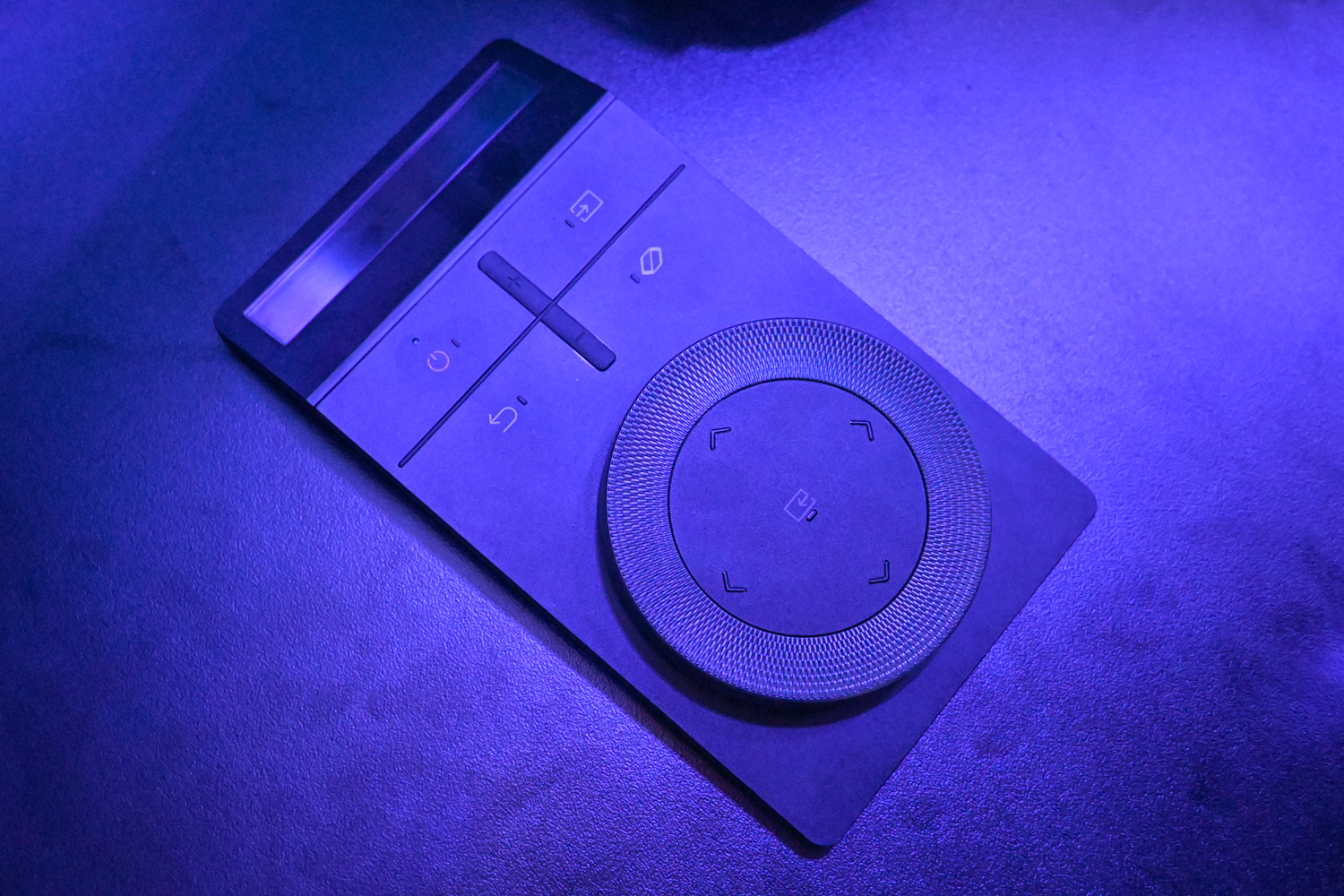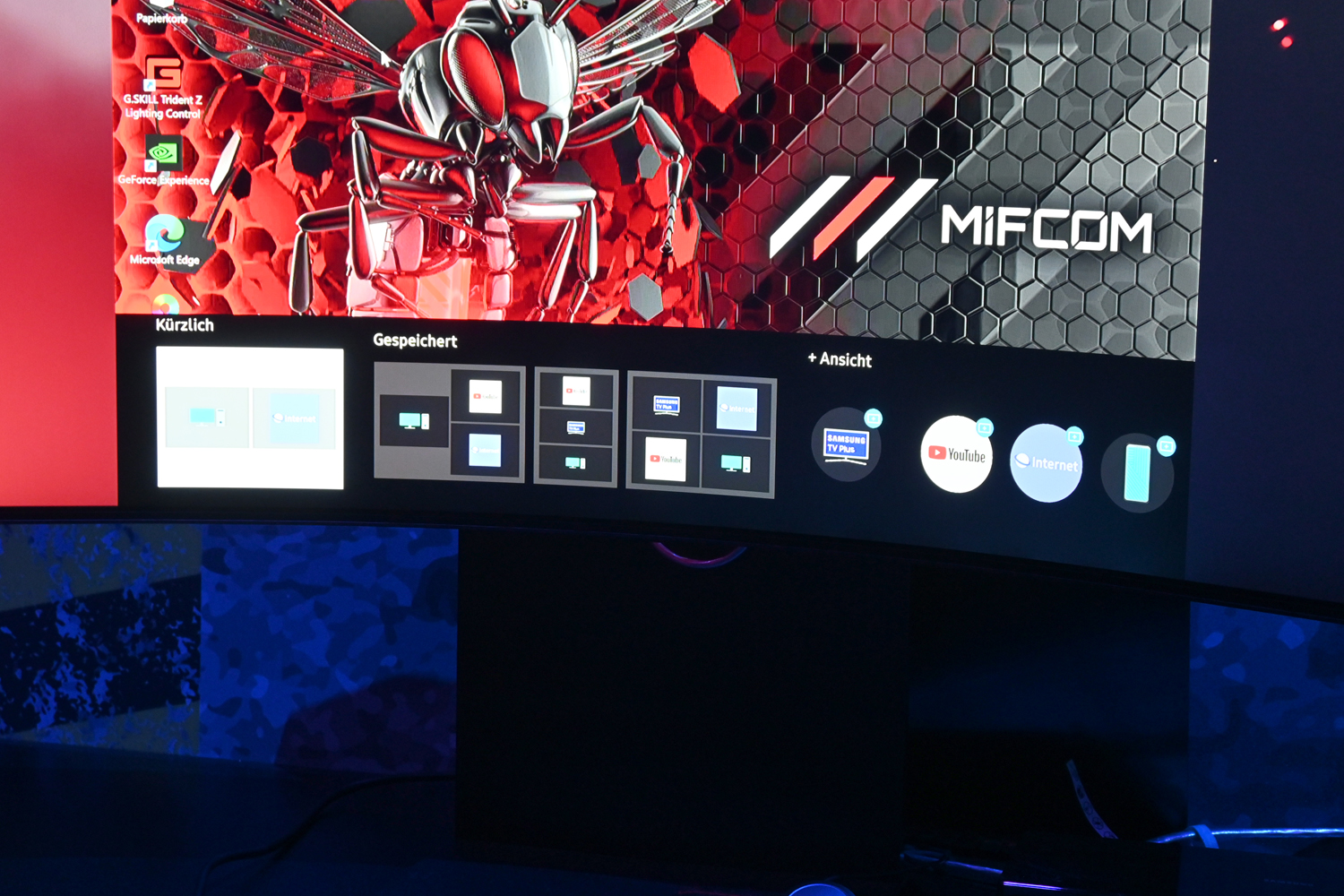 Samsung has borrowed heavily from its TV division for the Odyssey Ark, on both the hardware and software front. It's rocking the same One Connect box as the firm's flagship tellies, shifting all the inputs away from the panel itself to help cut down on cable clutter. There's just a single wire, which is carefully cable managed to stay out of sight.
The box itself has four HDMI ports, a scattering of USBs and an Ethernet port in case you'd rather not use the built-in Wi-Fi. There's no DisplayPort, which seems like an odd choice for a PC monitor. Still, HDMI 2.1 will handle next-gen consoles at 4K/120Hz, and PC gaming at even faster refresh rates. All four ports support variable refresh, too, with AMD FreeSync Premium Pro on board for PC players.
Even just adjusting settings is a novelty, thanks to the bespoke solar-powered control unit bundled with a more traditional remote control. It lives on your desk and puts things like power, volume and input switching within constant reach. A circular dial matches the onscreen menus, and a directional pad in the middle covers all the other bases. You effectively never need to plug it in. Samsung's demo stations being in German didn't exactly help when it came to finding our way around the various menus and settings – of which there are an astonishing amount. It'll take some practice before you learn where everything lives.
The more vanilla remote's streaming service shortcuts act as a reminder this screen is running a version of Samsung's Tizen smart TV software, with Netflix, Disney+ and Prime Video being just a button press away. More importantly, it also has Samsung Gaming Hub, a one-stop shop for cloud gaming content from Xbox Game Pass, Nvidia GeForce Now, Google Stadia and Amazon Luna (the latter being only if you're in the US). Built-in Bluetooth means it's as easy as pairing a controller and hitting play – no PC or console required.
Image quality impressions: big, bright and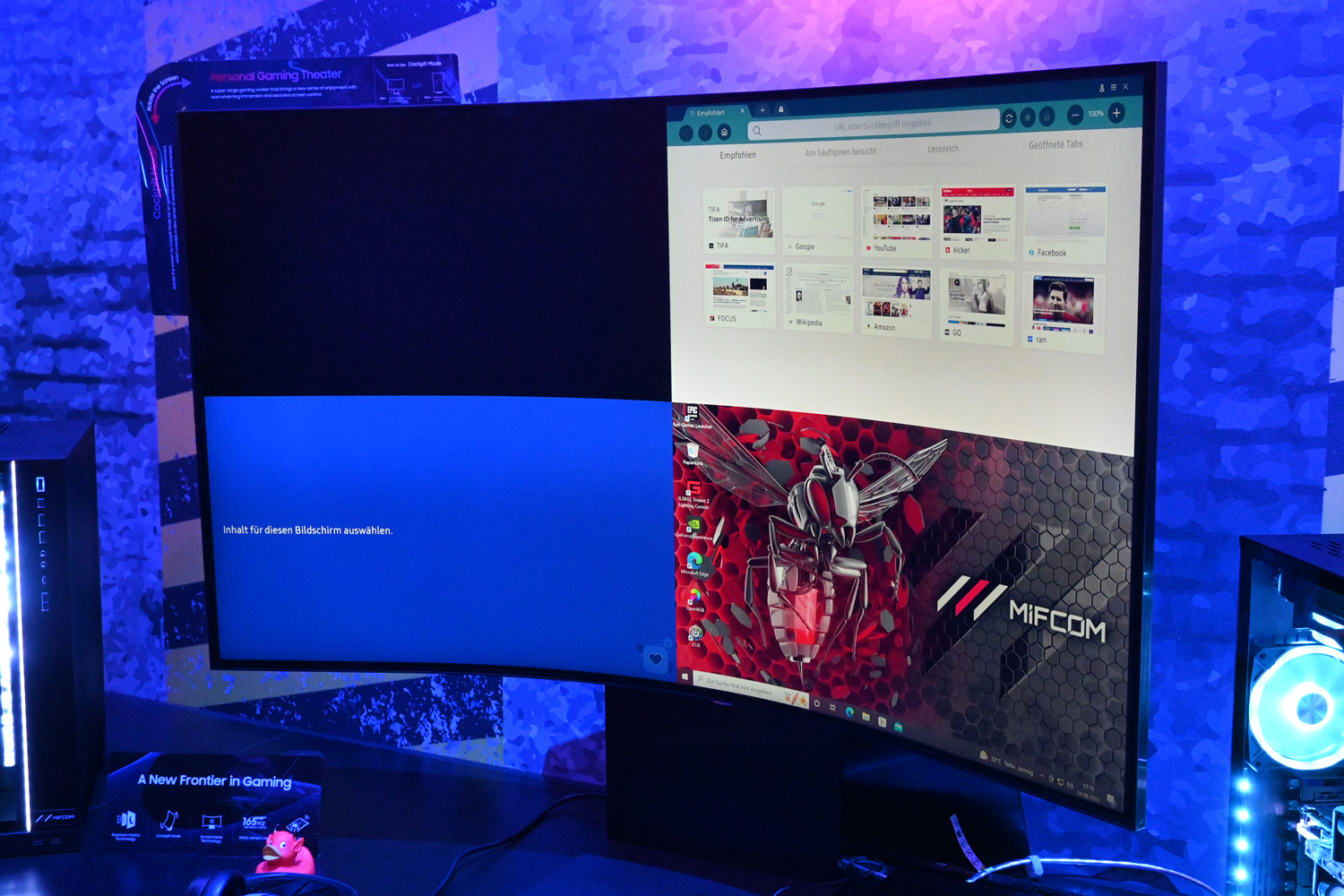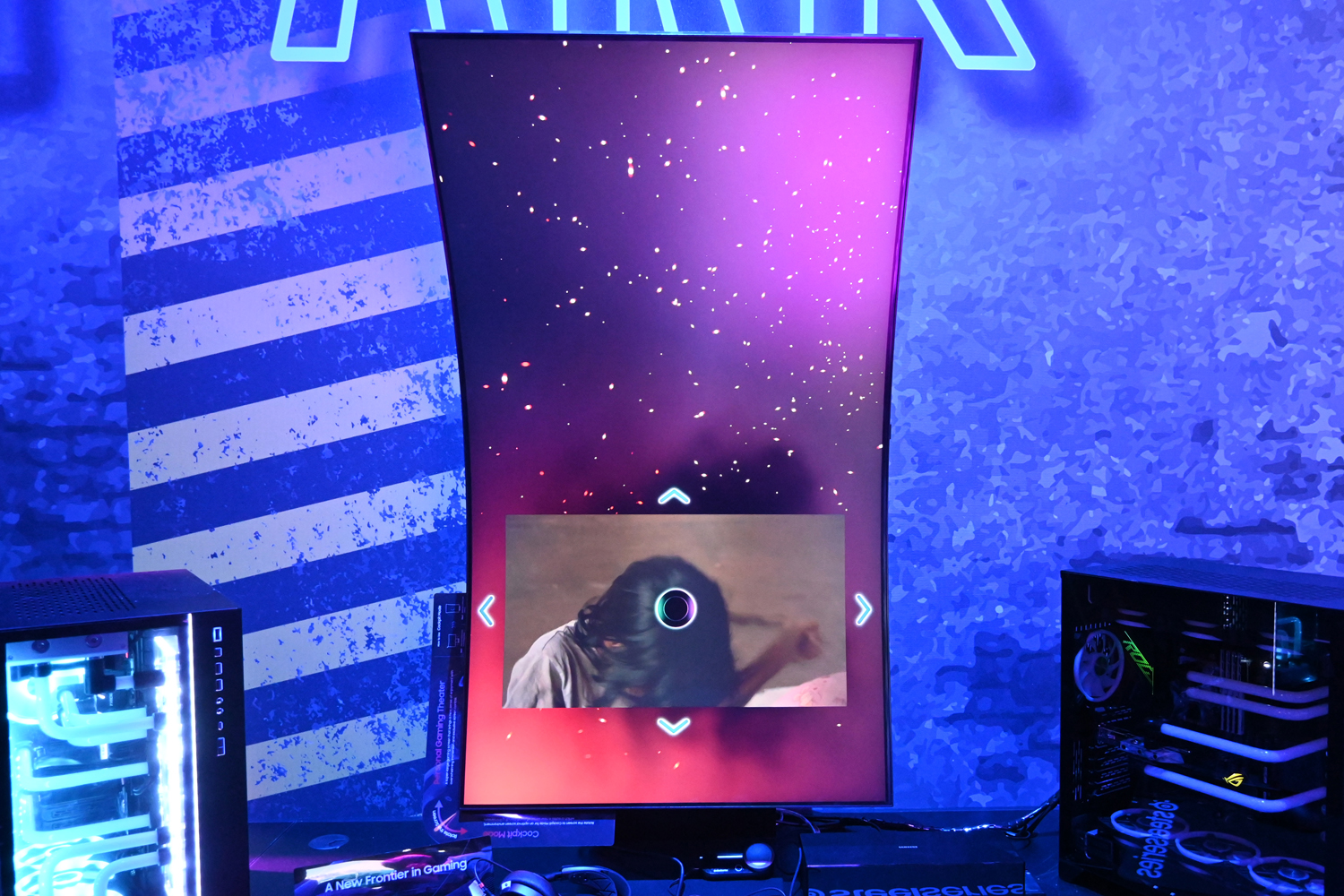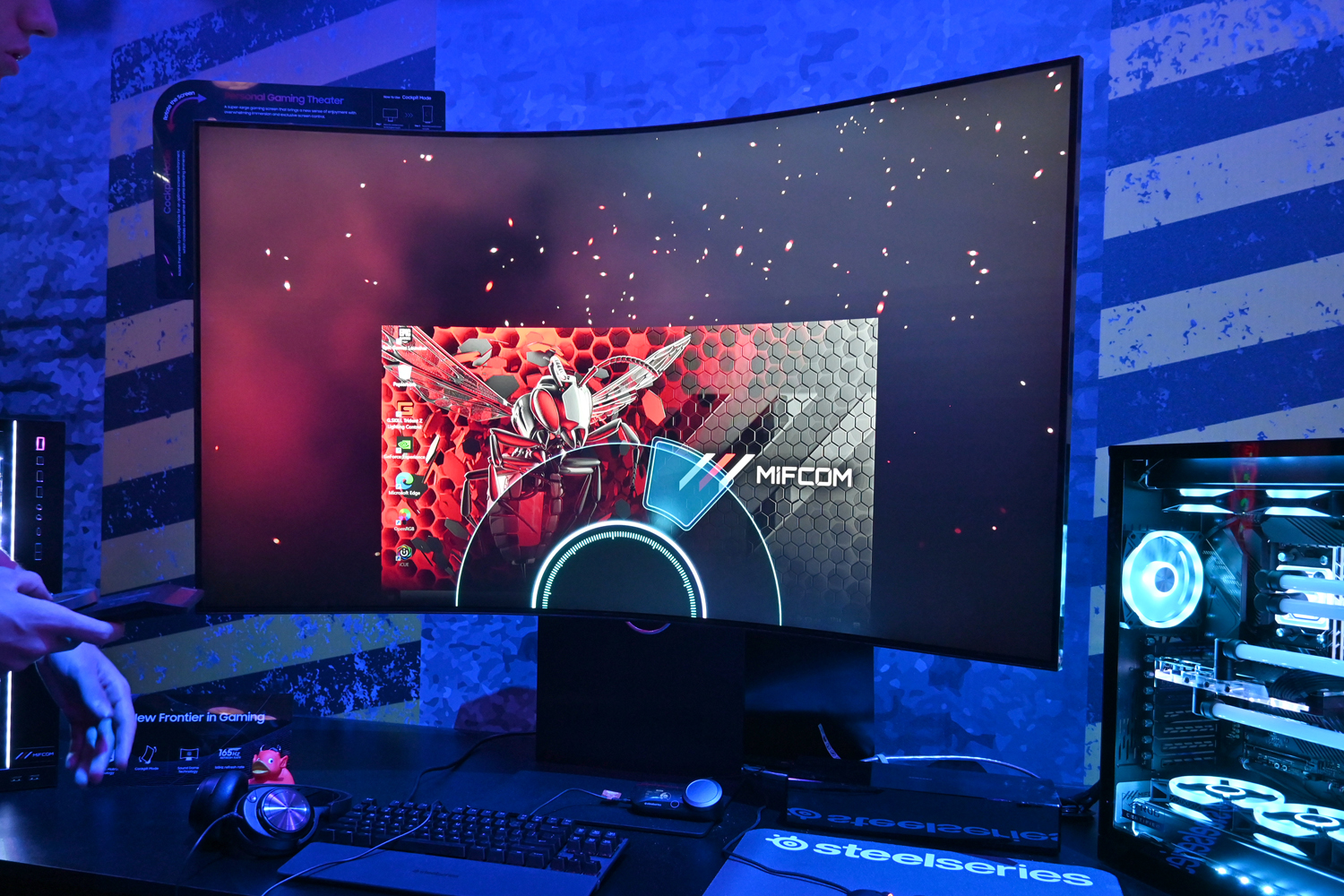 There's no shortage of choice when it comes to filling the 55in screen with content – but there might be less than you think. You can't display four HDMI sources at once, just the one, alongside one mirrored device screen. So while you can have a 2×2 grid of sources in landscape mode, two of 'em will need to be from the Ark's smart TV system. Not that doubling up seemed to slow it down very much – everything felt suitably responsive.
Rotate the screen and you can stack three screens vertically, but the same input rules apply. We're more excited about being able to stretch a single source vertically across the whole screen – old school shoot-em-ups will probably never have looked better.
You don't have to stick to the full 55in or standard 16:9 aspect ratios while playing a single source, either. You can scale it down as far as 27in, and swap to a more cinematic ratio. Are you only able to hit those headshots in 21:9? No problem. Need to get some work done but don't fancy tilting your head back and forth just to read a spreadsheet? Easy peasy.
The panel itself is a doozy, with quantum miniLED backlighting delivering static contrast that challenges the might of many OLED screens. Samsung reckons it can hit a peak 1500 nits brightness, although we've not been able to test that claim just yet. Games looked stunning, though, with colours that popped and plenty of detail. We preferred gaming in horizontal mode, with the edges of the screen bending towards you (but not as dramatically as some 1800R curved screens) – but can see the appeal of the vertical mode for multi-screen working, or live streaming with chat above your gameplay window.
Samsung Odyssey Ark initial verdict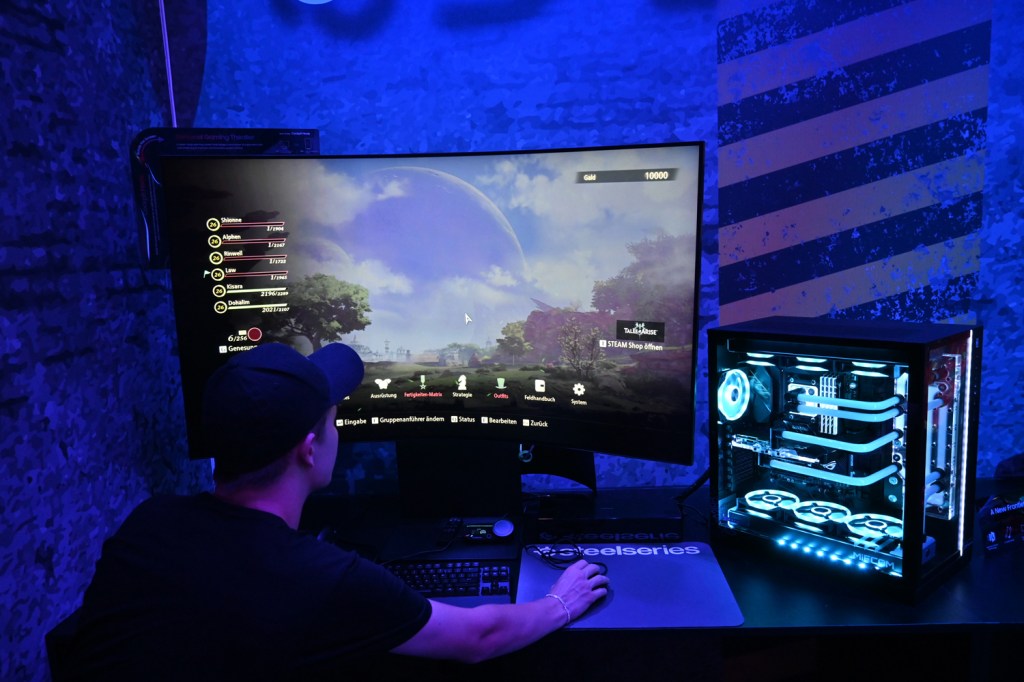 We've got to applaud Samsung for going all-out with the Odyssey Ark. It's absolutely not for everyone, and the price is sure to make most of us wince, but it still has undeniable appeal. The quantum miniLED panel is gorgeous, the 165Hz refresh rate is wonderfully zippy, and that curve really does surround your vision like few other monitors can.
It'll tick more boxes for anyone with an existing multi-monitor array. While it can't effectively replace them all with a single screen, because of its HDMI limitations, being able to quickly flip between horizontal and vertical layouts certainly makes for more flexibility. The built-in smart functions are a welcome addition, too.
At £2599 its closest rivals are flagship OLED TVs rather than other computer monitors – but none can match its dual-orientation approach. It's a niche proposition for now, but a very cool one.